Tamworth Bands History : 1963
January to March
04/01/63 - Tamworth Herald
Mikado Café Owner, James Cheneler applied for a juke box licence for 24 hours a day 7 days week. It was the only café open all night on the main road between Nottingham and Worcester.
05/01/63
The Fabulous Sidewinders
Saturday Night Dances at Drayton Manor Park, Ballroom
Saturdays 19/26 January and 02/09/16 February
Peter Justice and his band
Drayton Manor Park, Ballroom
Sundays from 13/01/63
Ronnie Cox and his band
Drayton Manor Park, Ballroom
11/01/63
El Riot and the Rebels

with Le Christian and the Sinners
Assembly Rooms
12/01/63
Rocking Renowns and The Rebels with guest singer John Wooley
Mancetter Memorial Hall
18/01/63
Rock and Twistacular
Gerry Levene and the Avengers with The Emperors
Assembly Rooms
19/01/63
Rocking Renowns
Assembly Rooms
26/01/63
The M.I.5 with Grant Millard
Assembly Rooms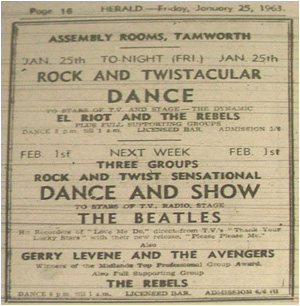 01/02/63
Stars of TV, Radio and the Stage – The Beatles
With Gerry Levene and the Avengers and The Rebels
Assembly Rooms
Admission: 6/6
02/02/63
The Sapphires
Assembly Rooms
09/02/63 and 11/02/63
Johnny Fox and the Sapphires
Assembly Rooms
Friday February 1st 1963
Record Spin
The first Tamworth Herald Music page – Record Spin
"Beatles Here to make it a hat-trick?"
Best selling records in Tamworth this week:
1. Diamonds (Jet Harris and Tony Meehan)
2. Little Town Flirt (Del Shannon)
3. Bachelor Boy (Cliff Richard)
Record shops: Crowhurst, Greens and Weavers

08/02/63 – Taworth Herald page 4
Review of The Beatles gig
"Keep an Eye on What's On"
Hundreds of fans were turned away, the doors closed at 9.30pm. The Beatles promised to return.
15/02/63 – Tamworth Herald - Record and Film Review
Tony McDonald 87, Dormer Avenue, Bolehall wrote to the Herald congratulating Vince Baker bringing The Beatles to the town. He did not mind paying 6/6 admission. His friends agreed: Philip Allsop, Kettlebrook, Tony Hanson, Fazeley, James Bristoll, Leyfields, Robert Hudson, Two Gates and Nigel Pearn, Two Gates.
This was in response to a complaint on the front page of the Herald. Read on...
16/02/63
Gerry Harvey and the Rocking Sundowners
Assembly Rooms
18/02/63
Rocking Renowns and Johnny Fox and the Hunters


Assembly Rooms
22/02/63
Rocking Spectacular
Lee Christian and The Sinners with The Emperors
Assembly Rooms
23/02/63
Gerry Levene and the Avengers
Assembly Rooms
01/03/63
El Riot and the Rebels with Gerry Harvey and the Sundowners
Assembly Rooms
02/03/63
The Stormbreakers
Assembly Rooms
02/03/63
Saturday Beat Night
Pat Wayne and the Deltas

with Roger James and the Sapphires
New Memorial Hall, Atherstone
08/03/63
Jimmy Powell and the Piledrivers (Decca recording artists – "Remember Them")
The Rocking Rebels
Assembly Rooms
09/03/63
The Emperors, The Mysterians, The Trojans
Assembly Rooms
16/03/63
Big Beat Star Spectacular
Danny Storm, Robby Hood and the Merrymen, Clifton All Stars Rock Band
New Memorial Hall, Atherstone
22/03/63
Patti Brook backed by Jet Harris's group The Jet Blacks with The Wanderers
Assembly Rooms
23/03/63
Grant Harvey and the Rocking Sundowners
Assembly Rooms
23/03/63
Big Beat Every Saturday
Polly Perkins (Decca recording artist)
Atherstone Memorial Hall
29/03/63
Palace Cinema – Summer Holiday with Cliff Richard
30/03/63
Big Beat
Miss Jane (Oriole recording artist) with The Lawmen and The Avengers
Atherstone Memorial Hall