Tamworth Bands History : 1967
July to September
07/07/67
Crows Nest Discotheque
This week featuring – Wellington Kitch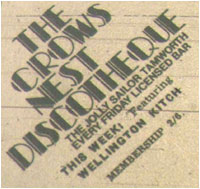 07/07/67
The Fenders
Polesworth Working Men's Club, 8.00pm-10.45pm
Admission: 2/-
14/07/67
The Crows Nest Discotheque
This week featuring: Wellington Kitch
14/07/67
Who's Who and The Frame of Mind
Polesworth Working Men's Club, 8.00pm-10.45pm
Admission: 2/-
14/07/67
The Stringbeats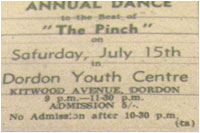 15/07/67
The Warwickshire Club Youth Centres Annual Dance
The Pinch
Dordon Youth Centre
15/07/67
The Zodiac Trio
Wood End Working Mens Club
16/07/67
Swing 67 - ..and The Atoms (a new rave sound from London)
Foseco Sports and Social Club
21/07/67
Crows Nest Discotheque
This week featuring – The Soul Seekers
21/07/67
Gordon and The Crusaders
Polesworth Working Men's Club, 8.00pm-10.45pm
Admission: 2/-
22/07/67
Big Beat
The Dimensions
Atherstone Memorial Hall
23/07/67
Swing 67 – Soul a go-go
Foseco Sports and Social Club
28/07/67
The Dimensions
Polesworth Working Men's Club, 8.00pm-10.45pm
Admission: 2/-
28/07/67
Crows Nest Discotheque
This week featuring – The Locomotive
29/07/67
The L.J. Trio
Wood End Working Mens Club
04/08/67
The Track
Polesworth Working Men's Club, 8.00pm-10.45pm
Admission: 2/-
04/08/67
Crows Nest Discotheque
This week featuring – Floribunda Rose
06/08/67
The Lota Four
Polesworth Working Men's Club, 8.00pm-10.45pm
Admission: 2/-
11/08/67
The Trendmen
Polesworth Working Men's Club, 8.00pm-10.45pm
Admission: 2/-
18/08/67
Crows Nest Discotheque
This week featuring – The Encryption
18/08/67
Zantis
Polesworth Working Men's Club, 8.00pm-10.45pm
Admission: 2/-
19/08/67
Netherseal Young Farmers Club Dance
The Nice
Polesworth Memorial Hall, 9.00pm-11.45pm
Admission: 5/-
25/08/67
Crows Nest Discotheque
This week featuring – Wellington Kitch
25/08/67
The Rocking Thunderbolts
Polesworth Working Men's Club, 8.00pm-10.45pm
Admission: 2/-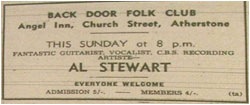 26/08/67
The Dimensions
Castle Hotel
27/08/67
Al Stewart (CBS Recording Artiste)
Back Door Folk Club
Atherstone
Admission: 5/-
28/08/67
The Teen Beats
Polesworth Working Men's Club, 8.00pm-10.45pm
Admission: 2/-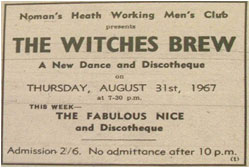 28/08/67
Big Beat
The Trendmen and The Tears also The Going Concern
Atherstone Memorial Hall, 8.30pm-11.30pm
31/08/67
No Mans Heath Working Mens Club
The Witches Brew
A New Dance and Discotheque
The Nice
Admission: 2/-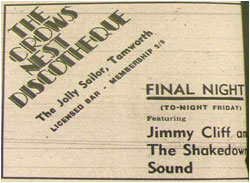 01/09/67
Crows Nest Discotheque – Final Night
Jimmy Cliff and Shakedown Sound
02/09/67
Tudor Rose Football Club Dance
The Dimensions and The Tritons
02/09/67
Dancing to Lloyd Jackson
Foseco Sports and Social Club
03/09/67
Tommy Walkden Trio
Warton Working Mens Club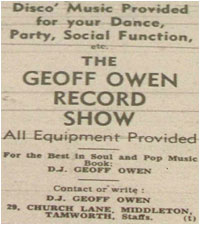 08/09/67
The Rev-Counters
Polesworth Working Men's Club, 8.00pm-10.45pm
Admission: 2/-
09/09/67
Big Beat
Craters Moon and The Shelleys
Atherstone Memorial Hall
09/09/67
The Dimensions
Wood End Working Mens Club
10/09/67
The Wanderers
Royal Oak, Kingsbury
10/09/67
Swinging 67 – The Soul Trinity (London)
Foseco Sports and Social Club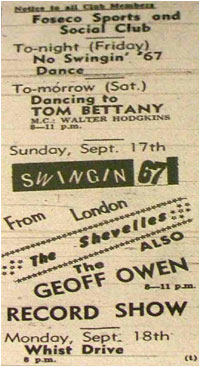 15/09/67
Beat Dance
The D'Fenders and The Teen Beats
Wilnecote Sports and Social Club
15/09/67
The Niteriders
Polesworth Working Men's Club, 8.00pm-10.45pm
Admission: 2/-
15/09/67
Beat Dance – The D'Fenders and The Teen Beats
Wilnecote Sports and Social Club
16/09/67
Netherseal Young Farmers Club Dance
The Sound Affair
Polesworth Memorial Hall
Admission: 5/-
17/09/67
Swinging 67 – The Shavelles (London)
Foseco Sports and Social Club
Plus the Geoff Owen Record Show
Tamworth Herald - 22/09/67
Ian Campbell Group are Star Attraction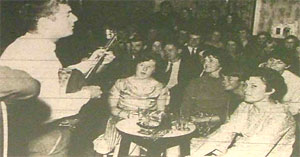 Folk music fans listen attentively as one of Britain's top folk teams, the Ian Campbell Group, play in Tamworth.
The group made their appearance at the Prince of Wales, for Tamworth Folk Club, and more than 130 people were there to hear them.
One of the folk club officials Mr James Beaman, of Leyfields Estate, said the Ian Campbell Group had been a "tremendous attraction," with record audience support.
To cater for increased numbers, the club reopened at the Jolly Sailor public house in Tamworth on Wednesday night when Derek Brimstone, winner of this year's Cambridge Folk Festival in the vocal and instrumental sections topped the bill.
22/09/67
The Teen Beats
Polesworth Working Men's Club, 8.00pm-10.45pm
Admission: 2/-
23/09/67
Polesworth Dancing Club
Bob Hayward and His Orchestra
Polesworth Memorial Hall
24/09/67
Swinging 67 – The Ferris Wheel
Plus DJ Geoff
Foseco Sports and Social Club