Charles Harrison
Tamworth Herald– 21/02/69
Tamworth boy in record making pop group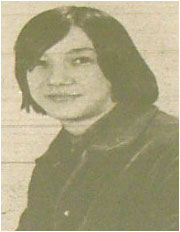 Charles Harrison, Paradox
A 16-year-old Tamworth boy travelled to London on Monday to make a record. He is a member of a Birmingham group "Paradox" who have signed a recording contract with the Pye Company.
Charles Harrison, of 5, Temple Row, Mill Lane, Tamworth, has been bass guitarist and singer for the five-man group for only one week.
He went to London with the group along with Carl Wayne leader of the recent chart-toppers the "Move", and Dave Morgan who wrote "Paradox's" record "Mary Colinto".
Charles left the Mercian Boys' School last July and worked as an apprentice at Messrs. Percy Lane's on the Lichfield Road Estate. He is now fully professional in the group, as are all the other members.
Mr and Mrs Charles Harrison bought him a bass guitar only 15 months ago, and since then Charles has worked hard to master the instrument.
Before joining "Paradox" Charles was a member of "Chapter 24" but since joining the Birmingham group he has travelled to Birmingham, Bournemouth, Norwich and many other places. After the recording session the group had to rush back to the Midlands at the Belfry the same night.
Ahead of the group are bookings in Essex and Margate.
Tamworth Herald – 13/06/69
TAMWORTH BOYS IN "POP" GROUP
TWO Tamworth boys are members of a highly successful Birmingham "pop" group.
The group is called "Paradox" and is due to have a single and L.P. released in September.
Sixteen-year-old Charles Harrison of 5, Temple Row, Mill Lane, Tamworth, is bass guitarist with the group. He left the Mercian Boys' School last July and worked as an apprentice at Messrs. Percy Lane's on the Lichfield Road Industrial estate.
His parents bought him the guitar only fifteen months ago and Charles has had to work hard to master the instrument.
The other Tamworth boy is the most recent addition to the group. He is 18-year-old Victor Motorny, of 20, Bridge Street, Amington, who is the group's new road manager.
Victor, who worked as a signal-man on British Rail, now drives the group to their different venues, such as London, Margate (next week) and Scotland last weekend.
He has to make sure they get to where they are playing in time and is responsible for seeing that all their equipment is set up. Victor also operates the lights in the "paradox's" light show.
The group went into the "Mercury" recording studios on June 1 and it took the 12 hours to record four tracks. They are playing in London clubs and are popular in Birmingham.
Tamworth Herald – 16/02/79
Musicbox – Stateside stardom for local guitarist
FORMER Mercian School pupil Charles Harrison is shooting up in the 'pop' world of fame and fortune – as bass guitarist in top USA group POCO.
The outfit's latest single "Crazy Love" has shot up to number 37 in the American singles chart and they have just released a new album entitled "Legacy"
Twenty-five-year old Charles, whose Mother live sin Milton Avenue, Leyfields made his home in Hollywood nearly three years ago and is presently touring the States.
Later this year, POCO intend to do a number of concerts in Britain.
Charles began his musical career at the age of 14, playing is local group Chapter 24. After a spell working as an apprentice at Tamworth's Percy Lane Company, he turned professional and joined Birmingham outfit Paradox.
There he was spotted by Carl Wayne of The Move and transferred to his first major group Judas Jump.
He later went to America to improve his chances of success and his gamble has certainly paid off.
During his career, he has played alongside top names of the music world like Al Stewart and Leo Sayer.
Tamworth Herald – 14/09/90
Musicbox – News, Snips
MUSICBOX has received a lovely letter from Mrs Marjorie Harrison whose Tamworth born son Charlie recently played bass as part of Rod Stewart's World Tour. Charlie a quite brilliant musician who is very proud of his Tamworth roots, flew his mother out to America for a tour of the States which she loved every minute of. Disneyland, the Universal Studios, Hollywood, San Francisco and Cape Canaveral were all on Marjorie's visit list and she left saying that it had all been a 'wonderful experience'. Marjorie is a smashing lady and we are happy that she has had a tour of America to talk about as he son describes his tour of the World with Rod Stewart.
---
I think Charles later played with the American band Poco (former member of this band went on to form the Eagles if I remember correctly), he also toured with Rod Stewart.
Phil Berrow