Neil Rushton by Mark Mortimer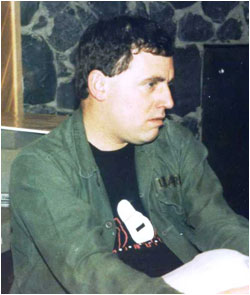 This is the photo of Neil Rushton who was a very pivotal figure in my music career. It was taken in October 1985 at The Abbatoir Studios in Birmingham (UB40's place) during the sessions for the unfinished third Dream Factory single "Love 15" "Mousetrap!"
Neil, although not from Tamworth (he lived in Burntwood), was a major force in terms of inspiring and pushing The Dream Factory forward.
He was a soul enthusiast who also happened to be a journalist working for the Express & Star in Lichfield (which is how I got to know him as I was then working for the Tamworth Trader as a junior reporter).
He had spent the mid part of the 70s as a successful and well known underground northern soul DJ all over the UK and his entrepreneurial streak had meant he had become involved in licensing and importing obscure northern soul tracks from the States for release in Europe.
He had enough brilliant hindsight at the start of the 80s to buy in the rights to "Tainted Love", the cult northern soul record by future Marc Bolan wife Gloria Jones (a 1965 record) that was - of course - covered by electro-pop darlings Soft Cell and became such a monstrous hit.
That set him up financially and he spent the early 80s honing his music biz skills while holding down his day job with the Express & Star.
After a couple of aborted attempts at trying to manage a local band he stumbled across the Dream Factory playing live at, wait for it! Wilnecote Youth Club (!!!) and although he knew we weren't very tight he could sense the vibe and excitement and felt there was something here for him to get involved with.
He signed the band to his fledgling indie label INFERNO RECORDS which, up until that point, had been re-releasing old obscure 60s & 70s soul tunes aimed at the northern soul market.
Neil had the business acumen to see that Dream Factory already had a very natural scooterist following and affinity and because it all fitted in nicely with Inferno's northern soul roots and my mod-ness we had some kind of recipe for success.
Neil signed us to Inferno and we recorded "Wine & Roses" / "Fashion Toys" at a studio in Handsworth (only a 16-track) where the incidental music for the Gerry Anderson puppet TV shows had been recorded (Thunderbirds, Captain Scarlet, Joe 90 etc., etc.) which I found amusing and lovely.
The studio owner's son - CHRIS TAYLOR - was beginning to establish himself as one of the UK's leading jazz organists at the time and he ended up playing the Hammond organ stuff and synths on the two songs (brilliantly it has to be said!).
The test pressings were done as 12" vinyl and Neil released a limited edition "taster" with our two tunes on side and on the other a new recording by American soul singer J.J. Barnes.
I remember sending a copy to Paul Weller who I had been in touch with over a period of time (he had a lot of Dream Factory fans collaring him at Style Council gigs raving about us and he was keen to explore who we were and offer us some gigs playing at miners' benefits events- none of which sadly came off) and he wrote back to me saying he thought our record was OK but wasn't quite his kind of thing and said we ought to learn from the likes of JJ Barnes!!
He also offered to design our second single's sleeve, seeing that the "Wine & Roses" one (featuring a twee cartoon of various scooter riders) was so cr*p!!
However, despite those reservations, the single was a really big success for the band and immediately gave us a national identity. On the first day of release it sold over 1,200 copies nationwide and with favourable reviews in the NME and Sounds it hit the independent charts AHEAD OF both The Smiths and The Jesus & Mary Chain (which many people find hard to believe now but it was true!).
We almost reached top 40 of the "pop charts" with it and Janice Long gave it some heavy rotation (as they say in the biz!) on Radio One.
I remember also we headlined a scooter rally at Morecambe (also 1985 I think) in Lancashire.
Before we went on stage there was a MASSIVE punch up involving literally thousands of drunken skinheads and pilled up scooter boys and it was bloody. I mean REALLY bloody!
We were back stage on the pier at Morecambe and I will never forget Neil Rushton coming into the dressing room with the promoter whose face had drained of all colour and was clearly distressed and terrified having witnessed the violence.
He informed us that there was a boat tethered to the rear of the pier and showed us to the stair case that led down from the pier to the sea.
He explained that if the violence erupted again that was our escape route - we were to flee the stage run backstage, climb down these rickety old steps and jump in a boat and row out to sea!!!!!
How mad and bizarre was that!!!?!?!?!?
When we went on stage Neil Rushton had done a deal with the "HARDEST" skinheads in the scootering movement and paid for some of them to act as this wall of muscle on each flank of the stage so we were flanked by these ugly, hard-nosed thugs either side of us who were there standing with their arms folded with mean & menacing glares being flashed to anyone who dare looked in their direction.
It was utterly terrifying.
When we got on stage it was about 1am, really dark, incredibly hot and sweaty and you could smell blood (literally) and all I could see in front of me was a sea of thousands of scooter boys and skinheads, most of them bloodied and off their faces. I looked to my left and there were these thugs guarding us and I looked to my right and saw the same. I looked behind me and there was Neil Rushton looking terrified back stage and I honestly wondered whether or not we'd get out of that gig alive!!
As it were Tim (Goode) our lead singer introduced our first song which was a tune I wrote called "The Crucial Class" but in the fear and (tropical) heat of the moment he fumbled his words, said the first thing that came into his head which went along the lines of "this is a song for all of you proud to be British!" which sounded terribly right wing and fascist!!!
I was horrified (as was Tim the second the words left his mouth) - we were rabidly anti-fascist!!- but the words struck an immediate chord with the audience who en masse screamed their approval and we had won the battle-weary bloodied audience over!!! And they stayed with us all the way through the gigwhich became a resounding success!!
Anyway, getting back to Neil Rushton…after the success of "Wine & Roses" / "Fashion Toys" (the latter being a song about the violently-inclined lager louts who were populating the George and Marmion pubs at that time!!) we planned a follow-up single "Love 15" /"Mousetrap!" which were far better songs.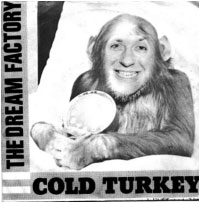 But in the meantime as a stop gap measure we did a virtually live in the studio single "Cold Turkey" (not the John Lennon song of the same name but an old British psychedelic song by "Big Boy Pete" which Julian Cope had introduced to me) and "Memory Lane" which we recorded hurriedly (unfortunately!!) and cheaply at the Expresso Bongo.
Then Neil paid for us to go to UB40's studio in Brum with producer Tony Keach joined by my old school friend Donald Ross Skinner who by this time was touring the world with Julian Cope and also had his own band Freight Train.
Donald had more of a creative production role in the sessions and he also played some percussion on "Mousetrap!" as well as reciting an anti-fox hunting poem I had written in the middle of the tune.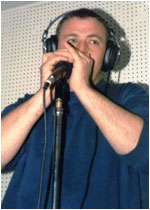 This is Dave "Royal Family" Smith in October 1985 in the Expresso Bongo Studios (then just an eight-track set up) recording some harmonica on a tune called "Memory Lane" which was a mod-jazz instrumental, the B side of the second Dream Factory single "Cold Turkey" which came out on Inferno as a limited edition single shortly afterwards.
There were some "technical" problems that dogged the recording session but it still had great potential. We invited Chris Taylor back to play some lovely piano parts on them and the unmixed version of the two songs sounded good enough to get lots of radio airplay - the songs were more mature, better written and very catchy.
But we never got round to tidying up the glitches so the songs were in a release-quality state - something I have always regretted ever since.
I believe the master tapes are currently gathering dust in Neil Rushton's loft!!
Anyway, we planned another recording with another original tune "Feel Your Touch" (a collaboration between myself, Lloyd Barnett & Tim Goode) and demo-d it at the Expresso Bongo.
At this time Neil Rushton was getting interest from other, bigger, labels who were keen on signing Dream Factory and one bunch of guys who came to see us often were really keen on us and we ended up doing a live "gig" in the Expresso Bongo studios solely for them which was fantastic (best performance we ever gave).
Sadly these management guys were toying with a choice between us and a then unknown Mancunian group called....The Stone Roses and we lost out.
The rest, as they say, is history!!!
As 1986 came I wanted to steer dream factory in a harder edged direction, away from the more Style Council soul-pop sound we had (sadly!!) developed in 1985 and this led to a few clashes (particularly with Tim Goode).
My vision of the new dream factory sound was a cross between our northern soul roots and the more brash, guitary indie-rock of people like the emerging Mighty Lemon Drops.
At the same time Neil Rushton started importing more stuff from the States and stumbled across a new small scene out in Chicago that was getting up a head of steam...the techno scene.
Because a lot of northern soul people were based in Detroit (home of Motown) \and Chicago there was an awful lot of faces connected with both northern soul scene and the emerging techno one.
Neil instantly recognised the potential and cultural importance of this scene, together with another scene that was also exploding in neighbouring Detroit which was the "house" music and he launched another small indie label called Kool Kat in late 1986 to specialise in the import of this obscure new music from the USA - techno and house music.
As the Dream Factory disintegrated Neil's attentions switched to house and techno and he began managing an act called Inner City who within three years had a string of top 10 hits in the US and UK including "Good Life".
Then came the so-called "acid house" explosion in the UK around 1988 and Neil had stayed in touch with me and asked me to go and do some freelance PR work for his label Kool Kat which I did very successfully and helped push a couple of his tunes into the top 40 on the back of some "shock outrage" kind of newspaper headlines that I helped hype up!!
In 1992 I got a call from Neil again and he poached me from my role as a news editor of a newspaper in Coventry to become his new press officer and head of marketing at his latest record label NETWORK RECORDS which had grown out of Kool Kat.
Network still specialised in techno an house but also released more chart friendly house type records too and the day I started work there they had a Nottingham based act called K.W.S. who went to nm ber one with their cover of KC & The Sunshine Band's "Please Don't Go."
They also had "rave duo" Altern 8 riding high in the top 40.
Talk about being thrown in at the deep end!!
It was a great time working for Network, loved every second of it - it was quite anarchic at times and there was definitely a maverick way of working and Network leaned very heavily on the whole Sex Pistols / Malcolm McLaren way of doing things which appealed to my sense of history and adventure greatly!!
There was never a dull moment!!
While with Network I had other interesting opportunities thanks to Neil including doing some studio engineering on a number of tracks which went top 30 and I also got to visit Top of the Pops with K.W.S. etc.
I dipped into my past to involve various friends and colleagues of mine in the K.W.S. project.
They wanted a brass section to appear on their "Top of The Pops" appearances so I roped in Paul Speare of the Expresso Bongo on baritone sax together with Andy Codling (ex Dream Factory, Dance Stance) on alto and tenor sax, Paul Scragg (ex-Dream Factory and Expresso Bongo Orchestra) on tenor sax, Guy "Stav" Greenway (ex-Dance Stance) on trumpet.
At some stage I also used ex-Bash Out The Odd trumpeters Martin Cooper and Mark Allison for recordings with KWS.
And we even created a live band for KWS featuring myself on bass and Stuart Pickett (ex Bash Out The Odd) on drums!
In 1992 & 1993 I also got to play bass with northern soul and disco legends The Trammps on BBC's "Children In Need" TV show and the following year we released an hilarious techno record under the pseudonym of HOUSE OF WINDSOR which was basically samples of the infamous "Dianagate" recordings of Princess Diana. The track was called "Squidgy" and caused a right royal uproar!!
We had TV companies from all over the world wanting to interview "the band" (there was NO band!) so Neil and I concocted an imaginary band House of Windsor and I, again, used my Tamworth contacts to good effect, dragging in Rikk Quay as keyboard player / front man to act outrageous and all punk rock.
My old journalistic friend Matt Page did a sort of punk Village People thing (!) and wore a witch doctor's costume and pretended to play various instruments while I spiked my hair and pretended to play my sitar (there was no sitar on the record).
We held a few filming sessions at a studio Network owned in Stoke-on-Trent called The Baseroom and we had film crews from the States and Japan and Germany over to film us and interview us - it was complete stupidity and an hilarious p*ss take.
Rick and I travelled to London to be interviewed live on Radio One's news show and it was all great fun!!
Thanks to: Mark Mortimer