Tamworth Bands : Forum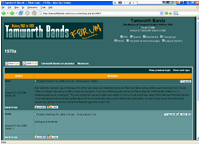 Welcome to the new Tamworth Bands Forum. Here you can chat with fellow band members, share memories with fans and simply relive those happy times from the Tamworth music scene between 1960 to 1990.
Not sure how to use the Forum, here are some handy guidance notes

---

Click on Enter the Forum» above to enter the Forum.
To simply view the existing entries in the Forum, click on the headings e.g. Tamworth Music Scene in General, 1960s, 1970s, 1980s etc. and have a read.
If you want to add your own memories by starting a new discussion topic or replying to an existing comment you'll need to be Registered. You only need to do this once.
Click on Register (top-right) , read the Terms and Conditions and if you agree to abide by them, click on the appropriate link.
Choose a Username, add your Email Address and pick a Password. Complete the Confirmation Code.
The remaining fields are not mandatory, although you might want to add a Signature, your Website or an Avatar (a small image – maximum size 80x80 and 60kb), once done click Submit. That's it, your Registered.
You'll return to the Forum, click on Log in (top-right).
Enter the Username and Password you just chose.
That's it! You're now ready to add your memories and comments to the Tamworth Bands Forum.
In future, simply click on Forum on the left and then Log-in.
Log-in as above.
Click on the subject that interests you e.g.Tamworth Music Scene in General, 1960s, 1970s, 1980s etc.

To reply to an existing topic, click on the heading, read the topic, click on the Post Reply icon. Add a Subject for your comment and then simply type your text.
Click on Preview to see how your Post will look, once you're happy click Submit, your Comment will appear.
Remember, you can Edit or Delete your own posts, just click on the appropriate icon and make your changes.

If you want to start a new Discussion Topic rather than reply to an existing one, simply click on the New Topic icon. Again you can edit or delete your own posts.
Polls
When you add a New Topic you can also add a Poll. If you have a question that you'd like to put to the test e.g. Who's the best guitarist in Tamworth? Simply add your poll.
FAQs
If you've got any questions on how to use the Forum, click on FAQ (top-right) or email help@tamworthbands.com
Private Messages
You can email and receive emails from fellow Forum Members. When you log-in you may see "You have 1 new message" (top-right), simply click on this link to see your messages. Read your message and reply if necessary.

To send a new message simply click on the New Post icon. Click on the Find a Username icon to select the Member you wish to mail and then construct your message and click Submit
Search
Click on Search (top-right) to search the forum for key words or names.
New Forums
If you have an idea for a new forum in addition to those that exist already (Memories, Bands to Remember, Characters, General, Bands Reunited), simply email forums@tamworthbands.com