Lost Johnny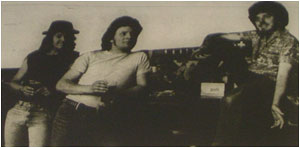 Lost Johnny
Photograph courtesy: Tamworth Herald
The Gallery
Musical Type/Genre:
Formed: 1985
Band Members:
Norman Yates: Guitar
Chippy : Bass Guitar
Jason Farrow : Drums
Gigs:
#
Tamworth Herald Reviews:
Tamworth Herald – 02/08/85
Musicbox – New trio aim for frenzied fun!
A BRAND NEW band featuring three of the most colourful characters on the Tamworth scene is just about to erupt on the area.
The group – Lost Johnny – say they intend to server up a vicious brew of what they describe as 'frenzied rock and heavy blues roll'.
They feel that music which embraces as many elements as theirs is sadly lacking in the town – and they are determined to bring back a touch of fun to the local scene.
Mixture
"Our music should appeal to most people because it is good time rock and roll and that is always popular," said bassist Norman Yates. "We are going to take it quite seriously but there is no doubt that our music should make our gigs fun," he said.
The trio making up Lost Johnny all have a strong local pedigree having been in and out of local bands for a longer time than they would like to admit. Norman Yates has been involved in Wild Child and Child's Play and is still an active member of the rambling folk convention "Bannedwagon". Drummer Jason Farrow, has also dabbled in Child's Play, but was more recently to be seen behind the drum kit of Wolfsbane. And guitarist Chippy has had more groups in his past than EMI.
"The last time he was in a band was Kill The Doctor and before that the Lounge Lizards," said Norman. "He is actually a very good guitarist and we are really glad to have got him."
The band have only been together in their present format for three months but already they have booked a number of impressive gigs. As well as a prime spot at the August Bank Holiday rock festival, the group are also travelling to The Graziers Arms at Nuneaton on Thursday and have other dates at venues as far apart as a riding school in
Austrey and a venue somewhere in the obscurity of Oswestry.
Popular
"At the moment the music we play is made up of a mixture of original cover versions and songs, although we are trying to write new songs all the time. Our own songs are moving a different direction to things we have done in the past which makes it exciting," said Norman.
So, everything looks bright for the trio at the moment but the question that must be asked is, is Tamworth ready for "frenzied rock and heavy blues roll". Or more to the point will Tamworth recognise it when it sees it?
Tamworth Herald – 27/09/85
Musicbox – TamAid's genial chief pops up
Midnight guy still smiling
WOULD YOU buy a second-hand demo fro the pictured-above gypsy? No? Well think again, for the gentleman above is none other than Paul Speare, the man who produced TAMAID and also added the sax on the tracks.
Paul is pictured from the inner-sleeve of the last Dexy's album "Too-Ry-Aye" where our resident Rosie Lee performed on such mega hits as 'Come On Eileen' and 'Jackie Wilson Said'.
The question is how can anyone who has spent hour after hour with that difficult genius Kevin Rowland still be smiling? Questions on a postcard to Expresso Bongo Studios, Lichfield Street, Tamworth.
Warning
A slightly less famous band than Dexys are Gaf The Horse In Tears who have decided to split up. The band, who have made quite an impact in their short career, have decided to change their name, line-up and sound. Ted, Stuart and Robin are staying together and now they are seeking new musicians to build a fresh group altogether.
Bass players and keyboard players are especially welcome…
Also changing are Depth Charge who appear to have recruited the ever-loveable Mick Goodby as lead vocalist. A wise move indeed lads, but just a warning – Mick's dog is a killer. In a word, AVOID!
Certainly not to avoid are Breaking Point who have completed their line-up by acquiring a new drummer, Jason Farrow. The ex-Wolfsbane, Childs Play amd Lost Johnny drummer has delighted bassist Daydo, who even had a shave by way of a celebration.
"He seems to fit in really well and we are delighted he has joined us," he said.
Still on joining things, Ian "When does he find time to sleep?" Gibbons has been appointed as the first ever rock representative on the Arts Advisory Council which overseas the Arts Centre. Ian has more devilish tricks to unveil and all will be revealed in the near future.
And finally, a sad farewell this week to Femme Fatale bassist 'Jean-Jacques' Higgs who is leaving the area at the weekend to go to college.
According to the handsome man-in-black bassist, he will still be returning occasionally to keep the Femme Fatale ball rolling.
The real question is how will he ever be able to drag himself away from the beautiful, picturesque and completely unviolent (!) City of Coventry?
The full profile and history of Lost Johnny has yet to be added to TamworthBands.com Call back soon to read the full band details.
If you have any further information about this band please email: info@tamworthbands.com