Those Attractive Magnets : Version 2
Musical Genre/Type: New Romantic
Formed: June 1980 Split: December 1980
Band Members:
Rikk Quay - Keyboards
Andy Baldwin (also known as Grimsby Fish) - Lead Vocals
---
Gigs
21/06/80
The DHSS v3 and The Magnets
Edward ian Armchair
The Stable
11/07/80
Those Attractive Magnets
Buttercup Roadshow
Tavern in the Town
09/08/80
Those Attractive Magnets
Buttercup Roadshow
Ankerside Shopping Centre
16/08/80
Those Attractive Magnets
Trinity Carnival
04/10/80
Flash Harry
Those Attractive Magnets
Mile Oak
---
Tamworth Herald – 20/06/80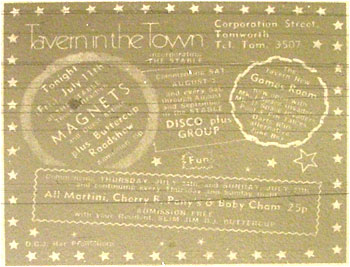 Musicbox – Back at the Stable
TWO of Tamworth's up-and-coming bands make a return to the Stable venue in Corporation Street tomorrow night (Saturday).
The two bands, Those Attractive Magnets and DHSS will be hoping to pull in similar crowds to those when they played together last month.
The Magnets are out to make up for that debut appearance when they were forced to finish early but this time they will be support group to DHSS.
Tomorrow night's gig starts at 8pm and the event will be backed by a special disco run by the Buttercup Roadshow.
So if you're not venturing down to Knebworth for the day, why not go along and support some home grown talent.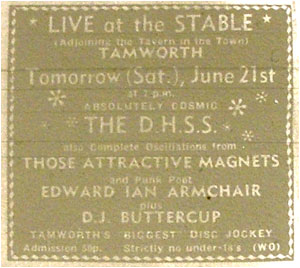 Tamworth Herald – 08/08/80
Musicbox – A shopping attraction – that's Magnets aim
THOSE Attractive Magnets – the Tamworth band poles apart from anyone else – have an electric time in front of them.
Now a two-piece outfit, the Magnets will be breaking new ground when they give a live performance of their music in the Ankerside shopping centre tomorrow (Saturday).
And the music while you shop experience goes to show they're not just in it for the fame and the fortune because all the money thrown in the hat will go to a childrens' charity.
For those of you who aren't into synthesised music (and if not why not) you can treat your eardrums to the super sounds of the Buttercup Roadshow which will be there throughout the day.
And the fast moving times don't stop there, for the following Saturday (August 16) the duo Rikk Quay and Andy Baldwin will be up at Trinity Carnival.
During the carnival morning, the group are stopping off at various places around the gala route giving impromptu performances of their 100 per cent electronic music.
And in the afternoon the Magnets plus the ubiquitous Buttercup Roadshow will be moving along with the rest of the procession.
The group with the most original sound of all the bands in the area are now looking to expand their line-up as Rikk explained.
"We now want a drummer to give more depth to our sound and a synthesiser player or players for more effect on live performances." He said.
"We're looking for people with genuine enthusiasm more than musical experience," he added.
There is also a chance that the group could shortly clinch a recording contract with Birmingham-based Splash Records but this is still in the pipeline.
So anyone who's into the sounds of Ultravox, The Human league or John Foxx and is keen on teaming up with the Magnets should ring Rikk on Tamworth 3507.


Tamworth Herald – 05/12/80
Musicbox – Magnets with new attraction
Caption: Those Attractive Magnets take a breather from recording as Steve Adams' Studio. From left are John 'Hurricane' Higgins, Andy Baldwin, Rikk Quay and Chris P. Kelloggs (Pul Killick).
TAMWORTH band – Those Attractive Magnets – are back in the spotlight.
For this week sees the release of their first recorded work since they were formed earlier this year – a 20-minute cassette which they hope will lead to a record contract.
Recorded at Steve Adams' studio in Birchmoor, the cassette comprises three impressive tracks all featuring the group's unmistakeable sound. It's hoped the three songs will make-up a special EP record in the near future.
The cassette, as yet unnamed, for the band are still toying with possible titles, will be on sale at Rock-it Records, Victoria Arcade at the modest price of £1.25.
Those Attractive Magnets, as anyone who has seen them live will know, base their music almost totally on synthesisers, courtesy of Andy Baldwin, Rikk Quay and Chris P. Kelloggs (Paul Killick) with the only concession to electronic sound being John 'Hurricane' Higgins' drums.
The songs themselves entitled "Memories", "1500" and "Radio Weeps, Television Cries" are all original, carefully constructed pieces that show the band have come on in leaps and bounds since their first live gigs.
The additions of drums and extra synthesisers have given the bands overall sound more depth and have increased the chances of making their music more commercially viable.
The ace in the pack is the closing track "Radio Weeps, Television Cries" which is a complex yet easily accessible number that strides along helped by Andy Baldwin's excellent, Bowie-fied vocal performance.
Those Attractive Magnets use a wide variety of synthesisers, electronic devices and sound effects in their music and this is supplemented by some compulsive drumming.
And now they are looking for an agent/manager willing to promote the band, whose music stands a great chance of commercial success, given time and a little luck.
Said Rikk: "We're also hoping to land a recording contract with one of the small record companies. But if we don't get one by about February we'll bring the record out ourselves."
If anyone has further information or corrections, alterations or additions about this band including the numerous further line-up variations, please forward info to: info@tamworthbands.com