Those Attractive Magnets : Version 3
Musical Genre/Type: New Romantic
Formed: December 1980 Split: March 1981
Band Members:
Rikk Quay - Keyboards
Andy Baldwin (also known as Grimsby Fish) - Lead Vocals
Paul Killick - Keyboards
John 'Hurricane' Higgins - Drums
[Also in The Reliants v.1, The Reliants v.2, The DHSS v.2,The Conspiracy]
---
Gigs
12/02/81
Those Attractive Magnets
Lounge Lizards
Mile Oak Hotel
07/03/81
Those Attractive Magnets
The Assets
The Travelling Dog
(Fetch the) Comfy Jigsaw
Wigginton Village Hall
09/03/81
Those Attractive Magnets
The Assets
The Travelling Dog
(Fetch the) Comfy Jigsaw
St. John's Youth Club
10/03/81
Those Attractive Magnets
The Assets
The Travelling Dog
(Fetch the) Comfy Jigsaw
Polesworth Youth Club
12/03/81
Those Attractive Magnets
The Assets
The Travelling Dog
(Fetch the) Comfy Jigsaw
Dosthill Boys Club
---
Tamworth Herald Features:

Tamworth Herald – 02/01/81
Musicbox - Magnets on Tape
LOCAL music fans look out for the special 20-minute cassette recorded by Tamworth band Those Attractive Magnets.
Called Pictures on the Wall, the tape is on sale at the Rock-it Records store in the Victoria Arcade, Aldergate, at the bargain price of £1.25.
Tamworth Herald – 06/02/81
Musicbox – When Magnets meet Lizards
TWO Tamworth bands line up alongside each other next week for what promises to be the best gig in the area for some time.
Those Attractive Magnets and a newly-formed group, the Lounge Lizards, will be playing a special double-header at The Warren, Mile Oak Hotel on Thursday February 12.
The gig will also feature a solo spot from Tamworth folk singer Nick Lowe and the super sounds of the Buttercup Roadshow.
And to make things easier for the unemployed and students, the two bands have cut some admission charges.
Normal admission is 60p but if you bring along your dole card or students' union card, it's 30p. So, be there!
Tamworth Herald – 20/02/81
Musicbox – Weak brew that failed to mix
Review: Nick Lowe/East Park/Those Attractive Magnets/The Lounge Lizards – The Warren
FOUR artistes for 60p can't be bad can it? Oh yes it can! My apologies to the Lounge Lizards who gamely tried to save this evening from disaster but even they, lovable loonies that they are, failed.
All right, I know this was only a semi-serious sort of event anyway and most of the fair-sized crowd seemed to appreciate that fact.
But the mixture of talents (?) on offer simply didn't work together to provide a coherent programme of entertainment.
I'm sure most of the crowd would agree that, until the Lounge Lizards gave the event a kick up the backside, the gig was definitely dying a death.
First on the boards was Nick Lowe. Nick has been strumming his acoustic guitar around town for a few years now. His set was pleasant enough to start with but the novelty soon wore off.
Nick was also dogged by the fact that most of the audience were so busy chatting to each other that they apparently failed to notice that there was anyone on stage at all.
East Park had come all the way from Leicester. They needn't have bothered.
They had an electric guitar as well as an acoustic but really the world has seen enough electric folk bands for another ten years or so.
Next up were Those Attractive Magnets who have received much attention from my colleague Robert Sly on this page.
Shortage of time meant they could only play three (or was it four) numbers and frankly no-one was more relieved than me when time ran out.
Trying to look like Gary Numan and making noises with synthesisers seems to be a popular pastime these days for a number of people.
The Magnets are no worse or better than hundreds of other groups doing the same thing.
KEYBOARDS
Where the Magnets are going wrong is in their apparent inability to realise that the likes of Keith Emerson. Jon Lord and Rick Wakeman were proving ten years ago that keyboards make funny noises.
So really all this futurist nonsense is just taking us further backwards not forwards.
I don't know how serious the Lounge Lizards were supposed to be. Not very, I suspect.
Tamworth Herald – 05/03/81
Musicbox – In tune for rock tour
TOMORROW (Saturday) sees what could be the dawning of a new era in the history of rock music in Tamworth.
Those Attractive Magnets and three other bands are taking to the road to do a six date tour of youth clubs around the Tamworth area.
Wigginton village hall is the setting for the first of these important gigs.
Then the circus pitches its big top at youth clubs all over the area, finishing at Kingsbury on March 17.
The Magnets are backed by three new names on the local scene, The Assets, The Travelling Dog and (Fetch the) Comfy Jigsaw.
Musicbox will like to congratulate all concerned with this enterprising venture
DIRECTION
Lately, we have been complaining about the lack of live music in the area and if the youth clubs could be opened up as regular venues for local bands it would be a big step in the right direction.
So we urge everyone reading this column to go along to at least one of these concerts and give the new talent that is emerging in the area the support and encouragement it deserves.
The Magnets are already known to all of you but below we profile the three other bands on the tour.
As they say in Hollywood. This could be the start of something big!
TOUR DATES
Saturday March 7: Wigginton Village Hall; Monday March 9: St. John's Youth Club; Tuesday March 10: Polesworth Youth Club; Thursday March 12: Dosthill Boys Club; Monday March 16: Wood End Youth Centre; Tuesday March 17: Kingsbury Youth Centre.
Richard Whitehead
Tamworth Herald – 12/03/81
Musicbox – New boys learn a painful first lesson
Review: THOSE Attractive Magnets/(Fetch the) Comfy Jigsaw/The Travelling Dog/The Assets – Wigginton Village Hall
ON FRIDAY I heralded this gig as the possible dawning of a new era. At the end of Saturday night I was beginning to have my doubts.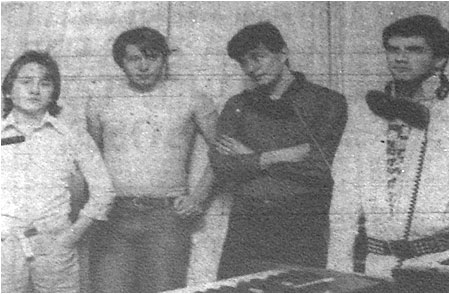 Apart from Those Attractive Magnets – more of them later – the three 'new' bands were shockingly under-prepared, out of tune and baffled by the whole situation.
Of course they will get better, develop and find their own level in a few years or maybe in a few months, but while the idea for this tour was enterprising and adventurous, some members of the groups plainly hadn't got the talent to deliver the goods.
Best of the three were (Fetch the) Comfy Jigsaw. They battled on, despite the fact that they were out of tune, and played the most listenable music of the evening.
The songs they did play were sort of power pop, new wave style, and I felt that with a lot of hard work and concentration, 'Jigsaw' could become quite a force. Good luck lads.
The Travelling Dog were hampered by the fact that they were hopelessly out of tune, under rehearsed and had lost Gary Overton and Steve McDaid just a couple of days before the concert.
Donald Skinner, drummer with Jigsaw, deputised on guitar, but, despite the enthusiasm of Mark Mortimer, they never really got going.
By the time The Assets took to the stage things were even worse and far from providing us with a "wild punk thrash" as they promised, they just looked nervous and desperately lacking in preparation.
SERIOUS
Back to the beginning of the evening and the Magnets, who, to my surprise, opened rather than closed the entertainment. No ego tripping for them, which was a good sign I suppose.
Sound problems hampered them when I saw them at The Warren with the Lounge Lizards, but tonight they seemed to have some of that sorted out.
Constructive criticism is what they wanted, so I'll do my best to give them that. For a start there is no doubt that TAM are very serious and thoughtful about their music, they want to succeed, and that's as good a start as any.
But where I feel they are going wrong is in the construction of their music. All the songs they played at Wigginton were far too long and complex for the sort of audience they are trying to reach.
SUPERB
The 'new' electronic music that is selling records and gaining recognition, is despite the synthesisers, very commercial. But the Magnets are more like Hawkwind than Gary Numan, playing lengthy numbers with layer upon layer of sound.
I feel that if they concentrated on getting some catchy hook lines within their music they could be very good indeed. They have a superb drummer in John 'Hurricane' Higgins and showed with … they can write good stuff.
All in all then a very mixed evening. The low points were the bad turn-out and the lack of co-ordination shown by the three newcomers.
However, John Higgins, Donald Skinner, Matthew Lees and Mark Mortimer deserve some credit for wholehearted, skilful performances.
To the three new bands the message is continue to work hard and don't be discouraged.
Richard Whitehead
Tamworth Herald – 20/03/81
Musicbox - 'Hurricane' goes and in comes the computer!


THOSE Attractive Magnets' drummer, John 'Hurricane' Higgins has left the band.
John's sudden departure after the recent concert at Wigginton Village Hall means the Magnets had to pull out of the youth club tour after just one date.
Now they plan to go totally electronic with a computer replacing "Hurricane's" drum sound.
Rikk Quay explained "We were sorry that the tour couldn't continue. There is no animosity between us and John".
BOOKED
Now the Magnets have been booked for a May 9 gig at a new "Blitz" club at Kingstanding.
Despite the fact that the Magnets had to pull out of the tour, the other bands battled on, drawing a crowd of over 100 to St. John's Youth Club on Monday.
One important line-up change is that Mark Mortimer, bass player with The Travelling Dog, has joined (Fetch The) Comfy Jigsaw while 'Dog have split.
However, The Assets have continued to improve with a barnstorming display at Polesworth.
Watch this space for more developments.
If anyone has further information or corrections, alterations or additions about this band including the numerous further line-up variations, please forward info to: info@tamworthbands.com