Those Attractive Magnets : Version 4
Musical Genre/Type: New Romantic
Formed: March 1981 Split: April 1981
Band Members:
Rikk Quay - Keyboards
Andy Baldwin (also known as Grimsby Fish) - Lead Vocals
Paul Killick - Keyboards
Tamworth Herald – 20/03/81
Musicbox - 'Hurricane' goes and in comes the computer!
THOSE Attractive Magnets' drummer, John 'Hurricane' Higgins has left the band.
John's sudden departure after the recent concert at Wigginton Village Hall means the Magnets had to pull out of the youth club tour after just one date.
Now they plan to go totally electronic with a computer replacing "Hurricane's" drum sound.
Rikk Quay explained "We were sorry that the tour couldn't continue. There is no animosity between us and John".
BOOKED
Now the Magnets have been booked for a May 9 gig at a new "Blitz" club at Kingstanding.
Despite the fact that the Magnets had to pull out of the tour, the other bands battled on, drawing a crowd of over 100 to St. John's Youth Club on Monday.
One important line-up change is that Mark Mortimer, bass player with The Travelling Dog, has joined (Fetch The) Comfy Jigsaw while 'Dog have split.
However, The Assets have continued to improve with a barnstorming display at Polesworth.
Watch this space for more developments.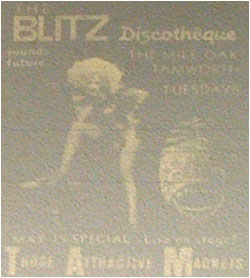 Tamworth Herald – 10/04/81
Musicbox – Fiction want the facts of success
TWO Tamworth futurist bands have joined forces to form a highly promising new partnership.
Those Attractive Magnets – well known to all of you – and Conclusive Fiction – new on the scene – have got their heads together and come up with the idea of combining musically and financially to give their bid for success a united push.
EQUIPMENT
The two bands have purchased important new equipment…including the Magnets new drum machine…and both of them will have the use of the gear.
And they will also forma touring partnership to accompany each other at gigs.
Conclusive Fiction synth player Gary Overton explained "When one group gets a booking the other will support".
CF have already been working on some material and Gary said: "I can't really think of any other group that sounds like us but I suppose we are influenced by Teardrop Explodes and Toyah".
And Magnet-man Rikk Quay added: "We reckon that two bands together have more chance of making it."
If anyone has further information or corrections, alterations or additions about this band including the numerous further line-up variations, please forward info to: info@tamworthbands.com