Tamworth Bands History : 1970
October to December
01/10/70
Touch of Velvet
Kettlebrook Working Mens Club
Tamworth Herald – 02/10/70
JAZZ DRUMMER ON CANNABIS CHARGE AT TAMWORTH
An internationally known jazz drummer appeared before Tamworth magistrates charged with possessing cannabis.
Phillip William Seaman (44) of 112, Camden Passage, High Street, Islington, London pleaded guilty to possessing .02 ounces of cannabis resin.
He was given a conditional discharge for 12 months and ordered to pay five guineas costs.
Seaman was taken to Tamworth police station, where he was found to be in possession of a quantity of heroin and instruments for its application.
However, it had turned out that he was a registered heroin addict and he was allowed to leave the police station, said Inspector Bull.
Seaman had been a member of several international orchestras and was at present leading his own band. He had one previous conviction for a similar offence.
03/10/70
Tea and Symphony
Plus DJ – Geoff Owen
Wilnecote Parish Hall
03/10/70
Palace – Carry On Up the Jungle
03/10/70
Ology
Polesworth Memorial Hall
03/10/70
Rubber Ball
Polesworth Memorial Hall
03/10/70
The Twilight Shift
Fazeley Victory Working Mens Club
07/10/70
Totem
Contemporary Music Club
Jolly Sailor
Tamworth Herald - 09/10/70
Assembly Rooms to remain a general purpose hall
An original civic centre project including a new hall with rooms for the arts has been deferred indefinitely.
10/10/70
Infinity
Plus Don Quay Dancing Disco
Polesworth Memorial Hall
14/10/70
Tea & Symphony
Contemporary Music Club
Jolly Sailor
"Meals, Light Show and "Gazundas"
Tamworth Herald – 16/10/70
"Skinheads" v "Hairies"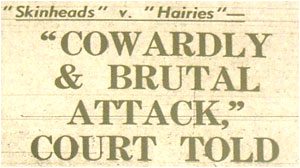 "COWARDLY & BRUTAL ATTACK," COURT TOLD
During a "cowardly and brutal" attack by six 'skinheads' on two 'hairies' three of the 'skinheads' put the boot in on one of their victims as he lay on the ground, prosecution solicitor Mr. Peter Scragg told Tamworth magistrates on Tuesday.
Two of the 'skinheads' were said to be youths of above-average intelligence and to have recently passed Ordinary level examinations in six subjects with high-level markings. Another was said to be an ex-grammar school boy.
All six are living on the Leyfields and Coton Lane estates in Tamworth.
John William Aston a 17-year-old Merchant Navy seaman of 18, Arnold Close, pleaded guilty to an assault on David Coleman, causing actual bodily harm and guilty to using threatening behaviour likely to cause a breach of the peace.

16/10/70
The Offense
Fazeley Victory Working Mens Club
17/10/70
The Zodiacs
Atherstone Working Mens Club
18/10/70
The Bees
Tarboard Tango
Two fantastic Disco Dollies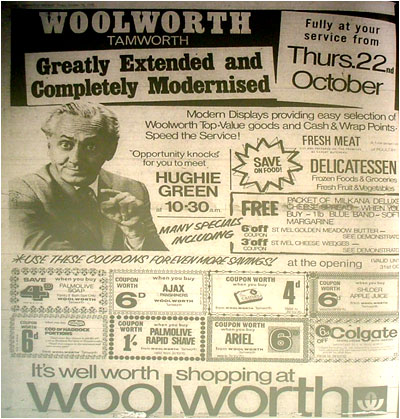 Tamworth Herald – 22/10/70
Hughie Green Opportunity Knocks – opens Woolworths
23/10/70
Duster Bennett's "one man band" coming to Tamworth
Harmonica, guitar, bass drum and cymbal could be the instruments for a pop group – but only one man will be playing them simultaneously in Tamworth on Wednesday night.
One of the top one man bands in the world has agreed to appear at The Jolly Sailor Contemporary Music Club in between playing in Switzerland and Austria.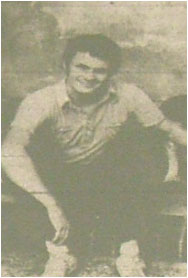 Duster Bennett, who plays how own brand of blues music, has been acclaimed all over the world. His L.P. records have been consistent best sellers.
Blue Horizon, his record company are releasing a record album and a single today (Friday) to coincide with his current tour which has already taken him to Zurich as well as all over this country.
23/10/70
DJ – Al Kay
Dosthill Cosmopolitan Club
23/10/70
The Unicorn
Fazeley Victory Working Mens Club
24/10/70
The Kinfolk
Polesworth Working Mens Club
24/10/70
Judas Jump
Plus Hard Grunt Disk-k-Tek
Polesworth Memorial Hall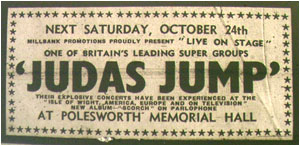 28/10/70
Duster Bennett
Contemporary Music Club
Jolly Sailor
Tamworth Herald – 30/10/70
"CONTACT AT YOUTH CLUB SUPPLIED FIVE YOUNG MEN WITH CANNABIS – Tamworth court told
A "contact" at Tamworth Youth Club supplied cannabis resin to five young men who appeared before Tamworth magistrates on Tuesday.
The bench imposed a sentence of three months detention on one youth and imposed fines totalling £175 on four others…Bambridge said he was first introduced to the drug at a pop festival at Newcastle in March this year. About eight weeks before his arrest he had bought some more from someone in Tamworth whose name he did not know. This was sold at Polesworth Memorial Hall.
Bambridge had then found a "contact" at Tamworth Youth Centre and bought some of the drug from him which he sold to Hardy. In their statements Hardy, Cart, Wilson and Battersby all admitted smoking some of the drug at Tamworth Castle.
"This is somewhat disturbing", said Mr. Gray. "It would appear that cannabis is around in the town". He hoped that the Bench would reach a decision which would tell other young people in the town of the seriousness of taking the drug.
Tamworth Herald – 30/10/70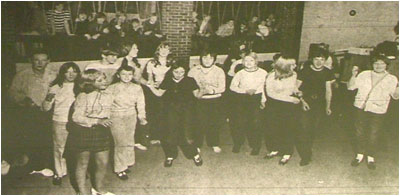 YOUTH CLUB DANCE MARATHON RAISES OVER £150
A non-stop marathon dance held in Wood End youth centre, has raised over £150 for local old people.
A group of 30 youngsters danced a total of 50 hours from six o'clock Friday night through to eight o'clock on Sunday evening.
The dancers split into groups of eight, took turns to dance to records and tapes in two hour stints, followed by a rest period of six hours before taking to the floor again.
Most dancers managed to dance a total of 13 hours during the week-end.
Light refreshments of pop and crisps were given to the dancers and helpers from the village came in to provide hot meals to keep up their strength.
The records were in the hands of Mr Alan Wright and David Farmer, the assistant youth club leader.
30/10/70
The Privilege
Fazeley Victory Working Mens Club
03/11/70
DJ – Mark Stevens
Hurley Working Mens Club
Tamworth Herald – 06/11/70
When 250 rocked for Duster Bennett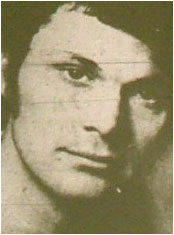 Following Duster Bennett's visit to Tamworth when 250 young people echoed chorus after chorus of his "Bright lights, Big City"; the youngsters of Tamworth, like the youngsters all over America, the Continent and Great Britain realise that Duster is far more talented than many other pop groups or singers.
Duster began his "act" with a short set of half-an-hour to relax the audience and make them feel at ease…He played a number of beautiful blues (songs)…Duster started his second set with an incredible "all-action boogie" affectionately called "Country Jam".
The crowd went crazy, hand clapping, feet stamping and bodies moving everywhere…the audience would still not go, "OK" replied Duster "I'll do one more number on one condition, that is that you rave and do your crusts, because this is a raver."
And so rave they did, they're probably still raving now. Duster Bennett is a name they won't forget in a hurry.
For Duster Bennett we thank you for coming and playing Tamworth, although for very little financial gain you gave everything you had, and for all those people present I would like to say a well earned thank-you, and God bless.
Phil Wheatley
07/11/70
Amalgamation
Tamworth Working Mens Club
08/11/70
The Offense
The Spot Club
DJ – Max Grant
11/11/70
Colin "Scottie" Scott
Contemporary Music Club
Jolly Sailor
13/11/70
The Offense
Fazeley Victory Working Mens Club
14/11/70
Growth
Plus Wild Rave Disk-k-Tek
Polesworth Memorial Hall
14/11/70
The Velvet Nite
Dosthill Cosmopolitan Club
16/11/70
Hannibal (progressive, blues hard rock)
Contemporary Music Club
Jolly Sailor
20/11/70
Palace – Let it Be
20/11/70
Ruby Murray
Belgrave Miners Welfare Club
21/11/70
Mandrake
Polesworth Memorial Hall
21/11/70
The Bee's Club
Technique
Plus DJ "Dig"
Wilnecote Parish Hall

25/11/70
Gasoline
Contemporary Music Club
Jolly Sailor
27/11/70
Palace – Dracula
27/11/70
Mark Garner Band
Wood End Youth Centre
27/11/70
Hart 'n' Soul
New Disco Scene
Chetwynd Arms, Polesworth
28/11/70
Beamers
DJ Sieg Isidor
Polesworth Memorial Hall
28/11/70
Hy Kels
Polesworth Working Mens Club
29/11/70
Kathy and the Crusaders
Glascote Working Mens Club
02/12/70
"Mr. Guitar" Terry Jackson
Contemporary Music Club
Jolly Sailor
04/12/70
The Offense
Mile Oak Community Centre
05/12/70
Catapilla
DJ – Pete Chucker
Polesworth Memorial Hall
07/12/70
DJ Geoff Owen (Radio 1 DJ)
Polesworth Working Mens Club
11/12/70
The Unknown
Fazeley Victory Working Mens Club
11/12/70
Nathan
Chetwynd Arms, Polesworth
12/12/70
The Jackpots
Wood End Working Mens Club
12/12/70
Love Affair (L.A.)
Plus DJ Geoff Owen
Atherstone Memorial Hall
16/12/70
April
Contemporary Music Club
Jolly Sailor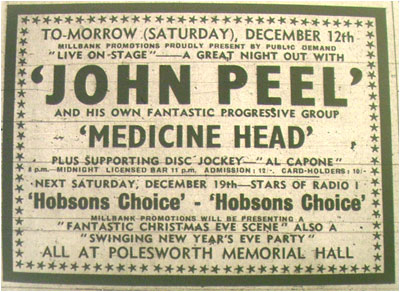 17/12/70
John Peel
Plus Medicine Head
Polesworth Memorial Hall
Millbank Promotions
19/12/70
Hobson's Choice
Jason Roberts Disk-k-Tek
Polesworth Memorial Hall
Millbank Promotions
19/12/70
Disco
Heart and Soul
Wilnecote Youth Centre
24/12/70
Badger
DJs Jethro and Judge Dread
Polesworth Memorial Hall
Millbank Promotions
24/12/70
The Velvetones
Tamworth Working Mens Club
24/12/70
Kathy and the Crusaders
Polesworth Working Mens Club
24/12/70
Al Kay Disco
Dosthill Cosmopolitan Club
26/12/70
Rhythmic Players
Glascote Working Mens Club
28/12/70
Huxley Mushroom and Flying Circus Disco
Soul Sound Group and Disco
Chetwynd Arms, Polesworth