Ethis
Musical Genre: Rock
Formed: 1981
Band Members:
Andy Higgins - Guitar
John Haslam - Keyboards
Ralph Sandland - Bass Guitar and Lead Vocals
Mick Onions - Drums
Sally Arnold - Backing/Lead Vocals
Other Members:
Roger 'Budgie' Bird - Lead Vocals
Gigs:
24/01/81
Ethis
Wigginton Village Hall
21/11/81
Ethis
Wilderness Laine
Wigginton Village Hall
08/01/82
Omen
Ethis
Tamworth Arts Centre
09/01/82
Ethis
Omen
Tamworth Arts Centre
12/05/82
Flash Harry
Ethis
The Warren
Mile Oak
12/11/82
Exodus
Ethis
Spirit of Water
Corrupt Youth
Cosmic Emotion
Polesworth School
Tamworth Herald – 09/01/81
Musicbox – Why Ethis will surprise you…
Mark the words of Andy Higgins, guitarist with Tamworth's newest heavy rock band Ethis: "I wouldn't like anyone to call us heavy metal."
The remaining members of the band are in agreement: "That's right," says keyboards man John Haslam, "we're not jumping on the new wave of heavy metal bandwagon."
And three cheers for that attitude is what I say! At the moment the music business is full of untalented, plodding Motorhead impressionists who play with all the grace and skill of a tractor driver on his first ploughing lesson.
So it's nice to welcome onto the local scene another band who play their rock heavy but still like to slow it down and get the notes right.
Ethis lead singer Ralph Sandland tells me the name is Greek, and they have been formed out of the ashes of a band that had been trying to get a set together for two years.
After the umpteenth change in the line-up the other week, the current foursome came together with drummer Mick Onions and Andy joining on the same day.
Now after a blistering performance at a recent CND meeting, the band are looking to rehearse and put together about one-and-a-half hours of material before hitting the road in February and March. Before that, they will play a one-off gig at Wigginton Village Hall, Saturday January 24.
Rehearsals at the moment are intensive and gradually they are gathering together enough home-spun and cover material to play a forceful set.
John points out: "We won't be playing the sort of cover material that people usually expect of a new band. We're looking towards slightly more obscure stuff."
This "more obscure stuff" includes the Deep Purple classic "Soldier of Fortune", and early AC/DC number plus material from the U.F.O. and Zeppelin stables.
But all are looking forward to the challenge of etching their name on the local scene following in the footsteps of the big brother bands regularly featured on this page.
Watch this space for developments.
Richard Whitehead
Tamworth Herald – 23/01/81
Musicbox – Putting a fine edge on rock…
A TINY parish hall in the middle of a picturesque Staffordshire village is not the first place you'd think of looking for a rock concert. But a peep round the door of this polite little building revealed an enthusiastic gathering packing the place to the rafters.
And they'd all come to get a look at Ethis. Four young gentlemen embarking on the first rung of the long and winding ladder to that elusive goal called stardom.
So there was a definite air of expectation when Ethis shuffled nervously on to the miniature stage to begin their set.
THOUGHTFUL
In my Ethis feature a few weeks back, the band were keen to stress that they were not interested in any heavy metal label and as the evening progressed it became clear that they intend to stick to that assertion.
At times the sort of thing that Ethis were playing was as restrained and thoughtful as a student's seminar on the work of Shakespeare.
But just when you thought they might get too slushy they picked up the pace and were off and into some aggressive, menacing hard rock.
The important difference between Ethis and other budding 'heavies' is the keyboard sound given by John Haslam, reminded me of the keyboard masters of old as he thoughtfully picked his way round the ivories adding all-important touches of subtlety here and there.
Add to that the excellent drumming of Mick Onions, the driving guitar of Andy Higgins and Ralph Sandland's remarkable bass and outstanding vocal work and it's clear to see why the audience were shouting for more at the end.
Considering Ethis have only been together for a few short weeks the sound they achieved was remarkable. Give them another six months and their potential will be enormous.
Tamworth Herald – 12/03/81
Musicbox - New girl
EMERGING Tamworth rock band Ethis have added a new recruit to their line-up.
Sally Arnold, from Elford, has joined the band to do backing and lead vocals on some of their numbers.
Sally has been involved with a number of bands in the area and her presence should add considerably to the Ethis vocal department.
Tamworth Herald – 08/05/81
Musicbox – Budgies flies in to prove his metal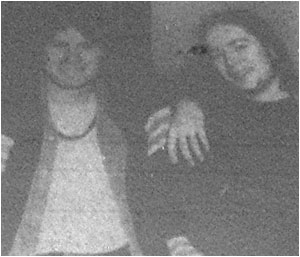 ETHIS lead singer and bass player Ralph Sandland has left the band.
Ralph's departure comes at the end of a sticky few months for the group who have been unable to build on the success of their debut performances in January.
"I'm afraid I just got bored with heavy metal," said Ralph.
But Ethis keyboardsman John Haslam expressed the rest of the band's determination to carry on.
They have already found a vocalist. He is Roger 'Budgie' Bird, formerly of Mandrake Root.
And now John, guitarist Andy Higgins and drummer Mick Onions are looking for a bass player.
If you think you have the potential to be a bass player in one of Tamworth's most exciting bands, ring John.
Tamworth Herald – 20/11/81
Musicbox – Ethis return with promise
ONE of Tamworth's most exciting young bands are set to make a long-awaited comeback with a gig tomorrow night (Saturday).
Ethis, who all but disappeared after a promising debut in January, make their return at Wigginton Village Hall tomorrow night.
Tamworth Herald – 27/11/81
Musicbox – Budgie with a lion's roar
Ethis/Wilderness Laine: Wigginton Village Hall
"BE HONEST and don't spare us any criticism" said disgruntled Ethis drummer Mick Onions after the band's comeback set.
Tamworth Herald – 18/12/81
Musicbox - A sparkling double for new year
TWO of Tamworth's top young heavy rock bands have joined forces for a bold venture early in the new year.
Omen and Ethis, considered by many to be Tamworth's great white hopes, have lined up a two-night double-bill at the town's Arts Centre.
The gigs are on Friday January 8 and Saturday January 9.
This is the first time that any band has been ambitious enough to try to play two consecutive nights at the town centre venue.
On Friday Omen will play first and Ethis second, and on Saturday, this will be reversed.
Tamworth Herald – 08/01/82
Musicbox – Busy Rockin' Weekend
MUSIC fans in Tamworth have lots to look forward to this weekend.
Tonight (Friday) sees the first of the two Omen/Ethis gigs at the Arts Centre. The second gig takes place tomorrow night.
Tickets are priced 60p for both nights and can be bought from the Arts Centre, Fazeley's One Stop Music, members of either band, or on the door.
And don't forget there is a fully-licensed bar.
As an alternative to heavy metal, Tamworth's Breakthrough group are tomorrow night (Saturday) presenting another in their successful series of concerts.
Sfynx, a four-piece rock band from Manchester, will be appearing at St. Paul's Church, Fazeley.
They will be supported by Birmingham-based theatre group Back to Back, who won this year's Greenbelt drama competition. The concert starts at 7.30pm and admission is 60p.
So there you are folks, a varied musical weekend – get out and enjoy yourselves!
Tamworth Herald – 15/01/82
Musicbox – Red hot HM warms cold crowds
Ethis/Omen: Tamworth Arts Centre
SATURDAY night at Tamworth Arts Centre and, as Ethis take to the stage, we have lo and behold, a full house.
I'll repeat that for those of you are hard of hearing, or nervous disposition or just plain surprised – a full house.
On Friday, the blizzards kept the crowd down to a small number of hardy individuals, but the two-night gamble was proved worthwhile with Saturday's highly-encouraging turn-out.
And the unfamiliar experience of actually having an audience of strangers to impress, inspired these two fine young bands into dynamic action.
Ethis were in great form adding professionalism to their usual ultra-aggressive presentation. They won some appreciative applause for their own numbers as well as the cover versions.
Vocalist Roger "Budgie" Bird was in fine screeching form as usual, but for once the extrovert antics of 'Budgie' and bassist Ralph Sandland were upstaged by some searing lead work from Andy Higgins who stole the show.
Omen are a different kettle of fish altogether. Their brand of doom-laden sword and sorcery HM is light years away from the Ethis approach.
Much of their material and musicianship is stunning considering their comparative inexperience, 'Searching' illustrates the band at their best, wandering between slow vocal passages, hard riffing and brilliantly-executed tempo changes.
However, good material is not all that matters and the band do need to work on presenting their set more forcefully. That plus the inclusion of a few out-and-out rockers in among the epics would make them unstoppable.
Both bands will have gained a lot of confidence from the reaction they won from Saturday's audience.
The onus is now on them to carry their music forward from this success and extend their reputations beyond Tamworth.
Tamworth Herald – 07/05/82
Musicbox – Ethis is support
ETHIS return to live action on Wednesday when they provide the support at Flash Harry's regular fortnightly spot at the Warren, Mile Oak.
The band have been slumbering since they played a double-bill with Omen at the Arts Centre back in January, but no band, fronted by Roger Bird, Ralph Sandland, and Andy Higgins could stay quiet for long.
Tamworth Herald – 21/05/82
Musicbox
Ethis make their debut in Lichfield tomorrow night with a gig at the Bridge Tavern. Travelling fans might like to know that the pub is in St. John Street on the Tamworth side of the Railway bridge.
Tamworth Herald – 09/07/82
Musicbox – Ethis at Top
ETHIS bring their own particular brand of raucous heavy rock to Polesworth Top Club on Monday.
The band, fresh from their recent success in Lichfield and two earlier gigs at Polesworth, are promising their growing following a night to remember on Monday.
Remember, the only way Polesworth Top Club will continue as a local venue is if you the punters support the gigs there.
---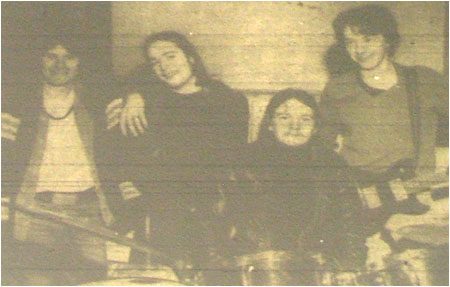 Ethis during a break in rehearsals. From left: John Haslam, Ralph Sandland, Mick Onions and Andy Higgins.
If you have any further information about this band please email: info@tamworthbands.com