Quill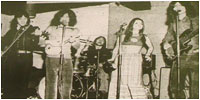 Quill
Line-up:
Gill Sowell – Drums/Harmonica/Guitar
Wally Lowe – Vocals/Ukelele
Mike Smith – Violin
Phil Bates – Guitar/Bass Guitar
Joy Strachan – Vocals
Band Variation No.1:
Phil Bates (Guitar)
Ben Brain (Bass Guitar)
Joy Strachan (Lead Vocals)
Jo Edmonds (Keyboards)
Gill Showell (Drums)
---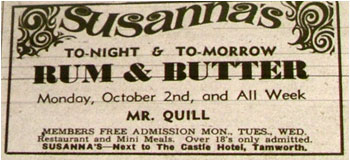 Gigs:
02/10/72
Mr. Quill
Susanna's
20/09/75
Dance in a Barn
Priory Farm
Quill
21/07/78
Quill
Tamworth Cricket and Hockey Club
Chicken Barbecue
20/12/78
Quill
Assembly Rooms
29/06/79
Hog Roast
Quill and Gilt Edge Disco
Home Farm, Upton
06/07/79
Pork Barbecue
Quill
Union Jack Disco
Red House farm, Anstey
11/08/79
Austrey Sports Club Barbecue
Quill
Elms Farm, Appleby
27/06/80
Quill
Hog Roast
Grendon House Farm
09/08/80
Austrey Sports and Social Club
8th Annual Chicken Barbecue
Quill
DJ Nij Redfern
Elms Farm, Appleby
18/04/81
Quill
Kingsbury Working Men's Club
20/06/81
Quill
Atherstone Carnival
29/08/81
Austrey Sports and Social Club
Quill
Elms Farm, Appleby
07/05/82
Quill
Dosthill Working Mens Club
25/03/83
Quill
Atherstone Memorial Hall
02/04/83
Quill
Assembly Rooms
---
Tamworth Herald - 15/09/72
Musicbox - Quill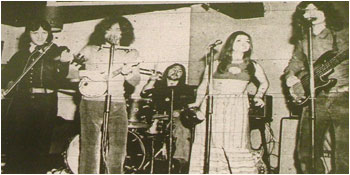 Quill - Gill Sowell – Drums/Harmonica/Guitar, Wally Lowe – Vocals/Ukelele, Mike Smith – Violin, Phil Bates – Guitar/Bass Guitar, Joy Strachan – Vocals.
Recent visitors to Tamworth's night spot, Susanna's were up and coming entertainers, Quill, who will shortly be releasing their first single on the EMI label. The 'A' side of the record is a song called Spent the Rent, which is a happy number and was received well by the patrons of Susanna's.
"Spent the Rent" was written by Quill's drummer Gill Sowell together with another Birmingham songwriter and it enables the group to demonstrate their remarkable versatility. The vocal is in the capable hands of Wally Lowe who also plays ukelele. Mike Smith plays a happy violin and local lad Phil Bates from Dosthill is featured on bass guitar. Glamorous vocalist Joy Strachan provides support for Wally Lowe and "Spent the Rent" will hot the top twenty.
Quill have been together for the three months now and are looking for a new concept in sound which invites audience participation. The happy sound that Quill produce is helped by the unusual combination of instruments which is unique in todays pop scene. Mike Smith, a former member of the City of Birmingham Youth Orchestra plays guitar and piano in addition to violin. Wally Lowe gives out on bass and rhythm guitar as well as the ukelele. Phil Bates provides inspired lead guitar solos and doubles on bass guitar while Gill Showell plays harmonica and guitar as well as providing the percussion.
Quill will be back at Susanna's in early October and the release date for "Spent the Rent" is September 29. Three members of Quill were formerly with Enigma and the song writing combination of Mike Smith and Phil Bates have several songs on the stocks for future release. Recently, they have been playing at clubs in the North and in Wales.
Dosthill's Phil Bates has been on the 'pop' scene for several years playing with the Teenbeats, The Power and the Glory (Source of Power - Ed.) and Jug. His association with Mike Smith started when he joined Enigma and after problems with that group, Mike, Phil and Joy joined up with Wally and Gill. The result is a collection of musicians of scope and ability.
Tamworth Herald - 25/11/77
Musicbox - Quill deserve big time success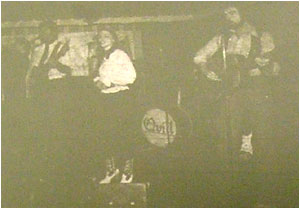 IF SUCCESS in the big time comes to Quill then in no way could it be hailed as an over-night affair. Gil Showell and Joy Strachan have worked hard to secure it.
Quill have been together, or at least Gil and Joy have, for quite a few years now and with a variety of musicians completing the line-up, have always produced a great sound.
The latest set-up includes, John Lynham on guitar, Paul Sanders on fiddle and Ben Brain on bass guitar. Gil has always been the driving force on drums with Joy providing the glamour as front-line vocalist.
Representing Beacon Radio, they recently reached the final of the "US Spectacular" competition. They reached the final via wins in rounds at Lafayette, Wolverhampton and the Odeon, Birmingham.
The final took place at Wembley and 8,500 enthusiastic fans rolled up. Wishbone Ash topped the bill. The competition was intended for Punk Rock bands so it was hardly surprising that Quill did not win.
What the competition did do was awaken the interest of several recording companies. Warner Bros. And MCA are amongst them. The work rolled in.
Drummer Gil told the "Herald" that they were currently putting the material together for an LP and "He's So Pretty" and "Old Friends and New" were being considered for release as singles.
The band play regular dates now on Monday's at the Cedar Club, Constitution Hill, Tuesday's at the Hunter's Moon, Castle Bromwich and on Wednesday's at the
Crown, Four Oaks and Joy and Gil are always pleased to see their Tamworth fans.
Recently Breaker records were launched by Gil and Joy who have signed up Le Ritz as their first artists. A single has just been released entitled "The Punker". Breaker recording studios are available for use.
Tamworth Herald – 30/05/80
Musicbox – Award booster for back on the road rock band 'Quill'
LOCAL rock fans look out for Quill – the band who have just won a major music award.
For the five piece outfit are back on the road and will play at Atherstone Carnical this summer.
Quill will be wanting to live up to their reputation as the Midlands top vocal and instrumental group.
Because they have just won the title at the Midland Command Performance held every year at the Cresta Club in Solihull.
The present line-up is made up of Joy Strachan lead singer, Gill Showell drums and ukelele, Ben Brain, bass, Mick Jones, violin and keyboards and John Ly… the guitarist.
Tamworth Herald – 07/05/82
Musicbox – Quill – a new sound for an old time name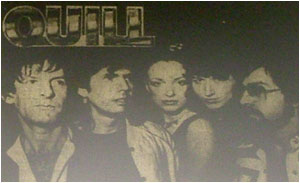 QUILL – a popular band with Tamworth music fans over many years – make a welcome return to the town tonight with a gig at Dosthill Working Men's Club.
In the five-piece will be local guitarist Phil Bates who re-joined the band six months ago after four years with London-based Trickster.
Quill were originally formed 10 years ago and since then have earned a solid reputation as a live act on the Midland rock circuit.
Musical styles have altered during the last decade and the band have been durable enough to keep pace with these changes.
They have noticeably moved away from their early folk roots and their sound now has a more contemporary streak.
Quill's line-up consists of Phil (guitar), Ben Brain (bass), Joy Strachan (lead vocals), Jo Edmonds (keyboards), and Gill Showell (drums).
They're a full-time, professional outfit playing up to five gigs a week at well-known pub-rock venues in the West Midlands.
The band are regularly pulling in crowds of around 250 – and audiences are right across-the-board.
Current plans for Quill include releasing their newly-recorded single "The Boys Are Alright" – and making a video to help promote it.
The band hope to follow-up the single with an album of their own material.
Quill's live show is a combination of their own songs plus a number of cover versions.
Do yourself a favour and be at Dosthill WMC tonight. The gig also includes a disco and admission is £1.50.
Tamworth Herald – 14/05/82
Musicbox – Quill in fine feather
Quill : Dosthill WMC
QUILL's first gig in Tamworth after a long absence was refreshing for two reasons.
Firstky, it was one of those few local live shows which didn't use crash-bang-wallop heavy rock as its base.
And secondly, it was actually well-attended – a rare sight indeed around these parts.
But above this, it was one of the best nights of live music in Tamworth for a long time.
They split their act between self-penned material, which stood up very well, and a string of well-executed cover versions.
These included songs by Judie Tzuke, The Cars, police, ELO and Foreigner. And they were not watered-down versions either.
Best of the bunch, to these ears at any rate, was Ms. Tzuke's "Stay With Me Till Dawn," beautifully sung by lovely keyboards player Jo Edmonds.
Each member of the band shone in their own right – showing a wealth of experience of live music.
And as a unit, Quill looked good, sounded exceptional – and proved themselves to be a highly-competent, professional outfit knowing how to win over a crowd and hold them there.
Maybe the music occasionally went over the heads of some of the audience, it wasn't the usual pub rock crowd Quill were accustomed to, but the majority loved it. People were actually dancing.
To sum up, a first-rate gig worth venturing out for. Come back Quill – Tamworth needs you.
Tamworth Herald – 11/02/83
Musicbox – Quill pins hopes on single success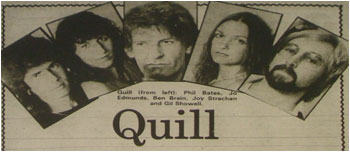 Caption: Phil Bates, Jo Edmunds, Ben Brain, Joy Strachan and Gil Showell.
MIDLANDS band Quill, who have proved very popular with Tamworth audiences over the years, have just released their first single under their new line-up.
Recorded at Metrosound Studios, in the West Midlands the single's called "Say It Ain't So" and produced by Tamworth's Phil Bates, who is also a member of the band.
It has been released on the band's own label Kite Records and is a commercial item which should fare well.
Quill have moved away from their folk roots and their sound has become much more contemporary.
Currently
They currently play four live gigs each week at popular Midlands venues.
Sunday evenings they can be seen at The Three Crowns at Aldridge, while Tuesdays see the band at The Mackadown in Kitts Green.
On Wednesdays, the band appear at The Hen and Chickens in Oldbury and The Boldmere at Sutton Coldfield completes the weekly routine on Thursdays.
The band's line-up now consists of Joy Strachan, lead vocals; Ben Brain, bass guitar and vocals; Gil Showell, drums and vocals; Jo Edmunds, keyboards and vocals; and Phil, guitar and vocals.
Do yourself a favour and get to one of their gigs – you won't be disappointed.
Tamworth Herald – 31/03/83
Musicbox – A-quiver for Quill
LIVE MUSIC returns to Tamworth Assembly Rooms this weekend when Midlands band Quill are the attractions on Saturday night.
Quill – including Tamworth guitarist and vocalist Phil Bates – had a single released recently and should provide a considerable holiday weekend attraction for local punters.
Tickets are available at the Wigginton Hotel at £1.50 and a late bar has been arranged.