Tusk
Musical Genre/Type: Heavy Rock
Formed: 1982
Band Members:
Ron Aucott - Bass Guitar
[Also in: Brewster]
Tony Beaumont - Vocals
[Also in: Brewster]
Frank Ingley - Guitar
[Also in: Hamma]
Colin Hunt - Drums
[Also in: Hamma]
Gigs
17/04/82
Tusk
Wilnecote Parish Hall
30/04/82
Tusk
The Chequers
24/05/82
Tusk
Polesworth Working Mens Club
14/06/82
Tusk
Polesworth Working Mens Club
20/07/82
Tusk
Polesworth Working Mens Club
23/07/82
Omen
Tusk
Donnisthorpe Miners Welfare Club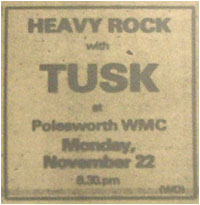 22/11/82
Tusk
Polesworth Working Mens Club
Tamworth Herald – 16/04/82
Musicbox – Newcomers Tusk face a tough first gig date
The sedate portals of Wilnecote Parish Hall will be alive with the sound of rampaging heavy rock tomorrow night.
For a powerful new five piece outfit – Tusk – are set to play their first major gig in the area.
Tusk are an amalgam of two of the finest rock bands ever to grace town stages – Brewster and Hamma.
Ron Aucott, bass and Tony Beaumont, vocals were both members of Brewster – who achieved an almost legendary status and large following all over the Midlands in the 70s.
And Frank Ingley, guitar and Colin Hunt, drums were both stalwarts of Hamma, the HM outfit who played so many fine gigs last summer before the departure of Norman 'Stormy' Swan to green pastures with Tytan, forced their break-up.
The fifth member of the band is guitarist Richard Arundel a musician of some experience who has never found a spot in a regular working band until now.
Tusk were formed at Christmas and the band have quickly put together a set featuring mainly old Hamma and Brewster numbers.
Frank said: "We aim to write more of our own material during the next few months. The sound won't be as heavy as Hamma's but it will still be rock.
Tomorrow night's date as Wilnecote will be the second gig by the band who played a warm-up, debut set at the Chequers last week.
Wilnecote Parish Hall is opposite the main petrol station on the A5 between Two Gates and Wilnecote.
Tamworth Herald – 23/04/82
Musicbox – Tusk Beat Hall
Tusk : Wilnecote Parish Hall
DESPITE the advantages of a fair sized audience and a bar, Wilnecote Parish Hall turned out to be a less than ideal rock concert venue.
The room was a little too large, the ceiling too high and the stage too small to accommodate the five members of Tusk comfortably.
Despite these limitations and the difficulties of working with partly borrowed gear, the band attacked their set with the sort of gusto and enthusiasm I've come to expect from such seasoned musicians.
Tony Beaumont belted out the vocals with great power, Ron Allcott, showed some nice touches on bass, Colin Hunt kept things rock steady on drums, Richard Arundel supplied the rhythm guitar and last, but by no means least, Frank Ingley gave his usual exciting performance of lead guitar skill.
The band played a set consisting entirely of cover versions – not something I'm fond of – but understandable considering the short time the band had been together.
"Tush", "Reckless" and "Wasted" were among the expected numbers, but they did slip in some surprise songs including Rainbow 'B' side "Jealous Lover" and MSG's "Armed and Ready".
But even though the band performed so creditably I found my reservations about the venue over-riding most of the enjoyment I would have got from the set.
Tusk play the more intimate and suitable Chequers on Friday April 30.
Tamworth Herald – 16/07/82
Musicbox – Dates
On Monday, Omen make their first appearance at the town's new heavy rock venue, Polesworth Top Club, on a double bill with Exodus.
The next Friday night the band appear at Donisthorpe Miners' Welfare Club over at Measham along with Tusk. Finally on Monday, August 2, they return to Polesworth Top Club for another gig there.
---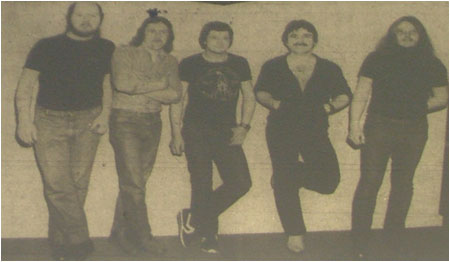 Caption: Tusk – left to right Richard Arundel, Ron Aucott, Tony Beaumont, Colin Hunt and Frank Ingley.
The full profile and history of The Band has yet to be added to TamworthBands.com Call back soon to read the full band details.
If you have any further information about this band please email: info@tamworthbands.com