Tamworth Bands History : 1972
January to March
01/01/72
Disco '72
Steve Earl
Mile Oak Community Centre
05/01/72
Upstairs Disco
Dolphin Inn
Glascote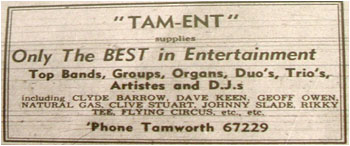 07/01/72
Roy Head
Susanna's
07/01/72
Disco
Fabulous Discron Discotheque
Atherstone Miners Welfare Club
08/01/72
Folk Club
E.J. Firkinball, Pete Clement and Guests
Tamworth Youth Centre
Admission: 17.5p
09/01/72
Disco
DJ Clyde Barrow
Tamworth Youth Centre
13/01/72
Disco
T.C.B. Roadshow
Atherstone F.C. Supporters Club
14/01/72
Dave Page and his Go-Go Girls
Susanna's
Tamworth Herald – 14/01/72
TAMWORTH BAND HIT BY THEFT
Three musicians are still waiting for news of their Tamworth band's van, stolen with £1,300 worth of their equipment.
Vernon Wingrove, bass guitarist with the six piece Chris Miller Concept, and drummer Dave Brown have been using borrowed instruments to keep engagements with the band since the van was stolen in Birmingham.
Now Vernon from St. Margaret's Road, Tamworth, has had to buy a replacement guitar costing £170 and rapidly complete a transistor amplifier he was building at home.
Dave, from Swadlincote, is using a borrowed drum set.
They lost their equipment after appearing with organist Tony Lee as a trio at Moor Hall Residential Club, Four Oaks.
While the musicians were on their way home, the Ford Transit van was driven back to Birmingham by the band's "roadie" helper Dave Chew.
It was taken from outside his home in Marsh Lane, Erdington, with a bass guitar, amplifier and cabinet, drum set and cymbals and cases of sheet music.
Vernon told a Herald reporter: "Unfortunately, our insurance does not cover the theft of equipment stolen from a vehicle in darkness.
"The loss of the sheet music is really the biggest handicap. All the arrangements were specially written for us."
Tony Lee from Salters Lane, Tamworth, had been playing the piano for the Moor Hall engagement. "Although he lost his music along with mine, it was lucky his equipment was not in the van at the time." Said Vernon.
"It had been left at Drayton Manor with our P.A. equipment ready for another booking. If all the equipment had been in the van it would have meant a loss of £4,000. We would have been finished.
The band is appealing to local motorists, particularly Birmingham workers, to keep a look-out for the dark blue van. Its registration number is MOA 316F.
15/01/72
Disco '72
Steve Earl
Mile Oak Community Centre
Admission: 20p
15/01/72
UZZ
Polesworth Working Mens Club
15/01/72
Disco
Hi-Andra Disco
Royal Oak Kingsbury
15/01/72
Over 30-Club Dance
Alan Melville Band
Mancetter
Every Wednesday
Upstairs Disco at The Dolphin Inn, Glascote Road
7.30pm – 10.30pm
DJ – Roy Head
Tamworth Herald – 21/01/72
Eric Rowland and Shirley Sayers Children's Dance Classes
New Disco Classes
21/01/72
Johnny Slade Disco Sounds
Dolphin Inn
Admission: 30p
21/01/72
Tamworth Radio Taxis Charity Dance
The Hy-Kells
Glascote Working Mens Club
Tamworth Herald – 21/01/72
MUSICBOX - Togetherness Folk Club
Tonight sees the opening of a new folk club at Tamworth College of Further Education.
The club – described as "an exciting Venture" by College principal George Crook – has folk start Jon Bettmead and Lichfield artist Andy Alack playing and singing in the common room tonight.
"The success of the club depends on how well it is supported said vice-chairman Simon Lucas.
"Obviously we have to book various artists and we must have sufficient money to do this."
Also helping to run the club are three other full-time college students – Mick Phizaclea, treasurer, and Caroline Pester, chairman and Susan Harlow, secretary.
Membership is free for those people attending the first night and 25p will be charged a night.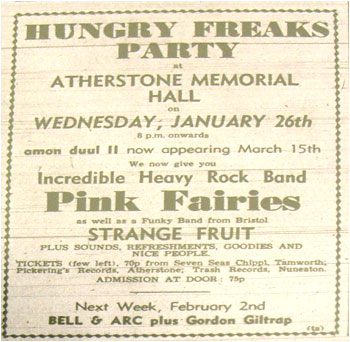 Hungry Freaks
Atherstone's Hungry Freaks continue their efforts to bring good music to the area with a concert next Wednesday at the Memorial Hall featuring the Pink Fairies – a heavy rock band who released a notable first LP "Never, Never Land" last year. Recently a session of theirs was broadcat on the "Sounds of the Seventies" radio show.
On the following Wednesday, February 2, another well-known band, Bell and Arc, top the bill with guitarist-songwriter, Gordon Giltrap, providing support sounds. Both acts have new LPs on release which are selling well.
22/01/72
Disco '72
DJ - Gary Clark
Mile Oak Community Centre
25/01/72
The Mods plus 2 DJs
Susanna's
26/01/72
Folk Night
E.J. Firkinball Group
Jasper Carrott
Susanna's
26/01/72
Hungry Freaks Party
Amon Duul II
plus Pink Fairies and Strange Fruit
Plus sounds, head market
Atherstone Memorial Hall
Tamworth Herald – 28/01/72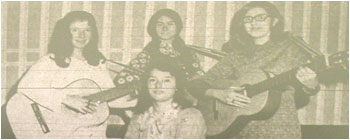 WHAT'S THAT NAME AGAIN
Making a name for themselves in the Atherstone area are an enterprising group of girls connected with St. Peter's Church, Mancetter.
The girls have banded together to form a folk group called The Manduessens – the old Roman name for Mancetter. For the past 12 months they have been praying locally, and as far away as Coventry, at all sorts of functions. They have an extensive repertoire of all types of folk songs.
The girls, who only use guitars in their act at the moment are 14-year-old Jackie Clarke of St. Peters Road, Christine Albrighton (17) of Harpers Lane, Melanie Wardle (13) of St. Peters Road and Marilyn Beale (17) of Harpers Lane all of Mancetter.
Tamworth Herald - 28/01/72


MUSICBOX - Dave "Clem" Clempson
Things look bright for Tamworth guitarist Dave "Clem" Clempson forging into 1972 with four-piece Humble Pie.
"It's a more relaxed scene all together." He admits.
When he broke away from Colosseum at the end of last year he felt he had lost confidence in his playing.
Now, with an American tour with the band behind, the future could not look more promising. "My guitar playing has blossomed really. I've come out of myself more, playing things I used to do rather than things to impress people."
"Colosseum was just a downer band; they seemed to be constantly depressed even when things were going well. They were never up about anything and it just rubbed off on me.
"When I joined Colosseum I had a bit of confidence – I didn't think I was the greatest guitarist or anything but I thought I was fair. But then as Time went by I started comparing myself with other guitarists because that was Colosseum's scene – comparing the band to everyone else. It was just the result of that combination of people, so although everybody was sad when it folded it was a good thing really."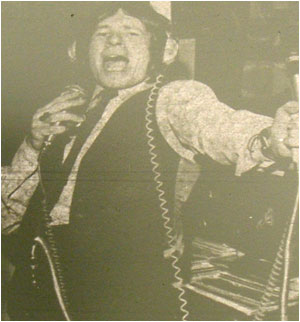 Tommy Farr
Tommy Farr had an interest in electronics and gadgetry when he was 17. Four years later he is a popular draw in the Tamworth area with his mobile discotheque.
He turned professional about nine months ago and is a regular at several Birmingham clubs as well as Susannah's at Tamworth Castle Hotel.
"This is a way of satisfying myself as well as meeting my financial requirements." Said 21-yearold Tommy who lives at Walmley.
As well as the regular club spots, he takes his ever increasing collection of discs and tapes round youth clubs and private functions throughout the Midlands. On average he finds himself working six nights a week,
01/02/72
Disco
Elton Chess
Susanna's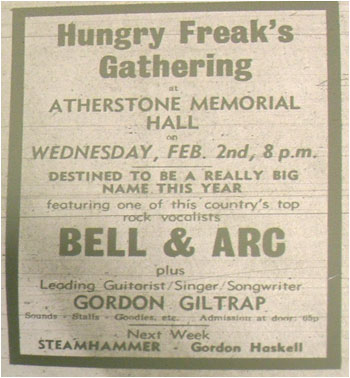 02/02/72
Hungry Freaks Gathering
Bell & Arc and Gordon Giltrap
Atherstone Memorial Hall
02/02/72
Folk Night
John Betmeade and Timoneers
Susanna's
04/02/72
Disco
DJ – D. Cutler
Polesworth Working Mens Club
04/02/72
Market Bosworth Young Farmers Club Spring Dance
Chris Miller Concept
Atherstone Memorial Hall
Tamworth Herald – 04/02/72
Folk-blues Club opened
A new folk blues club "Togetherness" has been opened at Tamworth College.
The idea for the club came from a group of students, with the object of introducing a different kind of entertainment into the college, the emphasis being on the contemporary folk scene.
It is hoped to present well-known professional artists at a low admission charge, and if the membership increases, the club hope to arrange visits to similar clubs and to folk concerts, to promote interest in contemporary folk and blues within the college.
Membership is not confined to students, however, and this was illustrated by the audience for the club's opening concert which featured John Betmead.
Over 80 people packed the college common room for the concert, which also featured local folk artists, and John Betmead, who has gained a reputation on the folk circuit and through his appearances at festivals, including the 1971 Cambridge Folk Festival, was greeted enthusiastically.
John played two half-hour sets during the evening, and local artists included Lichfield duo, Caven and Stannard, playing their own compositions, and Mick Garratt, a student from Lanchester Polytechnic, Coventry.
An unexpected 'guest' during the second half was Hugh Tetley, who played solo for the first time.
Audience reaction for the local musicians was excellent, and the artists commented on their reception.
Tonight (Friday), a group in great demand on the folk circuit is appearing at the club. It is "Gothic Horizon" who recently had their first album released. Their second album is due in March, and their appearance at Tamworth should attract fans from all over the Midlands.
Supporting "Gothic Horizon" will be Mike Jarret, Pete Clement and Jeff and Friends.
04/02/72
Gothic Horizon
Plus Mike Jarret, Pete Clement, Jeff and Friends
Folk, Blues Club (Togetherness)
Tamworth College
05/02/72
Disco '72
Steve Earl
Mile Oak Community Centre
06/02/72
The Quantril
Tamworth Progressive Club
Every Sunday
Junior Discotheque
The Centre, Masefield Drive
08/02/72
Disco
Quantril
Susanna's
09/02/72
Folk Night
Nigel Denver with 1812
Susanna's
11/02/72
Johnny Neal and the Starliners
(6 times winners of Opportunity Knocks)
Belgrave Working Mens Club
12/02/72
Atherstone Rugby Football Club
The Kinfolk
Atherstone Memorial Hall
Tamworth Herald – 14/02/72
MUSICBOX - Pete Clement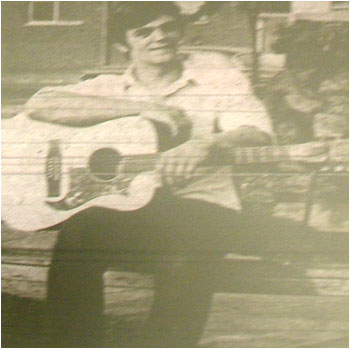 Pete Clement rates entertainment as the folk artist's main criterion.
And, when he plays in local clubs and concerts he sets out to do just that with a repertoire of traditional and contemporary folk and blues.
Pete (19) whi live sin Wigginton Road, Tamworth, first started ot learn guitar playing when he was 14 and convalescing after an illness. He also tries his hand with mandolin and balalaika.
His first public appearance was about two years ago and since then he has gained considerable experience playing in clubs both locally and as far away as Birmingham and Solihull. On holiday his guitar travels with him and he has appeared in Cornish pubs and clubs.
A management trainee, he admits he might consider becoming professional if he thought he was good enough. At the moment he plays whenever he can and is now including some of his own compositions.
"I write a lot of my own stuff and hope to get some songs published. In my act about one quarter may be my own songs."
He thinks folk music has taken on a wider sense in recent years. "I think the folk scene is changing because folk clubs are becoming more broadminded."
In his travels on the circuit he has played on the same bill as well known artists such as Gerry Lockran, Harvey Andrews, Colin Scot and the New Modern Idiot Grunt Band.
Togetherness
Tamworth College's recently-formed folk-blues club "Togetherness" held its second successful concert on Friday night in the college common room.
Highlight was the appearance of "Gothic Horizon", a five-piece folk group from Luton, whose second album is due to be released soon on Argo.
The concert began with Hugh Tetley, formerly of "Hugh and Sue", who sang well despite a cold. He performed two songs by Al Stewart, and received an enthusiastic response from the audience.
Gothic Horizon's first set consisted of three songs, sung by the two original members of the group, Richard Garrett and Andy Desmond, accompanied only by acoustic guitar. They were an immediate hit with the audience, and their comedy song about a mushroom was the main feature of the set.
Jeff Brownlow and Adrian Wood, making their first appearance together, were well received, and Mick Garratt, together with Ken Edwards, played and sang several Leonard Cohen songs. One member of the audience described Mick's interpretation as being better than Cohen himself!
"Gothic Horizon" were brought to their full line-up for their second set. Jim Moseley, Paul Cartwright and Roy Butterfield, the three recent additions to the group, joined Richard and Andy for an electric-acoustic set, in which the group performed songs from the latest album "The Jason-Lodge Poetry Book" and previewed the forthcoming album "Tomorrow's Another Day."
The last song performed by the group was their interpretation of Dylan's "I'll Be Your Baby Tonight" and received such a reaction that the group had to give an encore.
This was the Graham Nash song, "Teach Your Children" which the group admitted they had never played before.
However, this was not evident, and they received a standing ovation.
The next concert organised by "Togetherness" will be held on Friday, February 18, and will feature "Mosaic" and various floor artists.
15/02/72
Raymond Froggatt
Susanna's
16/02/72
Folk Night
Mosaic
Susanna's
16/02/72
Disco
Pete Barry Discotheque
Tamworth Football Club
Tamworth Herald – 18/02/72
Power Cuts and Fuel Crisis – lots of local events were cancelled
Headlines:
"Cuts are emergency for old people"
"Glascote Scouts Valentine Dance – despite the power-cuts, 150 turned out"
"Police warning against black-out burglars"
"Herald apologised but managed to produce a full-size paper"
22/02/72
Devil Canyon Rock Band
Susanna's
25/02/72
Johnny Slade Disco Sounds
Dolphin Inn
25/02/72
Coleshill Folk
George and Dragon
Coleshill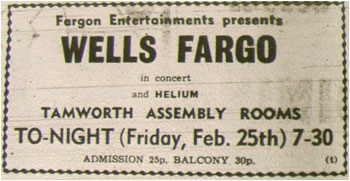 25/02/72
Wells Fargo plus Helium
Assembly Rooms
Admission: 25p
Fargon Entertainments presents
26/02/72
Disco '72
Steve Earl
Mile Oak Community Centre
26/02/72
Disco
Johnny Sounds
Tamworth Football Club
29/02/72
Bourbon
Susanna's
01/03/72
The Pete Barry Disco
Tamworth Football Club
Usual price for boys, girls admitted free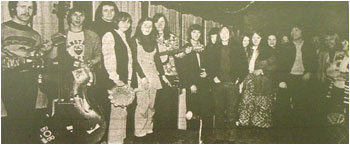 Tamworth Herald – 03/03/72
FOLK GROUPS HELP DEAF CHILDREN'S SOCIETY
Three folk acts, who played for expenses only, helped to raise funds for the Lichfield and Tamworth Deaf Children's Society on Wednesday. Over 70 people, at the Jolly Sailor, enjoyed the music of "Mobile Workshop", the "Sanjuenas" and soloist Alan White, and the evening was compered by Mike Hubbard.
03/03/72
Togetherness
Al Matthews (ex-Richie Havens Band)
Temporarily moved to the Jolly Sailor
04/03/72
SABAT Discotheque
DJ – Jason Roberts
Amington Band Room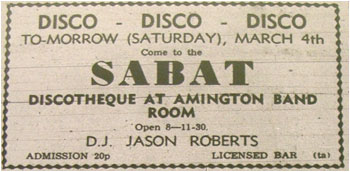 04/03/72
Disco '72
DJ – Malcolm Kay (Radio 1 and Radio Birmingham)
Mile Oak Community Centre
05/03/72
Sunday Beat Club
Steve Earl
Leyfields Community Centre
07/03/72
Quantril
Susanna's
10/03/72
Disco
Johnny Slade Disco Sounds
Dolphin Inn
8,000 Watts / Lights
Admission: 20p
Tamworth Herald – 10/03/72
MUSICBOX - Johnny Slade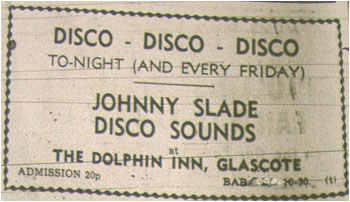 In just over a year Glascote-based DJ Johnny Slade has become a sure draw wherever he sets up his equipment.
An electrician by trade, he can proudly say his success is entirely due to his own efforts in building his equipment to his own specification and needs.
As well as being substantially cheaper, it gives greater versatility and better quality sound than buying it readymade.

Tamworth Herald – 10/03/72
Monica Advert:
"Enjoy an English meal in pleasant surroundings at the Monica"
11/03/72
Disco '72
Foreign Embassy (reggae group)
Plus DJ Aquarius
Fazeley Paris Hall
12/03/72
Sunday Beat Club
Money Jungle plus DJ
Leyfields Community Centre
14/03/72
Money Jungle
Susanna's
15/02/72
Folk Night
Harvesters
Susanna's
17/03/72
Folk Concert
Jonathan Kelly
Al Matthews (ex-Richie Havens)
College Hall
Tamworth Herald – 17/03/72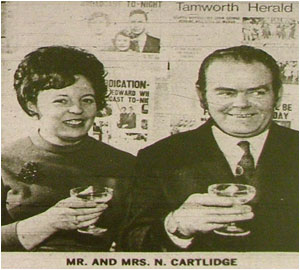 The Horseless Carriage Restaurant opens at the Castle Hotel
Proprietors: Mr amd Mrs N. Cartlidge.
18/03/72
Soul Spectacular (Student Rag Week)
Superbag (West Indian Soul Band)
DJ Delroy James (Wilky)
College Hall
18/03/72
The Charriot
Grendon Working Mens Club
18/03/72
Tamworth and District Round Table
Kenny Ball and His Jazzmen
Tower Ballroom
Drayton Manor
18/03/72
Disco '72
Clyde Burrows
Mile Oak Community Centre
18/03/72
The Method
Tamworth Football Club
19/03/72
Sunday Beat Club
Clyde Burrows
Leyfields Community Centre
21/03/72
3 Group Spectacular
Christie, Edison Lighthouse, Worth
Susanna's
22/03/72
Folk Night
Mobile Workshop
Susanna's
23/03/72
Disco
J.Q. Sounds
Glascote Working Mens Club
24/03/72
Rasputin's Disco
DJ – Graham Row
Dolphin Inn
Tamworth Herald – 24/03/72
MUSICBOX - Jessup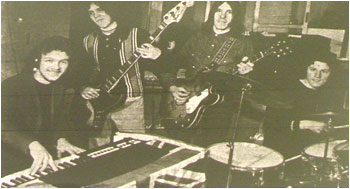 Jessup : Steve Lisence, bass guitarist who lives at Glascote Heath, Haydn Archer, drummer who lives in Polesworth and lead guitarist Arther Radbourne of Birmingham.
A well-known band in the Tamworth area have their first ever single released this week.
They are "Jessup" who have for a long time played local venues including Polesworth Memorial Hall and the Belfry.
Their single called "Little Friend" will probably be released on the CBS label today. They recently signed a recording contract with "Beacon Records" and have been playing in and around London – for several months now." Said drummer Haydn Archer, who lives in Polesworth.
The group is also planning an album but no release date has been set.
This Monday, "Jessup" make one of their now rare local appearances when they perform at the Assembly Rooms, Tamworth.
The band have been formed for about a year and members are Steve Lisence, bass guitarist who lives at Glascote Heath, Haydn Archer, drummer who lives in Polesworth and lead guitarist Arther Radbourne of Birmingham.
The band has played at such well-known places in London as the Music Factory and the Marquee.
"We have played at a lot of universities and write all our own material," said Haydn.
25/03/72
Disco '72
Personic Sound
Fazeley Parish Hall
26/03/72
Sunday Beat Club
Aquarius
Leyfields Community Centre
31/03/72
Rasputin's Disco
Johnny Slade
The Dolphin