Tamworth Bands History : 1972
October to December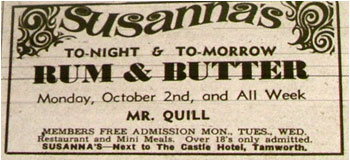 02/10/72
Mr. Quill
Susanna's
13/10/72
Jessup
OZ Club
Polesworth Memorial Hall
Plus Saga Disco
13/10/72
The Cheetahs
Susanna's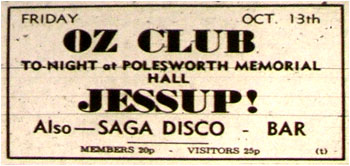 16/10/72
Hungry Freaks Benefit Ball
Jessup, Heimdall, TMA, Hugh & Dave, Ian Sounds
Assembly Rooms
Admission: 25p
20/10/72
Ferry Feeling
Susanna's
27/10/72
Freedom
Susanna's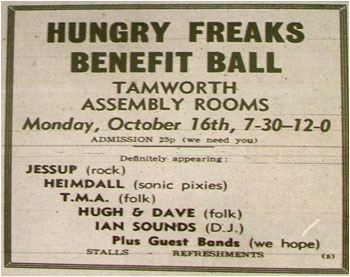 28/10/72
Disco '72
PPC Sounds
Mile Oak Community Centre
Tamworth Herald – 28/10/72
Court story of revenge attack on Glascote 'skinhead' gang
A 17-year-old Bolehall youth – one of five said to have taken part in a revenge attack on the Glascote Heath "skinhead" gang – admitted in Tamworth Magistrates' Court on Tuesday he had struck a 17-year-old girl in the face and knocked her against a wall.
Brent Parish, a metal polisher, of 35 Dormer Avenue, Bolehall, pleaded guilty to an assault causing actual bodily harm to Miss Mary Jane Askew.
He was fined £20, which he was ordered to pay at the rate of £3 a week.
Parish complained that Miss Askew called him a dirty name at least five times. She repeated the word again after he had spoken to her and he "boiled over" and struck her. He was looking for "a bloke who dropped the nut on me at Bolehall."
28/10/72
Disco
Electric Air Road Show
Middleton Football Club
Vicarage Hall, Equestrian Centre

29/10/72
Unicorn Folk Club - Cheese and Wine
The Right Mixture
03/11/72
Mail
Susanna's
Tamworth Herald – 03/11/72
Firebox Sound
Tamworth's first Heavy disco
Tamworth Herald – 03/11/72
MUSICBOX - Kwil
Dosthill's guitarist Phil Bates has, together with his band "Kwil" released their first single on the Parlophone label.
"Spent the Rent" is the 'A' side number and it has received about 20 plays on Radio One.
Kwil's drummer, Tony Rose, has written the song and the sound is happy, with a catchy melody and lyrics
Phil plays bass and contributes to the vocal harmony. The unusual combination of violin and ukelele contributes to the special sound that Kwil are establishing. Hit Parade success is always a difficult business but this record could do well if it gets enough exposure.
The 'B' side is another Tony Rose number called "Every Little Thing" and this is also as pleasant song which has a good dancing beat.
On Wednesday, Kwil were in London recording their next single which is due for release after Christmas.
A Phil Bates composition, "Wouldn't It Be Nice" will be featured on this one. Members of Tamworth's night spot, Susanna's will be familiar with the group, as they played there recently. On Friday, Kwil start a club season in the north, but they will be back in the Midlands in mid-November.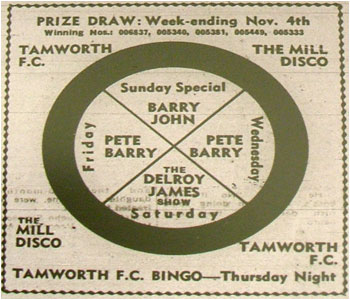 06/11/72
The Searchers
Susanna's
Tamworth Herald – 10/11/72
The Mill Disco
Tamworth Football Club
DJ - Barry John
Tamworth Herald – 10/11/72
FOLK CUB RE-OPENS AT COLLEGE
Following its success last year, Tamworth College's folk club 'Togetherness' re-opens tonight (Friday) for another season.
Stars at the opening concert will be Gothic Horizon, the Luton based group who proved so popular when they appeared at the club in February.
Organisers are lining up several major musicians and groups for appearances at the club – already booked for November 24 are Gerry Lockran and Rod Dawes and it is hoped to feature return appearances by artistes who performed last year, including Jonathan Kelly and Colin Scot.
Tonight's concert begins at 8p.m. and the admission cost is only 30p.
Twelve months' membership costs a mere 15p, and for members, admission charges to future concerts will be 25p
Tamworth Herald – 17/11/72
MUSICBOX - GOTHIC HORIZON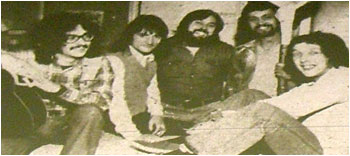 It is doubtful after the lukewarm reception they received on Friday night, Gothic Horizon will ever play in Tamworth again.
What is more, they cannot be blamed if they never do. The group, playing for expenses only, turned up at the opening concert at the newly revived folk club 'Togetherness' at Tamworth College, where they faced a half-empty room of people, some of whom were more intent on talking and laughing, rather than listening to what the group had to offer.
Lack of response and poor support like this will do little to relieve the entertainment void in the town, bemoaned by many people.
20/11/72
Firebox Sounds
Flying Scotsman
Featuring The Stones and Black Sabbath
24/11/72
Orange
Susanna's
01/12/72
Left, Right and Centre
Susanna's
01/12/72
Tamworth College Disco
(no heavy or progressive)

Tamworth Herald – 01/12/72
New Folk Club
The George
04/12/72
The Right Mixture
The George
08/12/72
Stain
Susanna's
09/12/72
Tamworth's Top DJ
Johnny Slade
Flying Scotsman
Admission: 20p
10/12/72
Unicorn Folk Club
Barrie Roberts (Walsall)
11/12/72
Barrie Roberts
The George
17/12/72
Unicorn Folk Club
Zeth (Walsall)
22/12/72
United
Susanna's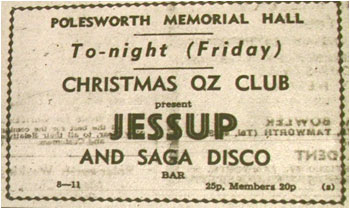 22/12/72
Jessup
Xmas Oz Club
Polesworth Memorial Hall
Tamworth Herald – 22/12/72
Palace – Bedknobs and Broomsticks
23/12/72
Stain
Tamworth Football Club
24/12/72
Rowter's Well
Unicorn Folk Club
29/12/72
11th Hour
Susanna's
31/12/72
Obsidion
The George