Tamworth Bands History : 1972
July to September

01/07/72
Barn Dance '72
Touch
Disco – Spike Brookes
Home Farm, Thorpe Hall
03/07/72
Dave Berry
Susanna's
06/07/72
The Baron Nights
Glascote Working Mens Club
07/07/72
Disco Pig
Coleshill Parish Hall
(Pig Roast, Disco Dancing)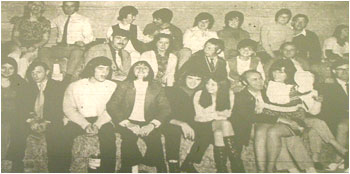 08/07/72
Tamworth Round Table Barbecue
Cupids Inspiration and Aquarius
DJ – Steve Earle
Lonkhills Farm, Thorpe
08/07/72
Nemesis
Glascote Working Mens Club
12/07/72
Disco
Johnny Slade and His Go-Go Girls
Glascote Working Mens Club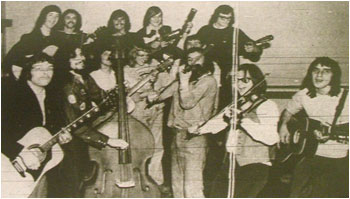 Tamworth Herald – 14/07/72
Folk Night at Youth Centre
One of the Polesworth carnival week activities was a folk night organised by Polesworth Youth Centre and held in the Memorial Hall. Designed to appeal to all age groups, the programme ranged from modern folk jazz to traditional English – and from Dylan to the Dubliners.
14/07/72
Ray Brigade
Susanna's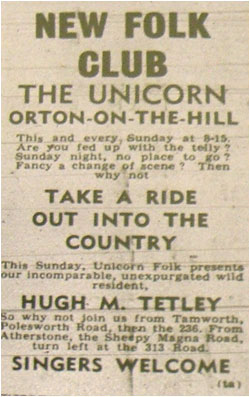 Tamworth Herald – 14/07/72
New Folk Club at Orton On The Hill
14/07/72
The Mersey Beats
Amington Liberal Club
Tamworth Herald – 14/07/72
Over 800 at Round Table barbecue
Two famous groups "Cupid's Inspiration" and "Aquarius" drew the crowds to Lonkhills Farm, Thorpe on Saturday, 23 September 2006.
The occasion was the annual barbecue organised by Tamworth Round Table, an event which is one of the most popular attractions in Tamworth.
More than 800mpeople enjoyed dancing to the two groups and to disc jockey Steve Earle.
Proceeds from the barbecue are to go to Round Table funds and to Thorpe Church.

15/07/72
The Charriot
Tamworth Progressive Club
21/07/72
Thumper
Susanna's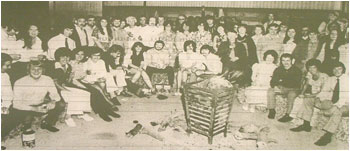 Tamworth Herald – 21/07/72
Over 1,500 at Newton Regis Barbecue
Once again the rural tranquillity of the lovely old village of Newton Regis was disturbed when over 1,500 people turned up on Saturday evening for the fifth annual barbecue held as usual at Manor Farm by courtesy of Mr. And Mrs. John Wilson.
The organising committee was highly delighted with the support which re-affirmed the popularity of this event now firmly established as the premier attraction in the area.
Music was provided by the Chris Miller Concept and the Village Church Funds will benefit substantially from the proceeds.
The organisers wish to express their appreciation to all the helpers who gave such valuable assistance and to the public for such generous support.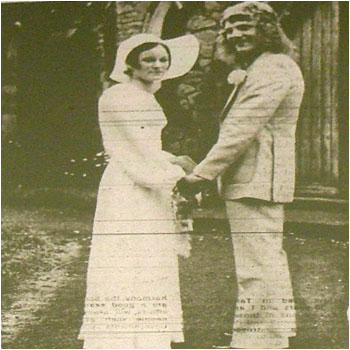 Tamworth Herald – 28/07/72
DISC JOCKEY WED
Mr. Keith Stephen Evans, the only son of Mr. And Mrs. Stephen Evans, 14, Deer Park Road, Fazeley, married Miss Glenda Baggott at St. Paul's Church, Fazeley on Saturday.
Mr. Evans is better known as the local disc-jockey Steve Earl.
28/07/72
Hayride
Susanna's
29/07/72
Polesworth and Warton Conservative Branch
Barn Dance and Barbecue
Reg Spiers Folk Group
Hillcrest Farm, Warton
29/07/72
Disco '72
Gary Clark
Mile Oak Community Centre
03/08/72
Folk Dance
Wigginton Vicarage Lawn
04/08/72
Fresh Aire
Susanna's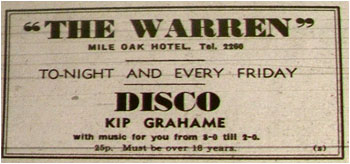 Fridays at Fazeley Victory Working Mens Club
DJ – Kip Graham
Tamworth Herald – 11/08/72
The Warren
Every Friday Disco
DJ – Kip Grahame
Tamworth Herald – 18/08/72
MUSICBOX - Trevor Stevens
Fazeley musician Trevor Stevens is now on the verge of making his name in the competitive show business field of song-writing.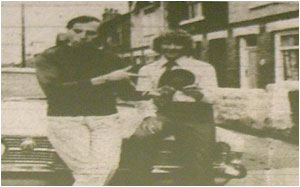 A song-writer and drummer Trevor has co-written the theme song for Larry Grayson's new TV series beginning tonight (Friday). Larry, the star of a recent TV Saturday variety show, is also somewhat of a local personality, living in Nuneaton and well-known in the local clubs.
Trevor has had a full show business career, having been percussionist to some of the most famous stars, including Engelbert Humperdinck, Val Doonican and Des O'Connor. He has travelled throughout the world entertaining the British Forces and has worked in Birmingham's two theatres – the Alexandra and Birmingham Theatre.
At the present time he is entertaining at the Midland's most popular "Bier Keller" in Birmingham
Trevor's new song has just been released as a single, sung by Larry Grayson, it is called "Shut That Door".
18/08/72
The Mods
Susanna's
19/08/72
Pop Barbecue
Aquarius and DJ Geoff Owen
Recreation Ground, Price Avenue, Mile Oak
25/08/72
Kopper Wyne
Susanna's
26/08/72
Ivory Sun
Tamworth Progressive Club
28/08/72
Disco
The Mike Bond Disco
Flying Scotsman
28/08/72
The Lota Four
Warton Working Mens Club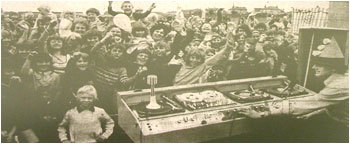 01/09/72
Field Day at Glascote raises £250
Annual Field Day organised by St. Georges Church. Music was supplied by Midlands disc jockey Johnny Slade.
01/09/72
Ray's Brigade
Susanna's
01/09/72
Disco
Geoff Owen
Fazeley Victory Working Mens Club
14/09/72
Sweet
Susanna's
15/09/72
Stain
Susanna's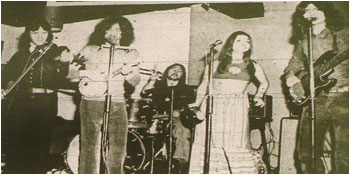 Quill - Gill Sowell – Drums/Harmonica/Guitar, Wally Lowe – Vocals/Ukelele, Mike Smith – Violin, Phil Bates – Guitar/Bass Guitar, Joy Strachan – Vocals.
Tamworth Herald - 15/09/72
MUSICBOX - Quill
Recent visitors to Tamworth's night spot, Susanna's were up and coming entertainers, Quill, who will shortly be releasing their first single on the EMI label. The 'A' side of the record is a song called Spent the Rent, which is a happy number and was received well by the patrons of Susanna's.
"Spent the Rent" was written by Quill's drummer Gill Sowell together with another Birmingham songwriter and it enables the group to demonstrate their remarkable versatility. The vocal is in the capable hands of Wally Lowe who also plays ukelele. Mike Smith plays a happy violin and local lad Phil Bates from Dosthill is featured on bass guitar. Glamorous vocalist Joy Strachan provides support for Wally Lowe and "Spent the Rent" will hot the top twenty.
Quill have been together for the three months now and are looking for a new concept in sound which invites audience participation. The happy sound that Quill produce is helped by the unusual combination of instruments which is unique in todays pop scene. Mike Smith, a former member of the City of Birmingham Youth Orchestra plays guitar and piano in addition to violin. Wally Lowe gives out on bass and rhythm guitar as well as the ukelele. Phil Bates provides inspired lead guitar solos and doubles on bass guitar while Gill Showell plays harmonica and guitar as well as providing the percussion.
Quill will be back at Susanna's in early October and the release date for "Spent the Rent" is September 29. Three members of Quill were formerly with Enigma and the song writing combination of Mike Smith and Phil Bates have several songs on the stocks for future release. Recently, they have been playing at clubs in the North and in Wales.
Dosthill's Phil Bates has been on the 'pop' scene for several years playing with the Teenbeats, The Power and the Glory (Source of Power - Ed.) and Jug. His association with Mike Smith started when he joined Enigma and after problems with that group, Mike, Phil and Joy joined up with Wally and Gill. The result is a collection of musicians of scope and ability.
16/09/72
Walrus (London's eight-piece funky rock group)
In-Synk Disco Show
Polesworth Memorial Hall
(Night Owl Presents)
16/09/72
September '72
Disco
Hurley Village Hall
Week 1 – Geoff Own
Week 2 – Mack Rice
Week 3 –Johnny Slade
18/09/72
Hairy Ride
Susanna's
22/09/72
OZ Club (opening night)
Discos/Groups every Friday
Polesworth Memorial Hall
Admission: 15p
Tamworth Herald – 22/09/72
NEW MOVES ON TAMWORTH ARTS CENTRE PLAN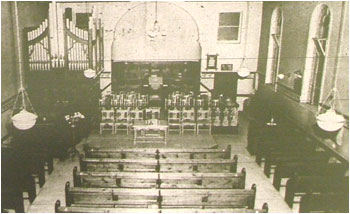 Architects are taking a close look at Tamworth's Baptist Chapel – earmarked as an "ideal location" for a town arts centre.
The Lower Gungate chapel – once used as a theatre – will become empty when the new Baptist Chapel at Belgrave is completed next year.
The arts centre idea was first put forward by the borough's arts advisory council more than a year ago.
Architects who have been preparing reports for some months, have been viewing the building again to assess its suitability as a home for local arts groups and to estimate the costs of alterations.
A Borough Council spokesman, said: "The architects report will be considered by the Leisure Activities Committee in the near future."
Councillor Bill Holloway, a member of the committee, said: "The project is still very much in the planning stage, but it is very likely that it will go through.
"The chapel would be ideal for amateur drama purposes and for other arts activities.
"The main hall should hold about 150 people, and the basement area could be use for rehearsals and other purposes."
A sub-committee of the arts advisory council was set up to discuss the possibilities.
Mr. Dan Gronow, the advisory council's secretary, said: "We have given the idea a great deal of thought, and feel the building is an ideal location for the various arts bodies in the town."
Among the arts bodies taking a keen interest in the project is Tamworth's Little Theatre company.
Its chairman, Mr. Dennis Taylor, feels that the building would compare well with small theatres such as Highbury, Sutton Coldfield and Burton-on-Trent Little Theatre.
"My view is that there will be no need for any major structural alterations and the acoustics are already good", Mr. Taylor said.
The chapel was built as a town theatre more than 200 years ago. It was later used as a malt house before Sir Robert Peel loaned it to the Baptist Church. He later sold the building to the Church in 1872.
How the scheme would be financed has not yet been decided, but it is thought that the money needed for converting and equipping the chapel could be raised by a joint appeal by Tamworth arts groups, helped by advisory council and Borough Council grants if councillors favour the idea.
23/09/72
Disco '72
Boogaloo
Mile Oak Community Centre
25/09/72
Rum and Butter
Susanna's
29/09/72
All Wool Disco
Wood End Youth Centre
30/09/72
Disco '72
Raven Disco
Mile Oak Community Centre