Tamworth Bands History : 1972
April to June

03/04/72
Hopwood
Wild Disk-K-Tek Show
Polesworth Memorial Hall
Tamworth Herald – 03/04/72
Youth Arrested after Gang Fights – Hells Angels and Skinheads.
03/04/72
Ruby Murray
Hams Hall Sports and Social Club
04/04/72
Cartridge
Susanna's
Tamworth Herald – 07/04/72
Palace – Carry on at Your Convenience
08/04/72
Disco '72
The Hopleys (a fantastic coloured group)
Radio 1 DJ – Malcolm Kay
Fazeley Parish Hall
11/04/72
Mail
Susanna's
Tamworth Herald – 14/04/72
Palace
Please Sir!
Straw Dogs (X)
18/04/72
Billy Fury
Susanna's
20/04/72
The Billy Fury Show
Billy Fury, The Cheetahs
Amington Liberal Club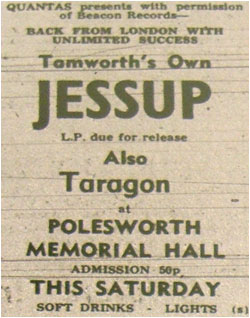 22/04/72
Jessup
Plus Taragon
Polesworth Memorial Hall
25/04/72
Raymond Froggatt
Susanna's
29/04/72
Medicine Head
Polesworth Memorial Hall
(A&M Promotions presents)
03/05/72
Mustard Farm
Susanna's
03/05/72
First Carnival Queen Selection Dance
Disco '72
Steve Earl
Mile Oak Community Centre
Tamworth Herald – 05/05/72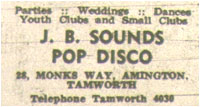 Amington Disco
A successful Disco was held at Amington Band Room on Saturday.
This was organised by the Youth Club members' committee to raise funds for a children's party which Amington Youth Club are giving in September.
The Disco music was provided free of charge by a local DJ 'J.B. Sounds'.
The Amington Band Committee are also giving a donation towards the party which will be for a group of children from Father Hudson's Homes at Coleshill.
05/05/72
Bob Miller and the Millermen
and Bob Masons Dance Orchestra
Drayton Manor, Tower Suite
09/05/72 and All Week
The Rockin' Berries
Susanna's
13/05/72
SABAT Disco DJ Derby
Jason Roberts and Al Kay
Wilnecote Parish Hall
12/05/72
Bert Weedon
Amington Liberal Club
15/05/72
Orange
Susanna's
18/05/72
The Bert Weedon Show
Glascote Working Mens Club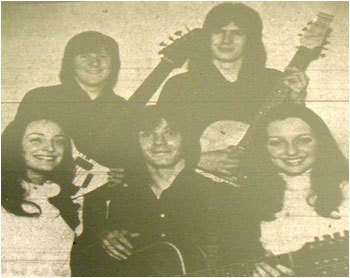 "Enigma"… five talented musicians. From left to right they are: back row: Wilf Tudor (bass), Phil Bates (lead), Front: Joy Strachan, Mike Smith, Lesley Creed.
Tamworth Herald – 19/05/72
MUSICBOX - Enigma
Highlight of Atherstone Town Football Club's annual supper was the appearance of the "Enigma" group – five talented artists set to release a first single later this year.
The band's lead guitarist is Phil Bates of Orchard Close, Dosthill, and other members are: Wilf Tudor, Mike Smith, Joy Strachen and Lesley Creed.
Says 19-year-old Phil: "It is hard to describe our music because we want to appeal to a wide audience – from the old to the young."
"Enigma" have great potential as they showed at the Atherstone event last Friday night. Their true professionalism clearly shows and their musical interpretation together with the fine guitar playing of Phil Bates will take them a long way.
All five members perform solo spots and their harmonies sometimes remind one of the "Carpenters" or "Momas and Papas."
Although billed as a folk group, "Enigma" play a wide range of material and incorporate several of their own compositions in their act.
One such song – written by Phil Bates – is called "Season of Sunshine" and is expected to be released on a 'B' side of a proposed single. It is a happy and attractive song and without a doubt will sell many copies.
Phil Bates writes most of the material and is helped by Mike Smith. Phil, himself, started playing guitar when he was 11, and made his first public appearance with a group of Dosthill lads known as the 'Wild Four'."
After a spell with "Source of Power", Phil teamed up with Wolverhampton-based "Jug" but split after a difference in musical policy. He joined "Enigma" a few months ago.
Several recordings are awaiting release either in single or LP form following the band's session at the Morgan Studios, where such artists as Cat Stevens, Blue Mink, New Seekers, Kinks and Faces have recorded.
The future looks rosy for "Enigma" and at the moment several of their tapes are in America with their recording manager Monty Babson. They are turning pro in July when they will be touring this country and abroad.
A BBC recording session has been arranged for the band in June and they are returning to the Tamworth area on June 12 when they play until June 17th at Susanna's. It would be well worth a visit to see such a talented band called "Enigma."
The Doors
Los Angeles came to Birmingham last week in the shape of the "Doors" making their British tour minus, the late, lamented Jim Morrison.
Supporting act on Thursday was Hawkwind whose blend of space rock provided a non-stop 40 minute set interspersed with poetry. In spite of equipment hassles their act came over very well although the gyrations of their bored and cumbersome dancer did little to enhance it.
22/05/72
The Swinging Blue Jeans
Susanna's
26/05/72
All-Wool Disco
Wood End Youth Centre
02/06/72
Ivory Sun
Wood End Youth Centre

Tamworth Herald – 02/06/72
Tavern in the Town
Disco every Thursday night
02/03/72
Second City Sounds
Susanna's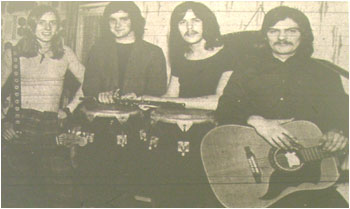 Taragon - Colin Edmonds – Drums/Congas/Bongos/Glockenspiel, Keith Smith – Guitar and Flute, Dave Bates – Guitar and Piano, Robert Musgrove, Bass Guitar.
Tamworth Herald – 02/06/72
MUSIC BOX - Taragon
Unlike most groups, Tamworth-based Taragon are not pre-occupied with getting as many live appearances as possible.
"The band is more designed for recording." Explained drummer Colin Edmonds.
And, to put this belief into practice Taragon are hiring a studio to make some demonstrations tapes which they hope will bring them a lucrative recording contract.
The band has been together for about 18 months now, and their contemporary sound has only been heard at gigs in Tamworth college and youth club, and at local folk clubs.
All their material is written by 22-year-old guitarist and flautist Keith Smith of Brain Street, Glascote Heath, with assistance from guitarist-pianist Dave Bates (24) of 60 Neville Street, Glascote.
With 21-year-old Colin, who lives at 55 Telford Road, Coton Green, on congas, bongos and glockenspiel, the group is completed by bass guitarist Robert Musgrove (18) of Sutton Avenue, Fazeley Road Estate, Tamworth.
For Robert, Taragon is his first band, but the others have played in different groups. Colin was formerly with a blues band, while Keith played with Tamworth group, "Vehicle."
None of them have had any extensive musical training, and had to teach themselves their various instruments.
"We are now trying to polish numbers for making a recording." Said Colin. "The band would like to do an LP of our music – not so much for the public but more for ourselves."
Taragon's main hope is that months of painstaking practice will pay off when they travel to London armed with their demonstration tapes.
03/06/72
Orange
Grendon Working Mens Club
03/06/72
Disco '72
Reggae Group
DJ Gary Clarke
Assembly Rooms
Admission: 20p
04/06/72
Charriot
Grendon Working Mens Club
05/06/72
The Shane Fenton Show
Susanna's
Tamworth Herald – 09/06/72
Missing Girl Plea – Judith Roberts
Tamworth Herald – 09/06/72
Town's first Indian Restaurant "The Royal Bengal", Lichfield Street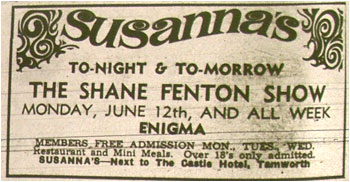 12/06/72
Enigma
Susanna's
Tamworth Herald – 16/06/72
Palace – Diamonds are Forever
21/06/72
Tamworth Carnival Queen's Ball
The Hilltones Dance Orchestra
Assembly Rooms
Admission: 20p
23/06/72
Touch
Susanna's
23/06/72
Music Machine Discotheque
Atherstone Miners Welfare Club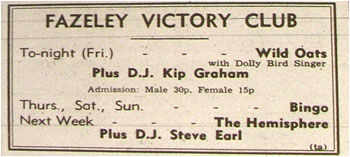 24/06/72
Disco '72
Willy Bee and Gary Clark
Assembly Rooms
30/06/72
Our Dog Winston
Susanna's
30/06/72
Disco
DJ – Kip Graham
Fazeley Victory Club