Tamworth Bands History : 1973
April to June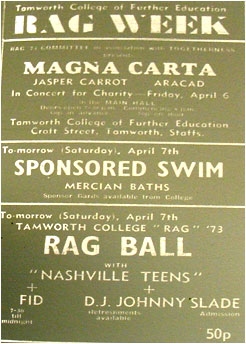 06/04/73
Tamworth College Rag Week
Magna Carta
Plus Jasper Carrott and Aracad
06/04/73
Museum (rock group)
Kingsbury Working Mens Club
07/04/73
Tamworth College Rag Week
The Nashville Teens
Plus FID and DJ Johnny Slade
15/04/73
Ian Stewart
Unicorn Folk Club
17/04/73
The Hy-Kells
Tamworth Progressive Club
19/04/73
The Hy-Kells
Polesworth Working Mens Club
20/04/73
Kwil
Glascote Working Mens Club
20/04/73
The Jay-Kays
Polesworth Working Mens Club
22/04/73
The Hy-Kells
Wood End Working Mens Club
23/04/73
Summer Rain
Grendon Working Mens Club
27/04/73
Kwil
Two Gates Working Mens Club
Tamworth Herald – 27/04/73
Palace – Clockwork Orange
Tamworth Herald – 27/04/73
MUSICBOX - KWIL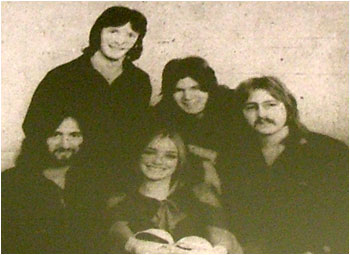 Local group Kwil are showing signs of moving into the big time.
The group who include Dosthill guitarist Phil Bates, recently had to turn down the offer of six months in Rhodesia and have been flooded with offers following their recent appearance with Kenny Ball at Drayton Manor.
At Whitsun they have a four day sate in Brighton and they hope to play at the Tamworth Round Table Barbecue in July.
Next week they are 'at home' for two nights, playing dates at Two Gates Working Mens Club tonight (Friday) and Hurley Working Mens Club on Saturday.
Original material is written by drummer, Gill Shaw and Phil Bates. Kwil have an unusual instrumental line-up which includes Mike Smith on violin and Wally Lowe on eukelele and bass guitar is provided by Joy Strachan.
29/04/73
Wasted Paper
Unicorn Folk Club
29/04/73
Kwil
Hurley Working Mens Club
01/05/73
Aracad plus Obsidion
Lord Snooty's
Tamworth Herald – 04/05/73
Geoff Hurst opens Rodek Sports Shop in Middle Entry
06/05/73
Oracle
Unicorn Folk Club
06/05/73
The Hy-Kells
Tamworth Progressive Club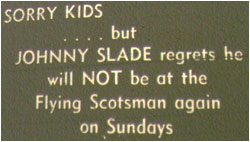 08/05/73
The Mobile Workshop
Lord Snooty's
09/05/73
The Jay-Kays
Polesworth Miners Welfare Club
11/05/73
Midland Red Sports and Social Club
Bob Mason (9 piece orchestra)
Plus The Hy-Kells
Tower Suite, Drayton Manor
12/05/73
Disco
DJ – Geoff Owen
Wilnecote Parish Hall
13/05/73
Al James and Brampton Ash
Unicorn Folk Club
15/05/73
The Armpit Band (Jug Band Music)
Prince of Wales Folk Club
Tamworth Herald – 18/05/73
MUSICBOX - Lord Snooty's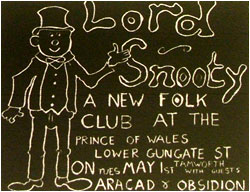 Tamworth's newest folk club got off too a rather slow start.
'Lord Snooty's' at the Prince of Wales, Lower Gungate presents Aracad and Obsidian – two very different types of folk for their first concert.
Aracad, a modern folk duo, have played a lot in the area recently, and the two Burntwood lads seem to improve all the time.
They have a wide repertoire of modern songs ranging from the quiet Joni Mitchell song "Woodstock", to the hand-clapping and foot-stomping of Country Joe's "Feel Like I'm Fixing to Die".
Obsidian are about as far removed from Aracad's style as you can get and still call it folk.
They are a five-piece traditional band from Ashby who specialise in playing an incredible number of instruments.
Glockenspiele, mandolins and bass recorders are just some of the instruments they get through in their performance.
They are a real 'audience participation' group and really got the audience – such as it was – on their feet.
In fact the only thing that marred the occasion was the poor attendance – only about 35 turned up.
19/05/73
"Kippa" Grahame Grahame
Firebox
Barry John no longer every Sunday at Tamworth Football Club
19/05/73
Jay-Kay Band
Dordon Working Mens Club
26/05/73
Firebox Disco
Airy "Kippa" Grahame Graham
Mostly Tamla, Reggae and Soul
26/05/73
The Jay-Kays
Polesworth Miners Welfare Club
31/05/73
The Hy-Kells
Polesworth Working Mens Club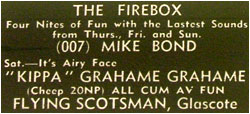 03/06/73
Armpit Jug Band
Unicorn Folk Club
09/06/73
The Hy-Kells
Polesworth Miners Welfare Club
10/06/73
Charterhouse
Unicorn Folk Club
12/06/73
Wasted Paper
Prince of Wales Folk Club
13/06/73
The Jay-Kays
Polesworth Miners Welfare Club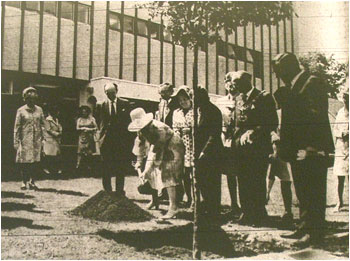 Tamworth Herald – 15/06/73
Margaret Thatcher opened Tamworth's new library and Woodhouse Comprehensive.
Tamworth Herald – 15/06/73
Polesworth disappointment at 'no' to hall improvements bid.
Government refusal of grant aid for improvements of Polesworth Memorial Hall.
15/06/73
The New Leaf
Glascote Working Mens Club
15/06/73
Disco
DJ – The In-Sink
Fazeley Victory Working Mens Club
16/06/73
The Hy-Kells
Tamworth Progressive Club
22/06/73
Disco
DJ – Ultra Star
Fazeley Victory Working Mens Club
22/06/73
'A Night With Folk'
The Conistons
Wood End Youth Centre
23/06/73
Coleshill Folk Reunion
Armpit Jug Band, Tommy Dempsey, John Swift, Merry England, Coleshill Folk
George and Dragon
26/6/73
The Hy-Kells
Tamworth Progressive Club
Tamworth Herald – 29/06/73
Palace – Elvis on Tour
30/06/73
Lennie Bennett
Trocadero, Nuneaton