Tamworth Bands History : 1973
January to March
03/01/73
Keith Harris
Trocadero, Nuneaton
The Firebox, Hit Sounds at the Flying Scotsman
03/01/73
Dustin Fog (Rock 'n' Roll)
The George
05/01/73
Rum and Butter
Susanna's
Tamworth Herald – 05/01/73
Disc Jockey Fined
Professional disc jockey Peter George Yardley (26) of 12 Parkfield Crescent, Two Gates, pleaded guilty at Tamworth Magistrates Court on Tuesday to parking his car within the limits of a pedestrian crossing and was fined £10.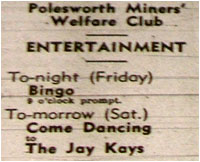 06/01/73
The Jay-Kays
Polesworth Miners Welfare Club
07/01/73
Obsidion
Unicorn Folk Club
Orton-on-the-hill
07/01/73
Johnny Slade Disco
Flying Scotsman
Barry John Sunday Special at Tamworth Football Club
08/01/73
Volkslide
The George
12/01/73
Tamworth Herald
MUSICBOX - Johnny Slade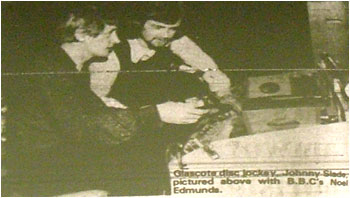 Glascote disc jockey Johnny Slade has a burning ambition…to break into local radio.
Thirty-two-year-old Johnny, who lives with his wife and two children at Argyle Street, Glascote, has been a disc jockey for the past two-and-a-half years.
He has played at hundreds of gigs in the Tamworth area and builds all his own sound and lighting equipment. His sound system puts out no less than 260 watts, while 4,500 watts beam from his lighting set-up.
BBC's Radio One disc jockey Noel Edmonds was the star attraction at a recent Johnny Slade disco held at Burntwood Swimming Baths. But the Radio One star would not operate Johnny's equipment. "It's much too complicated for me. It would be like trying to fly Concorde."
Edmunds gave Johnny Slade a mention on his Sunday morning show, calling the Glascote man "disk jockey and equipment builder extraordinaire."
12/01/73
Tamworth Herald
A golden disc for a pop star's mum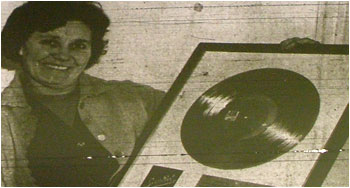 Tamworth housewife, Mrs. Betty Clempson, has received a golden disc from her pop star son, Dave. Dave, known in the pop world as Clem, plays lead guitar in the rock group "Humble Pie".
He has now presented his parents, Mr and Mrs Dennis Clempson, with a Golden Disc marking one million dollars' worth of sales of the group's album "Smokio".
Clem gave them the framed disc just before Humble Pie left for a series of concerts in America.
"The group was going the next day and it was another flying visit for him", says his mother, a school meals supervisor at Wilnecote Junior School. His father is a foreman at the Reliant Motor Company's works.
COLLEGE
Clem formed his first group, "The Vipers", when he was at college in Tamworth. He has since played with "Bakerloo Blues Line" and "Colosseum", among others, before joining his present group two years ago.
Mrs Clempson, pictured with the Golden Disc at her home in Bailey Avenue, Wilnecote, says "I was against him going into the entertainment business at first, as it is so insecure, but now we're all very proud of him.
"It makes me happy to know he still thinks of his mum and dad now that he's famous".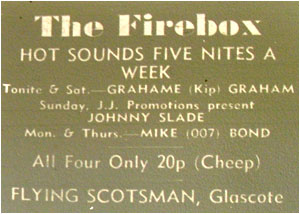 12/01/73
The Firebox
Grahame (Kip) Graham
12/01/73
Choise
Susanna's
14/01/73
Johnny Slade
20p (cheep)
15/01/73
Jeff Bodenham
The George Inn Folk Night
The George
17/01/73
The Jay-Kays
Polesworth Miners Welfare Club
19/01/73
The Mods
Susanna's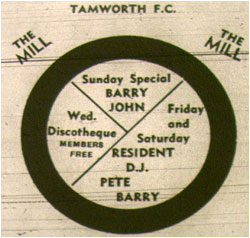 Tamworth Herald – 19/01/73
Labourer went to bed in stolen bra
Labourer Reginald Bartram went to bed wearing a woman's bra he had stolen from a washing line, Tamworth magistrates heard on Tuesday.
He also took a blouse and a pair of orange knickers and told police in a statement: "I pinched all the stuff because I like wearing girls' clothes".
When asked by Magistrate Mr. Lillie Tricklebank how long he had been wearing women's clothes, Bartram replied "It's only just come on."
20/01/73
The Double N Disco
Fazeley Parish Hall
20/01/73
The Kwil
Tamworth Progressive Club
21/01/73
Hugh & I plus guest
Unicorn Folk Club
22/01/73
Obsidion
The George
23/01/73
Disco
DJ – Killer Watt
Hurley Working Mens Club
Tamworth Herald – 26/01/73
MUSICBOX - Togetherness
Tamworth College folk club, "Togetherness", celebrated its first birthday on Friday.
Top of the special six-artist bill were Lichfield based group, "Songs", who were making their first appearance at the club.
The group has an unusual line-up consisting of two acoustic guitars, electric bass and bongos, and was formed by Lichfield artist, Andy Caven.
Andy has played at the college club many times before, both as a solo artist and in various groups.
He says, "We are trying to keep down our costs so that we can play to as wide an audience as possible; this is my opinion is what folk music is all about".
Eventually he hopes to increase the band to a five piece, adding another guitarist and to emulate the electric-acoustic sound that was so successful for Crosby, Stills and Nash.
Also playing on Friday were a zany, all action band with the unlikely name of the "Very Silly Band" who lived up to their billing of, "Monty Pythons Flying Circus" set to music.
Steve Hill, Black Dildo, Frank Devine and Mick Garrett also appeared
26/01/73
Togetherness
Songs
Very Silly Band
Steve Hill, Black Dildo, Frank Devine, Mick Garrett
Tamworth College
28/01/73
Songs
Unicorn Folk Club
29/01/73
The Mavericks
The George
29/01/73
Disco
Hi-Andra
Two Gates Working Mens Club
Mondays at The Mercian
Disco
Pete Barry and John James
Fellas 15p, Lassies 10p
Every Sunday
The Jay Kays
Polesworth Miners Welfare Club
Tamworth Herald – 02/02/73
Palace – Carry on Matron
04/02/73
The Right Mixture
Unicorn Folk Club
08/02/73
Jay Kays
Polesworth Working Mens Club
09/02/73
OZ Club '73
Polesworth Memorial Hall
Tamworth Herald – 09/02/73
Is Princess Anne having a new Reliant Scimitar?
11/02/73
Aracad
Unicorn Folk Club
11/02/73
The Hy-Kells
Polesworth Miners Welfare Club
13/02/73
Disco
DJ – Geoff Owen
Hurley Working Mens Club
Tamworth Herald - 16/02/73
MUSICBOX - Togetherness
Tamworth College Folk Club, "Togetherness", is in danger of having to close unless it receives greater public support.
At a recent concert, Tamworth folk fans missed a great evening's entertainment.
With four artists booked, it was a crying shame to see only 16 present when local group, Black Riverside kicked off half-an-hour late.
They played a short set of varied folk songs, ranging from traditional to Emerson, Lake and Palmer.
Following warm-up sets from Steve Hill and Andy Dwyer, main artist Steve Ashcroft took the stage.
Without doubt, Steve is one of the brightest new faces to appear on the folk scene for a long time.
He played two short sets and his evident admiration for Neil Young was immediately apparent.
His excellent guitar playing and his distinctive voice were greatly appreciated by the audience, which by this time had more than doubled, so much so that they just would not let him leave the stage at the end of his act.
American artist Al Matthews has been booked for the next Togetherness concert on March 2.
Matthews has played on American TV many times and has appeared at some of New York's top night spots.
The Matthews concert may be the end of 'Togetherness' if it does not make a profit. The club will almost certainly have to close due to lack of funds.
17/02/73
Ricky Lee and the Falcons
Hurley Working Mens Club
18/02/73
Barrie Roberts
Unicorn Folk Club
22/02/73
Disco
DJ – Grahame "Kip" Graham
Two Fates Working Mens Club
24/03/73
Tamworth Round Table
Kenny Ball and His Jazzmen
Plus Taste of Honey, Kwil
Drayton Manor
24/02/73
The Jay-Kays
Polesworth Miners Welfare Club
25/02/73
Muckram Wakes
Unicorn Folk Club
Tamworth Herald – 02/03/73
MUSICBOX - The Hy-Kells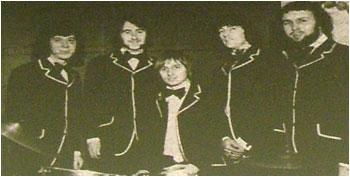 The Hy-Kells are no strangers to the Tamworth music scene, having played at local night spots as well as providing the entertainment at such functions as dinner-dances and presentations.
Formed seven years ago, the group has played at all the top Birmingham night clubs and was the first ever band to buy a kidney machine.
"We organised and played at several dances and cabaret spots to raise the £1,400 for the kidney machine which we donated to Birmingham's Queen Elizabeth Hospital" explained manager George Hyatt.
The Hy-Kells also donated two television sets to the same hospital and is still highly involved in charity work.
They appeared on Radio One Club last year and played in front of a crowd of over 40,000 at the St. Andrews football ground during Birmingham City's promotion year.
The five-man group includes a drummer, three guitarists (bass, rhythm, lead) and a lead singer. Rich McDonald is the bass guitarist and he lives at Tamworth's Leyfields Estate.
Polydor are interested in the group, and have asked for a demo record.
"All being well, we could have a single released in the near future", said Mr. Hyatt.
The group plays every type of music, from pop to classical, and next appear in the area on March 2, at Drayton Manor.
Unicorn Folk Club
The Unicorn Folk Club at Orton-on-the-Hill have been hosts to the group, The Right Mixture, a dynamic duo from Birmingham. Their music covers early traditional, bluegrass and contemporary songs with an instrument ensemble, including guitar, five string banjo, mandolin, fiddle and glockenspiel.
Also appearing at the Unicorn were a duo from Bristol, called "Aracad". Their own songs, voices and brilliant instrumental backing gave the fans a night to remember.
On Sunday, the Orton-on-the-Hill club had Barrie Roberts topping the bill. He is a regular on radio and his own self-styling always produces an electric atmosphere. His songs are known, without exaggeration, the world over.
He has performed in Europe, Australia and America and is also Midland reporter for "Folk Review".
In the near future, the Unicorn is in line for another "scoop". The "1812" duo from Codsall, Wolverhampton, who appeared on the television programme, "Opportunity Knocks", last September, are sending their lead singer, Jeff Bodenham, to perform at the club.
The unicorn Folk Club is run by the ever-improving Andy Dwyer and his residents are Hugh Tetley and Roger Sargent.
02/03/73
Kwil
Glascote Working Mens Club
03/03/73
The Hy-Kells
Tamworth Progressive Club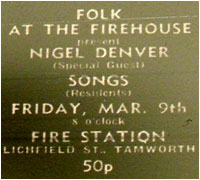 09/03/73
Folk at the Firehouse
Nigel Denver
Songs
Firestation, Lichfield Street, Tamworth
09/03/73
Soul Spectacular
DJ Roy Head
Tamworth College
Tamworth Herald – 09/03/73
Foseco club officials fined on illegal sale of alcohol charges
Eleven officials of a club which has contributed more than £15,000 to charity in the town were fined a total of £330 and £55 costs by Tamworth magistrates on Thursday on summonses concerning the illegal sale of alcohol.
Prosecution solicitor Mr. John Grey told the court the summonses followed "rioting and fighting" between 100 people, including 30 men from the Walsall area, at a Sunday night discotheque.
Mr. Grey claimed that 268 visitors to the club had not been vouched for by any members.
Each of the eleven officials of the Foseco Sports and Social Club at Drayton Manor pleaded guilty to six summonses of selling intoxicating liquor when not the holder of a licence.
Tamworth Herald – 09/03/73
MUSICBOX - Togetherness
Tamworth College folk club, Togetherness closed on a high note on Friday.
Special guest for the club's closing down concert was American Negro blues singer, Al Matthews.
Organiser Simon Lucas, said, "There are several reasons for our closure.
"The imminence of exams and the pressure of work are two of them, but the biggest is the general lack of interest in Tamworth.
"We just have not been getting big enough audiences and without these we just can't run at a profit."
After warm up sets from Kingsbury group, The Chappells and new group Two Plus Two, who despite only being formed three days before, gave a fine performance and succeeded in getting some life into the rather quiet audience before Al Matthews took the stage.
Al, still breathless from his two hour car journey from London, started his set quietly and worked up into a foot-stomping, hand-clapping frenzy.
His songs ranged from the quiet of prison protest songs through traditional African folk song with conga accompaniment to the "Tamworth Blues", a slide guitar number which had the audience really on his side.
Al is an entertainer, not just a sit down and play blues artist. He gets up and dances among the audience urging them to join in and sing.
Thirty year old Al has been around a good deal on the folk scene. He has played in some of New York's biggest clubs and appeared on American Television on several occasions. He has played with some of the foremost blues artists in the world, including Memphis Slim and Richie Havens, with whom he appeared at the legendary Woodstock festival.
Top folk group, Magna Carta appear at the College on April 6, during the rag week celebrations.
Following the success of their first concert, the Firehouse Folk present the second in their "Folk at the Firehouse" series.
Special guests at tonight's concert will be Nigel Denver and Songs.
10/03/73
The Hy-Kells
Polesworth Miners Welfare Club
11/03/73
The Jay-Kays
Polesworth Miners Welfare Club
16/03/73
Lichfield Greenhill Bower Queen 1973
Tamworth Heat
DJ – Doc Holliday
Assembly Rooms
Admission: 50p
Tamworth Herald – 16/03/73
MUSICBOX - Unicorn Folk Club
Recent guests at the Unicorn Folk Club were "Muckram Wakes", the Derby-based traditional folk group.
Their instruments include harmonium, banjo, concertina and accordion.
Andy Dwyer began the night with Hugh Tetley and Sutton Coldfield group "Rowton's Well" also providing sets.
The Unicorn followed up this successful night with another last Sunday when guests were "Volxslido".
The group have been together for 12 months, with Bob Jinks and Sherran Baldwin handling the vocals. Graham Royce banjo and Joe Boyels 1-string guitar.
17/03/73
Jessup
OZ Club '73
Polesworth Memorial Hall
17/03/73
Tamworth Rugby Union Football Club
Members Disco
Vox Lumina
Wigginton Lodge
18/03/73
Geoff Bodenham
Unicorn Folk Club
18/03/73
Kwil
Two Gates Working Mens Club
20/03/73
Hy-Kells
Tamworth Progressive Club
Tamworth Herald – 23/03/73
"I Killed Judith" Murder Charge Hearing at Birmingham
A 17-year-old ex-soldier (James Evans) admitted that he killed the girl (Judith Roberts).
24/03/73
The Dustin Fog
Kettlebrook Working Mens Club
26/03/73
Disco
DJ – Roger Prince
Fazeley Parish Hall
26/03/73
Mike Lawrence and Friends
The George
28/03/73
Disco
DJ – Clive Stewart
Fazeley Parish Hall
29/03/73
The Hy-Kells
Polesworth Working Mens Club
30/03/73
Chris Miller Concept
DJ – Steve Earl
Glascote Working Mens Club
31/03/73
Larry Grayson (Shut That Door)
Amington Mother and Baby Club
Woodhouse Comprehensive
31/03/73
Disco
DJ – Mack Rice
Fazeley Parish Hall