Andy Dwyer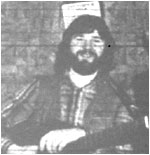 Andy Dwyer
Photograph courtesy: Tamworth Herald
(The Gallery)
Music Genre/Type: Folk
Formed: 1970
Andy Dwyer – 6 string and 12 string acoustic guitar (Belgrave)
[Later in Idlevice]
Roy Ashley – Violin
Carl Dwyer – Bongos and Drums
Songs:
Thimble, Day to Day Affair, I Live Not Where I Love, Feelings, Mountains of Mourne.
Gigs: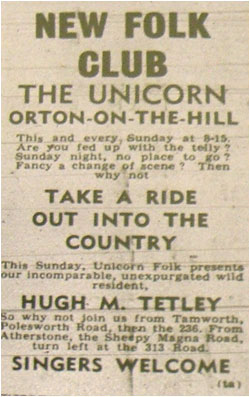 01/02/74
Bill Caddack
Resident Andrew Dwyer
Unicorn Folk Club
15/11/74
Brian Clift and Andy Dwyer
Unicorn Folk Club
20/12/74
Unicorn Folk Club Xmas Party
Andrew Dwyer
04/01/75
Tamworth FC Folk Night
The Razzle Dazzle Gatemouth Spasm String Band
Andy Dwyer
Floor singers welcome
Admission: 40p
17/01/75
Andrew Dwyer
Plus from Holland – Lis-Carol
Unicorn Folk Club
31/01/75
Folk at the Unicorn Folk Club
Foggy and resident singer Andrew Dwyer
07/02/75
Grand Folk Concert on behalf of Tamworth Folk Society
Blackwood Lodge
Andrew Dwyer
In aid of Tamworth Nursery for Handicapped Children
Admission: £1
14/02/75
Dan Fone
Andrew Dwyer
Unicorn Folk Club
21/02/75
Two's Company
Andrew Dwyer
Unicorn Folk Club
28/02/75
Dock Leaf
Andrew Dwyer
Unicorn Folk Club
14/03/75
John Walton
Andrew Dwyer
Unicorn Folk Club
21/03/75
Doug Porter and Andrew Dwyer
Unicorn Folk Club
27/06/75
Andy Dwyer and Friends
Unicorn Folk Club
09/04/76
Andrew Dwyer
Unicorn Folk Club
05/08/76
Folk Night
Andrew Dwyer
Hurley Working Mens Club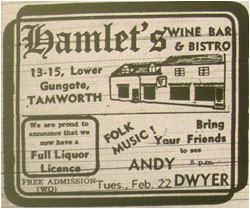 03/09/76
Andrew Dwyer/Doug Porter
Unicorn Folk Club

11/12/76
Folk Centre
Andy Dwyer
Tamworth Arts Centre
Tamworth Herald – 22/02/77
Andy Dwyer
Hamlets
25/03/77
Andy Dwyer
Unicorn Folk Club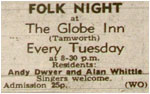 Folk Night every Tuesday
The Globe Inn
Andy Dwyer and Alan Whittle
22/07/77
Andy Dwyer
Unicorn Folk Club
04/10/77
Andy Dwyer and Alan Whittle
Globe Folk Night
13/10/78
Andy Dwyer
Unicorn Public House
18/10/78
Andy Dwyer
New Folk Club – Jolly Sailor
02/04/83
Dave Hewitt
Andy Dwyer
Three Tuns, Fazeley
Recordings:
Title: Ballads of a Wanderer
Format: LP 12 tracks
Label: Real Records
---
Tamworth Herald - 16/02/73
MUSICBOX - Togetherness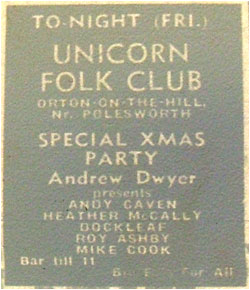 Tamworth College Folk Club, "Togetherness", is in danger of having to close unless it receives greater public support.
At a recent concert, Tamworth folk fans missed a great evening's entertainment.
With four artists booked, it was a crying shame to see only 16 present when local group, Black Riverside kicked off half-an-hour late.
They played a short set of varied folk songs, ranging from traditional to Emerson, Lake and Palmer.
Following warm-up sets from Steve Hill and Andy Dwyer, main artist Steve Ashcroft took the stage.
Without doubt, Steve is one of the brightest new faces to appear on the folk scene for a long time.
He played two short sets and his evident admiration for Neil Young was immediately apparent.
His excellent guitar playing and his distinctive voice were greatly appreciated by the audience, which by this time had more than doubled, so much so that they just would not let him leave the stage at the end of his act.
American artist Al Matthews has been booked for the next Togetherness concert on March 2.
Matthews has played on American TV many times and has appeared at some of New York's top night spots.
The Matthews concert may be the end of 'Togetherness' if it does not make a profit. The club will almost certainly have to close due to lack of funds.

Tamworth Herald – 31/05/74
Andrew wins through to folk rock national finals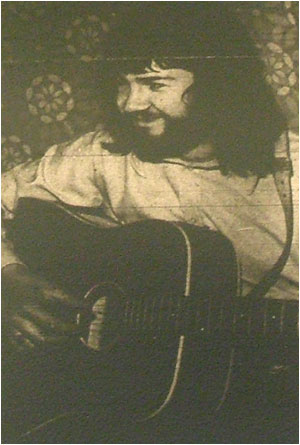 Folk singer-guitarist Andrew Dwyer has just entered an important date in his diary. It is Sunday, June 16, for on that night Andrew will be appearing in the final of the 1974 national folk rock competition at the Round House in London.
Andrew is the organiser of two local folk clubs and lives at 47 Tarrant, Belgrave. His appearance in London follows a win in the Midland area finals against 23 other solo performers.
Previously he had won the Birmingham heat of the competition which is organised by the "Melody Maker" in conjunction with EMI.
The prize for the eventual winner is £100 cash with a £200 voucher for equipment and a recording contract with EMI. Judges at the Midland Final were Denis Detheridge ("Melody Maker") Colin Miles (EMI) and Mel Galley (guitarist with Trapeze).
Two of the three songs that earned Andrew his place in the final were self composition "Day to Day Affair" and "Blind Man Song". Regular customers at the "Prince" and the "Unicorn" will know them well.
The Dwyer family moved to Belgrave two years ago aged 21-year old Andrew started the Unicorn Folk Club quite quickly.
"I always had an interest in folk" said Andrew "and with little for a teenager to do in Tamworth, I decided to have a crack at running a folk club".
A year later Andrew opened the Prince of Wales Club and it has cost him money to keep it running.

Tamworth Herald – 21/06/74
Andy's 'outstanding performance'
The bus load of supporters who went to London to cheer him to second place.
Belgrave folk singer Andy Dwyer went to London's famed Roundhouse concert hall on Sunday and came home with £200 worth of prizes.
Andy was competing in the Melody Maker National Folk-Rock Competition against 19 other acts from all over the country and he took overall second prize and the award for the Outstanding Solo Performance.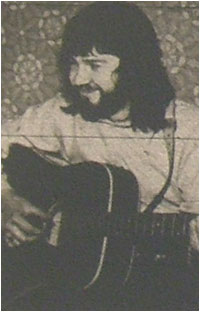 Also taking part in the contest was another Tamworth –based group Indian Runner who received a prize of a guitar and case.
Andy performed a well balanced set which obviously earned the admiration of the panel of judges which included Roy Wood, Elkie Brookes, Clifford T. Ward, Bob Harris and Melody Maker editor Ray Coleman.
Although he was dogged by guitar trouble in the early part of his act, Andy carried on with his playing and singing as if nothing had happened and obviously impressed the judges with his stage presence and earned praise from the huge audience who had travelled from all over the country.
By performing so well at such an imposing venue and before such a panel of judges, Andy proved that the open and friendly delivery he employs to present his fine self-compositions can only be well received when compared to the vast majority of today's singer-songwriters who seem to prefer to remain seated and perform to the floor of the stage, seemingly oblivious to the audience before them.
After the competition, Andy was well pleased with the result, "I really can't believe it," he said, "I am definitely going to try again next year."
New Andy Dwyer album on sale
Local folk singer and songwriter Andy Dwyer has an album in the shops…currently available from the artist or from the Unicorn Folk Club which he runs on Friday evenings.
The LP is entitled "Ballads of a Wanderer" and it is on the "Real Records" label. Nine of the twelve tracks have been written by the versatile Andrew who sings all the songs and plays six and twelve string guitar.
Every folk fan in the Tamworth area must have heard this talented performer live at some time or other and the record is a necessary addition to a record library.
Andy Dwyer is a folk music fanatic. Back in 1970 he was doing as many as five residencies a week as he built up the experience necessary to help him establish a reputation.
In 1971 he opened the Unicorn Folk Club at Orton on the Hill and he has continued to run it ever since. Then in 1974 he was runner up in the National Folk / Rock competition held by the Melody Maker.
Listening to Andy's LP is a pleasant enough experience. On side one "Thimble" is an outstanding track delicately sung and played.
"Day to Day Affair" is one of Andy's best known songs, being a commentary on what is accepted as common place and the reluctance of society to do anything about it. Yes, there is a social message in some of the Dwyer songs but it is always tastefully delivered.
"I Live Not Where I Love" and "Feelings" are also pleasant songs penned by Andy and go to make up a creditable first showing for this amiable and friendly young man.
An improvement could have been achieved if there had been more variation in the guitar work in some of the songs and "Mountains of Mourne" is delivered a shade on the fast side.
Amongst the other musicians who play on the disc are talented local violin player Roy Ashby and Andy's dad Carl who plays bongos and drums.

Tamworth Herald – 08/07/77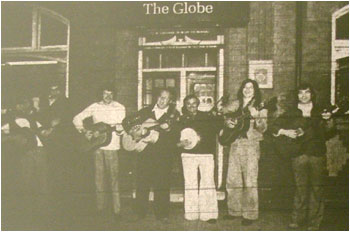 Musicbox - Globe Folk Club
A new folk club has opened on Tuesday nights at the Globe Inn in Lower Gungate. The new venture has two local singers Andy Dwyer and Alan Whittle as the organisers who see it mainly as an outlet for all local singers. "There has been real need for this kind of club in Tamworth: A place where singers, either traditional or contemporary, can be sure of an interested and appreciative audience" says Andy. It is hoped that such a worth ideal will get the local support that it deserves. Pictured are some of the singers who will be appearing at the Globe.

Tamworth Herald - 10/02/78
Scene Around...
Andy Dwyer and Alan Whittle
AIMING for a big name on the country music scene are Tamworth duo Andy Dwyer and Alan Whittle.
And they've just won themselves a regular nightspot in the town. The two singer-guitarists are playing on Monday nights at the Prince of Wales, Gungate.
Andy Dwyer and Alan WhittleCalling themselves "Idlevice", 25-year-old Andy and 28-year-old Alan are aiming for a crisp, swinging country sound. But they also include old skiffle numbers and even a little rock occasionally.
Andy of Belgrave, is a full-time entertainer and already has a solo LP out. He won the outstanding soloist award in a Melody Maker folk rock competition.
Living at Coton Green, Alan teaches in Birmingham. He plays guitar, bass guitar, and five-string banjo, and he recently got through an audition for a spot on TV.
"We've both performed regularly at folk clubs in the Tamworth area for a long time, and now we're hoping to become established in the Midlands as a whole," said Andy.

Tamworth Herald – 09/01/81
Musicbox – Folk Venture
THIS week witnessed the start of a brand new folk music club in Tamworth.
Called Back Room Folk, the venture was scheduled to start at the Three Tuns pub in Lichfield Street, Fazeley, last night (Thursday).
The organisers hope the club will be able to hold weekly sessions featuring local musicians.
There will be acts from Tamworth group Franklyn and solo artists Andy Dwyer and Roger Sargeant.
So, folk fans, get along to the Three Tuns in Fazeley and support this worthy venture.
Tamworth Herald – 31/03/83
Dave Hewitt is also appearing at the Three Tuns, Fazeley this Saturday (April 2) in a special folk bill which also includes Andy Dwyer. Admission is 75p.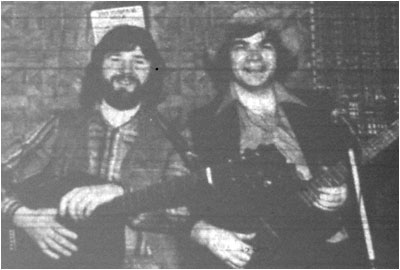 Andy Dwyer and Alan Whittle as Idlevice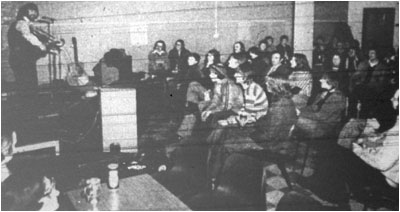 Tamworth Arts Centre Folk Night (24/02/77)
This was the first of a regular event featuring Iron Butty, Alan Whittle, Andy Dwyer, Steve Adams and Norman Wheatley. Advertised at: 50p – Bring your own jug! A report in the Tamworth Herald said: "Over 80 people attended, raising £150 towards Arts Centre funds, Dave Armour hoped eventually to raise £500 to improve facilities. With the Arts Centre aiming to become the HQ of the Tamworth Folk Club".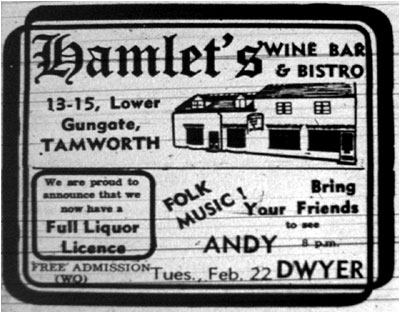 Andy Dwyer also played regularly at the newly opened Hamlets Wine Bar and Bistro Folk Nights.

The full profile and history of Andy Dwyer has yet to be added to TamworthBands.com Call back soon to read the full band details.
If you have any further information about this band please email: info@tamworthbands.com