Dave Hewitt
Musical Genre/Type: Alternative Entertainer
Formed: 1982
Solo Artist:
Dave Hewitt - Guitar/Vocals
Gigs:
22/05/82
The DHSS
Animal and Stick Band
Dave Hewitt
Wigginton Village Hall
12/06/82
Dave Hewitt
Badger
DHSS
St. Johns Guildhall
13/08/82
Dave Hewitt
Edward ian Armchair
Jed Moore
Tamworth Arts Centre
11/09/82
Dave Hewitt
Edward ian Armchair
Tamworth Arts Centre
02/04/83
Dave Hewitt
Andy Dwyer
Three Tuns, Fazeley
Tamworth Herald – 28/05/82
Musicbox – Has a star risen from our midst?
DHSS, THE ANIMAL AND STICK BAND, DAVE HEWITT : Wigginton Village Hall
A SMALL but appreciative crowd turned up at Wigginton Village Hall on cup final night to witness three very different acts.
Dave Hewitt, an amazingly confident, Jasper Carrott-type performer opened the gig.
For the next 30 minutes the audience were treated to songs about HM, Moses, appendicitis and even Mrs Thatcher's drug habits.
Dave was both original and funny and his easy, relaxed rapport with the audience made me feel we might have a star in our midst.
The Animal and Stick Band, an equally bizarre looking prospect to the stage next. Their songs ranged from charming jigs to long, rambling, self-indulgent blues numbers.
All the songs appeared untitled, disorganised and unrehearsed and yet all remained strangely successful. It was also refreshing to see a band clearly enjoying themselves, particularly the ever-leering Donald Skinner.
Finally on stage were my old favourites DHSS.
They had altered quite a lot over recent months and their set is now shorter and more compact than before.
The old songs "The Grass is Greener", "Together" and the stunning "Holocaust 81" have been supplemented by new ambitious sings such as the brilliant "revenge" and the catchy "My Life".
In my opinion Vince, Barry and Martin just get better and better, and the sooner somebody signs them the sooner more people will realise that fact.
So closed an enjoyable evening's entertainment. The diversity of talent showed just how healthy the Tamworth music scene is – it's just a pity there are not more punters who can be bothered to find out for themselves.
SAM HOLLIDAY
Tamworth Herald – 11/06/82
Musicbox – Now for something very different…
PEOPLE who complain about a lack of variety at local gigs might like to put their heads around the door at St. John's Guildhall tonight.
For at the venue, three decidedly different artistes will be peddling their wares.
Dave Hewitt, solo songster and witty alternative entertainer, will bring his own brand of music and humour to the hall.
And if Dave's sense of humour and odd taste in trousers is not to your satisfaction, new HM outfit Badger are also on the bill.
Badger will be using this gig as a warm-up for their important Assembly Rooms date previewed elsewhere on this page.
Finally DHSS are due to play their first town gig for some time on the same bill.
The is only the second gig the band have played with their new quieter, more restrained sound and the results could well prove interesting.
Tamworth Herald – 13/08/82
Musicbox – Dave's surprise package
TAMWORTH'S own alternative entertainer Dave Hewitt presents a show with a difference tonight at Tamworth Arts Centre.
Dave has arranged his own show of humour and music.
At the moment Dave is finalising details of who exactly will appear but he promises plenty of surprises.
The show was originally planned earlier in the year but had to be called off when the arts centre was double booked.
Dave's folk performances have been well received at other gigs he has done and his act won high praise from Musicbox reviewer Sam Holliday.
Tamworth Herald – 27/08/82
Musicbox – Alternatively speaking, a great night
Dave Hewitt: Tamworth Arts Centre
DAVE HEWITT'S 'Evening of Alternative Entertainment' turned out to be a welcome change in Tamworth and a very enjoyable gig.
Dave opened the show, treating the crowd to some great folk and blues-orientated songs which covered such subjects as CND, smoking and politics.
In among these original numbers were songs by James Taylor, John Martyn and he also played his own versions of the Doors classic, 'Light My Fire' and Jimi Hendrix's 'Hey Joe' – all backed up by some fine guitar work.
Comedy
One track which particularly impressed was an instrumental titled 'India'.
All through the show, Dave held the audience with a mixture of comedy and music which was well received.
Edward ian Armchair gave a contrasting show, performing material from his recently-released tape.
The Arts Centre's very own Jed also joined Dave to perform, 'Sick on You'.
All in all, a very unusual night, but with our all-too-common small turn-out.
TED WILSON
Tamworth Herald – 10/09/82
Musicbox – Night of music and poems
TAMWORTH'S two alternative entertainers Dave Hewitt and Edward Ian Armchair have lined up an evening of their own particular brand of music and poetry at the town's arts centre tomorrow (Saturday) night.
This is the second such concert arranged by the pair and the last one a few short weeks ago was a 'tremendous success'.
Dave explains the aim behind the gig "We just want to present an evening of entertainment that's totally different from anything normally seen in Tamworth."
"The idea is that we should give people something they will enjoy and be entertained by," Dave added.
Edward will be presenting a half-hour to 40 minutes set featuring some of the material on his recently released cassette 'The Armchair Guide to Insanity'.
Anything
Dave's part of the evening will feature his own material – songs about politics, war and 'just about everything else', he says.
Musically Dave draws his influence from James Taylor and John Martyn and lyrically from the American Larry Norman.
His set also includes some Hendrix cover versions and Dave is hoping to persuade a number of 'special guests' to join him.
Admission for what should be an entertaining and highly original evening is 50p.
Tamworth Herald – 17/09/82
Musicbox – Rich nights of fun, rock and song
Omen/Badger/Dave Hewitt/Edward Ian Armchair: Tamworth Arts Centre
TWO VERY different gigs at Tamworth Arts Centre provided two nights of really first class entertainment for the punters.
It is hard to imagine a greater contrast between the comedy and song of Dave Hewitt combined with the poetry of Edward ian Armchair and the heavy rock of Badger and Omen but both nights were rich in enjoyment though for totally different reasons.
Knowing it was their final gig, Omen pulled out all the stops to play their finest ever set. All the tension that has always existed between the members of the band had gone and they attacked their songs with real energy and passion.
Skilled
'Revelation', 'Searching', 'The Clouds', 'Castles', 'Get Out', 'Equilibrium', 'Through Different Eyes' and best of all 'Please Let Me Die' – all their great compositions – were played with really refreshing enthusiasm.
None of their movements were in the least bit choreographed, they just wanted to bow out with a gig to remember and at last silenced criticism of their lack of stage presence.
From the enthusiastic response from the audience I suspect I'm not alone in mourning the passing of Omen – they were a really innovative and skilled outfit and the local scene will be all the poorer for their break-up.
Badger on the other hand are just beginning to get going. Their material apart from one Bad Company sound-alike, was very metallic and very much in an 80s HM mould.
Vocalist Mick Swan, brother of Tytan front-man Norman was the most promising member. Although his voice needs time to mature, he showed considerable talent considering his lack of gig experience.
The theatre was less full on Saturday but not noticeably so, and the attendance was higher than Dave and Edward's last gig a few weeks ago.
Dave's mixture of blues, folk and protest songs together with his own brand of humour kept the crowd thoroughly entertained throughout his two sets.
His delivery and timing was impeccable, his guitar playing incisive and his singing superb as he went through a set of self-penned songs and his own versions of other artistes material.
Highlights were an acoustic version of Hendrix's 'Purple Haze' with the lyrics changed to suit Dave's commentary on British public transport entitled 'British Trains', a satirical look at HM, two punk songs performed with Jed Moore and a stunning instrumental called 'India'.
Edward, seated appropriately in an armchair, read some of his poems featured on his recently-released cassette 'The Armchair Guide to Insanity'.
His word pictures were vividly painted, his delivery was suitably dry and his social comment biting.
I particularly enjoyed 'Beach Ball and Swimming Trunks', a new poem vividly capturing a family day out at the seaside.
The excellent sound system was provided on both night by Tamworth's own PA hire company T.T. sound.
Tamworth Herald – 31/03/83
Musicbox – Alternatively, it's two of the best
TAMWORTH'S top two alternative entertainers are back on their old stomping ground on Saturday April 9.
Folk singer/comedian Dave Hewitt and poet Edward Ian Armchair are presenting their own unique brand of entertainment at Tamworth Arts Centre on that evening.
The previous two shows have produced good attendances and a rich mixture of music, poetry and humour.
Dave said: "The format will be the same as the other gigs we have done together and I promise there will be something for everyone."
A couple of well-known local guests have also been lined-up to appear during the performance.
"I've got a few surprises lined-up but that's all I'm saying at the moment," said Dave.
There will be a bar and the doors open at 7.30pn with admission 50p.
Dave is also appearing at the Three Tuns, Fazeley this Saturday (April 2) in a special folk bill which also includes Andy Dwyer. Admission is 75p.
Tamworth Herald – 08/04/83
Musicbox – Norman Conquest to take the chair…
PUNTERS attending tomorrow night's 'evening of alternative entertainment' at Tamworth Arts Centre are likely to be in for a surprise.
For if they go along expecting to see singer/songwriter/comedian Dave Hewitt and poet Edward ian Armchair teaming up, then they'll be disappointed.
Dave will be there all right providing his usual mixture of song and laughs but Edward will not be appearing.
But lovers of modern poetry need have no fear, for another highly talented poet has been lined up.
Norman Conquest, another local poet, is now on the bill.
Norman explained his work: "I write mainly about very relevant subjects, the social climate, that sort of thing."
His work will be put to music and the former DHSS members Vince and Martin Watts – now called The Daffodils (Formaldehyde Daffodils – Ed.) - are providing the backing.
Meanwhile Edward ian Armchair, has entered two of his pieces in a competition organised by BBC Wales.
The theme of the competition is Castles and Ed has submitted 'Daytrip to the Seaside' and 'Englishman's Home is His Castle'.
Both have been put to music with the help of Dave Hawkins and Ed has also had one of his poems 'Adam and Eve' published in a BBC book 'Lipstick and Lager'.
Tamworth Herald – 15/04/83
Musicbox – No conquest for Dave and the Daffodils
Dave Hewitt, Norman Conquest, The Formaldehyde Daffodils: Tamworth Arts Centre
SATURDAY'S 'evening of alternative entertainment' at Tamworth Arts Centre was, in some ways, a disappointment.
Mainly, I stress, because of the disappointing turn-out but also because the quality of the show didn't quite match up to that set in the previous 'evening' last September.
Because the Formaldehyde Daffodils were backing Norman Conquest, the stage set-up had to compensate for that and include drum kit and amps etc.
Sadly this meant that the more relaxed two chair set-up which Dave Hewitt and Edward ian Armchair used before had to be abandoned and to me that made all the difference.
Dave was forced to stand out in front of the audience for the first part of the show and although his customary humour and flair was still there for all to see the different stage set took away much of the easy-going atmosphere which was such a feature of the previous gig.
Norman Conquest turned out to be Edward ian Armchair with a new name and a new style. Although he read some of his old poems the accent was certainly on the new with a biting comment on the women of Greenham Common and a savagely violent piece 'Little Red Riding Hood' being the highlights.
Highlights
I'm less sure about the backing though. Too often Norman had to shout above the wailing guitar and the only poem where the music really added to the atmosphere was the aforementioned 'Little Red Riding Hood'. My advice to Norman would be to go back to his armchair.
The Daffodils were the latest project of former DHSS members Vince and Martin Watts. With Dave Cooksey on bass they performed one of their new numbers and this was one of the highlights of the night. I'm sure we'll be hearing more from them in the not too distant future.
The drum-kit disappeared before the beginning to Dave's second spot and with a better atmosphere the show improve immeasurably. Another CND send-up, this time with Jed Moore, a wonderful heavy metal skit with the assistance of former Omen guitarist Ted Wilson and some really hilarious poetry from Jed were the highspots.
It was quite a creditable show from all those involved. I don't blame Dave for trying to do something different but next time a little less change would be perhaps preferred.
---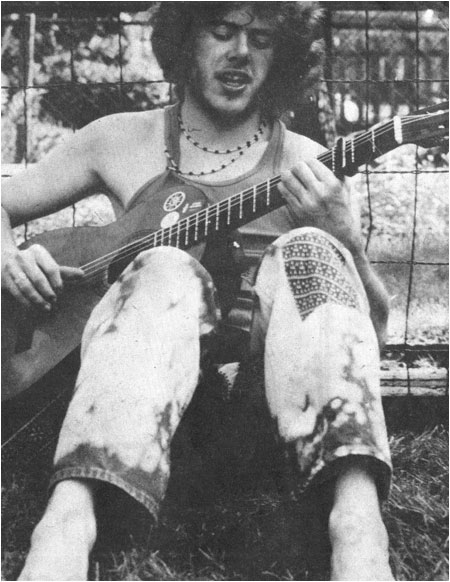 Dave Hewitt
If you have any further information about this artist please email: info@tamworthbands.com