Tamworth Bands History : 1973
October to December

Tamworth Herald – 05/10/73
A Day in the Life of…A Disco Manageress
Tamworth Herald – 05/10/73
CONVERSION WORK FOR ARTS CENTRE TO BEGIN IN JANUARY
Work is to begin in January on the conversion of Tamworth's old Baptist Chapel into an arts centre for the town.
The Borough Council's Leisure Activities Committee has given approval to a scheme costing £30,000 which will turn the old Baptists Church in Lower Gungate into a theatre and arts centre.
Mr. A.T. Teague one of the consultant architects for the scheme told the meeting the original estimate of £20,000 had soared because of rising building costs.
Now, formal approval of the increased cost must be given by the council's Resources Planning Committee and the council itself.
The council, Mr. Teague said would provide a "carcass" building with a stage and basic heating, lighting and electrical systems. There would be no chairs, ceiling, carpet, curtains or black-out blinds included in the conversion costs.
"We have a scheme which is cut down to the bone and is very basic and primitive", Mr. Teague said, "After conversion, the building will be left as a carcass for the Arts Advisory Council to take over".
Secretary of the Arts Advisory Council, Mr. Dan Gronow, said: "This is an excellent scheme, and I am glad the council have decided to do all the major structural conversion work at one swoop".
The theatre will eventually sear more than 100 people and will include multi-purpose rooms and catering facilities.
Originally built as a theatre in the eighteenth century, the building was later used as a malt house before being given to the Baptist Church in 1872 by Sir Robert Peel.
Tamworth Herald – 05/10/73
Council's sound of music headache
The sound of music is giving Tamworth Borough Council a headache.
For unless they can find a home for a disused church organ, work cannot go ahead on a redevelopment scheme.
The organ is in the former Baptist Church, Lower Gungate, and has not been used since the church moved to a new building at Belgrave earlier this year.
In January, work is due to begin on converting the old church into a theatre and arts centre – but the organ is in the way. And to move it would cost ten times as much as its value, a mere £100.
The council's Leisure Activities Committee were told the organ could be broken up if no-one could be found to take it away. The brought a plea from Alderman Bill Newbury not to sell it for scrap.
"It is always sad to hear of these old church organs being broken up and sold after so many years."
The committee heard that members of Edingale's Holy Trinity Church have shown an interest in buying the organ. Now the council say they may be prepared to offer it to the church, if the members take care of its removal from the building.
"This organ is nothing but an embarrassment to use and the sooner we get rid of it the better", Councillor Bill Holloway said.
06/10/73
Kwil
Tamworth Progressive Club
07/10/73
Disco
Double Disco with Mike Bond and Kippa
The Firebox
Flying Scotsman
10/10/73
The Krankies
Trocadero, Nuneaton
10/10/73
The Jay-Kays
Polesworth Miners Welfare Club
11/10/73
The Hy-Kells
Polesworth Working Mens Club
14/10/73
Jay Kay Swingtet
Dordon Working Mens Club
14/10/73
The Hy-Kells
Polesworth Miners Welfare Club
20/10/73
Tapestry
Amington Liberal Club
20/10/73
Purple Silk
Kingsbury Working Mens Club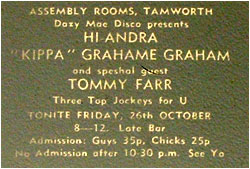 26/10/73
Dazy Mae Discos present
Hi-Andra
"Kippa" Grahame Graham
and Tommy Farr
Tamworth Herald – 26/10/73
Tamworth pop fan had £2,800 drugs
A two-year prison sentence was imposed on a 23-year-old Tamworth man who had drugs worth about £2,800 in his possession when police stopped him in a car during the Windsor pop festival.
John Winkworth whose home address was given as Strode House, Riverside Estate, Lichfield Street, Tamworth, pleaded guilty to seven charges of possessing drugs, including Heroin, Opium and Morphine with intent to supply them.
He was sent to prison for two years on each of the seven charges, the sentences to run concurrently.
Tamworth Herald – 26/10/73
MUSICBOX - Prince of Wales Folk Club
Tamworth's only remaining folk club, The Prince of Wales, seems to be growing all the time.
Every week the upstairs room at the Lower Gungate pub is packed to capacity to hear some of the top artists on the local folk circuit.
Last Tuesday, Derek Brimstone, currently one of the biggest draws on the national circuit, brought how own brand of Cockney humour to the club.
The evening kicked off with local group "Steeple", who did a fine job, faced with the unenviable task of warming up the audience. They played a short, contemporary set with some self-written songs and received a good reception from the crowd.
When Brimstone took the stage, he immediately launched into a series of numbers which showed off his real guitaring talent to the full and had the audience on his side in no time.
During his second set, he seemed to concentrate on demonstrating as many different guitaring styles as possible and he finished off with a couple of banjo numbers which had the audience shouting for more.
Without doubt, he is one of the best artists ever to appear at the club.
27/10/73
Barry John
The Millbank Promotions Tamworth FC Social Club
28/10/73
Steve Rostrom
Unicorn Folk Club
30/10/73
The Hy-Kells
Tamworth Progressive Club
Tamworth Herald – 02/11/73
Princess Anne visits Reliant
02/11/73
Kwil
Glascote Working Mens Club
02/11/73
Disco
Dazy Mae presents
Keith Lord, Kippa and Walrus Gumboot
Assembly Rooms
Tamworth Herald – 02/11/73
Damage after disco at Assembly Rooms
More than £50 worth of damage was caused to fixtures and fittings during a disco evening at Tamworth's Assembly Rooms on Saturday.
Toilet doors were smashed in, canvas seats and backs of chairs were slashed and ripped and fire extinguishers were set off.
Mr. John Walch, the borough's social relations officer, said that one or two doors had been kicked in and added: "It is just one of those things and something you can expect these days from youngsters. You won't stop them from doing this."
He said he did not think the damage could lead to any decision to stop the discos.
Later in the week, Mr. Walch invited a reporter to see the damage and said: "Repairs are in hand, and most of the damage to the doors has already been repaired. The disco promoter saw the damage on Monday evening and was quite staggered by what he saw.
"He has agreed to accept responsibility for the damage, and the bill will be presented to him when repairs are complete."
03/11/73
Disco
DJ – Mike Bond
Wilnecote Parish Hall
09/11/73
Pepper Village
Two Gates Working Mens Club
Tamworth Herald – 09/11/73
Palace – Live and Let Die
10/11/73
Tapestry
Two Gates Working Mens Club
11/11/73
The Hy-Kells
Two Gates Working Mens Club
11/11/73
Blackwood Lodge
Unicorn Folk Club
14/11/73
The Hy-Kells
Polesworth Working Mens Club
Tamworth Herald – 16/11/73
Hurley man in drugs case 'morally responsible' for death – court told
A Hurley man who was alleged to have peddled drugs in a Tamworth public house was told in the borough magistrates' court on Tuesday he was "morally responsible" for the death of a 19-year-old youth.
Anthony William Jerosz (21) of 10 Hawthorn Avenue, Hurley, was said to have sold drugs to Peter Draper, whose body was later recovered from the River Tame at Burton.
Tamworth Herald – 16/11/73
Palace – That'll Be The Day
Tamworth Herald – 16/11/73
'David Cassidy, Omar Sharif and Clint Eastwood' – signed club register
Police checking the books of a Tamworth social club found fictitious signatures of such well-known personalities as David Cassidy, Omar Sharif and Clint Eastwood, Tamworth magistrates were told on Tuesday.
The signatures were discovered in the books of the town's football club social club following a discotheque at which trouble broke out, leaving the building "as if a whirlwind had hit it."
20/11/73
The Jay-Kays
Tamworth Progressive Club
20/11/73
Jasper Carrott
Prince of Wales Folk Club
24/11/73
Disco
DJ – Tommy Ternell
Wilnecote Parish Hall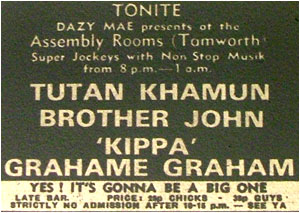 30/11/73
Dazy Mae presents
Tutan Khamun
Brother John
Kippa
Assembly Rooms
Tamworth Herald – 30/11/73
It's now or never for 'chapel' arts centre
ARTS COUNCIL FACES UP TO NEW £16,000 SCHEME
Tamworth's Arts Advisory Council will have to foot a bill of between £5,500 and £16,000 to turn the interior of the town's old Baptist Church into an arts centre and theatre.
The annual running costs of the centre, estimated at £1,000 will also have to be met by the Arts Advisory Council, which receives a total grant of £2,000 a year from Tamworth Borough Council.
Deputy town clerk, Mr. Arthur Harrison told an Arts Advisory Council meeting on Thursday that consultant architect Mr. A. T. Teague had advised the borough council that interior refinements to the arts centre could cost £16,000.
Structural work due to start on the building in January, is estimated to cost the borough council £30,000.
Mr. Harrison said: "The £16,000 is Mr. Teague's estimate of what he thinks will be needed.
"There is no time limit in which the work must be carried out. The centre can be fitted out over a period of years."
Arts Advisory Council secretary, Mr. Dan Gronow said: "The £16,000 scheme will obviously be a long term venture and we must face up to the fact that it will be financially difficult."
Councillor Eric Johnson, a member of the Arts Advisory Council, claimed the immediate cost of re-fitting the centre could be reduced to £5,500.
"This is a lot more within the reach of the Arts Advisory Council", he said. "The picture is not black just dark grey"
Members agreed that the terms of the scheme should be accepted.
"It's now or never", said a member. "We will never get another one."
30/11/73
Kwil
Two Gates Working Mens Club
05/12/73
The Jay-Kays
Polesworth Miners Welfare Club
Tamworth Herald – 07/12/73
Palace – Theatre of Blood
Tamworth Herald – 07/12/73
KICKED IN DISCOTHEQUE WINDOW
A youth who kicked in a window at Susanna's discotheque was fined £15 and ordered to pay compensation of £21 by Tamworth Magistrates on Thursday.
Terence John Smith (17) of 106 Alma Way, New Town, Aston pleaded guilty to damaging the reinforced windows, the property of D and V Foods Ltd.
Mr. Arnold Ward, presiding, told Smith: "I think you should pull yourself together and act like an adult".
08/12/73
Terra-Firma
Tamworth Football Club
09/12/73
The Hy-Kells
Amington Liberal Club
09/12/73
Kwil
Tamworth Progressive Club
11/12/73
The Hy-Kells
Tamworth Progressive Club