Tamworth Bands History : 1974
July to September

05/07/74
Kwil
Two Gates Working Mens Club
Tamworth Herald – 05/07/74
Conversion to Arts Centre next month?
Conversion of Tamworth's former Baptist Chapel into a town arts centre will start in August if the Borough Council gives the go-ahead at its meeting on Tuesday.
The Council's Resources Planning Committee, urging that work should start as soon as possible, has accepted a recommendation from the Leisure Activities Committee that the scheme should have a higher priority.
Revised estimates put the cost of the work at £40,000 - £6,000 higher than last September's figure "because of the continuing effects of inflation".
Resources Planning Committee members heard that delays had been caused by a Government ban on inviting tenders for new construction work, and by the council's own problems following a cut-back in loan allocations.
Five weeks ago, Tamworth arts organisations upset by the delays put forward a plan to do some of the work themselves until funds were available.
Tamworth Herald – 05/07/74
Applause for folk group
Local folk group The Phoenix were greeted with loud applause when they sand at the English and Continental cheese and wine evenings held at Shustoke Parish Hall. The hall was packed and the committee were delighted with the reception given the group.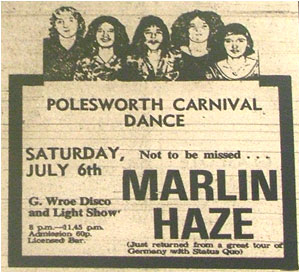 06/07/74
Marlin Haze
(Just returned from a tour of Germany with Status Quo)
Polesworth Carnival Dance
Geoff Wroe Disco and Lightshow
06/07/74
Arcturus
Austrey Working Mens Club
06/07/74
The Hy-Kells
Polesworth Working Mens Club
06/07/74
Tamworth and District Round Table
Indoor Chicken Barbecue
Nashville Teens and Kwil
Lonkhills Farm
06/07/74
The Intrigues
Coton and Hopwas British Legion Sports and Social Club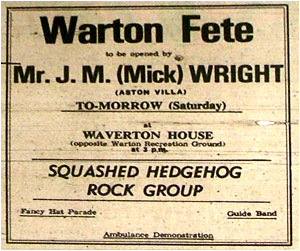 13/07/74
Warton Fete
Squashed Hedgehog Rock Group
Walverton House
13/07/74
Chris Miller Concept
The Big Barbecue
Manor Farm, Newton Regis
13/07/74
Terra Firma
Tamworth Progressive Club
26/07/74
The Hy-Kells
Two Gates Working Mens Club
26/07/74
Musicbox – feature on The Groundhogs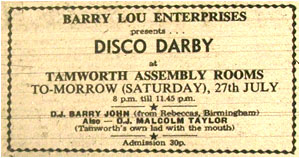 27/07/74
Disco Derby
Barry John and Malcolm Taylor
Assembly Rooms
27/07/74
Pilgrim
Polesworth Working Mens Club
Tamworth Herald – 02/08/74
Three-day Week
02/08/74
Terra Firma
Kingsbury Working Mens Club
02/08/74
Musicbox – feature on the Sensational Alex Harvey Band
03/08/74
Nightshade
Tamworth Progressive Club
03/08/74
Austrey Chicken Barbecue
Kwil
Elms Farm
04/08/74
Money Spider
Dordon Working Mens Club
04/08/74
The Jay Kays
Dordon Working Mens Club
09/08/74
Musicbox – feature on Van Morrison
10/08/74
Abrequs
Austrey Working Mens Club
16/08/74
Magpie
Two Gates Working Mens Club
17/08/74
Terra Firma
Tamworth Progressive Club
17/08/74
Roy Dell and the Vibrations
Atherstone F.C. Supporters Club
17/08/74
Chariot
Hurley Working Mens Club
18/08/74
Disco
DJ Barry John
Tamworth F.C. Social Club
21/08/74
Disco
DJ Barry John
Tamworth F.C. Social Club
03/09/74
Prince of Wales Folk Club – opens
Doug Porter
06/09/74
Unicorn Folk Club – re-opening
Dan Phone
Tamworth Herald – 06/09/74
Palace – Goldfinger
Tamworth Herald – 08/09/74
Palace – Enter the Dragon
10/09/74
Prince of Wales Folk Club
Brian Patten and Tom Cooksey
13/09/74
Bert Weedon Show
Two Gates Working Mens Club
14/09/74
Pilgrim
Glascote Working Mens Club
Tamworth Herald – 15/09/74
Palace – Jimi Hendrix
20/09/74
Susanna's Disco
Thursday, Friday and Saturday
9.00pm-2.00am
Tamworth Herald – 20/09/74
Chris Tarrant opens Coton Green gala
21/09/74
Pentad
Tamworth Progressive Club
27/09/74
Spiders Web
Two Gates Working Mens Club