Tamworth Bands History : 1974
October to December

Tamworth Herald – 04/10/74
MUSICBOX – Billy Bates
Billy Bates Dosthill-born musician with plenty of talent and a new single in the shops.
Dosthill musician Billy Bates has a great new single out in the shops, called "Mr. Hand Me Down".
Twenty-one-year-old Billy Bates – real name – Phil Bates – is well known in the Tamworth area, playing the local music scene with several talented bands.
Billy whose parents Mr. And Mrs. Allan Bates live at 94 Orchard Close, Dosthill, has many talents, can play the guitar, bass guitar, piano, organ and banjo, and writes his own material.
His new single, released on Spark Records, is a self-penned number, often reminiscent of Gilbert O'Sullivan, but catchy, well produced with fine instrumentation.
Managed by Reg Tracey, who also looks after Terry Lightfoot and His Jazzmen, Billy prefers music with a strong melodic content and the single is no exception.
In the days of mass-produced "Teeny-bopper" music, Billy's single is backed up by a good flip side entitled "Money Makes the World Go Round" again written by Billy.
Billy's association with manager Reg Tracey began when he was with Kwil.
The band played with Kenny Ball at Drayton Manor 18 months ago and Kenny recommended Kwil to Tracey.
Reg liked Billy's songs and when the Dosthill born musician left Kwil he helped him obtain a song-writing contract with Southern Music.
Billy was also introduced to Alan Freeman, manager of Spark Records…hence the single.
"Mr. Hand Me Down" is a melodic song with a strong story line. It is the first of a minimum of four singles that Billy Bates will be releasing over the next 12 months. It is already selling well locally and is available from all local record shops.
The record received several plays on Radio One during the first week of release and Radio Luxembourg played it three times in the same week.
The record is due for release in Holland and without a doubt the talented Billy Bates not only deserves success but looks well on the way to getting it.
Billy made his first public appearance with a group called the Wild Four at the age of 12.
The group later became known as the Teenbeats, who played the local scene for four years with Billy on lead guitar.
Billy has played with several other groups who have performed locally and these include Kwil, Enigma and Source of Power.
09/10/74
Joe Loss and His Orchestra
Drayton Manor, Tower Ballroom
13/10/74
Malc and Pete
Unicorn Folk Club
15/10/74
Lamplight
Tamworth Folk Club
Prince of Wales
18/10/74
Our Way of Life
The Chequers
19/10/74
Byte
The Chequers
20/10/74
Elixer
The Chequers
21/10/74
Pinocchio
The Chequers
22/10/74
Pepper Village
The Chequers
26/10/74
Pilgrim
Polesworth Working Mens Club
Tamworth Herald – 01/11/74
Top Entertainers at Folk Club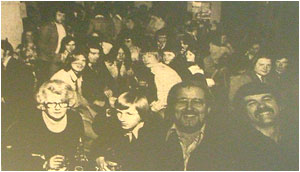 Two top entertainers were the guests at the Wigginton Folk Club last week. Harvey Andrews and Graham Cooper captivated a capacity audience for 105 minutes with their own particular style of magic.
It was an ambitious venture for a new club and their spirit of enterprise was rewarded with a good night's entertainment and a full house.
The Wigginton Folk Club was started in August and has future plans that include top artists such as Jake Thackeray. A top attraction will be there on Thursday next week when the "Pig Sty Hill Light Orchestra" are the guests.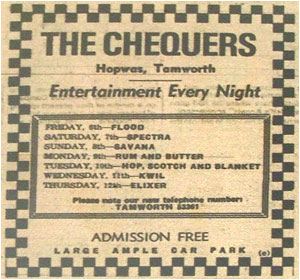 Tamworth Herald – 15/11/74
£340 a week to run Arts Centre
Running costs at Tamworth's Church Street arts centre could reach £17,000 a year. But annual income is likely to be more than £3,000, councillors have learned.
Figures were disclosed at a meeting of the Borough Council's Leisure Activities Committee within which contractors starting work on the conversion of the former Baptist church into an arts centre at a cost of £17,000.
Councillors agreed to a request by Tamworth Arts Advisory Group that the Borough Council manage the centre, and a plan is being drawn up on the priority of appointing a full-time manager.
County Borough Treasurer Mr. Talbot said more than £12,000 would have been spent on converting the building when the scheme was completed.
With a manager's salary, the estimated annual running costs could come close tp £17,000.
Mr. Brian Moore, Tamworth's Recreation and Amenities Officer, said he had feared that if the Arts Advisory Council ran the centre, the strongest Arts groups would "take things over" with the possibility of the building being managed in a way the Borough Council would not want.
"The Arts Council thought this was almost bound to happen if we did not ru the centre", he said.
But with a full-time official in the centre, such as senior citizens' and ladies' clubs would be able to meet there in the daytime making the best use of the money being spent.
The committee was told that the Advisory Council would still advise the Borough Council on the arts centre and would use the building as its base.
Councillor Alan McDonald said "Although these arts groups do a geat deal in their own fields, we must allow this scheme to have the advantage of professionalism."
Mr. Talbot claimed it had originally been agreed that the Arts Advisory Council should itself run the centre.
But Councillor Jim Poulton commented: "Whoever manages it, the Borough Council will have to foot the bill".
The Arts Council of Great Britain is to grant £5,000 towards the conversion costs and may make another grant later. The Tamworth Advisory Council is contributing £2,500.
15/11/74
Brian Clift and Andy Dwyer
Unicorn Folk Club
21/11/74
Joe Stead
Wigginton Folk Club
22/11/74
David Groom
Unicorn Folk Club
23/11/74
Myth
Polesworth Working Mens Club
29/11/74
Blackwood Lodge
Wigginton Folk Club
29/11/74
Vo Fletcher
Unicorn Folk Club
Tamworth Herald – 29/11/74
MUSICBOX – Theseus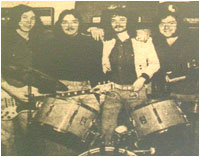 Theseus are a group that are going places.
The band which consists of Rod Barber, 4, Beech Road, Gillway, on vocals, Harry Appleby, 25 Calton Crescent, Tamworth, on drums, and two other member from Cannock set off for Germany on Wednesday.
"We will be playing U.S. Airforce bases and clubs in our three month visit to Germany", said Rod.
The group was formed three months ago, with Rod Barber and Harry Appleby joining from the local band Ramrod.
Theseus play pop and their own material and have played in and around the Tamworth area since forming.
They are aiming to get a recording contract and are busy rehearsing and touring.
30/11/74
Pegasus
Atherstone F.C. Supporters Club
30/11/74
Terra Firma plus Disco
Drayton Manor Cricket and Social Club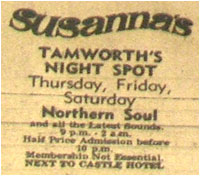 30/11/74
Susanna's
Northern Soul
05/12/74
Jake Thackeray
Wigginton Folk Club
06/12/74
Musicbox – feature on Ralph McTell
06/12/74
Heather McCauley
Unicorn Folk Club
06/12/74
Flood
The Chequers
07/12/74
Spectre
The Chequers
08/12/74
Savana
The Chequers
09/12/74
Rum & Butter
The Chequers
11/12/74
Kwil
The Chequers
12/12/74
Elixer
The Chequers
13/12/74
Blackwood Lodge
Unicorn Folk Club
15/12/74
The Hy-Kells
Two Gates Working Mens Club
14/12/74
Maverick
Warton Working Mens Club
19/12/74
Armpit Jug Band
Plus Richard Digance
Wigginton Hotel Folk Club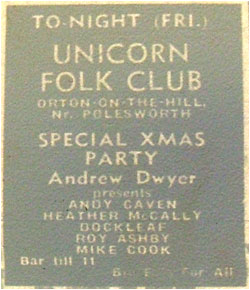 20/12/74
Unicorn Folk Club Xmas Party
Andrew Dwyer
21/12/74
Sundance plus DJ
Jolly Sailor
24/12/74
Money Spider
Fazeley Victory Working Mens Club
24/12/74
The Hy-Kells
Amington Liberal Club
31/12/74
New Years Eve Disco
Rock Rebellion plus DJ
Jolly Sailor