Tamworth Bands History : 1974
January to March
04/01/74
Unit 2 with Rikki Dikki
The Firebox, Flying Scotsman
04/01/74
Musicbox – feature on The Carpenters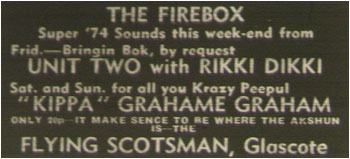 05/01/74
"Kippa" Grahame Graham
The Firebox, Flying Scotsman
06/01/74
"Kippa" Grahame Graham
The Firebox, Flying Scotsman
06/01/74
Money Spider
Dordon Working Mens Club

11/01/74
Aracad
Unicorn Folk Club
11/01/74
Musicbox – feature on Sweet
12/01/74
The Jay Kays
Polesworth Miners Welfare Club
12/01/74
The Yob with the Gob
"Kippa" Grahame Graham
The Firebox, Flying Scotsman
13/01/74
Mike Bond (007)
The Firebox, Flying Scotsman
13/01/74
The Armpit Jug Band
Kettlebrook Working Mans Club
16/01/74
Terra Firma
Tamworth F.C. Social Club
Tamworth Herald – 18/01/74
MUSICBOX


The local folk scene is proving to be a lively one, with the Prince of Wales, Tamworth, and the Unicorn at Orton-on-the-Hill lining up attractive entertainers.
Today (Friday), the Unicorn features Birmingham-based traditional singers, Cathy and Dave. The husband and wife duo are traditional singers and are earning a reputation in the Midlands for their style and performance.
Next Tuesday, Bill Caddick is the guest singer at the Prince of Wales. Bill writes a lot of his own songs and has performed with Magic Lantern, who visited the Prince of Wales a few weeks back. Bill pays a return visit to the Tamworth area when he plays at the Unicorn on February 1.
Local lad Philip Bates plays the local folk scene in late January with dates at the Unicorn on Friday January 25, and the Prince of Wales on January 29.
Well-known in local circles, Phil is playing solo after a spell with the group Kwil.
Future attractions include Gerry Lochran on February 26, and Nigel Jones on February 12, both at the Prince of Wales.
18/01/74
Cathy and Dave
Unicorn Folk Club
18/01/74
Mike Bond (007)
The Firebox, Flying Scotsman
19/01/74
Kwil
Two Gates Working Mens Club
19/01/74
"Kippa" Grahame Graham
The Firebox, Flying Scotsman
19/01/74
Terra Firma
Atherstone Miners Welfare Club
20/01/74
Mike Bond (007)
The Firebox, Flying Scotsman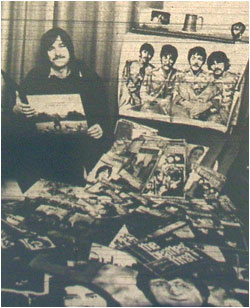 Tamworth Herald – 25/01/74
Something in the way they play…
Bob Paterson must be The Beatles' greatest Tamworth fan.
Over 10 years he has amassed hundreds of scrapbooks, records and posters charting the group's climb to fame.
Bob was a 12-year-old Tamworth schoolboy when the group first achieved national success in the recording field.
"That was when I started buying their records and collecting newspaper and magazine cuttings." He says. And he became one of the first followers to join the official Beatles Fan Club.
Now his wife, Barbara, has to take extra care when she is dusting their home in St. Mary's Way, Glascote.
Says 23-year-old Bob: "I don't mind her breaking the occasional teaplate, but I wouldn't be pleased if my Beatles' records got smashed."
More than £150 worth of albums and singles are stacked in his lounge and 40 scrapbooks, each of them catalogued, are piled high in a spare room.
Despite Bob's enthusiasm for the group and their unmistakable brand of music, he admits to never having seen them in a live performance.
"It's something I very much regret now that the group has disbanded. But the screaming kids always put me off going to any of their shows…I thought one day I would be able to see them 'live' without the nonsense. I never dreamt they would fold up", he says.
"Now that the group has embarked on solo careers, I still collect records and material connected with the individual members of the band."
Bob has over 250 Beatles albums and records but listens to other sorts of music aswell
"I know a lot of people might think it's a bit childish to go on with my hobby, but I think The Beatles are the greatest creative force around. Some people might go into ecstasies over Tchaikovsky, but in my view The Beatles will add their names to the list of great composers.
"I've never hero-worshipped them but have always highly rated their music…it's given me a lot of enjoyment."
25/01/74
The Rubber Ball
Fazeley Victory Working Mens Club
25/01/74
Philip Bates
Unicorn Folk Club
25/01/74
MUSICBOX
Dosthill guitarist composer folk singer Phil Bates appears at the Unicorn Folk Club, Orton-on-the-Hill, tonight, Friday and at the Prince of Wales, Tamworth on Tuesday. Popular in the area, Phil is former lead guitarist with the group Kwil. He writes his own songs.
26/01/74
Kwil
Tamworth Progressive Club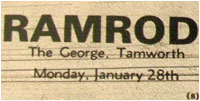 28/01/74
Ramrod
The George
29/01/74
Disco
DJ Funky Parrott
Penalty Spot
Polesworth Miners Welfare Club
01/02/74
The High Estate
Fazeley Victory Working Mens Club
Tamworth Herald – 01/02/74
David Black – wins the bronze medal in the 10,000 metres at the Commonwealth Games.
01/02/74
Soul Disco 100%
Ever Monday
Kettlebrook Working Mens Club
01/02/74
Bill Caddack
Resident Andrew Dwyer
Unicorn Folk Club
01/02/74
Musicbox – feature on Lena Zavaroni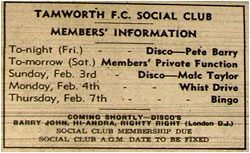 03/02/74
Disco
DJ Malc Taylor
Tamworth F.C. Social Club
Tamworth Herald – 08/02/74
Miners Strike
08/02/74
Andy Leggat
Plus Roger, Andrew
Unicorn Folk Club
08/02/74
The Money Spider
Fazeley Victory Working Mens Club
09/02/74
Terra Firma
Tamworth Progressive Club
12/02/74
Disco
DJ Malcolm Taylor
Tamworth Working Mens Club
15/02/74
Disco
DJ Pete Barry
Tamworth College Students Union
15/02/74
Wood End Youth Centre
Country and Western Night
Pete Ring
Tamworth Herald – 15/02/74
Needed 22 stitches after fight outside disco
A landscape gardener had to have 22 stitches inserted in facial wounds after a late night assault outside a town centre discotheque, Tamworth magistrates were told on Tuesday.
His attacker, 23-year-old John Robins, a self-employed metal polisher of 3 Ethelfleda House, Bolebridge Street, Tamworth was found guilty of an assault, occasioning actual bodily harm to Mr. Peter Alfred Winspear and was sent to prison for three months.
Mr. John Arnold, prosecuting, said that Mr. Winspear left Susanna's discotheque at the Castle Hotel after a dispute with a man named Eaglefield over a girl, but was followed out by Mr. Eaglefield.
A fight developed in which Mr. Winspear apparently got the upper hand and it was at this stage that Robins appeared on the scene, said Mr. Armold.
He intervened as Mr. Winspear was attempting to lift Mr. Eaglefield up from the ground and kicked Mr. Winspear in the face and then punched him.
Mr. Winspear's injuries required 22 stitches on his face, the injuries on which were "fairly severe", said Mr. Arnold. He was left lying outside the club where he had fallen.
15/02/74
Musicbox – feature on Jack Jones
16/02/74
Disco
Johnny Slade plus Hi-Andra
Assembly Rooms
16/02/74
The New Blood
Polesworth Working Mens Club
16/02/74
Spyders Web
Two Gates Working Mens Club
17/02/74
The Hy-Kells
Tamworth Progressive Club
Tamworth Herald – 22/02/74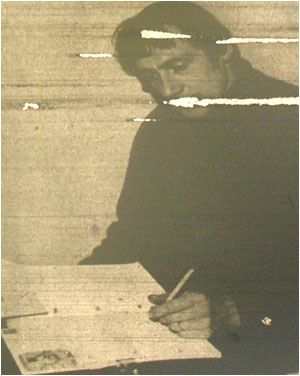 Disc-Jockey's £3,000 worth of equipment stolen
Tamworth disc jockey, Johnny Slade's usually bright and cheerful spirit took a sickening blow on Tuesday.
For he lost £3,000 worth of equipment – the result of three years' hard sweat.
The largest part of his gear was stolen along with his psychedelic Ford Transit van from outside his Argyle Street home in Glascote during the early hours of the morning.
"I still can't believe it's happened", said Johnny.
Over the past three years, 33-year-old Johnny has spent most of his time and money collecting his equipment, much of which he made himself.
He works as an electrician at Tamworth hospitals, and since setting up as a disc jockey he has made quite a name for himself in the Tamworth, Birmingham and Nuneaton districts.
Among the equipment in the van were 700 records, speaker columns, turntables, amplifiers, tape recorders, projectors, control units, dimmer switches and light control units.
The van was later found by police minus the equipment, in the Castle Vale district of Birmingham.
Johnny's wide Sandra, said: "Johnny had just about finished paying out for his gear and the money was just beginning to come in. It couldn't really have happened at a worse time".
Johnny was hoping to take his wife and daughter abroad this year but their holiday plans will have to be put to one side unless the costly equipment is recovered.
"If I don't hear anything by the weekend, I suppose I shall have to start building up again and that will mean another three years solid work", he said.
Johnny was renowned for his spectacular light-show, but he admits it will take him a long time yet before he can even begin to match the set-up he has lost.
22/02/74
Kwil
Fazeley Victory Working Mens Club
23/02/74
Spectre
Two Gates Working Mens Club
24/02/74
The Jay Kays
Polesworth Miners Welfare Club
01/03/74
Disco
DJ - Kippa
Tamworth F.C. Social Club
03/03/74
Disco
DJ – Malcolm Taylor
Tamworth F.C. Social Club
08/03/74
Disco – Super Soul Night
DJ – Delroy James
Tamworth College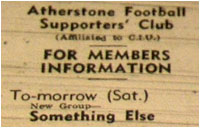 08/03/74
Something Else
Atherstone F.C. Supporters Club
08/03/74
Musicbox – feature on Grace Slick
09/03/74
Kwil
Tamworth F.C. Social Club
10/03/74
Terra Firma
Tamworth F.C. Social Club
10/03/74
Witchmaster
Dordon Working Mens Club
12/03/74
Graham Cooper
Prince of Wales Folk Club
15/03/74
Musicbox – feature on Argent
15/03/74
Tamworth Young Farmers Disco
DJ – Gary Clark
Jolly Sailor
16/03/74
Bill Haley and His Comets
Twycross Country Club
16/03/74
Terra Firma
Tamworth F.C. Social Club
16/03/74
Kwil
Two Gates Working Mens Club
17/03/74
Johnny Slade
Tamworth F.C. Social Club
Tamworth Herald – 22/03/74
The students pictured are Stuart Randle, Stephen Varley, Carol Wale, Ruth Hadley, Susan Bailey, Vivienne Bates and John Dix, who were inspired to combine their musical talents by music tutor, Mrs. Mary Davis.
New Wilnecote folk group's success
Barathea spells out good material – not only in clothes but also in music.
For this is the name a recently-formed Wilnecote folk group has adopted.
The group has appeared at several local youth clubs, Tamworth's Festival of Light, and last Saturday scored a notable success with a performance at Staffordshire's Folk Festival.
The youngsters, all sixth formers at Wilnecote High School, first realised their musical 'potential' under the supervision of their music teacher, Mrs. Mary Davis.
"I first noticed their musical ability during my lessons", explained Mrs. Davis, who is also a member of the group. They were very enthusiastic and so I encouraged them to try and discover the true depth of their musical talent".
"They got together as a group last year, and made their first public appearance at the school concert".
Since then, they've gone from strength to strength for now they not only play music, but write and arrange it as well.
"We get as much enjoyment out of writing our songs as we do playing them", said guitarist Steve Varley and bass player, Stuart Randle
"We practice for about five hours a week, but with our A' levels coming up shortly, we also devote a lot of time to our studies".
But leaving all thoughts of exams behind them, "Barathea" appeared on stage at the County Folk Festival.
After performing for nearly 20 minutes, singing not only their own arrangements, but also the legendary folk-song, "Babylon", they received resounding applause from an audience of nearly 200 people.
The group represented Wilnecote Youth Centre at the festival, held for folk music appreciation and not direct competition.
"Mr. John Smith, our youth tutor, nominated us to appear there", said Mrs. Davis. "It was a very enjoyable experience".
The group have no thoughts at this time of turning semi-professional.
"Anything can happen in the future, said Steve Varley, but at the moment, we are content to play purely for the joy of making good music together."
23/03/74
Tamworth and District Round Table
Kenny Ball and His Jazzmen
Drayton Manor
23/03/74
Velocity
Glascote Working Mens Club
23/03/74
Musicbox – feature on The Kinks
29/03/74
MUSICBOX
A brand new discotheque for the over-20s is to open in Atherstone next Thursday at the New Swan in Church Street. Called "Mr. Badger" it will open on Thursdays, Fridays and Saturdays and is believed to be the first permanent disco to operate there. Running the show will be Stew Bell a 20 year-old engineering adviser from Coventry.

30/03/74
Tamworth College Rag Ball
Ramrod
Ion Mistress
Armpit Jug Band
Plus DJ
30/03/74
Pen-tad
Two Gates Working Mens Club