Tamworth Bands History : 1974
April to June

05/04/74
Steve Rostron
Unicorn Folk Club
06/04/74
Terra Firma
Atherstone F.C. Supporters Club
06/04/74
Glow
Polesworth Working Mens Club
07/04/74
Kwil
Tamworth Progressive Club
Tamworth Herald – 12/04/74
The inadequacies of the Assembly Rooms
Tamworth Herald – 19/04/74
Accused of drugs theft
Three youths appeared before a special Magistrate's Court in Tamworth charged with entering a town centre chemist's shop and stealing £20 worth of drugs.
Clifford Stanley Chipman (17) and Christopher John Cordell (18) both paper mill workers of 112 Amington Road, Bolehall, were remanded until May 7 on bail of £50 each.
The third youth who is 16, was remanded in the care of the local authority until yesterday, when he appeared in court again and was further remanded until Tuesday.
19/04/74
Graham Cooper
Unicorn Folk Club
20/04/74
The Rubber Ball
Two Gates Working Mens Club
27/04/74
Square Dance and Wine and Cheese
Scallywags Band
27/04/74
Templemead
Tamworth Progressive Club
27/04/74
Spectre
Wood End Working Mens Club
27/04/74
Mosaic
Wilnecote Working Mens Club
27/04/74
Iron Maid
Austrey Working Mens Club
27/04/74
Terra Firma
Atherstone Miners Welfare Club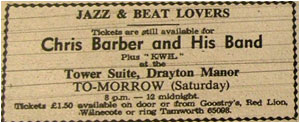 Tamworth Herald – 03/05/74
MUSICBOX
The Chris Barber Band the International jazz band visiting Tamworth on May 18th, support from Kwil.
04/05/74
Kwil
Two Gates Working Mens Club
Tamworth Herald – 10/05/74
Youth's suicide bid in drugs raid
A 16-year-old youth caught red-handed with two others after breaking into a chemist's shop to steal drugs, attempted to commit suicide by swallowing a handful of the stolen tablets, Tamworth magistrates were told yesterday.
All three pleaded guilty to entering as trespassers, the chemists shop of Tamworth Co-op Society in Colehill and stealing 2,755 drug capsules and tablets worth £20.
They also admitted a second charge of being in possession of a chisel, hacksaw and blades, files, screwdrivers, gummed paper, torches and gloves for use in the course of a burglary.
Chipman and Cordell also asked for a joint offence of stealing £15.88 worth of drugs from the Wilnecote chemists shop of Mr. Henry Eason to be taken into account.
They were put on probation for the maximum period of three years and were each ordered to pay £30 towards the cost of the prosecution.
Prosecution solicitor Mr. John Grey said police went to the Co-op chemists shop at three o'clock in the morning, saw that a first floor window had been broken into and found the three youths hiding behind a counter in the dispensary.
Cordell had achieved a high standard in education with six O' level and two A' level passes which qualified him for university. While making up his mind what career to follow he had gone to London for 12 months and there had mixed with people taking stimulating drugs.
Chipman he said, had been receiving treatment for a nervous complaint which caused depression.
Deputy chairman Mrs. Edith Mercer told Chipman and Cordell they were being given just one more chance.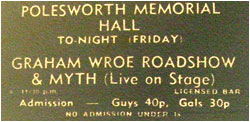 10/05/74
Myth
Plus the Graham Wroe Record Show
Polesworth Memorial Hall
11/05/74
Clover Leaf
Warton Working Mens Club
11/05/74
Charity Concert
Non-stop music from 7 top Brum groups
Tamworth College
17/05/74
Spectre
Kingsbury United F.C. End of Season Dance
Assembly Rooms
18/05/74
Pilgrim
Polesworth Working Mens Club
25/05/74
Templemead
Wood End Working Mens Club
26/05/74
Kwil
Kingsbury Working Mens Club
26/05/74
Purple Silk
Fazeley Victory Working Mens Club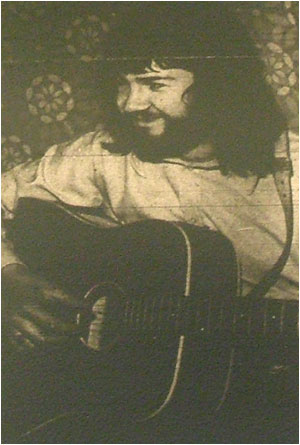 Tamworth Herald – 31/05/74
Andrew wins through to folk rock national finals
Folk singer-guitarist Andrew Dwyer has just entered an important date in his diary. It is Sunday, June 16, for on that night Andrew will be appearing in the final of the 1974 national folk rock competition at the Round House in London.
Andrew is the organiser of two local folk clubs and lives at 47 Tarrant, Belgrave. His appearance in London follows a win in the Midland area finals against 23 other solo performers.
Previously he had won the Birmingham heat of the competition which is organised by the "Melody Maker" in conjunction with EMI.
The prize for the eventual winner is £100 cash with a £200 voucher for equipment and a recording contract with EMI. Judges at the Midland Final were Denis Detheridge ("Melody Maker") Colin Miles (EMI) and Mel Galley (guitarist with Trapeze).
Two of the three songs that earned Andrew his place in the final were self composition "Day to Day Affair" and "Blind Man Song". Regular customers at the "Prince" and the "Unicorn" will know them well.
The Dwyer family moved to Belgrave two years ago aged 21-year old Andrew started the Unicorn Folk Club quite quickly.
"I always had an interest in folk" said Andrew "and with little for a teenager to do in Tamworth, I decided to have a crack at running a folk club".
A year later Andrew opened the Prince of Wales Club and it has cost him money to keep it running.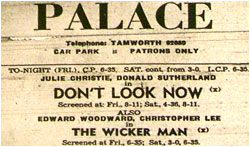 Tamworth Herald – 07/06/74
Palace – Don't Look Now and The Wicker Man
Tamworth Herald – 07/06/74
MUSICBOX
Singer-songwriter Ian Marklew who lives at Long Street, Dordon is all set to record his first single. Backed by a band which includes lead and bass guitarists, organist, drummer and includes the sound of violins and brass. Ian this week had several tapes accepted by the Neighbourhood Record Company and plans to record a single within the next two weeks.
15/06/74
Money Spider
Two Gates Working Mens Club
Tamworth Herald – 21/06/74
Andy's 'outstanding performance'
The bus load of supporters who went to London to cheer him to second place.
Belgrave folk singer Andy Dwyer went to London's famed Roundhouse concert hall on Sunday and came home with £200 worth of prizes.
Andy was competing in the Melody Maker National Folk-Rock Competition against 19 other acts from all over the country and he took overall second prize and the award for the Outstanding Solo Performance.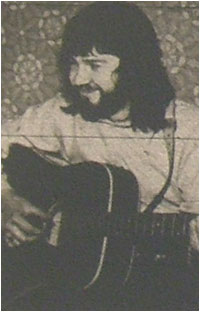 Also taking part in the contest was another Tamworth –based group Indian Runner who received a prize of a guitar and case.
Andy performed a well balanced set which obviously earned the admiration of the panel of judges which included Roy Wood, Elkie Brookes, Clifford T. Ward, Bob Harris and Melody Maker editor Ray Coleman.
Although he was dogged by guitar trouble in the early part of his act, Andy carried on with his playing and singing as if nothing had happened and obviously impressed the judges with his stage presence and earned praise from the huge audience who had travelled from all over the country.
By performing so well at such an imposing venue and before such a panel of judges, Andy proved that the open and friendly delivery he employs to present his fine self-compositions can only be well received when compared to the vast majority of today's singer-songwriters who seem to prefer to remain seated and perform to the floor of the stage, seemingly oblivious to the audience before them.
After the competition, Andy was well pleased with the result, "I really can't believe it," he said, "I am definitely going to try again next year."
29/06/74
New Blood
Polesworth Working Mens Club