Tamworth Bands History : 1975
April to June

04/04/75
Kwil plus The Hy-Kells
Wilnecote Sports and Social Club
Tower Suite, Drayton Manor
Tamworth Herald - 04/04/75
Palace – Slade in Flame
04/04/75
Armpit Jug Band
Unicorn Folk Club
05/04/75
The Hy-Kells
Kingsbury Working Mens Club
11/04/75
Blackwood Lodge
Unicorn Folk Club
Tamworth Herald - 11/04/75

18/04/75
Bill Bracknall
Unicorn Folk Club
24/04/75
All Star Variety
Wally May presents
Rick Brazilia and His Sambaleros (Latin American Band)
Steve Pritchard (Great Britain's new singing sensation)
25/04/75
Youth Clubbers Disco Dance
DJ – Kippa
Hurley Village Hall
25/04/75
Bill Price
Unicorn Folk Club
Tamworth Herald – 02/05/75
'High' Sandals caused accident
Sandals with three quarter inch soles and three inch heels were produced in Tamworth Magistrates Court on Tuesday by defence solicitor Miss Susan Gregson-Murray.
They were the cause, Miss Gregson-Murray said, for an accident in which a car driven by 19-year-old Ruth Hadley was wrecked in a collision with the rear of a lorry and trailer/
Miss Hadley of 207 Lichfield Street, Fazeley, pleaded guilty to careless driving and was fined £40.
Inspector Roy Woods said Miss Hadley, driving along the A5 Watling Street from Two Gates towards Fazeley, crashed her car into a stationery lorry and trailer at a point where she had 20ft of roadway in which to pass.
Miss Hadley had told the police she was driving home from her boyfriends and was in no hurry. She braked on seeing the stationary lorry and trailer but her foot slipped and became jammed between the brake pedal and accelerator.
Miss Gregson-Murray said: "I think her carelessness was in wearing of such sandals rather than in driving".
02/05/75
Belfry Hotel Disco
Every Saturday 9-2
Every Monday 10-1.30
02/05/75
Steve Ashcroft
Unicorn Folk Club
03/05/75
The Witchmaster
Amington Liberal Club
09/05/75
Midland Red Sports and Social Club
Annual Dance
Phoenix 4 (formerly Hy-Kells)
Plus Sounds International Showband
Drayton Manor
Tamworth Herald - 09/05/75
Riding on a musical wave
After 15 years in the Royal navy, "Shep" Woolley is pinning his hopes for success in civilian life on the theme of draft-dodging.
"Shep" who lives on Tamworth's Perrycrofts Estate, will leave the service in a few weeks time and plans to become a professional country and folk singer.
As a first step in his stage career he will appear on the television talent-spotting show "New Faces" tomorrow (Saturday).
And the song he has chosen for his three-minute spot before the panel of judges is a humorous number he first heard in New Orleans – "Draft Dodger's Rag"
SINGLE
He says that if the song is well received he will probably record it as his first single.
Last year he bought out an LP of country and folk entitled "Pipe Down" which has so far sold 2,000 copies.
He first started singing to the accompaniment of his guitar when he was 13 and was later a member of the Wilnecote group The Dominoes and sang with Danny Coral and the Surfriders.
Now he plans to tour the country with his act as soon as his naval service is over.
09/05/75
Chequers Disco
Every Thursday and Monday
09/05/75
Chequers
Every Wednesday
Copper Kettle Folk Night

09/05/75
Shakespeare
Unicorn Folk Club
10/05/75
Pentad
Tamworth Progressive Club
10/05/75
Jay Kays
Dordon Working Mens Club
10/05/75
High Estate
Two Gates Working Mens Club
15/05/75
Therapy
Wigginton Hotel Folk Club
16/05/75
Tamworth Carnival 75
Selection Dance
Kwil plus Bob Mason
Ed Doolan from BRMB will choose the Queen
Drayton Manor, Tower Suite
Tamworth Herald – 16/05/75
Just the tonic!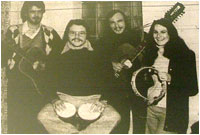 Music for folk group Antigone is just what the doctor ordered.
For the group are all from the medical world and everything started when they came together for an impromptu performance last Christmas.
That performance took place at Tamworth's General Hospital, when staff presented a concert featuring comedy, sketches and songs.
Hospital sister Maggie Stewart, Doctor David Rowley-Jones, ambulance driver John Sackett and hospital administrator Tony Richardson soon found that music was a common interest. They began rehearsing together and Antigone was born.
So far, the group has only played at two functions, but the order-book is open to offers.
David and Tony both have musical backgrounds. David once played with a group at school and Tony – the musical drive behind the group – writes a lot of material for Antigone.
At one time, he formed his own group, Spinning Wheel, and still watches their progress closely.
Antigone describe music as "a sort of cabaret folk" and admit to playing a wide range including traditional and modern folk with Simon and Garfunkel and The Beatles material thrown in as well.
With their two-guitar, bongo drums and tambourine line-up, the group is just the right medicine for fun!
16/05/75
Arti Trezise and Cilla Fisher
Unicorn Folk Club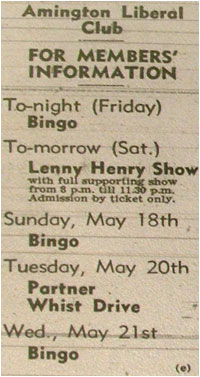 17/05/75
Lenny Henry Show
Amington Liberal Club
18/05/75
Tetrad
Dordon Working Mens Club
23/05/75
Dave Wakefield
Unicorn Folk Club
Tamworth Herald – 23/05/75
Punched in face at discotheque
John Joseph Dunbar punched a trainee accountant on the face at a Tamworth discotheque (Susannah's) because the young man was "staring" at him, the town's magistrates heard on Tuesday.
24/05/75
Witchmaster
Coton and Hopwas British Legion Social Club
25/05/75
Hard Rain
Fazeley Victory Club
25/05/75
Pentad
Birchmoor Working Mens Club
25/05/75
Hush
Austrey Working Mens Club
26/05/75
Hush
Fazeley Victory Club
Tamworth Herald – 30/05/75
Mrs. Thatcher coming to Reliant
Tamworth Herald – 30/05/75
16-year-old wins award
Sixteen-year-old Jill Fawcett is the winner of Tamworth Art Centre competition for a nameboard over the doorway of the new arts centre to be opened in September.
She collects a £10 prize but her design – done in aluminium in computer print style – will not be adopted without modification.
Competition judges ruled that none of the 20 entries was entirely suitable. They felt that even the best of the bunch was not sufficiently legible.
Of Jill's entry they said that whilst not sufficiently legible in the form submitted, the idea was felt to be trong and to fill the space effectively.
Jill of "four Winds" Austrey Lane, Newton Regis, will have her "slightly modernistic" prize-winning entry exhibited in the foyer of the municipal offices in Corporation Street.
The Arts Council is to employ an architect to build up Miss Fawcett's original or design a new one based on her idea.
Even when the revision has been completed and the sign set up it is possible it will be pulled down again to make way for an entirely new design created by one of the student using the centre.
A council spokesman said the competition rules expressly stated the winning entry would not necessarily be used.
"The competition was run in order to arouse the artistic talents of Tamworthians.
"I do not hink the fact of not using the winner's work will stifle the interest created."
There were joint runners-up – Mr. K.D. McCormack of 23 Wordsworth Avenue, Leyfields and Mr. K.M. gibbons of 6 Fontenaye Road, Coton Green Tamworth.
Both their entries in the view of the judges Mr. D.H.V. Gronow, secretary-treasurer of the Arts Advisory Council, architect Mr. A.T.N. Teague and Councillor Ron Cook, chairman of the borough Council leisure activities committee – contained useful ideas but did not seem quite striking enough.
31/05/75
Money Spider
Austrey Working Mens Club
31/05/75
Zeth
Polesworth Working Mens Club
31/05/75
Spectre
Hurley Working Mens Club
31/05/75
The Hy-Kells
Kingsbury Colliery Social Club
01/06/75
Witchmaster
Dordon Working Mens Club
03/06/75
Nightshade
Tamworth Progressive Club
Tamworth Herald – 06/06/75

06/06/75
Kwil
Wood End Working Mens Club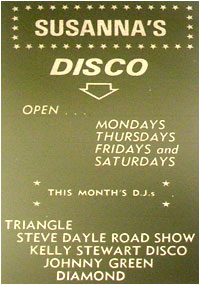 Tamworth Herald – 06/06/75
Tamworth Votes – Common Market Referendum
08/06/75
Total Eclipse
Dordon Working Mens Club
Tamworth Herald – 13/06/75

Tamworth Herald – 13/06/75
Gang's 'bizarre and disgusting' behaviour
The "bizarre and disgusting" behaviour of a gang of Hell's Angels as they competed with each other to gain their "red wings" of distinction for sexual achievements was described in Stafford Crown Court on Friday.
Their indecent acts were committed with a 15-year-old schoolgirl and they all had a collective interest in a variety of sexual behaviour." Mr. Michael Pratt, prosecuting said.
"You will hear of situations most people would find bizarre and disgusting in the extreme," he told Mr. Recorder Denis Kelly.
Mr. Pratt said the offences with the 15-year-old took place in the Castle pleasure grounds. The girl's trousers and underwear were removed and a coat was put over her head.
The girl did not struggle when the gang took it in turn to commit the offences which included oral sex, Mr. Pratt said.
The five sent to borstal training were John Perry, aged 20, of St. Benedict's Close, Atherstone; Anthony Lander, aged 19, of Potters Lane, Polesworth; Paul Cooper (18) of French Avenue, Mile Oak, Paul Gould (18) of French Avenue, Mile Oak; and Paul Gibbs, aged 17, of Lichfield Road, Coleshill.
Alan Lines, aged 26, of Oakenfield, Lichfield, was given a 12-month prison sentence on the indecent assault charge and a further three months, consecutively, on a charge of handling stolen property.
Richard Cooper, aged 21, of French Avenue, mile Oak, at present serving an 18-month prison sentence for burglary, was given a six-month prison sentence, to run concurrently after pleading guilty to having unlawful sexual intercourse on two occasions with the girl.
14/06/75
Field Day
Ox Roast Barbecue
Kwil and Richard John Disco
Twycross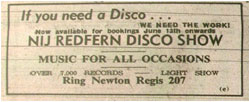 14/06/75
Pentagon
Two Gates Working Mens Club
20/06/75
Kwil
Tamworth Cricket and Hockey Club Barbecue
Club Ground, Hints
21/06/75
Tamworth FC Grand Chicken Barbecue
DJ Barry John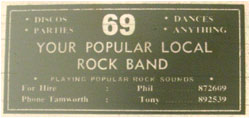 27/06/75
Andy Dwyer and Friends
Unicorn Folk Club
28/06/75
Maverick
Shuttington and Alvecote Social Club
28/06/75
Clover
Tamworth Working Mens Club
28/06/75
Kwil
Kingsbury Colliery Social Club