Tamworth Bands History : 1975
July to September

01/07/75
Spyders Web
Tamworth Progressive Club
Tamworth Herald - 04/07/75
Sunshine and Smiles for Princess Margaret
Joyous welcome for Tamworth's royal visitor
Tamworth Herald - 04/07/75
Swung from tree because Tamworth 'is so boring'
Keith Douce decided to swing from an elm tree in Tamworth town centre because it is such a "boring place", borough magistrates heard on Tuesday.
Douce (17), of 1 Lock House, Glascote and Peter Barker (17) of 12 Beech Road, Gillway, Tamworth both admitted damaging the tree and were each fined £10.
Douce, who told the court he was now unemployed "because I didn't feel up to going to work", said he had swung on the tree because Tamworth was "so boring" and there was nothing else to do.
Tamworth Herald – 04/07/75
Two drank 116 bottles of lager in one day
Tamworth Herald – 04/07/75
Musicbox – Leapy Lee
05/07/75
Tamworth and District Round Table
Indoor Chicken Barbecue
Kwil
White Plains
DJ Ron Peel
Tamworth Herald – 11/07/75
Stole records from disc jockey
Twenty-year-old Brynley John Phillips, whose hobby is collecting gramophone records, denied in Tamworth Magistrates Court that he had stolen seven records worth £7 from disc jockey Mr. John Green, but was convicted and fined £25.
Prosecution solicitor Mr. John Grey said Mr. Green, was operating as a disc jockey at Susannah's in the Holloway on the following day he found 15 of his records, some of them rare were missing.
He had seen Phillips on the platform with his own records and concluded he must have mixed the missing records with his own.
He telephoned Phillips who said he had not taken the records.
NOT RETURNED
Mr. Green gave Phillips 48 hours in which to return the records before he went to the police but the records were not returned, Mr. Grey said.
Seen by the police, Phillips told them: "I wanted one of the records Mr. Green had and my intention was to ask if I could have it. I had my records with me at the disco and Mr. Green made use of some of them. Afterwards I put my records in a case but did not look at them again when I got home.
"Later on Mr. Green phoned and I told him I had one of his records but did not tell him about the others because he was threatening to go to the police. I was thinking of returning the records but did not know how to. I know I should have told him when he asked me and I am sorry about it."
11/07/75
Newton Regis Chicken Barbecue
Chris Miller Concept
Newton Regis Manor Farm
12/07/75
Kwil
Kingsbury Working Mens Club
12/07/75
Annual Garden Fete
St. Mary's Mission, Freasley
Chris Miller Concept
13/07/75
High Estate
Glascote Working Mens Club
26/07/75
Austrey Sports Club Chicken Barbecue
Kwil plus DJ
26/07/75
Buster
Hurley Working Mens Club
Tamworth Herald – 26/07/75
Musicbox – Bee Gees
03/08/75
Pentad
Two Gates Working Mens Club
03/08/75
Stonehouse
Hurley Working Mens Club
Tamworth Herald – 08/08/75
Musicbox – David Cassidy
Tamworth Herald – 15/08/75
Musicbox – Lyn Paul
17/08/75
Disco
The Chequers every Sunday
Johnny Glitter
DJ from Wolverhampton
17/08/75
Witchmaster
Shuttington and Alvecote Social Club
19/08/75
Disco
Polesworth Working Mens Club
22/08/75 - Tamworth Herald
Musicbox – Chas and Dave
23/08/75
Pentad
Kingsbury Working Mens Club
25/08/75
Dragon Fly
Two Gates Working Mens Club
25/08/75
Blythe Spirit
Hurley Working Mens Club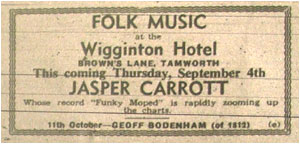 04/09/75
Grand re-opening of Wigginton Hotel Folk Club
Jasper Carrott
05/09/75
Re-opening of Unicorn Folk Club
Dock-leaf
Tamworth Herald – 29/08/75
Musicbox – Kiss
30/08/75
Witchmaster
Belgrave Working Mens Club
Tamworth Herald – 05/09/75
£5,000 for Arts Centre
Tamworth Arts Advisory Council has received a massive financial boon of nearly £5,000 to help get the town's new Arts Centre off the ground.
The money came from the Calouste Gulbenkian Foundation – an international organisation for the promotion of the arts, education and social welfare.
It is to be used to provide a stage rostra, stage lighting, a sound system and a piano.
05/09/75
Kwil
Wood End Working Mens Club
Tamworth Herald – 05/09/75
Musicbox – David Bowie
12/09/75
Fleecem and Scalpem Folk Duo
Woodhouse School
12/09/75
The Hy-Kells
Gills Cables Social Club
Tamworth Herald – 12/09/75
Palace Petition Protest
Film fans campaigning against the threatened closure pf Tamworth's Palace cinema.
Tamworth Herald – 12/09/75
Palace – Towering Inferno
Tamworth Herald – 12/09/75
Musicbox – Rod Stewart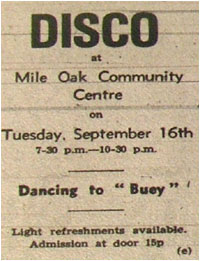 16/09/75
DJ Buey
Mile Oak Community Centre
18/09/75
Cosmotheka
Wigginton Hotel Folk Club
Tamworth Herald – 19/09/75
Palace cinema to be demolished in November
New one to be built in March.
Tamworth Herald – 19/09/75
Dave's aim is a full house – every night
"I don't want the arts centre to become some sort of mausoleum where people merely go…"
The words are those of Dave Armour, the articulate 29-year-old manager with high-hopes for Tamworth's multi-purpose Arts Centre due to open in two months time.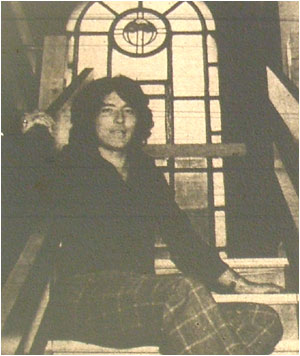 Dave Armour, Tamworth Arts Centre Manager
Dave comes to Tamworth with a wealth of work on the stage and experience in the arts gained from his time working in northern theatres. He has plans to use his experience to it's full extent in Tamworth.
Dave's last job was with Knowsley Metropolitan Council on Merseyside where he was attached to a play leadership scheme for holidaying school children.
AMATEUR
That, he says, was "mostly a six week summer job," but from it sprang his interest in community theatre, developed as he toured round the area presenting plays and entertainments for the youngsters.
He joined an amateur theatre group in Skelmersdale, and organised events for pensioners with the help of the town's development corporation.
What of his job at Tamworth – a town he had never heard of before, which sounded to him like "a nice suburban Midlands town"?
"The centre welcomes everyone who wants to perform, and I envisage every part of the building being used to its full extent." He says.
RECITALS
"I'd dearly love to see it thronged with people, but many do tend to shy away from the theatre and the arts generally because they think it is 'middle class."
The Arts Centre, housed in the old Baptists Church in Church Street, is scheduled to open sometime in November. It contains an auditorium capable of seating up to 100 people and other smaller rooms suitable for small group meetings, musical recitals and exhibitions.
But Dave, as well as managing the building, is hoping to stimulate badly-needed new developments in Tamworth's art world, by encouraging societies and groups to go out more to the people.
CONFIDENT
"I would like to see plays and shows presented here at the Arts Centre and then taken out to clubs and pubs in the district. I'm sure people would take to this and would have much more of an interest if the theatre was taken to them," he says.
Dave's plans are certainly different – at least for Tamworth. But he is confident they will work.
"We are capable of catering for all types, and I think we will be successful once the centre gets on its feet," he says.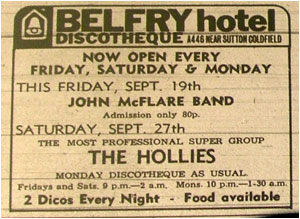 20/09/75
Dance in a Barn
Priory Farm
Quill
20/09/75
Dragon Fly
Belgrave Working Mens Club
26/09/75
Andy Caven
Unicorn Folk Club
Tamworth Herald – 26/09/75
Musicbox – Wings
27/09/75
The Hollies
Belfry Hotel