Tamworth Bands History : 1976
January to March
02/01/76
Surprise Guest
Unicorn Folk Club
02/01/76
Disco
Barry John
Assembly Rooms
Tamworth Herald – 02/01/76
Musicbox –Watch out for Flash Harry!
Watch out for a talented local band called Flash Harry.
After five years of personnel changes, the band has finally settled down to their preset line-up.
David Lawrence is on keyboards; Graham Smith (percussion); Stephen Day (bass) and Trevor Muggleston (guitar and vocals).
Graham Smith and Trevor Muggleston were the founder members of Flash Harry, having both played together in Inertia and Houndall (sic.) (Heimdall - Ed.) with other musicians who have since gone their separate ways.
Stephen Day used to appear in another local group, Ragnork, but progression was held back and he decided to join Graham and Trevor in, at the time, Inertia.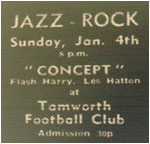 David Lawrence, the latest member of the band, has had little experience within rock music, having been classically taught piano for ten years. But the result of the integration has proved favourable all round.
With all four members having different influences on their playing, various styles are incorporated in the overall music, which is all self-composed within the band.
Obvious financial problems have already risen for the band but the last few months have at last begun to aim them in the right direction.
Flash Harry can be seen, along with Concept and other guests at the Tamworth FC Social Club on Sunday, January 4 in the series of jazz-rock clubs being held there on the first Sunday in every month.
For 30p it promises to be an excellent night of good music, open to members and non-members. See you there.
03/01/76
Stonehenge
Hurley Working Mens Club
03/01/76
The Jay Kays
Polesworth Miners Welfare Club
03/01/76
Rock Revival
Polesworth Working Mens Club
04/01/76
Jazz Rock
Concept, Flash Harry, Les Hatton
Tamworth Football Club
09/01/76
Paul and Glen Howe
Unicorn Folk Club
09/01/76
Musicbox
Art Garfunkel
Tamworth Herald – 09/01/76
Three on drugs charge
10/01/76
High Estate Show Band
DJ Geoff Owen
Foseco Sports and Social Club
10/01/76
Rock to the Gum Tree
Polesworth Working Mens Club
11/01/76
Hy-Kells
Kingsbury Working Mens Club
11/01/76
Folk Music
At Wigginton Hotel
Tommy Dempsey
15/01/76
Disco
Cosmic Dream
Mile Oak Community Centre
16/01/76
Clover
Tamworth Working Mens Club
16/01/76
Disco
John Green
Polesworth Working Mens Club
16/01/76
McShane
Unicorn Folk Club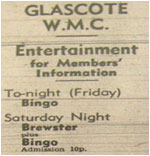 17/01/76
Brewster
Glascote Working Mens Club
19/01/76
The Hobbits
Polesworth Working Mens Club
22/10/76
Hobbits
Belgrave Working Mens Club
Tamworth Herald – 22/01/76
Advert – DJ Johnny Black
23/01/76
Geoff Bodenham
Unicorn Folk Club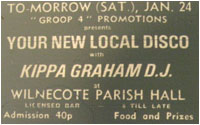 24/01/76
"Group 4" Promotions
Your New Local Disco
Kippa Graham DJ
Wilnecote Parish Hall
24/01/76
Hobbits
Glascote Working Mens Club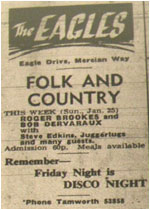 25/01/76
Folk and Country
Roger Brookes and Bob Devereaux
The Eagles
29/01/76
Barry John Disco Show
Tamworth FC Social Club
30/01/76
Nightshade
Glascote Working Mens Club
30/01/76
Draggon
Unicorn Folk Club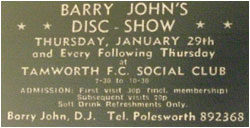 30/01/76
The Zodiacs
Grendon Working Mens Club
Tamworth Herald – 30/01/76
Letters Page
Dear Sir,
I note from the letter by the organisers of the Friends of the Earth Society exhibition That Mr. Hillier-Fry thanks the Council for allowing him free use of the facilities and "hopes other organisations will also be so fortunate".
I regret to inform Mr. Hillier-Fry that his hopes have no basis in fact. All other organisations currently using the Centre are paying the full charges laid down by the Council. Tamworth Arts Advisory Council currently pay £900 per year for priority use of the Centre on Mondays, Tuesdays and Wednesdays. This use is, however, limited to rehearsal and meetings, and is subject to the manager's future plans and promotions. If the Centre is used for public performances etc, additional charges are applied to the user group making the bookings. In consequence, Tamworth Little Theatre anticipate charges of some £70 or so for the use of the Centre in last week's show "Musical Memories".
Whilst no one objects to the imposition of reasonable hire charges for the use of public facilities. I find the application of dual standards in deciding who to charge, most disturbing. If the inability to pay relevant hire charges (in this case some £31.50) is deemed to be the criterion when establishing those charges, it will obviously benefit all user groups to abandon membership fees; forget fund raising; and to not charge members of the public for admission to performances.
Alternatively, is some form of censorship at work, deciding which groups will pay and which won't? If so, what is the basis of the censorship in relation to public performances / presentations? Is it social acceptability, artistic merit or cultural merit? Or, in the final analysis, is the object to utilise the facilities at any cost (or rather no cost)?
What I do know is that it seems grossly unfair for the Council to insist that groups providing public entertainment pay the going rate and at the same time waiving the charges when it suits officialdom. Perhaps someone can explain.
T.D. Taylor Chairman, Tamworth Little Theatre
30/01/76
Musicbox
Kinks plus win a Be Bop Deluxe Album
31/01/76
Zenith
Atherstone Miners Welfare Club
01/02/76
Timoneers
The Eagles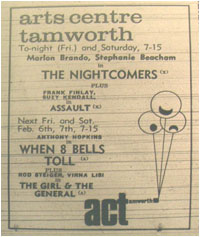 01/02/76
Hush
Polesworth Working Mens Club
01/02/76
Pentad
Belgrave Sports and Social Club
07/02/76
Glover (Clover - Ed.)
Polesworth Working Mens Club
07/02/76
Zenith
Tamworth Working Mens Club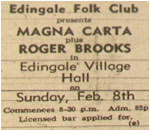 08/02/76
Magna Carta
Roger Brookes
Edingale FC
08/02/76
Folk at The Eagles
Roger Hardman
Tamworth Herald – 08/02/76
Musicbox –Survival is the key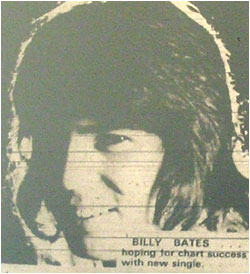 Tamworth born singer-guitarist-song writer Phil "Billy" Bates has changed record labels and is now with a new company "Survival".
Billy moved to London some twelve months ago and teamed up with three Londoners to form "Billy Bates Company". The first single is now available in the shops and is entitled "Take To The Mountains".
A rave review in Melody Maker by the delectable Caroline Coon should help get it moving in the charts and Billy could be on the way at last with this latest offering.
The song written by Tony Hazzard has been done before and Billy Bates Company decided to record it for their LP which should be released shortly. When "Survival" heard it they decided to release it as a single.
Colin Thurston (bass), Colin Hewinson (keyboard) and Paul Elliot (drums) fit sympathetically with the Bates vocal talent and the result is an arrestingly simple interpretation of this pleasant ballad.
All the tracks for the LP are now complete and it aroused considerable interest at a recent festival in France. The album will comprise of songs written by Billy and other members of Billy Bates Company.
Currently they are resident at the Piazza Restaurant Piccadilly and playing six nights a week has brought them together as a tight unit. Their repertoire includes jazz, swing, pop and travels to the fringes of heavy rock.
New Andy Dwyer album on sale
Local folk singer and songwriter Andy Dwyer has an album in the shops…currently available from the artist or from the Unicorn Folk Club which he runs on Friday evenings.
The LP is entitled "Ballads of a Wanderer" and it is on the "Real Records" label. Nine of the twelve tracks have been written by the versatile Andrew who sings all the songs and plays six and twelve string guitar.
Every folk fan in the Tamworth area must have heard this talented performer live at some time or other and the record is a necessary addition to a record library.
Andy Dwyer is a folk music fanatic. Back in 1970 he was doing as many as five residencies a week as he built up the experience necessary to help him establish a reputation.
In 1971 he opened the Unicorn Folk Club at Orton on the Hill and he has continued to run it ever since. Then in 1974 he was runner up in the National Folk / Rock competition held by the Melody Maker.
Listening to Andy's LP is a pleasant enough experience. On side one "Thimble" is an outstanding track delicately sung and played.
"Day to Day Affair" is one of Andy's best known songs, being a commentary on what is accepted as common place and the reluctance of society to do anything about it. Yes, there is a social message in some of the Dwyer songs but it is always tastefully delivered.
"I Live Not Where I Love" and "Feelings" are also pleasant songs penned by Andy and go to make up a creditable first showing for this amiable and friendly young man.
An improvement could have been achieved if there had been more variation in the guitar work in some of the songs and "Mountains of Mourne" is delivered a shade on the fast side.
Amongst the other musicians who play on the disc are talented local violin player Roy Ashby and Andy's dad Carl who plays bongos and drums.

08/02/76
Jazz Rock
Concept, Flash Harry and Guests
Tamworth FC Social Club
12/02/76
Disco
Barry John
Tamworth FC Sports and Social Club
12/02/76
Sabraquin
Polesworth Working Mens Club
Tamworth Herald – 13/02/76
Seven Days - Full time view of a 'disappearing world'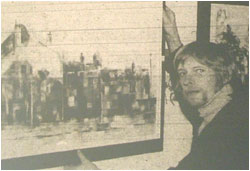 Derelict houses, run-down industrial areas and pigeon pens in back gardens might seem strange subjects for paintings.
Except for one Tamworth artist whose output is almost entirely devoted to capturing such scenes on canvas.
He is Phil Tunstall, a 31-year-old university graduate whose work is currently on show at Tamworth Arts Centre.
Phil's paintings are basically abstract, a style which seems to blend with his choice of subject matter.
His current exhibition features 52 paintings, some of which he has already sold to local buyers.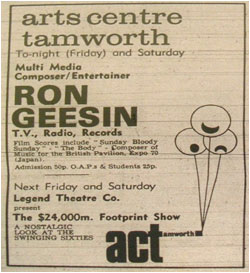 Tamworth Herald – 13/02/76
Musicbox
Be Bop Deluxe competition winners. The Herald offices were flooded with entries, the three winners are:
Mr. R.K. Barnett of 10, Medway, Belgrave Miners Welfare Club
Mr. David Smith, 45 Edward Street, The Leys
Mr. K.M. Benfield, 31 Church Road, Dordon
14/02/76
Brewster
Glascote Working Mens Club
Tamworth Herald – 20/02/76
Cannabis grown in beer can pots in Two Gates
Tamworth Herald – 20/02/76
Tamworth Arts Club – Drama Festival – February 24-28
20/02/76
Dill Davies
Unicorn Folk Club
20/02/76
Disco
Barry John
Assembly Rooms
20/02/76
Soul Disco
Tamworth FC Social Club
21/02/76
Bandy Legs
The Belfry
21/02/76
Gum Tree
Tamworth Working Mens Club
22/02/76
Korky
Hurley Working Mens Club
Tamworth Herald – 27/02/76
Fourteen-year-old Dosthill pop fan, Robert Beggs
27/02/76
Dave Lee Travis
The Belfry
27/02/76
O.D. Slope
Unicorn Folk Club
Tamworth Herald – 27/02/76
Musicbox
Emmylou Harris
28/02/76
Double Disco Road Show
John Peel and John Green
Polesworth Memorial Hall
28/02/76
Gum Tree
Glascote Working Mens Club
28/02/76
Just Before Dawn
Polesworth Working Mens Club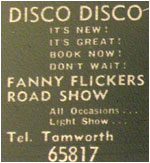 Every Thursday
Discothequer
The Chequers
04/03/76
Kippa
The Eagles
Tamworth Herald – 05/03/76
Musicbox
Cockney Rebel
06/03/76
Disco
Barry John
Shuttington and Alvecote Social Club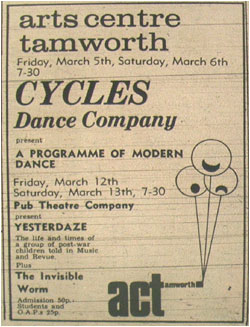 12/03/76
Andy Caven
Unicorn Folk Club
Every Thursday – Jazz
The Trent Valley Stompers
Wigginton Hotel
14/03/76
Witchmaster
Dordon Working Mens Club
19/03/76
Palamino
Unicorn Folk Club
26/03/76
Froggy
Unicorn Folk Club
Tamworth Herald – 26/03/76
Musicbox – The Emperor at Drayton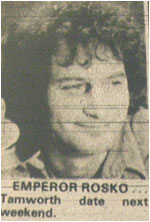 The distinctive style and sound of the Emperor Rosko International Road Show hits Drayton Manor's Tower Suite on Friday, April 2 and the place may never be the same again.
Rosko will be dashing from London where he finishes broadcasting on Radio 1 at 6pm and is due on stage at 10pm to do a two-hour stint of his classic brand of pop music.
By the time the Emperor arrives, his road men will have been working for several hours to set up the lights and projectors that form a big part of the show.
As soon as the last disc stops spinning, Rosko will be on his way back to London for his Saturday morning Radio 1 programme. Supporting the Emperor are local favourites Kwil, who will shortly be releasing their new single.
It is Rosko's first visit to Tamworth (wrong – Ed. – See below) and one which is being staged by two local sports clubs. Tamworth Cricket & Hockey Club and Wilnecote Sports and Social Club have combined to make certain that the venture is a success and to give Tamworth's pop fans every chance to see something new.
Emperor Rosko's previous appearances in and around Tamworth: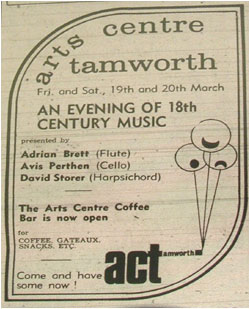 25/05/70
Emperor Rosko
Plus Geoff Owen
Polesworth Memorial Hall
Millbank Promotions
26/09/70
Emperor Rosko
Plus Galleon
Plus DJ Don Quay
Polesworth Memorial Hall
Millbank Promotions
11/12/71
Emperor Rosko
Assembly Rooms