Tamworth Bands History : 1976
April to June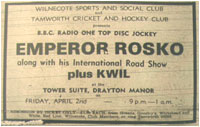 02/04/76
Emperor Rosko and Kwil
Drayton Manor, Tower Suite
Tamworth Herald – 02/04/76
Possibility of bar at Arts Centre
Daytime activities for the unemployed, the elderly and young wives and mothers may soon be organised at Tamworth Arts Centre.
And plans to improve facilities at the centre – opened last November – include a bar, formation of an arts centre club and regular programmes of entertainment on four, instead of two days every week.
The proposals are outlined in a Borough Council report, which states that about 900 people use the centre every week, with a further 450 taking advantage of the coffee bar on the premises.
Mr. Brian Moors, Borough Recreation and Amenities Officer, explained that the format of projects that may be organised during the daytime had not yet been determined.
"We feel we have a duty to provide some amenities for groups such as the unemployed and young mothers, especially as we have not yet built up daytime use of the centre," he said.
"We have until now concentrated mainly on evening entertainment and intend to consider more fully the uses the centre could be put to at other times."
LICENSED BAR
Members of the council's Leisure Activities Committee were due to consider at their meeting last night the provision of a licensed bar at the centre.
Costs put forward in the report for three different schemes ranged from £300 to £1,000, although the more expensive schemes would be expected to attract a brewery grant.
The report adds that "the Saturday Club for youngsters is now proving so popular that a "young people's theatre" might develop from it and that it was hoped a folk club and film club could soon start meeting at the centre.
02/04/76
Bill Braknell
Unicorn Folk Club
Tamworth herald – 02/04/76
Tribute to Duster Bennett
Anthony "Duster" Bennett aged 29 killed when his van was in an accident with a lorry.
Tamworth Herald – 02/04/76
Musicbox
Diana Ross and Santana, Coleshill Folk Club
03/04/76
Just Before Dawn
Polesworth Miners Welfare Club
08/04/76
Freddie and the Dreamers
Glascote Working Mens Club
09/04/76
Andrew Dwyer
Unicorn Folk Club
Tamworth Herald – 09/04/76
Drinks at Arts Centre
Audiences at Tamworth Arts Centre will in future be able to enjoy a drink after stage shows.
But it could be some time before a fully-equipped bar is provided.
Members of the Borough Council's Leisure Activities Committee agreed at their Thursday meeting that drinks should be available to audiences at theatrical productions in the Church Street centre.
Mr. Arthur Harrison, deputy town clerk, pointed out that the theatre licence already in operation covered the sale of drinks and that stocks could be obtained from the supply at the municipal golf club.
Members also agreed in principle that eventually a fully-stocked bar should be provided but accepted that costs would delay the scheme for some time.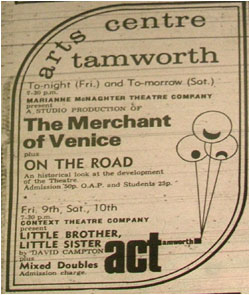 10/04/76
Just Before Dawn
Two Gates Working Mens Club
10/04/76
Ginger
Hurley Working Mens Club
10/04/76
Disco
DJ Barry John
Shuttington and Alvecote Social Club
16/04/76
Malcolm Stent
Unicorn Folk Club
Tamworth Herald – 16/04/76
It's Italy now for Tamworth's triumphant 'Knock-out' team
Tamworth Herald – 16/04/76
Musicbox
Miracles
Tamworth Herald – 23/04/76
Odeon Sutton Coldfield – Tommy
Tamworth Herald – 23/04/76
Black magic expert sought
Coleshill police this week appealed for an expert in black magic or witchcraft to contact them to help solve a series of attacks on graves at St. Chad's Churchyard, Wishaw.
A grave was desecrated last week and a black magic symbol, a star made with five twigs was placed on the uprooted headstone.
Tamworth herald – 23/04/76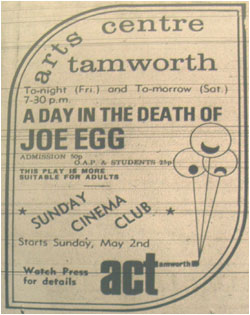 Day in the Death of Joe Egg
Tamworth's newly formed theatre company launched it's first full length production last night (Thursday).
The production, Peter Nicols controversial play: "A Day in the Death of Joe Egg", is being staged over three nights.
The play illustrates the problems facing the young parents of a spastic child and examines their ability and inability to cope with the situation. The actors are Dave Armour and Pauleen Carroll as the Parents. 11 year-old Alison Iremonger, as the child Josephine, Karl Einan and Mary Shaw as…and Marion Stonier as the grandmother.
Tamworth Herald – 23/04/76
Musicbox
Beatles singles
24/04/76
Weaver
Tamworth Progressive Club
24/04/76
Elbow
Polesworth Working Mens Club
25/04/76
Jester
Tamworth Progressive Club
30/04/76
Tamworth FC Grand Buffet End of Season Dance
Barry John and Kippa
30/04/76
Bill Caddock
Unicorn Folk Club
Tamworth Herald – 30/04/76
Musicbox
Carole King, Doobie Brothers, Victor Silvester
02/05/76
Kwil
Tamworth Progressive Club
Tamworth Herald – 07/05/76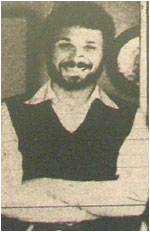 Musician may have fell asleep at wheel
A 29-year-old Tamworth blues musician may have fallen asleep at the wheel of his Ford Transit van while driving home from a dance, a Birmingham inquest jury were told on Wednesday.
The jury returned a verdict of misadventure on Anthony Robert "Duster" Bennett, of Worlds End Cottages, Ashby Road, Tamworth. He was certified dead on arrival at Good Hope hospital on March 26th.
His van went out of control on the A5 Watling Street at Hints and veered towards an oncoming lorry, the jury heard.
07/05/76
Disco
DJ Nij Redfern
Polesworth Working Mens Club
Tamworth Herald – 07/05/76
Musicbox
Maria Muldaur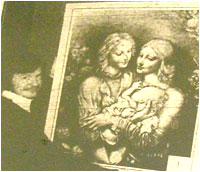 Tamworth Herald – 14/05/76
Seven Days - Art on Loan – to the Artist
John Priest started painting fiver years ago for the American "culture vultures" at Eastbourne. He went to the south coast resort to sell his work to the American tourists at £25 a time.
John is now showing his work in a small 12-picture exhibition at the Tamworth Arts Centre and his paintings now sell for between £50 and £60.
14/05/76
Barry John Disco
Amington Band Room
15/05/76
Magnum Opus II
Grendon Working Mens Club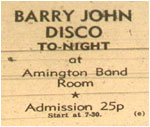 Tamworth Herald – 14/05/76
Musicbox
Average White Band
15/05/76
Spectre
Hurley Working Mens Club
11/06/76
£100 in fines for swimming instructor who possessed drugs
A 21-yearold Tamworth man's involvement in all-night casino sessions of "Northern Soul" music and dancing brought him before the town magistrates on Tuesday facing drug charges.
Brindley John Phillips, a swimming instructor of the Mile Oak Hotel, who pleaded guilty on two counts to being in possession of amphetamine tablets and powder, was said to have felt sick after tasting the powder and to have thrown it away and put the tablets down the lavatory basin.
Phillips was fined a total of £100 and was ordered to pay £15 costs and £15 towards his legal aid expenses.
Jan Jellama, defending, said Phillips had a taste for "Northern Soul" music and had been to all night sessions at Wigan Casino where young people took drugs to keep themselves awake.
Tamworth Herald – 11/06/76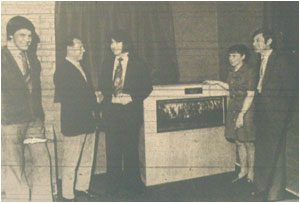 Art and the aquarists
Tamworth and District Aquarist Society members will leave behind a permanent reminder of their hobby after their annual show at the town's Arts Centre tomorrow (Saturday).
For the society, staging its public exhibition at the centre for the first time, has built a tropical aquarium into a corner of the café and stocked it with 25 fish.
The society's chairman, Mr. Albert Mason is pictured (second left) handing over the gift to arts centre manager Mr. Dave Armour.
Also present were (left to right) Mr. Greg Clarke, show secretary Mrs. Margaret Clarke, secretary and Mr. Gerred Whitehead, bulletin editor.
Mrs. Clarke explains that members of the society thought a fully stocked tank would be a most appropriate gift for the centre and would provide a focal point for visitors.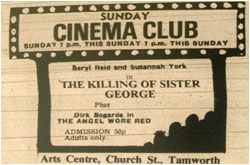 11/06/76
Sunday Cinema Club, Tamworth Arts Centre
Killing of Sister George
Soul and Funk Disco Every Tuesday
Wigginton Hotel
Soul and Funk Disco Every Thursday
Zodiac Pub
11/06/76
Harlequin
Tramps Ball
Wood End Youth Centre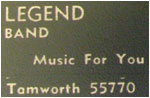 Tamworth Herald – 11/06/76
Musicbox
Doctor Hook, Earl Slick Band
13/06/76
Tamworth Arts Centre Sunday Cinema Club
Don't Look Now
Tamworth Herald – 18/06/76
Tamworth lose in near-riot in Italian "It's a Knockout"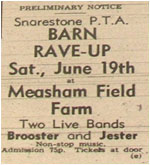 19/06/76
Barn Rave-up
Brooster (sic.), Jester
Tamworth Herald – 18/06/76
Musicbox
Wings, Little Feat
19/06/76
Brewster
Glascote Working Mens Club
20/06/76
Sunday Cinema Club, Tamworth Arts Centre
Straw Dogs