Tamworth Bands History : 1976
July to September

03/07/76
Tamworth & District Round Table Barbecue
Chicory Tip, Kwil, Sunset Disco
Lonkhills Farm, Disco
09/07/76
John Porterfield
Unicorn Folk Club
Tamworth Herald – 09/07/76
Musicbox – Magnadaw – band with a future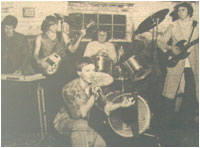 Tamworth-based rock group Magnadaw are determined to succeed.
The five man band – all its members live in Tamworth except lead singer Simon Welch, who hails from Austrey – recently recorded a demo disc which attracted considerable interest from recording company, CBS.
The record, a double 'A' side with "The Cell" and "Mr. Pleasant" co-written by Simon Welch and guitarist Mick Griffiths, has been with CBS for a couple of months and the company want to hear any new material the band records in future.
Magnadaw comprises: Simon Welch, vocals; Kevin Osbourne, bass guitar; Mick Griffiths, guitar; Steve Sheldon, drums and Barry Limb, organ.
Welch and Griffiths write most of the band's material. Indeed, well over three quarters of their stage act is made up of self-penned compositions.
Simon Welch describes the band's music as "funky rock 'n' roll with a heavy feel to it."
"We play 1960s type rock but with an up to date feel about it," he told Musicbox.
Magnadaw, whose musical influences include Wishbone Ash and Deep Purple, have been busy playing the club circuit, mainly in Birmingham, in recent months, but are all set for a busy time in the Tamworth area within the next week.
Formed only six months ago, the band plays at Wilnecote Youth Centre tomorrow and follows up with a gig at Tamworth Youth Club on Tuesday night. Magnadaw also plays at the Ashlands Farm barbecue next Friday night (July 16).
10/07/76
Magnadaw
Wilnecote Youth Centre
13/07/76
Magnadaw
Tamworth Youth Centre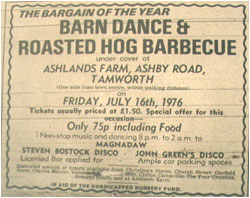 16/07/76
Barn Dance and Roasted Hog Barbecue
Magnadaw
Steve Bostock Disco, John Green Disco
Ashlands Farm
16/07/76
Tamworth Arts Centre, Sunday Cinema Club
The Chase
Tamworth Herald – 16/07/76
Musicbox
Karen Carpenter, Bellamy Brothers
17/07/76
Newton Regis Barbecue
Chris Miller Concept
Tamworth Herald – 23/07/76
Threw glue over floor in temper
A 19-year old Leyfields youth who three copydex glue over a newly painted Parish Hall door in a "fit of temper" was fined £50 by Tamworth magistrates on Monday.
Kevin Patrick Osborne of 132 Masefield Drive, pleaded guilty to causing unlawful damage to the amount of £10.
The incident happened after Osborne, a carpet fitter, had been rehearsing with a pop group at Wilnecote Parish Hall.
The group thought they had permission to play there but when the caretaker arrived they were told to leave.
The court heard that the boys became angry and abusive towards the caretaker but did pack up and go.
ha gone and then in a fit of temper Osborne threw the copydex at the door," said Sargeant Fred Roberts, prosecuting.
When Osborne was interviewed about the matter days later by police he denied any knowledge of the offence, he said.
But he eventually admitted it after a further interview at the police station.
Presiding magistrate Mr. Fred Beaman said: "I hope by now you realise that this was a damned stupid trick to pull."
23/07/76
Tamworth Arts Centre, Sunday Cinema Club
Soldier Blue
23/07/76
Disco
DJ Barry John
Amington Band Room
Tamworth Herald – 23/07/76
Musicbox
Beach Boys
24/07/76
Barbecue and Dance
Clifton Campville Pre-School Playgroup
Steve Bostock Disco
30/07/76
Tamworth Arts Centre, Sunday Cinema Club
Bullett
05/08/76
Folk Night
Andrew Dwyer
Hurley Working Mens Club
Tamworth Herald – 06/08/76
Musicbox
Rod McKuen, Fivepenny Piece
12/08/76
Kwil
Kingsbury Working Mens Club
13/08/76
Kippa's Disco - "The King of Sound"
Mile Oak Hotel, The Warren
Tamworth Herald – 13/08/76
Musicbox
Carly Simon
14/08/76
Ginty
Measham Inn
14/08/76
Hobbits
Belgrave Sports and Social Club
20/08/76
Kippa and Bandy Legs
Mile Oak Hotel
23/08/76
Kwil
Mile Oak Hotel
Tamworth Herald – 27/08/76
Musicbox
The Beatles
Tamworth Herald – 03/09/76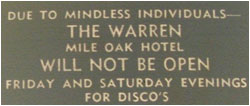 Treatment after disco incident
An incident during a Friday night 'disco' at the Warren – a dance hall attached to the Mile Oak hotel – resulted in two men receiving hospital treatment for facial injuries.
Fighting broke out outside the hall and according to an eye-witness a broken pint glass was sued as a weapon.
Tamworth police were called to the hotel to deal with the disturbance.
One of the two injured men was detained in hospital until Saturday night.
03/09/76
Barry John Disco
Tamworth Football Club Social Club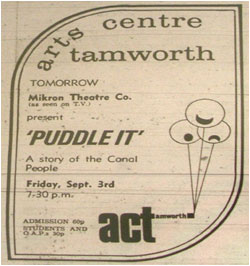 03/09/76
Andrew Dwyer / Doug Porter
Unicorn Folk Club
Tamworth Herald – 03/09/76
Musicbox
Bob Seger
10/09/76
Tamworth Cricket and Hockey Club
Bar-B-Q
Kwil and two DJs
Ashlands Farm
10/09/76
Dill Davies
Unicorn Folk Club
10/09/76
Barry John Disco
Tamworth Football Club
Tamworth Herald – 17/09/76
Musicbox
Sensational Alex Harvey Band
24/09/76
Steve Ashcroft
Unicorn Folk Club
Tamworth Herald – 24/09/76
Hamlets Wine Bar – Opening 28th September 1976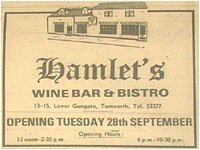 Following the pattern of successful Wine Bars in other areas, we have decided to open one in Tamworth. Our aim will be to provide a reasonably priced meal, an excellent choice of wine in pleasant attractive surroundings, with the object of providing a pleasant lunch for Business People and Shoppers and an enjoyable evening out.
The premises are a couple of old converted cottages at 13-15 Lower Gungate. It will be known as "Hamlets" and the opening date will be Tuesday 28th September, 1976, the hours being 12.00-2.30pm and 6pm – 10.20pm.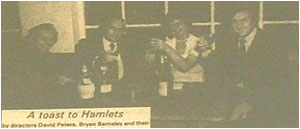 There is however one difference between this and other Wine Bars. As a small private company we need to try that little bit harder to compete with larger set-ups. Because of this we have taken that little bit more care and effort to provide a better service.
For example we needed to make sure the furniture and décor blended favourably with the oak beams of the original buildings. Old wood has carefully been selected and renovated to provide the screens, furniture and bars. The lighting will be provided by converted oil lamps and although the premises will be fully carpeted we hope we have successfully captured a cottage atmosphere.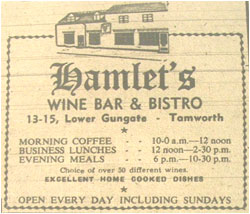 Our fully qualified catering staff intend to make as much of our food produce as possible. There will be a first class selection of cold dishes, fish, pate and all types of salads. Each day there will be at least one hot continental dish to choose from. Customers will be able to pay prices from as little as 50p.
The same care has been taken in the selection of staff. The Directors, David Peters, Bryan Barnsley and their wives Pat and Valerie have been friends for many years and they hope that a friendly atmosphere will prevail throughout Hamlets.
We have been very encouraged by the attitude of local people towards the project and the Directors and staff are excited with the prospect of providing Tamworth with something a little different.
Tamworth Herald – 24/09/76
Musicbox
Eric Clapton
30/09/76
Bandy Legs
Two Gates Working Mens Club