Tamworth Bands History : 1977
January to March
01/01/77
Kwil
Glascote Working Mens Club
Tamworth Herald - 07/01/77
Palace – Good start for new Palace
The first film It Shouldn't Happen to a Vet attracted 1,451 people over a 6 day period.
07/01/77
Tamworth Arts Centre Sunday Cinema Club
The Dirty Dozen
07/01/77
Rockingham Band and Alan Whittle (new resident)
Unicorn Folk Club
Every Friday and Sunday
Sole Kontrole Discotheque
Flying Scotsman
Tamworth Herald - 07/01/77
Musicbox
Jackie Lomax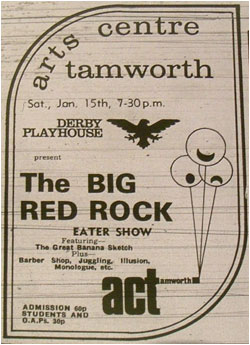 08/01/77
The Jay Kays
Polesworth Miners Welfare Club
08/01/77
Witchmaster
Warton Working Mens Club
14/01/77
Palace – Jaws
14/01/77
Trent Valley Stompers
Every Thursday
Castle Hotel
14/01/77
Mike Blair
Unicorn Folk Club
14/01/77
Barrie Roberts
Unicorn Folk Club
23/01/77
Kwil
Glascote Working Mens Club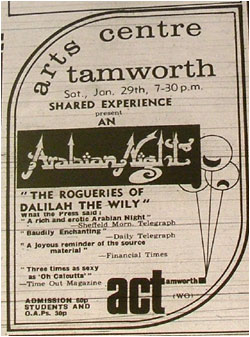 Tamworth Herald – 21/01/77
Young wife's story of attack outside disco
A young Wilnecote wife told magistrates in Tamworth on Monday of a midnight attack on her by her estranged husband and of a second assault on her by his younger brother outside a discotheque.
Tamworth Herald – 21/01/77
Musicbox - Brewster - aiming for the top
Brewster are a five piece band intent on reaching the top.
The band has been formed seven months now and has several bookings in the area in the next few weeks.
Line-up is: Gary Norris, drummer, from Bolehall; Tony Beaumont, singer, from Bolehall; Keith Buck, guitarist, from Measham; Tony Stanley, guitarist, from Lichfield and Ron Allcott, bass, from Moira.
The band has been doing mainly club work and writes a lot of it's own material. The lads are on the same bill as Kwil early next month and play at Measham Welfare Club on February 4.
They are turning professional in April and are hoping for success. The band plays mainly rock and pop and has an average age of 20.

28/01/77
Tamworth Arts Centre Sunday Cinema Club
Super Fly
28/01/77
Bullets
Tamworth FC Social Club
28/01/77
Disco
DJ Nij Redfern
Polesworth Working Mens Club
28/01/77
Singers Night – resident Alan Whittle
Unicorn Folk Club
29/01/77
Disco
Johnny Slade Road Show
Atherstone Memorial Hall
30/01/77
Eclipse
Two Gates Working Mens Club
03/02/77
Disco
Bowling Green, Lichfield
DJ John Ford
04/02/77
Kwil
Brewster
Measham Welfare Club
Tamworth Herald – 04/02/77
Monday Night is Country Night
Trevor and the Ramrod Country Band
Castle Hotel
04/02/77
Blackthorn
Unicorn Folk Club
04/02/77
Disco
DJ Barry John
Polesworth Working Mens Club
Tamworth Herald – 04/02/77
Excellent support for Arts Centre play
A comedy play described in the national press as "three times sexier than 'Oh Calcutta', was enjoyed by a near capacity audience at Tamworth Arts Centre on Saturday.
The production performed by award-winning theatre group "Shared Experience", displayed no nudity, but an abundance of bawdy and entertaining humour.
A cast of only five used no props or even a set scene, but they launched the hilarious plot, based on the Arabian Nights, at breakneck speed.
Entitled "The Rogueries of Dalilah the Wily", the play was stylishly performed with each player taking at least two parts.
"Shared Experience" performed at the Arts Centre under the auspices of West Midlands Arts drama touring project.
BEST YET
Arts Centre Manager Mr. Dave Armour, said the large audience was the best yet for a touring theatre which had visited the town.
"The turn-out was particularly good and it is very encouraging," he said.
"I hope we get the same enthusiastic response to the next theatre group to visit the centre. They are called '7.84' and will be performing on March 5".
Tamworth Herald – 04/02/77
Despite objections Wine Bar gets licence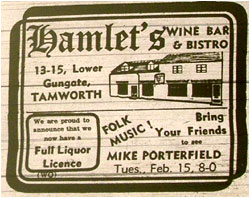 Tamworth licensing justices on Tuesday granted an application to them by Bryan Thomas Barnsley for a licence to sell intoxicating drinks of all descriptions for consumption on or off the premises at the Hamlet wine bar and bistro in Lower Gungate.
They imposed a condition that draught beer from barrel or keg should not be sold.
There was opposition to the application by the 42 members of Tamworth LVA, by a dozen licensed house managers in the area, and by the Wolverhampton and Dudley Brewery Company.
Mr. Graham Pegg, who made the application on behalf of Mr. Barnsley, said there was no intention of altering the business or of trying to run a pub. Food formed the major part of the business and drinks were secondary.
The aim was to provide a fuller service to those customers who wished to consume alcohol on the premises, Mr. Pegg said.
Mr. Barnsley had no interest in a large volume of beer sales and would be quite happy to accept a condition that there should be no sales on the premises of draught beer.
"If you feel that would cater for the objections Mr. Barnsley would be happy to give that undertaking," Mr. Pegg said.
In his evidence, Mr. Barnsley said he would like to obtain the facility of being able to cater for outside functions.
ENOUGH
Mr. Peter Thomas Hogg, LVA secretary and licensee of the White Lion at Harlaston, said the bistro premises bore no relation to a pub and he maintained there were sufficient off-licence facilities at five pubs all within 300 yards.
Mr. Peter Wiseman, representing all the objectors, submitted that if the application were granted it would mean that Mr. Barnsley could use the premises as if they were a public house.
Tamworth Herald – 04/02/77
Musicbox
Tom Jones
05/02/77
Sticky Fingers
Kettlebrook Working Mens Club
05/02/77
Beau Weavil
Hurley Working Mens Club
06/02/77
Kidda
Dordon Working Mens Club
Tamworth Herald – 11/02/77
Youth Club vandals force closure threat
The Mercian Youth Club has been put on "probation" following the latest attacks by members of the community centre in Masefield Drive, Leyfields.
11/02/77
Nuclear Power (2 films)
Tamworth Arts Centre
Tamworth Herald – 11/02/77
Group to help Arts Centre
A newly-formed voluntary group boasting 40 members is aiming to help Tamworth Arts Centre – and that's FACT.
Friends of the Arts Centre Tamworth is the organisation which hopes to raise £500 to help the building overcome its financial difficulties.
The initial project is to get the snack bar back in operation and after that to help promote the centre's various activities.
A folk concert is the first major fund-raising event and is to be staged on February 24.
Organisers are also holding a second-hand book stall at Tamworth market on Saturday to kick-off the Arts Centre fund.
Other events include a paper collection, lectures and a social evening.
The centre, which is run by the Borough Council, was opened over a year ago and is managed by Mr. Dave Armour.
Spending cuts limited the council's budget and not enough money could be found to bring the centre snack bar up to required health standards and it had to close.
"It is very encouraging that so many people have shown an interest in helping the Arts Centre on a voluntary basis," said Mr. Armour.
Tamworth Herald – 11/02/77
Palace Booms – Film Club fades away
While Tamworth's new £160,000 Palace Cinema is proving a sell-out success, a nearby film club has flopped.
And the failure now means that Tamworth Arts Centre manager Mr. Dave Armour faces a share of a £60 bill.
The film club, held in the centre every Sunday night, provided top flight off-circuit productions for cinemagoers.
Former big screen hits such as "Straw Dogs", "Soldier Blue", "The French Connection" and "Chinatown" have been shown.
But public apathy had always threatened the club and average audiences of well below 30 doomed the venture to a limited run, said Mr. Armour.
"I and a small committee started the club but the cost of hiring films and the Arts Centre has outweighed the amount we get from people coming to the club," he said.
WORSE
"It was my decision to close down because it looked as though things could only get worse and at the moment I and the commit are £60 in the red.
"The average weekly attendance was less that 30 and we needed at least double that number to break even.
"I am extremely disappointed at the lack of support because our programme of films, both past and forthcoming, is very good."
"Our aim in starting the club was to provide a chance for people to see cinema classics and re-screen films that had been big box-office draws," added Mr. Armour.
The club, which has 32 paid-up members on its books, started a year ago, and the opening night audience was of more than 100.
ONLY SIX
But after a good start the numbers fell and only six people turned up on one occasion. The curtain finally fell last Sunday after the hilarious "Steelyard Blues", starring Jane Fonda, had been screened.
"The facts that the Palace is doing so well has left us in a bit of a quandary really because it's obvious people in the town want to see good films" said Mr. Armour.
Tamworth Herald – 11/02/77
Musicbox - Tranzit – aiming for the top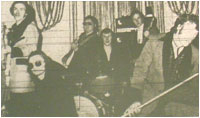 Coalville rock and roll group Tranzit is going places…and quickly.
The band has just won a place in the semi-finals of a major Leicester talent contest and is hoping to win the competition at the Oddfellows Club, Humberstone Gate, Leicester
If they succeed then £250 will be theirs plus an appearance on ATV's New Faces show.
The group has entered a similar competition at Coalville's West End Club. This may also lead to auditions for the New Faces programme.
Tranzit, is a basic rock and roll group, "basic" because they only play original 1950s material.
The group's material includes numbers made famous by such artistes as Buddy Holly, Elvis Presley and Little Richard.
Although the group admires the modern rock and roll bands, the members feel the music is too commercial.
The group which only began to play together last March, has six members. They are Alan Holt, lead guitar; Barry Webster, rhythm guitar; Andy Whyatt, drums; Mike Shade, vocalist; Eddie Eaton, manager and stage effects, Dave Ward, bass.
At present, the group is negotiating with Pontins Holidays for a summer season at one of their camps. If this is successful, the group will turn professional.
The group's style is original. The programme begins with the slower, ballad-like numbers gradually progressing to the faster, heavier pieces.
These are popular with older members of the audience who remember the era of the 1950s. This has proved successful at the Ibstock British Legion Club and the West End Club. When the group appeared at the latter on Sunday, they attracted a capacity audience.
The group now hopes to start a rock and roll society based at Whitwick Labour Club. Anyone interested in joining is invited to contact members of the group.
Caption: TRANZIT…from left to right: Dave Ward, Ediie Eaton, Barry Webster, Andy Whyatt, Allan Holt and Mike Shade.
12/02/77
Krystal
Grendon Working Mens Club
12/02/77
Elegy
Hurley Working Mens Club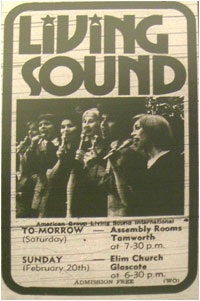 15/02/77
Mick Porterfield
Hamlets
18/02/77
Stereo Graffitti
Alan Whittle
Unicorn Folk Club
19/02/77
Jester
Warton Working Mens Club
19/02/77
Living Sound
Assembly Rooms
20/02/77
Living Sound
Elim Church, Glascote
Every Thursday
Barry John Disco
Amington Inn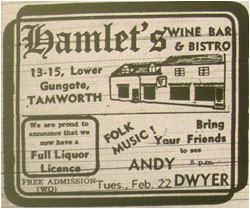 Tamworth Herald – 22/02/77
Andy Dwyer
Hamlets
24/02/77
Folk Night
Tamworth Arts Centre
Tamworth Herald – 25/02/77

A political play about London's East End will be staged at Tamworth Arts Centre on Saturday week.
"Wreckers" was written by David Edgar, one of the most experienced writers of political plays in Britain today.
The 7:84 Theatre Company, who are presenting the play, work in a section of the Labour movement. They provide a wide variation of music, comedy and action.
The production concerns the imprisonment of five dockers for offending against the Industrial Relations Act and looks at the way in which a group of Left Wing activists "take over" a constituency Labour Party in an attempt to oust their M.P.
Tamworth Herald – 25/02/77
Palace – The Omen
Tamworth Herald – 25/02/77
Folk Music Every Tuesday
Hamlets
25/02/77
Tamworth Rugby Football Club Dance night
The Sapphires
Assembly Rooms
Tamworth Herald – 25/02/77
Musicbox
Bonnie Tyler, Sensational Alex Harvey Band
26/02/77
The Hobbitts
Belgrave Miners Welfare Club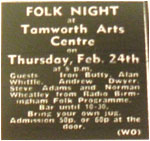 01-21/03/77
Tamworth Arts Centre
Exhibition
Kevin Knowles and Edward Dutkiewicz
04/03/77
Dil Davies and Alan Whittle
Unicorn Folk Club
Tamworth Herald – 04/03/77
Musicbox - Folk success may lead to new club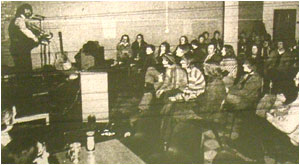 A folk music night at Tamworth Arts Centre proved so successful that a town club might be formed.
This was the encouraging news for Tamworth's folk enthusiasts from Arts Centre manager Dave Armour.
He said the concert was a great success attracting more than 80 people and raising about £150.
The musical evening, which featured folk groups and solo performers, was the first event to be organised by Friends of the arts Centre, Tamworth (FACT).
The newly-formed group hopes to raise £500 to help the Arts Centre overcome its financial problems.
"We were very pleased with the turn-out and if we could get this much support every time then a town folk club could flourish," said Mr. Armour.
"There was a great informal atmosphere with the audience singing along with performers.
"We had good entertainment from Andy Dwyer, Norman Wheatley, Alan Whittle and 'Iron Putty' (sic.)," he added.
Now FACT hopes to stage another concert in a month with a view to making the Arts Centre the headquarters of a Tamworth Folk Club.
05/03/77
Wreckers 7:84
Tamworth Arts Centre
11/03/77
Rob Armstrong
Unicorn Folk Club
11/03/77
Disco
DJ Barry John
Amington Band Room
Tamworth Herald – 11/03/77
Disco Ban – to stamp out under age drinking at Bolehall Working Mens Club
Tamworth Herald – 11/03/77
Capacity houses for 7:84 theatre group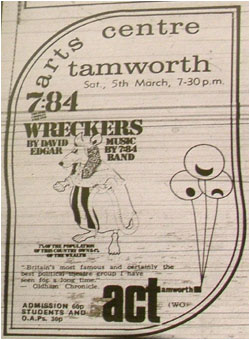 For the first time in months Tamworth Arts Centre had to display the "house full" sign during a theatrical performance.
And Arts Centre manager Mr. Dave Armour even had to turn people away as a capacity crowd of nearly 100 filled the auditorium for a performance of "The Wreckers" by the 7:84 theatre group.
The situation represented a major turn-about in events for the Arts Centre which often attracts no more than a handful of people to plays.
An optimistic Mr. Armour said it was very gratifying to see a big audience for a change.
"I think we drew the crowds because 7:84 are renowned as one of the top touring theatre companies in the company," he said.
"I hope this is a sign of better things to come because if we can continue to get this amount of interest it will be a major step forward for the Arts in Tamworth."
The next touring company to visit the Arts Centre sponsored by the West Midlands Arts Association is another top group called "Belts and Braces."
The company appears at the Arts Centre on Saturday (tomorrow) to perform "The Mother", an adaptation of the novel by Gorky which traces events leading up to the Russian Revolution of 1917.
Tamworth Herald – 11/03/77
Musicbox
Eve's discotheque at Burton on Trent
12/03/77
Kidda
Amington Liberal Club
Tamworth Herald – 18/03/77
Praise for new arts organisation
A recently formed Tamworth arts organisation is proving a "great asset" to the town, according to the borough's new Mayor elect.
Councillor Ron Cook, who was elected as the town's next civic head at a borough council meeting on Tuesday, said he was very impressed with Friends of the Arts Centre, Tamworth (FACT).
The group was formed less than two months ago and comprises of volunteers dedicated to helping the arts centre overcome it's financial difficulties.
Councillor Cook, who is also chairman of the council's Leisure Activities Committee, said the group had got off to an excellent start.
"They are doing a lot to promote the arts in Tamworth and it is encouraging to see such concerted voluntary effort.
"I think they are doing a worthwhile job and I am confident they will be a great asset to both the arts centre and the town."
THEATRE BAR
Already the organisation has raised about £180 for one of its main objectives – to get a theatre bar in the arts centre.
FACT secretary, Mrs. Lorna Farrington, said the group, which began with 40 members, was going from strength to strength.
"I am sure more and more people both young and old alike are using the arts centre facilities since FACT was formed," she said.
"We have arranged several fund-raising activities such as a Victorian style evening and a war games demonstration to be held in the arts centre next month."
Tamworth Herald – 18/03/77
Rockin' Robin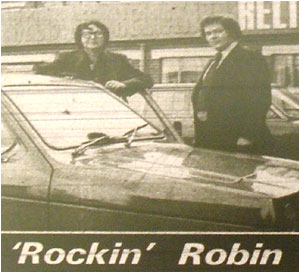 Reliant's economical three-wheeler Robin car could soon be "rockin" its way to America – to the home of pop star Roy Orbison.
Now the "curiosity" may turn into hard cash as Big O is interested in buying two of the three wheelers.
"As far as he is concerned they are very similar to the motor bike. Now he has to check on whether the car is classed as a motorbike in his home state," added Mr Agar.
Orbison who has just ordered a customised 1400cc Harley Davidson bike, said of the Robin: "It's just terrific."
Orbison, a motor bike fanatic paid a lightning visit to the Two Gates plant on Friday to take a closer look at the vehicle.
The solo singer, who made his name in the 1960s, is at present on a tour of the clubs of Britain.
He phoned up Reliant and asked to be shown round. "Curiosity and interest in the Robin spurred him on to come here," said marketing executive Mr. Tony Agar, pictured with the pop artist.
19/03/77
Brewster
Warton Working Mens Club
19/03/77
Disco
DJ Barry John
Kettlebrook Working Mens Club
20/03/77
Beau Weavil
Belgrave Sports and Social Club
24/25/26/03 – 77
Say Goodnight to Grandma by Colin Welland
Tamworth Little Theatre
Tamworth Arts Centre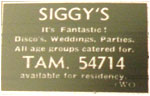 24/03/77
Quartz
Two Gates Working Mens Club
25/03/77
Andy Dwyer
Unicorn Folk Club
26/03/77
Convention
Polesworth Working Mens Club
26/03/77
Kwil
Kingsbury Working Mens Club
28/03/77
Disco
Barry John (in person)
Every Fortnight
Amington Band Room