Tamworth Bands History : 1977
October to December

02/10/77
Sticky Fingers
Lichfield Civic Hall
06/10/77
Susannas Disco
DJ Johnny Green
Music from the 50s and 60s
01/10/77
Sticky Fingers
Amington Liberal Club
01/10/77
Convention
Tamworth Working Mens Club
02/10/77
Dead End Kids
Kingsbury Working Mens Club
02/10/77
Roy Armstrong
Unicorn Folk Club
02/10/77
Disco - FREE
DJ Barry John
Tamworth Football Club
04/10/77
Andy Dwyer and Alan Whittle
Globe Folk Night
Tamworth Herald – 07/10/77
Musicbox - Chance for local rock bands by Peter Brown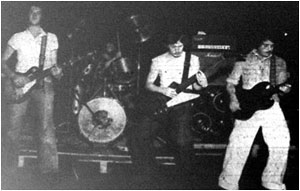 A major breakthrough for Tamworth rock bands was announced this week.
Dave Armour, manager of the town's Arts Centre, has given the go-ahead for concerts in the Church Street building providing the demand is there.
It is a move that could solve one of the biggest headaches for rock bands.
Most of the previous local venues for concerts have been at working men's clubs and youth centres.
And in all fairness, a mixed club crowd does not give the best reception to a rock band – which is, after all, playing specialist music.
But crowds at the Arts Centre will be paying specifically to hear rock. There's a difference.
The new rock platform for Tamworth blasted off on Friday with a show by new local band Willow
And they proved that given the right outlet, musical talent in the town could take a prominent stand.
The Arts Centre gig was Willow's first – a fact that at times was hard to believe.
Their only outward sign of a first public appearance was a slightly restrained stage manner – understandable in front of a local crowd.
Instrumentally, the band were good and singer, Mick Rutherford excelled. At times though, their music cried out for backing vocals – which never came.
The one question mark hangs over sound balance at the Arts Centre. Colin Stewart and Andy Radek were obviously very capable guitarists – but their sols didn't really cut through the overall sound.
Tight drumming and bass playing set the pace for 90 minutes of solid rock – and all but one of the songs were written by the band.
Willow, formed only eight months ago, have covered a lot of the ground work.
But they need the stage experience that only more gigs can give them. On this showing they shouldn't have any trouble getting them.
Willow will play the Arts Centre again on December 2.
08/10/77
Jester
Warton Working Mens Club
08/10/77
Tommy Dempsey
Unicorn Folk Club
08/10/77
Paradox
Tamworth Progressive Club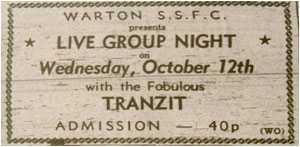 12/10/77
Tranzit
Warton Sports and Social Club
Tamworth Herald – 14/10/77
Cannabis Hidden in Bedroom Ornament
Police officers found cannabis hidden in an ornament in the bedroom at the home of Clifford Stanley Chipman when they called on an entirely different inquiry.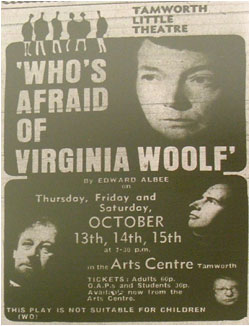 14/10/77
Disco
DJ Barry John
Amington Band Room
Tamworth Herald – 14/10/77
Musicbox
Dr. Hook plus Stereo Graffiti at Tamworth Arts Centre on 22/10/77.
15/10/77
Poetry Rock Band
Tamworth Working Mens Club
15/10/77
Hush
Amington Liberal Club
15/10/77
Gerry and the Pacemakers
Polesworth Working Mens Club
15/10/77
Kidda
Tamworth Progressive Club
16/10/77
Sue Cobb
Unicorn Folk Club
20/10/77
Brewster
Polesworth Working Mens Club
21/10/77
Startrax Disco
Amington Band Room
Tamworth Herald – 21/10/77
Musicbox
Peter Brown is the first named Editor. Bob Seger and the Silver Bullet Band.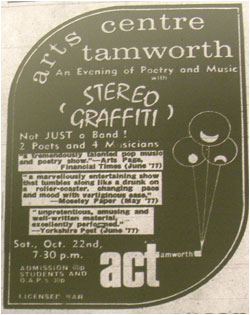 22/10/77
Stereo Graffiti
Tamworth Arts Centre
23/10/77
Idlevice
Unicorn Folk Club
27/10/77
Kidda
Polesworth Working Mens Club
Tamworth Herald – 28/10/77
Nightly pilgrimage – that's Michaels open score
SHOWTIME just wouldn't be the same without Tamworth opera Group's most dedicated fan sitting in the front row.
Everyone in the company knows that nothing barring a disaster would keep Michael Green away from their performances.
The 23-year-old from Chesterton Way, Leyfields has seen all of the group's 14 productions. Not just once – but every night.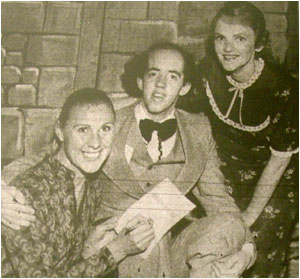 In our picture Michael is seen with two of "Ruddigore's" leading players, Barbara Colclough and Angela Hopkins.
When the cast of "Ruddigore" took their final curtain-call at the Assembly Rooms on Saturday night he had watched 84 company performances – starting as a junior school boy on the opening night of The Mikado in 1966.
Now looking forward to the Opera Group's next show in April, he is hoping to take an active role in productions after years of looking on "I wouldn't mind what I did – on-stage, back-stage or front-of-house," he explained.
30/10/77
Unicorn Folk Club Closing Down Nite
Big Ernie Nield
Idlevice
30/10/77
Kidda
Dordon Working Mens Club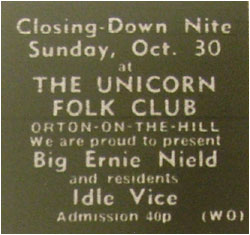 03/11/77
Tranzit
Polesworth Working Mens Club
Tamworth Herald – 04/11/77
Curtain falls on theatre workshop plan
Tamworth Herald – 04/11/77
Musicbox
Wishbone Ash, The Pirates, Dr. Hook
05/11/77
Foxglove
Hurley Working Mens Club
08/11/77
Chris Rist
Globe Folk Club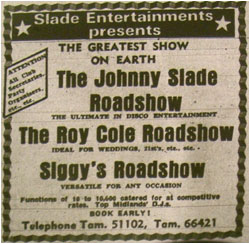 Johnny Slade Entertainments Present
The Johnny Slade Roadshow
Toe Roy Cole Roadshow
Ziggys Road Show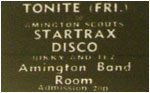 10/11/77
Tranzit
Polesworth Working Mens Club
11/11/77
Startrax Disco
Amington Band Room
Tamworth Herald – 11/11/77
Scene Around by Sue Fisher
13/11/77
Convention
Dordon Working Mens Club
15/11/77
Paul Burnett
Trickster
Tower Suite, Drayton Manor
Tamworth Herald – 18/11/77
Scene Around - Flash Harry's in town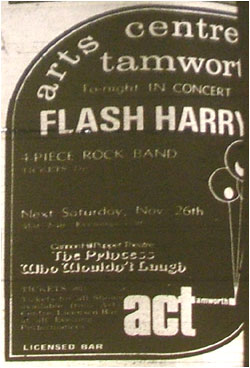 The sound of rock comes to Tamworth Arts Centre tonight. In concert from 8.30 on will be local foursome "Flash Harry" – lead guitarist Trevor Mugleston, bass-player Steve Day, singer Andy Baldwin and drummer Andy Guest.
Trevor and Steve have been appearing together for three years, and the other two joined the band over the last 12 months.
Emphasis is on variety of style, they say, with Trevor composing most of their material and Andy Baldwin writing lyrics.
Describing themselves as a really committed rock band – finance so far has come out of members' own pockets and adds up to around £3,500 – they're on the lookout for an agent or manager to help them get the bigger breaks.
And they hope rock gigs at the Arts Centre – over 70 people turned up at the first one at the end of September – will boost interest in rock music in Tamworth.
A revival could pave the way for a big band show in a larger hall – possibly the Assembly Rooms.
18/11/77
Flash Harry
Tamworth Arts Centre
19/11/77
Paradox
Kingsbury Working Mens Club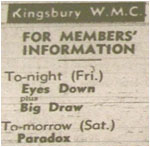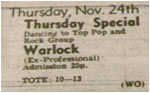 24/11/77
Warlock
Polesworth Working Mens Club
25/11/77
Cody (Country and Western)
Tamworth Assembly Rooms
25/11/77
Folk Meets Country
Prince of Wales
Idlevice – Country and Western
Mayrid – Folk
Tamworth Herald – 25/11/77
Scene Around - Dance is a FACT
Country and western fans are stepping out tonight, Friday, to the music of local band "Cody" at the Assembly Rooms.
The dance has been organised by FACT – the Friends of Tamworth Arts Centre.
FACT are also busy finalising plans for an all-day fayre-with-a-difference at the Arts Centre on December 10.
On-the-spot demonstrations by craftsmen and artists, as well as traditional stalls, will be among the attractions.
Tamworth Herald - 25/11/77
Musicbox - Quill deserve big time success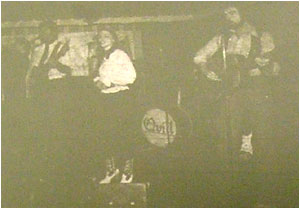 IF SUCCESS in the big time comes to Quill then in no way could it be hailed as an over-night affair. Gil Showell and Joy Strachan have worked hard to secure it.
Quill have been together, or at least Gil and Joy have, for quite a few years now and with a variety of musicians completing the line-up, have always produced a great sound.
The latest set-up includes, John Lynham on guitar, Paul Sanders on fiddle and Ben Brain on bass guitar. Gil has always been the driving force on drums with Joy providing the glamour as front-line vocalist.
Representing Beacon Radio, they recently reached the final of the "US Spectacular" competition. They reached the final via wins in rounds at Lafayette, Wolverhampton and the Odeon, Birmingham.
The final took place at Wembley and 8,500 enthusiastic fans rolled up. Wishbone Ash topped the bill. The competition was intended for Punk Rock bands so it was hardly surprising that Quill did not win.
What the competition did do was awaken the interest of several recording companies. Warner Bros. And MCA are amongst them. The work rolled in.
Drummer Gil told the "Herald" that they were currently putting the material together for an LP and "He's So Pretty" and "Old Friends and New" were being considered for release as singles.
The band play regular dates now on Monday's at the Cedar Club, Constitution Hill, Tuesday's at the Hunter's Moon, Castle Bromwich and on Wednesday's at the
Crown, Four Oaks and Joy and Gil are always pleased to see their Tamworth fans.
Recently Breaker records were launched by Gil and Joy who have signed up Le Ritz as their first artists. A single has just been released entitled "The Punker". Breaker recording studios are available for use.
26/11/77
Kidda
Polesworth Working Mens Club
26/11/77
Paradox
Elford Working Mens Club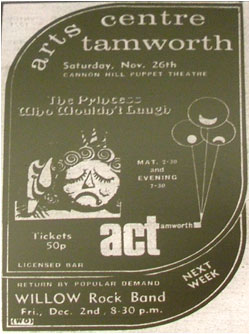 Tamworth Herald – 02/12/77
Musicbox
Lynyrd Skynyrd
03/12/77
White Road
Kingsbury Working Mens Club
07/12/77
Willow
Tamworth Arts Centre
Tamworth Herald – 09/12/77
Musicbox
Alessi Brothers
15/12/77
Kidda
Polesworth Working Mens Club
15/12/77
Bandylegs
Mile Oak
Tamworth Herald – 16/12/77
Santa Tony – at 'Arts' Fair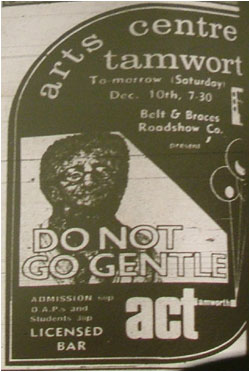 Friends of Tamworth Arts Centre hope to make a profit of around £100 from their first ever Christmas fair on Saturday.
"The response was really excellent – a lot of people came through," said centre manager Dave Armour.
Attractions included a military modelling display and a demonstration by glass engraver Mr. Harold Bowcott, from Dorset.
Borough Council leisure committee chairman Tony Whitefoot was there in a new role – as Santa Claus.
The Friends aim to plough money back into the Arts Centre.
VACANT
And the possibility of opening a craft shop in Tamworth is still being investigated.
The asking rent for vacant premises in Market Street, looked at some time ago, was too high. But the shop idea has not been abandoned, and ways of getting help, possibly through the regional arts association, are being explored.
Space at the arts centre itself is under pressure and additional premises in the town could server several purposes.
They could be used as an outlet for local people doing craftwork, as a booking office and bookshop. There could be attractive window displays based on the activities of local societies and their current programmes.

Tamworth Herald – 16/12/77
Musicbox
Rainbow
17/12/77
Paradox
Hurley Working Mens Club
18/12/77
Sticky Fingers
Glascote Working Mens Club
20/12/77
Globe Folk Club - Christmas Part Night
Mike Stuart
Tamworth Herald – 23/12/77
Arts Club helped
TAMWORTH Arts Club has been given the go ahead to use a council building as a workshop to store costumes and paint scenery for their shows.
The building is off Lower Gungate and part of it is at present used as an open shelter.
Talks are to be held between the town's Arts Advisory Council and the local authority over the tenancy of the building.
It has been suggested that the tenancy be given to the Arts Advisory Council in case any other affiliated organisation wish to use it.
The building needs some initial repairs – especially to the roof and a new access to the property is needed.
Labour Councillor Phil Smith told council members that at present the Club had to paint scenery on the Assembly Rooms car park in "wet and cold weather"
24/12/77
Poetry Rock Band
Tamworth Working Mens Club
26/12/77
Tranzit
Tamworth Progressive Club
27/12/77
Disco
DJ Barry John
Polesworth Working Mens Club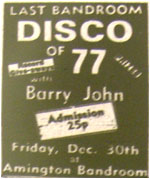 30/12/77
Last Bandroom Disco of '77
DJ Barry John
Amington Band Room
Tamworth Herald – 30/12/77
Musicbox
10cc
31/12/77
Zenith
Birchmoor Working Mens Club
31/12/77
Convention
Tamworth Working Mens Club