Tamworth Bands History : 1980
January to March
06/01/80
Ledbelly
Dordon Working Mens Club
07/01/80
Paradox
Chequers
09/01/80
Poetry Rock
Tamworth Working Mens Club
Tamworth Herald – 11/01/80
Police feared mods and rockers clash as 70 bikers rode in
ROLAND Joseph Isaac led a gang of 70 motorcyclists through Tamworth town centre as a show of strength against a rival group of mods, town magistrates heard.
The court was told that the "bikers" had been drinking in the George public house and later marched down George Street.
Isaac, of Kenrick Croft, Castle Vale, Birmingham admitted using insulting language and damaging a road sign.
"The conduct of these men caused grave concern among the police in Tamworth and they were stopped as they turned into Bolebridge Street."
Isaac then jumped up and smashed his black helmet against a street sign causing considerable damage to it, the court heard.
Tamworth Herald – 11/01/80
Musicbox – Not a slip from 'Ice'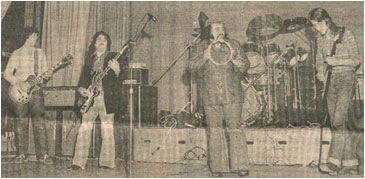 The year ahead will be a crucial one in deciding the future of Tamworth's top rock band "Ice."
For it will see the release of their second album which they hope will catapult them to super stardom.
And their bid to join rock's elite began with a special Christmas concert at Tamworth Assembly Rooms.
Armed with new material the band delivered the best set I have ever seen them play, easily eclipsing the last time I saw them at the Arts Centre almost a year ago.
The only let-down was the size of the crowd. Band member Andy Radek told me as the group prepared to take to the stage that they take inspiration from the audience.
It was just a pity that more local fans did not bother to brave the monsoon conditions to see them.
With all proceeds going to multiple sclerosis and with so much energetic organisation having gone into the event, the size of the crowd only served as a kick in the teeth for everyone involved.
Still, the deathly atmosphere did little to dispel the determination of "Ice". Driven on by the searing lead guitars of Andy Radek and Paul Watts, they never let the heat drop from the moment they struck the opening chords of "Ride".
I thought I noticed a slight shift in direction in the newer numbers. To my ears at least, "Ice" seem to have adopted a more-heavy metal style, aggressive stance of late.
Despite this though, the night's show-stopper for me was "Asgard", a track from their first album.
All in all, and despite the meagre attendance, the first "Ice" Christmas Party was a success and the band can now look forward to their year of decision with confidence.
Last-minute support band D.H.S.S. provided an interesting foil for "Ice" with their own brand of new wave music.
Singer, Edward Ian Armchair said later "We were a bit upset about the gig. The sound in the Assembly Rooms is bad and the crowd was not very responsive."
Richard Whitehead
Tamworth Herald – 11/01/80
Musicbox – Happiness is…a contract
TAMWORTH'S "Band of the 80's" – The Department of Happiness and Self-Satisfaction have won a contract with Britain's largest independent record company.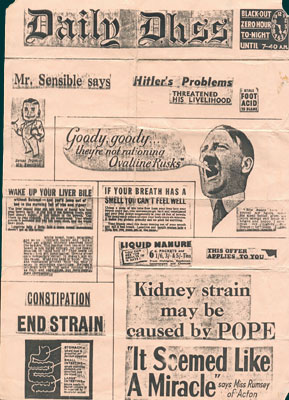 Rough Trade have agreed to distribute the four-piece outfit's debut cassette "Packaged Pleasure" and their single "The Factory".
Lead singer Edward ian Armchair said that they intended to release another cassette soon which would be on sale in Tamworth and future singles would go out nationally through the record company.
DHSS are now looking for dates for local concerts and they have already got definite gigs fixed up at colleges in Manchester, Wigan and Liverpool.
"We really want to play in Tamworth," Edward said. "But there is nowhere for us to play. We played at the Assembly Rooms but the acoustics are bad and the Arts Centre just isn't big enough."
"What we'd really like to do is get a hall and have some other local bands supporting us. At the moment we're getting gigs in Birmingham but we don't want to have to say to the kids that if they want to see us they will have to go into the city.
"We want to know what the locals think of us – after all we a re a Tamworth band for Tamworth people. If we know what the punters like and dislike we will be able to improve."
DHSS have also found themselves a financial backer and are now just waiting for the "big break."
In the meantime they are hunting for another synthesiser play or someone with a four track cassette to use in their set.
"Anyone wanting to book the band should ring Vincent Watts on Tamworth 62521.
Tamworth Herald – 11/01/80
Musicbox – Sound Appeal
THE DEPARTMENT of Happiness and Self-Satisfaction are an up and coming new band with a totally new sound. They are keen to provide for the local scene.
And around Tamworth there must be many other groups and singers with similar high ambitions.
Musicbox wants to encourage as many as possible by giving coverage. We would like to hear your views on any aspect of music
Let us know what you think of DHSS's "Packaged Pleasure", Ice's charity concert at the Assembly Rooms or anything else that's happening in the local music scene.
19/01/80
Fretz
Amington Liberal Club
Tamworth Herald – 25/01/80
Musicbox – Ice on tour
ICE – Tamworth's top rock band – are taking to the road.
The five-piece outfit have won themselves a Midland tour playing at clubs and pubds around the region.
Lead singer Mick Rutherford said "It is very pleasing as we were only going to do three gigs in January because we thought we would concentrate on the album."
Included in the nine-date tour is Glascote W.M.C., tomorrow, Erdington, Tyburn House on January 31, the Chequers, at Hopwas on February 2 and the Chestnut Tree at Nuneaton February 11.
Tamworth Herald – 25/01/80
Musicbox – Folk Fixtures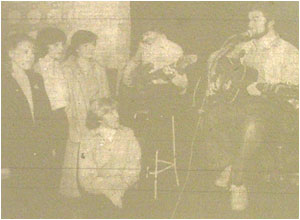 TAMWORTH Rugby Club have kicked off on a new venture.
The local sportsmen are planning to hold monthly musical evenings in a campaign to bring 'live' entertainment to Tamworth.
The idea was launched last week when 140 people packed out the Rugby Club's headquarters in Wigginton Park – to watch a country and folk evening.
Topping the bill were Steve Ashcroft and the Staffordshire Men who with the help of musically minded Rugby Club members provided a fun-packed concert.
26/01/80
Ice
Glascote Working Mens Club
29/01/80
Saracen
Mile Oak (Warren)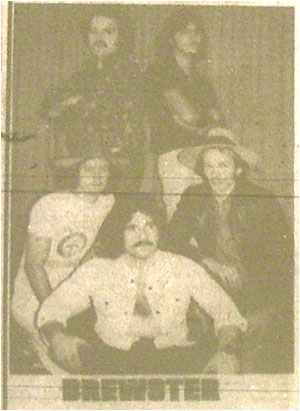 Tamworth Herald – 01/02/80
Musicbox – Regular spot for local band
TAMWORTH rock band Brewster have won themselves a regular Thursday night spot at Erdington's Tyburn House.
The band – who have been off the road since lead guitarist Keith Buck left – hope to build up a big following at the pub and make it a permanent venue.
At the moment they are managing with just one guitarist but they are auditioning for a replacement to boost their membership back up to five.

03/02/80
Ramblin' Band
Belgrave Sports and Social Club
03/02/80
Warlock
Glascote Working Mens Club
03/02/80
Something Else
Tamworth Progressive Club
07/02/80
Freebird
Mile Oak
08/02/80
Amber Lights
Glascote Working Mens Club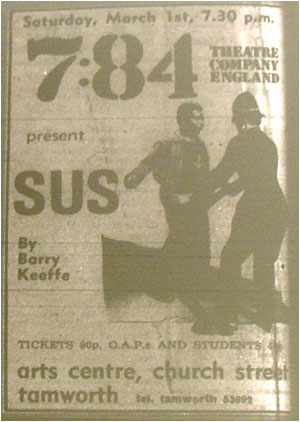 09/02/80
The Jay Kays
Polesworth Working Mens Club
Tamworth Herald – 15/02/80
Musicbox – The Chieftains
Tamworth Herald – 22/02/80
Musicbox – Brewster
23/02/80
Sticky Fingers
Dordon Working Mens Club
23/02/80
Gentlemen Prefer Blondes
Tamworth Arts Centre
29/02/80
Amber Lights
Glascote Working Mens Club
01/03/80
Something Else
Amington Liberal Club
01/03/80
Sus – 7:84
Tamworth Arts Centre
09/03/80
Saracen
Dosthill Cosmopolitan Club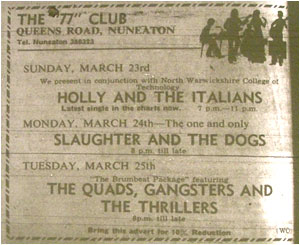 10/03/80
The Modettes
77 Club, Nuneaton
12/03/80
Squire
77 Club, Nuneaton
24/03/80
Slaughter & The Dogs
77 Club, Nuneaton
Tamworth Herald – 25/03/80
Youth knocked out by road sign in mods and rockers battle
Tamworth Herald – 25/03/80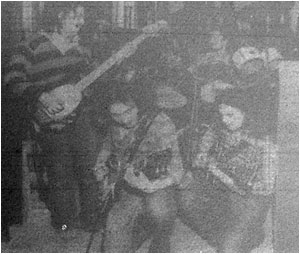 Musicbox - Flash Harry get it taped
NEW LOOK Tamworth heavy rock band Flash Harry make their debut performance tonight (Friday) at the town's Arts Centre.
Although their name has been around for more than five years the present line-up was completed at Christmas and since then the four-piece outfit have been recording and preparing for their first gig.
Rhythm guitarist Steve Birch said they hoped the Arts Centre concert would be the first of many in the area.
"We want to play for the Tamworth kids as well as spreading our wings further afield."
Flash Harry have already recorded some tapes at the town's Steve Adams' Studio and are sending them out to record companies with the hope of releasing an album.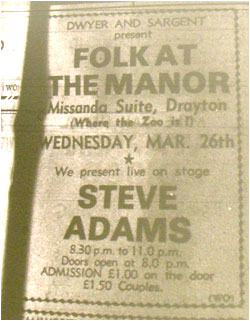 Writing all their own material and producing their own original sound, the line-up also includes Trevor Muglestone, on lead guitar, Tony Lakin, on bass guitar and Robert Horne on drums, the vocals are shared between the four.
26/03/80
Steve Adams
Folk at the Manor
29/03/80
Jay Kays
Dordon Working Mens Club