Tamworth Bands History : 1980
October to December

Tamworth Herald - 03/10/80
Change likely in Arts Centre management
TAMWORTH Arts Centre could be run in future by the town's Arts Advisory Council instead of the Borough Council.
Management of the Church Street Centre could pass to the voluntary body if a deal satisfactory to both sides can be worked out.
Tamworth Herald – 03/10/80
Musicbox – Now Ice get a warm reception
ROCK band Ice have found a silver lining in a black cloud that descended over the Chequers venue in Hopwas.
For they have stepped into the breach left by another band at the popular venue and have lined up four dates before Christmas.
The band have dubbed the series of gigs "The Tamworth Blitz" and they are hoping that local fans who missed their triumphant return to town stages at Trinity Carnival will have a chance to assess the music's undoubted development.
"We were happy to step in when the Chequers were in trouble. It's a good venue and we're looking forward to playing there again," said singer Mick Rutherford.
Their performance at the Lutterworth Biker's Rally delighted Mick and judging by his comments, the crowd as well.
"It was out of this world, the reaction from the bikers was amazing," he said.
Fans will have their first chance to buy the new official Ice T-shirt at the Chequers and other gigs.
OFFERING
The shirts, in a choice of black, red or blue are also available by post from Andy Radek. The price is £2.75 plus 25p postage and packing. You should state size (small, Medium, Large or extra large).
Ice are also offering a special deal to new fans who missed the chance to buy their "Saga of the Ice King" L.P., when it was first released. The recording can be obtained from the band of the bargain price of £3.50.
Tamworth Herald – 03/10/80

Musicbox – Flash Harry – It's no one day wonder
04/10/80
Flash Harry
Those Attractive Magnets
Mile Oak
09/10/80
Bernard Manning
Gentlemen's Evening
Mile Oak Hotel
Tamworth Herald – 10/10/80
Bistro appeal
OWNERS of Hamlets wine bar in Lower Gungate have appealed against a Tamworth Borough Council decision not to allow a first floor extension to the bistro.
And a local inquiry will be held at the Council Chamber on November 5.
The planning committee refused the application because they say the proposed extension would adversely affect a residential property.
Tamworth Herald – 10/10/80
DJ TOOK A GAMBLE ON DISCO GEAR
A Tamworth DJ sold the disco equipment he was buying from a friend – then went betting with the money.
Graham Wood (32) of Piccadilly Crescent, Kingsbury.
Wood who had been a DJ at The Tavern in the Town public house bet the money on the horses at Blackpool, Mr. Derek Wassall prosecuting, told the court.
Wood was buying equipment from a friend, Stephen Bostock, of Clifton Campville.
Tamworth Herald – 10/10/80
Musicbox - Ice man Mick in hospital
THE ICE gig at the Chequers last Friday was cancelled after singer Mick Rutherford was taken to hospital with a suspected heart attack.
Dozens of fans turned up for the first of the "Tamworth Blitz" gigs but Mick had to be taken to George Eliot hospital in Nuneaton after violent chest pains the day before the concert.
Happily he is now out of hospital and off the danger list and is determined that the band will fulfil all their commitments.
"I would like to apologise to all the people who turned up for the gig. The attack is not going to stop the band if I have to use a walking stick to get on stage I will do so," Mick said.
11/10/80
Rivett
Coton and Hopwas British Legion Club
11/10/80
Titan
Polesworth Working Mens Club
16/10/80
Showtime featuring Rikky Valance, Mike Sheridan and the Nightriders
Dordon Working Mens Club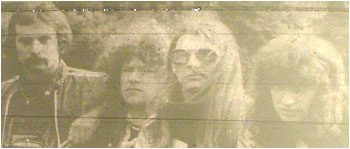 Tamworth Herald – 17/10/80
Musicbox – Metal men set to shine by Cathy Pettigrew
PLAYING the biscuit tin with his mother's knitting needles is one of the first memories that Tamworth drummer Pete Johnson has of wanting to get into the music business.
But those memories are a far cry from the reality of today – as Pete and fellow members of heavy metal band Titan, know.
The band, who are currently gigging around Tamworth believe they are poised for the top – ready to make it big – with their first single which is released at the end of the month.
"We have worked hard for this and we are going to make it," says Pete, reflecting the general opinion and determination of the band which was formed only 18 months ago as "Hoi Polloi."
Pete, from Glascote Heath and guitarist Martin Schell, from Sutton Coldfield formed the nucleus of the band. After extensive auditions the search ended with vocalist Bob Shades, from Birmingham and bassman John (Barry) Floyd from Sutton Coldfield, completing the line-up.
The band spent four months writing and rehearsing material for a set at a barn at Wishaw.
"It was out of the way so we could make as much noise as we wanted," said 28-year-old Pete.
The band made a name for themselves at venues like The Railway, Bogarts and Romeo and Juliets and guesting on local radio.
Six months ago they changed their name to Titan as their music developed in a stronger direction explained Pete.
Then a few more developments occurred. The band stopped gigging. They wrote a few more tracks and got a demo tape together. They decided to check out a few record companies – then bingo.
Wild Dog records signed up the lads for their single "Fast Wind" – masterminded by Martin with advice from the other three.
While the band are waiting for the single to be released they are on a tour round the small venues of the West Midlands.
Playing in Birmingham made them realise that a lot of their fans came from outside the city. So they decided to bring the music to the fans – with the hope of converting a few others along the way.
Polesworth Working Men's Club was the first stop. A back-up crew of 20 and four vans to cart the equipment and stage gear shows the sort of professional attitude the band take.
But don't they think that success will be hard to find with heavy metal music being long taken over by other sounds?
"Not at all, says Pete, convincingly, "We are good and we can do it."
"At some clubs we have appeared on punk nights. After a bit the punks have really go into our type of music. That must prove something."
TAMWORTH rockers – where are you?
Titan : Polesworth W.M.C.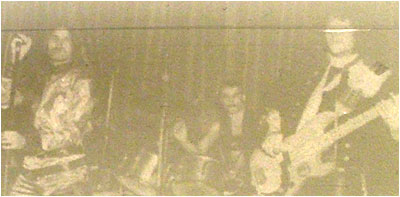 That was the question Birmingham-based heavy metal band Titan must have asked themselves as they played riveting rock to a 60-strong audience in a hall that would have held 600.
Titan – with Tamworth drummer Pete Johnson – were on their first "bring the music to the people" tour, instead of the people trekking to Brum. Titan trekked to Polesworth.
But Polesworth just wasn't ready for the band which will release it's first single in a month's time.
A lack of publicity for the gig along with a members only and correct dress rules at the club – must have had some bearing on the audience size.
But those headbangers who turned up got a display of raunchy high-powered rock from a band whose apparent energy and dynamism were second to none.
Titan happily rocked through a variety of their own well-written material – with the odd Deep Purple track thrown in to keep the rock stalwarts happy.
But the band who will be back at Polesworth WMC on Monday October 20 have a tight professional sound, which is refreshingly unusual to hear.
Titan take themselves and their music very seriously and the results show.
Caption: Titan on stage at Polesworth: "We've worked hard and we are going to make it."
BRINGING POWER TO THE PEOPLE
TITAN : Titan Wild Dog Records
TITAN'S first-album will be on the streets at the end of the month and Musicbox reckons it will be a winner in heavy metal circles.
Called "Titan", it comprises five tracks, most of which form part of the band's live repertoire.
Titan, on record, like on stage, rely much on the traditional guitar/drums attack as the powerhouse of their sound, emphasising a debt to the likes of Black Sabbath.
The overall level of musicianship is controlled, yet powerful and each member of the playing section contesting forcefully throughout but being careful not to become or monotonous.
While on the other side of the coin, singer Bob Shades gives a gutsy vocal performance. In spite of the non-stop crash going on around him his voice never gets lost in a haze of guitar work like many other heavy bands.
Best tracks on this impressive debut from Titan are the up-and-coming single "Fast Wind" and its flipside "Losing the Fight".
24/10/80
Blind Alley
The Chequers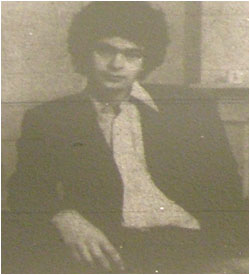 Tamworth Herald – 24/10/80
Popular poet at Arts Centre
A GREAT favourite with children and adults, poet, Brian Patten – he is featured in the Oxford book of 20th Century Verse – will be reading some of his poems and talking about his work at the Arts Centre tomorrow, Saturday evening.
Published in many languages, Brian has built up a massive popular audience for his poetry.
Presented by the Friends of the Arts Centre, the evening starts at 7.30pm. Tickets are £1, 50p for students and pensioners.
Tamworth Herald – 24/10/80
Musicbox – The Ice blitz
THE Ice kings march on. Like a musical snow plough this splendid band…all before them and on a night when the average Eskimo would have preferred to stay in their igloo, they attracted a dedicated band of followers.
Now we are witnessing the birth of the "Ice…" Fans were wearing the new Ice t-shirts and others had Ice motifs sewn on their denim jackets next to Led Zeppelin and the like.
Tamworth Herald – 30/10/80
Change likely in Arts Centre management control
Tamworth Herald – 31/10/80
Palace – The Shining
Tamworth Herald – 31/10/80
Arts Centre Talks Continue
DISCUSSIONS are still going on about the future of Tamworth Arts Centre and the town's Arts Advisory Council says it will be happy to take over the building subject to satisfactory terms being agreed with the Borough Council.
Owned and run by the Borough Council for the last five years, the Church Street centre has been kept going by part-time staff since former Manager Dave Armour left Tamworth in September.
There has been no talk of another full-time manager for the building and it has been suggested that management could pass to the voluntary Arts Advisory Council.
Advisory Council Secretary, Mr. Dan Gronow, said this week, "As I understand the situation at the moment, the Borough Council are considering the possibility of paying running costs and may also think about some sort of supplementary grant which would taper off over a certain period.
"But I think both sides accept in principle that the centre will devolve to the voluntary groups."
At the Advisory Council's October meeting last week, representatives from local arts groups said they were anxious to see professional shows as well as amateur performances continue at the centre.
They also said they wanted to see it as a "real home" for the various Tamworth groups.
EXTENSION
Said. Mr. Dennis Taylor from Tamworth Little Theatre: "At the moment, unfortunately, it is seen as an extension of the Borough Council's recreation department.
"Someone once said it would like a mini-Assembly Rooms and really that is what it has degenerated into – it lacks a soul.
"It's a psychological thing – people will take a lot more interest in the place if it's recognised as a real "home". You've got to create the right atmosphere.
Tamworth Herald – 31/10/80
Great night for the poets
A GREAT NIGHT – that was the verdict on the poetry evening at Tamworth Arts Centre on Saturday.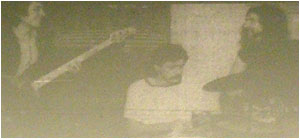 Tamworth Herald – 31/10/80
Musicbox - Trio who took the West by storm
THE rural splendour of the English West Country may not seem the ideal area for a Tamworth rock band to forge a rocking reputation, but Blind Alley have done just that.
For the high-energy local trio will shortly be embarking on their third tour of that part of the country normally associated with cider drinking and holidays by the sea.
The band first toured in the West during the early part of the summer when on a working holiday they played five consecutive gigs in different venues and according to reports "went down a storm."
This resulted in them being re-booked immediately for a spell last August covering the same concert halls and proving even more popular – so much so that they played to a full house at one particular venue for three nights running.
Now Blind Alley hope to strengthen their reputation with a third tour starting next week taking in five or six dates including a prestige gig at the popular rock 'n' roll haunt, the Penzance Winter Gardens.
But all this jetting around the country doesn't mean to say the group have forgotten their origins and are ignoring Tamworth audiences, for the band have had a regular spot at the Chequers in Hopwas and played there last Friday.
ICEBERGS
Blind Alley are made up of drummer Colin Edmunds, guitarist Jeff Bale and bass man Spike Miller.
Each member has had a lot of experience in other bands during their 10 years or so on the rock circuit. Colin played with and was a founder member of Rikki Cool and the Icebergs, while Spike has worked with Ian Matthews' band and Jeff with an outfit called Easy.
Blind Alley are currently writing new songs for some up-and-coming recording work. They hope to go into the studio soon with producer Bob Lamb, the man behind the successful UB40 sessions but this is yet to be confirmed.
"We recorded a couple of demo tapes at the Outlaw Studios in Birmingham but nothing really came of them as we had to re-think and we've now got a whole lot of new material we want to record.
"As well as studio work we've also done a few sessions for the Radio Birmingham rock show which went very well," said Colin.
Apart from their successful touring stints in the West Country, Blind Alley also play at the popular Coach and Horses venue in West Bromwich and several other Midland rock spots.
"The best way to describe our music is simply "straight rock" – just the sort of thing to pull the crowds in," said Colin.
So there you are folks, Blind Alley, another example of a Tamworth rock band who are not afraid to try something different and who put the emphasis on entertaining people.
Tamworth Herald – 31/10/80
Musicbox – Metal magnet
We've told you often enough…but now you've got to believe us…Musicbox Rules O.K.
Recently we brought you a major feature on heavy metal band Titan and their series of gigs at Polesworth Working Men's Club.
And within three days the next Titan gig at the venue was attended by an estimated crowd of 500. Not bad considering that the previous gig could only attract about 50.
And remember folks, Titan are back at Polesworth W.M.C. on Monday – be there!
Tamworth Herald - 31/10/80
FANCY yourself as a vocalist in a heavy metal band?
If you do, a new rock group being formed in Tamworth want to hear from you. The Polesworth-based rock blues outfit Ledbelly have split. And three of their five members are putting together a new band, but they need a vocalist – and quickly too because they have a series of bookings left over from the old group that they have to fulfil.
Anyone interested in singing with a group, who play AC/DC and Montrose sort of material, should contact the band's lead guitarist Frank Ingley.
01/11/80
Ramrod
St. John's Catholic Club
03/11/80
Titan
Polesworth Working Mens Club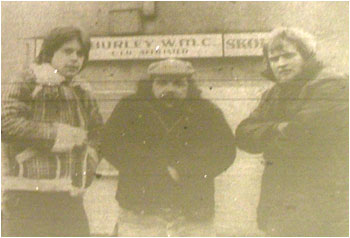 Tamworth Herald – 07/11/80 - Front Page
'Too loud' Ice frozen out by club
A Tamworth rock group who have been banned from the Working Men's Club in Hurley are urging the Musicians' Union to take up their case.
Popular Tamworth based group Ice claim the club have pulled out of a booking the band had for December and that the ban imposed on them is unjustified.
And they have issued a statement attacking the club's reasons for banning the group.
Members of Hurley Working Men's Club committee met after the band's last appearance at the club in May and decided to ban them because they took too long to pack away their equipment and their music was too loud.
But Ice say these are not good enough reasons for cancelling the December booking and they are asking the Musician's Union to investigate.
In their statement, the group say "We left the club five minutes earlier than when we played there the previous month even though our usual road crew were three men short."
And their sound engineer denies that he was asked by club committee members to turn the volume down.
A spokesman for the Musicians' Union said that the union did not often take such actions to court but there was a possibility that some sort of warning about Hurley W.M.C. could be issued to other members of the union.
Tamworth Herald – 07/11/80
Police taunt by punk nuisance
A 19-YEAR-OLD punk rocker sat down in the middle of a Tamworth street and kept on shouting "Anarchy" at the top of his voice, town magistrates were told.
And when police tried to quieten him down Andrew Billington told an officer "You can kill me just like you killed Blair Peach."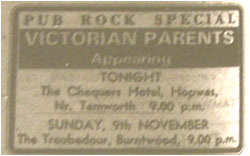 07/11/80
Victorian Parents
Chequers
Tamworth Herald – 07/11/80
Palace – The Exorcist
Tamworth Herald – 07/11/80
Musicbox – Bikers welcome back 'Ice'
A MYSTERY venue will be the scene of the biggest-ever concert played by top local rock band Ice.
The five-piece outfit, who have had their busiest and most successful year yet, will be the headlining act at the biggest bikers convention of the year The Gunpoweder Rally which is tomorrow (Saturday).
But because of the possibility of violence the venue for this gathering of bikers from all over the British Isles is still a secret even to the band.
It's the first time that any band have ever been asked to play two major bikers rallies in one year – earlier this year Ice headlined over two other bands at the Clover Leaf rally near Lutterworth.
A crowd of 1,500 is expected to gather in a huge marquee to watch Ice tomorrow night.
Singer Mick Rutherford said "We are absolutely over the moon about this, it's probably the biggest gig in the history of Ice."
Following this prestige date Ice will return to Chequers in Hopwas on Saturday November 15 for the second-leg of their pre-Christmas Tamworth blitz.
Mick also announced that there is a possibility of another major tour in the offing for the end of the year or the beginning of 1981.
Watch Musicbox for exclusive news of the date sand another announcement of major importance to Ice fans in the next few weeks.
Tamworth Herald – 07/11/80
Musicbox – Heavy date
ROCK fans everywhere make sure you're at the Assembly Rooms next Thursday night to witness a heavy metal blockbuster.
For town newcomers Titan and old favourites Ice are playing a special double-headed gig.
And both bands hope that this could lead to a series of gigs at the town centre venue.
Tamworth Herald – 07/11/80
Musicbox – and Brewster return
TOMORROW night (Saturday) sees the return to Tamworth of those seasoned heavy rock campaigners Brewster.
For the popular outfit will be playing at the Chequers in Hopwas and the gig will be the first home appearance for new member Mick Griffiths.
"We are now concentrating more on original material and with Mick joining us we have got the old twin lead sound back again," said group member Gary Norris.
08/11/80
Ice
The Gunpowder Rally
08/11/80
Disco
Assembly Rooms
Pete Parry and Nij Redfern
13/11/80
Titan, Ice
Assembly Rooms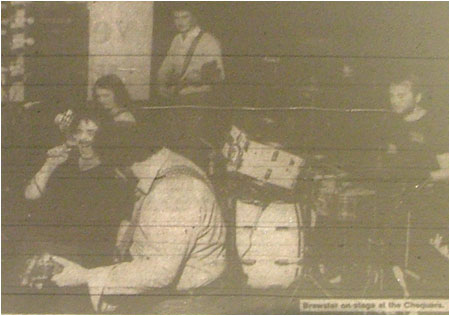 Tamworth Herald – 14/11/80
Musicbox – Triumphant return with a special brew
BREWSTER, the band with the "good time" reputation made a triumphant return to the Tamworth rock scene with an impressive if not inspiring performance at the Chequers on Saturday night.
Over the years Brewster have built up a big following around this area and this was clearly apparent as they played more than 80 minutes of riveting rock to a small, smokey hall brimming to capacity.
In the past the group's act has largely been made up of other artistes work but recently they've been writing more and more of their own material and eventually they hope to arrive at a 50-50 situation.
Let's hope so as it was good to see them play original songs to an appreciative if not over-enthusiastic audience.
Don't get me wrong, Brewster play cover versions that are sometimes better than the originals, but repeating the same stuff over and over again is the first sign of any band's downfall.
Then again this lot are so well established that things would be different without them.
RAUNCHY
Anyway enough of what might happen and more about the gig. It was split into two sets. The first to these ears at any rate, a lot better that the second.
Brewster kick off with a sound, that grabs your attention within seconds. They play short raunchy punch-packed songs, well put together with a raw energy that so often is missing nowadays.
New guitarist Mick Griffiths looks good alongside Brewster's original guitar man Tony Stanley producing a twin-lead sound that strides along full of exciting riffs and jabs.
Then there's bassman Ron Allcott plucking away like there's no tomorrow and drummer Gary Norris providing a solid, powerful beat behind the front men. Over this, singer Tony Beaumont gives us a strong vocal performance and genuinely enjoys every minute of it all.
Combine this with their expertly handled covers which include a string of Thin Lizzy hits plus Neil Young Whitesnake songs and you've got a gig worth venturing out for.
Each member of the band shows us they are more than competent players but particularly impressive is Tony Stanley who makes up in enthusiasm and style what he carries in years.
All in all a good performance from Brewster. At least the packed crowd must have thought so judging by the calls for encores.
There's nothing really new or innovative about this band but they give audiences what they want to hear and surely that's what it all about.
Tamworth Herald – 14/11/80
Musicbox - We want your Top 10
RIGHT, you've listened to us this year…now it's your turn.
For, this week, Musicbox launches its annual top records of the year appeal.
We want you to send us your five favourite singles and five favourite albums of 1980.
This year has certainly been a busy one on the music scene. We've seen an incredible revival of heavy metal courtesy of new bands like Saxon, Def Leppard and Iron Maiden.
Alongside this we've witnessed the continuing interest in electronic music, sparked off by Gary Numan and carried on by groups like The Human league, Ultravox and Orchestral Manoeuvres in the dark as well as the mod bands' struggle for survival.
The local scene has also picked up dramatically with the emergence of fresh talent like Those Attractive Magnets and Titan as well as the reappearance of old established acts like Ice, Brewster and Flash Harry – and we've covered them all.
So all in all it's been a busy year for the music world and we want you to pinpoint where the action has really been at. Remember we would like your top five singles and top five albums.
15/11/80
Craft Fayre
Tamworth Arts Centre 10.00am to 4.00pm
15/11/80
Chalkie
Dordon Working Mens Club
15/11/80
Ice
Chequers
Tamworth Herald – 21/11/80
Disappointment at Council decision on Arts Centre
TAMWORTH societies anxious to see the Church Street Arts Centre become a "real home" for the arts are disappointed and upset by a council decision taken by borough councillors last week.

Caption: Ice…powerful rhythmic songs. From left are Mick Rutherford, Paul Watts, Steve Sheldon, Andy Radek and Colin Richardson.
Tamworth Herald – 21/11/80
Musicbox – Titan win the day…but Ice won't melt away
Ice/Titan – Assembly Rooms
THE long-awaited battle of the bands was fought at the Assembly Rooms last Thursday night in front of a crowd that should have been three or four times bigger.
Following Titan's three gigs at Polesworth "Top Club" where they played in front of audiences of more than 500, it was disappointing to see only about 100 people pass through the doors to watch their first double-headed gig with that other popular town band, Ice.
Maybe it was the admission fee. I don't know. But to charge £1.50 is a bit crazy anyway. As one kid said outside the hall: "I could have gone and seen Genesis for that".
I'm not blaming the organisers. They did a great to get a gig of that stature on in a town where good venues are hard to find. But if Titan and Ice are to return to the Assembly Rooms – and I hope so – then let's see that admission fee halved.
Anyway less of all that and more about the gig. Ice are first on stage and give us a set rich in variety and made up of almost completely original material.
The band have an excellent sound and each member impresses. But it's drummer Steve Sheldon who steals the show with an excellent performance including a no messin' solo towards the end.
Ice storm through their set playing powerful rhythmic songs that are becoming old favourites to some Tamworth rock fans. Numbers like "Ride", "Pool Room Brawl" and "The Gambler" are strident, forceful pieces with good lyrics to back them up.
But Ice don't use the stage as well as they could. Too often the band seem huddled together when ample room is available and this detracts from a stage presence which already lacks a bit of character.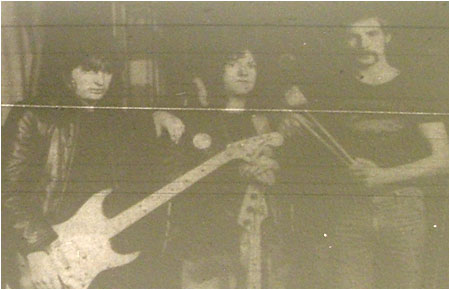 MELODY
Nevertheless they are warmly received and their act is leagues better than the kast time I saw them. As we've said in this column Ice are refreshing because they add touches of melody and harmony to what is basically a heavy metal sound.
Titan are altogether different in their approach and they win the day for an exciting performance and a perfect illustration of how to use a stage properly, putting over their music with maximum impact. Within minutes of the first riff the kids are on their feet headbanging in front of the stage.
Setting aside personal music tastes this band are something else! They've emerged over the last month or so and have quite literally taken the local music scene by the scruff of the neck and given in a good shake up.
Titan play without an ounce of compromise. Bassman John Floyd and guitarist Martin Schell run around stage forcefully playing their instruments and making the headbangers go wild.
Drummer Pete Johnson sits behind the drum kit thrashing out as powerful a beat as you're ever likely to hear. While Titan's amazing singer Bob S… runs around the stage looking like the original heavy metal demon, full of character and bags of energy.
Songs from their first album like "Easy Wind" and "Loosing the Fight" screech along full of guitar riffs and throbbing drum parts.
This set was the best I've ever seen from a band in this area. Titan are poised fir the success they deserve.
22/11/80
Saracen
Kingsbury Working Mens Club
22/11/80
Bazaar
Tamworth Arts Centre
Tamworth Herald – 28/11/80
Musicbox – Explosive line-up
TWO Tamworth rock bands will be making debut appearances tonight (Friday) in support of the Tamworth branch of the Campaign for Nuclear Disarmament.
Along with a special CND speaker and a get-together of "Ban the Bomb" supporters, the two groups, Concrete Evidence and Ethis, will be playing music at the Prince of Wales pub in Lower Gungate.
Concrete Evidence are a three-piece group who have only been together for a short time, but were determined to play the concert.
Their bass player Joe Czanauska himself a CND supporter, said he hoped the music would draw Tamworth's youth to this "very important cause."
Ethis, a four-piece group making their debut with the present line-up, have done professional date sin the past but were more than willing to play free-of-charge.
As their 17-year-old bassist and lead guitarist Ralph Sandland said: "I can think of nothing more important to play rock music for."
The event starts at 8pm and Tamworth CND are confident of a good turn-out boosted by the appearance of these two local bands.
SAM HOLLIDAY
Tamworth Herald - 28/11/80
Musicbox – Talented folk with a single hope…
FOLK Music can at best be described as having a limited audience, but for a Tamworth-based trio that seems to be no problem as they continue to bring traditional folk songs to a much wider listening public than some music fans might think.
The group called Salmontailes, have been together for about three and a half years and now they have their first record out, named after them, and which shows there is more to folk music than a lot of us probably think.
Although much of the material is of a traditional nature, a couple of tracks have been given a contemporary feel, thanks largely to the guesting bass player, who was none other than Dave Pegg, ex-Steeleye Span and now with Jethro Tull.
The LP was in fact recorded at Pegg's studio in Oxfordshire, and apparently he was so impressed with what he heard, he asked the group, to their utter surprise, if he could join in on a couple of tracks.
Salmontailes are: Guitar player Paul Hooke from Dog Lane, Amington, singer Eddie Murphy and guitar and pipes player, Clive Ryder, both veterans of the folk circuit and who come from Coventry.
28/11/80
Concrete Evidence, Ethis
Prince of Wales
Tamworth Herald – 05/12/80
Palace – Close Encounters
Tamworth Herald - 05/12/80
Who should run arts centre?
THE big question of who should run Tamworth Arts Centre is wide open again.
And this week, Councillor Ron cook, Chairman of the Borough Leisure Committee, said he would be happy to meet members of the Arts Advisory Council who are concerned about the future of the centre.

Tamworth Herald – 05/12/80
Musicbox – Magnets with new attraction
TAMWORTH band – Those Attractive Magnets – are back in the spotlight.
For this week sees the release of their first recorded work since they were formed earlier this year – a 20-minute cassette which they hope will lead to a record contract.
Recorded at Steve Adams' studio in Birchmoor, the cassette comprises three impressive tracks all featuring the group's unmistakeable sound. It's hoped the three songs will make-up a special EP record in the near future.
The cassette, as yet unnamed, for the band are still toying with possible titles, will be on sale at Rock-it Records, Victoria Arcade at the modest price of £1.25.
Those Attractive Magnets, as anyone who has seen them live will know, base their music almost totally on synthesisers, courtesy of Andy Baldwin, Rikk Quay and Chris P. Kelloggs (Paul Killick) with the only concession to electronic sound being John 'Hurricane' Higgins' drums.
The songs themselves entitled "Memories", "1500" and "Radio Weeps, Television Cries" are all original, carefully constructed pieces that show the band have come on in leaps and bounds since their first live gigs.
The additions of drums and extra synthesisers have given the bands overall sound more depth and have increased the chances of making their music more commercially viable.
The ace in the pack is the closing track "Radio Weeps, Television Cries" which is a complex yet easily accessible number that strides along helped by Andy Baldwin's excellent, Bowie-fied vocal performance.
Those Attractive Magnets use a wide variety of synthesisers, electronic devices and sound effects in their music and this is supplemented by some compulsive drumming.
And now they are looking for an agent/manager willing to promote the band, whose music stands a great chance of commercial success, given time and a little luck.
Said Rikk: "We're also hoping to land a recording contract with one of the small record companies. But if we don't get one by about February we'll bring the record out ourselves."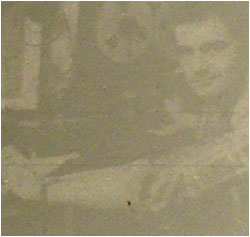 Tamworth Herald – 05/12/80
Musicbox – Cottage is a power-house
THOSE Attractive Magnets recorded their cassette at the Steve Adams Studio in Birchmoor. But how many readers knew that local bands had such excellent recording facilities on their own doorstep.
For schoolteacher Steve has concerted part of his Green Lane cottage home into a sirst-class recording studio where bands like The Magnets can go along at weekends and holiday times to use the studio which won't cost them the earth.
A past winner of Melody Maker's annual folk/rock award, Steve started producing about 18 months ago and he says it's really just a hobby.
Steve was a full-time professional musician for a while but says he now much prefers to restrict his musical activities to his small but well equipped studio which is literally his "second home".
"I really enjoy doing this," he says. "It's much better than just gigging." And he's certainly made some customers very happy as the Magnets' Rikk Quay, speaking on behalf of the band, is only too quick to point out…
"We think Steve Adams is a great producer and we would urge any band just starting off and interested in recording should go there," he says.
Tamworth Herald – 12/12/80
Letters page – The Arts in Tamworth by Denis Taylor
Tamworth Herald – 12/12/80
Musicbox – Time and Titan wait for no man
Ice breaking records
Tamworth Herald – 19/12/80
Ice get cold shoulder from clubs
Tamworth Herald – 19/12/80
Musicbox – John Lennon's Death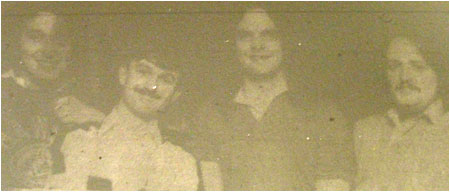 Tamworth Herald – 19/12/80
Musicbox – Flash Harry sparks Stateside invite
TOP Tamworth rock band Flash Harry could be on the verge of the big breakthrough they have been waiting for.
For the dynamic town group have been promised a two-week promotional tour of the United States from an American record company.
The news comes through this week that the California-based Forum Music wanted the four-piece band to head stateside.
At the moment talks are taking place to send Flash Harry over there. If the deal is finished then the tour will feature a large amount of press coverage, including TV shots, radio interviews plus of course some gigs.
The tour offer comes after the band sent demo tapes to the States hoping to impress people in the record business.
Recorded at the Steve Adams Studio in Birchmoor the tapes included four songs that the band use in live performances namely "First Time Love", "JAC", "Don't Look Back" and "Can't Stand To Lose Your Love".
And Flash Harry who certainly have the biggest following of any band in the Tamworth area, are looking forward to the prospect of a visit to America.
"It's great news," said drummer Rob Horne, "If we go down well at the gigs in the States, the record company might be willing to give us a contract."
And this view is backed up by the rest of the band – lead guitarist Trevor Muglestone, rhythm guitarist Steve Birch and bass man Tony Lakin.
If everything is settled then it's likely that Flash Harry will be jetting out to America in the middle of next year. Let's hope so because as they say in the business, this could be the "big one".
CHANCE
More news about Flash Harry is that fans now have the chance to buy the band's official T-Shirts which are available from either Steve Birch or at gigs.
And talking of gigs, Flash Harry are planning to give their Tamworth fans a special treat over the festive season with a Christmas Concert at The Warren, Mile Oak on Saturday December 27, Admission is 75p – be there!
Tamworth Herald – 19/12/80
Musicbox – Ice talks
TALKS are underway at the moment to set up a major tour early in the new year for Ice.
Management officials for the popular five piece are working out the last minute details for a series of dates.
Watch this space for the first announcement.
24/12/80
Disco
Assembly Rooms
Nij Redfren and Pete Parry