Tamworth Bands History : 1980
July to September

Tamworth Herald – 04/07/80
Every Thursday
EXIT
At The Warren
Tamworth Herald – 04/07/80
Scene Around - Spinners at Arts Festival?
International entertainers The Spinners could be bringing their own breezy blend of music-and-words to Tamworth this autumn as the star attraction at Tamworth Autumn Arts Festival.

Tamworth Arts Advisory Council are comfortably in the 'black'. They ended the 1979/80 financial year with a balance of £2,500 – money which is so far unspoken for.
Tamworth Herald – 04/07/80
Musicbox – Reliving the rock classics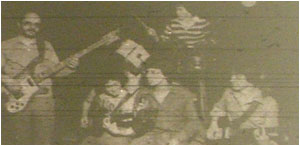 There's one sure thing about the music business – it's a hard road to the top.
And a new band on the local scene from Wilnecote High School have taken that literally by calling themselves Hard Road. The band's explanation for the title is simple. They called themselves after the Black Sabbath track of that name.
The group was started by lead guitarist Steve Wilson and vocalist David Payne. Later, music teacher Peter Elliott brought his bass guitar along to add some depth to their sound and the other members were recruited along the way.
At the moment they are concentrating on cover versions of other bands' material, but they have already written two or three of their own compositions.
Caption: Left to right: Peter Elliott, Steve Wilson, David Paylor, Gary Lancaster and Andrew Hope.
Tamworth Herald – 04/07/80
Musicbox – Ice play it cool on town tag row
MICK Rutherford, lead singer with top rock band Ice, this week refused to get in a slanging match with other Tamworth bands over the "best in the town" tag.
After their recent gig with Big Daisy in Lichfield controversy blew up over which band should have had the support slot. Mick refused to get in a similar verbal battle in Tamworth saying that his band's past record said more than he could.
"There is no antagonism between us and any other band in Tamworth, we are just not interested in that sort of thing," he said.
"The people that come and see us know exactly who the best band is, we don't have to argue with anybody," added Mick.
Aside from the wrangling Mick was pleased to announce another series of Midland dates for the band proving once again just how their reputation is spreading.
Sadly the nearest date to Tamworth on the tour will be at Glascote Working Men's Club and Mick bemoaned the decline of Tamworth Arts Centre as a regular rock venue.
"It's a shame. Not long ago we used to have regular Arts Centre gigs in Tamworth, but the attendances got so bad that is just wasn't worth it. People in Tamworth don't like paying to hear good music," he said.
05/07/80
Ledbelly
Polesworth Carnival
07/07/80
Blind Alley
The Chequers
Tamworth Herald – 11/07/80
Tom Kennedy retires from Tamworth College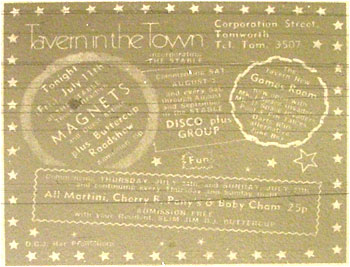 11/07/80
Those Attractive Magnets
Buttercup Roadshow
Tavern in the Town
Tamworth Herald – 11/07/80
Musicbox – Brewster are back
Yes, those seasoned campaigners are back on the Tamworth rock scene again after an all too lengthy break.
Tomorrow night (July 12th) Brewster are live on stage at the Chequers in Hopwas.
Member Gary Norris revealed that the band have been playing dates around the Midlands in the last few months including one last week in Twycross.
Gary still insists that the Brewster philosophy hasn't changed over the years – they still aim to give audiences the best possible entertainment.
So get down to the Chequers and see what you've been missing.
12/07/80
Brewster
The Chequers
13/07/80
Something Else
Glascote Working Mens Club
14/07/80
The Jets
The Chequers
Tamworth Herald – 18/07/80
Palace – Elvis - The Movie
19/07/80
Ice
Hurley Working Mens Club
24/07/80
Flame
Tamworth Progressive Club
Tamworth Herald – 25/07/80
Musicbox - Rock takes a back seat to poetry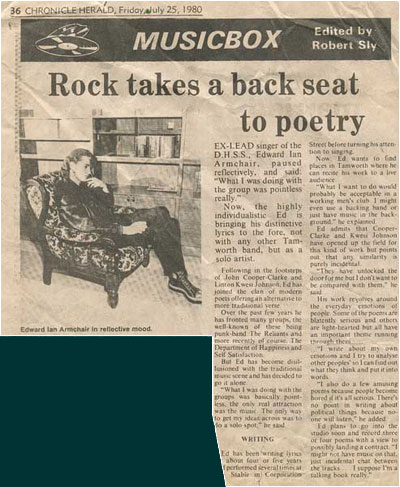 EX-LEAD singer of the D.H.S.S. Edward ian Armchair, paused reflectively, and said "What I was doing with the group was pointless really."
Now the highly individualistic, Ed, is bringing his distinctive lyrics to the fore, not with any other Tamworth band but as a solo artist.
Following in the footsteps of John Cooper-Clarke and Linton Kwesi Johnson, Ed has joined the clan of modern poets offering an alternative to more traditional verse.
Over the past few years he has fronted many groups, the well-known of these being punk-band The Reliants and more recently of course The Department of Happiness and Self-Satisfaction.
But Ed has become disillusioned with the traditional music scene and has decided to go it alone.
"What I was doing with the groups was basically pointless, the only real attraction was the music. The only way to get my ideas across was to do a solo spot, " he said.
WRITING
Ed has been writing lyrics for about four or five years now and has performed several times at The Stable in Corporation Street before turning his attention to singing.
Now Ed wants to find places in Tamworth where he can recite his work to a live audience.
"What I want to do would probably be acceptable in a working men's club. I might even use a backing band or just have music in the background," he explained.
Ed admits that Cooper Clarke and Kwesi Johnson have opened up the field for this kind of work but points out that any similarity is purely coincidental.
"They have unlocked the door for me but I don't want to be compared to them," he said.
His work revolves around the everyday emotions of people. Some of the poems are blatantly serious and others light-hearted but all have an important theme runnig through them.
"I write about my own emotions and I try to analyse other peoples' so I can find out what they think and put it into words.
"I also do a few amusing poems because people become bored if it's all serious. There's no point in writing about political things because no one will listen," he added.
Ed plans to go into the studio soon and record three or four poems with a view to possibly landing a contract. "I might not have music on that, just incidental chat between the tracks. I suppose I'm a talking book really."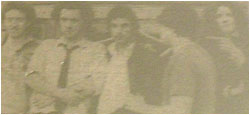 Tamworth Herald – 25/07/80
Musicbox - The Jets and Red Cassette
28/07/80
The Jets
The Chequers
Tamworth Herald – 01/08/80
Calling all local poets
Can you write a poem. If so, you could win an award in a poetry competition to be held at Tamworth.
With classes for both adults and children, the contest is being sponsored by FACT – the Friends of Tamworth Arts Centre – and is being run as part of the town's Autumn Arts festival.
Entry forms with full details of the contest are now available from the Arts Centre, Church Street and from Tamworth Central Library.
The closing date is October 1.
Tamworth Herald – 01/08/80
Man of many talents
Richard Whitehead talks to Rainbow's Roger Glover
Tamworth Herald – 01/08/80
Musicbox – They should not be misunderstood…
The Stranglers, Birmingham Odeon
Musicbox contributor Sam Holliday of Masefield Drive, Leyfields has compiled this review of one of the music world's most controversial rock groups.
"The Stranglers", a band given more given more exposure for their often misunderstood troubles than their brilliant music, proved at the Birmingham Odeon that despite their hassles with the law they still write the best songs and create the best atmosphere of any front-line band of the moment.
Following the two equally unique support bands The Tea Set and the reggaefied Headline, The Stranglers received a massive roar from their dedicated army of fans.
They moved straight into an exciting set blistering with old fave raves that got the crowd into a frenzy, and newer more subtle but equally enjoyable songs.
Their fans who are among the most dedicated in the country warmed to their heroes who dressed all in black and with a spacious cleverly lit stage under their feet got as much into their songs as their fans did.
Hugh Cornwell, the 30-year-old guitarist, was in particularly good form as was the Stranglers most famous member Jean Jacques Burnel who is recognised by all rock fans as the best bassist in the country.
"The Stranglers" certainly attract a variety. There are, of course, the numerous punks who have stuck with the band since their notorious 76/77 origins. There are also a large proportion of denim-clad rockers with The Stranglers logo embroidered on their backs and surprisingly a lot of people in the 30-plus group although that's easier to understand when you realise the average age of the band is 32."
The best songs on the night were my favourite all time Stranglers' song, the epic "Down in the Sewer", the fabulous single "Nuclear Device" and the awesome climax "Genetix".
After 14 songs and well over an hour on stage the fans, to a man, stayed put and shouted for more. The chant "Stranglers", "Stranglers" continuing for almost five minutes until the band came on and played a crowd pleasing encore finishing with the excellent title track of the ban's latest album – "The Raven".
The audience continued to shout for more and even when the Odeon lights came up, the fans wouldn't leave and eventually the band reappeared on stage to play a brilliant version of their first single "Peaches".
After 17 songs and one-and-a-half hours, the group finished and I was left in no doubt that all that I had just witnessed not only the best concert I had ever seen but also the best band in the country by a long way.
Incidentally had the band's stamina lasted as long as their audiences willingness I'm convinced the Stranglers would still be on the stage at Birmingham Odeon.
Sam Holliday
02/08/80
Ice
Glascote Working Mens Club
02/08/80
Poetry Rock
Tamworth Working Mens Club
02/08/80
Chalkie (ex-Sticky Fingers)
Dordon Working Mens Club
Tamworth Herald – 08/08/80
Duo planned elaborate hoax to get inside Arts Centre building
TRAINEE USED 'INSIDE KNOW-HOW' FOR BREAK IN
A 19-year-old man who worked on a government training scheme at Tamworth Art Centre used his "inside information" to plan a break-in, magistrates heard.
Kevin Knowles of Sharpe Street, Amington had been working as a printer at the arts centre for five months on the youth opportunities programme when he planned the raid with 17-year-old Martin France.
Earlier on the day of the break-in, France had been put on probation by Tamworth magistrates on four charges of burglary and theft and one of obstructing a police officer.
France, of Canning Road, Glascote, pleaded guilty to the charge of burglary and theft and was fined a total of £60 for the other offences. He was put on probation for three years for the most recent offence.
Knowles also admitted the charge and was put on probation for two years. Both were ordered to pay £19.54 compensation and £20 costs.
Mr. Derek Wassall prosecuting, said: "Knowles was employed at the arts centre as a printer and he was aware of where the cash was stored.
BREAK PLAN
"They made a plan that France should stay in the building after it had been locked up at night. France went into the centre in the early afternoon and stayed there until about 5pm," added Wassall.
The court heard that France had given the centre manager the impression he was leaving after going out of the front entrance. Knowles had let him in again through the Lower Gungate entrance and France had hidden in a wardrobe upstairs.
Later, Knowles joined France in the building and they stole £180 in cash from the coffee bar area.
In a statement to the police Knowles said that he knew that a "considerable amount" of money was left in the centre overnight.
"We decided that Martin would stay in the centre and I would wait outside. When we were in the building I put on a pair of rubber gloves that were in the kitchen. Martin started to throw things about and make a general mess to make it look like an outside job," Knowles said.
Mr. Jan Jellema defending Knowles said that he had never been in trouble before and the incident was a "Temporary derailment" in his life.
COPY BOOK
"He has blotted a very good copy book. He was held at the police station for 24 hours and that was the most traumatic experience of his life," added Mr. Jellema.
"He had the inside information, and certainly he has committed a very serious offence. It is out of character and it is not something that is going to be repeated."
Tamworth Herald – 08/08/80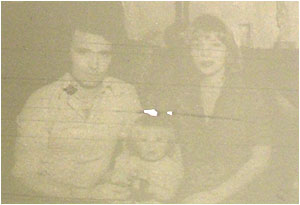 AFTER five years as Manager of Tamworth Arts Centre, Dave Armour is moving on.
He's landed a newly-created job in London which will give him the chance to do in a big way what he's attempted on a much smaller scale here and elsewhere. And, unbelievable as it sounds in these days of national belt-tightening, he will have a £30,000 a year budget to draw on.
The Greater London Council has agreed to make the money available – it's actually £30,000 a year for the next five years for "contemporary arts" provision on estates in Deptford.
The mere fact that the scheme has attracted that kind of support makes it unique in the country and to Dave, who will be running it, it makes a not-to-be-missed opportunity to do what has always been close to his heart – to take the arts in the widest sense, to the people.
"It is a tremendously exciting project," he says. "There's no other scheme anywhere with the same sort of long-term commitment from local government funds."
"Instead of rushing into things, I'll have time to get out and about, to talk to people and really get to know them, to find out what their needs are and what they want. It's a question of getting them to become involved in the running of their community and the recreational facilities of the area."
"This is basically what a community arts project is about – you can't define it in specific terms because how it develops depends so much on the people themselves."
Liverpudlian Dave, who was appointed Manager of Tamworth Arts Centre when it first opened in 1975, says frankly that he feels he's gone as far as he can here and it's time to break new ground.
ESTABLISHED
He believes the council-owned Arts Centre – housed in a building formerly used as a Baptist chapel, but originally built as a town theatre over 200 years ago – is now established as a focal point for the arts.
People know that's the place to go to find out what's on, or how to go about it if they want to get involved in the arts activities themselves.
The centre is a regular venue not just for local groups like the Little Theatre, but also for professional touring shows promoted by the West Midlands Arts Association. This touring programme, now enjoyed by many towns in the region, was in fact Dave's own idea, understandably he's proud of that.
He and his wife Pauline started a Saturday Club for youngsters, still thriving and more groups such as the Tamworth Film Makers, the Visual Arts Group and the Arts Centre Theatre Company – TACT – have sprung up and flourished.
And, of course, there's FACT – Friends of the Arts Centre – a support group of volunteers who beaver away, raising money to help improve facilities and doing what they can to make the centre more widely known and used.
FOUNDATION
Thirty-four-year-old Dave thinks there's a pretty solid foundation for the arts to build on at Tamworth.
He says: "The kind of work that needs to be done now requires a bit more money than the town is able to provide."
"I think the emphasis needs to be changed now. I would like to see a far more…approach made to the people who out there and attempts made to get them more involved.
"In fact, we tried this about 12 months after I came here. We got involved in what was called the Belgrave Community Festival. The idea being to work with the people on the estate, to try and get them to provide their own entertainment and bring in new things themselves."
"I would have liked to see an extension of that, but since it wasn't possible given the economic climate, I felt there wasn't really a lot more I could have done. The kind of thing we did in Belgrave is basically what I'll be doing on a larger scale at Deptford.
In his new job, Dave won't be employed by a local authority, as he is here, but by a company called the Brighton Combination. They're the resident theatre company at Deptford's Albany Empire Community Arts Centre.
TOURING
"They started off as a small scale touring company and are now one of the top companies in London," says Dave.
"Since they were invited to open their scheme at the Albany, all sorts of arts schemes have burgeoned there. There's a resident potter for example and a range of workshops.
"The Combination are branching out even more and have got this £30,000 a year sum from G.L.C. to run a new community arts project.
"That's where I come in and I must say I'm looking forward to it. Of course, salaries come out of the £30,000 and the project administrators will need to approve ideas as to just how it should be spent, but it is certainly very exciting to be working within that kind of budget.
EXPERIENCE
"And then, of course, the Albany have managed to raise £2 million to build a brand new centre and that will be opening in September next year."
Dave's past experience not just in the arts, but in all kinds of jobs, should be invaluable since he'll be working closely with people of all ages.
In fact, his background…through a series of lucky breaks, as he puts it, than conscious career planning.
ACCOUNTANCY
He started off in a British Rail booking office. Later he went in for cost accountancy after a crash course at a rapid results college but found himself squeezed out of his job through no fault of his own.
He knows what it's like to be out of work in one of the country's worst unemployment blackspots – Skelmersdale.
In his early twenties he turned his hand to all sorts of things to keep out of the dole queue. He swept factory floors, minded machines, cleaned windows.
By this time he'd got involved with a theatre company and found he was spending more time with them than he was window cleaning.
His first real break came after local government re-organisation, when by chance, he got to hear of a play-scheme post with a Merseyside authority.
He got the job and thoroughly enjoyed working with young people.
"Then I began to feel the need for a proper base and that's when I came to Tamworth as manager of the Arts Centre," he says. "Now, once more, I'll be getting out into the community."
Dave hopes the Saturday Club for children will continue to thrive and that TACT, who won so many awards at festivals this year and who have attracted quite a lot of talented young drama enthusiasts, will go from strength to strength.
"I hope they will – I think TACT has given people a chance to investigate their own potential and stretch themselves with plays they wouldn't otherwise have had a chance to be involved in. It's really up to them now to decide they want to carry on."
Dave officially takes up his new job in September, but he'll be around at week-ends, at least until Christmas.
STAYING
His wife, Pauline, who teaches in Birmingham, and who hasn't had a chance to get a new job yet, will be staying on till then anyway – with, of course, their two-year-old daughter Kelli.
"It's not an ideal situation, but is shouldn't be for too long and obviously I'll get back when I can," said Dave.
Tamworth Herald – 08/08/80
Question mark hangs over successor
The question of who will succeed Dave as Manager of the Arts Centre is wide open.
And the job itself will come under scrutiny – because of the local government cut-backs, posts which become vacant have to be 're-justified' before a new appointment can be made.
A decision about the Arts Centre managership is not likely for some time with the holiday season now in full swing and the next cycle of council committee meetings not due until September.
But is is hoped to keep the centre going in the meantime, with the help of the two other people who work there.
Said Borough Council Arts and Recreation Officer, Mr. Geoff Beales "We're looking into ways of asking existing staff to take on a slightly wider role to keep things going."
" We will honour any block commitments – such as rehearsals – plus things still going on as part of the Autumn Arts Festival."
Tamworth Herald – 08/08/80
Autumn Arts festival shelved
Tamworth Herald – 08/08/80
Musicbox – A shopping attraction – that's Magnets aim
THOSE Attractive Magnets – the Tamworth band poles apart from anyone else – have an electric time in front of them.
Now a two-piece outfit, the Magnets will be breaking new ground when they give a live performance of their music in the Ankerside shopping centre tomorrow (Saturday).
And the music while you shop experience goes to show they're not just in it for the fame and the fortune because all the money thrown in the hat will go to a childrens' charity.
For those of you who aren't into synthesised music (and if not why not) you can treat your eardrums to the super sounds of the Buttercup Roadshow which will be there throughout the day.
And the fast moving times don't stop there, for the following Saturday (August 16) the duo Rikk Quay and Andy Baldwin will be up at Trinity Carnival.
During the carnival morning, the group are stopping off at various places around the gala route giving impromptu performances of their 100 per cent electronic music.
And in the afternoon the Magnets plus the ubiquitous Buttercup Roadshow will be moving along with the rest of the procession.
The group with the most original sound of all the bands in the area are now looking to expand their line-up as Rikk explained.
"We now want a drummer to give more depth to our sound and a synthesiser player or players for more effect on live performances." He said.
"We're looking for people with genuine enthusiasm more than musical experience," he added.
There is also a chance that the group could shortly clinch a recording contract with Birmingham-based Splash Records but this is still in the pipeline.
So anyone who's into the sounds of Ultravox, The Human league or John Foxx and is keen on teaming up with the Magnets should ring Rikk on Tamworth 3507.
09/08/80
Austrey Sports and Social Club
8th Annual Chicken Barbecue
Quill
DJ Nij Redfern
Elms Farm, Appleby
09/08/80
Those Attractive Magnets
Buttercup Roadshow
Ankerside Shopping Centre
15/08/80
Disco
Assembly Rooms
Nij Redfern and Pete Parry Roadshow
Tamworth Herald – 15/08/80
Musicbox – Ice back home
AT last a chance to see Ice, live and resplendent, in Tamworth.
For the powerful five-some are returning to the town where many of their gigs have been dogged by poor attendances, to play at Trinity Carnival tomorrow (Saturday)
Those of you who decide not to brave the barrage of screeching guitars at Donington Park should venture up to the Ninefoot Recreation Ground at about 8pm to catch the red-hot band.
While Tamworth, the home of two of the band's members, has remained largely indifferent to their distinctive driving music, Ice have worked hard and established a dedicated following in many other Midland towns.
So don't pass up the opportunity to see them again. Support will be the Kippa Disco, and if Ice fire on all cylinders then they'll melt the carnival stage.
And if you're dedicated and slightly looney and like humping large, heavy pieces of equipment around at all hours of the day and night, Ice want to hear from you.
For the band are looking for a roadie to supplement their road crew and if you think you'd like to get in on the rock business at the lowest rung on the ladder then give singer Mick Rutherford a call on Atherstone 66571.
There's an update on the tour dates announced last month, the new date being at The Red lion at Warwick on Friday September 5.
Musicbox – 15/08/80
Rock fans reday for Donington date - first Monsters of Rock festival at Castle Donington. The festival lasts throughout the day and the big attraction will be heavy metal giants Rainbow.
16/08/80
Those Attractive Magnets
Trinity Carnival
16/08/80
Ice
Trinity Carnival
Tamworth Herald – 22/08/80
Letters to the Editor
Tribute to Dave Armour
Dear Sir,
Due to a stay in hospital, I was unable to write this letter at the immediate time and would be very grateful if you would print it now.
It concerns both Dave and Pauline Armour.
I am sure that I speak for everyone within and around the Belgrave area who took part and helped organise the Belgrave Festival when I say good luck and God Bless to you in your new venture.
I think the work which Dave and his associates put in, created a turning point for the better and broke down barriers of uncertainty which one finds in newly built areas.
To lose someone as dedicated to his work as Dave will leave a gap in many activities. Dave, it's been a pleasure knowing you. All the best.
JOHN K. BUTLER

Tamworth Herald – 22/08/80
Scene Around – It's all happening at the Arts Centre
It's all happening at Tamworth Arts Centre this week.
The centre's annual holiday play scheme for youngsters is in full swing. And it seems a good time is being had by all.
The scheme includes drama, craft, games and competitions and has been open to children aged seven and over.
Tamworth Herald – 22/08/80
Musicbox
Richard Whitehead reviews the Monsters of Rock, Donington
24/08/80
Mothers Worry
Belgrave Sports and Social Club
25/08/80
The Jets
Chequers
Tamworth Herald – 29/08/80
Highest ever jobless
The number of Tamworth people out of work soared higher than ever during the past month and has hit an all-time high of 3,219 (9.6%)
Tamworth Herald – 29/08/80
Scene Around
David Kossoff coming back!
Tamworth Herald – 29/08/80
Musicbox – George Benson
Tamworth Herald – 29/08/80
Letters to the Editor
Another tribute
Dear Sir,
I would like to add my good wishes to Dave and Pauline Armour in their new work.
I will miss them personally for their pleasant manner – Saturday nights at Tamworth Arts Centre will not seem the same again.
The hard work they contributed to every production they undertook was so evident in the rewarding results.
They also engaged some brilliant artistes to perform for us on so many Saturday nights.
Good luck, Dave and Pauline, it was a pleasure to know you.
ALBERT ARCHER
30/08/80
Saracen
Dordon Working Mens Club
30/08/80
Warlock
Hurley Working Mens Club
Tamworth Herald – 05/09/80
Musicbox – Pink Floyd reviewed by Keith Fletcher
Tamworth Herald – 05/09/80
Musicbox - Ice sign up
TAMWORTH based Ice have just signed an important money-spinning deal with a top Birmingham management agency.
The five-piece outfit, who have just completed a major summer tour, have secured a three year deal with the T.W.O. management agency which they hope will provide even more work than they are currently getting.
Negotiations are still taking place over the release of their long awaited maxi-single and the band hop to have the disc in the shops before long.
Singer Mick Rutherford said "We are absolutely delighted about the deal we hope they will be able to provide us with a lot of work over the next three years."
Their current tour ends tonight (September 5) at the Red Lion in Warwick but more dates have now been added for September.
…the most prestigious of the current crop of dates is undoubtedly their third open air performance of the summer at a Bikers festival in Lutterworth.
Tamworth Herald – 12/09/80
Musicbox – Review of Ian Gillan by Richard Whitehead
Tamworth Herald – 12/09/80
Musicbox – Brewster returns
TAMWORTH rock band Brewster make a return to the local scene tonight (Friday) with their first gig for a month at the Chequers venue in Hopwas.
Brewster's recent gigs at the Chequers have been sell-outs and they're hoping to pack the crowds in tonight. So get along and watch the band with the "good-time" reputation.
Band member Gary Norris said Brewster would soon be adding a fifth member to their current line-up.
Tamworth Herald – 12/09/80
MUSICBOX POSTBAG
TWO weeks ago in a review of a sixties compilation album entitled "Sweet Sounds of Summer" I referred to an artist called Keith who I confess I'd never heard of.
Well, Musicbox reader Leigh Smart from Masefield Drive, the Leyfields, has come up with an answer to who the mystery Keith was.
Leigh writes, "…just to put the record straight, Keith had a huge hit in the sixties with 98.6 (ninety-eight point six).
"He then disappeared until that wonderful Northern Soul scene found a sixties stomper entitled "Daylight Saving Time" and re-issued it with Keith claiming all the credits. I hope that answers your question."
Tamworth Herald – 19/09/80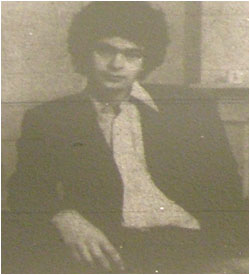 Autumn Arts Festival – Entertainment for everyone
The programme:
Tamworth Arts Club on Tour
The Midlands Chorale
The Laasphe Choir
Cliff Hanger Theatre Company
Poetry Evening with Brian Patten
Orchestra de Camera
Tamworth Little Theatre
Bonfire Spectacular
FACT Craft Fayre
Sunday Brass Band concerts
Tamworth Herald – 19/09/80
Palace – Breaking Glass
Tamworth Herald – 26/09/80
Pleasure park violence as the mods ride in
Drayton Manor
Tamworth Herald – 26/09/80
London trip for Arts Centre youngsters
OFF on an evening trip to London tomorrow, Saturday, are youngsters from Tamworth Arts Centre Saturday Club.
Together with other groups from the Old Vic Children's Theatre – they are to take part in a drama production at the Albany Empire Community Arts Centre, Deptford.
This is where former Tamworth Arts Centre Manager Dave Armour is now working.
The children will be joining in a sponsored drama workshop event being held to raise money for a new theatre in Deptford.