Tamworth Bands History : 1980
April to June
Tamworth Herald – 04/04/80
Magic Mushrooms led to TV throwing
05/04/80
Something Else
Elford Working Mens Club
06/04/80
Ragamuffin
Belgrave Sports and Social Club
Tamworth Herald – 11/04/80
Holiday Paint-in at Arts Centre
CALLING all youngsters…a holiday "Paint-in" just for you is being put on at Tamworth Arts Centre on three days next week.
It's really a do-it-yourself art exhibition for children who are being invited to come into the Church Street centre on Tuesday, Wednesday and Thursday, April 15, 16 and 17, and paint their own pictures.
Materials including big sheets of cardboard will be provided together with pencils and lots of paint.
The paint-in is being sponsored by the Arts Advisory Council and the Friends of the Arts Centre and is being run in conjunction with Tamworth Visual Arts Group.
"It's the first time we've tried anything quite like this," said Centre manager Dave Armour.
Tamworth Herald – 11/04/80
Musicbox – compiled by Rob Sly
12/04/80
Something Else
Glascote Working Mens Club
12/04/80
Flash Harry
Rock at the Warren
14/04/80
Paradox
Chequers
15/04/80
Chelsea
77 Club, Nuneaton
16/04/80
Antidote
St. John's Youth Club
Tamworth Herald – 18/04/80
Musicbox - 'Antidote to a wet evening'
ST. John's Youth Club in Tamworth was the setting on a wet Wednesday night for yet another up and coming rock band to shine.
The Antidote, a tightly-knit threesome who have only been together a few months put on a great show for the benefit of an appreciative young audience.
The night began badly when co-headliners 'The Difference' were forced to pull out due to illness. To add to the show therefore two of the already well-known Fretz, Donald Skinner and Mark Mortimer teamed up with the brilliantly manic drummer of another young and up and coming band, The Cuts, Simon Webster.
The three put on a creditable performance considering they had never played together before. But the night belonged without doubt to the Antidote.
The Antidote line-up is John Dale a 16-year-old who gets better with every practice on drums. Gary Prince, also 16 who does an excellent job on bass guitar and vocals and Simon Hewin, a 17-year-old who sings most of the set and also plays lead guitar. His guitaring ability is nothing short of outstanding and there could not have been anyone in the audience who wasn't totally impressed with the mature, confident way he handled his guitar. The band played a full set of popular heavy rock covers, they also have a good supply of their own adventurous songs but decided to play songs the crowd would know, so their own songwriting talents were not shown. The songs they did were all note perfect, their covers of the Stones "Satisfaction" and Status Quo's "Caroline" were particular high points and they also played the Sex Pistols number "Pretty Vacant" for the sizeable amount of punks in the audience. "Paranoid" by Black Sabbath was given two powerful blastings which was particularly pleasing as it gave "Hewie" his best guitar breaks of the night.
In conclusion, the Antidote in this their first ever gig played a very good set, were well received and have enormous potential. With their ability, the ever-good Fretz, the up and coming Cuts and another young band with talent, The Telecoms. Tamworth's young rock scene has never been stronger. And the most exciting thing of all is it can only get better.
Sam Holliday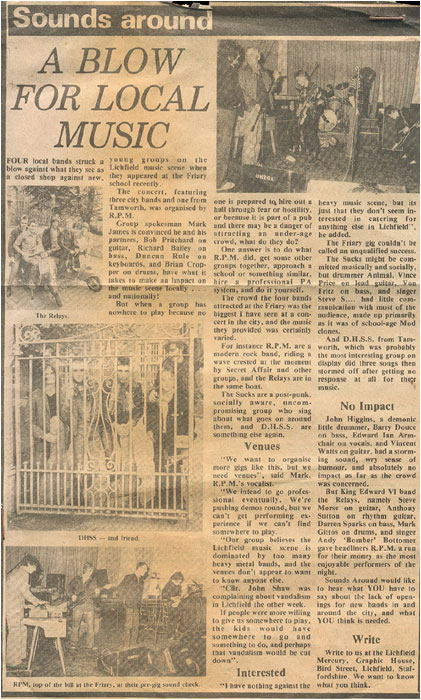 19/04/80
Amber Lights
Coton and Hopwas British Legion Club
21/04/80
Paradox
Chequers
Tamworth Herald – 25/04/80
Trail of destruction left by drunken youths
25/04/80
Jefferson County
Daw Mill Social Club
26/04/80
Sticky Fingers
Amington Liberal Club
01/02/03 May
Taming of the Shrew
Tamworth Arts Centre
02/05/80
The DHSS v2, RPM, The Relays, The Sucks
The Friary School, Lichfield
Tamworth Herald – 02/05/80
Musicbox – Satisfying Comeback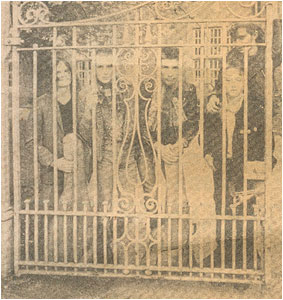 TAMWORTH'S most promising band last year – the Department of Happiness and Self-Satisfaction – make their big comeback tonight (Friday).
The four-piece outfit have been inactive for a couple of months and hope to re-establish themselves on the local music scene by taking part in a concert at the town's college in Upper Gungate.
Also on the bill will be three bands from Lichfield, namely R.P.M., The Relayers and The Sucks.
The college gig will also be a chance for The DHSS to try out their new line-up. Bassist Barry Douce and drummer John Higgins have joined original members Vince Watts and Edward Ian Armchair.
COMPUTER ROCK
Their music has changed as well. The computer rock and synthesisers has been replaced with a more basic style – similar to the approach adopted by Public Image.
Indeed the new line-up is the same as the old Reliants who proved very popular on the local music scene around two years ago.
The group go into the studio in a couple of months to record a new single – courtesy of existing deal with the London based company Rough Trade.
Tonight's gig starts at 8 p.m. and admission is £1.
Tamworth Herald – 08/05/80
Palace – Life of Brian
09/05/80
Palace – Midnight Express and Taxi Driver
10/05/80
Amber Lights
Shuttington and Alvecote Social Club
12/05/80
Paradox
Chequers
Rock-it Records
Tamworth Herald – 16/05/80
Musicbox – Judie Tzuke
17/05/80
Third Flight
Tamworth Arts Centre
23/05/80
Those Attractive Magnets
The DHSS v2
The Stable, Tavern in the Town
Tamworth Herald – 23/05/80
Young drinker kicked in windows
A 19-YEAR-OLD Tamworth youth "felt like breaking something" after a night's drinking – so he put his foot through two windows in a town centre shop, Tamworth magistrates heard.
VW of Barlow Close, Glascote broke a window in Pickwicks Fashions in Little Church Lane and later returned to break another.
But the second time he was spotted by the proprietor and detained by police, the court was told.
Watts admitted two charges of unlawful damage and was fined £50 for each offence and ordered to pay a total of £15 compensation.
Tamworth Herald – 23/05/80
Musicbox – Magnets have the power to draw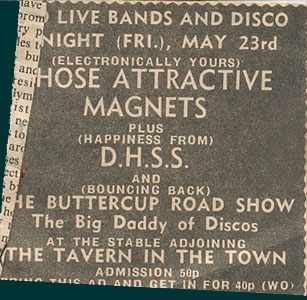 TAMWORTH's latest rock band – Those Attractive Magnets – are hoping to draw in the crowds tonight (Friday).
The three piece outfit make their debut appearance at the Stable in Corporation Street alongside that other up and coming band D.H.S.S.
Their music travels way past the space-age Gary Numan style and into the electronic realms of synthesised rock.
The three members Rikk Quay, Gray to Blue and Grimsby Fish have all been members of other Tamworth groups.
Rikk, a former disk jockey was once a vital part of the DHSS line-up, but left after a difference of opinion over the musical direction the band was taking.
Gray to Blue is a former vocalist with punk band the Reliants and Grimsby Fish once played with Flash Harry.
They formed about six months ago and have concentrated on intensive rehearsing before playing publicly.
The group are influenced by Ultravox, David Bowie and the Sex Pistols. "They were all original and that's what we want to be," says Gray to Blue.
On stage the group use a whole range of electronic instruments including various synthesisers and a syndrome (sic.) as well as a lead guitar.
They plan to go into the Steve Adam's studio in Tamworth shortly to record their first single.
The double concert featuring the fresh new sound of Those Attractive Magnets and the raw approach of DHSS will include a special disco run by the Buttercup Roadshow.
Tonight's gig starts at 7.30 p.m. and the admission is 40p. Be there!
Tamworth Herald – 23/05/80
Musicbox – Ice cool summer sound
MUSIC lovers look out for Ice the Tamworth rock band who pack the sledgehammer punch are back on the local scene.
Yes, Mick Rutherford and his merry men are back with new plans and a new sound for the summer.
For Mick reckons that the group have improved beyond all recognition since they recorded their debut album "Saga of the Ice King."
And they have just finished recording their next disc – a maxi-single.
The A-side of the single will be a new track called "Clouds of Cirrus."
"It's a number that's been going down very well live," Mick said.
And the B side will feature two tracks from the following three, "Ride", "The Gambler" and "If the cat don't get ya."
At present Ice are touring the Midlands hoping to establish a reputation outside Lichfield and Tamworth.
Dates include: May 29 at the Golden Eagle in Birmingham, May 30 at Lichfield Arts Centre, May 31 at Hurley WMC, June 5 at the Fosseway Hotel and on June 6 the Chequers in Hopwas.
Tamworth Herald – 23/05/80
Musicbox – Lights take a bow
YOUNG Tamworth group – Amber Lights – are hoping to brighten up television's top talent show.
For the band have won a chance to audition for BBC's Rising Stars programme aimed at finding new talent.
Amber Lights have been together about 18 months and are regulars at pubs and clubs throughout Tamworth.
The five members are lead vocalist Mandy Hughes, lead guitarist Les Jones, drummer Nick Jones, organist Lyn Durrant and bass guitarist Andrew Bedford.
They have already cut one demo disc and their immediate plans include making their first single.
Amber Lights will audition for the BBC programme at the Night Out in Birmingham on July 17.
26/05/80
Saracen
Dordon Working Mens Club
29/05/80
Flash Harry
Two Gates Working Mens Club
Tamworth Herald – 30/05/80
Musicbox – Down in The Stable something stirs – at last
Those Attractive Magnets/D.H.S.S. : The Stable
For a long time rock events in Tamworth have been the victims of poor turn-outs but this gig made nonsense of that.
An incredible crowd of 100 plus – more than anyone could have hoped for – packed the Stable venue on Corporation Street and gave the Tamworth rock scene a much needed boost.
The gig promised everything with 'Those Attractive Magnets' making their debut and the up-and-coming D.H.S.S. providing the support.
Unfortunately the headliners were beset with first night problems. Things were just not going right for the three-piece outfit but they battled on against all the odds.
Finally technical difficulties forced them to cut their set short and what looked to be a golden chance to win new fans disappeared.
Nevertheless, the band showed they have enough mettle and enthusiasm to put this minor setback behind them and start afresh later.
Too often rock gigs fall short in the sound department – the sound on Friday night was surprisingly good. Rikk Quay and Andy Baldwin's synthesised music came through good and strong before they were hit by the problems.
Afterwards Rikk admitted he was disappointed with the gig, "We want to apologise to all the people who turned up to see us. In the end it was impossible to carry on," he said.
Rikk added that the band were now looking for a new member after the departure of lead vocalist Gray to Blue.
First on were the four-piece D.H.S.S. who simply got better and better as their show progressed.
They gave a performance full of energy and simplicity that it became fascinating watching.
Their image and movements have natural rhythm and co-ordination and the whole band seemed to be enjoying themselves.
There was the powerful guitar playing of Vince Watts and the thumping bass lines of Barry Douce. Over this singer Edward ian Armchair gave vent to a voice of interesting quality.
But the night really belonged to their diminutive drummer John Higgins who kept a steady beat throughout and is a constant bundle of energy behind the front-men.
Robert Sly
Tamworth Herald – 30/05/80
Musicbox – Award booster for back on the road rock band 'Quill'
LOCAL rock fans look out for Quill – the band who have just won a major music award.
For the five piece outfit are back on the road and will play at Atherstone Carnical this summer.
Quill will be wanting to live up to their reputation as the Midlands top vocal and instrumental group.
Because they have just won the title at the Midland Command Performance held every year at the Cresta Club in Solihull.
The present line-up is made up of Joy Strachan lead singer, Gill Showell drums and ukelele, Ben Brain, bass, Mick Jones, violin and keyboards and John Ly… the guitarist.
31/05/80
Ice
Hurley Working Mens Club
Tamworth Herald – 05/06/80
Jail for youth with horrendous past
Tamworth Herald – 05/06/80
Musicbox – Red hot – that's Ice
Ice, Lichfield Arts Centre
It was to the fair and fragrant city of Lichfield that I wended my merry way to see Ice – still in my mind at least – the best rock band in the area.
Yes, that's right Lichfield, the city across the way! But do you know something, come ye here and I'll whisper in your ear – as far as I'm concerned I'll take a Lichfield audience to a Tamworth one.
A little bit older and therefore that little bit more knowledgeable this lot packed the city's compact arts centre to hear Ice play some red hot rock 'n' roll.
I know you have heard me say this half-a-dozen times or more but Ice, really do rock with conviction. They are in tune enough with current trends to have added a harder edge to their act and accordingly the denim and leather brigade who like their rock heavy but with a touch of subtlety are lapping it up
Singer Mick Rutherford has dropped the "Ice King" guise which was once a feature of their set and he now appears resplendent in a studded denim cut-off, guitarists Paul Watts and Andy Radek have dropped the jackets and ties in favour of more relaxed gear. For a start the band look better now.
Set opener as usual was "Ride" a powerful number which is set to appear on the B side of their maxi single. I couldn't help thinking that it would perhaps make a better A side for it's not without commercial appeal despite the snarling riff and driving solo.
After that titanic opening Ice kept up the pressure with "The Gambler" – a new one with a Jimmy Page like intro from Paul Watts – and "Pool Room Brawl" which featured a lengthy guitar passage in the middle.
By now the crowd were warming to every number and the Sabbathesque "Dawn", The Battle," from the album, had them cheering and stamping like football spectators trying to keep warm on a frosty January afternoon.
"Rock Band" gave drummer Steve Sheldon a chance to show his incredible talent and I would be failing in my duty if I didn't give bassist Colin Richardson a pat on the back as well.
Afterwards, I might add each band member complained that technical problems had ruined the set.
Mick Rutherford even called it a "disaster". I tell you now lads, you're wrong, the only people that had a disastrous evening were those that stayed at home.
Richard Whitehead
Tamworth Herald – 05/06/80
Musicbox – For their ears only – locals miss out on Polesworth group
Anyone who likes their music rough and ready look out for the Polesworth based rock band Ledbelly.
The five-piece outfit, formerly known as Convention have been together in their present form for about two years and entertain crowds with a unique mixture of heavy rock and blues.
"We have a serious approach to our music and attract a mainly sit down rock audience," says rhythm guitarists Dave Ford.
The line-up besides Dave consists of Keith Chetwynd vocals, Colin Hunt, drums, Fran Ingley, lead guitar and Mick Burdett on bass.
Although today's five members have only been playing together for a couple of years, the groups roots go back some 12 years when Keith formed the band while at school.
Like any musicians these days, Ledbelly – who take their name from the legendary blues guitarist – are not keen on being bagged but list AC/DC, Santana and Rory Gallagher among their influences.
In spite of being based in Polesworth, the band ventures further afield – not by choice – and have regular dates at the Dog and Trumpet in Coventry, the Troubador at Burntwood and the Coach and Horses in West Bromwich.
They insist they would like to play in and around Tamworth a bit more often but run into the age-old problem of nowhere to perform.
"At the moment there are no places to play," says Dave. "But we would certainly like to if we can find a suitable venue."
"We used to play at clubs but there were too many hassles, so we are forced to play outside the area," he added. "If only we could find the right place we would like to play here".
06/06/80
Something Else
Elford Working Mens Club
07/06/80
Rock 'n' Roll Nite
Tamworth Arts Centre
Tamworth Herald – 13/06/80
Queen visits Tamworth
13/06/80
Mud
Burton Town Hall
14/06/80
Jay Kays
Dordon Working Mens Club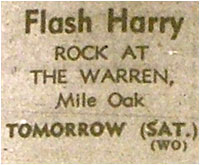 14/06/80
Flash Harry
The Warren
19/06/80
X-IT
The Warren
Tamworth Herald – 20/06/80
Musicbox – No ordinary Harry – that's Flash!
Flash Harry, The Warren
After years playing the local rock circuit in different bands, the four members of Flash Harry are enjoying a well-earned taste of success.
They recently reached the final of a major music competition and record companies have shown more than a passing interest in a demo tape recorded by the group.
With all this activity and a firm challenge that Flash Harry could prove they were Tamworth's best rock band I went along to see what they were made of.
And guess what? I liked every minute of it. What the gig lacked in musical finesse it certainly made up for in atmosphere and surprise and was one of the best nights out I've had with live music in Tamworth.
CONVICTION
They are capable of giving a punch-packed performance full of fire and variety that the excitement is enough to knock any crowd sideways.
Indeed one department where Flash Harry score over any other band in the area is in the large following their music attracts.
Every snarling guitar riff, every cymbal thrash and every splash of light brings a positive response from the crowd.
Flash Harry seem full of ideas and have the conviction to execute them convincingly.
All the songs are original and their show rocks along with bags of spontaneity.
The gig was split into two longish, but never boring sets, with an encore which gave them the chance to play some gritty rock 'n' roll.
But that's not to say that all the numbers were blasted out in true hard-rock style. They alternated between the hard-hitting stuff and some good slow material all played with an attack that demanded total attention.
Trevor Muglestone, who takes most of the vocals, looked extremely comfortable in his role as lead guitarist and received very able musical support from rhythm guitarist Steve Birch and bassist Tony Lakin.
Special commendation should go to Robert Horne for an excellent performance on drums and for giving us a really powerful no messin' sound towards the end.
Both vocally and visually Flash Harry look good – and it's nice to see a group so together instead of a front man calling the tune all the time.
As for local bands, Flash Harry are the best I've seen yet. They are better not least because they have sufficient respect for their own original material to want it to be heard as music rather than felt as noise.
Rob Sly
Tamworth Herald – 20/06/80
Musicbox - …a band that's going places
FLASH Harry are a Tamworth band who are really going places.
Their roots go back some eight years and lead guitarist Trevor Muglestone is the only original member left.
But the present line-up is one they should stick with because they're easily the most entertaining band in the area.
Flash Harry are made up of Steve Birch, rhythm guitar, Tony Lakin, bass guitar, Robert Horne, drums and Trevor on guitar.
They came together at the end of last year after all playing in other bands and the gig at the Warren was their third together in Tamworth.
Last month the group played in the regional final of "Rock bands for the 80s" sponsored by Melody Maker and have now been picked for the prestige University circuit.
Before last Saturday's gig Flash Harry threw down the gauntlet and claimed that they were the best band in the area. Well, is anyone going to take them up on the challenge?
Tamworth Herald – 20/06/80
Musicbox – Back at the Stable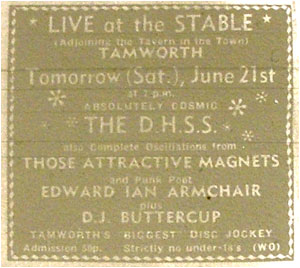 TWO of Tamworth's up-and-coming bands make a return to the Stable venue in Corporation Street tomorrow night (Saturday).
The two bands, Those Attractive Magnets and DHSS will be hoping to pull in similar crowds to those when they played together last month.
The Magnets are out to make up for that debut appearance when they were forced to finish early but this time they will be support group to DHSS.
Tomorrow night's gig starts at 8pm and the event will be backed by a special disco run by the Buttercup Roadshow.
So if you're not venturing down to Knebworth for the day, why not go along and support some home grown talent.
20/06/80
Brewster
Chequers
21/06/80
The DHSS v3 and The Magnets
Edward ian Armchair
The Stable
22/06/80
Saracen
Dordon Working Mens Club
23/06/80
Paradox
Chequers
Tamworth Herald – 27/06/80
Disco dance sweeps to £100
A MAMMOTH 12 hour disco dance-in was rewarded with the sum of £100 which will be put into the funds of St. John's Youth Club.
Some 25 club members aged 13 and 17, danced almost solidly for the whole time with only short breaks for much needed refreshment
27/06/80
Quill
Hog Roast
Grendon House Farm
27/06/80
Blind Alley
Chequers
Tamworth Herald – 27/06/80
Gala date for local band
LEDBELLY – the Polesworth-based rock band – will be hoping to brighten up the village carnival on July 5.
For the five-piece outfit, who take their name from the legendary blues guitarist, will play two one-hour spots during the afternoon's entertainment.
So anyone who likes their music heavy with a touch of blues thrown in for good measure, why not take a break from the usual gala attractions and go along and see them.
Tamworth Herald – 27/06/80
Dancing Dean wants a hold in the final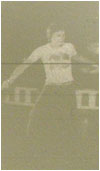 TAMWORTH teenager Dean Yates is hoping to floor his rivals in the heats of the United Kingdom disco dancing championships next month.
For 18-year-old Dean will be stepping out for the national title when he takes the floor at the Birmingham nightclub Romeos and Juliets on July 10.
Dean started disco-dancing about three years ago and practices at any of Johnny Slade's discos around Tamworth or by wearing the carpet out at home.
His favourite types of music are reggae or fast funk records and eventually he would like to take up dee-jaying.
28/06/80
Something Else
Tamworth Progressive Club
28/06/80
All for your delight and tastebuds
Tamworth Arts Centre
29/06/80
Saracen
Dosthill Cosmopolitan Club