Tamworth Bands History : 1981
July to September

Tamworth Herald – 03/07/81
Musicbox – Cathy Pettigrew and Rob Sly
03/07/81
Ice
The Chequers
Tamworth Herald – 03/07/81
Musicbox - Ha, Ha, Ha…it's the fun band
TWO former members of defunct Tamworth band the Lounge Lizards are planning to form a new reggae band – with the emphasis on fun.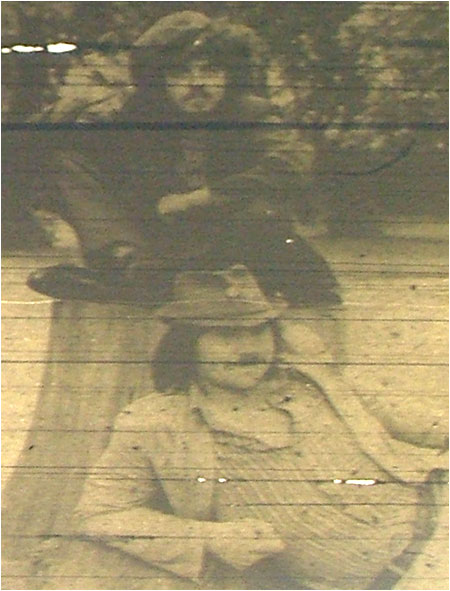 Caption: Chip and Richard Bujak, founder members of the Ha Ha Ha and the Fruit Cakes.
Ha Ha Ha and the Fruit Cakes will be hitting the local stages sometime during the summer if the plans of ex-Lizard Richard Bujak and "Chip" are realised.
And you could be part of the HHHFC set-up. The two founder members are looking for musicians to join the band.
"We are particularly looking for a drummer and a bass player although sax players and flautists and really anyone who plays anything will be welcome," said Chip.
The philosophy behind the new outfit is "instant music". Whatever your instrument you can go along and join in.
The band are hoping to organise a gig at Tamworth's Arts Centre in the next few weeks, playing mostly their own self-penned reggae material.
"Nothing like this has been seen in Tamworth before. We have been practising for the last few weeks, and now we're looking forward to doing more gigs," said Richard.
Anyone interested in becoming part of HHHFC should give Richard a call.
These guys may be as nutty as fruit cake, but they've got the right ingredients to serve up some tasty music!
Tamworth Herald – 03/07/81
Musicbox - Carnival Date
Tamworth based metal merchants Hamma are making two special appearances at Polesworth Carnival tomorrow (Saturday). They will be playing a short open air set in the afternoon with a full barnstorming show at the Village Hall in the evening.
08/07/81
Those Attractive Magnets
Faces
Birmingham
Tamworth Herald – 10/07/81
Musicbox – The Trojans march on
ANOTHER heavy rock band are set to explode on to the local scene with a debut gig tomorrow (Saturday). Trojan…are to play at Warton WMC.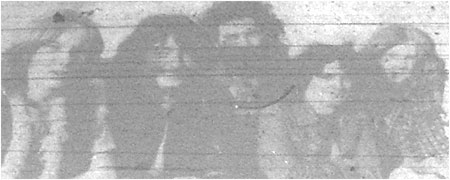 Trojan...a new line-up
Guitarist Chris Kelt and Chis Pike have been trying to get a regular band together for two years now.
But they were unable to find a settled line-up until Robert Hamilton, bass, Dylan Haddon, vocals and Jonathan Peat, drums joined them about six weeks ago.
Since then the band have been getting songs together and rehearsing and are now anxious to start gigging.
Chris Kelt has established himself as the main composer with the band although Dylan has also chipped in with a few numbers
"Seven Rings", "For My Brain", "Never Too Late" and "Silver Dream" are among their self-penned numbers
Sabbath and Rush are the band's most potent influences although the one cover version they do is a Girl track.
So catch the strength of Trojan tomorrow night!
Tamworth Herald – 10/07/81
Arts Festival Possibility
Tamworth Arts Council are being asked their views on the staffing of another Arts Festival in the town.
11/07/81
Disco Double
Johnny Slade/Barry John
Assembly Rooms
11/07/81
Rivitt
Kettlebrook Working Mens Club
11/07/81
Cosenook Cabaret and Incubus Theatre Company
Tamworth Arts Centre
Tamworth Herald – 17/07/81
Johnny for disco king?
TAMWORTH DJ Johnny Slade is hoping to break a record as well as playing on August Bank Holiday Monday.
Johnny and his roadshow is one of the attractions at Wigginton Park Festival on August 31. And he's hoping to draw the crowds to his disco which he claims is the biggest in the world.
Tamworth Herald – 17/07/81
Musicbox – Is this the good omen Arts Centre needs?
TWO Tamworth bands re-open the town's Arts Centre as a rock venue tomorrow (Saturday) with what would be one of the most important gigs in the area for a long time.
Omen who are one of the town's most promising young bands, play the Church Street venue tomorrow night – and if there is enough support for the concert, others might follow.
A few years ago the Arts Centre was a regular concert venue but poor turn-outs put paid to the gigs.
Now, with more bands than ever on the local scene, the small theatre-style venue is set to make a much-needed comeback.
Aardwolf are new to local people and it will be interesting to see what reaction they get.
Tamworth Herald – 17/07/81
Musicbox – Ice man breaks away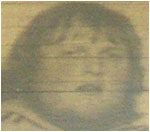 TALENTED drummer Steve Sheldon has quit Ice – the band he helped to form three years ago.
Steve says he needs to be in a band working more regularly than Ice have been this summer and at the moment is looking for work with a new outfit.
Disillusionment over whether or not the band would be going to Germany later in the year was also a reason he claimed.
His replacement is former Sneak Preview drummer Paul Reeves who has been gigging with the band in preparation for the projected German tour.
Both parties stress that the split was amicable and Mick Rutherford said: We were all sorry to see Steve go because it breaks up the original Ice who have been going for three years. But Paul is a fine drummer and his introduction has given the band new impetus.
18/07/81
Omen
Aardwolf
Tamworth Arts Centre
Tamworth Herald – 24/07/81
Musicbox – Fresh sounds of the 'sixties
"THE sixties sound," which almost disappeared for good during the last decade, has made a strong comeback over the last few years.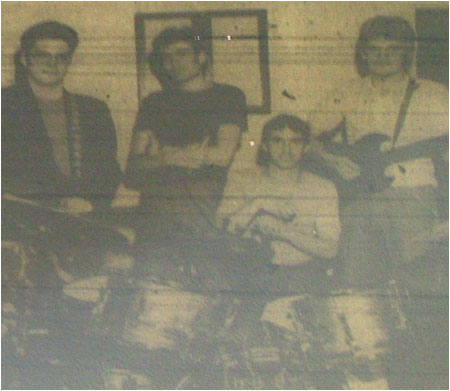 The Interviews...bringing the sixties sound up-to-date.
From left to right are: Pete Williams, Paul King (Kink), Steve Parkin and Steve Holland.
Many bands since the demise of punk have looked back to the swinging sixties for their musical inspiration. They have managed to take the best things from that era and merge them with new ideas to produce a fresh, up-to-date sound.
A Tamworth group, The Interviews, have been trying to do just that. Formed only three months ago, the band have already recorded a two-track tape and a national record company have shown more than a passing interest in their music.
The Interviews are: Paul King, known as Kink, vocals and guitar, Steve Holland, lead guitar, Pete Williams, bass and Steve Parkin, drums.
They recently recorded two of their songs, "I'm Leaving You" and "Count to Ten" at the Steve Adams Studio in Birchmoor.
And I can honestly say that they're two of the best tracks I've ever heard from a local band. It certainly makes a change to hear something other than the competent but occasionally repetitive heavy metal music, so popular at the moment.
The songs are different from each other in approach but they're both original – and exciting.
"I'm Leaving You" is a bright, rhythmic item which flows along thanks to some neat musicianship and some excellent vocal work – the 'sixties' influence is clearly evident in this track.
"Count to Ten" is, in fact, a sidestep from their usual material. It's a tight, funky number, and Kink's interesting singing voice is well to the fore.
Both tracks have a good chance of commercial success and that's why The Interviews are jumping at the opportunity offered by Virgin Records. They have invited the band down to their London offices next month to talk about a possible deal.
Robert Sly
Tamworth Herald – 24/07/81
Musicbox – Wedding Day Bands
THOSE Attractive Magnets, fresh from their success at Birmingham's Faces night club, will be playing alongside the new-look DHSS at a gig on the Royal Wedding Day next week.
The two bands will play at The Stable next to the Tavern in the Town on Wednesday night. The gig starts at 7.30pm and admission is 50p.
The will be the first gig by the new DHSS since they recorded a three-track tape at the Steve Adams Studio a few months back.
And for the Magnets, Rikk Quay, Andy Baldwin, Paul Killick and Gary Garry, the gig is a chance to show how much they've improved since their last appearance in the town.
The last time the two bands played alongside each other was, in fact, at the Stable over a year ago.
And it will be the first gig for the Magnets since their Faces date. Around 300 people watched the band at the Edgbaston club.
Rikk Quay said: "The reaction from the audience was absolutely tremendous. It was our best gig ever and we've been re-booked by the club to appear again in September."
Tamworth Herald – 24/07/81
Musicbox – A stylish new look
THE OMEN : Arts Centre
NOT only have Omen improved musically, but their whole approach seems to have steadied.
Their act was more colourful, visually exciting and their confidence helped to boost their sound.
Their set was basically the same as their previous gig with new songs added here and there. I got the impression, though, that what the band really wanted to play was not necessarily what the HM-orientated crowd of Tamworth wanted to hear. I would not class Omen as just another heavy metal outfit, for their subtleties put them beyond that category.
I felt that the audience were a little ignorant towards some of Omen's more stylish songs, which would make superb listening on an LP. It is these self-composed numbers that put Omen into a class of their own.
Only time will tell if Omen's potential is realised, but I, for one, sincerely hope that the group continue to follow their natural direction, for it is that route which will bring them the real success.
Members of Omen and Aardwolf were "knocked out" by the response to Saturday's gig – the first at the Arts Centre for some time.
A capacity crowd – around 100 people – packed into the centre while another 40 had to be locked out. Let's hope this encouraging turn-out will be the start of regular gigs at the Church Street venue.
The two bands would like to apologise to the people who could not get into the Arts Centre, but thank them for their support.
25/07/81
Assems Disco
Nij Redfern and Paul Neel
Assembly Rooms
T-shirts and Shorts Night
29/07/81
Those Attractive Magnets
The DHSS
The Stable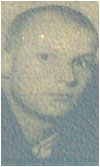 Tamworth Herald – 31/07/81
'Skins' – Are they trouble or just trying to be something different.
Tamworth Herald – 31/07/81
Musicbox – Ex-Lizard Les goes solo
TALENTED guitarist Les Jones is looking for musicians to join him in an ambitious project.
Les, who was last seen playing live with the Lounge Lizards, wants to form a new band with a slant towards reggae.
Since the demise of the Lizards, Les has been working on new material and now he wants a bass player to help him develop his ideas and write more material.
But Les stresses that any band formed out of this partnership would not start gigging for six months to a year.
He wants a more professional approach to the band than the Lizards did, and for this reason, he wants to be totally sure that the line-up's chemistry is right.
Until this timeless is keen to get back into club work in order to raise the capital to finance the new outfit.
So, if you're interested in joining Les in a reggae band of the future, or if you're a club band looking for a guitarist, you can get in touch with Les.
Tamworth Herald – 31/07/81
Musicbox – Dates
NORTH Warwickshire heavy metallers Trojan have announced four local gigs.
On Monday August 3 they will be at Grendon WMC, on Sunday August 9 The Angel in Atherstone, on Friday September 28 and Friday October 8 they return to the scene of their debut gig, Warton WMC.
Tamworth Herald – 31/07/81
Musicbox – C&W band hits town
COUNTRY music at last looks like taking a firm foothold in Tamworth.
For the Prince of Wales pub in Lower Gungate has started a regular Monday night country evening.
And organisers have attracted one of the Midlands' top country bands for a regular Monday spot at the venue.
The Marshall Peavey Band, four musicians who specialise in playing American country chart number ones before they are released in this country, are one of the most popular country bands on the Midland circuit.
01/08/81
Messenger
Kingsbury Working Men's Club
07/08/81
The Assets
The DHSS
St. Johns Youth Club
03/08/81
Trojan
Grendon WMC
Tamworth Herald – 07/08/81
Musicbox – Metal Mayhem - Festival is a hit with fans
Port Vale football club ground was the unlikely setting for Saturday for perhaps the biggest-ever heavy metal festival ever staged in the country.
09/08/81
Trojan
The Angel, Atherstone
15/08/81
Chico
Belgrave Sports and Social Club
Tamworth Herald – 14/08/81
Musicbox – Young bands pack a punch
The Assets, DHSS: St. John's Youth Club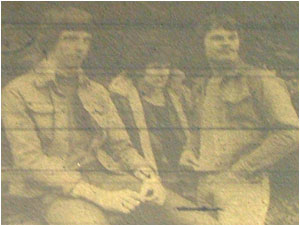 TAMWORTH punk band The Assets took to the stage and began what was to become their best gig to date.
Guitarist Roger Moore was in powerful form, playing un-relenting thrash guitar. He and drummer Bryan Pear punched out a tight set, full of excitement.
Indeed. Bryan Pear was the star of the entire evening, producing some of the best rhythm I've seen from any young local band.
New bassist Andy Tuffield fitted in well with the rest of the group. Vocalist Wiggall was also in fine form.
Then the headliners, DHSS, took to the stage. The three-piece band played one of the longest sets ever seen at the youth club.
But this did not deter the band from providing another very entertaining set of what could only be described as new wave music.
Their set was bolstered by the exciting guitar playing of Vince Watts. The band were exciting and gave the audience an encore at the end.
This concert was one of the best I've seen this year and it gave a hint that Tamworth will in future not be seen as just a heavy rock venue.
For the town is now seeing more and more younger bands determined to put over different musical ideas.
Mark Mortimer
Tavern in the Town landlord Des Harkin and his father's cycist.
Tamworth Herald – 14/08/81
Musicbox – Now for a drop of acid
EARLY seventies-style "acid rock" is not a form of music well catered for in Tamworth.
But a new band from the fringes of the area intend to change all that – Qwark.
Tamworth Herald – 21/08/81
Musicbox – Magnets set to do it in style!
Caption: Those Attractive Magnets songwriting partnership Rikk Quay (left) and Andy Baldwin (right) take a breather at the Steve Adams Studio.
TALENTED Tamworth band Those Attractive Magnets are busy preparing for another prestige date in Birmingham.
For the group are due to play Edgbaston's Faces night club next month for the second time this year.
But it will be no ordinary gig for the Magnets who recently became a trio.
They will be appearing alongside top clothes designers Khan & Belle who will be staging a fashion show featuring the bizarre designs which have made them so popular with lovers of the outrageous.
There will also be an electronic disco provided by top DJ Alan Gibson who will be playing all the latest futurist sounds.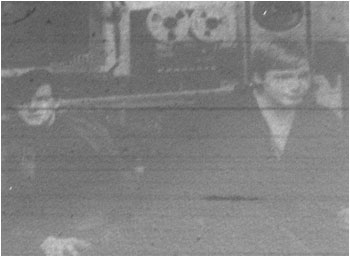 ADMISSION
And you could have the chance to be at the gig which is on Wednesday September 9.

For the group want to run a coach or mini-bus trip to the club from Tamworth. Admission will be free and there will be reduced transport costs.
The trip will only run if there are enough people interested. If you want to go ring Rikk on Tamworth 3507.
Meanwhile the Magnets, or at least two thirds of them have been up to Steve Adams' Studio in Birchmoor to record backing tracks in preparation for the gig.
Rikk Quay said: "We went down very well last time we were at Faces and we're hoping for a similar reception this time."
28/08/81
Stripes – Opening 31/08/81
Tamworth Herald – 28/08/81
Musicbox – Richard Whitehead reviews Donnington '81
Never mind the haute cuisine…'tasty serving of heavy metal
29/08/81
Austrey Sports and Social Club
Quill
Elms Farm, Appleby
Tamworth Herald – 04/09/81
Wigginton Park Festival
Johnny Slade – the DJ who likes to break records. The world record for the largest home-made disco unit. 200 feet of disco unit, 400 yards of cable transmitting 1100 watts.
Tamworth Herald – 04/09/81
Arts Centre programme for all ages
Details of what's on at the Centre
Saturday September 19: Arts Centre Event featuring TACT, comedy evening – hilarious entertainment, wine and refreshments.
Friday, September 25: Paines Plough presents "The Decameron"
Monday-Saturday, October 26-31: Little Theatre/Arts Club jointly present "Godspell" – first amateur performance featuring artists from TACT, Little Theatre, Arts Club etc.
Monday-Saturday, November 2-7: "Godspell" – second week.
Saturday, November 14: Major Road Theatre Company present "The Hype"
Saturday, November 28: Alistair Anderson – Young Musician from Northumberland
Saturday, December 5: Avon Touring Company present: "Kept In/Kept Out"
Saturday, December 12: Major Mustard – Puppet Show
Saturday, December 19 – Arts Centre event featuring Little Theatre Christmas entertainment, carols, wine and refreshments.
PLUS
September 12-13: Tamworth Photographic Club Exhibition
October 5-9 and October 12-16: Tamworth Arts Club Music Hall – Assembly Rooms
October 10-11: Co-op Junior Ballet Festival
November 25-28; "Charley's Aunt" – Rawlett School
November 26: Music Centre Concert.
Events planned for after Christmas in Tamworth include visits by the Intriplicate Mie Company and Incubus Theatre and a Gilbert and Sullivan night.
And it is hoped there will be an evening with top contemporary poet ROGER McGEOUGH formerly of The Scaffold.
Tamworth Herald – 04/09/81
Musicbox – Seriously now, here come the Frames
REMEMBER the dark winter month of February when the evenings were long and chilly and the rain and snow never seemed to stop?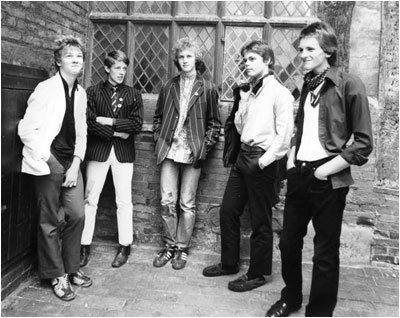 Thirty Frames a Second pause in this frame for a second...left to right:
Matthew Lees, Mark Mortimer, Donald SKinner, Andrew Baines and Paul Summers.
If you do, can you also cast your mind back and remember how the Tamworth music scene was perked up at that time by a cheeky bunch of young lunatics who gave themselves the unlikely name of (Fetch the) Comfy Jigsaw.
Their jaunty antics and lively sense of humour put them along with the short-lived but equally quirky Lounge Lizards – at the top of my winter cheerfulness league.
Well those of you who like me had been wondering what had happened to CJ over the last few months can now stop wondering and read on.
Paul Summers, keyboards and occasional percussion and Andrew Baines, guitar and keyboards have joined the established trio of Mark Mortimer, bass and vocals, Donald Skinner, drums and keyboards and Matthew Lees, lead vocals and guitar to make the new look band.
The name's changed as well. Thirty Frames A Second is the new, more sensible, title. "Everything is a bit more sensible now," said Mark.
Over the last month or so, Thirty Frames have been doing a tour of local youth clubs with The Classified Ads and The Assets in a bid to try out their new material live.
Anyone who has not caught them yet can see all three bands at St. John's Youth Club in Tamworth on Wednesday, September 9 and Wilnecote Youth Club on Wednesday September 16.
TWO SIDES
Keyboards, as you would expect have a big influence on the new TFS sound.
"The extra keyboards mean there are two sides to our sound. We hope the audience won't get fed-up with the sound of guitar and so they will be bombarded with keyboards," said Matthew.
Among the new numbers are "Look at the Mountain", "Houses and Trees", "Love Never Ends" and "Remember Me".
After trying out there new songs the band hope to record a … tape and there is a possibility that copies will be …
Tamworth Herald – 04/09/81
Musicbox – Hamma get up steam
HAMMA: Warton WMC
Tamworth Herald – 04/09/81
Musicbox – Nightmare time…
Michael's Nightmare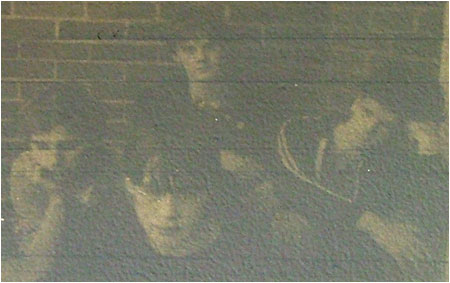 Michael's Nightmare: left to right: Kevin Hind, Mark Chatfield, Ian Smith and Pete Adams.
04/09/81
Michael's Nightmare
Tamworth Arts Centre
09/09/81
Those Attractive Magnets
Faces Nightclub, Edgbaston
09/09/81
Thirty Frames a Second
Classified Ads
The Assets
St. John's Youth Club
09/09/81
Barry John Disco
Tavern in the Town
Tamworth Herald – 11/09/81
Musicbox – Chequers make some new moves
The new management at the Chequers are intending to change the image of the pub and get away from the old 'heavy rock only' tag.

Tamworth Herald – 11/09/81
Musicbox
Tamworth bands DHSS and Thirty Frames a Second, will be appearing at Wilnecote Village Hall tomorrow (Saturday). Admission is only 30p so everyone get along there and pack the place out. It will be the first time these two young and exciting bands have lined up alongside each other.
Tamworth Herald – 11/09/81
Musicbox – A nightmare crowd, but talent shows
Michael's Nightmare: Arts Centre
OH DEAR…yet another case of Tamworth apathy spoiled what promised to be one of the best gigs in the area for some time.
It looked as if Tamworth music lovers had recovered from their reluctance to come out for live music when local heavy rock band Omen played to a capacity Arts Centre crowd in July.
But on Saturday night all those bad habits flooded back when only a couple of dozen people bothered to watch the Uttoxeter based Michael's Nightmare.
Although on the other hand you can hardly blame them for not turning out.
When your support band doesn't even bother to show up and you are minus your lead singer until it's nearly time to go home, you haven't really got a cause to complain.
But when the show finally got going, Michael's Nightmare – complete with vocalist – produced a musically tight set which showed lots of talent.
They played short, sharp pop songs with that extra hard edge which made them sound musically not unlike The Cure.
Particularly impressive was drummer Pete Adams whose performance stuck out from the rest.
What a pity the Tamworth punters thought Saturday was the day they would return to their old ways. Let's not hope they haven't put an end to the Arts Centre as a rock venue.
Robert Sly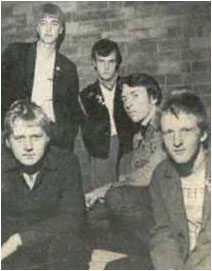 12/09/81
The DHSS
Thirty Frames a Second
Wilnecote Village Hall
16/09/81
Thirty Frames a Second
Classified Ads
The Assets
Wilnecote Youth Club
Tamworth Herald – 18/09/81
Musicbox – Club where music grew
Tamworth Herald – 18/09/81
Musicbox – Ice hits Germany
TAMWORTH rock band Ice set out on a 16-date tour of Germany. The experienced five-piece start their hectic schedule in Munich on Monday night.
Lining up for Ice on the German tour will be Mick Rutherford (vocals), Andy Radek (guitar), Colin Richardson (guitar), Paul Watts (bass) and Paul Reeves (drums).
Tamworth Herald – 18/09/81
Musicbox – Magnets draw new praise
TAMWORTH futurist band Those Attractive Magnets continue to improve.
In July the band were a great success when they played the Faces nightclub in Edgbaston, Birmingham.
Last week they returned to the club to give what was their best all-round performance to date.
Playing six specially selected songs, they managed to win over a highly-knowledgeable audience.
The songs represented every phase of the Magnets' musical history with old favourites like "1500" and "Memories" finding a place in the running order alongside new material such as "Venus" and "Fade into Secret Silence".
Their performance also included one cover version – "Rock and Roll" – which proved to be the highlight of the night as far as the audience were concerned.
They looked stylish and their presentation was excellent.
The Magnets have come a long way since their early Tamworth gigs and hopefully they're on the brink of the big success they deserve.
25/09/81
Trojan
Warton Working Men's Club
26/09/81
Derek Ross Duo
Polesworth Working Men's Club
Tamworth Herald – 25/09/81
Musicbox – Heavy rock…for the thinking man
AT a time when anyone who dares call himself a heavy rock fan is immediately thought of as some species of brainless moron, it is refreshing to meet a band whose music focuses on the more restrained side of the HM scene.
Aardwolf are the sort of band who tend to suffer from the HM backlash more than most.
Tamworth Herald – 25/09/81
Musicbox – Fun with the frames
Thirty Frames a Second/DHSS: Wigginton
TWO of Tamworth's finest young bands, Thirty Frames a Second and DHSS, responded to a healthy turn-out and a happy atmosphere to put on a great gig at Wigginton.
28/09/81
Trojan
Qwark
Warton WMC