Expresso Bongo Orchestra
Expresso Bongo Orchestra
Photograph courtesy: Tamworth Herald

The Gallery
Musical Type/Genre:
Big Band/Swing/Jazz/Soul/Dance/African/Rap
Formed: 1989
Band Members:
Snakey Speare
King Coddy
Senior Runner
Paul Stansfield
Ollie Carpenter
Stretch
Enigmatic Dave Caswell
Andy Amadeus Proverbs
Simon Hastings
Gigs:
07/07/89
Expresso Bongo Orchestra
Spread Eagle Polesworth
28/07/89
Expresso Bongo Orchestra
The Embassy Suite
22/03/90
King Pleasure and the Biscuit Boys
Expresso Bongo Orchestra
Irish Centre
Birmingham
24/06/90
Expresso Bongo Orchestra
The Lorraine Parade
The Rathole
06/10/90
The Expresso Bongo Orchestra
The Embassy Suite
Tamworth Herald – 14/07/89
Musicbox – Reviews in Brief
Expresso Bongo Orchestra – Spread Eagle, Polesworth
Mild-mannered record producer Paul Speare changes miraculously into Superband leader and conducts, vocalises and of course turns out some stunning sax work. So what does this brass section play? Big band and swing? Trad jazz? Soul in the Motown tradition? Jollity farm or all of them? Those who answered all of them move to the top of the class or alternatively get a ticket for the Embassy on July 28. Do I get a cheap rate or the next demo now Paul? Review – Mike Fleming
Tamworth Herald – 28/07/89
Musicbox – Express(o) yourself!
ONE of Tamworth's most popular new musical combos are in Town centre action tonight (Friday).
The Expresso Bongo Orchestra will be the headlining highlight of an 'eccentrics night' at the Embassy leisure Suite and they are hoping their crazy mixture of sounds will go down a storm. Bandleader 'Snakey Speare' finds it hard to describe the band but says it includes…
"Jazz, dance, African, rap and most of all humour," he said. "It has become a full time venture now and the reactions the so far have amazed and impressed us all."
The group are made up of a motley collection of local musos namely King Coddy, Senior Runner, Paul Stansfield, Ollie Carpenter, Stretch, the Enigmatic Dave Caswell Andy Amadeus Proverbs, Simon Hastings and of course that saxy beast Spearo.
Tonight's Eccentrics show looks like further establishing this unique combo on the local psyche and according to Snakey, tickets are going like 'hot cakes'. You have been warned. The Embassy's the place and eccentricity is the name of the game.
Tamworth Herald – 24/03/89
Cabaret night bubbles over
IT's Friday Night Live cabaret time again at Tamworth Arts Centre this Friday, March 24, with the promoters Tamworth's Open Arts team, aiming for their third sell-out success.
Edwardian ian Armchair is in the line-up this time while topping the bill are the Mike Pinder Sextet. Sean Percival and Nine-piece jazz band the Expresso Bongo Orchestra are also appearing as are the five-man 'countrybilly Soil Brothers.
And inimitable compere once again with be The Great Stan.
Kick off is 8pm
Tamworth Herald – 14/07/89
Musicbox – Reviews in Brief
Expresso Bongo Orchestra – Spread Eagle, Polesworth
Mild-mannered record producer Paul Speare changes miraculously into Superband leader and conducts, vocalises and of course turns out some stunning sax work. So what does this brass section play? Big band and swing? Trad jazz? Soul in the Motown tradition? Jollity farm or all of them? Those who answered all of them move to the top of the class or alternatively get a ticket for the Embassy on July 28. Do I get a cheap rate or the next demo now Paul? Review – Mike Fleming
Tamworth Herald – 15/09/89
Musicbox – Local Demo Blitz
Demo ratings
***** Mega pretty
****Very pretty
***Pretty pretty
**Pretty ugly
*Kylie
ONCE again it is time to sift through SME of the many local demos that have been sent to our offices over the past few months. Here, Martin Warrillow, Sean Atkins, Sam Holliday and Mike Turner cast their eyes and ears over some of the goodies that have been created in various studios in the past couple of months…
The Expresso Bongo Orchestra – Simply E.B.O.*****
I can't help feeling that the members of the E.B.O. must have had a ball recording this demo, for the real, unquestioning essence of this band lies in their humour. This musical extravaganza swings like a pendulum back in time through the sounds of Sixties soul and Twenties vaudeville. Add to that some weird and whacky sound effects, ranging from the ridiculously sick animal noises on 'Jollity Farm' to the Sgt. Pepper sampling heard throughout, and you have the formula for a splendid time being had by all. There's a party mood throughout the tape, and it's hard to imagine anyone not finding something to their liking amongst the seven or eight tracks (I wasn't quite sure where a couple of them ended – very Sgt. Pepperish!) The E.B.O. are all undoubtedly good musicians who enjoy playing good music. They have a sense of humour too, and don't take themselves too seriously. In this day and age, I for one find that most refreshing. Go on, treat yourself! Get tuned the E.B.O. at a tea room near you soon!
Mike Turner
Tamworth Herald – 13/10/89
Musicbox – It's Bongo Time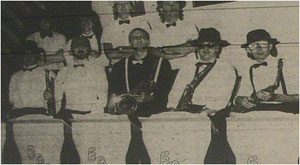 The highly-acclaimed duo of the Expresso Bongo Orchestra and Also Smith and Jones steam up for a spiffing double bill in Tamworth tonight (Friday).
The two bands, who have been wowing them and wamming them in various parts in recent weeks, join forces at the Old Liberal House in Amington for a unique and exciting night.
The Old Liberal House is fast becoming a major and vital venue and the combination of these two 'new' forces looks set to fill the spacious room to its capacity.
The gig has been put together by those busy Info Publishing chaps who have been delighted with the success of recent Old Liberal House shows and see tonight as a real biggie."
"This is a double bill of good time live music aimed at (dare I say it) the more discerning music lover," explained Ian Gibbons in his preview of the show, "This promises to be a FUN packed evening."
The Expresso Bongo Orchestra are making serious noises wherever they go at the moment. They are a nine-piece dance band fronted by Paul 'Sexy Dexy' Speare and their sound is described as an 'entertainment force'. The band have combined seriously good influences with a huge dollop of fun and the end result is a sound and set that is entirely loveable. In his review of their excellent demo, Mike Turner said 'they are undoubtedly all good musicians who enjoy playing good music." What more could you ask for?
Well, you could ask for the triffic, really triffic Also Smith and Jones. This rum and black good time band are fronted by leading sex symbol/maniac Dave Smith and have earned huge acclaim since their recent reformation. Anyone who remembers the Royal Family will know what to expect but my spies (and my instincts) tell me that this is even yummier.
Put the Bongos and the Smithies together and you have a night which positively reeks of fun. The Old Liberal House (its in Woodhouse Lane, Amington in case you don't know) looks set to grow in importance and stature in the next few weeks and months so why not test its wares (for the first time?) tonight and boogie with your suitcase.
Let the party begin.
Tamworth Herald – 20/10/89
Musicbox – Local Reviews
Just Brilliant!
Expresso Bongo Orchestra – The Old Liberal House (Amington)
TWENTY-seven kinds of brilliant!!! I thought about just writing the word 'brilliant' 27 times to show how enjoyable this show was but I thought it wouldn't convey to the unfortunates who missed it just how good it really was. This was one of the most unusual and exciting gigs I have seen in Tamworth for years. The EBO are a remarkable combination of saxes, guitars, great tunes and moments of acute killing humour, the sort which could turn any funeral into a rave-up party. Moments of serious swing, moments of punchy pop and moments of real magic combined to produce a set which slayed the audience to a man and left the band with the sort of ovation rarely seen outside of Nuremburg or Conservative Party rallies. What the hell, I will return to my original idea, the gig was brilliant, brilliant, brilliant, brilliant, brilliant, brilliant, brilliant, brilliant, brilliant, brilliant, brilliant, (only 15 left!) brilliant, brilliant, brilliant, brilliant, brilliant, brilliant, brilliant, brilliant, brilliant, brilliant, brilliant, brilliant, brilliant, brilliant, brilliant. Get the message?
Sam Holliday
Tamworth Herald – 08/12/89
Musicbox – EBO-DUO
THOSE wacky doyens of all things saxy, the Expresso Bongo Orchestra are in action twice this weekend.
Paul Speare's collection of fun popsters are at the Spread Eagle, Polesworth tonight (Dec 8) and tomorrow. Tickets are nearly all sold out however but if you want to check on availability check with the venue or the Expresso Bongo Studio.
Tamworth Herald - 26/01/90
Musicbox – What a swell party!
IT's not very often you go to an engagement party and end up watching two bands and a comedian.
But then again this WAS Gibbo's do. Yep, I was happy last week to be at the engagement of Ian Gibbons and his fiancée Tina where we were treated to a great 'gig'. Smiffy and Martin Johnson served up some admirably laid back blues gear, the Great Stan and the Great Glen treated us to some wickedly funny sicko-slices and then the Expresso Bongo Orchestra produced an all powerful all-smiling blast which beat the hell out of the usual engagement party birdie songs.
Best of luck for the future Ian and Tina and a neat way to launch the union methinks.
Tamworth Herald – 22/06/90
Musicbox – Bongos Bong in as the Empire starts to Fall
MUSICBOX News and Snips
TWO gigs are due to grab your interest on Sunday night.
First at the Rathole we find the multi-instrumented, multi-talented Expresso Bongo Orchestra while around the corner at the Arts Centre, Empire Falls have booked a slot.
The Bongos need no introduction to anyone with taste and their high energy brass attacks should delight all who trot along on the night. It is nice to see them play at the Rathole because they are certain to attract a few more of the alternative types who may have missed the Bongos before. A word in all their ears – you're going to love them. Support comes from out of Towners The Lorraine Parade.
At the Arts Centre meanwhile we believe that Empire Falls are in action. They have booked the date but we have received little information by way of details. Empire Falls claim a host of very impressive influences – from the more aggressive and intelligent alternative pop sectors and their debut single has been doing the rounds locally to some acclaim. More info we do not have but that's the score – the Bongos at the Rathole and the Falls at the Arts Centre.
Tamworth Herald – 05/10/90
Musicbox – Gig Guide
Saturday – THE EXPRESSO BONGO ORCHESTRA – The Embassy Suite, Admission £4 (before 10pm) £4.50 (after 10pm). No admission after 11pm. No jeans.
Sunday – THE WICKED THINGS (+ support), The Rathole, 7..30pm-10.30pm, Admission £2.
Sunday – FLY ON THE WALL, SHAKESPEARE'S MONKEYS, SATELLITE SPY, Tamworth Arts Centre, 8pm, Admission £1.50.
Wednesday – VESUVIUS – The Riftswood, 8pm, Admission free.
Thursday – BANNED IN YELLOW/THE SLOW CLUB (+ support), The Rathole, 8pm-1am, Admission £2
IRON MAIDEN/WOLFSBANE – Derby Assembly rooms. SOLD OUT
THE EXPRESSO BONGO ORCHESTRA should liven things up at The Embassy Suite on Saturday evening, while top Brummie funksters WICKED THINGS, hope to make their mark on Tamworth on Sunday night when they play The Rathole as part of a mini-UK tour. The bands last single 'Goodby to Her' although failing to make the top 40, won them a Radio One session and their first national TV appearance. A brand new single 'Wicked Things' will be released to coincide with the tour that also includes a date at Birmingham poly on October 26.
Also on Sunday, Phoenix Productions make their debut, with a three-band bill designed to highlight up and coming Tamworth bands.
On Wednesday, VESUVIUS, a band created through adverts place din MUSICBOX, play at The Riftswood. The band consists of former PLAN-B vocalist Rob Bell, Phil Smith, ex-Kubla Khan, Jon Fogan and Steve Claymore.
At The Rathole, the following night are BANNED IN YELLOW and The SLOW CLUB. While WOLFSBANE play Derby Assembly Rooms as part of their Iron Maiden tour.
Tamworth Herald – 12/10/90
Musicbox – Snips
THE EXPRESSO BONGO ORCHESTRA themselves are recording the follow-up to their debut 'Simply E.B.O.' collection. Their 'difficult' second offering already years in the making will hopefully find its way onto vinyl sometime next year.
Tamworth Herald – 12/10/90
Musicbox – THEY'RE JUST TOO COOL
The Expresso Bongo Orchestra – The Embassy Suite, Tamworth
IS THE average Saturday night Embassy-goer ready for the EBO? On this showing the answer is probably a resounding now, but there's always hope.
The 'enigmatic' Bongos led by that cool cat with the baton, Paul Speare, delivered two classy sets that presumably were too classy as they appeared to confuse the Embassy crowd somewhat.
Not knowing whether to dance or clap along, most of the lounge lizards simply forgot how to enjoy themselves for an hour or so, and simply sat and watched with mouths ajar but at least with their toes a tappin'.
The heavy, heavy bongo sound was probably wasted on the Embassy regulars, but full marks to equally 'enigmatic' Jayne Fletcher for trying something different.
These vats were cookin' even if the punters weren't connected!
---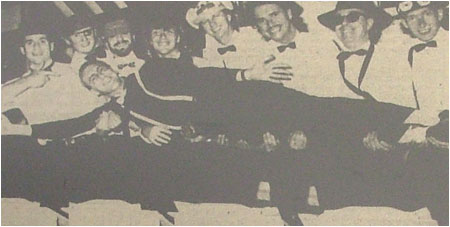 The Expresso Bongo Orchestra