(Celtic) Soil Brothers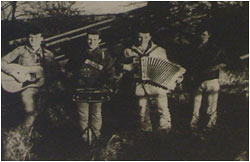 Caption: The Celtic Soil Brothers…Tamworth's newest superstars (minus their straightjackets)
Gallery
Musical Genre/Type: Anarcho-Skiffle
Formed: 1986
Band Members:
Steve McNamee
Video
The Soil Brothers
Supporting The DHSS
Tamworth Arts Centre - December 18th 1988
Gigs:
06/04/86
The Cradle
Orange
The Celtic Soil Brothers
The Rathole - Opening Night
20/06/86
The Redskins
Soil Brothers
University of Birmingham
12/07/86
The Man Upstairs
Soil Brothers
Tamworth Arts Centre
24/08/86
Tamworth Rock Festival
Castle Grounds
Freefall
Attica
Shellshock
Soil Brothers
One On One
Kara
XPD
Catch 22
The Magnets
19/09/86
Soil Brothers
Tamworth Arts Centre
28/11/86
Joolz
Soil Brothers
Aston University
21/03/87
Soil Brothers
Tamworth Arts Centre
28/06/87
Terry and Gerry
Soil Brothers
Burberries
18/12/88
DHSS
King Woderick and the Yogots
Soil Brothers
Stench (Banned)
Tamworth Arts Centre
Tamworth Herald – 31/01/86
Musicbox – Here comes an outbreak of grins
The Celtic Soil Brothers – All Aboard (demo)
TAMWORTH CAN this week welcome a brand new and eccentrically loveable act to its musical ranks. For out of the murky depths of somebody's vivid imagination have sprung The Celtic Soil Brothers, a band who sound like a cross between Lonnie Donnegan, Dolly Parton and a basket case.
They are nothing like I have heard before and I am convinced they are going to become very popular indeed in Tamworth and beyond.
So what is so good about this demo? Well for a start it makes me smile. Smiling is something normally seen at Royal Family gigs and I feel there is a similar brand of good humour in the Soil Brothers that will win them fans from all musical cults.
I mean any band that come out with a line like "Yes indeed I sure love my nuts" has got to be serious contenders, and no matter how many times I play the track "I love my fruit" I suffer from an outbreak of grins.
Elsewhere on this terrific five-tracker, there are songs you can 'bop-bop-she-wop' to, tunes that make your feet twitch, and some silly diversions that make you wonder how you ever lived without this ludicrous combo.
Serving up the tasty menu are Steve McNamee (Drayton Bassett's greatest insurance man I'm told). John Hills, Malsolm Hallett and Adrian Goodman, who should know all about lunacy, having once worked with Mike Fleming of Caprice fame.
Between them they play accordions, fiddles and sport natty haircuts. This demo was recorded at a church I am led to believe, but before the more Prima-donna musicians start to sneer, I can honestly say it sounds cleaner and better mixed than many of the expensive recorded tapes I listen to.
No fillers
The tracks on the tape are 'The Temperance Train" (the reason for the delightful Thomas the Tank Engine sleeve), "I was Born 10,000 Years Ago", "The 65 Special", "Sunset Of My Tears" and "I Love My Fruit". Again unusually for local demos EVERY one is good – there are no fillers – just plenty of smiles.
Even the off hiccup just makes the tape more endearing. When the very jolly Steve McNamee attempts to croon his way through "Sunset of my tears" his voice goes horrifically wrong but rather like Joe Strummer going out of key in 'Garageland' it just makes the song even better.
I honestly can say I haven't enjoyed a first demo so much in ages, it is original, entertaining and huge fun.
Tamworth Herald – 04/04/86
Musicbox – Presenting a hole lot of excitement
TAMWORTH'S NEW ROCK club, The Rathole, is set to open for the first time on Sunday with an exciting triple bill. This will feature a trio of varied artists – The Cradle, Orange and the band you are going to love to love, The Celtic Soil Brothers.
In what looks like being a tradition with the new club, the first concert will be a major fund-raising event. The Rathole – and indeed 'Manhattan's' where the club will be based – has pledged to do everything they can to raise money for John Hodgetts, the young Tamworth boy suffering from a rare and as yet incurable disease.
Therefore all proceeds from the opening night show will go to the fund and 'Rathole' mastermind Ian Gibbons is confident that local pop fans will not begrudge the £1 entry fee for such an important cause.
For those who didn't know, 'The Rathole' is based upstairs at 'Manhattan's' in Church Street. All the facilities and bar have been provided free of charge by Manhattan's boss Clive Bartram who has allowed the club to meet every Sunday – if it so wishes. Next week a heavy night is planned , but Ian is hoping that music fans of all 'persuasions' will attend the opening evening's entertainment.
Heading the show will be the much-vaunted Cradle. The band who made a (literally) dazzling impact on the 'Battle of the Bands' have touches of Bauhaus, The Cult and in Rikk Quay's case, insanity.
The play loud, fast alternative sounds and if they don't suffer the technical problems as they did at the 'Battle of the Bands' they could well take the night by storm.
Cleaner
Playing with The Cradle will be two bands as yet unseen by most of the Tamworth public. Orange (or Orange Blossom Special as they were at the 'Battle of the Bands') play pop music that easily identifies with the roots of their musical past – Love On Board and Sitting Pretty.
It is whimsical, warm pop music with broad appeal. Orange's Battle of the Bands heat was also slightly marred by sound troubles and so they are hopeful that a cleaner sound on Sunday will produce a better record of what the band are actually like.
Completing the line-up is a band I am itching to see – The Celtic Soil Brothers. Their one excellent demo convinces me they will be a winner in Tamworth with their lighthearted country 'bop-bop-she-bop'.
They are great fun and if they are as good live as they are on tape, Tamworth is in for a treat.
So a good concert in prospect but the night obviously means more…and starts at 8pm.
Tamworth Herald – 11/04/86
Musicbox – It's top hole say the town's rockin' rats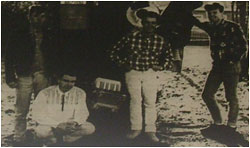 Caption: The Soil Brothers…yee-ha!!
Sunday evenings are normally about as much fun as a sing-a-long-a-Marillion album. But believe me, this was no normal Sunday evening.
Instead of Songs of Praise there were plenty of songs of power, excitement and immense whistle-ability. The music was great, the audience large, vocal and appreciative and The Rathole proved that it is the sort of thing Tamworth has been crying out for for years.
The man behind it all Ian 'The Big-G' Gibbons never stopped smiling, the audience never stopped growing and shouting and most importantly of all John Hodgetts, the boy who the Rathole hopes to send to Disneyland received a massive fund-raising boost.
In the words of that dreadful Hot Chocolate number 'Everyone's a winner baby'. Everyone including the bands that played. It started off with Orange who to my ears, began very well indeed but lost their way during the set.
Musically they have matured considerably since I last saw them, with Nigel Horton finally making his presence felt behind the keyboards and Glen 'Blizzard' Lewis using his bass well with the impressive guitars of Neil Jones and the newly cropped Julian Amos.
Best number of the set was 'Precious Blue' which gave Anice her best vocal and the audience their biggest cheer.
Jed Moore was next on stage with a strangely subdued poetic outburst. Apart from one brilliant number ('Video Nasties') he went down like a bacon sandwich at a Jewish wedding but didn't seem to mind a bit.
Like a true professional he completed his set, ordered another Pepsi and thought about Everton going to Wembley. It was that sort of night.
The Soil Brothers were next and it was a case of yee-ha! Steve and the boys unfolded a whole host of skiffly, silly and very jolly tunes to the bemused delight of the audience.
They were fresh, sparkling and genuinely different with washboards, accordions, violins and plenty of yee-haaing to keep the toes-a-tapping.
If there was a problem it was that they went on just a little too long, but any doubts were dispelled by the excellent closing number 'I Love My Fruit' which tickled my funny bone almost as much as the encore song called 'Sam Holliday Said'. With titles like that, how can they fail to get good reviews?
And then came The Cradle – who were a real eye-opener. Rikk did an Adamesque strip and the band produced and attacking set that created some wild dancing and crazy scenes. The music was alert, fast and dynamic with every member of this impressive quintet turning in above-par performances.
Once again Bauhaus spring to mind, but when The Cradle did a fine version of 'She Sells Sanctuary' it was obvious where their real alternative sympathies lie.
Judging by the reaction, The Cradle received, they have quickly established themselves as one of the area's biggest bands and no wonder. They look and sound great, and not even Rikk Quay's bare torso could put me off.
Dancing
To close the whole enjoyable night, Terroa stepped up to play an out-of-retirement show. Considering they haven't played together since the unfortunate split, the impromptu show was very impressive – and gave cause for some more ridiculous dancing.
Best number of a short, firecracking set was 'Burning It Down' which had all the electricity of the average sub-station.
Put together all these fine shows, a packed-to-bursting audience and an atmosphere of united commitment, and you had an opening event to remember. If The Rathole can maintain this sort of spirit, it will be the best thing to have happened to the Tamworth music scene for a very long time.
Everyone who made it possible deserves our fullest praise and to anyone who is still dubious and cynical there is only one thing to say – rats.
Tamworth Herald – 02/05/86
Musicbox – SNIPS
THE Soil Brothers are on the look out for a new bassist to join their high-energy entertainment circus.
Tamworth Herald – 02/05/86
Musicbox – SUNDAY CALL-UP FOR BANDS ON FESTIVAL TRAIL
EVERY BAND involved in the 1986 Tamworth Festival is urged to attend a full and important meeting at the Tavern, Tamworth on Sunday night. All the bands will be told when and where they will be playing and there will also be a full discussion about costs, times and equipment.
The 18 bands who will be playing on the main tow days are (in no particular order) Wolfsbane, Breaking Point, Dance Stance, The Parade, Candle Dance, Caprice, Soil Brothers, Depth Charge, Burnin' Sky, Femme Fatale, The Magnets, The Cradle, One On One, Spirit Lake, Kara, Orange, Catch 22 and Beyond Elisium.
In addition, The Green Swings (see you at the Embassy lads!) and Shellshock have been confirmed as among the Arts Centre acts, before the 'main' event.
Will all these bands please attend on the night – sending at least one member. Any of the aboce bands who cannot attend should contact Sam Holliday before Sunday night. The meeting is due to start at 8pm.
Any more new acts – especially Roger Moore's new band – who would like to take part in the Arts Centre stage of the event should also attend.
Tamworth Herald – 20/06/86
Musicbox – Ready for rock shockers, or try a lazy trout
THERE are three interesting concerts on offer this weekend – with the undoubted 'prize' going to skiffling psychos The Soil Brothers, who will tonight (Friday) play with arch-politicos The Redskins.
The Soil Brothers will join Britain's reddest rockers at Birmingham university in a show which will undoubtedly be the biggest highlight in the Soilmen's very short career, "We are looking forward to it but we hope we don't get bottled off!" said drummer Adrian Goodman.
It all starts at around 8pm and the Soil Brothers are hoping local people will travel to Birmingham to support them – or at least catch some of the bottles thrown by shell shocked students.
Tamworth Herald – 20/06/86
Musicbox – SNIPS
A fine festival line-up
THE final line-up for the Tamworth Bank Holiday Rock Festival in the Castle Grounds has now been worked out. After the splits of Femme Fatale, The Parade and Spirit Lake. The Green Swings, Shellshock and the wonderful Royal Family have stepped in to make the final line-up:
Sunday – 12.30, CandleDance; 1.05pm, Green Swings; 1.40pm, Shellshock; 2.15pm, Soil Brothers; 2.50pm, One On One; 3.25, Kara; 4.00pm, XPD; 4.35pm, Catch 22 and headlining at 5.10pm, The Magnets. Then on Monday it's: 12.30pm, Burnin' Sky; 1.05pm, Beyond Elysium; 1.40pm, Cuddly Spiders; 2.15pm, Breaking Point; 2.50pm, Wolfsbane; 3.25pm, Dance Stance; 4.00pm, Depth Charge; 4.35pm, Orange and headlining at 5.10pm, The Royal Family. The pre-festival Arts Centre line-ups are still uncertain but Ivory, Side Effect and Cradle are among those who should be involved. Official festival t-shirts (which are likely to cause a fair bit of controversy should be available soon.
Tamworth Herald – 11/07/86
Musicbox – Brothers set meet that jazzy Man Upstairs
TAMWORTH ARTS Centre this weekend stages two top-quality concerts – one of which brings highly-rated Birmingham indie band The Man Upstairs to town.
Tonight (Friday) Beyond Elysium bring their cryptic psychedelia to the Centre and then tomorrow jazz/skiffle/bop band The Man Upstairs occupy the venue along with our very own Soil Brothers.
Tonight's Beyond Elysium gig was due to feature another Birmingham band Naked Dance but this now seems unlikely. The band were searching for another support band and whatever happens they have promised an entertaining show – which is due to start at around 8pm.
Tomorrow night (Saturday) music lovers of all persuasions should find it interesting in the coupling of The Soil Brothers and The Man Upstairs.
The Man Upstairs are quite individual and have headlined at the Birmingham Triangle and released two highly-rated singles.
The Soil Brothers are delighted to be playing with the Birmingham outfit and they themselves will be keen to prove they are worthy of all the massive praise many local punters have been pouring on them.
Both groups will costs around the £1 mark. Be there!
Tamworth Herald – 15/08/86
Musicbox – Countdown to a wild weekend
EXCITEMENT for this year's Tamworth Rock Festival is now reaching fever pitch.
With just one week and all the pre-festival problems cleared up, more than twenty bands are now putting the finishing touches to the sets they will be delivering over the four days of the festival fun.
Once again the festival has been divided into tow distinct halves – inside and outside. The inside will see two nights at the Arts Centre next Friday and Saturday, and then an alternative disco party at the Rathole on Bank Holiday Monday night. And once again the outside section will bring together 18 bands over Sunday and Monday all playing in the Tamworth Castle Grounds for free.
This is basically how the festival will look:
FRIDAY, AUGUST 22
Tamworth Arts Centre will play host to a triple bill of music headlined by metal favourites Wolfsbane. Joining them will be Shellshock and possibly Lichfield group Ivory. The final line-up should be announced next week.
SATURDAY, AUGUST 23
Breaking Point will headline the second festival party night at the Arts Centre with new alternative band Thirteenth Reunion in support. Another group will be added to the line-up this week.
SUNDAY, AUGUST 24
All attention switches to the Castle Grounds where once again the bands will play on front of the main tennis courts area. The festival starts at about 11.445 with a disco and the first band The Pink Tomatoes follow at 12.30. The rest of the line-up (who should follow at 35 minute intervals) is Attica, Shellshock, Soil Brothers, One On One, Kara, XPD, Catch 22 and finally The Magnets. It should all finish between 6.25 and 7pm.
MONDAY, AUGUST 25
Once again the disco starts the day off and leads into the first band Burnin' Sky who will be on stage at 12.30. They will then be followed by Beyond Elysium, Cuddly Spiders, Breaking Point, Dance Stance, Wolfsbane, Depth Charge, Orange and finally The Royal Family.
Then at about 8.30pm on Monday all attention switched to the Rathole for s special alternative disco party night with Paul Clements. The disco is designed as a post festival party for all the musicians to enjoy, but will be open to everyone to make for a late-night treat.
All in all it makes for the best festival line-up yet – and certainly the most varied. Metal, alternative, skiffle, pop, r 'n' b and many more styles are covered, so there really is something fro everyone. So forget what you may have heard elsewhere the festival is on and the spirit among the town's musicians is as good as ever. Cancel all your plans and get ready for four days of fun!
PS if anyone knows a cure for rain please give me a ring!
SAM HOLLIDAY
Tamworth Herald – 22/08/86
Musicbox – Here's the fabulous festival line-up
TAMWORTH'S fourth annual Bank holiday rock festival blazes into action this weekend and promises to be the biggest and best the Town has ever seen.
Eighteen bands will take to the Castle Grounds stage on Sunday and Monday offering a varied and exciting package of local talent.
And, to give the festival the best possible start, Tamworth Arts Centre will tonight (Friday) and tomorrow stage two festival party nights featuring among others Wolfsbane, Breaking Point and a one-off show from Love On Board.
All in all it looks like being a festival to remember and here in full details is what is happening where and when.
Tonight
The festival starts with an Arts Centre triple bill featuring three bands from the heavier side of life. New boys Shellshock will join up with not-so-new boys Kara and positively-old boys Wolfsbane for a sparkling three band show. As with last years, the Arts Centre pre-festival nights are designed to be party-style events and everyone petting into the spirit (and spirits) of the weekend. It starts at 8pm costs 50p and should be excellent.
Saturday
ANOTHER enticing triple bill will especially interest people of an alternative (sic) persuasion. Breaking Point, who hope to have their debut single out this week, will headline the show and in support will be two unusual acts. First is 13th Reunion featuring the immortal Gerald on bass and second is Love On Board making a special one-off comeback gig to join in the party atmosphere. It adds up to a superb bill which marks the debut show for 13th Reunion, and once again is a meagre – nay, measly! – 50p
Sunday
AND SO to the main event. Two days of exciting, varied rock music in the Castle Grounds. Once again the stage will be set up in front of the tennis courts at the far end of the Castle Grounds, and as with the past couple of years, it will cost you nothing to watch. Here is a quick one-line description of all the bands on show and their (approximate) appearance times…
Heavy
Freefall (12.20) A Coventry heavy band (that's all I know!)
Attica (1.05) Powerful bass-driven combo who crimp their hair and slice their guitars.
Shellshock (1.40) Young lusty metal sound, who smile a lot.
Soil Brothers (2.15) Skiffle-style pop played with coconuts, cardboard and oodles of enthusiasm.
One On One (2.50) Nose-perfect rock music played by soon-to-be superstars.
Noise
Kara (3.25) loud Americanised noises played by local Anglicised noise-makers.
XPD (4.00) Stylish alternative pop music, which cab be summed up as 'ego-shock' rock.
Catch 23 (4.35) Pure-punk-period pop music with panache, power and passion.
The Magnets (5.10) Modern synthesised pop music played by modern synthesised pop people.
Monday
ONCE MORE the Castle Grounds plays host to nine more varied outfits who line up like this.
Burnin' Sky (12.30) Coleshill-based r 'n' b band who revel in the smoky, sleazy way of life.
Beyond Elysium (1.05) Dark sombre sounds with a modern appeal and feel.
Funky
Cuddly Spiders (1.40) Laid-back harmless flares rock.
Breaking Point (2.15) Passion-packed soaring, roaring rock music.
Dance Stance (2.50) Tight, funky nouveau-pop with a burning soul.
Wolfsbane (3.25) Gentle, middle of the road folk band made up of four charmingly polite young boys. A mud afternoon break from all this rock nonsense.
Depth Charge (4.00) Cuddly rock and roll pirates bursting with good times.
Orange (4.35) Deceptively light pop music with a telling edge. Bright, breezy, orangey.
The Royal Family (5.10) regal r 'n' b with guaranteed dance-ability and toe-tapping tendencies.
Tamworth Herald – 12/09/86
Musicbox – Yee-ha…the rednecks turn on some joy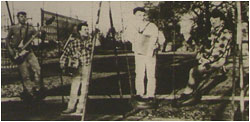 The Soil Brothers – new demo/mini-album
UNIQUE is a word that has been so over-used that is has become almost meaningless. But if ever there was a local band who deserved to be called unique it is this bizarre outfit.
To my ears, Soil Brothers music is a multi-facetted cocktail of (here goes) – country and western, pop, jazz, skiffle, gospel, new wave, cowboy, folk and just about every other musical genre except for heavy metal and Mozart. And if that is not unique I don't know what is.
This fine 14 tracker is a sort of Soil Brothers Greatest Hits package featuring every one of theor tasteful toe-tapping delights from their momentous 'I Like To Eat' to Glenn Miller's momentous 'In The Mood'.
With hardly a pause for breath the band chortle through track after good –humoured track with a slightly wicked feel that belies their Christian leanings. Steve MacNamee (who I hereby nominate at the coolest man in the universe) tends to dominate the songs with his devilishly delicious voice which is hampered not at all by the fact that ever so occasionally he goes completely out of tune.
Disguise
When he sings 'you're the devil in disguise' it makes you feel you are, and it is hard not to join him in his yee-ha chats that punctuate the tape at regular intervals.
Musically, the band are almost note (if you play a note on a coconut!) perfect and anyone who doesn't smile at tracks like "Freight Train" simply CANNOT smile. Out it all together and you have a joyous 28 minutes of pure pop fun, which is an enjoyable as taking a shower with Samantha Fox.
And to paraphrase the band "I'll lick any man who says I am wrong" Clickety-clack!
PS. You can see the Soil Brothers at the Arts Centre on September 19. And you can hear the by entering our fabbo contest.
Tamworth Herald – 19/09/86
Musicbox – SNIPS
The Soil Brothers, fresh from the recording of their excellent new demo, are playing a special show at Tamworth Arts Centre tonight (Friday). The band have promised their usual high-energy set packed with as many yee-has as possible. It starts at about 8pm, so jump on your hors and get down there!
Tamworth Herald – 03/10/86
Musicbox – Bouncing bellies and wide smiles
Soil Brothers/Blueberry Hellbellies – The Rathole
NOW THIS was FUN. Two tasty toetapping bands who realise that you can smile and dance at the same time and there is no musical sin in enjoying yourself.
First up were the banjoless Soil Brothers who were as sprightly as Daley Thompson and almost as silly. Every tune was a killer especially Buddy Holly's "It Doesn't Matter Anymore" and the riotous "In the Mood". Big fun.
Big fun also sums up The Hellbellies who were in every sense immense. It was stylish, original and very, very bouncy.
They were the best band at the Rathole for quite a long time and proved that big stomachs can lead to big smiles by big audiences. Jolly, jolly, very jolly.
Tamworth Herald – 28/11/86
Musicbox - SNIPS
Thirteenth Reunion will be playing the Arts Centre tonight (Friday). Get along. If you want to travel a bit further afield tonight our very own Soil Brothers (whose singer Steve MacNamee was left out of my personalities of the year last week, but definitely is one) are playing at Aston University tonight, with punk poetess Joolz. Another goodie.
Tamworth Herald – 20/03/87
Musicbox - Soiled Goods Again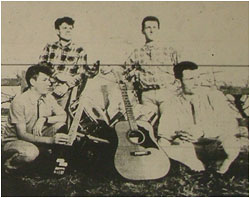 The Soil Brothers make their long-awaited Tamworth return on Saturday night when they hit the Arts Centre. Although my details are sketchy, it seems they may be teaming up a 'fabbo splinter band' and 'some darkish rap band who massacred Eddie Cochrane covers". It all sounds a bit odd to me but in the words of r. polo why not suck it and see. The Arts Centre bash starts at 8pm on Saturday.
Tamworth Herald – 01/05/87
Musicbox
Another group who have bitten the dust are the Soil Brothers. But, fear not, Steve MacNamee (Now Drayton Bassett's premier star) and Malcolm "Supermac" Hallett have promised to come back with something altogether bigger, bolder and brighter.
Tamworth Herald – 12/06/87
Musicbox – SNIPS
Steve leaves Scooper shock-horror
THE Soil Brothers will be making their final-ever appearance on Sunday, June 28 alongside Terry and Gerry at Burberries in Birmingham. Meanwhile the band's eccentric lead crooner, Steve MacNamee wrote a tearful letter to MUSICBOX last week, returning his prized Scooper membership card in disgust after I suggested he might be heading for the 'aisle'. "When I saw my name mentioned in the Tamworth Herald in Musicbox I thought that would make my mummy happy but instead it just made me cry and she kept saying 'our little boy is going to leave home' which is a bit silly because I am only 11." Writes Mr. MacNamee. Scooper's loss is the asylum's gain.
Tamworth Herald – 24/07/87
Musicbox – Jokers go to earth
The Soil Brothers – Burberries, Birmingham
THE SOIL Brothers romped on stage, check-shirted and jean clad to bang and clang out their last-ever gig to a very amused Burberries audience. They had come to see the celebrated Tarry and Gerry play their last gig, but first they were to sample our won Soil Brothers.
Though there were a few technical hitches, the band played all the old favourites in fine tune, and with a little gentle coaxing by Steve McNamee the crowd were very soon getting down to the soily sound.
Special mention must go to Jon Hills who battled on even when his accordion refused to make a sound and to Katie Boyle who could actually be heard for a change.
Anice Byfield
Tamworth Herald – 04/09/87
Musicbox – SNIPS
Former Soil Brothers singer Steve MacNamee was back in live action at the weekend at the Greenbelt Christian Rock festival. Steve was playing washboard for the Famous Potatoes who were supporting The Alarm at the show. Locally Steve was last seen doing all manner of silly things at Punch and Judy's 'Bavarian Oompah' evening. But don't worry Steve, I won't tell a soul…
Tamworth Herald - 30/09/88
Musicbox – SNIPS
Steve MacNamee celebrated his 23rd birthday last week – and the return of the almighty Soil Brothers. For the yee-hahing combo who delighted everyone a few years ago with their washboard rock returned to live action last week with a show at Corvettes and they were due to appear there again this week. The band are now considering making a full return to live action and a show with DHSS at the Arts Centre is in the offing.
Tamworth Herald - 28/10/88
Musicbox – SNIPS
The Soil Brothers, DHSS and The Yogots will combine to play a special Christmas Party night at the Arts Centre at the tailend of December. More details when we have them.
Tamworth Herald – 06/01/89
Musicbox – 'LoveBOX' strikes again
OVER the last five years or so I am delighted to say that MUSICBOX has got masses of musicians in contact with each other to form masses of bands.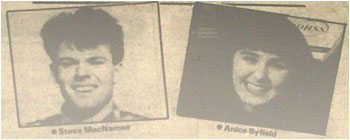 But tomorrow (Saturday) we claim a first – a love union no less. For on Saturday Steve MacNamee (Soil Bros) will officially be engaged to Anice Byfield (DHSS) after they were first introduced by one Sam 'Dateline' Holliday at a recording of TAMAID. Since then it has all been wine, roses and Nukey Brown Ale and very soon Anice will become Mrs. MacNamee. In wishing both of them very much luck, I also declare 'LoveBOX' open and I am now trying to find a match for a certain Tavern disc jockey printed on the right. OK gals it's over to you.
Tamworth Herald – 24/03/89
Cabaret night bubbles over
IT's Friday Night Live cabaret time again at Tamworth Arts Centre this Friday, March 24, with the promoters Tamworth's Open Arts team, aiming for their third sell-out success.
Edwardian ian Armchair is in the line-up this time while topping the bill are the Mike Pinder Sextet. Sean Percival and Nine-piece jazz band the Expresso Bongo Orchestra are also appearing as are the five-man 'countrybilly Soil Brothers.
And inimitable compere once again with be The Great Stan.
Kick off is 8pm
Tamworth Herald – 05/05/89
Musicbox – Where are the DRUMMERS!
There was a time it seemed when drummers were ten-a-penny in the Tamworth area. You couldn't get a bassist if your life depended on it, vocalists were as rare as good ITV sitcoms and guitarists were harder to find that Rikk Quay fans. But drummers? They were EVERYWHERE. There were hundreds of them, breeding like rabbits and bashing skins in every corner of the Town.
But now is seems things have changed. Below we print no less than FOUR urgent appeals for drummers from totally different bands. So, if you're a drummer this is your lucky day. Choose from…
SOIL BROTHERS
If you would like to join (and I quote from Steve MacNamee's letter) "Tamworth's top – and no doubt only – red hot and rocking countrybilly boppers' then this could be your big chance. The Soil Brothers have lost the services of Adrian Goodman and want someone who likes Elvis, The Ramones, Eddie Cochran and Hank Williams as a replacement. A snare drum apparently is essential!
Tamworth Herald – 16/06/89
Musicbox – Reviews
The SOIL BROTHERS – Seven Steamin' Stompers*****
STEVE MacNamee's Christian-punk-rockabilly heroes produce the perfect accompaniment for riotous parties, rave-ups and wedding receptions. Seven songs in 14 minutes of tape that merits playing again and again. It's packed with great tunes from the tasteful 'Hog For You Baby' through the sad tale of 'Stood Up' to that delightful tribute to ladies everywhere 'Ugly and Slouchy'. Anyway, any band inspired by 'Elvis, the Ramones, Eddie Cochran and Hank Williams', has got to be OK in my book. Top of the first division – just a shame Newcastle United aren't.
M.W.
Tamworth Herald – 16/03/90
Musicbox – Great bands of the 80s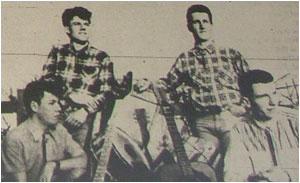 The Soil Brothers
Yee Hah! One of the Great Bands of the 80s who still have a foothold in the Great Hopes of the 90s. Based around Steve MacNamee's fulsome personality and fulsome melodies, the band played just about every instrument that no-one else played and ended up as a right royal dose of fun. Few Tamworth bands ever enjoyed themselves or smiled as much as these chaps and few ever got near to equalling their magical first demo.
---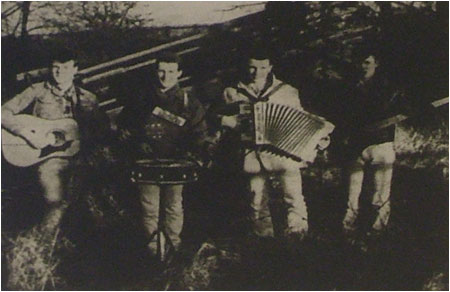 Caption: The Celtic Soil Brothers…Tamworth's newest superstars (minus their straightjackets)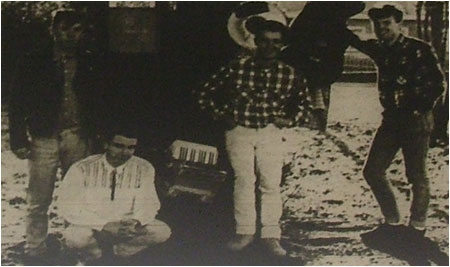 Caption: The Soil Brothers…yee-ha!!