Catch 23 (formerly Catch 22)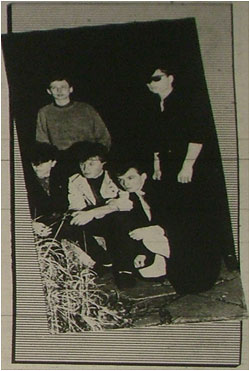 Catch 23
Photograph Courtesy: Tamworth Herald
Gallery
Musical Genre/Type: Pop
Formed: 1986 Split:
Band Members
Steve Webster : Lead Vocals
Ray Clenshaw : Guitar
Neil Gordon : Bass Guitar
Nick Smith : Keyboards
Jason Notman : Drums
David Stevenson : Lead Guitar (Left 03/86)
Gigs
First Gig
Atherstone School
January 1986
09/02/86
One On One
The Australians
Catch 22
The First
Battle of the Bands
Tamworth Arts Centre
18/03/86
Dream Factory
Catch 22
Cannock
18/04/86
Catch 22
Orange
Tamworth Arts Centre
09/05/86
Catch 22
Beyond Elysium
The Rathole
24/08/86
Tamworth Rock Festival
Castle Grounds
Freefall
Attica
Shellshock
Soil Brothers
One On One
Kara
XPD
Catch 22
The Magnets
19/10/86
Catch 23
Attica
The First
The Rathole
Gigs:
03/07/87
Catch 23
The Wilsons
Edward ian Armchair
Tamworth Arts Centre
27/09/87
Toy Dolls
Catch 23
The Wilsonz
Tamworth Arts Centre
02/11/87
Wolfsbane
Catch 23
The Conspiracy
14/02/87
Battle of the Bands
Catch 23
Depth Charge
Shellshock
Tamworth Arts Centre
21/02/87
Dance Stance
Catch 23
Lichfield Arts Centre
02/03/87
TSB Rock School
Catch 23
The Dome
Birmingham
03/07/87
Catch 23
The Wilsons
Edward ian Armchair
Tamworth Arts Centre
17/07/88
Tamworth Rock Festival
Cuddly Spiders
Rape in Yellow
Future Field
Fetch Eddie
Catch 23
Kraze
Scream Dream
Breaking Point
A5
Castle Grounds
Admission fee 11am-7pm
27/09/87
Toy Dolls
Catch 23
The Wilsonz
Tamworth Arts Centre
10/07/88
Fetch Eddie
Catch 23
Tamworth Arts Centre
30/07/88
Wolfsbane
Catch 23
Fetch Eddie
Tamworth Arts Centre
10/09/88
Catch 23
A5
Kings Head, Atherstone
28/09/88
Catch 23
Faraday's Nightclub
Atherstone
07/10/88
True Grit
Catch 23
Tamworth Arts Centre
07/12/88
Catch 23
Faraday's Nightclub
12/02/89
Tamworth Rock Festival - Indoor Festival
CATCH 23
Emma Gibbs Loves Badges
Big Noise
Shock Culture
Tamworth Arts Centre
21/01/90
Catch 23
Kraze
First Conspiracy
Tamworth Arts Centre
01/02/90
Catch 23
Bristol
09/04/90
Catch 23
Atherstone
15/04/90
Catch 23
Banned in Yellow
New Puritans
Mean Fiddler
London
26/06/90
Catch 23
Bedworth Civic Hall
20/09/90
Catch 23
Bedworth Civic Hall
20/12/90
Rhythm Damage
Catch 23
Emma Gibbs Loves Badges
Vindaloo Breakfast
Big Noise
Guilty Party
Sindy's Sonic Garden
The Rathole
Tamworth Herald – 10/01/86
Musicbox – Well caught, lads!
Catch 22 – Atherstone School
"IT'S 106 miles to Chicago – we've got a full tank of gas, half-a-packet of cigarettes, it's dark and we're wearing sunglasses…hit it!"
This was Catch 22's first official public performance and from the first drum beat of 'Love Explosion' to the final bars of 'Alternative Ulster', the 250-strong audience 'hit it' as well.
Even though they are still at school, Atherstone's finest and potentially best band, manipulated each instrument to perfection and even when over-enthusiastic spectators temporarily cut the lead to the microphone, they continued to battle on.
Catch 22 are a five-piece, supposedly funk/rock band, who write their own material, but just to please the crowd then indulged in the odd cover version like The Jam's 'Mr. Clean' and the SLF classic 'Alternative Ulster'.
Their own material includes the bassy 'Explosion', the danceable 'Hurt Me' and Ray Clenshaw's cynical view of mercenaries, 'Soldiers of Fortune'.
A dramatic drum solo from Jason Norman neatly connects the latter into the moving 'Dream Reality' before lead singer Steve Webster announced 'Mr. Clean' with the emphatically-denied quip 'are there any mods out there?'
Lead guitarist David Stevenson took over the lead vocal for his own composition 'I'll Be Back' which puts the audience into a calmer frame of mind soon shattered by the Knack's 'My Sharona'.
The band were called back for a two-track encore and as the curtains closed to thunderous applause the Perfect Beat disco started up and ended with the theme of the night ' 'Crazy For You'.
Keep your eyes open the,. For Catch 22 as they begin to play dates at various local venues, including an as yet unconfirmed support slot with The Dream Factory.
MATTHEW DOLAN
Tamworth Herald – 07/02/86
Musicbox – New faces set to turn on the heat…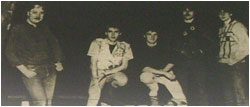 THREE groups new to the Tamworth scene burst into action this weekend in the second exciting heat of the 'Battle of the Bands' contest.
Two alternative-influenced acts, The Australians and Catch 22, open the show and they are also joined on this virtual 'New Faces' bill, by a relatively unheard outfit, The First.
Sandwiched between these three newcomers is a band who are a little more familiar – the popular One On One, who are making their first Tamworth Arts Centre appearance for some time.
Put it all together, and you have a fascinating four-band heat, which should prove to be an excellent concert in its own right, and one that will probably bring a lot of pop-punters out on Sunday night.
First up will be The Australians, a band who unfortunately are as new to me as they are to you, making them something of an unknown quantity. I understand they hail from the Atherstone area (which is becoming increasingly productive I am pleased to say) and it seems they play a cocktail of Everything But The Girl and The Cocteau Twins.
They should set the concert off to an intriguing start and the interest will be maintained by another new band, Catch 22 who will play second.
Catch 22 are a very young band who make up for their lack of experience with a refreshing burst of enthusiasm and ambition. They play music which seems to have its heart in that wonderful Jam/SLF time of life and member Ray Clenshaw describes the whole sound as 'aggressive but with a lot of melody'.
The band, who recently played a successful gig at Atherstone School, are very keen to take part in the contest and to introduce themselves to the local scene, and they will come under close scrutiny on the night.
By virtue of their experience and proven track record, the third band up, One On One, start as hot favourites to win the heat and break through to the February 28 final.
The five-piece band have grown steadily more mature and confident over the years and their intelligent songs and exemplary musicianship has won them admirers across the whole spectrum of the local music scene.
When I spoke to bassist Andrew Malkin he told me the band were moving into a new phase with their songwriting and performance so it is possible we may see a new look One On One on the night.
Candy Floss
Also with a new look will be the band who will close the show, The First. They have emerged out of the Tribal Sweatshirts, Richard Deane's band, and if they are anything like The Sweatshirts they should sound just as professional as the group that precedes them.
The sound the Sweatshirts produced was commercial pop - without the candy floss – and if The First maintain that tradition, they could prove a difficult outfit to beat.
So once again it looks like being a good night at the Arts Centre on Sunday. Four potentially very interesting bands all chasing the same prize – a place in the February 28 Battle of the Bands final which hopefully will be judged by soul singer Edwin Starr.
The gig starts at 7.45 – and is free – so support the Young People's Arts Festival, support the four bands involved and have a great night out. It is even worth missing 'Spitting Image' for!
*Catch 22 have come in as late replacements for Dance Stance who are sadly unable to play as two members will be missing on the night. For those who are confused, The First were originally called The Drowning Pool. Judges on Sunday will be Paul Speare, Phil Smith and local music buff, Martin Webster.
Tamworth Herald – 14/02/86
Musicbox – A dazzling night of variety
Review
ONE ON ONE became the second band to book their place in the Battle of the Bands final on Sunday night, in a triumphant and very varied night of music.
All four of the bands turned in tremendous shows to leave a big headache for judges Paul Speare, Phil Smith and Martin Webster who could only choose one group to go forward. In the end, the sheer professionalism of One On One won them the concert.
First to take to the stage were The Australians who I discovered to my amazement had only been together a matter of weeks. Well it certainly didn't show. Their original material (which had shades of everything from The Who to Echo and the Bunnymen) had a deceptively light feel with occasionally arresting melodies. Guitarist and singer Chris Thomas was particularly impressive and when his voice combined with the harmonies of Toby Stafford the sound was quite intriguing. It was overall a fine mature set which showed a great deal of promise for the future.
Promise is also a word that cannot be understated…Catch 22
They did a spirited 'Alternative Ulster' but even that classic was outweighed by their own inventive and thoughtful originals which far belied their teenage years. Full marks to drummer Jason Notman who was simply magnificent and also a big pat on the back for the lead guitarist Dave Stevenson.
And so to One On One. Or not as the case may be. For when they hit the stage it was as if a new band had appeared. OK, so they still had that distinct One On One feel but they have added far more meat and commerciality to their sound which I found very exciting. The songs had greater strength and power – a touch of the old One On One in fact – and it was as if that change was certainly appreciated by a lot of people I spoke to afterwards. To say that musically they were outstanding is almost unnecessary these days, but just a word for bassist Andy Malkin and drummer Stuart Blaine who worked together brilliantly.
The First…between bass and guitar having a distinct U2 feel. In fact if I had to put The First into any camp it is possibly the U2 one as they play music which combines the rawness of rock with the more subtle edges of the post-punk sound. A neat, mature and potentially I think, a winning one.
So overall that word potential is the one that rings loud and clear from this eventful – and very well attended – concert. One On One proved that they are getting better and better and The Australians, Catch 22 and The First all won over a lot of new admirers. In terms of judges score every one rated very highly and as an indication of the strength of the line-up, each band had a score big enough to beat any of the equally impressive outfits from the first heat.
Tamworth Herald – 14/03/86
Musicbox – New faces put Factory on its feet
THE DREAM FACTORY have recruited the two new members that will put them back on form. Joining bassist Mark Mortimer and vocalist Tim Goode are former Terroa drummer And 'Batman' Holt and Catch 22 guitarist Dave Stevenson.
The Factory are delighted with their new acquisitions and they are hoping they will be able to get back to live work and recording as soon as possible.
The first new member to join was Dave Stevenson who Mark feels is a tremendous guitarist.
"When Tim and I went to see him we couldn't believe it. We had heard a lot of good reports about him, but he was even better than we thought. His parents are also very supportive and I am confident we have made the right choice," said Mark.
Catch 22 will be carrying on without Dave although it is not known whether they will replace him or promote Ray Clenshaw to lead guitar.
Dedicated
'Batman' joined the Factory on Sunday after an audition which involved five other drummers. Tim and Mark were keen to find someone who fitted in with their personalities as well as having drumming ability and Batman won on both counts.
"He is a really likeable person and he seems quite dedicated to the idea," said Mark. "We think with time he could become a very good drummer indeed."
Tarroah are said to be rather upset at Batman's decision to leave, said singer Eddie Madden. Although quit before joining The Factory, he told Terroa he wanted to be in a reggae band. Terroa are now looking for a new drummer (see Sits Vac on this page).

So, the Factory are now virtually back together again and back on course. Greg Stevenson is staying as keyboard player, Paul Stansfield remains as trombonist and Neil Gledhill has joined on sax.
There is still a vacancy for a trumpeter and anyone who wants to fill this gap in the Factory jigsaw should ring Mark.
Tamworth Herald – 21/03/86
Musicbox – SNIPS
Catch 22 have a new member to replace Dave Stevenson. The new man is keyboard player Nick Smith, a fan of the band for sometime who actually gave them their monicker. Ray Clenshaw will now take on the lead guitar and the message from Catch 22 is that normal service will be resumed as soon as possible.
Tamworth Herald – 02/05/86
Musicbox – SUNDAY CALL-UP FOR BANDS ON FESTIVAL TRAIL
EVERY BAND involved in the 1986 Tamworth Festival is urged to attend a full and important meeting at the Tavern, Tamworth on Sunday night. All the bands will be told when and where they will be playing and there will also be a full discussion about costs, times and equipment.
The 18 bands who will be playing on the main tow days are (in no particular order) Wolfsbane, Breaking Point, Dance Stance, The Parade, Candle Dance, Caprice, Soil Brothers, Depth Charge, Burnin' Sky, Femme Fatale, The Magnets, The Cradle, One On One, Spirit Lake, Kara, Orange, Catch 22 and Beyond Elisium.
In addition, The Green Swings (see you at the Embassy lads!) and Shellshock have been confirmed as among the Arts Centre acts, before the 'main' event.
Will all these bands please attend on the night – sending at least one member. Any of the aboce bands who cannot attend should contact Sam Holliday before Sunday night. The meeting is due to start at 8pm.
Any more new acts – especially Roger Moore's new band – who would like to take part in the Arts Centre stage of the event should also attend.
Tamworth Herald – 09/05/86
Musicbox – Catch this…
THE RATHOLE is set to stage an interesting…different bands. New Wavers, Catch 22, who are about to change their name. It all starts at about 8pm and with a disco thrown in for good measure it should be another entertaining night.
Tamworth Herald – 16/05/86
Musicbox – Big night of smoke and fire
Catch 22/Beyond Elysium – The Rathole
TWO OF THE area's 'new wave' of non-rock outfits hit the Rathole on Sunday night for an intriguing double-header.
For both bands it was an important show as they attempt to build up a big audience before their appearances at the Tamworth Rock Festival later this year. And both can fee satisfied that they have increased their profiles considerably after this well-attended and enjoyable show.
Catch 22 were first up and initially seemed very nervous indeed. Losing guitarist Dave Stevenson to the Dream Factory has created a hole which the band still need to fill, and at the start this made them rather edgy.
Gradually, however things perked up and by the time they launched into a dynamic 'Alternative Ulster' they had started to smile a bit. Best numbers in their short set were 'Love Explosion' and a brand newie 'Spiders and Sharks' where Ray Clenshaw shows he is definitely a man after my own heart by virtually stealing the chords of 'White Riot' and changing the words. A wise fellow indeed.
Beyond Elysium came on behind their now obligatory some screen - with the lights and strobes effect making a quite haunting sub-gothic horror movie scenario.
Their sound is firmly rooted in the darker side of life with the strain of Ian Curtis running right through the music. It is a sound that is very individualistic with an atmosphere and character that is both threatening and mesmerising. They are definitely a band who are aiming to appeal to a certain sector of the audience – and believe me, they have greatly improved.
So a fine show by two young bands and another great one for the Rathole. How much longer can this all go on.
Tamworth Herald – 20/06/86
Musicbox – SNIPS
A fine festival line-up
THE final line-up for the Tamworth Bank Holiday Rock Festival in the Castle Grounds has now been worked out. After the splits of Femme Fatale, The Parade and Spirit Lake. The Green Swings, Shellshock and the wonderful Royal Family have stepped in to make the final line-up:
Sunday – 12.30, CandleDance; 1.05pm, Green Swings; 1.40pm, Shellshock; 2.15pm, Soil Brothers; 2.50pm, One On One; 3.25, Kara; 4.00pm, XPD; 4.35pm, Catch 22 and headlining at 5.10pm, The Magnets. Then on Monday it's: 12.30pm, Burnin' Sky; 1.05pm, Beyond Elysium; 1.40pm, Cuddly Spiders; 2.15pm, Breaking Point; 2.50pm, Wolfsbane; 3.25pm, Dance Stance; 4.00pm, Depth Charge; 4.35pm, Orange and headlining at 5.10pm, The Royal Family. The pre-festival Arts Centre line-ups are still uncertain but Ivory, Side Effect and Cradle are among those who should be involved. Official festival t-shirts (which are likely to cause a fair bit of controversy should be available soon.
Tamworth Herald – 22/08/86
Musicbox – Here's the fabulous festival line-up
TAMWORTH'S fourth annual Bank holiday rock festival blazes into action this weekend and promises to be the biggest and best the Town has ever seen.
Eighteen bands will take to the Castle Grounds stage on Sunday and Monday offering a varied and exciting package of local talent.
And, to give the festival the best possible start, Tamworth Arts Centre will tonight (Friday) and tomorrow stage two festival party nights featuring among others Wolfsbane, Breaking Point and a one-off show from Love On Board.
All in all it looks like being a festival to remember and here in full details is what is happening where and when.
Tonight
The festival starts with an Arts Centre triple bill featuring three bands from the heavier side of life. New boys Shellshock will join up with not-so-new boys Kara and positively-old boys Wolfsbane for a sparkling three band show. As with last years, the Arts Centre pre-festival nights are designed to be party-style events and everyone petting into the spirit (and spirits) of the weekend. It starts at 8pm costs 50p and should be excellent.
Saturday
ANOTHER enticing triple bill will especially interest people of an alternative (sic) persuasion. Breaking Point, who hope to have their debut single out this week, will headline the show and in support will be two unusual acts. First is 13th Reunion featuring the immortal Gerald on bass and second is Love On Board making a special one-off comeback gig to join in the party atmosphere. It adds up to a superb bill which marks the debut show for 13th Reunion, and once again is a meagre – nay, measly! – 50p
Sunday
AND SO to the main event. Two days of exciting, varied rock music in the Castle Grounds. Once again the stage will be set up in front of the tennis courts at the far end of the Castle Grounds, and as with the past couple of years, it will cost you nothing to watch. Here is a quick one-line description of all the bands on show and their (approximate) appearance times…
Heavy
Freefall (12.20) A Coventry heavy band (that's all I know!)
Attica (1.05) Powerful bass-driven combo who crimp their hair and slice their guitars.
Shellshock (1.40) Young lusty metal sound, who smile a lot.
Soil Brothers (2.15) Skiffle-style pop played with coconuts, cardboard and oodles of enthusiasm.
One On One (2.50) Nose-perfect rock music played by soon-to-be superstars.
Noise
Kara (3.25) loud Americanised noises played by local Anglicised noise-makers.
XPD (4.00) Stylish alternative pop music, which cab be summed up as 'ego-shock' rock.
Catch 23 (4.35) Pure-punk-period pop music with panache, power and passion.
The Magnets (5.10) Modern synthesised pop music played by modern synthesised pop people.
Monday
ONCE MORE the Castle Grounds plays host to nine more varied outfits who line up like this.
Burnin' Sky (12.30) Coleshill-based r 'n' b band who revel in the smoky, sleazy way of life.
Beyond Elysium (1.05) Dark sombre sounds with a modern appeal and feel.
Funky
Cuddly Spiders (1.40) Laid-back harmless flares rock.
Breaking Point (2.15) Passion-packed soaring, roaring rock music.
Dance Stance (2.50) Tight, funky nouveau-pop with a burning soul.
Wolfsbane (3.25) Gentle, middle of the road folk band made up of four charmingly polite young boys. A mud afternoon break from all this rock nonsense.
Depth Charge (4.00) Cuddly rock and roll pirates bursting with good times.
Orange (4.35) Deceptively light pop music with a telling edge. Bright, breezy, orangey.
The Royal Family (5.10) regal r 'n' b with guaranteed dance-ability and toe-tapping tendencies.
Tamworth Herald – 29/08/86
Festival fever that just refused to give in to the rain
ROCK-SOLID SUCCESS!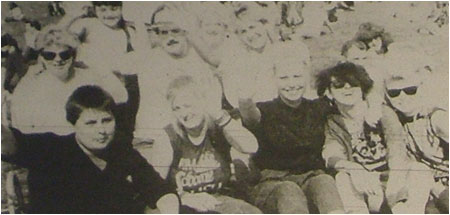 Caption: Isn't it fun when the sun is shining and the music is flowing? This happy bunch obviously thinks so as they rock to Sunday's sounds in the crowded Castle Grounds.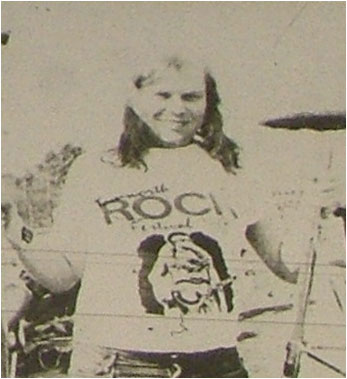 Caption: Mike Fleming resplendent in rock festival T-shirt gets ready for action with Cuddly Spiders.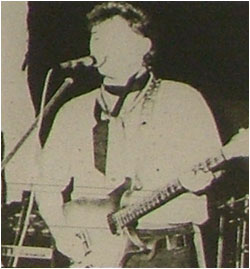 Caption: Kevin Briggs of Breaking Point…a powerful set in the hastily-arranged setting of the Rathole.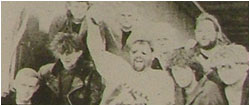 Caption: What are we going to do now? The Festival Committee members chew over the problem before their lifesaving trip to the lavatory.
TAMWORTH'S third annual Bank Holiday Rock Festival was dramatically saved on Monday afternoon – thanks to an impromptu trip to the men's toilets!! For with rain threatening to turn the festival into a joyless wash-out an emergency meeting was held by the concert organisers in the main toilet block in the Castle Grounds.
There, the organisers decided the 'show must go on', so the whole festival was moved lock, stock and amplifier to the Rathole.
Within two hours, the festival was rocking again and until12 o'clock on Monday night, music filled the Rathole and gave the whole four day event a triumphant conclusion.
Afterwards, enthusiastic organisers were describing the festival as the best ever – mainly because it had managed to leap over more hurdles this year that it has had to do for the past two put together.
None of the problems could have been envisaged at 8 o'clock on Friday night when the Festival began in earnest in the Arts Centre. Shellshock, Kara and Wolfsbane all turned is useful sets to widely-differing responses – which summed up the reaction to the three bands at Saturday's second Arts Centre party night.
Bizarre
The absolutely bizarre 13th Reunion (who boast the world's most awful drummer but one of the world's coolest singers) opened the proceedings. Love On Board turned in a nostalgia-packed, much-acclaimed set and the Breaking Point played a long, powerful set sadly ignored by most of the audience.
During the night, a host of festival organisers ran around the town giving out last minute hand-outs about the Castle Grounds event to follow – and judging by the turnout the following day, it worked.
Sunday's turn-out was the best ever for the first day of the festival. In the rather surprising sunshine people poured into the Castle Grounds until the peak at around 3-4pm when upwards of 1,000 people were watching. As an indication all 250 programmes – which were meant to last the two days – had been sold by 3 o'clock on the first day, raising £60 for Children in Need.
Musically, every band turned in good, strong sets with a particular mention going to The Soil Brothers, who started their show without two of their members.
XPD lived up to all the outrageous hype with a literally electrifying set. Attica showed they have the best bassist in the area in Pete Wright. Kara produced a fiery rock set. Catch 23 earned the acclaim of almost everyone with their hi-energy sounds.
…One On One…Shellshock o belated but entertaining Magnets…
The rain hit the Castle Grounds at about 12 o'clock and stayed there until everyone involved in the festival was tucked up in bed. With a quite barmy hardcore set of people waiting in the rain to watch…Beyond Elysium… went through their sets before organisers said enough is enough.
Acting on a suggestion by Tamworth's Alternative Mayor Clifford Chipman and Manhattan owner Clive Bartram it was decided to move everything to the Rathole.
The hardier musicians stayed to dismantle the huge PA stacks and take them into town, and by 5.30pm the first band was raring to go.
The atmosphere in the Rathole was electric as Wolfsbane hit the stage and turned in what I thought was their greatest-ever set. They were simply magical.
Dynamite
After them came Cuddly Spider chaps and chapesses and then Dance Stance who were in dynamic form. The enthusiastic reaction they received seemed to surprise even them, but it just convinced even more that they are firmly on the path to greatness.
Depth Charge then turned in what is sadly their last set in their present line-up. Orange followed with a harder, stronger sound than they have previously mustered and then came the ultimate climax – the Royal Family. By now the onstage musicians were the only ones sober, creating an atmosphere that is quite indescribable. People danced, pogoed and leapt around wildly before the festival committee were called onstage to join in a blistering version of "Anarchy In the UK" which almost literally brought the house down.
And then it was all over. All the problems of insurance, staging and bands splitting up were left behind. The rain had been snubbed with contempt and to the eternal credit of everyone involved, not one band missed their set.
Put everything together and you have a week-end that will probably never be forgotten by those close to it. It was a triumph all round which produced real heoes (Denis Byfield, Rikk Quay, Ian Gibbons and Phil Ball), to mention but four and no villains.
There was no trouble, no bitterness and no disappointment. Rock and Roll had won again.
Tamworth Herald – 05/09/86
Musicbox – GOSSIPBOX
Well waddya know…
THERE has been so much pre-festival. post-festival and festival-festival gossip that we could cover all this page and lovely old Scooper's too, so here is a short, snappy 'did you know' session. Did you know that…
Catch 22 changed their name to Catch 23 because of a misprint in the Herald.
The engaging Buttercup has recorded a tape called 'Buttercup Live at Kimberleys'.
Edward ian Armchair sold more than 100 festival t-shirts.
'Clawing at Angels' and 'Kicker Conspiracy' the two new local fanzines, were both released last week and were immediately sold out.
The fanzine writers Rob and Mark nominated Dance Stance's Neal Sheasby as number one in the Tamworth Ego Chart. Neil loved it…
New Single
13th reunion drummer Duane actually liked being called the world's most awful drummer.
Attica roadie and ace poet Kevin KcGeough is lining up an alternative poetry night at the Arts Centre with Jed Moore and Edward ian Armchair.
Mike Fleming has now left the Cuddly Spiders and is after a new band.
Dream Factory bassist Mark Mortimer is getting married next month.
Awful
Julian Cope's new single "World Shut your Mouth" is out in a couple of weeks and the very wonderful Donald Skinner plays all guitars on it.
Wolfsbane are planning a mega-launch for their new single in the next couple of weeks.
Shellshock's young talented singer Jason has had to leave the band because his family has moved away from the area.
Festival stage manager Denis Byfield loved the event so much that he is already counting the days to the next one.
Orange should be changing their name to Orange Blossom Special shortly.
Well did you know all that?
Tamworth Herald – 17/10/86
Musicbox – Best of local bands
THE RATHOLE is set to stage another top local bands night on Sunday, with three of the area's most exciting young groups.
Although nothing was confirmed at the time of going to press, it was hoped to field Attica, Catch 23 and The First in what would be a powerful and very exciting night of entertainment.
Catch 23 are anxious to hit Tamworth again after their undoubted triumph at this year's Festival. They impressed virtually everyone with their dynamic, punchy set full of healthy, punk-ridden power.
First Class
Despite their relatively tender age, Catch 23 are often mentioned as rhe next big thing and they are certain to brighten up the evenings entertainment.
Hopefully also joining Catch 23 will be Attica and The First. Attica also have the luxury of a first class festival performance behind them and people of all musical persuasions have been converted by their stylish and stirring music.
They are three strong individuals who have com together to make one strong sound. It will make you tingle.
Favourite Act
Finally the Rathole will also welcome (for the first time) Richard Dean's outfit The First. They are a band who have received near adulation in Birmingham and have become 'Brum Beat's' favourite act. To those new to the band they play very commercial rock that veers in the U2 direction but stops short enough to be original. They also have the glamour and clout and should bring a touch of refined professionalism to the occasion.
So an exciting night is in prospect. It is impossible at this stage to confirm that this will be the final line-up, but whatever happens the Rathole – will be open and any combination of the three above bands will make it well worth the visit.
Tamworth Herald – 24/10/86
Musicbox – Happy band who've really grown up
Catch 23 – The Rathole
IT IS ALWAYS good to see a band develop. In the past Catch 23 (or 22 as they were then) have been lively, entertaining but still rather raw. Now that rawness has subsided and it has been replaced by a positive, confident and easily distinguishable sound.
Stars of this show were keyboard player Nick Smith and guitarist Ray Clenshaw. Nick has been perhaps mixed down too low in the past, but on Sunday his sound was almost the dominant guiding light rather than just a pleasant distraction.
At times it was like modern synth bands, at others like The Stranglers (the millionth time I've mentioned them this year alone) and occasionally it was quirky enough to be positively Devoesque. Very impressive.
Also, showing style was Ray Clenshaw who now has far more self-belief in his guitar and allows himself the indulgence of some very skilful breaks. Given time he could become one of the best guitarists in the area. Throw in Steve Webster's powerful voice (he sounded as menacing as a Cruise missile at times), deft drumming by Jason Notman and solid, consistent basswork by Neil Gordon and you have a quintet who now know how they want to sound, how they want to look and where they are going.
They are a credit to their native Atherstone and a bonus for Tamworth. Besides any band that plays The Clash's "Should I Stay" can't be bad can they?
Tamworth Herald – 30/01/87
Musicbox – REVIEWS
*****Big smiles
**** Gig grins
***Big smirks
**Big frowns
*Big tears

Catch 23 – Demo **
DESPITE the fact that this demo was recorded when Moses was a lad, Catch 23 still insisted I reviewed it. I can't really see why though. For the average Catch 23 fan – like me – this tape is very disappointing and lacks all the band's onstage fire, power and strength. It sounds oddly tame with the only highlight being the excellent 'Next Step' which sounds like a strange marriage between the Dream Factory and the Doors. Go see them live instead. Sorry Steve, but you did INSIST.
Tamworth Herald – 06/02/87
Musicbox – Vital 12 minutes for prize fighters
ATHERSTONE punk-revivalists Catch 23 heard the marvellous news on Monday morning that they have won through to the regional finals of the TSB Rock School contest. The group will meet up with seven other Midlands-based young bands at the Dome on March 2 and judging by the appalling entries in last year's contest, they have got to be confident. They will be given just 12 minutes to impress, but I for one am convinced that will be enough. Lead singer Steve Webster also wants the world to know that he also finally managed to pass an O' level – just two months after winning the Worst Exam results section of the MUSICBOX poll! Well done Steven and well done Catch 23 in the contest, TSB – the band that like to say YES! To Catch 23.
Tamworth Herald – 13/02/87
Musicbox – Charge of a Valentine massacre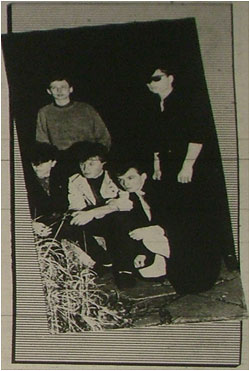 Caption: Catch 23…tomorrow night's favourites
THE SECOND HEAT of the Tamworth Battle of the Bands blazes into action tomorrow night (Saturday), when Atherstone favourites Catch 23 take on the might of two rock outfits – Depth Charge and Shellshock.
All three bands have every reason to feel confident of success on the night and on paper it seems the Arts Centre concert is wide open.
Staring proceedings on Saturday will be Depth Charge, who are looking forward to this their first concert for some time.
The band – who recently flirted with names like The Muff Doctors and Caging The Raven before returning wisely to their original monicker – were desperately unlucky not to win their 'Battle ' heat last year, when they were just edged out by Wolfsbane.
Then, like now, Depth Charge played the sort of music people like me hate – i.e. the sort that is very difficult to label. It is rock in essence, but rock owing more to the spirit of the mid-late Seventies rather than the mid-late Eighties.
It has a popular edge and a well-disciplined sound and Depth Charge earn almost universal respect among the town's musicians.
Accolade
A rare accolade and an enjoyable band who will kick off Saturday's Arts Centre proceedings at around 8.30pm.
Next up will be Shellshock, playing their first Tamworth concert with new lead singer Andy Mottram. Andy who hails from Measham, has already impressed many people after fronting the band at three Burton shows and Tamworth's rock fans will be able to make their minds up tomorrow.
The band say their music can best be summed up as heavy rock with an occasional metal edge, and they are confident that it has improved and refined since their last appearances around the time of the Rock Festival.
The group have also expanded their set somewhat and are confident that their songs are now more complete and well-structured. They are keenly awaiting their show which comes hours after their gig at Burton tonight.
Completing the three-band extravaganza are Catch 23 who really made their name by appearing in last year's 'Battle'. Since then the band have been regularly in action and have made friends with every single show.
According to the band, their music is 'pop with aggression', an all-embracing term which shows their all-embracing appeal. It is stylish, spirited and polished power pop and the band will approach Saturday's show with their normal enthusiasm and determination.
A quick head-count with some local music-watchers made Catch 23 favourites to win the heat but as any good bookmaker will tell you the favourites don't always win.
Great
So there it is – another fine, varied and enjoyable concert. One winner will be chosen by the three judges – Martin Warrilow, former Orange singer Anice Byfield and XPD man John Reeman – but in the real tradition of the 'Battle of the Bands' this is not just about competition.
It is about bringing together three different bands to produce one great night out for local gig-goers. It costs just £1 to enter (starts at 8 and finishes at 11) and as it is Valentine's Night why not be romantic and bring a friend?
After all what could be more romantic than spending Valentine's day in a sweaty little room full of loud noises, screaming singers and pulsating speakers? Answers on a postcard please to St. Valentine's Day Massacred, Tamworth Herald, etc. etc.
N.B. Will all bands please arrive at the Arts Centre at 5.45 – and be prepared to stop and sort out the stage at the end of the evening.
Tamworth Herald – 20/02/87
Musicbox – Exciting time with the famous five…
THE SECOND night of the 'Battle of the Bands' was yet another exciting, powerful night of pop fun. All three groups – Depth Charge, Shellshock and Catch 23 – played as well as I have seen them play before, and the large, good-humoured audience gave each of the bands an enthusiastic response. And, it all went like this…
DEPTH CHARGE
Back with a new line-up and back with a bang. The group have obviously spent a long time sprucing up their image and sound, and effect certainly worked.
Opening up with the excellent 'Back on my feet again', the group soon settled down to turn in a professional, enjoyable and very uplifting set. Trevor and John Muggleston combined for a superb joint-guitar attack and with good work from Gary, Steve and the ever-improving Mick Goodby, Depth Charge proved they are well on course in their masterplan to take over the universe as we know it!
SHELLSHOCK
Another honest and pulsating set from a band who have tightened up beyond belief since their pre-Christmas days. Andy Mottram adds a strong dimension to the overall attack with the powerful vocals and full credit to drummer Bruno Edwards whose technique and confidence seem to have improved beyond recognition. Although this is obviously metal music, the opener in particular showed that the band have the ability to cross over strict metal barriers and appeal to an even wider audience. The best Shellshock set I have seen to date.
CATCH 23
Well, what can say? This was simply outstanding and ranks as one of the finest set I have EVER seen a local band perform. The group were confident, stylish, musically ambitious and literally oozing with potential and promise. They have matured from a good young band into a great young band, and they never put a foot wrong all night. I felt rather as I did last year when I saw Dance Stance play at the Rathole and came out saying 'that's it, they are going to make it." Catch 23 I salute you. Your time has come – and this was a magnificent set.
THE JUDGE'S VERDICT
Had Depth Charge and indeed Shellshock played on any other night they may have made the final. But against Catch 23 in this form they were always on an uphill struggle. Catch 23 scored what I think is the highest mark ever seen in a Battle of the Bands heat and their overall sound and impact seemed to hit the judges right between the eyes. The opening two bands both excelled themselves, but even Shellshock singer Andy Mottram knew that the young Atherstonians had snatched it. The judges were – unlike last week – unanimous.
MY VERDICT
Well this week I had to agree with the judges. I stood with my mouth open from the first until the last note of Catch 23's set and everything about this exciting quintet impressed me. ON Saturday I could see the band maturing before my eyes and it was a maturing process I found very, very exciting. Worthy winners and I would say a good bet for next week's final.
Tamworth Herald – 20/02/87
Musicbox – Catch 23 will support Dance Stance in a special show in Lichfield on Saturday night.
Tamworth Herald – 27/02/87
Musicbox – BATTLE ROYALE!
TAMWORTH Arts Centre will tonight host one of the most exciting concerts of the year – the grand final of the 'Battle of the Bands'.
Four varied and enjoyable acts – Catch 23, Wolfsbane, The Cheesy Helmets and Breaking Point – will battle for the crown which was won last year by One On One.
The success of the whole 'Battle of the Bands' event has been staggering. Already all the overheads have been covered meaning every penny raised tonight will go towards the 'TAMAID' charity.
Tonight's final promises to be the most wide-open in the three year history of the tourney. Two years ago when Breaking point won it, they went into the final as favourites, last year's winners One On One were widely tipped to take the title, but tonight looks like 'anybody's game'.
Because there are four bands, the concert will start at 8.30pm instead of 9pm – and opening up the proceedings (a draw was made after last week's heat) will be the Cheesy Helmets. These are certainly the dark horses in the contest, but the way they won over last week's judges implies they could yet pull off an overall victory. Musically it is powerful post-punk new wave which has a modern and absorbing atmosphere and is fiery, frantic and frenzied. With the temporary help of outstanding drummer Richard Deane the overall effect is an earburning experience of pure power. Get there on time, because you should not miss this band…
Following the Helmets, will be the youngest band ever to appear in a 'Battle' final – Catch 23. Despite their tender age the Atherstone outfit have matured beyond belief in recent months, and are now at the stage where their confidence matches their considerable musical talent. The five piece were simply magnificent when they took their heat with their aggressive, commercial, pop which won friends of all musical persuasions. Many people think they will win tonight's final – including both Jeff and Steve from Wolfsbane – but whatever the outcome the group intend to enjoy the night to the fullest. The audience will do the same if Catch 23 are even half as good as they were in the heat.
Following Catch 23 will be those mayhem-merchants of metal (good alliteration, huh?), Wolfsbane. The quartet, who seem to be following the old maxim every day in every way we're getting better and better' thoroughly enjoyed last week's heat and are keenly awaiting taking the audience to pieces tonight. Particularly looking forward to it is drummer Steve Ellett whose exhilarating performance and appallingly 'cheeky' trousers last week showed that he is a true bonafide Wolfsbanian fruitcake. Wolfsbane are a lot of fun and on their night they are simply unbeatable. Is tonight that night.
Completing tonight's line-up are Breaking Point – an ambitious trio who thankfully seem now way near their own breaking point. Kevin, Daydo and Jason will enjoy the large, noisy audience the night will certainly produce and their modern guitar-orientated power-rock should find favour with followers of all the other bands on the night. They will enjoy going on last and should put the perfect, pulsating end to a fine night.
So four great bands to make one great final. The judges will be Stu Blane (One On One), Mark Mortimer (Great Express), Mick Goodby (Depth Charge), Denis Byfield (Reverb PA) and Martin Webster who has helped throughout the contest. Entry is just £1 – and remember all of that is charity-bound. The winners will pick up £50, individual 'Battle of the Bands' trophies and maybe the odd surprise gift. Ina sense all four bands have won already by getting to the final, but the battle is still not over.
By about 11.15 tonight one band will be crowned Tamworth young Peoples' Arts Festival Band of the Year. Will it be the Cheesy Helmets, Wolfsbane, Catch 23 or Breaking Point. Make sure you are there to find out – and don't forget get there early because we are expecting an Arts Centre sell out!
Tamworth Herald – 27/02/87
Musicbox – SNIPS
Catch 23 follow up their appearance in tonight's Battle of the Bands by taking part in the TSB rock school regional final on Monday at the Dome. MUSICBOX whishes them the very best of luck.
Tamworth Herald – 06/03/87
Musicbox – Crowning glory for the kings of rock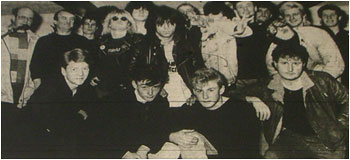 SUPER WOLFSBANE turned in the performance of their rock and roll lives on Friday night to deservedly scoop the 'Battle of the Bands' title for the first time.
Wolfsane were simply outstanding and even their rivals on the night knew they had come up against a rock and roll tidal wave. Catch 23's guitarist Ray Clenshaw summed it up perfectly "If you're going to lose, you might as well lose to the best," he said.
But talk of victors and vanquished must be held for a few minutes, because the real winner of this whole contest was the Tamworth music scene itself. All four finalists turned in superb performances in front of the biggest crowd ever seen at an Arts Centre concert.
Equally pleasing was that the continued support of the area's music fans means that somewhere between £300-£350 was raised for the local pop charity 'TAMAID'.
This will be held until the TAMAID demo is available in the next few weeks, and then a cheque will be presented to the Quince Tree Special School at Amington as a token of the goodwill and good spirits of the local rock scene.
Everyone should be proud of their efforts over the past four weeks and none more so than the four finalists themselves who helped to give the judges – Messrs. Stuart Blaine, Denis Byfield, Mark Mortimer, John Reeman and Martin Webster all manner of headaches.
Opening up the proceedings were The Cheesy Helmets who turned in a shorter- than-allowed but still very strong set. It was loud, brash and adventurous and once again Richard Cuttler and Mark Brindley bounced around the stage as if they had just discovered the ancient art of the pogo. Guitarist Andy was also very impressive, slicing away at his machine with devilish delight and with Richard and John adding power and subtlety respectively, it was a fine mesmerising set.
Next up were Catch 23 who were greeted with the sort of roar that showed they have carved a very big niche in a lot of people's hearts. Once again the group showed enthusiasm, spirit and inspiring confidence and although their set didn't match the one they produced in the heat (how could it?) it still showed that there is so much this outfit have to offer.
Best of all was the final crucial number 'Twisted Mind' where the band displayed a touch of amateur dramatics to complement a staggeringly tuneful number. It was my song of the night.
And then came what can only be described as 30 minutes of pure joy – Wolfsbane. The group were in tremendous mood and this reflected in the way they played, slayed and drained the hungry, sweating crowd.
Everyone of their numbers was played to musical perfection and their look and stage presence would be the envy of many national heavy metal bands.
All the songs "Get Up", "Dance To My Tune" and the rejuvenated "Clutching At Straws", brought applause the like of which the Arts Centre has never seen, and by the end of their set you would have to be devoid of all five senses not to realise that here is an almighty force. I loved 'em to bits.
New Song
Finally up were Breaking Point who had the unenviable task of following Wolfsbane. Well, Breaking Point are as professional as amateurs can be and their style won over many new friends. One new song in particular "Hitman" was quite outstanding, and the most exciting thing about this most exciting band is they seem to be writing newer and better material all the time.
They have about as much chance of drying up as the River Tame and I for one found all my hopes for Breaking Point rekindled after their strong and increasingly passionate set.
So to the finale. All four bands were called up on stage, given a bottle of champagne and the result was announced – Wolfsbane were the Tamworth Young People's Arts Festival band of the year. They picked up individual prizes (plus a deserved one for Brian Edwards), a £75 prize and the knowledge that no-one begrudged them their victory after such a sparkling set.
It brought to an end four great weeks on the local music scene. Weeks that proved that the enthusiasm of both bands and followers show there are signs of life.
Tamworth Herald – 13/03/87
Musicbox – SNIPS
Commiserations are in order to see the loveable Catch 23 who missed out on a place in the national TSB Rockschool contest by just one measly point. The group were very pleased with their short set at the Dome which was particularly praised by two members of "Fuzzbox" who acted as judges. But in the end that one point was the difference between a place in the London final and a sad journey back to Atherstone. Still the band picked up some useful contacts and could be in line for a radio interview so the whole trip was certainly worthwhile.
Tamworth Herald – 20/03/87
Musicbox – SNIPS
CATCH 23 have just become radio superstars. The Atherstone boy-wonders were featured on Mercia Radio when singer Steve 'OK I stuttered a bit" Webster and Ray "I Sounded Much Better" Clenshaw were put under the interviewing grill.
They held up very well and told the interviewer about their look, their sound and their hopes. They also hinted at a possible single in the next few months which I for one think is a great idea. Right then chaps, the next stop is the John Peel show…
Tamworth Herald – 01/05/87
Musicbox – Catch This!
CATCH 23 have been unusually quiet over the last few weeks, but we can disclose that they have been far from idle.
According to singer, Steve Webster, the band have just spent four gruelling days in the recording studios, getting together their first-ever single!
They have had to fit this in around their schoolwork and as Steve says: "We all have 'O' levels coming up and any spare time over the next couple of months will need to be spent revising!"
P.S. I have a had a sneak preview of the single and believe me it is EXCELLENT. The 'A' side is likely to be a marvellous, punky number, "Don't Lie" backed by the powerful, pure pop of "Love Explosion".
Tamworth Herald – 19/06/87
Musicbox – Festivals, fun, gigs galore
SNIPS
Catch 23 are due to appear at Pebble Mill studios in Birmingham on Wednesday to record a full set of possible transmission. Although the band themselves were somewhat bemused about what was going on, it seems they were spotted at their 'Battle of the Bands' heat at the Dome and somebody out there likes them! We hope to have more details on the bands silver screen debut in the near future.
Tamworth Herald – 26/06/87
Musicbox – SNIPS
CATCH 23 confirmed their reputation as budding sex-symbols last week when they were literally mobbed as a special concert at Pebble Mill Studios. The group were taking part in a worldwide schools' rock festival alongside several other allegedly very awful acts. At the end of their crisp 45-minute set, the band were surrounded by adoring females, all demanding autographs and 'passing lip service'. The band, of course, were totally appalled but went through the testing ritual out of a commendable sense of duty. "It was awful," said a beaming lead singer Steve Webster, "All these girls were queuing up in front of us and we couldn't get away." My heart breaks for the bad.
Tamworth Herald – 03/07/87
Musicbox – Bursting to be back in town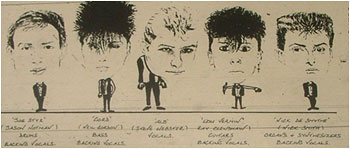 Caption: Catch 23…as drawn by bassist Neil Gordon.
TAMWORTH ARTS CENTRE stages one of its biggest nights of the year tonight (Friday) with the official launch party of the first single by Catch 23. The loveable Atherstone outfit will obviously top the party bill, along with Edward ian Armchair and superb local band who are trading under dubious name The Wilsons.
For Catch 23, tonight's official single launch is the culmination of a short but dynamic career. In what seems like just a few months, the band have risen in stature and ability to the point where they now earn the respect of every local rock fan.
Tonight's show is already set to be a sell-out, and Catch 23 themselves are delighted to repay the loyalty of their fans with this special fun concert.
The band's first single is a double-A-sider 'Don't Lie'/'Love Explosion'. Like most Catch 23 tracks the single is packed with energy and atmosphere as well as tow catchy, danceable tunes which are certain to sound very nice indeed pouring out of radio speakers.
Already is has earned amazing praise from Mercia DJ Paul Robinson who has promised to give the band maximum exposure, and there is a real buzz in the air that this single could well lift Catch 23 to the top of the pile.
Tonight's special Arts Centre show will see the single on sale for the very first time. The band have stressed that they would prefer Atherstone-based fans to buy their copies at record shops to ensure entry into the Mercia Charts, but Tamworth people can get their grubby fingers on the goodies tonight.
The single comes packaged in a superb sleeve which includes all the lyrics and a brilliant sketch-drawing by the multi-talented Neil Gordon, a bassist who is clearly the illegitimate child of Jean-Jacques Burnel and Picasso.
As well as selling the single, tonight's gig will be very much a fine show in its own right. Catch 23's local gigs have been kept to a minimum of late – apart from one hugely successful Pebble Mill bash – and they are bursting to return to their native stages. Already more than 100 tickets for the special event have been snapped up by fans and the ticket-less out there are warned to get to the Arts Centre very early tonight to stand any chance of enjoying a rock and roll party to remember.
Joining the single-bearing heroes will be local poet Edward ian Armchair and this odd bunch called The Wilsons. I am not allowed to reveal too much outfit, suffice to say they share Catch 23's love of live-work and on their day can leave every self-respecting rock and roll fan drained of energy. A 'Wilson' is a term familiar to some of you, but let me tell you, there are no flies on this band!
So an absolutely unmissable show – one which will be a tribute to the sheer strength of the local music scene. Just a couple of years ago Catch 23 were learning their first chords, now they are releasing their first single and are on the threshold of something very exciting.
They couldn't have done it without Tamworth's music scene and so tonight's wonderful show will be a mutual thank-you session and tremendous fun to boot. Catch 23, the floor is all yours…
Tamworth Herald – 03/07/87
Musicbox – Single of the Week
THE REALISATION of hopeful potential is always a wonderful thing to see – and this is thus. Catch 23 have blossomed with style from a schoolboy band who happen to play good music, to a good band who happen to be schoolboys and this remarkable two-tracker is ample proof that they are a rare and special commodity indeed. 'Don't Lie' is the finer of the two tracks, a rip-roaring embodiment of the spirit of '78 which combines a spirited attack with a meaty melody. The flip-side 'Love Explosion' is an equally succulent musical morsel, which has unbounded energy and life and a hook that most anglers would appreciate. Put it together and you have a single which Catch 23, their fans and the whole local music scene can enjoy and revel in. Atherstone never had it so good.
Tamworth Herald – 10/07/87
Musicbox - Fun four choose their favourites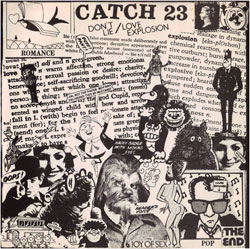 Catch 23 – Single Release
Catch 23 deserve nothing but praise for this wonderful little show! Which had a hugely biased audience bopping, sweating and dancing like their lives depended on it. Catch 23 showed no signs or nerves to turn in a set which bristled with optimism for a glittering future.
Obviously the single tracks 'Don't Lie' and 'Love Explosion' – rightfully took the night, but just as exciting in my eyes were the newer even more magical songs such as 'Hurt Me' and the magnificent 'Facing Up'. Truly a concert and a night to remember and truly a band with a future. Fun, fun, fun.
Tamworth Herald – 24/07/87
Musicbox – Band is making waves
Catch 23 are back in Tamworth tonight (Friday) when they team up with a special disco at the Embassy Leisure Suite. The enterprising Atherstone youngsters are in the midst of a battalion of local and not so local concerts at the moment in an effort to promote their excellent debut single 'Don't Lie'/'Love Explosion'. Already the single has crept into the Mercia charts and is receiving substantial airplay on Mercia Radio where the band have been interviewed several times.
Tonight's Embassy show will mix Catch 23's powerful pop with a full disco, ensuring something for everyone to enjoy. So make sure you get along and see for yourself why Catch 23 have been receiving piles of fan mail from all around the country. The Embassy is the place to be, Catch 23 are the band to see.
Tamworth Herald - 31/07/87
Musicbox
Catch 23 – The Embassy
A Bit closer to home, this than the Marquee but still well-worth every mile I travelled. Catch 23 continue to mature and improve with every performance to the point where they have now graduated into the major league.
Despite the fact that guitarist Lou Vermin broke his amplifier early on, the group's newly-realised professionalism made them 'go for it' in even more determined fashion to create a powerhouse of a set.
Most of the audience admittedly seemed a little bemused by it all, but gradually as the groups' presence began to manifest itself the dance floor began to vibrate and the atmosphere just grew.
Best track was again the superlative 'Facing Up', but for me the outstanding feature of the whole set this time around was that man Steve Webster. Watching him improve both as a vocalist and a frontsman over these past couple of years has been a very enjoyable experience and he now sets the stage, the band and the audience alight with a style that is well-beyond this tender years.
Another fine Catch 23 show and another step in the right direction for a band who are maturing so quickly they will be old and cynical before they are eligible to vote.
Tamworth Herald – 11/09/87
Musicbox – SNIPS
A5 are planning to make a single in the new year following a very good response to their recent live shows. Still with singles, Catch 23 have almost sold out their 'Love Explosion/Don't Lie' 45 after venturing into the unknown waters of towns such as Kenilworth and Coventry and literally flogging them in the street. Their opening gambit is 'Have you ever heard of Catch 23?' and if the unfortunate respondent hasn't, they are given a massive description until they finally cough up'.
Tamworth Herald – 25/09/87
Musicbox – Dolls come out to play for a fast-moving party
THE RATHOLE this week unveils the biggest show of the year – old punk heroes The Toy Dolls alongside Tamworth's much-loved Wilsonz and Atherstone's much-loved Catch23.
Teaming up with the Geordie giants are The Wilsonz (Wolfsbanes half sisters to the uninitiated). This dynamic band have played only a handful of concerts and have 'covered' a wide range of sounds and impressed everyone en route. They play a set packed with their own fave-ravers and crammed to the brim with pogo-a-gogo qualities. Put simply, the Wilsonz are FUN.
Completing the trio on the night are Atherstone's not-so-young-anymore youngsters Catch 23. This marvellous quintet have the ability to turn an ordinary night into an extraordinary one, and their growing confidence and unparalleled enthusiasm should make them burn the stage to cinders.
In recent months the Atherstone outfit have written a lot of new numbers such as the classic 'Facing Up' and those of you who haven't seen them in a while could be in for a pleasant surprise.
Together this bill makes for one of the Rathole's most ambitious and important concerts yet. A band like The Toy Dolls do not come cheap so if you really want to see 'name ' outfits in the town it is essential you get your dancing shoes on and get along to the 'Rathole' on Sunday night. It will cost you around £3 but every penny will be very well spent.
If you don't get along we will send the elephants around and believe me those beasties are MEAN.
Tamworth Herald – 02/10/87
Musicbox – Oh what a night, late September here in '87
The Toy Dolls / Catch 23 / Wilsonz – The Rathole
You know those really dreadful people who harp on about the 'good old days'? Well, I am about to become one of them. For this superb concert saw The Rathole at its old, packed sweaty best, and saw three bands playing music that would have seemed quite apt during the halcyon days of punk rock.
It was a night when everybody could forget their woes, bounce on their toes and remember just how good live music was – and can be again.
Opening the show were The Wilsonz who waited until late in the set before announcing the mega-tragic news that this would be their last–ever show. Before it however the band turned in a splendid cross-section of butchered cover versions, with a ridiculously speedy version of 'Ace of Spades' and a mind-blowing 'Born To Run' being the undoubted highlights. But it's still bye bye to the Wilsonz and I suppose that means we will have to make do with the revolting Wolfsbane now. Life is cruel!
Also cruel is the fact that Catch 23 aren't really world-dominating superstars. The fact that they are not massive has nothing to do wit Catch 23 and everything to do with the fact that the music business is run by tone-deaf morons. Catch 23's show was once again packed from start to finish with lively, thumping power-pop with one or two newies such as 'Sanity' and 'No More Lights' being the outstanding moments.
Visually and musically the band has now progressed into a new (higher) league and if they can remain patient, committed and musically inventive the world really is their oyster. As the final example of their talent, they played one number 'Soldiers of Fortune' which was scribed by guitarist Ray Clenshaw when he was just ten years old. At that age I was still writing to the Whizzer and Chips'.
And so to the finale – The Toy Dolls. None of us really knew what to expect and were slayed with a series of tuneful million-miles-an-hour blasts form the (1977) past. At odd times they reminded me of The Dickies on acid or The Adicts reminded me that it is still possible to smile at concerts without losing your street cred'.
By the end of their ear-battering burst of power, we were all left deaf, dumbstruck and sticky – three factors that tell you, you have seen a great gig.
It all went to prove that Tamworth needs more punk rock in the future. The public love it, the venue suited it and the atmosphere warranted more. It was, as they say, a might to remember. Just like the good old days in fact.
Tamworth Herald – 30/10/87
Musicbox – The boys are back in Town!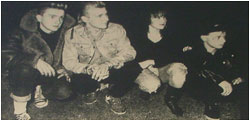 TAMWORTH'S music scene will explode into life again on Sunday night when all-conquering Wolfsbane headline an exciting show with two first-class support acts – Catch 23 and The Conspiracy.
The three band line-up promises to be a tremendous concert and a real celebration of the amazing strength of the local scene.
For Wolfsbane – who have literally been 'slaying 'em' wherever they go – the gig will be a keenly-awaited and very exciting homecoming. Wolfsbane have gone from strength to strength on a national basis, but have never forgotten their Tamworth roots and they regard Sunday's Art Centre show as one of the most important of their current batch of prestigious gigs. The Town's most outrageously loveable quartet are almost certain to be snapped up by a record company very shortly, and they have reached the stage where virtually every gig they do is received somewhere with the sort of review which makes my ecstatic MUSICBOX comments on the band seem positively hostile!
Their set, their look, their appeal and their strength seem to be growing and maturing by the minute, and even the band seem a little taken aback at the mass adulation that has been apparent at all their shows of recent months. Tamworth has every reason to be very proud of these hell-raising, heavy metal heroes and there is no better way of demonstrating that pride than y packing the Arts Centre to the rafters and giving these boys the sort of reaction that will be heard in the ivory towers of EMI, CBS and the rest.
Wolfsbane (however far they go) will never forget Tamworth – on Sunday we can show that Tamworth will never forget them.
Joining Bouncing Bayley and his Bad Boys on Sunday will be two other groups who have that ability to make you tingle in places you didn't tell your grandmother about. Catch 23 are of course about as essential to the scheme of things as breathing, and their high-powered, high-energy sound shows no sign of diluting even as the boys reach their relative old age of the mid-late teens. Catch 23 are a tremendous bunch of people who also harbour a tremendous sense of purpose. Their purpose on Sunday will be simple – to entertain the hordes who have given them the incentive to carry on. It is an ambition they will find easy to realise.
Completing a tremendous line-up are Tamworth's newest cult band The Conspiracy. The band - who have only been with us a matter of months – have already become established as one of Tamworth's brightest new hopes and have given the Town's alternative and punk fans a new spark of life after a somewhat barren time. Their sound – a kind of Siouxsie and the Banshees meets The Cult affair – is till just being formulated but it has already shown enough ingredients to make me feel it could be as vital and strong as Mike Tyson.
With Wolfsbane's power, Catch 23's energy and The Conspiracy's style, the show on Sunday night looks set to be one of the highlights of this hectic rock and roll year. If you want to see how good this area is musically get yourselves along to the Arts Centre on Sunday and let those wonderful bands do the rest.
Classic entertainment this way cometh.
Tamworth Herald – 06/11/87
Musicbox – Snap, crackle, crunch
Wolfsbane/Catch 23/The Conspiracy
AS my love of all three bands here is hardly a state secret, I will keep this review brief and to the point. So without much ado about nothing here is my view of a very hot evening…
THE CONSPIRACY
Any view I could give here is surely prejudiced by the fact that I only managed to see about three numbers and one of them – yuk, yuk, - was a Cult cover. Still the little bit my ears caught sounded very fine indeed and judging by the enthusiastic comments of virtually everyone afterwards, it seems Roger's Rockers have carved an ever-lasting niche on the local scene. Music to bop to, music to make you smile.
CATCH 23
An all-together harder and more direct set from a band who were in energetic, enthusiastic form. Their pop sensibility was replaced with a more raw and angrier attack with Steve Webster in dynamic form and bassist Jason Notman producing some excellent power-bass playing which once again reminded me of the Grandmaster JJ Burnel.
Highlight of the tracks was the priceless 'No More Lights' which is a modern-day new wave classic if ever I heard one.
WOLFSBANE
Heavy man. All together more ear-crunching set from a band whose talent knows no bounds. In comparison to recent Wolfsbane shows, it was heavier, sweatier, punchier, gaudier, smellier, noisier, nastier, naughtier, haughtier, angrier, sexier and more gauche.
Anyone who leaves a Wolfsbane concert and doesn't feel as though they have swallowed a Bunsen-burner simply isn't playing attention.
Sam Holliday
Tamworth Herald - 01/01/88
Musicbox – The heart and soulmen take the honours
Slick Dance Stance have been votes as your favourite local band for the second year running. The wonderful soul combo – who have had an incredible year – have retained their Musicbox top band award after another hugely successful poll which saw hundred of you put pen to paper.
Dance Stance earned their top billing despite a very exciting fight with fellow Atherstonians Catch 23. The lead swapped hands on several occasions during the poll at the end of the day Dance Stance just nicked the highly-prized top slot.
They have won the award in recognition of the year that has seen them – like third-placed Wolfsbane – pass out of the local band scene and onto a national platform. Every gig they have done – from supporting the legendary Geno Washington to headlining in front of 1,400 university students – has been warmly received and fantastically praised.
Their live show has become an example of class professionalism and their sound on tape, record and yes even CD, proves they have quality built to last. They are a truly superb band and they have thoroughly deserved their impressive position in nearly all aspects of this year's poll.
As well as winning the best band they have also won best local song, had five entries in the top personality section, four in the top concert section and a second-place in the top single.
Tremendous
It has been another year of tremendous progress for the group and one which should be a springboard to a major record company contract next year. They go for that goal with your fullest support – and that should fill them with a lot of hope.
Also with every right to feel delighted are Catch 23 who have easily has their best poll result. They were a strong second on the top local band and made up for the minor disappointment of not taking the top slot by winning the best single of the year; the top personality (in singer Steve Webster) and by having three songs in the top local songs section.
It is a morale-boosting performance from a band who can do no wrong in my books and have achieved their superb success by combining a love for music with a basic positive humanity I personally find very inspiring. I am delighted to have seen them do so well.
Magnificent
In third place in the poll was Wolfsbane, a group who will never, ever forget 1987. They have clearly made a permanent mark on the local scene and the way they picked up votes from all sorts of local music fans proved conclusively that they have a stranglehold on the whole area and not just on people with long hair, plastic guitars and sex obsessions.
Elsewhere in the top local bands section, it is good to see wide-ranging support for the rejuvenated A5 and Shellshock, while Mark Mortimer will take great comfort from the success of The Great Express – easily the most popular new band this year.
Looking further down the best local bands list it is interesting to see Breaking Point are still held in affection despite their sad final Arts Centre show, and it also seems that Atherstone is looking musically stronger than ever before.
Still with local bands, the final tally of outfits voted for was an amazing 52 (including the likes of Christ in Shades and even the defunct Dream Factory and Orange) and the 'next ten' after the top twenty were Kraze, The Witness, Hamilton Hammond, DHSS, Jabberwockie, Emma Gibbs, Soil Brothers, Jim Crows and Stranger Than life. All in all, however, it seems the scene is getting more and more diverse and more and more groups are being formed locally. Both facts augur very well indeed for the future.
Tamworth Herald - 28/02/88
Young rockers are top of the region
ONE of the area's best young pop bands has just burst through to the final of a prestigious national rock competition.
Catch 23, who are based in Atherstone, won through to the final of the TSB National Rock School contest following the regional heat of the event held at 'The Dome' in Birmingham on Monday afternoon.
There, the young group beat off the challenge of seven other top school-based bands from West Midlands and Wales to earn a place in the final in Bradford at the end of March.
And as well as giving the rocking quintet a chance to earn big money prizes, it will also guarantee them a slot on television as the whole of the final is being broadcast in an hour-long special by Yorkshire TV.
"It is wonderful news" said the band's lead singer Steve Webster after the result was announced. "We have worked very hard to win this heat and we are now looking forward to the final."
The band were given just 12 minutes to impress an eight-man panel of judges made up of local pop stars, disc jockeys and media representatives. But they received the top placing after a performance described by top Midlands rock singer Steve Gibbons as 'brsting with enthusiasm and energy'.
The band who were cheered on by more than 130 supporters from Atherstone and Tamworth will now meet the winners of seven other national heats to find Britain's best school or college-based rock band.
For a full review on Catch 23's winning performance, see next week's Herald Musicbox column.
Tamworth Herald - 04/03/88
Musicbox – Rock Masters fulfil promise
Catch 23 – TSB Rockschool Heat, The Dome
ALMOST exactly two years ago, I wrote my very first review of a new band called Catch 23. in it I said that here was a band with 'literally hordes' of talent, excellent songs and tremendous promise. 'They are truly a band bursting with potential' I concluded and for once it seems my prophecy was right.
In just 24 months, the band has played superb gig after superb gig, released a fine single and become respected by the whole local music scene for their genuine sincere outlook to music both on and off the stage. But all that pales into insignificance compared to last week's triumph in the illustrious setting of the Dome. For that was Catch 23's 'magnus opus', the moment when the world outside Atherstone and Tamworth saw what it had long know – these five boys have destiny.
For as you may have seen in last week's Herald, Catch 23 won this regional heat of the TSB Rock School contest and now go forward into the final in Bradford in three week's time. What makes their win even more commendable was that they were up against seven other schools or college-based bands whose quality both excited and amazed me.
The regional heat – which covered the whole of the West Midlands and the whole of Wales – saw fine music everywhere with two talented all-female groups, one slick Welsh pop band and even a talented rock outfit made up of a trio of blind musicians.
The standard was magnificent (no surprise considering these eight finalists had been chosen from hundreds of entrants) and it was clearly going to take a very special Catch 23 show to win them the vote. And, what did we get? A very special Catch 23 show – that's what!
The band had just 12-15 minutes to capture the hearts of eight stoney-faced judges. They probably did it within 30 seconds as they launched into a spellbinding version of 'Everybody' which turned the Dome into a mass of dancing as 130 travelling Atherstonians let it all hang out.
Next up came the Jam style 'Facing Up' and then came a moment of sheer majesty – a stunning and quite beautiful rendition of 'Hurt Me' dominated and dazzled by lovely keyboard work by Nick Smith. Completing the short set was a rip-roaring version of 'Love Explosion' which almost literally brought the house down (that's what explosions do)! And then, with a final cheeky Steve Webster smile, the band headed for the dressing room.
Two more bands followed and then came half-an-hour of sheer torture. No, Marillion did not make a guest appearance, but the judges went out and made their decision – a decision which seemed like months arriving.
My heart was pounding so hard it could have acted as an alternative bass drum, but eventually Steve Gibbons arrived on stage told the audience that Catch 23 were wonderful and BRMB disc jockey Les Ross announced they have won.
The scenes that followed the announcement will remain with me for a very long time. There were tears aplenty everywhere and people were buzzing around the room as if they had won the gold medal. Catch 23 had not only seen off every school-based pop band in the West Midlands and Wales but they had booked themselves a place in the national final with a chance to win £2,000 worth of equipment and a guaranteed slot on ITV on Easter Saturday.
In Bradford, the home of the final, they will meet seven other regional heat winners and will be judged by an amazing collection of celebrities including Robert Plant (ex-Led Zep) and producers Stock, Aitken and Waterman. If they win there, the future will be golden indeed and even if they don't they will have something to treasure forever.
As for myself, well the elation I felt leaving the Dome was genuine and overwhelming. Catch 23 have become close personal friends because their honesty and enthusiasm off stage is the same as it is on. They are truly the nice guys of local music, and nice guys as they say rarely win. Well they did. If I hadn't been such a macho, hard-faced, emotionless type of guy I think I would have cried as well.
SAM HOLLIDAY
Tamworth Herald – 08/04/88
Musicbox – The pride of the area…
Catch 23…National Rock School Final, Bradford
I have been writing MUSICBOX for almost five long years now and in that time there have been several nights that have stood out.
All the Rock Festivals, Battle of the Bands and charity shows are obvious highlights, but equally memorable are individual, unforgettable concerts from the likes of Breaking Point, Wolfsbane, Dance Stance, Catch 23, WIN, Terroah, XPD, Fetch Eddie, Dream Factory and so on.
And now. I have another unforgettable occasion to lock away into my musical memory – the final of this superbly-organised and prestigious competition. As you will probably have already seen elsewhere in this paper (and of course on TV at the weekend), Catch 23 came in third in the Rockschool final following an exciting, energetic performance. Obviously there was some disappointment that they hadn't won but let us put this in some sort of perspective – Catch 23 have been officially declared as the third best school-age rock band in the whole of Britain. More than 35 bands entered this competition and this wonderful Atherstone bunch saw off all but two of them.
After just two years or so together the band earned praise from people who have a major profile in music – Robert Plant (who raved about drummer Jason Notman), Stock, Aitken and Waterman (who were delighted with the Adders' expert) Mike read (who was genuinely impressed with a band close to his own musical heritage) and Toyah Wilcox who bopped around to the group from the moment they started. In an audience littered with pop stars of this ilk, top journalists like Rick Sky from the S** and A and R men of all shapes and sizes, Catch 23 really did do the business and it only takes one person who saw last week's proceedings to spot them and the world could be their oyster. So what was the day like.
Well it all began for 150 Atherstonians at 10am on Wednesday last, when three buses left Atherstone School packed to the rafters with lusty young locals determined to give their heroes the maximum support. All of them sported special Eddie Armchair created Catch 23 T-shirts and all of them were determined to do their bit to give the band the best possible lift. Meanwhile up at the Bradford venue for the show, Catch 23 were just getting ready to hit the audience in a big way. They had been there since Monday and enjoyed tremendous hospitality and a unique and genuine feeling between all the groups present. Such was the effect of their whirlwind attacking musical style, that Yorkshire TV insisted Catch 23 start the whole concert to give it (and the TV audience) the best possible rocking start.
The band actually hit the stage at around 2.15 and despite all the pressure of a massive crowd and numerous cameras they played with the ease and confidence that they would do at the Arts Centre. The set began with the crowd pleasing 'Everybody' got even warmer with the splendid 'No More Lights' slowed down with the moving 'Hurt Me' and ended with a rousing outburst of 'Love Explosion'. It was all over far too quickly but the band knew they had done well and now it was just going to be a long long wait to see if it had been good enough.
Well, my spirits began to rise as I saw the rest of the acts who although all of merit were not as outstanding as the heats had suggested. In the end I felt it was between two bands – Scotland's theatrical Ad-Lib and our own Catch 23. In the end Ad-Lib got the nod but inexpicably a group called Alibi robbed Catch 23 of a much-deserved second place.
Still, as someone who organises rock competitions myself, I know from bitter experience that no-one agrees with the final verdict so I won't gripe. Well not much anyway!
With the final announcements over the cameras shut off, and everyone started to head home. Catch 23 were disappointed of course but should feel nothing but pride. They earned universal praise, massive exposure and even a slot on the box which I am sure everyone enjoyed on Saturday morning. And more than that perhaps, they were given a real taste of the big time. Catch 23 were treated like stars for three days and clearly liked the taste very much. The whole competition will have inspired them to believe that all the hard work is worth it, because the rock and roll rewards are very great indeed. For that reason it was a marvellous occasion for the band, who, like me and 150 Atherstonians – will never forget their first ever trip to the previously uncharted waters of Bradford.
As for the TSN contest itself, well, I am filled with admiration. Organiser Roger Davies and his TSB team deserve the greatest possible respect for their self-less work too give bands like Catch 23 a chance to experience the (very) good life.
I get the same feeling watching Catch 23 before the cameras as I did watching Wolfsbane playing at the Marquee. It was a feeling that, yes, we ARE doing something right in this area. We are give our bands the best possible support and start to offer them the opportunity to go as far as they possibly can. The local music scene should be proud of its efforts over the past few years and I for one am cock-a-hoop to see Catch 23 doing so well. They didn't win the battle but something tells me they are going to win the war.
SAM HOLLIDAY
Tamworth Herald - 15/04/88
Musicbox – SNIPS
I hope you all managed to see Catch 23 on TV last weekend. Most people thought they came over very well indeed and should on the evidence of the TV performances have won the whole thing outright. The one thing that puzzled some people however, is why Steve Webster has bleached his hair that extraordinary blonde colour. Doesn't this man know that all bleach blond boys are highly suspect?
Tamworth Herald - 27/05/88
Musicbox – SNIPS
Catch 23 singer, Steve Webster recently passed his driving test which is great news to the rest of the band who can sack him and give him a more important job – roadie.
Tamworth Herald - 03/06/88
Musicbox – SNIPS
Catch 23 are toying with the idea of recording a new single to follow their excellent 'Don't Lie' debut. They have been writing several new songs, one of which the brilliant 'You Keep Me Hanging On', has already been recorded. The band are planning one or two shows shortly alongside fellow stable-mates Fetch Eddie. Watch this space.
Tamworth Herald - 08/07/88
Musicbox – Pop Supremos back in Town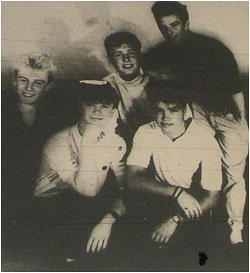 TWO of the area's greatest bands join forces on Sunday night for an enjoyable-looking Arts Centre concert.
Reggae supremos Fetch Eddie will line up with Atherstone's pop warriors Catch 23 in what should be one of the most pleasurable concerts of the year so far.
For Catch 23 it will be their first major show since they won TV and press acclaim for their performance in the national final of the TSB rockschool contest.
Proud
Then, Steve, Ray, Neil, Jase and Nick won over judges such as Phil Oakey, Robert Plant and Toyah and were chosen as the third best school-age rock band in Britain.
Since that time, the Atherstone outfit have been busy writing new material, all of which they are very proud of. Particularly look out for a stunning newie called 'You Keep Me hanging On' a major pop classic which the band have so much faith in they have approached Paul Weller with a view to producing it as a single.
The group, who classify their sound as 'power pop' are very excited about playing live to their 'home' audience once again and they see Sunday's show as perfect preparation for the Rock Festival the following week. I for one am keenly looking forward to seeing the boys once more especially since rumours abound that two of them are so old now that they have started to shave.
Teaming up with the Atherstone aces will be everyone's favourite pop/reggae act, Fetch Eddie. Pod and the crew have had so many off-stage problems of late that they have had to miss a number of billed shows but they hope to make up for that with a vengeance on Sunday night.
Oldies
Like Catch 23 the band – currently being chased by CBS Records – will be parading some relatively new material alongside their famous golden oldies like 'Too Much Too Ask For' and the anthemic 'He'll Love you 'Til You're Pregnant'.
Fetch Eddie remain one of the most innovative and exciting bands around and alongside their friends and fellow soulmates Catch 23, they look set to produce another cracking performance on the night.
It should be one of the best gigs of the year – don't miss it!
Tamworth Herald - 05/08/88
Musicbox – Sad farewell – and the best is yet to come
WOLFSBANE Tamworth Arts Centre, Saturday and Sunday, with Fetch Eddie, Catch 23, Scream Dream and DHSS.
And so the end is nigh…The end of four wonderful years in which Wolfsbane moved from being just another young metal band into potentially one of the biggest bands in Britain, and certainly Tamworth's biggest ever offering to the national music scene.
Their mega-bucks deal with US giants, Def-Jam Records means Bayley, Jase, Steve and Jeff jet off to Los Angeles later this month to record their first album and hopefully hit the road to stardom.
It means we won't see them in this country again for a very long time, and who knows when, if ever, they will play in Tamworth again.
Indeed the odds of seeing Wolfsbane in a venue the size of Tamworth Arts Centre again are about the same as Tamworth signing Tony Cottee.
So their final farewell gigs, the first-ever two-night stand at the Arts Centre pulled a packed audience out of Tamworth's finest musos and the varied assortment of crazies from all over the country who travel to see the Wolfies these days. MUSICBOX writers and Martin Warrilow and Ray Clenshaw (who also starred in Catch 23 on the Saturday night) were there to record the proceedings, on two very different but brilliant events.
SATURDAY…The punters were arriving in Tamworth at about midday for this, and the Arts Centre was white-hot by the time openers Fetch Eddie hit the stage.
You could tell it was going to be a great weekend as Aaron and the boys turned in a sparkling set of quality pop that stood out as a diamond in the dirt that stands for music these days. From the opening strains of 'Mean Tin O' Beans' through a selection of Fetch Eddie faves, and a newie entitled 'One Two Feet' they sounded considerably better than their outdoor festival set and won a fine reception from the Wolfsbane-supporting audience. Quite simply, with a little more refinement in the presentation there is nothing to stop these boys from becoming the next big Tamworth band and making the wonderful Phyllis James the happiest woman in Britain. Marvellous.
Old faves
Catch 23 caught the mood superbly with a blasting set of their old faves and some classic covers "Tears of a Clown", "Fever", "Heatwave", were all churned out with style along with "This Day and Age" and "Twisted Mind" dedicated as usual to George who as usual, loved it. Steve Webster in a Howling Mad t-shirt was in fine form and proved that he might well be Tamworth's next star front-man. I happen to know they thought they were awful. I thought they were brilliant.
I wish I could say the same for Wolfsbane. Although they got considerably better for Sunday's show, which tragically I missed. I have to say that Saturday's set was ragged, untidy, overlong and rambling. The band is all about power, excitement, drive and catchy tunes. All that disappeared in a morass of wordy between-song raps from an over-emotional Bayley and some unnecessary clowning. When they finally got down to music they were spectacular, but there just wasn't enough of it to keep the crowd interested. I've never been bored in almost three years of watching Wolfsbane. I was nearly bored by this. Oh, how I wish I had been able to see Sunday's set. As it is, I'll just remember them wowing the crowds at the Festival. Until that is, we all rush down to our local record store to buy the album. The end of an era.
MARTIN WARRILOW
SUNDAY…Well what a farewell for Wolfsbane. The show opened with the DHSS who produced their special helping of sadistic pleasures with a frenzy of synthesisers, the best example of which was "Vicar's Hand" showing up Edward ian Armchair for the sick man he undoubtedly is. Crazed but fun.
Great blast
Next up were Scream Dream, a truly nice bunch of lad who produce a great blast of noise on stage. "Dreams" was once again the best tune of an exciting set although "Obsession" came a close second.
Then came Wolfsbane for their last-ever Tamworth Arts Centre show. This was a sleazy bonfire of metal madness of the very best sort. I've watched them since they started and this was the dirtiest and most anarchic set I've ever seen from them. They have now reached a peak of rage, and this was far more than four guys just getting on a stage and playing songs. This was a testament to Tamworth and its musicians. Wolfsbane have reached new heights, have progressed beyond their past and gelled into a big loud sleazy ball of power. In the limited range of heavy metal they just get better and better. I have never heard them produce such gut-busting metal power before and an emotional 'Clutching at Straws' was the highlight of a white hot set. And then they were gone, leaving us with a sense of past successes and anticipation of the future. Because undoubtedly the best is yet to come.
RAY CLENSHAW
Tamworth Herald - 12/08/88
Musicbox - Sam Holliday reviews a trio of local demos
Catch 23 – Facing Up
When I was given this tape, it was with the strict and in my experience unique instruction that I didn't review it. It was put together as a nine track sampler for fans only containing studio out-takes, live tracks and the like. The band didn't think it was too hot – hence the no –review stipulation but being so unscrupulous I have decided to ignore their request because think this is great. To me this odd collection shows Catch 23 at their raw and powerful best, an impressive collection which shows that they can write, perform and surprise with equal ability. The opening duo 'No More Lights' and 'Facing Up' are the best of the bunch, two excellent numbers – which stick in the mind long after the final bar but I reality not one of these tracks is wasted. What this tape further convinces me is that Catch 23 must stay patient and wait for the inevitable 'Jam tomorrow' because they are getting better with age and sharper by the day. They are still at an age where they might feel too easily frustrated but they must fight that and persevere because they have got everything it takes to break into the national limelight. Patience is a boring aspect of rock and roll but in the fame game it is just as important as guitars and glitter.
Tamworth Herald - 09/09/88
Musicbox – SNIPS
A rare event happens tomorrow (Saturday) a gig in Atherstone, The event at the Kings Head pub is part of an all-day fundraiser which climax on the night with the appearance of local heroes Catch 23 and A5, A god time is promised to all that attend and as Atherstone is not exactly renowned for having mega amount of gigs, a big crowd is a certainty. The bands are expected to be on between 8-10pm.
Tamworth Herald - 16/09/88
Musicbox – NEWSBEAT, BEATNEWS
CATCH 23 who are planning to record 'You Keep Me Hanging On' as their second single in the near future are to be featured on a special Lichfield area rock compilation promoted by The Reptile House. The band were keen to help because they regard the studio as 'superb'. The group have also sent out congratulations to drummer Jason Notman who has just passed his driving test.
Tamworth Herald - 23/09/88
Musicbox – SNIPS
Clubtime for Catch Boys
Catch 23 have been invited once again to play a special show at Faradays Nightclub on Wednesday Sep 28. The band have been at the venue a couple of times and received impressive reactions and they want this next visit to be their best yet. They have received a consignment of tickets (which are selling fast) and urge Atherstone fans who want to join them on the night to apply for tickets NOW!!!
Tamworth Herald - 07/10/88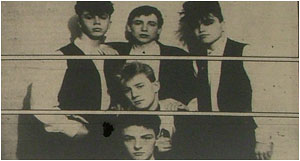 Musicbox – Arts Centre set for true style
TAMWORTH Arts Centre opens its doors this weekend to an exciting concert which combines the best of the local scene with a top Midlands group.
Tonight (Friday) the mighty True Grit join forces with Atherstone hot-shots Catch 23 for potentially one of the best shows of the year. Tonight's double-header promises to be quite a crowd puller. True Grit, under their former banner of Strap On Jack, became probably Tamworth's favourite import in the old Rathole days playing a mass of concerts which earned them wide acclaim. Now they have found themselves a new name and have just released their debut album 'The Black Country'. Tonight's concert is part of a national tour which the band are hoping will extend their sphere of influence beyond the Birmingham area where they are already massive. Their live show is said to have refined and improved still more over the past few months and for all those that remember the gutsy r 'n' b power-drive performed by the trio that makes the whole thing sound very enticing indeed.
Teaming up with them are Catch 23 a band who remember Strap on Jack with affection and were very pleased to be able to join forces with them. The group have been busy rehearsing of late and are now getting everything right before launching their new single 'Hangin' On'. They were quite happy to stay away from live performances for some time but the lure of joining with True Grit proved too much and they should help to make a fun night of high energy pop music. It starts at 8pm and looks like being a great show.
Tamworth Herald - 14/10/88
Musicbox – Everyday in every way
Catch 23 – Arts Centre
I have literally lost count of the times I have seen this band now. What keeps me going back? That's easy – belief. From (almost) the start I saw a spark in this band which could ignite into a veritable fire and slowly but surely that fire is beginning to blaze powerfully. This was one of their best ever shows in mine and one or two other people's opinions because it shows that yesterday's schoolboy-popsters are gradually becoming tomorrow's adult pop stars. They are maturing by the day and most noteably in the sphere of Ray Clenshaw's songwriting. Tonight's opener for example 'Cathc This' was an utter classic and was the sort of dramatic dance sound the band would never have attempted in the old days. Elsewhere even the cover versions were over-shadowed by the likes of 'Hangin' On' and 'Don't Tell me' and it seems the band are now clearly defining their pop sound as a perfect fusion of the late sixties, late seventies AND late eighties. Catch 23 have everything going for them – age, ability, charisma and songwriting consistency. The only thing now missing is a record contract and after performances like this they no longer need one, they DESERVE one.
Tamworth Herald - 14/10/88
Musicbox – SNIPS
Catch 23 singer Steve Webster was minus one of his biggest fans at last weekend's Arts Centre show. For Steve's girlfriend Joanne had to work on Friday night and missed the show. No problem there of course until you realise that she COULD have had the night off but decided to have the previous night off – to go and see Fetch Eddie! Steve looked suitably miffed but admired Joanne's taste!
Tamworth Herald - 25/11/88
Musicbox – SNIPS
Fetch Eddie and Catch 23 are joining forces on Sunday night for a special and major Birmingham show. Our details this end are a bit sketchy.
Tamworth Herald - 02/12/88
Musicbox - SNIPS
If you want to enter the TSB contest which Catch 23 did so well in last year you can find out more by picking up entry forms from any branch of the TSB bank. It is open to bands still based at school or in Sixth Form colleges.
Tamworth Herald - 09/12/88
Musicbox – SNIPS
Catch 23 have been back in the studio this week working on their excellent new single track 'Catch This'…had to be cancelled due to a double booking with an Acid House disco. I can't help feeling Nuneaton people got the worse of the two deals myself.
05/01/89
1988 – Sean Atkins reflects on events
Tamworth rock band Wolfsbane went to Los Angeles to record their first album with American record company Def-Jam, while Atherstone's Catch 23 come third in the TSB Rock School competition and DHSS were chosen as support band at one of Sigue Sigue Sputnik's December shows.
Tamworth Herald – 06/01/89


Musicbox – The bands they are-a-changing

Catch 23 – Hangin' On Demo
JUST take a good look at the fresh-faced chappies pictured below. Could you have honestly believed that one day they would go on (minus guitarist Dave Stevenson on the left) to produce music that would make your knees tremble? Well, I remember thinking at the time of the photo that they had a real something but I didn't realise until quite recently just how much 'something' they really had. Put in a nutshell, this is a work of classic pop music – a four track tape so full of quality and excitement you could throw it at the charts and it would stick there for weeks. The four tunes are so different and so wide ranging in their pleasurable touches that it is no surprise that the band have been struggling to find an image that really suits their music. 'Hangin' On' (mine AND your favourite toon of 88) is just pure, unadulterated pop in the Undertones/'All Mod Cons' vein while the soft and skilfully pre-meditated 'Don't Tell Me' is the nearest thing to a tearjerker that any local band has ever produced. Elsewhere the ears perceive 'Catch this', the band's first and major concession to The World of Dance. This punchy piece of Frankie Goes To Atherstone will surprise a lot of people (it certainly shocked me) and it has the sort of melody and beat that puts it clearly in The Clash's own 'Hitsville UK' pseudo-paradise. Talking of The Clash the tape concludes with the sparkling 'Gotta Get Out Of Here', a song which seems to have walked straight off the Clash's marvellous 'Sandinista' collection with its white reggae/light punk touch and an inspiringly good tune. It will, I feel be a major live favourite and a major shock to even the most seasoned of Catch 23 listeners. A demo of many wonderments, one of thebest this scene has ever produced and one which would have seemed impossible from a band who once looked like they do below…Funny old world innit.
Review by Sam Holliday
Tamworth Herald – 13/01/89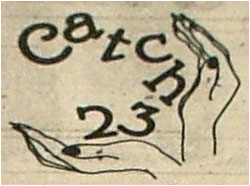 Musicbox – SNIPS, SNIPS, SNIPS
Catch 23 have won through to the regional final of the TSB Rockshow competition for the third year running. The five-piece act have been chosen as one of the seven best Midlands/Wales school age bands once again and they will aim to blast their way through to the Grand Final at the Dome on Monday January 23. Last year the band won through to the national final and finished an excellent third and this year with improved confidence and improved songs they are hoping to go even better. MUSICBOX will of course keep you posted.
Tamworth Herald – 20/01/89
Musicbox – It's D-Day for the Catch Boys
CATCH 23 begin the quest for national glory again on Monday when they take part in the regional final of the TSB Rockschool contest.
The Atherstone popsters will be in action at the Dome against six other top school-age rock bands throughout the Midlands and Wales.
If the Catch-boys go on to win the event they will appear for the second year running in the national final at Bradford where they will be chasing major prizes and a guaranteed slot on tv.
The band will have just 12 minutes to impress a celebrity panel on Monday and they are likely to fill that time with three original compositions.
Dance track 'Catch This' will probably open the set followed by new ska-influenced number 'Gotta Get Out Of Here' and the proceedings will be wrapped up with the MUSICBOX song of the year 'Hangin' On'
More than 100 Atherstone people are expected to make the trip to the Dome to cheer Steve, Ray, Nick, Neil and Jase on and MUSICBOX will be going with them.
Win or lose we will give a full report in the next couple of weeks. Watch this space.
Tamworth Herald – 20/01/89
Musicbox – A Fab Feb ahead!
TAMWORTH's rock fans are in for a real treat throughout February when the Arts Centre hosts a sparkling indoor festival.
Three top quality concerts will be on offer featuring the best of the area's older acts and some brand new local talent.
And to top off the whole indoor extravaganza it is hoped that Wolfsbane will kick off their major UK national tour by concluding the festival on Sunday March 5.
Plans for the indoor festival were sorted out on Sunday night when Tamworth's main outdoor festival for 1989 was launched. Once again a huge crop of bands registered interest in the 89 outdoor festival and at least 14 of these will be involved in the indoor festival in February/March.
At the moment the line-ups are strictly provisional but here they are as they stand at time of going to press. Please note the line-ups could change dramatically and you will have to keep reading this column to find out exactly who is playing and when. Assuming everything does go according to plan here are the line-ups for Tamworth's 1989 Indoor Rock Festival.
Sunday February12
CATCH 23 will headline with the support of one 'oldie' Emma Gibbs Loves Badges and two 'newies' Big Noise and Shock Culture.
Sunday February 19
SCREAM DREAM will headline with Mike Fleming's act Nightshade and two relatively new acts – The New Puritans and Double Vision.
Sunday February 26
DHSS will top-off a line-up featuring The Space Seeds, Never Say Die and King Woderick.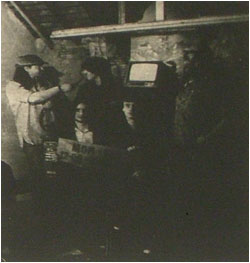 Sunday March 5
WOLFSBANE (contract permitting) will kick off their UK/USA tour by headlining alongside Spiral Eye and Kraze. If the Wolfies can't make it Spiral Eye and Kraze with team up with A.N. Other band.
As you can see from the above, many new bands have already emerged for this year's festival and in addition to those listed look out for several other new groups who have set their sites on the Castle Grounds for July.
In the meantime, pencil the above dates in your diary now. With the first three shows all the money raised will go towards the outdoor festival so they are vital fundraisers as well as tremendous concerts.
All the line-ups will be finalised in the next few days/weeks so keep your eyes peeled on this column. This indoor festival will prove a very exciting sampler for what you can expect this summer so get set for a Fab Feb and hopefully a marvellous start to March.
Tamworth Herald – 27/01/89
Musicbox – SNIPS
Don't forget Catch 23 took part in a major Midlands rock contest on Monday at the Dome and will have a full report on how they did in next week's paper. Nearly 200 people were travelling from Atherstone to cheer them on which proves that their second position in the MUSICBOX poll was no fluke.
Tamworth Herald – 03/02/89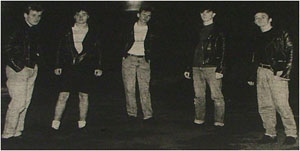 Musicbox – What a Catch
THE local music scene this week has another major cause to celebrate.
For the mighty Catch 23 have won through to the final of the TSB Rockschool competition for the second year running.
Webster's Warriors trampled over all the other regional finalists at last week's Dome-based contest and earned praise and near adulation from all that watched them.
Nearly 200 Atherstone/Tamworth and Nuneaton people cheered Catch 23 to a victory which caused no complaints in a partisan crowd of a thousand. Put simply Catch 23 were in a different class and they must now go to the Bradford final extremely confident of finishing higher than last year's third position.
Last week's regional heats brought together the best eight bands from the whole of the Midlands and Wales. With judges made up of managerial wallahs, Midlands djs and pop and media personalities, it was clear Catch 23 would have to produce a skilful and professional musical show to claim the Dome's glory.
In 1988 they had won the heat with some ease but this year the opposition seemed a bit stronger. One soul/funk band called Between Two Fires impressed me enormously as did an enterprising new Birmingham dance band called The Jazz Brothers but as one judge said when Catch 23 arrived on stage the end result was almost assured.
Catch 23 Did a short no-nonsense exciting set. Their three songs – all relative live newies – were professionally executed and masterfully done. Wizzard supreme Roy Wood described bassist Neil Gordon as 'one of the best young musicians I have seen in years' and the whole judging panel also paid tribute to the finger-tinkling skills of Nick Smith.
The three toons performed by the Catch boys were far superior to the ones they played to win in the '88 heats. They opened with the Frankie-style dance blast 'Catch This' – which immediately moved the audience into a heaving mass of sweat and energy and followed it without a break with the unique and varied 'Goota Get Out Of Here'. This song, which local fans will be able to hear for probably the first time, at the Arts Centre on February 12 is a ska-influenced pop track which combines the lyricism of the Jam with the white-reggae orientation of the Clash to make for an unpredictably loveable four minutes. The set was completed by the MUSICBOX song of the year the gilt-edged 'Hangin' On' which apparently had Roy Wood bopping in the aisles (like boring old hippies tend to do). And that was that. Nine minutes that changed Catch 23's world.
The wait for the inevitable acclamation of triumph was annoyingly protracted but the sense of relief and jubilation when the result was declared was over-whelming. Radio WM dj Jenny Wilkes said the band were going a very, very long way indeed while Roy Wood immediately told the band's chief manipulator Mr. Alan Webster (a sort of Brian Epstein figure but with not quite so much…) that he wanted to 'do' things with the band.
Afterwards the band were given a photo-call and then invited to three different radio interviews in two days. On one they had the MUSICBOX song of the year played loud and clear, on another they had two tracks over the airwaves and on all they were treated for what they are – stars-in-waiting.
So what happens now? Well the other TSB finalists have still to be found via a mass of different regional heats and then at the end of March, Catch 23 will travel up to Bradford and battle it out in the grand British final. Victory in that would be a massive advantage to the band. Unlike some of the groups who have won it, Catch 23 would wisely use their victory to enhance their careers no end. The band are ambitious and enormously talented and I know for a fact that they have all the ingredients (including an awakening self-awareness of sellable sex-appeal) to go all the way. You don't have to take my word for it alone of course. Through the TSB they have enlisted friends such as djs Mike Read, les Ross, Jenny Wilkes and Paul Robinson, media hacks like Paul Flowers and major popsters like Robert plant, Phil Oakey, Roy Wood et al.
They have all sensed that Catch 23 have – and what they can achieve. Victory in Bradford at the end of March would make that future suddenly look even more crystal clear and exciting and if their final placing does nothing more it will put money in their pockets, give them a week to remember and get their youthful faces on the box.
Of course there will always be one or two more 'senior' local musicians who will sneer at a contest like Rockschool. What I say to those is when was the last time you played in front of a thousand people and hit the airwaves boys?
To me the TSB Rockschool is a wonderful competition that offers a wonderful chance for a band like Catch 23 to make serious headway. They have lost nothing by appearing and potentially they have gained an awful lot. The whole scene should be proud of them because they are heading for the very top. Catch This before it's too late and stop yourself joining the ranks of the 'I always knew they would be big' brigade. AFTER they make it!
SAM HOLLIDAY
Tamworth Herald – 03/02/89
Musicbox – And now – T Pow?
ONE of the first (and most potentially exciting) spin-offs from Catch 23's Dome success (story above) could be an appearance at a major venue supporting T-Pau. At present a major charity show is being put together for the end of March and a mass of Midlands acts are being invited to join in, with Tpau as the probable headliners. Following last Monday's success the band heard that the organiser wanted Catch 23 to open the proceedings with a short show and if it comes off it will clearly be the biggest date yet in the band's glittering career. We will keep you posted on that one!
Tamworth Herald – 03/02/89
Musicbox – Festival set for powerful launch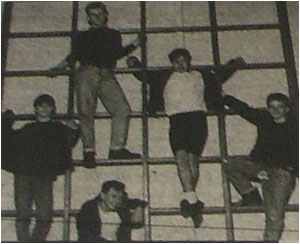 Tamworth Indoor Rock Festival 1989
THE Tamworth Indoor Rock Festival begins a month long stint at the Arts Centre on Sunday with a tempting looking concert combining the old and the new of the local music scene.
Over the next four Sundays, 15 bands will play under the Indoor Festival banner concluding on Sunday March 5 with the eagerly awaited return of the mighty Wolfsbane.
Before then however there are bags of goodies to look forward to. Scream Dream, DHSS, Bash Out The Odd (ex-Space Seeds) Never Say Die, Spiral Eye, Kraze and several brand new bands will combine their talents for the festival and on Sunday the whole rambling charabang gets off to a powerful start.
The four acts who will hit the Arts Centre stage this week are the award-winning Catch 23, the much-admired Emma Gibbs Loves Badges and two brand new groups – The Big Noise and Shock Culture.
For Catch 23, the show will be a triumphant homecoming. The band have not headlined the Arts Centre for many moons and they are keen to show their natural audience just what has made them one of the most talked about young bands in the country. For the past two years they have been chosen as the best school/college age rock band in the whole of the Midlands and this year they are hoping to extend that to the whole country by winning the final of the TSN Rockschool contest. They have powerful allies to that end – dj Mike Read is an acknowledged example – and if you want to see why, then just stand back and listen on Sunday night. Their all new set will include the three songs that won them the TSB regional heat, including MUSICBOX song of year 'Hangin' On' plus many, many more that may be unfamiliar to those who haven't caught the band in a long time. Expect to be impressed.
The other established band on the line-up are Emma Gibbs Loves Badges, who specifically requested to play alongside Catch 23. Lee Revelle's band have undergone somewhat of a transformation since their early days and the increased profile and popularity of their performance indicates that it is a change that has been welcomed by the masses. I have become an admirer but being as I was slagged of for disliking them in the start and then slagged off for LIKING them in their last gig-fanzine I will offer no opinion at all because it would obviously be invalid. Suffice to say that they are very watchable these days. Try not to miss them.
Teaming up with these two old bands (seems daft calling Catch 23 old doesn't it!) are two brand new acts – The Big Noise and Shock Culture. The latter, Shock Culture are a complete mystery to me unfortunately, and all I can say is that they are ideal festival material. By that I mean something which you can watch without any preconceptions allowing YOU to pigeon-hole them (if you must) before I do (if I must). There, that was a good way of hiding my ignorance wasn't it.
Interesting
Completing the show is The Big Noise. This outfit made up of Ben Machin, Carl Harris and Ana Situnyake say they are influenced by the likes of That Petrol Emotion, Teardrop Explodes and Captain Beefheart.
"The band are crispy in a crunchy sort of way." Insists their manifesto. "You'll have to listen to see what you think."
Actually they sound pretty interesting and they are almost certain to get a good review because Ben Machin's sister Helen is a Herald scribe who will no-doubtedly beat me up if I dare to dislike them."
That's the line-up then, pop kings Catch 23, the unique Emma Gibbs, the mysterious Shock Culture and the alt-popsters The Big Noise. It is a very entertaining looking line-up and at just £1 per person entry it represents the best value of the year.
The proceeds from the show (starts 8pm) will go towards this years Tamworth (outdoor) Rock Festival so that's another good reason not to miss it. We're looking for a capacity crowd on the night, you won't let us down will you?
Tamworth Herald – 10/02/89
Musicbox – News, Snips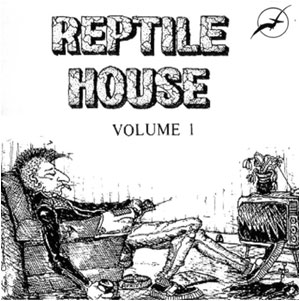 The first album put together by Lichfield Studio 'The Reptile House' has now arrived. It is superbly packaged and features 10 bands including our very own Catch 23 and Never Say Die. We will hopefully be reviewing it in the next couple of weeks but if you want a copy on spec (and it is worth it) I know for a fact that Catch 23 have a limited amount for sale at a crazy, knockdown price of just £2.50
Tamworth Herald – 17/02/89
Musicbox – The first (fab) instalment
Gig Review
The Tamworth Indoor Rock Festival got off to a cracking start on Sunday night. A huge 200+ crowd, a marvellous sound (best ever methinks from Den and Gaz Byfield) and four cracking sets. They went something like this…
Catch 23
A band whose professionalism, class and style is so obvious it would take a complete jerk not to realise their potential. Even though this wasn't the best I've seen them by a long shot, the way they took both the stage and the audience was further proof that they have grown into an immense and important talent. Their set started a little leaden-footed for my liking with a duo of not so golden oldies some how destroying the flow, but as the set grew in length so it grew in stature. It meant that the last 15 minutes or so were just breathtakingly exciting. The sizzling ska of 'Gotta, Get Out Of Here' was the undoubted highlight, somewhat stunning the audience with its cheeky charm while the catchy 'How Am I Supposed To Know' and the legendary 'Hangin' On' were equally riveting. Individually there were two outstanding shows from Steve Webster and Nick Smith. Steve sang with an anger and bitterness that made for a startling personal performance but even he had to smile when I told him that Simon from the Wodericks reckons he's a dead ringer for Joey Boswell from Bread. As for key-tinkler Nick Smith – well he was quite brilliant producing some note-perfect playing which reminded me very much of (major compliment coming here) Dave Greenfield.
Review – Sam Holliday
Tamworth Herald – 03/03/89
Musicbox – SNIPS
CATCH 23 will be taking five coach loads of supporters to their TSB Rockschool grand final at the end of March. If there are enough people from Tamworth a separate pick up will be made in the Town and believe me for the nominal charge involved this is one hell of a trip.
Tamworth Herald – 17/03/89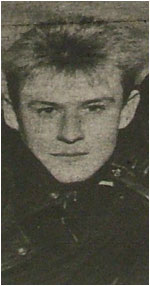 Musicbox – TV Times!

Another top local band will face the tv cameras this week following Dance Stance's appearance on Opportunity Knocks.
This week the group facing the cameras are CATCH 23 who travel to Bradford on Wednesday for the grand final of the TSB Rockschool competition.
The contest to be filmed by Yorkshire TV, will be screened on two successive Saturdays (April 8 and 9) and the band are hoping they will be hit on and off the screen.
The contest, for those who don't know it, is open to all the school or college bands in Britain. Hundreds take part in regional heats and then the winners of each region are invited to the final at Bradford. This is the second year that Catch 23 have won through to the final and they are hoping to do even better this time around than their admirable third at last year's event.
The group will be given just 12 minutes or so to impress a celebrity judging panel which last year included the likes of Robert Plant, Phil Oakey and the collective brains (huh!) of Stock, Aitken and Waterman. At time of going to press the final panel was not decided but it will definitely include Big Country's lead singer Stuart Adamson and Keith Emerson from ELP. Catch 23 will fill their allocated slot with a set comprising 'Hangin' On' 'Gotta Get Out Of Here', 'Catch This' and possibly a snippet of 'Tears of a Clown' and they are hoping it will be enough to win over the esteemed panel. But although Catch 23 have clearly improved and matured in the last 12 months, they cannot expect an easy ride on the day. The word from the TSB Press Office is that the competition is as stiff as the average metal bar…
"From what we have seen the standard of the final will be tremendous. Catch 23 are a very good band but they will have their work cut out on the day," said the ever-enthusiastic Cindy from the TSB offices.
Around 250 people will be travelling up from Tamworth and Atherstone to cheer Catch 23 on to their hoped-for glory and MUSICBOX will be with them once again.
To reach the final is in itself a major achievement and win, lose or draw (I'm getting confused with my soccer reporting again!) they will give their whole mind and bodies and will have a ball of a time too.
Watch this space for a Bradford special and watch the tv screens at the start of April for yet more local bands taking the tv times!
Tamworth Herald – 31/03/89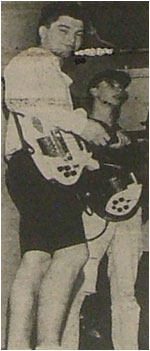 Musicbox – A real day to remember!
DELIGHTED CATCH 23 have just been officially chosen as the best young band in Britain.
For the band last week won the National final of the TSB Rock school contest – the ONLY major contest to find Britain's best school and college based act.
And it was a result which has already led to some amazing developments. Radio One dj Mike Read (who adores Catch 23) is booking the band into a major £500 a day London studio to try and get a single out immediately and one of the contest judges, Aswad singer Drummy, has demanded that the band let him produce their single. TV appearances and radio shows have been guaranteed and the incredible enthusiasm shown by judges from Aswad, Big Country and ELP (not to say contest hosts Mike Read and Toyah Wilcox) implies that the musical world is preparing to welcome another young band to its ranks.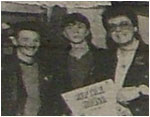 Nearly 400 bands from throughout Britain entered this competition but our own Catch 23 beat all of them. The judges (Stuart Adamson, Judy Tzuke, Drummy from Aswad, Keith Emerson, a music professor and TSB representative) gave the Atherstone boys the biggest winning margin EVER in the contest history and such was the enthusiasm about their show that dj Mike Read has bet a TSB official £100 that Catch 23 will now go on to have a major hit record very soon indeed.
Catch 23's triumph at Bradford St. George's Hall last week will have a number of very early benefits. For a start they won £2,500 in cash (as well as £1,000 worth of equipment for their Nuneaton college.) and they are guaranteed to be shown on TWO successive TSB tv programmes due to go out on Saturday April 8 at 11.30am on ITV and at the same time, same channel the following week.
As winners they will be heavily featured in national and musical press and as an indication of the press interest on the day, Steve Webster was doing interviews with the likes of Radio Bournemouth and the day after the Steve Wright radio show played one of the ban's songs. The London demo due to be produced soon will be hyped by both Mike Read and Aswad and it is possible that the amazingly supportive TSB will give the money for a new single from the band.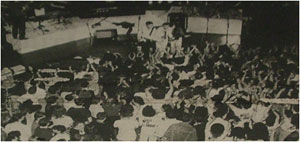 So how did they manage to achieve this quite wonderful career-boost? Well, I don't want to say it was with ease but truth compels me to say it was!! Last year Catch 23 came third in the national final and although most of us felt a little disappointed there was no denying that the eventual winners had a certain talent. This year however – and the judges agreed with this statement – no-none came remotely close to beating Catch 23. From the moment they walked on stage to a massive cheer from 250 touchingly loyal supporters, everyone in the hall knew they were looking at the winners. They played three tracks – 'Catch This', 'Hangin' On' and the unbeatable 'Gotta Get Out Of Here' – and they played each with a style and excellence which had the audience breathless. 'Gotta' was performed and played with a touch of craft and magnificence and the broad smile on the face of Aswad man Drummy said it all. He later described the band as the best young group he had ever seen and there was even talk about possible support slots with the reggae superstars. All the other judges were equally riveted and you knew from their faces alone what their marks would be. Rumour has it that it was only a sense of balance that prevented Catch 23 sweeping the honours board for other prizes (i.e. best song and best singer) and the moment they left the stage there was a sense of jubilation from all of us connected with the group.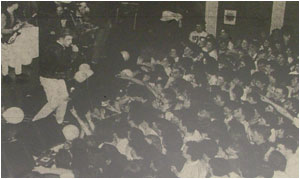 They had been on in fourth position (of eight) and so there were four more bands to watch and an amazing length of time before Mike Read announced the results. The nerves we all felt at this point cannot be described but the sheer joy that followed the announcement was even more overwhelming. The band's 'biggest' supporter, the normally hard-as-nails-and-twice-as-ugly Alan Webster broke into tears and looking round the faces of fans, relatives and well-wishers he wasn't the only one. This was a day for pride for five men in particular, for two splendid co-managers Alan Webster and Richard Clenshaw and for every single person who had took the time and trouble to travel all the way up to sunless Bradford to cheer Catch 23 to their glory.
Following the announcement (and the tears) the band were invited back to do one song to their fans alone. They chose the anthemic 'Catch This' which brought cheers and smiles to everyone concerned and ended the afternoon in fine style.
Following the band's departure from the stage to be besieged by press types and celebs aplenty, 250 cock-a-hoop Atherstone, Nuneaton and Tamworth people headed home happy to have been part of a very major step forward for one of 'our' bands.
What happens now is anybody's guess, TSB (whose brilliant sponsorship shouldn't go unnoticed) are keen to help Catch 23 as much as they can as is Mike Read, Drummy from Aswad, Toyah and more. In addition they have the 100 per cent commitment of Rockschool's tireless and awe-inspiring boss Roger Davies, his assistant Cindy and a stack of TSB officials who see in Catch 23 the perfect band with which to end their nine year sponsorship of Rockschool. With that kind of backing (and remember other pop stars like Robert Plant and Roy Wood have also tipped them for the top Catch 23 should now be able to go a very long way indeed. A new single is imminent and as of September the band are hoping to turn professional in a bold but entirely commendable move.
To help that the TSB Rockschool context has given them should not (and cannot( be understated. As well as giving them five big gigs in front of a combined tally of 8,000 people, they have put them on the tv screens three times, and have made them a much talked about band throughout the industry. The names of their supported and backers carry enormous influence and with £2,500 in the kitty the financial support provided by winning this contest should go a very long way indeed. You can see for yourself on tv next weekend (April 8, 11.30am remember and then a week later) and you can see just how good this much likeable of bands really have become. I regard Catch 23 as a real local music scene success story, a group who have never, ever let Tamworth or Atherstone down and here there is tremendous respect for the area that has given them a platform to reach this first major step on the ladder. Personally, I was as proud as punch of the boys and even I went weak at the knees when the announcement was made of their success.
Remember though, this in only the FIRST step. What happens now is just too exciting to even contemplate. Winning this contest will put them in a wonderful national spotlight and if they play their cards right they should never leave it. Boys – we're all proud of you.
Sam Holliday
Tamworth Herald – 07/04/89
Musicbox – TV disappointment for Catch fans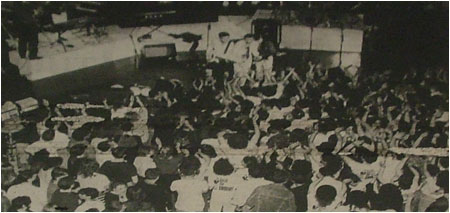 CATCH 23 will NOT be on tv in the Central Region tomorrow as previously thought.
The band's TSB Rockschool triumph will now not be shown in this area until Sunday April 23 and Saturday April 29 because of Central's schedules.
However the show WILL be going out in the London, Granada and virtually every other area tomorrow morning (check times) so dedicated Catch 23 fans had better start travelling now.
The show will be in two parts. The first (in this area on Sunday April 23) will show all the eight bands that competed in the final, the second (Saturday April 29) will show more of the winning three, with Catch 23 heavily featured.
So the message is if you're reading this from virtually anywhere else but the Midlands, this weekend you can see Catch 23 in action. For the rest of us there is a two week wait, but believe me it is worth its wait in gold!
Tamworth Herald – 07/04/89
Musicbox – Catch 23 Letters
Dear Sam,
I'd like to congratulate Catch 23 in their excellent performance at the TSB Rock School Competition, Bradford. They gave their supporters (whose enthusiasm and devotion seems endless) a day never to forget. Their impact on stage was so powerful that Roger Davies, TSB National organiser and judge, almost fell off his throne!
As individuals and as a group, they have enough charisma and charm to make it to the top.
No true supporter of the local music scene should miss this totally inspiring and talented band on the box. Well done Catch 23.
Yours Carla Cordell,
Gillway
Tamworth.
P.S. I'm not one to kiss and tell but Rikk Quay was concealing a bottle of vodka on his person! As alcohol wasn't permitted Mr. Quay obviously got cold feet and proceeded to offer his forbidden liquid to people. I'm not at liberty to mention as I felt it could have been a bribe. However, you will be pleased to know that we managed to dispose of the vodka by consuming it as quickly as possible.
Dear Sam,
I would be very grateful if you could include this little notes in your Music Box page to accompany your report on Catch 23 in Bradford.
Catch23 would like to say a big 'thankyou' to everyone who went and supported them in Bradford on March 22, especially Tosh, Mark Stevenson, Lisa Griffin and Kaine Vesey-Watts.
Thanks very much Sam.
Pete Clenshaw,
Sheepy Road,
Atherstone
Tamworth Herald – 14/04/89
Musicbox – SNIPS
Catch 23 have already had serious record company interest following their victory in the TSB Rockschool contest. We won't give any more details at the moment but it shows that things are cooking…
Tamworth Herald – 21/04/89
Musicbox – Catch 23 on the box at last…
CATCH 23 finally make the airwaves on Sunday morning when the first half of the TSB Rockschool contest is broadcast on Central TV.
The show, which is being shown over two weekends starts on Sunday morning at 11.30am and shows all the eight bands that took part in the TSB Rockschool final. Catch 23 are seen playing their MUSICBOX Song of the Year 'Hangin' On' and although the sound doesn't come over as well through the airwaves as it did live, the band's quality still shines.
The following week the second leg of the TSB contest is broadcast on Saturday April 29 at 11.30am (just before the 'Chart Show') and you will be able to see Catch 23 win the contest. Big Country's Stuart Adamson describes the group as having 'a great look, a great sound and a great future' and the band play 'Catch This'. Watch both weeks folks.
Tamworth Herald – 28/04/89
Musicbox – Never Walk Alone!
TAMWORTH Arts Centre looks set to be packed-to-bursting on Sunday when several of the area's greatest bands combine their talents for a special Hillsborough benefit.
The gig has been put through by Emma Gibbs' man Lee Revelle and his contribution cannot be under-stated. He also deserves praise for writing the report below. He actually asked for anonymity, but I felt the report was so good that I would deny his request.
Catch 23, Emma Gibbs Loves Badges, DHSS, Scream Dream, World Intelligence Network and Shock Culture are among the bands participating in a benefit for the Hillsborough Relief Fund at The Arts Centre this Sunday.
In a magnificent gesture, Dave Fortune, the Arts Centre supreme has give free use of the hall for the evening ensuring all of the £1.50 entrance fee goes directly to the Fund.
Likely headliners Catch 23, oozing megastar confidence, have promised a mixture of old classics, interspersed with the odd cover version. Do not expect to leave The Arts Centre on Sunday without having heard the Catch lads blitz The Beatles and The Bunneymen.
Emma Gibbs Loves Badges will be parading an expanded line up for the first time, willing to impress all with a combination of fragile pop songs and massive stage presence. Guitarist Rob Kinson hinted that the bands recent songwriting flurry will be in evidence along with a couple of golden oldies.
One of the first groups to be involved were demonic metallists Scream Dream, who offer a raucous variation to the pop-drenched songs that make up the rest of the evening. Stephen king and his hairy bunch have undertaken to give a no holds barred performance which should delight all those with even slightly greasy tendencies.
Most unusual attraction of the evening will be an acoustic (yes!) stint by certain members of DHSS. Edward ian Armchair was a co-instigator of the event and welcomes the chance to (finally) let his intelligent songwords be heard, feeling that they are sometimes lost in the synth-based racket that is standard DHSS.
Shock Culture made their Tamworth debut a couple of months ago and are steadily improving with age. Expect a refreshing set from the Smiths-influenced pop kids.
Latest addition are W.I.N. performing for the second time in as many months. For anyone too young to remember them, if your pleasures include Cope, The Chameleons and songs about steamrollers, W.I.N. are good for you.
Although it was initially hoped for a full Fetch Eddie set, pod has 'nipped off on his hols'. However, the bands cherubic guitarist Aaron James has pledged his support to the cause and is currently using his connections to form some sort of supergroup. What this entails is anyone's guess but miss it at your peril!
All in all this show has event written all over it. There is a high possibility of more bands being added to the vastly impressive line up, but that this is already (excepting the festival( Tamworth's gig of the year is quite beyond dispute. The running order is to be fought over on the night. So ensure you have a foothold in the door by 7.30, you might miss something historic.
Reporter by Lover-Lee Revelle
Tamworth Herald – 28/04/89
Musicbox – Yes they ARE on TV!
CATCH 23 will definitely be seen winning the TSB Rock School contest on Saturday morning (11.30am) I say definitely because a late change in last week's TV schedule put the first half of the show on Saturday instead of the (billed) Sunday – meaning many people, including me, missed it.
Following their latest TV successes, Catch 23 are fast becoming 'hot property' with more TV spots in the offing and several management companies chasing them. As well as the second part of the TSB Rock School Competition on ITV tomorrow (Saturday) you can also see the lads being interviewed on 'Central Post' next Friday at 5.10pm. It seems that the radio One DJ, mike Read is telling everyone he meets about the band and there is a real 'buzz' around the Capital. Acting manager, Alan Webster has been contacted by the managers of no less than three No. 1 chart acts, all of which are anxious to see the group. Several gigs at top London venues are being hastily arranged for July when they leave college, and it seems likely that they will be called down to make record company demo recordings in the near future. Catch 23 have also been asked to perform at the Nuneaton Carnival in June, and towards the en of May they are planning a special concert at North Warwickshire College for the official presentation of the prizes which they won in the TSB.
Tamworth Herald – 12/05/89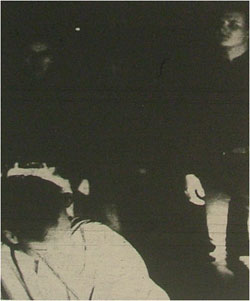 Musicbox – Disaster leads to glory
Hillsborough Benefit Gig
And once again Tamworth's gig-goers prove themselves to be generous sorts. More than £370 was raised from this excellent show and it further illustrated the point that when the chips are down Tamworth area bands are always happy to try and put the coffers up. This show for Hillsborough was good because it was designed for helping those in tragedy but it never dwelt upon pain. We all knew why we were there but we all enjoyed the gig as well. That's the best recipe for charity events – pleasure through pain equals success.
It all began with WIN who went on at a ridiculously early time and were therefore missed by these eyes. Lead singer Mark Brindley said it wasn't much cop but then again he always was a modest kinda chap. Next up were Shock Culture who played a short but tantalising set which was much enjoyed by their lusty young following. The highlight for me was a splendid rip-roaring version of 'Going underground'. There is still hope for our future when young bands choose to cover songs like THAT. Fetch Eddie were next to present themselves and a powerful set was then produced. It was a mix of one or two golden oldies and a couple of strong new numbers with the undoubted key point being a superb finals track called 'Dance' which featured a fine old tune and some marvellous dancing from Phyllis. Emma Gibbs followed and they gave a harder attack than we have been used to, and a very successful one at that. The band are becoming very much guitar orientated these days and those six stringers carry forth some of the sweetest melodies these ears have encountered of late. All together different were Armchair Thrash (that's DHSS minus Rikk and Anice) who turned in the most surprising but also one of the most enjoyable sets of the night. It was basically Ed pontificating on how own curious and somewhat perverted past, future and present with the mad axe man Rocking Reeman for once cooling down and playing some skilful accompaniment. I thought it worked magically. And so to the finale – and what a finale. Catch 23 played a short but dynamic set full of bravado and spirit. Their new tracks showed a maturing songwriting awareness while their oldies were given a new lease of life. 'Gotta Get out Of Here' was the song of the set, the night, the week, the month, the year while the joint tracks with Fetch Eddie's Aaron showed that the band are as versatile as they are skilful. They rounded off a superb night excellently and showed that as Liverpool FC have proved universal sadness can lead to a new sense of universal community.
Review – Sam Holliday.
Tamworth Herald – 25/05/89
Musicbox – SNIPS
CATCH 23 have been in front of the cameras AGAIN! For on Sunday morning Steve, Jase, Nick, Ray and Neil were at the BBC in London being filmed for the next series of the 'What's This Noise' show which goes out on BBC2. The Catch boys were picked up by a BBC producer who thought they were pretty splendid and put them on the youth pop show alongside 'slightly' bigger acts Texas and Aswad. One thing Catch 23 aren't going to be the end of this year is camera shy…
Tamworth Herald – 02/06/89
Musicbox – Snips, Snips, Snips
Catch 23 are in action at the Belgrade Theatre, Coventry on Saturday.
Tamworth Herald – 04/08/89
Musicbox – They mean business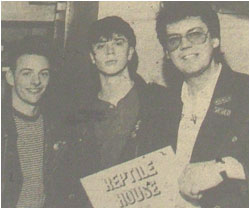 CATCH 23 make their London debut next week when they pay a crucial show at the Mean Fiddler in front of an audience including top agents, management companies and at least one major record label.
The band, who have been under pressure to play London ever since they won the TSB contest, will be in action at the London venue on Thursday night – and by an amazing coincidence Atherstonians Dance Stance are at the same venue 24 hours later.
For Catch 23 the gig will be their biggest showcase to date. Following their triumph at the TSB the band have been hounded by a host of top management and agencies and they will all be there on Thursday night alongside a couple of pop celebrities, at least one Radio One dj (and it is not Mike Read this time) and a leading record company. It's a big night for the band and they were determined to make sure they were prepared for the test…
"Although we have been keen to play London for some time, we just needed more time to get it absolutely right," said manager Alan Webster. "The lads have been rehearsing eight hours a day, putting together a set which is designed to win over the enemy of music industry supremos who have heard so much about the."
Despite the interest shown in the group – and it is genuine unsolicited interest – they are under no illusions of how difficult it will be to move from their current exalted local status to a major national platform.
"A major record company deal for a pop band is really hard to obtain, so what we really need now are good support slots with well know acts, and dates at top venues around the country," said guitarist Ray Clenshaw.
The band have already made on major (and brave) decision to go full-time and their faith has been strengthened by the pleasing reaction they received at the Festival. Although the band themselves did not think their set was as good as it could have been, they picked up a mass of new fans many of whom have already booked onto two full coaches which will be travelling down to the Mean fiddler on Thursday.
The coaches for the Mean Fiddler start from Tamworth and will pick up at various points along the way. More space will be made available to try and get as many people down as possible, so of you would like to come along and be part of the 'star-studded' audience you can get more details from Alan Webster. It promises to be a rollicking good night out so for a fiver all inclusive why not go along and cheer the Catch boys to success?
*Dance Stance are also taking a coach to their Mean Fiddler show. It costs £6 and Neil Sheasby will be happy to provide more details.
Catch 23 – The Mean Fiddler, London
Brilliant. That is the only word I can find in my well-thumbed Thesaurus which sums up just how good this concert really was.
What made it so exciting and memorable was that in spite of the fact that I have seen Catch 23 more times than most people have seen their parents, I was still left surprised by their set. The band have spent the past few months defining just where they want to go and how they want to sound. They have thrown out all the new wave (how can I still call it 'new') batteries and adopted a model sound based on two vital and cohesive components – dance and melody. This was commercial, tight funk orientated pop of the very highest quality and what made my knees tremble so much was that the best three songs played on the night were all brand new. 'Million Years' was classic pop in the Aural Sculpture Strangler-mode, 'Stand Back' was a thumping seductive Terence Trent Darby number while 'What You Want' was a simple but dazzlingly effective slab of pure pop 'n' dance. Throw in recent Catchkiller 'On Your Way', the modernised and still splendid 'Hangin' On' and five more goodies and you have a set which must rank as the strongest and best Catch 23 have ever put together. It is mature pop music, skilfully played and elegantly performed. Individually they were all brilliant with two outstanding features being their expert use of backing vocals and Nick's versatile and unbeatable tinkling of the keys. The crowd reaction was amazing and with Radio One dh Peter Powell turning up and pulling out his own range of superlatives, the whole night must be regarded as a massive triumph for the band.
More than ever I am convinced that these boys are going to be very, very big indeed and this gig proves that all the work they are now putting into realising their dreams is being rewarded tenfold. I love them to DEATH.
SAM HOLLIDAY
Tamworth Herald – 08/09/89
Musicbox – Letters
Let's get organised – and thanks for the Fest
Dear Sam,
After reading the letter in Musicbox (18.08.89) accusing the festival of being too loud. I felt that I must write and give my opinions on this.
I am 16-years-old and attended the festival for the first time. I must admit that the only reason that I went was to see the absolutely brilliant 'Catch 23'.
I arrived at the festival expecting to see an audience of teenage fans and was completely shocked, as this wasn't so. There were people of all ages, from toddlers to grandparents and each and every one seemed to be enjoying themselves.
As for the music being too loud, it wasn't really possible for it to be any quieter as the Castle Grounds are very large and were packed out. If it had been quieter, the people who were unfortunate enough to be at the back wouldn't be able to hear.
I personally thought that the festival was fantastic and that you did a brilliant job of organising it. Also, it is a great shame that it is only once a year (Please no more – Sam!)
The final thing that I would like to say is, if so many people disagree with the festival, where has the money come from that has guaranteed it's return for next year?
Thank you for listening to my opinion and I'll see you next year.
The Festival's greatest fan
(Baddesley)
(P.S. Well done Catch 23 for a brilliant gig at 'The Mean Fiddler')
Tamworth Herald – 08/09/89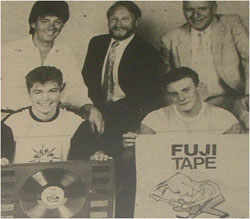 Musicbox – Catch get it Taped!
THE splendid contest which pushed Catch 23 onto the national TV and into the minds of several major record companies, has a new sponsor.
The TSB Rock school which Catch 23 won in such style earlier this year, will now be known as the Fuji Tape Rock School and will follow the same format which has made it one of the biggest national talent scouting contests in Britain.
Last year Catch 23 beat literally hundreds of school/college acts to win the Rockschool and so they were invited down to London last week to launch the new sponsor deal along with their old buddy Mike Read.
If you want to follow Catch 23 into Rockschool fame and glory you need to be between the ages of 13/19 and still at school or college. Application forms are available.
Tamworth Herald – 15/09/89
Musicbox – Local Demo Blitz
Demo ratings
***** Mega pretty
****Very pretty
***Pretty pretty
**Pretty ugly
*Kylie
ONCE again it is time to sift through SME of the many local demos that have been sent to our offices over the past few months. Here, Martin Warrillow, Sean Atkins, Sam Holliday and Mike Turner cast their eyes and ears over some of the goodies that have been created in various studios in the past couple of months…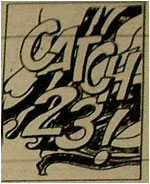 Catch 23 – Live Demo ****
NOT another rave Catch 23 review! Yep, 'fraid so because this is one of the most accomplished productions I have heard from the pretty boys since their formation. Done in double quick time to retain alive feel, the tape contains four well-crafted and intelligent dance/pop blasts that seem to prove conclusively that the band have found a natural identity at last. Each of the tracks has its merits but I especially liked the catchy 'What You Want' and the new version of 'Hangin' On' which has THE most beautiful of piano intros. I will save the fifth star in the review until the toons are re-done for a single but in the meantime take note this is snazzy, classy gear.
Sam Holliday
Tamworth Herald – 29/09/89
Musicbox Letterbox
Dear Sam,
After going to the Tamworth Rock Festival, to the Mean Fiddler and then receiving a newsletter. I thought I would put pen to paper.
I went to the Mean Fiddler to see none other that the wonderful, brilliant, fantastic Catch 23. After going to the Fiddler on the Thursday I found I had lost my voice and it never came back until the following Tuesday, that's how good they were! I hope to go and see them next month as well and look forward to seeing them on TV.
Please (1,000,000 times) print this letter.
Diane (A Catchette!)
P.S. Your Musicbox is the only page I read. Keep up the good work!
BOX REPLIES…
Just what is it about Catch 23 that seems to inspire such devotion from young ladies. Is it Ray Clenshaw's hat? Steve Webster's dog? Or perhaps Nick Smith's quiff? I don't know, it's all very mysterious. Love the p.s. incidentally, but try reading the sports pages too, they're just as fab. There's more Catch 23 worship next by the way…
To the Maninblack
About this Catch 23 demo. It's the best thing since the last Stranglers album! It's full of energy, life and power and the best recording from the band yet. My car stereo hasn't suffered so much hammering and the neighbours can't handle the noise levels. What talent – I just can't get it loud enough and it really is a must for Catch 2 fans. As a fellow Strangler addict I hope I get a mention in MUSICBOX on my thoughts on such a good band.
A Maninblack (Ian Moore)
Mancetter
BOX REPLIES…
A Catch 23-loving Stranglers addict! What a combination! What a man! What a hero! What a guaranteed way of getting your name in MUSICBOX!!!!
Tamworth Herald – 29/09/89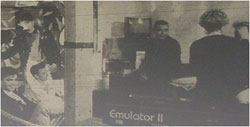 Musicbox – On the box again!

'SEASONED' TV stars Catch 23 will be on the box AGAIN next week. The band will be on television on Tuesday – and two days later they take part in a special promotion at a top London recording studio.
The programme to watch is the first in a new series of 'What's That Noise' and is this Tuesday at 4.35pm on BBC1 Television. The show which is hosted by alternative comedian Craig Charles also features 'lesser known' bands such as Aswad and Texas. One of the highlights according to the band is when they all take part in a 'jam session' playing an old reggae standard. In a very short time Catch 23 have become great friends with Aswad. They are always on the guest list for their major concerts and they were even invited down to the cutting of their latest single 'On and On'. Could they have an ulterior motive, I ask myself?
The day after, catch 23 make another all-expenses paid trip to the capital to prepare for a special demonstration at the CBS Recording Studios. On Thursday the Music Press will gather to watch Catch 23 perform several songs which will be recorded and then played back to them. The day has been organised by Fuji the new sponsors of the National Rock School Competition and Catch 23 have been called in to help launch their new range of audio tapes. The band are expected to feature heavily in Fuji tape advertising in the run-up to Christmas, so expect to see the pretty boys in your magazines over the next couple of months. This unusual departure for the band can only increase their exposure and they should make many more contacts in their quest for national stardom.
Following their truly amazing performance at the Mean fiddler in August, Catch 23 have been invited back on Tuesday, October 24th. If you are fourteen or over and enjoy dance-orientated pop why not come along to this superb venue and be part of the ever-growing Catch 23 appreciation society. You can book your seat on one of the many coaches making the trip by ringing and asking for Big AL.
Tamworth Herald – 13/10/89
Musicbox – SNIPS
Did you Catch the Catch boys on TV last week? Admittedly their appearance on 'What's This Noise?' was brief but they were still delighted as second-for-second they got almost as much as both Aswad and Texas. In case you missed it, guitarist ray Clenshaw predicted the band would last for eons, the band jammed along for an epic finale and some complete prune did something revolting called 'Northumberland' dancing.
Tamworth Herald – 20/10/89
Musicbox – Loadsagigs
IT'S a busy week gig-wise with a host of the area's best bands in action in venues as diverse as the Tavern in the Town and the Mean Fiddler, London. Here is a quick gig-guide so you know where to go and what to look out for…
Sunday – Tamworth Arts Centre
A good night out for those of the gothic persuasion as Curious Oyster steam in for their first headlining show at the Centre. They were hoping to have local support but at time of going to press we could not confirm who that was. It starts at 8pm.
Tuesday – The Mean Fiddler, London
Around 150 fans are expected to make the convoy to London to cheer on Catch 23 in this their second appearance in Das Kapital. The band, fresh from more TV appearances than Jason Donovan, expect to premier some new material including the 215th remix of the classic 'Love Explosion'.
Thursday – The Tavern in the Town
The Magnets return to the scene of their former crimes for a nostalgic night of fun. A band borne out of the Tavern they return home after a couple of useful recent shows much raved about by my old mate Jack Napier. Expect electricity and check out the excellent Manns Brown Ale.
Tuesday (Oct 31) – Corvettes
A fine looking line-up here a week on Tuesday as Bash Out The Odd and The Big Noise team up with King Woderick and The Yogots for a show that promises to fill Corvettes completely. All three bands are bursting with quality and a super sweaty night is definitely in prospect. Advance warning on this one because it looks like packing out!
Tamworth Herald – 27/10/89
Musicbox – SNIPS
Catch 23, who hit London again on Tuesday played two other shows last week in nearby Lichfield and not-so-nearby Congleton (Manchester) They played the Monterrey Exchange at almost no notice whatsoever and completely won over spectators and management alike and also fed the insatiable appetites of their young female fans in Congleton 24 hours later. Talking of insatiable, how are you this morning Steve?
Tamworth Herald – 17/11/89
Musicbox – Screamtime
IT is no secret that Musicbox has always believed Catch 23 would make it to the top. But we became more convinced than ever after seeing a video of one of their two Bristol school gigs earlier this week. Having embarked on their professional careers, they are currently touring schools all over the country, and the reception they are receiving can only be compared with that enjoyed by the big teeny-bopper bands of the 60s and 70s.
Twice in a week they so excited their young audiences that the band needed 'protection' both on and off the stage. Hundreds and hundreds of teenage girls screamed continually throughout and bassist Neil Gordon was pulled to the floor by hordes of new-found fans. Had we not seen it for ourselves, we would not have believed that the band could create such mass hysteria. Singer Steve Webster teased and taunted like the sex symbol he always wanted to be and the skilfully selected set of Catch 23 standards and classic covers never allowed the pace to drop. As guitarist Ray Clenshaw said: "Although we were enjoying every minute, it was very scary. We just didn't know how far they would go, because they were pulling at our jeans and grabbing anything they could get hold of."
After an encore which had to be cut short for safety reasons, chants of "We love you" echoed round the hall as the lads signed photographs, tape covers and various parts of the female anatomy, and it didn't take long for all the bands merchandise to be sold.
When you realise that very few people in Bristol had heard of Catch 23 before the gigs, it is all the more remarkable. I am convinced that record companies will be clamouring for their signature and we will have yet another local band making their way up the charts.
As a footnote, Catch 23 are at last starting to make an impact in London and following their two outstanding performances at the Mean Fiddler the band were very pleased to hear this week that the management of the venue consider Catch 23 to be the best new pop band of 1989. As such, they have been invited back to star in their 'Best Bands of '89' showcase the week before Christmas and will be featured in the December advertising brochure.
Tamworth Herald – 08/12/89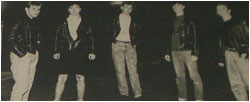 Musicbox – ATHERSTONE INVASION!
THE two greatest bands ever to come out of Atherstone descend on Tamworth this week for a brace of top quality gigs.
On Sunday Catch 23 will join forces with the Big Noise at the Arts Centre and then on Tuesday night the area can at last say a big 'welcome home' to the mighty 'Dance Stance'.
To get these two globetrotters to play in the same area so close together heartens those of us who would love to see them unite for a special major Tamworth concert for all those that take their pop 'n' soul seriously.
For Catch 23 their trip to the Arts Centre is hardly an unusual event, but for Dance Stance, who are appearing at the Old Liberal house in Amington this is a keynote gig and their first in their home area for the best part of three years.
Here is a preview of both gigs starting, chronologically with Sunday night's Arts Centre bash.
Catch 23/Big Noise (Sunday)
For the ever improving Big Noise (who are already doing well in the BOX poll) Sunday's gig will be the latest in a long series of bashes at the Arts Centre to build up a hardcore following and there is no doubt that Sunday's team up with Catch 23 should open them up for a new audience altogether. Catch 23 appeal to a wide cross-section of people, all of whom appear to get 'hooked' the moment they discover their power and pop passion. The band currently on a nationwide tour which will take them to Lancaster, London, Bath and Birmingham in the next seven days or so have been moving into ever more poppy waters of late and some of their new material (i.e. 'Stand Back', 'Million Years' and the splendid 'What You Want') should make an immediate impression on Tamworth on Sunday. The band who are now fully professional are very keen to play at Tamworth again and they are looking for Sunday to be a major pre-Christmas triumph. Get along and make their day!!!!
Tamworth Herald – 15/12/89
Musicbox – FESTIVE FUN!

WE have plenty of pre-Christmas shows to tell you about this week so feast your eyes on the collection of goodies below and get set for plenty of smiles in the next few days…
Tonight (Friday) – Tamworth Arts Centre
A hastily arranged show this which sees Whats This Heads Down Mindless Boogie About Nothing team up with Shock Culture for a Friday night bonanza. With the possible addition of Special Mystery Guests this promises to be a tempting alternative to Friday night pub crawling and it starts at 8pm.
Sunday Night – Tamworth Arts Centre
You are cordially invited to the Bignewyogotsherbert Christmas Show which offers you four top quality local bands and the possibility of a few carols! As the rather long title may suggest the four bands you can see are The Big Noise, The New Puritans, King Woderick and The Yogots and The Sherbert Trees all of whom have more fizz and bubbles than a bucket full of coke. It costs a mere £1.50 and apparently fancy dress is optional. I'm not sure about the Christmas Carols but I am sure this will be a heap of fun gig-goers!
Monday Night – The Castle Hotel
Another happy collection of mirth and music is in view as the meaty, beaty big and bouncy Also Smith and Jones spearhead 'A Silent Night'. As well as enjoying the Smithies, you can laugh to the likes of Frank Skinner, Terry Cavelle, Shaun Percival and the amazing Jed 'Everton nil' Moore. Music is also provided by former Strap on Jack men, True Grit and Nick Lowe and all told this promises to be a riotous night of debauchery. It's at the Castle Hotel remember and it should set Christmas off with a bang.
Monday Night – The Mean Fiddler, London
Catch 23 return to their London base again on Monday as part of the Best Band of the Year series. The boys will be taking a horde of their t-shirted fanatics again and if you want to see if there are any seats left ring. Could be a big night for the band this so here's hoping for real festive cheer!
Tamworth Herald – 15/12/89
Musicbox 23 more reasons to smile
Big Noise/Catch 23 – Tamworth Arts Centre
The Big Noise – The Biggest Noise yet. Yep this was the finest show and one which brought them a very encouraging reaction indeed. There were positive whoops of delight throughout as the area's most tuneful rocketeers blasted through a set full of punch, drive and unashamed aggression. Their 'What Do I Get?' was a pleasing (and surprising) addition but their own numbers held their own with as much command as the covers and clearly won over a largely Catch 23esque audience. At the end of the day Ben Machin was grinning so broadly anyone would think he had scored a century. As if.
Catch 23 – the ultimate commercial pop sound. Where once Catch 23 had the same aggressive neo-punk mentality as the Big Noise they have now gone straight down the road to pop and fortune and found they can handle that new sphere…
…'Hangin On' and 'Love Explosion' have been altered and perfected in new, dancefloor style while the bands new material continues to shine…
If the get signed up along with Fetch Eddie and Emma Gibbs we could provide such a force of real pop from this area that Stock, Aitken and Waterman would go out of business. Dream on.
Sam Holliday
Tamworth Herald – 15/12/89
Musicbox – SNIPS
TV Times!
LOCAL bands are being offered the chance to follow Catch 23 and Dance Stance into TV 'stardom' through a new programme to be screened on Central in the New Year.
'First Night' a listings programme about the acts in the Midlands, plans to feature local bands playing live in the area.
"We are looking for bands who are playing live locally to appear on the show to publicise their concerts in the area," said researcher Jo Dyer, of programme makers, Mentorn Films.
Tamworth Herald – 29/12/89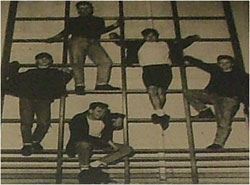 Musicbox – Catch that Wolf!

ALL Hail Catch 23 and Wolfsbane!
That was the loud message that emerged from your votes in the 1989 MUSICBOX poll which once again caused hundreds of you local music fans to put pen to paper.
Catch 23 absolutely massacred all comers for the title of Top Local band 1989 but Wolfsbane deservedly share top billing for once again winning the Top National Band award and adding the LP of the Year title and the Single of 89 to their haul!
It was a poll which we at MUSICBOX feel truly reflected the state of the game here in December 1989. Wolfsbane and Catch 23 have been the busiest and best bands from the area this year and both have in their own way conquered great territories. The Wolfies of course have played live throughout the world and earned mass acclaim from rock journos and rock fans alike. They have released a cracking debut album and will (in my opinion) have their first big hit single in January when the adorable 'I Like It Hot' is released as a new single. Wolfsbane have been mainly responsible for putting a smile back on the face of Tamworth's music scene and I for one love them for it.
Catch 23 meanwhile, highly deserved winners of the Local Band title, have been impressing all and sundry since they had their TV triumph in the final of the TSB. They regularly sell out venues throughout the country and (I can exclusively reveal and they will kill me for doing so) they have in the past month or so had very serious talks with TWO major record companies who have expressed a real interest in signing them. If they don't get a contract in 1990 then I'm a banana.
1989 was not just the year of Bayley Cooke and Steve Webster however. New bands The New Puritans have made a deserved and dramatic impression on the poll as have Machin's Marvels The Big Noise and it is refreshing to see the high levels of support for the likes of Dance Stance, Fetch Eddie, King Wods and the gorgeous Bros look-a-likes of Spiral Eye. The Dance Stance vote was particularly impressive and as a lot of it came from the Catch 23 camp. It proved again that this duo of North Warwickshire pop kings must think about working together soon because there is clearly a lot of mutual ground (and support) to share.
Elsewhere DHSS showed that (despite months of inactivity) they still clearly have a place in your hearts and one can only wonder how Scream Dream may have improved their already impressive vote had they stayed together. Beyond that top 20 there were a host of other local favourites voted for (in all 46 Tamworth or Atherstone groups got a vote) and it was refreshing to see votes for old friends like Breaking Point and WIN who are clearly out of sight but not out of mind.
Songwise, Catch 23's fans couldn't decide which track they liked the very best so they ended up cleaning up the whole Top 20, but it was good to see a sizeable vote for bands like Shock Culture and Rape in Yellow who both clearly have a hardcore of followers.
Away from the local stuff, your national choices continue to adze and amuse us. Duran Duran were your clear favourites as the band of the decade which is something we at the office here can understand as history has shown them in a better light than they seemed at one point. The Cure did amazingly well throughout the poll as did The Wunderstuff which will be particularly pleasing to messrs. Ian Gibbons and Chippy who introduced the band to little old Tamworth on many occasions when they put them on at 'The Rathole'. One perhaps surprising thing is that in the Band of 1989 award there wasn't a single vote for either Morrissey, the Cult or New Order. A major shock for Tamworth when you consider that Bros made the top 10 and groups like Milli Vanilli and Brother Beyond also got votes. Another interesting feature is that Birdland got a few national AND local votes which prove that even if the band are rather silent about their Kingsbury base they are still in receipt of local pride.
Anyway that's enough summing up, you can read for yourself who did (or didn't do what) and draw your own conclusions. For my part I will only conclude that with a brilliant Tamworth festival, a brilliant Wolfsbane album and brilliant national TV coverage for Dance Stance and of course Catch 23 their year has been, well, brilliant.
The Eighties has ended with a very loud bang. I for one predict the noise from the Nineties will be even louder so stick around pop-pickers because the best is yet to come!!!
SAM HOLLIDAY
(Child of the 60s, in love with the 70s, proud of the 80s and optimistic for the 90s!!)
LOCAL BAND OF 89
1. CATCH 23
2. Wolfsbane
3. New Puritans
4. Dance Stance
5. The Big Noise
6. Fetch Eddie
7. Spiral Eye
8. King Wodericks
9. Rape in Yellow
10. Shock Culture
11. Sherbert Trees
12. Bash Out The Odd
13. Emma Gibbs
14. Scream Dream
15. Herb Garden
16. DHSS
17. Kraze
18. First Conspiracy
19. Stench
20. Smith and Jones
NATIONAL BAND 89
1. WOLFSBANE
2. Wunderstuff
3. Erasure
4. Soul to Soul
5. The Cure
6. Stone Roses
7. Blow Monkeys
8. New Model Army
9. Beautiful South
10. Bros
11. Wedding Present
12. Fine Young Cannibals
13. Simple Minds
14. Depeche Mode
15. Inspiral carpets
16. REM
17. Eurythmix
18. U2
19. Guns and Roses
20. Happy Mondays
TOP LOCAL SONG 89
1. What You Want…Catch 23
2. No Such Chance…New Puritans
3. Hangin' On…Catch 23
4. Million Years…Catch 23
5. Six Ways To Your Heart…Shock Culture
6. Push Comes To Shove…Dance Stance
7. Like Sister, like Brother…Dance Stance
8. Tearing Me Apart…Catch 23
9. She's Gone…King Wodericks
10. Gotta Get out…Catch 23
11. Can't Help Myself…Big Noise
12. Fell Outta Heaven…Wolfsbane
13. No Good For Love…Fetch Eddie
14. Uncertainty…Spiral Eye
15. I Like It Hot…Wolfsbane
16. Reggie…Rape In Yellow
17. Catch This…Catch 23
18. Chapel Street…King Wodericks
19. Tamworth Boys…DHSS/Tamworth FC
20. Saturn in Her yes…Bash Out The Odd
YOUR BAND OF THE DECADE
1. DURAN DURAN
2. The Cure
3. The Smiths
4. Catch 23
5. U2
6. Dance Stance
7. Erasure
8. New Model Army
9. Wonderstuff
10. Depeche Mode
11. The Stranglers (hooray!)
12. Housemartins
13. Pet Shop Boys
14. Jesus and Mary Chain
15. Soft Cell
16. Japan
17. Prince
18. That petrol Emotion
19. REM
20. Echo and the Bunnymen
SINGLE OF 89
1. Shakin'…Wolfsbane
2. Don't Let Me Down…Wunderstuff
3. Keep On Movin'…Soul To Soul
4. Personal Jesus…Depeche mode
5. Lullaby…The Cure
6. Eye Know…De La Soul
7. Right On Time…Adeva
8. Love Song…The Cure
9. You keep It All In…Beautiful South
10. Orange Crush…REM
ALBUM OF 89
1. Live Fast Die Fast…Wolfsbane
2. Hup!…Wunderstuff
3. Thunder and Consolation…New Model Army
4. Decade…Duran Duran
5. The Stone Roses…The Stone Roses
6. Wild…Erasure
7. Disintegration…The Cure
8. Raw and the Cooked…Fine Young Cannibals
9. Dolittle…The Pixies
10. Neither Fish Nor Flesh…Terrence Trent Darby
Tamworth Herald – 12/01/90
Musicbox - Great Local Bands of the 1980's - week number two

Dream Factory
The Dream Factory were one of the most exciting bands ever to come out of this area and one who inspired the likes of Catch 23 and Dance Stance to pick up their guitars and play. A group who had an amazing following locally and nationally they earned massive press coverage and played several huge concerts in a hectic three year period. They ended up having dozens of members but it all came to a sad end when the key men started drifting away from one another. Their place in local music history is assured however because to many people they were the first real stars of the 80s. A great live act who were responsible for a killer single in 'Wine And Roses'. A memorable outfit.
Tamworth Herald- 19/01/90
Musicbox – Arts Centre stages fundraising gigs – and discusses new hire charges for bands
TAMWORTH Arts Centre will host a trio of fund-raising concerts next weekend – at a time when it is considering new charges for local concerts.
The centre came under fire recently for the state of its stage and it responded by putting a brand new one in with some extra lights. The costs however were quite expensive, so without being asked, metal kings Kraze came forward and offered to set up shows to raise money to pay for the developments. Since then the likes of Catch 23 and Fetch Eddie have also pledged to play and with a Euphoria gig also taking place on Friday it will make for a weekend of fundraising for Tamworth's most famous venue.
Details
We hope to have more details in next week's paper of who will be playing and when, but in the meantime bands may like to know that the Centre sis considering drastic changes to its hire fees. Dave Fortune is toying with the idea of installing an in-house P.A., abolishing the hire fee and then taking a bigger percentage of the door. This would certainly aid new bands who may not be able to guarantee a large crowd and would not have to worry about actually losing money. This is the practise in most venues throughout the country and Dave now wants to know YOUR views on the idea. Contact him directly at the Centre – or via MUSICBOX – to let us know what you think about the possible change.
Tamworth Herald- 19/01/90
Musicbox - Art for Arts sake!
Tamworth- Arts Centre this weekend stages three cracking fund-raising concerts with some of the biggest names on the local scene.

Catch 23, Kraze, Fetch Eddie, Spiral Eye and a 'Euphoria' rave are just a few of the delightful events planned to raise money for the centre this week and it promises to have all the feel and fun of a festival.

All three shows are designated to help finance the various improvements at the Arts Centre in recent months and all the bands have offered their services free of charge.

Six great bands will be playing over Saturday and Sunday- Spiral Eye, The First Conspiracy, Kraze, Fetch Eddie, The Big Noise and Catch 23 - but the whole thing kicks off tonight (Friday) with a Euphoria rave. Here is what is happening when, starting with a preview of the Euphoria gig by Ms. Jo Marsh…

Tonight (Friday) Euphoria Dance Event
'Euphoria' does its humble bit for stage salvation tonight by holding the second of many happenings. The previous December event was considered an astonishing success by the organisers, if only for the realised vision of a strobe flickering Arts Centre jammed solid with sweat-soaked dancers. The very few murmurings of discontent received on the night have been accounted for and thus the musical cross section covered will be broader than before, catering for the more discerning (i.e. whinging) 'Indie Fan', although dance is still the key word of the night. The message is clear: 'do the magic boogie till we all black out.' The rave is on! (7.45-Midnight, cost £1.50)

Saturday Night - Spiral Eye/ Fetch Eddie/ Big Noise
In real 'Festival' style, a very diverse trio indeed. The Spiral Eye boys are currently on a major national tour, picking up friends as they go with their rambling psychedelic rockslog and they will no doubt receive a big welcome from their hometown crowd. Fetch Eddie have also been away from these shores for a some time and will also be welcomed back with open arms by their Tamworth followers while The Big Noise make a bravely early return to the Arts Centre considering recent events! All told however it makes for a cracking three band line up and one which is likely to bring in a big Saturday night crowd.

Sunday Night - Catch 23/ Kraze/The First Conspiracy
Another splendid and highly varied line up comprising everything from pure metal to pure pop. At the metal end of the spectrum we have Kraze who deserve enormous credit for putting this whole Arts Centre fundraising event together. Kraze will continue to pull the crowds in with great regularity as do Catch 23 of course who will be looking for a celebratory concert for winning the MUSICBOX Band Of The Year accolade. Completing another spiffing line up are The First Conspiracy, a group who will use this important show as a major comeback gig after a recent line up change. They have been much missed and their re-appearance is just one more reason why you shouldn't miss Sunday's bash.

So there you have it, three good nights with, I am certain you will agree, something for just about everyone. All the funds raised will go towards the Arts Centre and as all the bands have volunteered to help and shown their concern for the place, surely YOU can do the same by getting along on one, two or three of the nights. It costs £1.50 on each occasion and starts 7.45-8 pm Friday, Saturday and Sunday.

The weekend starts (and ends) at the Tamworth Arts Centre. Are you ready for it?
Tamworth Herald - 26/01/90
Musicbox - Sunday View
The Arts Centre Fundraising Gig - Tamworth Arts Centre

Catch 23
Pops new young dream. A classic show by a classic pop band who seem to improve with every performance. They have developed a faultless stage sound and a polished stage performance and those song writing skills of Curls Clenshaw show no sign of weakening. Musically they were as tight as ever with each of the fivesome producing excellent shows with individual honours this time being taken by the impeccable Mr. Notman and the inventive and highly listenable Mr. Smith. Of the songs, 'Stand Back' was magic, a pretty pop song with a thumping sting-in-the-tail of a chorus while the seriously reggaefied 'Gotta Get Outta Here' and the best ever version of 'Catch This' also got my knees trembling. Best of all (again) was the sheer pleasure of 'I Wanted To', a pop song so lovable it could have been a hit in the 60s, 70s OR 80s and almost certainly will be in the 90s. Although the band are clearly moving away from the traditional arts centre audiences, their ability to attract a huger audience elsewhere in this pop planet remains absolute. The next Wet Wet Wet.
Tamworth Herald - 26/01/90
Musicbox – Nice letter – shame about the Poem!
Dear Sam,
I would like to say well done to Catch 23 for doing so well in the Musicbox Poll. They really deserve it.
I would like to say that Alan ('Big Al') is great and has done lots for the band.
Let's hope we see a number one in the charts soon from them.
They were brilliant at Wilnecote High School. Pity more people didn't see the sense to go and see them play.
Well done!
From Diane (A Catchette)
A CATCH 23 POEM
CATCH 23 are here to stay.
CATCH 23 are gonna be BIG.
At Wembley Arena I hope they'll play.
I'm sure this would make their day.
Steve, Nick, Neil, Jase and Ray.
To see them play I'm willing to pay.
Not one penny.
But quite a bit more.
Than just one pound.
CATCH 23 are quite good.
In fact they're rather brill.
Big Al's done wonders for them all!
By DIANE
(Di the Fly)
Tamworth Herald - 02/02/90
Musicbox – SNIPS
Catch 23 last night (Thursday) took part in perhaps their most important ever gig. The show at Bristol was watched by a host of senior record company men (six from the same company no less) as well as member of Aswad and The Housemartins plus the management of the Wedding Present. All these connections may seem strange but hopefully they will start to come together soon and all will be abundantly clear. Watch this space because things are hotting up for the band.
Tamworth Herald - 09/02/90
Musicbox – NEWS – SNIPS
Catch 23's special promotional gig at Bristol was a huge success. In spite of the appalling weather conditions record company watchers plus the Aswad management and Stan Culleymore from the Housemartins all joined the screaming hordes of teenage Catchophiles to enjoy a first rate show. The atmosphere around the band is now getting very exciting indeed and my assertion at the end of the MUSICBOX poll report that 'if they don't get a record contract in 1990 then I'm a banana' remains very firmly intact.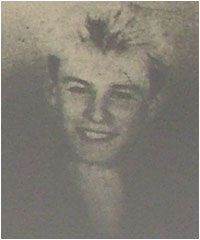 Tamworth Herald- 23/02/90
Musicbox- Steve sets the hearts-a-fluttering

Catch 23 - Atherstone Memorial Hall

Any person with an inkling of taste for music went to see the mega-talented Catch 23 on Friday February 9 at Atherstone.
Yet again it was a stunning show with the best rendition yet of 'Stand Back' and a particularly heart-touching version of 'It Must Be Love' at which point lead singer Alb (Or Steve for those less informed!) sent plenty of hearts a flutter.

Another added attraction was the special guest appearance of Selly the Rabbit who made a brilliant debut in the show. The climax of the evening had got to be 'Love Explosion' where they really excelled themselves and after a particularly long show they all still seemed to have limitless energy- well, at least enough to talk to their fans anyway.

The musical talent of this soon to be pop sensation never ceases to amaze me and the hoards that arrive to see them.

I am sure they will be the biggest thing to hit the charts in as many years as I can think of…

Review by 'Catch 23's' biggest fan – Lisa Lander

Infinity - Lincolns
A nice slice of guitar music which successfully married the melody of the sixties with the drive of the Eighties. There was plenty to admire within the groove of Andy Lane's latest creation but it was the power and tightness of the band as a whole which won me over. Each song rippled with musical muscle and the structure and construction of the songs performed, showed a deceptive amount of craft and ingenuity. Particularly impressive (and these guys rarely get the attention they deserve) was the laudably aggressive bass playing which had touches of the uglier side of the Stranglers or New Model Army and helped to keep the sound very much in check. Good stuff all-round and a band who seem more defined and sure of themselves than in previous guises. One to watch.

Review by Sam Holliday
Tamworth Herald – 09/03/90
Musicbox – London Calling
THE TAMWORTH music scene is all set for a Capital Night Out.
For following Catch 23's recent triumphant appearance at the Mean Fiddler in London the band were asked to return to the venue and bring a couple of other bands from the area with them for a Tamworth showcase.
So, that is exactly what they have done and they have now booked Easter Sunday for a Tamworth Showcase Special which will also feature The New Puritans and Banned In Yellow.
What makes the event so special is that it is certain to be attended by a great deal of record company bigwigs. The usual crop of Catch 23ophiles will be there of course but both Banned in Yellow and The New Puritans should also benefit with the Wedding Present management for example coming along to have a look at the Puritans.
The whole evening will be promoted as a Tamworth bands night and it came about after a recent Catch 23 show at the prestigious Mean Fiddler which had the management there in raptures.
"Their set included three brand new songs all of which were very well received and by all accounts it was their best gig to date," said group manager Alan Webster. "As this new gig will be the night before the Mandela show at Wembley Stadium a sell out is assured and we hope to have one or two 'names' there so all the groups should benefit."
Catch 23 are now in the process of organising a veritable convoy of coaches. With the popularity of both the Yellowites and the Puritans around five or six coaches are expected to go from Tamworth and Atherstone and the whole cost is a mere fiver. I for one think this will be a great night out and if you do too why not ring Alan Webster and book your place. It will be a very big night for Tamworth's music scene – dare you miss it?
Tamworth Herald – 16/03/90
Musicbox – SNIPS
Banned In Yellow have a few nice shows on the horizon. On March 29 they visit the Lord Nelson, on April 8 they take the trek to the Hare and Hounds in Birmingham and on April 16 they join a Rock Against Meat festival at Derby. On April 28 they are at Vonnies in Burton and on May 1 you can catch them in Stoke. In between all these of course is the wonderful night out in London where they join Catch 23 and The New Puritans at the Mean Fiddler on Sunday April 15.
Tamworth Herald – 30/03/90
Musicbox – Snips, news and more
Don't forget Catch 23, the New Puritans and Banned In Yellow are combining their considerable talents for a high profile 'Tamworth Showcase' at the Mean Fiddler in London on April 16. Full details of coach travel (and there are a lot of folks going!) can be obtained by contacting Alan Webster.
Tamworth Herald – 13/04/90
Musicbox – A big Easter bonanza!
It's another CRAZY week for local music fans who have so much entertainment to choose from it's mindboggling.
Catch 23/New Puritans/Banned In Yellow (The Mean Fiddler, London)
A big night this for all three bands and a real tribute to Tamworth. The Mean Fiddler which has been delighted with Catch 23's recent appearances offered the venue to the band for a night for a special Showcase and they invited two kindred spirits (i.e. the Puritans and Banned In Yellow) to join them in a bonanza of the best in local music. Five coaches will be travelling and some places should still be available. We won't be back until late but you haven't got to get up on Monday have you?
Tamworth Herald – 20/04/90
Musicbox – Stop Press
Although this column had to be completed by last Thursday because of the Easter deadlines, I recalled the page for a couple of reasons, mainly to tell you that on Sunday night, I and 250 other local music fans saw the BEST local gig I have seen all year. It was ironically enough 100 miles away in London where Catch 23, Banned in Yellow and The New Puritans turned in a truly outstanding three band show. More info next week.
Tamworth Herald – 27/04/90
Musicbox – Gig of the year


Banned in Yellow/New Puritans/Catch 23 – Tamworth Showcase, Mean Fiddler, London
EVERY so often you go to a 'local' gig which makes you remember why you got involved in the local music scene at all. This was such a show.
For sheer quality and atmosphere I can only compare this amazing night to a Tamworth Rock Festival or perhaps a final of one of the Battle of the Bands events of old. It was a night when simply everything went right and it meant that this show must now go down as one of THE classic local gigs – and by far and away the best of 1990 so far.
For a start there was the crowd. Around 250 local people from Tamworth, Atherstone and their environs travelled down the M1 to view this gig and when supplemented by a few hardy Londoners they helped to create a wonderful atmosphere. Even though many people had gone to see one band specifically all three bands were accorded a respect and an enthusiasm that was very touching, and all (deservedly) received encores for killer shows. Throw in a great DJ, a splendid sound system and a hungry anticipation, and the stage is set for a cracking show. And oh boy did we get it.
First up were Banned In Yellow who were simply STUNNING. It had been a relatively long time since I had seen this bunch, and the transformation is quite mindnumbing. All of a sudden they seem to have come of age, musically and personally, and they now look and sound quite brilliant. Their set was laced with some of the sharpest, strongest and most naggingly loveable tunes my ears have been treated to in years, and with Graham Harwood dominating the stageshow they were as much a treat visually as they were soundwise. They were full of confidence, new found aggression and contemporary relevance and in the space of one 30 minute set they jumped from being a mid-table first division team to being right up there challenging for the championship. They were quite magnificent and if you don't believe me see them the next time they hit Town and I guarantee you will be as knocked out as I was. Welcome to the big time O'Yellow ones.
Following that mouth watering starter should have been difficult but The New Puritans made it look easy. They were relaxed and jovial throughout their snappy set and the power that they managed to produce would have blown the speakers of many a heavy metal act. Like Banned In Yellow, The New Puritans base their stance on strong, attractive melodies and powerful ear-grabbing presentation, and tonight was as good a set as I have seen from them. Relative oldies like 'The Jailer' and 'No Such Chance' were equalled by new material of a distinctly 1978 variety, but all had to take second place to that gorgeous ditty with the 'keep me in the circle' hook, that reminded me of early Balaam and the Angel. Another terrific show from a band who can do no wrong in my books. Apart from Rob's abysmal jokes that is!
And so to the grand finale – Catch 23. On any other night with any other support you would expect Webster's Warriors to wipe the floor with the opposition without really trying, but tonight they really had their work cut out to justify their headline slot. Well, surprise, surprise, they DID rise to the occasion. Despite starting weakly with the unsuitable opener 'What You Want' the band went from strength to strength and by the end of their powerful set they sounded as good as they have ever been. New material like 'I Believe' and the anthemic 'Pride and Joy' stuck in the mid long after the amps had been switched off, but the band's fresh approach to older songs like 'Catch This' and 'Stand Back' gave them a new burst of life that proves that you CAN improve on seeming perfection. As with both Banned In Yellow and The Puritans, they were as good to look at as to listen to and as with the two bands that preceeded them, they were called back for more and delivered in real style. Another killer show from a band who surely can do no more now but wait for the ink to dry on the paper of the record contracts.
Sadly Catch 23's departure saw the end of this quite magical night. For those of us lucky enough to be on Bayley Cooke's coach there was still the treat of a solo show by the Wolfie king on the way home but I am sure everyone else had enough magic moments of their own to reflect upon.
The Mean Fiddler is a tremendous venue which was graced with three tremendous bands on the night. I strongly urge these same three bands to get together again and arrange a return trip NOW. They may not be able to repeat the sheer joy of this night but if they produced a gig that was half as entertaining it would still be superior to most other local shows you will see this year.
When the Tamworth area can produce three bands as good as this, you are left wondering whether we really need top name out of Towners hitting the area. All three of these are serious challengers themselves and if they arrange a second trip to the mean City take a tip from a rejuvenated MUSICBOX Editor and don't miss it. It was a night to treasure.
Review by Sam Holliday
Tamworth Herald – 22/06/90
Musicbox – SNIPS
Catch 23 may be in action at Bedworth Civic Hall next Tuesday although this has not yet been confirmed. Contact big All if you want to check it out.
Tamworth Herald – 14/09/90
Musicbox – Gigs Galore
We have no less than five fine local concerts for you to think about this week featuring top local faves like Wolfsbane, Catch 23 and Sherbert Trees as well as classy out of Towners like Walk on Fire, The Prudes and more.
The gigs – three in Tamworth and one each in Lichfield and Bedworth – offer local punters a chance to enjoy a whole array of talents so without further ado here is gig-list followed by a more detailed breakdown.
Tonight (Friday)
Tamworth Arts Centre: Litany of Fear/Sherbert Trees
Lichfield Arts Centre: Wolfsbane/Roma/Gates of Purity
Sunday:
The Rathole: Walk on Fire/The Wilsonz
Thursday:
The Rathole: The Prudes plus support
Bedworth Civic Hall: Catch 23
And a little more detail? Well tonight, Friday you can make the short journey to Tamworth Arts Centre to enjoy the double talents of Litany of Fear and The Sherbert Trees. The duo, both of whom walk on the wilder side of life, offer an interesting mixture of gothic enterprise and modern experimentation and the gig costs just £1.50 on the door and runs from 8pm onwards. Meanwhile up the road at Lichfield Arts Centre, Wolfsbane play one of their final warm-up shows before the Iron Maiden Tour when they join forces with Roma and Gates of Purity. Lichfield fans – and a fair sprinkling of Tamworth travellers – are sure to lap this one up and it costs just £3.50 with a £1 reduction for the unemployed.
Sunday night has only one show on offer – the pairing of Walk On Fire and The Wilsonz. Headliners Walk On Fire are a rock inspired act whose big lists of names of the calibre of Bryan Adams, Alex Harvey, Frankie Miller among influences and they offer 'strong' songs, memorable melodies and most of all 'a voice'. Having recently recorded with a man who has worked with Big Country and The Cars they look a different kind of band for Tamworth and could go down well. Support is provided by The Wilsonz, a band who have been compared in the past to Wolfsbane and have the same kind of 'live fast, die fast' style material. MUSICBOX has heard good things about this band. Nuff said.
And so on to Thursday night where Atherstone heroes Catch 23 make a welcome return to live action with a concert at Bedworth Civic HALL. We don't know a great deal about this one.
Meanwhile nearer to home. The Rathole hosts the highly-rated Prudes. This is a band of serious note who have made regular incursions into the Indie and Alternative charts and boast a mixture of good guitars, Smiths-appreciation and a bevy of adoring press critics in their pockets. Big band, big night and big (as yet unknown) support act which admirably rounds off a BIG week of gigs.
Tamworth Herald – 14/09/90
Musicbox – Demo Reviews by Sean Atkins
Smiles from Adam and Catchites
Catch 23 – Pride and Joy
Rating out of five stars *****
Phew, what a relief! I'd been hoping for a tape from a band of this quality so that I could give out more than three stars now and then, hopefully, the rating system would begin to make sense. And if ever a local demo was worth five stars it is this collection of six tracks from Catch 23. It is just the sort of tape the band needed to produce after the last flurry of record company interest faded away. It's aimed at showing the record companies the sort of product they wanted to here but – most importantly – it shows that although Catch 23 have souled out quite a bit, they definitely haven't sold out. 'Pride and Joy' is a personal fave of mine but every track works well and demonstrates the range of the band's music, which has matured considerably over the last year or so. They've moved on a lot, but they haven't left anything behind, as 'One of Those Days' proves – it's an example of the lively catchy sort of pop song that Catch 23 have always done so well. Catch 23 are back in a big way and these very dance-orientated tracks signal the way forward for the band, hopefully into the charts. So, next time you so Top of the Pops, remember that good pop bands do exist...they just haven't been signed yet.
Sean Atkins
Tamworth Herald – 21/09/90
Musicbox – Snips
Catch 23 are finally emerging from a relatively long period of isolation. The band have deliberately kept a low profile throughout the summer but are now raring to go again with their excellent new demo which was reviewed here last week. As they explain in their latest Newsletter…
"We felt our priority was to record a new top class demo to get the attention of everyone in the business. The next few months are crucial for Catch 23 but we consider the experience we have gained over the past 12 months will stand us in good stead when we next mount our attack on the record companies."
The band played their first gig since the Festival at Bedworth last night (Thursday) and there is talk of a link-up soon with kindred spirits Dance Stance at the Rathole.
Tamworth Herald – 26/10/90
Musicbox – Stardom without a Catch
Catch 23 Exclusive News
Catch 23 – who still rank as the best pop band EVER to come out of this area – may have played their last ever gig.
Horrified? Well it's not quite that bad because something rather big is in the wings which could mean the band being forced to change their name and their image in afresh bid for stardom.
Too much we can't reveal at the moment but let us just say that even after several disappointments in recent months, Catch 23 are now more convinced that ever that success if just around the corner – and so am I. Alan Webster, the band's ever-enthusiastic manager, gives an honest and revealing insight into the situation with the band circa October 1990 – and it has a plain message to all bands in a similar position locally…
"We always believed that natural talent combined with hard work would eventually bring results but our lengthy discussions with various A&R men have made it clear that this is not enough and unless a band can guarantee record sales they are wasting their time. Nowadays it is not the band themselves who get major record deals, it is just a handful of top managers who control everything. These managers can get a record deal for their band literally within hours because they live and work in London, have plenty of money and are known by all the right people," said Alan.
So, how does this general appraisal of the current music biz affect the Catch boys? Alan goes on…
"To achieve success we must convince one of these select few managers that we could be the next big thing and to do this we have to get everything right as far as image is concerned and that includes choosing a new name."
Catch 23 have never made a secret of the fact that they want to be serious pop stars. And consequently, their musical style has changed. But, the fact that they turned down the chance to work with Stock, Aitken and Waterman proves that they are determined to retain their credibility as a live act. As Ray Clenshaw, the main songwriter within the combo explains, if recording a non Catch 23-song gets that first elusive hit, then so be it…
"We feels we write good pop songs and that many of them could be hit singles but to get the break we need we may have to record someone else's material. If that gets us into the charts, then that is fine by me. There is plenty of time to record our own songs when we have made it but first we MUST get there. Unlike most pop bands we have the ability to progress because we can play live'"
Intrigued? I bet you are and if all goes to plan you won't be disappointed by what is going on within that little corner of Atherstone at the moment. For many a long year now I have predicted that Steve, Ray, Nick, Jase and Neil would be STARS one day and at the end of last year I predicted that Catch 23 would get a contract in 1990. Time is running out, but I stand by it. Watch this space.
Tamworth Herald – 14/12/90
Musicbox – What a week!
Tamworth's music lovers are set for a real Christmas treat this week with no less than FOUR major concerts on offer.
Everyone from firm favourites like The Yogots and Rhythm Damage to the all-new Foundation and the revamped Scream Dream will be in action this week in easily the busiest week since the Festival.
In a nutshell here is what is happening, where and when…
SUNDAY NIGHT
Tamworth Arts Centre
The Foundation/Empire Falls plus Special Guests.
The Rathole
Scream Dream plus Guests
TUESDAY NIGHT
The Jolly Sailor
The Yogots/Crystal Injection/The Sherbert Trees/Fly on the Wall
THURSDAY NIGHT
The Rathole
Rhythm Damage/Catch 23/Emma Gibbs Loves Badges/Vindaloo Breakfast/Big Noise/Guilty Party/Sindy's Sonic Garden
Here in a bit more detail is what you can expect to see on the various nights, so take your pick of the shows on offer and get your dancing boots on.
Thursday – The Rathole
Rhythm Damage/Vindaloo Breakfast/Catch 23/Guilty Party/Emma Gibbs Loves Badges/Big Noise/Sindy's Sonic Garden
Some big names here on what should be a big night – with all proceeds going to the Rock Festival Fund. Catch 23 will be dropping in just to play three quick tracks from their new demo. Rhythm Damage will be cranking it up to ruin everyone's Christmas and The Guilty Partner will be shooting down from Manchester to razzle , dazzle 'em. In addition The Big Noise will be providing just that. Emma Gibbs will be laying on the sweet pop-tones and Sindy's Sonic Garden will be planting some splendid blooms. Completing a hectic crazee line-up will be the lovely Vindaloo Breakfast who will blast their way to more undoubted glory on a night brimming with noise and quality. The actual line-up won't be known until the night but all proceeds will go towards the Tamworth Rock festival fund.
Tamworth Herald – 28/12/90
Musicbox – Bags of smiles at festive shows
PRACTICALLY every local band worth is (or her) salt has been in action over the Festive period and here we try and catch up with two of the biggest shows on offer.
Catch 23 – The Rathole
Not a full set by any standards but a first chance to see the very different new material from Atherstone superstars-in-waiting. With help from Damage Control, Catch 23 have become the local music scene's equivalent to EMF and it is definitely the best music they have ever produced. Now wearing baseball caps and making use of samples, the band have abandoned the move to polished pop songs and are now making more raw, dancy music. 1990 should have been Catch 23's year anyway. If 1991 isn't I'll eat my baseball cap.
---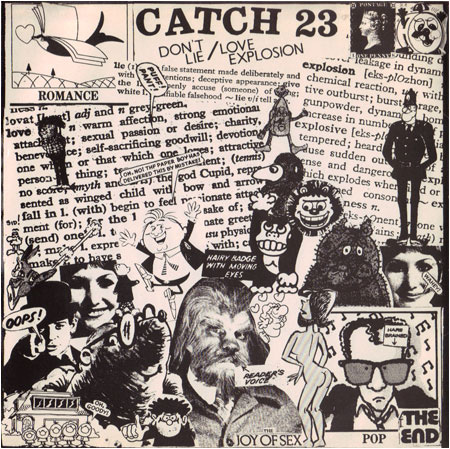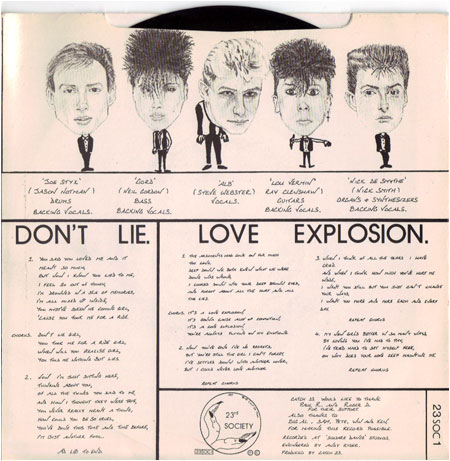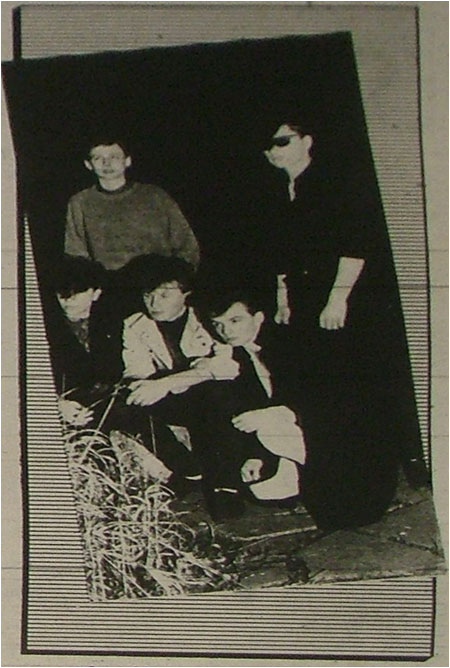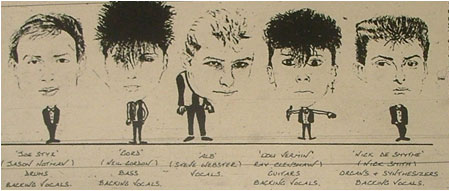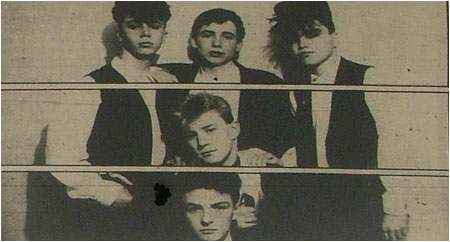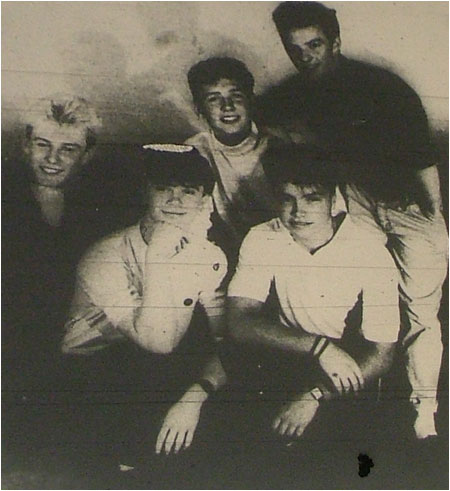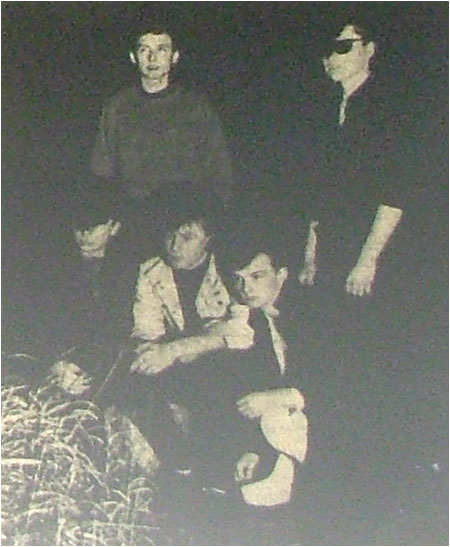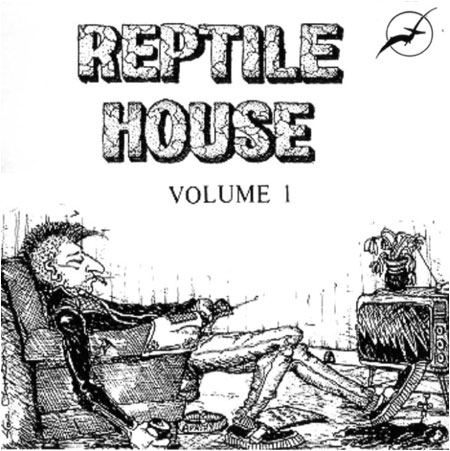 The first album put together by Lichfield Studio 'The Reptile House'. It featured 10 bands including our very own Catch 23 and Never Say Die at a knockdown price of just £2.50.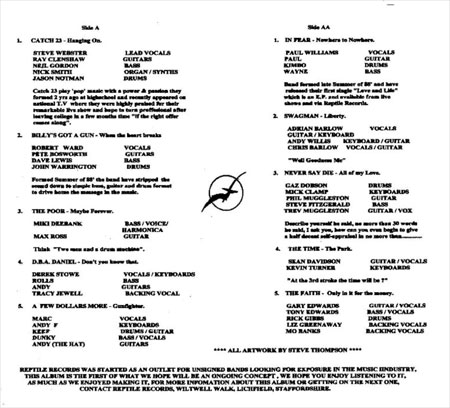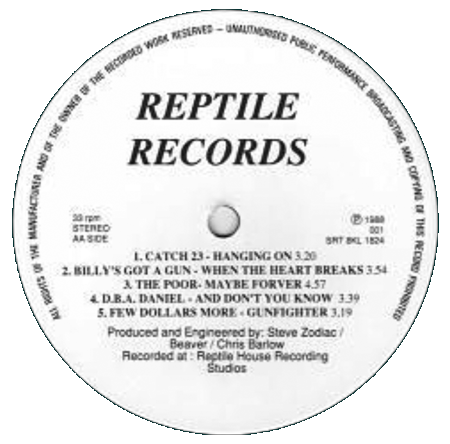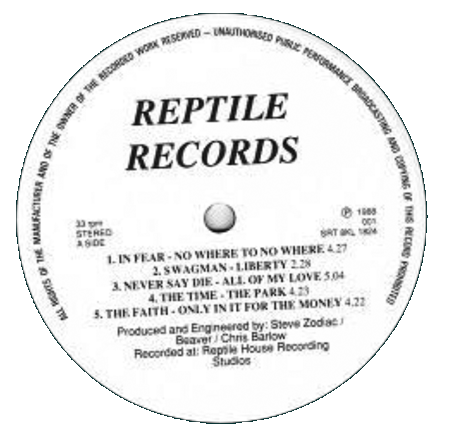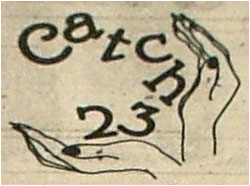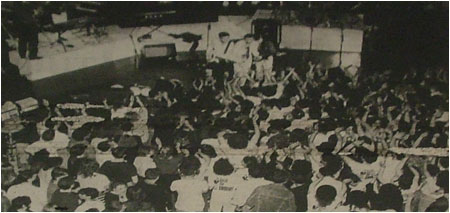 Steve Webster sings to the adoring masses.