Shock Culture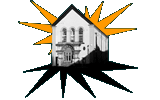 Musical Genre: Indie/Pop
Formed: 1987 Split: 1990
Band Members:
Darren O'Brien (Dob) - Lead Vocals/Rhythm Guitar (Wilnecote)
Gaz Taylor - Lead Guitar/Backing Vocals (Fazeley)
Steve Morris (Mozz) - Bass Guitar/Backing Vocals (Dosthill)
Ade Moss - Drums (Perrycrofts)
Chris Bates - Keyboards (Amington)
Other Band Members:
Matt Williams - Guitar, Lorna ??? - Drums.
Memories:
For a couple of years in Tamworth it seemed that everyone that frequented Hamlets was in a band. Looking at this site it's amazing how many bands were around at the time, and how many I remember. We often played the Sunday nights at the Arts Centre with Big Noise, Fetch Eddie or Catch 23. Our favourite gig has to be when we somehow found ourselves as the last band on before Wolfsbane at the 1990 Tamworth Rock Festival.
Gigs:
First Gig: Tamworth Arts Centre - 06/06/88
Last Gig: Punch & Judys, Walsall - 10/11/90
12/02/89
Tamworth Rock Festival - Indoor Festival
CATCH 23
Emma Gibbs Loves Badges
Big Noise
Shock Culture
Tamworth Arts Centre
02/02/90
Shock Culture
Bradford Battle of the Bands
Rios Nightclub
Bradford
11/03/90
Naked Touch
Shock Culture
Dirty Betty's
Hagley Road
Bearwood
27/05/90
We're Going To Eat You
Shock Culture
The Rathole, Lincolns
Other Gigs:
The Tamworth Rock Festivals of 1989 and 1990. The Hummingbird in 1989. Some strange nightclub in Bradford in 1988.
Songs:
Really Nice Tune (O'Brien/Morris/Taylor)
Crash & Burn (O'Brien/Morris/Taylor)
Six Ways to Your Heart (O'Brien/Morris/Taylor)
Ripped Off Sold Out (O'Brien/Morris/Taylor)
The Dab Dab Man (O'Brien/Morris/Taylor)
The Master (O'Brien/Morris/Taylor)
Rescue Me (O'Brien/Morris/Taylor)
Growing Old (O'Brien/Morris/Taylor)
Love Story for Today (O'Brien/Morris/Taylor)
Ten Tall Men (O'Brien/Morris/Taylor)
Recordings:
Title: Dixieland
Format: Demo for Sale Label: Shock 1/Carl Harris
Tracks:
1. Ripped Off Sold Out
2. The Master
3. 6 Ways (to your heart)
4. Love Story for Today
Title: Sponge
Format: Demo for Sale Label: Coach House Studios
Tracks:
1. Rescue Me
2. The Master
3. Ripped Off Sold Out
Title: Reptile House Studio
Format: Demo for Sale Label: Reptile House/Mike Roarty
Tracks:
1. Really Nice Tune
2. Crash & Burn
---
Tamworth Herald – 20/01/89
Musicbox – A Fab Feb ahead!
TAMWORTH's rock fans are in for a real treat throughout February when the Arts Centre hosts a sparkling indoor festival.
Three top quality concerts will be on offer featuring the best of the area's older acts and some brand new local talent.
And to top off the whole indoor extravaganza it is hoped that Wolfsbane will kick off their major UK national tour by concluding the festival on Sunday March 5.
Plans for the indoor festival were sorted out on Sunday night when Tamworth's main outdoor festival for 1989 was launched. Once again a huge crop of bands registered interest in the 89 outdoor festival and at least 14 of these will be involved in the indoor festival in February/March.
At the moment the line-ups are strictly provisional but here they are as they stand at time of going to press. Please note the line-ups could change dramatically and you will have to keep reading this column to find out exactly who is playing and when. Assuming everything does go according to plan here are the line-ups for Tamworth's 1989 Indoor Rock Festival.
Sunday February12
CATCH 23 will headline with the support of one 'oldie' Emma Gibbs Loves Badges and two 'newies' Big Noise and Shock Culture.
Sunday February 19
SCREAM DREAM will headline with Mike Fleming's act Nightshade and two relatively new acts – The New Puritans and Double Vision.
Sunday February 26
DHSS will top-off a line-up featuring The Space Seeds, Never Say Die and King Woderick.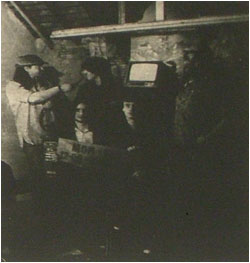 Sunday March 5
WOLFSBANE (contract permitting) will kick off their UK/USA tour by headlining alongside Spiral Eye and Kraze. If the Wolfies can't make it Spiral Eye and Kraze with team up with A.N. Other band.
As you can see from the above, many new bands have already emerged for this year's festival and in addition to those listed look out for several other new groups who have set their sites on the Castle Grounds for July.
In the meantime, pencil the above dates in your diary now. With the first three shows all the money raised will go towards the outdoor festival so they are vital fundraisers as well as tremendous concerts.
All the line-ups will be finalised in the next few days/weeks so keep your eyes peeled on this column. This indoor festival will prove a very exciting sampler for what you can expect this summer so get set for a Fab Feb and hopefully a marvellous start to March.
Tamworth Herald – 03/02/89
Musicbox – Festival set for powerful launch
Tamworth Indoor Rock Festival 1989
THE Tamworth Indoor Rock Festival begins a month long stint at the Arts Centre on Sunday with a tempting looking concert combining the old and the new of the local music scene.
Over the next four Sundays, 15 bands will play under the Indoor Festival banner concluding on Sunday March 5 with the eagerly awaited return of the mighty Wolfsbane.
Before then however there are bags of goodies to look forward to. Scream Dream, DHSS, Bash Out The Odd (ex-Space Seeds) Never Say Die, Spiral Eye, Kraze and several brand new bands will combine their talents for the festival and on Sunday the whole rambling charabang gets off to a powerful start.
The four acts who will hit the Arts Centre stage this week are the award-winning Catch 23, the much-admired Emma Gibbs Loves Badges and two brand new groups – The Big Noise and Shock Culture.
For Catch 23, the show will be a triumphant homecoming. The band have not headlined the Arts Centre for many moons and they are keen to show their natural audience just what has made them one of the most talked about young bands in the country. For the past two years they have been chosen as the best school/college age rock band in the whole of the Midlands and this year they are hoping to extend that to the whole country by winning the final of the TSN Rockschool contest. They have powerful allies to that end – dj Mike Read is an acknowledged example – and if you want to see why, then just stand back and listen on Sunday night. Their all new set will include the three songs that won them the TSB regional heat, including MUSICBOX song of year 'Hangin' On' plus many, many more that may be unfamiliar to those who haven't caught the band in a long time. Expect to be impressed.
The other established band on the line-up are Emma Gibbs Loves Badges, who specifically requested to play alongside Catch 23. Lee Revelle's band have undergone somewhat of a transformation since their early days and the increased profile and popularity of their performance indicates that it is a change that has been welcomed by the masses. I have become an admirer but being as I was slagged of for disliking them in the start and then slagged off for LIKING them in their last gig-fanzine I will offer no opinion at all because it would obviously be invalid. Suffice to say that they are very watchable these days. Try not to miss them.
Teaming up with these two old bands (seems daft calling Catch 23 old doesn't it!) are two brand new acts – The Big Noise and Shock Culture. The latter, Shock Culture are a complete mystery to me unfortunately, and all I can say is that they are ideal festival material. By that I mean something which you can watch without any preconceptions allowing YOU to pigeon-hole them (if you must) before I do (if I must). There, that was a good way of hiding my ignorance wasn't it.
Interesting
Completing the show is The Big Noise. This outfit made up of Ben Machin, Carl Harris and Ana Situnyake say they are influenced by the likes of That Petrol Emotion, Teardrop Explodes and Captain Beefheart.
"The band are crispy in a crunchy sort of way." Insists their manifesto. "You'll have to listen to see what you think."
Actually they sound pretty interesting and they are almost certain to get a good review because Ben Machin's sister Helen is a Herald scribe who will no-doubtedly beat me up if I dare to dislike them."
That's the line-up then, pop kings Catch 23, the unique Emma Gibbs, the mysterious Shock Culture and the alt-popsters The Big Noise. It is a very entertaining looking line-up and at just £1 per person entry it represents the best value of the year.
The proceeds from the show (starts 8pm) will go towards this years Tamworth (outdoor) Rock Festival so that's another good reason not to miss it. We're looking for a capacity crowd on the night, you won't let us down will you?
Tamworth Herald – 17/02/89
Musicbox – The first (fab) instalment
Gig Review
The Tamworth Indoor Rock Festival got off to a cracking start on Sunday night. A huge 200+ crowd, a marvellous sound (best ever methinks from Den and Gaz Byfield) and four cracking sets. They went something like this…
Shock Culture
Another Arts Centre first here and one which despite some raw edges boded well for the future. The band overcame an early sense of nervousness to produce a set which was memorable and watchable and peaked with one of their own numbers which I think was called 'Tumble Down'. That had a natty tune and a real power and if the band can continue down that melodic road they could well turn out to be a major local find!
Review – Sam Holliday
Tamworth Herald – 17/03/89
Musicbox – SNIPS
Shock Culture have just split with their drummer and they are looking for a replacement. If you're interested and you're into Wunderstuff, The Jam and The Smiths then contact Dob or Gaz.
Tamworth Herald – 31/03/89
Musicbox – Big noises at the Arts Centre
Tamworth Arts Centre opens its doors for another fine night of entertainment on Sunday when three relatively new acts hit the boards.
The stylish guitar-act Big Noise lead the charge with the able support of MUSICBOX poll favourites Flowers in the Attic and new Smithites Shock Culture.
The gig described as an 'April Fools Binge' (but it's April 2nd boys!!!) has been organised by Big Noise and it is possible they will add a fourth act before the big day.
This very interesting looking new band showcase will cost just one pound of you hard earned cash and that should bring a big and noisy crowd into the Arts Centre. Sunday's the day!
Tamworth Herald – 28/04/89
Musicbox – Never Walk Alone!
TAMWORTH Arts Centre looks set to be packed-to-bursting on Sunday when several of the area's greatest bands combine their talents for a special Hillsborough benefit.
The gig has been put through by Emma Gibbs' man Lee Revelle and his contribution cannot be under-stated. He also deserves praise for writing the report below. He actually asked for anonymity, but I felt the report was so good that I would deny his request.
Catch 23, Emma Gibbs Loves Badges, DHSS, Scream Dream, World Intelligence Network and Shock Culture are among the bands participating in a benefit for the Hillsborough Relief Fund at The Arts Centre this Sunday.
In a magnificent gesture, Dave Fortune, the Arts Centre supreme has give free use of the hall for the evening ensuring all of the £1.50 entrance fee goes directly to the Fund.
Likely headliners Catch 23, oozing megastar confidence, have promised a mixture of old classics, interspersed with the odd cover version. Do not expect to leave The Arts Centre on Sunday without having heard the Catch lads blitz The Beatles and The Bunneymen.
Emma Gibbs Loves Badges will be parading an expanded line up for the first time, willing to impress all with a combination of fragile pop songs and massive stage presence. Guitarist Rob Kinson hinted that the bands recent songwriting flurry will be in evidence along with a couple of golden oldies.
One of the first groups to be involved were demonic metallists Scream Dream, who offer a raucous variation to the pop-drenched songs that make up the rest of the evening. Stephen king and his hairy bunch have undertaken to give a no holds barred performance which should delight all those with even slightly greasy tendencies.
Most unusual attraction of the evening will be an acoustic (yes!) stint by certain members of DHSS. Edward ian Armchair was a co-instigator of the event and welcomes the chance to (finally) let his intelligent songwords be heard, feeling that they are sometimes lost in the synth-based racket that is standard DHSS.
Shock Culture made their Tamworth debut a couple of months ago and are steadily improving with age. Expect a refreshing set from the Smiths-influenced pop kids.
Latest addition are W.I.N. performing for the second time in as many months. For anyone too young to remember them, if your pleasures include Cope, The Chameleons and songs about steamrollers, W.I.N. are good for you.
Although it was initially hoped for a full Fetch Eddie set, pod has 'nipped off on his hols'. However, the bands cherubic guitarist Aaron James has pledged his support to the cause and is currently using his connections to form some sort of supergroup. What this entails is anyone's guess but miss it at your peril!
All in all this show has event written all over it. There is a high possibility of more bands being added to the vastly impressive line up, but that this is already (excepting the festival( Tamworth's gig of the year is quite beyond dispute. The running order is to be fought over on the night. So ensure you have a foothold in the door by 7.30, you might miss something historic.
Reporter by Lover-Lee Revelle
Tamworth Herald – 05/05/89
Musicbox – Shocked by a review!
I refer to the letter you printed last week from 'Ken' of Dosthill, Tamworth. In his letter he described 'Shockculture' as having 'weak vocals', I think he needs his ears cleaning out. I thought the vocals were fantastic and the cover versions were extremely well done – especially 'Going Underground'.
Please print this letter as I think the band were done an injustice by Ken's review.
Love, 'L'.
P.S. S.H's reply – who the 'L' is 'L'.
Tamworth Herald – 12/05/89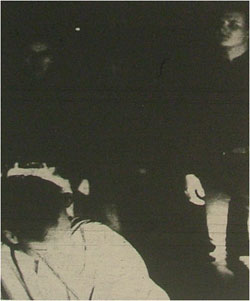 Musicbox – Disaster leads to glory
Hillsborough Benefit Gig
And once again Tamworth's gig-goers prove themselves to be generous sorts. More than £370 was raised from this excellent show and it further illustrated the point that when the chips are down Tamworth area bands are always happy to try and put the coffers up. This show for Hillsborough was good because it was designed for helping those in tragedy but it never dwelt upon pain. We all knew why we were there but we all enjoyed the gig as well. That's the best recipe for charity events – pleasure through pain equals success.
It all began with WIN who went on at a ridiculously early time and were therefore missed by these eyes. Lead singer Mark Brindley said it wasn't much cop but then again he always was a modest kinda chap. Next up were Shock Culture who played a short but tantalising set which was much enjoyed by their lusty young following. The highlight for me was a splendid rip-roaring version of 'Going underground'. There is still hope for our future when young bands choose to cover songs like THAT. Fetch Eddie were next to present themselves and a powerful set was then produced. It was a mix of one or two golden oldies and a couple of strong new numbers with the undoubted key point being a superb finals track called 'Dance' which featured a fine old tune and some marvellous dancing from Phyllis. Emma Gibbs followed and they gave a harder attack than we have been used to, and a very successful one at that. The band are becoming very much guitar orientated these days and those six stringers carry forth some of the sweetest melodies these ears have encountered of late. All together different were Armchair Thrash (that's DHSS minus Rikk and Anice) who turned in the most surprising but also one of the most enjoyable sets of the night. It was basically Ed pontificating on how own curious and somewhat perverted past, future and present with the mad axe man Rocking Reeman for once cooling down and playing some skilful accompaniment. I thought it worked magically. And so to the finale – and what a finale. Catch 23 played a short but dynamic set full of bravado and spirit. Their new tracks showed a maturing songwriting awareness while their oldies were given a new lease of life. 'Gotta Get out Of Here' was the song of the set, the night, the week, the month, the year while the joint tracks with Fetch Eddie's Aaron showed that the band are as versatile as they are skilful. They rounded off a superb night excellently and showed that as Liverpool FC have proved universal sadness can lead to a new sense of universal community.
Review – Sam Holliday.
Tamworth Herald – 12/05/89
Musicbox – Get set for some more (big) noises!
THE BIG NOISE return to blast the Arts Centre on Sunday with their very own brand of powerful guitar music. Lead singer Ben Machin has promised the band will be bringing their usual mass of followers (if she can make it!) Volatile stuff this!
They will be joined on the night by Shock Culture, Fudge Tunnel and the New Puritans – and all at the bargain price of £1. How can you resist? Be there or be somewhere else!
The New Puritans welcome trainspotters as usual - and with their new acoustic sound they claim they will "blow the audience's pants off". Could be interesting!
Nottingham-based Fudge Tunnel look set to convert a whole lot of Tamworth music lovers with a sound that has been described as indescribable. Noisy tunes, they say. Could be a great thing for the Arts Centre.
Finally Tamworth's most oft-seen sons of late, Shock Culture will be showing off their ripped jeans and jangly guitar sound complete with tambourines and a lot of energy.
It all promises to be a great night – so come on down at 8pm!
Preview – Helen Machin (No relation to Ben – HONEST!)
Tamworth Herald – 18/05/89
Musicbox – Gig Review
Fudge Tunnel/Big Noise/Shock Culture/New Puritans – Arts Centre
Fudge Tunnel
LOUD and very rude! Great guitars, great music, this thrash/metal sound went down a storm with the Arts Centre crowd – it was Fudge Tunnel's first appearance in Tamworth and it doesn't look like their last. But what happened to the vocals.
Big Noise
More big noises from the band who know how to make them including two new songs – "Can't help myself" which was BRILLIANT. Their other newie "Volatile" was not so ho, but the powerful "Crawling up the wall" plus the Arts Centre fave – their cover of "Pump It Up" ensured that Big Noise made another big impression in Tamworth.
Shock Culture
WHY oh why do they do cover versions when their own songs are so much better? "Tumbledown" and "Six Ways" were fantastic, but their "Going Underground" was very disappointing. Not that their huge following would agree with me though.
New Puritans
FANTASTIC. I've only seen these once before, but I'm now a conformed follower – even down to buying their demo "No Such Chance" was definitely the song of the night. If you haven't seen them yet, you are definitely missing out. And by the way, Ben and Carl those wigs don't fool anyone and don't pretend it's for tax reasons.
Review: Helen Machin
Tamworth Herald – 25/05/89
Musicbox – Take your pick!
LAST week we printed a review of the Shock Culture/Big Noise and New Puritans show. In the same week no less than three alternative reviews/letters appeared on the gig, and as I am always trying to open this column to readers, I am using two of them. Right, fire away…
Dear Sam,
I am writing to you to give you my review of the 'Trainspotters' concert at the Arts Centre on Sunday June 14th with Fudge Tunnel, The Big Noise, Shock Culture and The New Puritans.
First on stage was Fudge Tunnel providing an original underground sound, comprising of a lot of feedback which they managed to keep in key with the rest of the music.
Not bad for a first gig, but unfortunately did not go down too well with most of the indie-inclined audience.
Next on were the Big Noise whose set was a bit weak to start with but became a lot stronger further into the set.
Biggest disappointment of the night were Shock Culture whose 'jangly' set merely irritated the more discerning music fans. Although they got a good response from the audience I do believe this is because most of them go to the same college as Shock Culture!
Headlining for the first time were the New Puritans. When they started with 'The second before you go' and 'No such chance' they proved that they are losing The Wedding Present sound and are starting to sound like the New Puritans at last. The Wedding Present covers were covers and not rip-offs and their new song 'So lonely' was the most original sounding to date. The audience were picking up on the electric atmosphere the Puritans were creating, and they loved it, and for the first time since I have been going to the Arts Centre people were dancing.
A fun night out for all the family, that is if they're not trainspotting!
C. Kennedy
Sam,
This was supposed to be a review of the pop kids gig on Sunday, but it's just going to be 'put my Shock Culture brother down time'. His vocals were just so weak they barely tripped out of the P.S. I'm sorry at having to use your column as a source to put my brother down, but if he will storm from the dinner table saying: "I just do gigs for myself," roughly translated as: "I can't take this constructive criticism I'm leaving" then he leaves me no choice!
Well for the rest of the 'fashion' victims performance: Mar 'the bass thing' played another faultless set while Gaz on guitar had a nice shirt and Morrissey haircut: Lorna, for God's sake smile!
The set overall wasn't as tight as it should have been but there was a nice touch when Steve 'Up the Baggies' Webster joined in on the cover of 'Going Underground' – come hanging on.
If you are into the Stuffies, which I am, so it still remains a classic. Nice cover.
A little cryptic ending. Baz take mom's advice take those lessons she is paying for. Finally, 'well done Jane – it wasn't bad was it'.
Yours shockingly,
Mars
Tamworth Herald – 02/06/89
Musicbox – Snips, Snips, Snips
Another letter has hit this desk about the Shock Culture debate. This one, from Louise of Hockley, says that Nick Danger's recent letter claiming that a girl reviewer only liked Shock Culture because she was a member, a relative or a sleeping partner was well out of order. Louise says she is definitely not any of the above but she still thought Shock Culture have great vocals and do great cover versions as well. Personally I think they are a pretty cool band and I can't see why they create such a massively mixed reaction from you, the listeners. Will someone please explain???
Tamworth Herald – 02/06/89
Musicbox – Letters to the editor
Dear Sam,
Well another good night down the Arts Centre – put it this way – one band were good but we were lacking in numbers! Tamworth missed some good sounds from Big Noise who were as brilliant as usual.
Shock Culture improve all the time and they have proved they are better than just some cuddly school band! (so less of the bitching back row). Next come the 'New Puritans', well just fab, no other words and their tape is worth getting with numbers such as 'No Such Chance', but sadly no 'Green Door'. It was basically just a good line-up and lets hope its not too long before they are back!
All the best,
Big Noise fan
Tamworth Herald – 07/07/89
Musicbox - The Big Kick Off!
The Tamworth Rock Festival 1989 gets the best possible launch this weekend with three excellent concerts at the Arts Centre.
Gigs will take place tonight (Friday), Saturday and Sunday night as a tempting appetiser for next week end's outdoor Caste Grounds bash.
Stars aplenty will take to the Arts Centre stage this weekend to spur the festival and you will be able to get your eyes, ears and noses around the likes of Spiral Fish, Whats This Heads Down, Shock Culture, The New Puritans and new additions Armchair Thrash.
Throw in several more great bands and also the highly mysterious Wilsons and you have a triple sandwich of indoor festival shows which should bring a smile to everybodys face.
So what can you see this weekend.
Here's the menu…
Tonight (Friday), Tamworth Arts Centre
The Rock Festival's Arts Centre weekend gets off to a great start with five scheduled bands lining up for duty. The groups who will appear in an order to be finalised tonight are Stranglerites Limited Edition, the Norman Yates outfit Lincoln Dirty Duncan, blue combo The Jim Crows Blues Company, new Nephilim squad Whats This Heads Down Mindless Boogie About Nothing and late additions Armchair Thrash. The Thrashites have been pulled in because of doubts about the appearance of the Duncans and the Crows Co. but whatever happens there is going to be some cracking music on show. Armchair Thrash for those who don't know are a DHSS spin-off who made a startling debut some months ago. So, a fine five band line-up is due. It costs just £1 and as the line-up will not be known until the night you must get there as near to the 8pm start as possible. The Festival starts tonight, so miss it not.
Saturday (Tamworth Arts Centre)
The second night of the indoor festival features four very varied bands. From the more alternative side of life we can welcome Shock Culture and Banshee-ites Curious Oyster, from the rockier end of the spectrum we can welcome Atherstonians Spirit of the Gypsy Khan and from the more indie direction our can see the glory of the coming of The New Puritans. This is an excellent four band line-up and once again it makes the £1 admission fee somewhat laughable. All door fees again go to the overall festival fund so get along and boogie.
Sunday (Tamworth Arts Centre)
The most unusual of the three nights featuring as it does two rather mysterious bands – The Wilsons and Spiral Fish alongside alternative wham-bammers Litany of Fear. Describing The Wilsons should be be an unnecessary for those of you who know anything about anything but let's just say to discover who they are you need to go on a manhunt. Spiral Fish are also well worth keeping a (spiral) eye on and completing a fine line-up is the weird and wacky Litany of Fear.
As this gig has been organised by The Wilsons as part of the fest, the entry fee had not been confirmed at time of going to press but it is unlikely to break anyone and the gig is VERY likely to delight you all.
That's the full line-up then for this weekend's Rock Festival nights. Remember all these gigs are official Rock Festival shows so we want to see massive crowds on each occasion to really set off the festival with a bang. Hopefully festival t-shirts and programmes will be on sale and there will be a party feels at each show. The outdoor event is only eight days away now so a roaring send of this weekend will put us all in great stead for the best festival ever.
Tamworth Festival '89
THIS is the definitive line-up for the Tamworth 1989 Rock Festival, which we will be plugging until the event takes place.
The Indoor Festival
Friday July 7 (Tamworth Arts Centre)
Whats This Heads Down Mindless Boogie About Nothing, Limited Edition, Lincoln Dirty Duncan and The Jim Crows Blues Company, Armchair Thrash. Entry £1 – starts 8pm.
Saturday July 8 (Tamworth Arts Centre)
Shock Culture, Spirit of the Gypsy Khan, The New Puritans and Curious Oyster. Entry £1 – starts 8pm.
Sunday July 9 (Tamworth Arts Centre)
Special Show – The Wilsons, Litany of Fear, Spiral Fish. Starts 8pm
Friday July 14 (Tamworth Arts Centre)
Flowers in the Attic, Chemikill, Eight Ball Joe, Bash Out The Odd. Entry £1 – starts 8pm.
The Outdoor Festival
Saturday July 15 (Tamworth Castle Grounds)
The Cuddly Spiders, Never Say Die, Stench, A5, The Soil Brothers, The DHSS, The Searching, Divine Intervention, King Wodericks and The Yogots, Fetch Eddie. Entry is free, concert lasts between 11am-8pm.
Sunday July 16 (Tamworth Castle Grounds)
Nightshade, Psychedelicatessen. Emma Gibbs, Rape In Yellow, Scream Dream, Catch 23, Kraze, The First Conspiracy, Big Noise, Spiral Eye. Entry is free, concert lasts between 11am-8pm.
Tamworth Herald – 15/09/89
Musicbox – Big, Bad Fivesome!
FIVE varied and tasty bands combine their talents for an Arts Centre special on Sunday night.
The Big Noise will spearhead the five-pronged attack which will also see the return of much vaunted duo Infinity Incorporated and the New Puritans, the re-emergence of Shock Culture and the all new Sherbert Trees.
The five acts will all be packaged together and put onto the Arts Centre stage for a mere £1.50 so a cheap and very tasty night is promised for all.
Opening proceedings will be The Sherbert Trees. I asked Ben Machin of the Big Noise to describe the Sherbert ones and all he could come up with is 'no one knows anything.' This is indeed useful so look out for a band that could sound like anything from Abba to Anarchy. Suck it and see.
Second up will be Shock Culture making their first Tamworth appearance for far to long. The band, who were sadly ruled out of the festival for medical reasons (well of a kind anyway) will be more than happy to slice their guitars onstage again and their strange audience of lovers and haters alike will be very numerate again I'm sure.
Third up will be the New Puritans, a truly mighty act who boast a singer with a Bros-like smile and a sound with a Buzzcocks-like edge. According to Ben this is 'music to trainspot to', but don't let THAT put you off.
Following the oh so puritans will be Infinity Incorporated of which I now know stacks. The band – who are widely travelled but have described Tamworth as having an amazing and unique scene – will be out once again to win over the crowd as they did very much at their last Arts Centre show. Hopefully this time they will be on before 4am unlike the last event and we will all be able to delve into their dungeons.
Completing Sunday's pretty package will be The Big Noise a band so spiffingly wonderful that when faced with the group countless record companies have said 'big who?' We won't say too much about the Big Noise because frankly they are very good at saying things for themselves anyway. Simply watch them and smile.
So that's yer lot then. Five potentially cracking bands for just one pound and fifty pence. I know this Sunday night 'War and Remembrance' thing is pretty gripping but go on, get out and enjoy yourself.
It starts at 8pm so get there early and don't miss a note.
Tamworth Herald – 22/09/89
Musicbox – Special Review
Shock Culture – Arts Centre
Easily the best I've seen this combo as they came over as being far more relaxed and powerful than ever before. The songs had a pleasing consistency and peaked with a gorgeous ditty called 'Six Ways To Your Heart' which seemed to have very much a feel of The Jam meets Catch 23. Catch axe hero Ray Clenshaw obviously saw the connection and raved about the band, and his enthusiasm is entirely justified. Good stuff.
Sam Holliday
Tamworth Herald – 01/12/89
Musicbox – SNIPS 'N' NEWS
Shock Culture – who were in action in Coventry earlier this week – have line up a special post-Christmas show in the same City on Thursday December 28. They will play at the Dog and Trumpet with Cult-esque Sweet Sanity. A coach should be running so keep reading this column for info.
Tamworth Herald – 15/12/89
Musicbox – FESTIVE FUN!

WE have plenty of pre-Christmas shows to tell you about this week so feast your eyes on the collection of goodies below and get set for plenty of smiles in the next few days…
Tonight (Friday) – Tamworth Arts Centre
A hastily arranged show this which sees Whats This Heads Down Mindless Boogie About Nothing team up with Shock Culture for a Friday night bonanza. With the possible addition of Special Mystery Guests this promises to be a tempting alternative to Friday night pub crawling and it starts at 8pm.
Sunday Night – Tamworth Arts Centre
You are cordially invited to the Bignewyogotsherbert Christmas Show which offers you four top quality local bands and the possibility of a few carols! As the rather long title may suggest the four bands you can see are The Big Noise, The New Puritans, King Woderick and The Yogots and The Sherbert Trees all of whom have more fizz and bubbles than a bucket full of coke. It costs a mere £1.50 and apparently fancy dress is optional. I'm not sure about the Christmas Carols but I am sure this will be a heap of fun gig-goers!
Monday Night – The Castle Hotel
Another happy collection of mirth and music is in view as the meaty, beaty big and bouncy Also Smith and Jones spearhead 'A Silent Night'. As well as enjoying the Smithies, you can laugh to the likes of Frank Skinner, Terry Cavelle, Shaun Percival and the amazing Jed 'Everton nil' Moore. Music is also provided by former Strap on Jack men, True Grit and Nick Lowe and all told this promises to be a riotous night of debauchery. It's at the Castle Hotel remember and it should set Christmas off with a bang.
Monday Night – The Mean Fiddler, London
Catch 23 return to their London base again on Monday as part of the Best Band of the Year series. The boys will be taking a horde of their t-shirted fanatics again and if you want to see if there are any seats left ring. Could be a big night for the band this so here's hoping for real festive cheer!
Tamworth Herald - 26/01/90
Musicbox – SNIPS
Shock Culture are playing in the Bradford Battle of the Bands on Feb 2 at Rios Nightclub. If you want to travel with them ring Dob any time after Neighbours.
Tamworth Herald - 16/02/90
Musicbox - Review Bonanza Review Bonanza

Shock Culture - Bradford
(The FIRST Version)

As one of the 60 odd fans who travelled last Friday to Bradford to see Shock Culture in Battle of the Bands 1990, I must say what a delight it was to see the band in such excellent form. They surprised us all with no less than five new songs, 'Why can't it be the same' and 'Unfaithful' are my favourites and with the addition of Chris Bates on keyboard they finished their act the new classic 'Six Ways'.

The three other bands in the contest were 'New Morning' , 'Big Man Aviators', and 'Show Me Heaven'; On talking to Shock Culture's bass guitarist Moz and lead guitarist Gaz they seemed to think that 'Big Man Aviators' and 'Show Me Heaven' were the ones to beat. Lead singer Daz was just pleased everything went well, what with the new songs, introduction of keyboards, and all the hard practice having paid off.

Come 12 o'clock the judges returned with the vote, 'Big Man Aviators' was the first band to go through, it was now a two horse race, the Tamworth and Nuneaton fans were roaring for Shock Culture, but Shock Culture did not qualify, nor did 'Show Me Heaven'. The biggest disappointment of the night, 'New Morning' took the vote, this band who played two covers and a five minute instrumental were no way near up to the quality of the other three bands. They were I believe a local band, not that it should make any difference should it!

What the hell, everyone had a good night anyway in spite of that. And a final word to the band members, Daz, Gas, Moz, Lorna and Chris, you now have a cult following from Nuneaton as well as Tamworth. When you make the big time which you will, they are a credit to you. Good Luck Shock Culture. Get gigging locally soon.

Review by Edward
Shock Culture
Bradford
(The SECOND version)

Fashion victims 1, 2, 3, 4 and now 5. Club Rio, the land of cheap Newky Brown, strange accents and deaf judges. Battle of the Bands, Bradford.

Excellent set, bad result man! Congrats to the boys (and girl) on a fantastic performance with five new tracks. With one new track 'Unfaithful' dedicated to our man Ken Barlow (which went down like a pork chop at a Jewish wedding with the local Bradford crowd).

Confidence oozed from every speaker. Much, much, more clearer vocals, upfront guitar, bostin' bass, nice touch on keyboards from new boy Chris Bates, and the drums. Well congratulations to Lorna who as she stepped off the coach was met with a barrage of questions. 'Where've you been?', Where's your kit'. She jumped straight on an alien kit and sticks to perform one hell of a set and she's still got the blisters to prove it!

The vote result was very disappointing as the Shockies were beaten out of the next round by a bunch of cover version merchants.

Thanks for the support of the college, who sent a coach load of cheers, dancers, drunks and fans-alike.

Review by Mary
P.S Own up who ever erected that wire fence outside of the coach at the end of the night because it wasn't there at the beginning.
Tamworth Herald – 09/03/90
Musicbox – SNIPS
Tamworth moves into Birmingham on Sunday when local bands 'The Naked Touch' latest creation of Michael J. Fleming, and Shock Culture play at 'Dirty Bet's ' at the New Talbot Inn on the Hagley Road in Bearwood.
King Woderick and The Yogots/Shock Culture/Shakespeare Monkey/Fireflies
Tamworth Arts Centre (Friday)
A very important night for The Yogots for whom a great deal is happening at the moment. I will take a bit of a liberty with their excellent press release to fill in the story…
"Lots of good things have been happening to The Yogots camp over the period from Christmas. The bands management have so far secured the group with a host of major University shows and on the night there should be several VIPs watching them who can further help their career. This showcase gig gives them the opportunity to perform a lot of the new material unfamiliar to fans who have seen their set in the past."
In support of the Yogots will be Shock Culture, fresh from their triumph in Bradford, a new Polesworth band with the excellent name of Shakespeare Monkey and London-based crew The Firefllies. The fiery ones already have a single out and are well known on the Capital circuit. All together it makes for a sparkling four band Arts Centre show which will cost you a mere £2.
Dear Sam,
Since a letter was printed in a recent copy of the Tamworth Herald, we at Rock Against The Poll Tax have been very pleased with the response from local as well as national bands.
On a national level we have received backing from bands as diverse as Spandau Ballet, The Primitives, Jimmy Summerville, Beat International, Egypt, Wolfen and Tony MacFee and the Groundhogs, on a more local level, Dance Stance, Shock Culture, Crosstown Traffic, Big Noise and The Jessie Presley Mystery have shown their support.
We are now in the process of negotiating for a venue for the poll Tax Mega-fest and we are hoping to make an announcement about this in the near future.
We still need, however, other local bands to get in touch.
Also needed are local venues who will donate them for concerts to raise money to finance the outdoor festival.
The money, after expenses, will be put into a trust fund, to be used to help people over the legal difficulties caused by the Poll Tax.
We would like to thank you for your support in this matter.
Local groups and venues who wish to donate their services for this cause please ring Mick.
Yours faithfully,
Mick, Rock Against the poll-Tax
Tamworth Herald – 25/05/90
Musicbox – What's happening at the Rathole?
THE RATHOLE hosts two more gigs this week combining out of town favourites with local talent.
We're Going To Eat You and The Rain Garden will both be claiming headline slots with varying support from the likes of DHSS, Shock Culture and The Hamilton Hammond Extension.
First off on Sunday We're Going To Eat You spearhead a three band show which also features DHSS and Shock Culture. We're Going To Eat You have a strong following for their powerhouse pop sound but much more than that we do not know I'm afraid. What we do know is their two support acts both command loyal followings with DHSS attempting once again to bridge their self-imposed credibility gap and Shock Culture trying to show once again that they have become a serious local force. A great troupe, the Shock Culture-ites and a splendid band despite rumours that they include serious West Bromwich fans. Sunday night, The Rathole. 7.30-11.
Tamworth Herald – 30/11/90
Musicbox – Demo dazzlers!
Local demo special by Sean Atkins
MUSICBOX is pleased to say that Sean 'Two Coleslaws' Atkins is back from his nine week 'rest' on a journalism course in Portsmouth and he is now eager to get back into the swing of reviewing again. As a result his 'demo review column' is now open for business again so if you have recently recorded a demo and want it reviewed send it to Sean Atkins, Musicbox, Tamworth Herald, 10 Aldergate, Tamworth, Staff. All the reviews are rated out of FIVE stars and Sean kicks off here with the best of the three he has spotlighted this week – Shock Culture…
Shock Culture – Dixieland ****
No surprises here I'm pleased to say. These four tracks from Shock Culture are of a quality I've come to expect from them. They've come a long way since their first few gigs when their set included more than a few covers. These days Shock Culture are writing and performing some brilliant songs, and this tape confirms that they are now one of the Town's very best bands.
The music on the demo is bright and catchy without being throwaway pop, and it is unashamedly enjoyable. The tracks are 'Ripped Off Sold Out', 'The Master', 'Six Ways (To Your Heart)' and 'Love Story For Today'. I wouldn't like to list them in order of preference because they're all so good, but 'The Master' is about the best of a good lot.
What makes this tape so encouraging is that 'Shock Culture' already have a number of other good tracks. 'Dixieland' is not the greatest hits of a hit-and-miss set but a sample of the work of a band which must have a great future.