Kraze
Musical Genre/Type: Rock
Formed: 1987 Split: 1988
Band Members:
Mitch Michaels (Lead Vocals)
Kaz Paul (backing vocals)
Bev Paul (backing vocals)
Carl Anthony (solo guitar)
Rif Silva (rif guitar)
Al Page (bass)
Ron James (drums)
Additional Members:
Tim Latham (guitar)
Gigs:
13/09/87
Briar
Dressed to Kill
Kraze
The Rathole
02/03/88
Kubla Khan
Racer
Fetch Eddie
Spiral Eye
Kraze
Tamworth Arts Centre
04/03/88
Battle of the Bands – FINAL
The Conspiracy
New Age Gypsies
Kraze
Scream Dream
Tamworth Arts Centre
10/04/88
Kraze
The DHSS
Wolfsbane
Tamworth Arts Centre
17/04/08
Kraze
Racer
Tamworth Arts Centre
28/05/88
Kraze
Dirty Tryx
World's Apart
Tamworth Arts Centre
17/07/88
Tamworth Rock Festival
Cuddly Spiders
Rape in Yellow
Future Field
Fetch Eddie
Catch 23
Kraze
Scream Dream
Breaking Point
A5
Castle Grounds
Admission fee 11am-7pm
21/10/88
Kraze
Tamworth Arts Centre
04/12/88
Kraze
Tamworth Arts Centre
16/02/89
Kraze
Edwards No.8
21/01/90
Catch 23
Kraze
First Conspiracy
Tamworth Arts Centre
18/05/90
Dirty Trix
Kraze
Lichfield Arts Centre
01/06/90
Kraze
Daylight Robbery
Tamworth Arts Centre
21/06/90
Wrathchild
Deviance
Kraze
Tamworth Arts Centre
Tamworth Herald – 30/10/87
Musicbox - SNIPS
News has reached MUSICBOX of a new and potentially world-beating metal outfit who recently made their debut alongside Briar. The group, Kraze, are a Tamworth-based team who will be playing, glam-orientated power music. Kraze are made up of Mitch Michaels (Lead Vocals), Kaz Paul and Bev Paul (backing vocals), Carl Anthony (solo guitar), Rif Silva (rif guitar), Al Page (bass) and Ron James (drums). The band are due to nit the recording studio soon so we may have more information then…
Tamworth Herald - 28/02/88
Musicbox – Five of the best limber-up
Heat is on for final fling
THE final, exciting heat of Tamworth's 1988 Battle of the Bands takes place on Sunday night. Five varying local bands will take to the Arts Centre stage aiming to join The Conspiracy and the New Age Gypsies in the March 4 final to find the most promising new band of 1988.
This week's line-up offers a variety of musical styles and quality and should ensure a bumper crowd and a tremendous evening of entertainment.
Although one of the original 'starters' DHSS have had to pull out due to technical problems, their place has been eagerly snapped up by, Racer, who had to miss last week's show because of their drummer's arm injury.
The five bands on offer on Sunday will be…
Kubla Khan
An Atherstone outfit of definite quality but still something of an unknown quantity. Made an impressive Tamworth debut at the festival and have been backed by one or two people in the (rock and roll) know. Should prove interesting.
Racer
Making their second (and hopefully) successful attempt to join in the contest. Racer are a melodic but still heavy rock band who combine youth experience and add a tuneful touch to an aggressive sound.
Fetch Eddie
Regarded in some quarters as the favourite in the contest, Fetch Eddie are in the midst of a very successful period which has seen them triumph in concerts throughout the Midlands. Pop music so catchy it can leave your dancing feet with a permanent itch.
Spiral Eye
A brand new outfit making their world debut! All I can tell you at this stage is that they feature some always interesting musicians (Daz and Baz from 13th Reunion, Jim and Pete from Attica and Rem from The Calling) and according to Jim they play 'music to flinge to'. Suck it and see.
Kraze
One of the heaviest bands in the whole 'Battle of the Bands' who should bring some welcome, 'glam' to the proceedings. Heavy, steady, go!
That's the line-up to be judged this week by Jase the Ace (Wolfsbane), Graham Harwood (Rape in Yellow), Mark Brindley (WIN) and Steve Hayes (A5).
The winners
What makes Sunday's show even more interesting is that as well as the winners of the night going through to the March 4 final, the highest-scoring second-placed band from the WHOLE contest will also be revealed. They too will then be invite back on March 4 for the final which already features heat one winners Conspiracy and heat two victors The New Age Gypsies. So all the bands who have appeared so far in the contest – and the four that don't win on Sunday are still in with a chance of playing in the final but to find out if that means YOU, you will have to be there!
All the ingredients them of an excellent night. The bands are asked to reach the Arts Centre by 5pm, the judges by 7.45pm and the crowd by 8pm so we can attempt to get off to an early, ear-bashing start. It should be a great night so miss it at your peril!
Tamworth Herald - 28/02/88
Musicbox – Rocked to the Rafters
Gig Reviews
More news and reviews from around the area produced a host of different Musicbox scribes. Take it away critics…
Kraze – Tamworth Arts Centre
This was quite brilliant. Tamworth hasn't had a band playing this kind of heavy rock since, the late, lamented Kara and I confidently predict big things for Kraze. A host of excellent tunes and very practised stage presentation made sure they lived up to their pre-publicity and I can't wait to see them again. Loved 'em to bits.
MARTIN WARRILOW
Tamworth Herald - 04/03/88
Musicbox – How the Battle lines are drawn…
Four turn up the power on finals night
TAMWORTH'S highly successful Battle of the Bands reaches its exciting climax tonight (Friday) at the Arts Centre. Four bands will line-up in the event aiming to win the award as Tamworth's most promising new band for 1988.
So far the contest has provoked good crowds, fine concerts and its usual share of elation, disappointment and controversy. Tonight promises to be just as tense and exciting as four bands attempt to win the overall award won in past years by One On One, Breaking Point and most recently Wolfsbane.
To decide who should win the prizes there will be ten judges. They are: Steve Webster and Nick Smith (Catch 23), Graham Walters (Shellshock), Pam Patten and Ian Gibbons (Rathole), John Reeman (DHSS), Ian Harwood (Rape in Yellow), Chris Edden (A5), Dave Caswell (Jabberwockie) and Alan Bayliss (The Parade). They will be judging the following four bands.
THE CONSPIRACY
Heat One winners and a group who have made a dramatic impact locally since their formation some months ago. After first conquering Tamworth, they have now earned praise in both Atherstone and Lichfield and are soon to spread their wings further. Their passionate new-wave-based Cult-rock had been compared to many bands but still has that extra, vital ingredient of originality. If they win tonight it will be the icing on a bountiful cake of recent success.
NEW AGE GYPSIES
Heat Two winners and another group who have developed very quickly since their early beginnings. Starting originally as a hippy band, the group soon smashed this concept with a sound that was far heavier and more direct that the whimsical late Sixties image they attempted to portray. Solidly supported in Atherstone and increasingly popular in Tamworth, they have a vitality and enthusiasm which could well be rewarded with victory tonight.
KRAZE
In as winners of Sunday's heat and having attained the highest marks in the contest so far, could well be THE band to beat. Strong, powerful metal music from a band with a hallmark of quality.
SCREAM DREAM
Probably my favourite new band (along with Spiral Eye) to have emerged from the contest, the Dreamers have taken their place for being the highest scoring throughout the four weeks. Modern influences abound but these boys are very much their own scene-setters and they could be dark horses for inevitable glory.
All four bands will be given their usual 20 minutes to win over the Arts Centre judges and the corwds before the eventual winner is chosen. They will be awarded the title Tamworth's Most Promising Band 1988 – Battle of the Bands Winners for the Tamworth Young people's Arts Festival and will join the hall of fame with Breaking Point, One On One and Wolfsbane.
In addition to carrying the title for 12 months the winners will pick up a cash prize of £75 and individual 'Battle of the bands' trophies which will be theirs to keep. In addition of all goes to financial plan there should be one or two extra goodies on offer to winners and losers alike because above all, the final of the 'Battle of the Bands' is always a fun night and a cracking concert to boot!
If the past couple of 'Battle' finals is anything to go by, tonight will be packed to the rafters and the atmosphere will be red-hot. Get along at 8pm (any later and you may miss a moment which you shouldn't) and get set for a wonderful exhibition of the very best of new music in the local area. The winners will have a marvellous title to carry around with them for 12 months. The losers will have the satisfaction of knowing they at least reached the last four, and all the punters should have a night to remember for the rest of the year.
The battle lines are drawn – let battle commence.
Will all bands get to the Arts Centre by 5pm. Will judges arrive by 7.45pm.
Tamworth Herald - 04/03/88
Musicbox – A hot time with some cool sounds
Battle of the Bands – Final Heat
WELL, what a night this turned out to be. Around 200 sweaty punters, four sweaty bands and a marvellous good-humoured atmosphere that was a pleasure to be part of. And here is how it all went…
Spiral Eye
My favourite band of the night and a group for whom I predict great things in the future. An amazing introduction set the scene for 20 minutes of Velvet-clad Sixties drug-culture pop with Floydisms everywhere and even a touch of mid-Seventies Swell maps. Baz, who I once described as the coolest man in the universe, remains in that exalted position and has more charisma than an American TV evangelist. And no doubt just as many skeletons. Each track was different but all retained that same mesmerising, meandering mood. More of an experience than a show. Absolutely ace.
Kraze
Professional, punchy and laden down with natural style. I always had more than a sneakig admiration for Kara and Powerplay and this new combo have taken the best of both those and added new impressive touches. The girls provided talent as well as the inevitable glamour and the band emerged with a rousing finale which totally won over the audience. And – oh yes – a mention to the remarkable, wonderful and incredible Carl Anthony has had his name left out in the past and I was threatened with a chainsaw if I did not put his name in lights. So there you are Carl, now put away that chainsaw.
Kubla Khan
Compared afterwards by one of the judges as sounding like Bruce Springsteen, which is probably the second greatest compliment you can give to mortals (no prizes for guessing the first). It didn't sound that Brooce-like to me but there were definite classy mid-Seventies, mid-American touches in there with some impressively produced guitar work spotlighting a dreamy feel. A tight, well-rounded commercial set from a band who have a real dollop of class.
Racer
Maybe I had seen 'Bad News' just a little too soon before this but Racer came over as a rather undramatic heavy band whose charisma didn't shine as it did on their impressive demo. To their credit they played a solid, administered set and produced one gem in the slower 'Feelings Never Change'.
SAM HOLLIDAY
Tamworth Herald – 08/04/88
Musicbox – Metal mixed with machines!
DHSS, Wolfsbane, Kraze in action
TAMWORTH Arts Centre opens its doors on Sunday night for one of the undoubted gigs of thee year.
Metal favourites Wolfsbane and Kraze will for an unlikely partnership with computer whiz-kids DHSS for what promises to be a barrel of rock and roll laughs.
The unlikely trio should prove an irresistible attraction for people who like everything from hi-energy metal to high-tech computerised punk rock.
For Wolfsbane of course it will be their first Tamworth appearance for far, far too long and a chance for local punters to see exactly what they have been missing over the past few months. For fellow metal merchants Kraze there is the opportunity to further impress the masses following their successful 'Battle of the Bands' appearances, and to cap it all off we have the debut show from DHSS.
As you will remember DHSS emerged at the end of '87 promising to be the major hype of 1988. technical problems (yes, I know it's a cliché) have prevented them playing until now but finally the world is going to witness the arrival of a potential phenomena.
"The legend has returned," enthused the evergreen (or is that everdrunk?) Rikk Quay. "DHSS are back and they mean business."
The group will certainly be very different to not only their fellow acts on the night but just about everything else you will have seen. For a start our Mr. Quay will be playing computers instead of anything normal like bass and drums and only John Reeman will be holding a recognisable instrument in the shape of a guitar. The picture is completed by vocalists Eddie Armchair (making his first live singing appearance since the 13th Century) and Anice Byfield. The set will be about 20 minutes worth of sizzling wham-bam punk played with style and panache and curiously, it will probably be lapped up by metal fans who like their music fast, loud and bursting with personality. After all it was Edward who said it was those most metal of metal men Wolfsbane, who inspired him to return to action. He said that he intended to be 'Bayley Cooke with long words.' We shall just have to wait and see if he can accomplish this ideal…
If you prefer your Bayley Cooke with short words well Sunday night is still going to please you. Wolfsbane have been conquering Planet Earth over the past few months and have deprived their Tamworth fans of a chance to see just how excellent they have become. They intend to make a real splash this time and they are all looking forward to Sunday's concert.
"It should be a lot of fun," said bassist Jeff Hateley, "It's a good line-up of bands."
I won't insult your intelligence by attempting to describe Wolfsbane because of you don't know them yet you wouldn't be reading this page anyway and the chances are you got lost searching for the Scooper column.
Kraze, the final piece of a hugely-enjoyable jigsaw, who are a metal band who one or two people feel could go right to Wolfsbane's national heights and beyond. Their music is more commercially orientated glam metal played with distinctive and instinctive quality by musicians who know what they want and how they are going to get it. Undoubtedly one of Tamworth's finest homes as they look set to win over Sunday's audience and complete a fabulous trio.
So that's it – a real corker of a concert. Get out for the metallic energy of the Wolfies and Kraze, the powerful potential of DHSS and the chance for us all to get to the Arts Centre again and get smiling. Be there or be shot.
Tamworth Herald - 15/04/88
Musicbox – Spellbound…by HM's trio of wonders
Oh what a night as the mad heroes return
DHSS/Kraze/Wolfsbane – Tamworth Arts Centre
BEFORE this concert on Sunday night, I had suffered a real bummer of a weekend. A series of unbelievable things had fallen on my head leading me to think that the world and his Uncle Reg were united in opposition to my happiness.
But lo, on Sunday night, glorious rock and roll arrived like Manna from Heaven to drag me out of the cesspit of doom. Quite simply this was one of the finest concerts I have ever witnessed, a show which was packed from start to finish with power, quality, humour, nerve and tantalising excitement. It was Tamworth rock at its very best and it just about saved me from the increasingly tempting prospect of hari-kari.
The first thing you had to notice was the size of the crowd. It was enormous, as big as any I have ever seen at the Arts Centre showing once and for all that people in Tamworth will turn out in massive numbers to the product is right.
First up were DHSS, who I knew I would love anyway, and yet who still managed to surpass my expectations. They combined electronic mayhem with an onstage humour and wit whch had the majority metal audience eating out of their alternative hands. Musically it sounded to me like a mish-mash of The Fall, Sique-Sigue Sputnik and Adam Ant (yes, I know that's an odd cocktail) but there were so many little older touches in there to make the band very distinctive.
Singer Eddie Armchair gave away the fact he listens to an awful lot of Morrissey with his ingenious lyrics and it is clear he is going to be a wordsmith of major note. My best memories of a hugely enjoyable set were the lovely guitar sounds in 'Vicar's Hand', the two-way and good-humoured abuse, the vicious 'Sweet Sixteen' and the band's electric and positive approach to their music. A great show and a perfect appetiser for the night.
Next up were Kraze who gave a spellbinding performance – easily the best I have seen them in their short career. They came over as a real powerhouse off a band, a group with an articulate and original voice to add to the metal legions, and with a host of crushingly good songs. Best numbers to my ears were 'Too Cute', the immortal 'Dance 'Til Dawn' and the sizzling 'Take The Money and Run' which simply had to be a masterpiece because it is the title of a film by my ultimate hero Woody Allen. Kraze's set seemed to be over all too quickly but by the end of it I was convinced of one thing. Metal fans take note – in Wolfsbane, Kraze and Shellshock you have the best three HM bands this area has ever produced.
Triumphant
And so to the masters – Wolfsbane. For them it was a triumphant homecoming, a return of the all-conquering heroes who were clearly delighted to see so many people from their hometown still cared so much about them. And did they deliver! Wolfsbane's set ranks as one of their wildest yet, a sheer mindnumber of a performance which forced people to sweat and demanded participation.
Tracks like 'Paint the Town red' (that's a wonderful Stranglers bass intro Jeff!) 'All or Nothing' and the legendary 'Get Up' were totally magnificent and the audience reaction was almost beyond belief.
Bayley, a man with more chairman than the entire American Senate, dominated and dazzled the stage and he could make a manic depressive smile. His trio of musicians continues to improve and impress and by the end of an exhilarating night I was left feeling I had witnessed a phenomenon, a group who went beyond superlatives and into a class all of their own.
With Wolfsbane's final encored blitz they left the stage and a tremendous night drew to a close. The amount of smiles evident in the Arts Centre afterwards (not to say the amount of clinging, sticky sweat) provided ample proof that this had been a night to remember.
It was, all told, one hell of a gig.
SAM HOLLIDAY
Tamworth Herald - 15/04/88
Musicbox – Kraze burst in for a top class night
KRAZE return to live action again this weekend when they headline another major concert at Tamworth Arts Centre.
The budding metallic superstars will line up with racer for a double-header which promises to bring in another large rock audience.
Kraze have had a blistering effect on the local scene in their short but noisy career and they have clearly already made a lot of friends. Their hard-as-nails commercial HM has made an immediate impact on the area's rock fans, not least fellow Musicbox scribe Martin Warrilow who is of the firm opinion that Kraze are going to be bigger than The Beatles.
Such enthusiasm has been generated by a series of striking concerts and a top-class demo not to say masterful performances in both the heats and finals of the 'Battle of the Bands'.
Following last week's triumph alongside Wolfsbane and DHSS, Kraze will be bursting with ambition and will be looking to another great concert on Sunday night.
Joining them will be Racer, a group whose main claim to local fame is that they feature Measham's own Andy Mottram as singer. Andy, the former voice behind Shellshock, clearly relishes playing at the Arts Centre and a good show alongside Kraze should set this band up very well in the eyes of the area's rock followers.
A most tasteful metal gig indeed this one, and the action starts at around 8pm.
Tamworth Herald - 27/05/88
Musicbox – SNIPS
Kraze-y times again!
FUTURE Def-Jam recording artists, Kraze, are back in action this weekend.
The highly-talented metal merchants bring the full weight of their power-sound to the Arts Centre for an FOD Production alongside two top rated out-of-town HM outfits.
Kraze will be headlining Saturday night's show with the able-bodied support of Dirty Tryx (who recently supported Wolfsbane) and Rugeley's own World's Apart.
Saturday night fever will hit the Arts Centre at about 7.30pm tomorrow and it costs just £1.50 for a whole night of crash, bang wallop metal.
Metal fans who do not turn up will be deemed to be closet mods.
Tamworth Herald - 10/06/88
Musicbox – Just watch them go!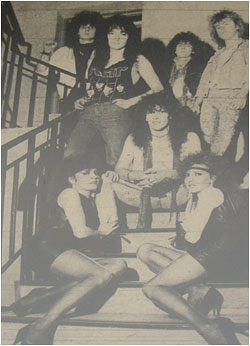 ONE of the best things about watching a band regularly is seeing them get more confident, more mature and more powerful. And that's what's happening with Kraze. At this highly entertaining Arts Centre show they looked and sounded like a band that's going places.
At every gig, someone catches the eye as having improved and here it was singer Mitch Michaels, who's getting better as time goes on. Great fun…just watch them go at the Festival.
A word for the other bands on this splendid F.O.S. promotion. Mancunians Dirty Tryx are a band I'd like to see again, if only for their cover of the Kiss classic "Do You Love Me", and Rugeley's Worlds Apart proved there is musical life in Staffordshire outside Tamworth. Just a shame not many locals turned out to see it.
Tamworth Herald - 24/06/88
Musicbox – STOP PRESS
KRAZE are on the lookout for a new lead guitarist. They are after a dedicated and ambitious guitar player able to fit in with the band's image and ideals. Kraze are going to be very big indeed, so your heart has to be fully into the idea.
Tamworth Herald - 19/08/88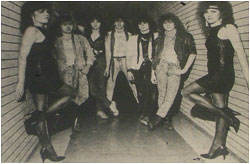 Musicbox – Metal Machine Revs Up
KRAZE make a return visit to their favourite haunt on Sunday night when they headline a special metal show at Tamworth Arts Centre.
Although the support act was unconfirmed at time of going to press the Kraze squad were hoping for an exciting bill to show that the local metal scene will stay as strong as ever despite the disappearance of Wolfsbane.
Kraze, fresh from their triumph at the Tamworth festival, will once again be parading their powerful and commercial metal which has made them one of the most exciting additions to the local scene in the past 12 months.
There are many informed noises around that raze are going to soon break into the very big time and if you want to find out why, then get along to the Arts Centre on Sunday night.
You will NOT be disappointed.
Tamworth Herald - 26/08/88
Musicbox – Still as Krazey!
Kraze/Kiss My Botty – Tamworth Arts Centre
KRAZE looked and sounded good and got a great reception from a larger than average Arts Centre crowd.
All the songs were very, very tight commercial rock songs which set them apart from any other local band.
With Wolfsbane now moving on to bigger and better things, it would be easy for singer Mitch Michaels to lapse into Bayley-like impressions, but it is commendable that he doesn't as Kraze stand up quite easily on their own right.
And yes, Kiss My Botty were terrible!
EDWARD IAN ARMCHAIR
Tamworth Herald - 02/09/88
Musicbox – "I heard it through the Grapevine"
This week's latest batch of rock and roll rumours on the local scene include…
Tim Latham is being mooted as a possible replacement for the departing Kraze axeman.
DHSS are planning a series of concerts shortly but will probably stay away from local stages for some time.
Former Shellshock drummer Bruno Edwards is starting a career in competitive kart racing.
Rob Cross may be the man in charge of the new Rathole.
The Beatles will NOT be reforming again this year.
Tamworth Herald - 02/09/88
Musicbox – Snips
The almost (and I stress almost) legendary Dave Lee Roth's Jockstrap has written to MUSICBOX extolling the virtues of metal people KRAZE. His summary of the band (and I have removed the more lustful comments on the ladies) reads:
"They really have everything you could wish for. Hooklines that are strong enough to catch pike on, guitars that creep up on Steve Vai and kiss him on the butt…two backing singers who radiate confidence and sex to the point of eroticism and Mitch Michaels who is all haircut and microphone." According to dazzling Dave – "How many people are kicking themselves for missing Wolfsbane when they were a small club act? Plenty I'll bet and it will be the same people kicking their own butts when raze are signed."
Fair enough Dave – but what's a butt?
Tamworth Herald - 21/10/88
Musicbox – Double delight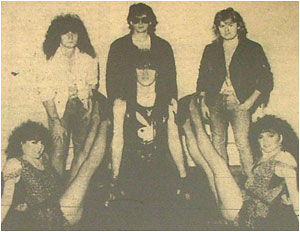 TAMWORTH Arts Centre stages two different shows this weekend with an element of the 'new' to them both.
Tonight (Friday) sees the new Kraze line-up make their Tamworth debut and then on Sunday the first major show by Press takes place with relatively new Tamworth band Sa Sa in support.
Here are details of the two shows which are certain to grad the attention of local gig-goers.
KRAZE – Tamworth Arts Centre, Friday
Kraze are hardly a new name in the Arts Centre world but what is new is their line-up. Joining the established names like Mitch, Rob and Al is new guitarist Tim Latham who will be making his live Kraze debut tonight. Tim, regarded by a lot of people (me included) as probably the best remaining guitarist in the Town, has played with a mass of bands in the past, noteably Omen and One On One and this is certainly the heaviest band he has teamed up with. Kraze are said to be delighted with their hot new property and if you want to see how this new marriage works out then there is only one place (the Arts Centre) to be tonight. MUSICBOX scribe Martin Warrilow is already wetting his pants in anticipation and it certainly looks like being a very interesting night for Kraze, their supporters and of course Uncle Tim Latham himself. Support act will be much acclaimed Lichfield rockers Roma making for a double helping of metal power.
PRESS/SA SA – Tamworth Arts Centre, Sunday
The first major show from new local band Press and one which is already set to be a sell out success. The band have amazingly managed to sell 150 advance tickets and they have warned gig-goers that only the first 50 will be allowed in at the door without tickets. Press are made up of a mixture of new and more experienced musicians comprising Brendan Curran, Gary hill, Pete Whipps, Andy Davies and Mark Cox. Musically the band prefer to let people make their own mind up but they have earned comparisons with the likes of Level 42 and Simple Minds. Supporting them will be Sa Sa who made such an impressive recent Arts Centre debut. Like Press, Sa Sa boast a very commercial sound but they are more geared to pop than rock. A very interesting band and one who should prove a useful foil to Press and make for an enjoyable double header.
Tamworth Herald - 28/10/88
Musicbox – Titan Tim!
Kraze/Roma – Tamworth Arts Centre
IN A WORD, magnificent. The Arts Centre was packed out to witness Kraze's first home town gig for rather too long and my heavens did they deliver.
Stripped down to a six piece, and now including the almost legendary Tim Latham on guitar, they started spectacularly and just got better.
Arriving on stage amid a cascade of flashbombs, they piled into 'Kraze Love to Rock' and it was obvious that this was a new, more confident, and even better band. The talents of Mr. Latham are given full range, because this is a band than now plays guitar solos, and very good ones too. Almost every song in the set gets new life and new drive, and there seems to be an air of even more fun than before in the band's efforts.
The new boy is also adding to the band's considerable songwriting skills, contributing tunes like: "Love American Style" which to these ears sounds like the sort of quality FM rock that would go down a storm in California. Know what I mean.
Added to the band's existing selection of tunes with hooks and choruses so catchy you could nab sharks with them, it just takes the band onto a new and even more impressive level. If you will, it's a bit like Liverpool signing Glenn Hoddle. They've been turned from very good but slightly functional into absolutely spectacular, much
More spontaneous and even more fun.
But it wasn't just the new boy who impressed. Everyone seemed to be enjoying the band's new found spark, the girls (despite the appalling sexist element in the audience) really came to the fore in tunes like "Sweet 'n' Sassy" and the highly entertaining "Hot" and Kraze are now much more visual, with a splendid light show, gallons of dry ice and flashbombs a plenty.
I know you wouldn't expect me to say anything else, but they really lived up to expectations. I think they have finally made the move that could tale them to the top. And frankly it couldn't happen to a nicer bunch of people. Metal your girlfriend would like (And probably does).
Support band Roma are a different kettle of fish. They play metal by numbers with every rock 'n' roll cliché in the book, mid-Atlantic accents, failed audience participation, tedious guitar posing and boring songs. They probably still think Michael Schenker in the height of heavy metal guitar stars Roma are big in Lichfield and that's where they will stay.
Review Martin Warrilow
Tamworth Herald – 20/01/89
Musicbox – A Fab Feb ahead!
TAMWORTH's rock fans are in for a real treat throughout February when the Arts Centre hosts a sparkling indoor festival.
Three top quality concerts will be on offer featuring the best of the area's older acts and some brand new local talent.
And to top off the whole indoor extravaganza it is hoped that Wolfsbane will kick off their major UK national tour by concluding the festival on Sunday March 5.
Plans for the indoor festival were sorted out on Sunday night when Tamworth's main outdoor festival for 1989 was launched. Once again a huge crop of bands registered interest in the 89 outdoor festival and at least 14 of these will be involved in the indoor festival in February/March.
At the moment the line-ups are strictly provisional but here they are as they stand at time of going to press. Please note the line-ups could change dramatically and you will have to keep reading this column to find out exactly who is playing and when. Assuming everything does go according to plan here are the line-ups for Tamworth's 1989 Indoor Rock Festival.
Sunday February12
CATCH 23 will headline with the support of one 'oldie' Emma Gibbs Loves Badges and two 'newies' Big Noise and Shock Culture.
Sunday February 19
SCREAM DREAM will headline with Mike Fleming's act Nightshade and two relatively new acts – The New Puritans and Double Vision.
Sunday February 26
DHSS will top-off a line-up featuring The Space Seeds, Never Say Die and King Woderick.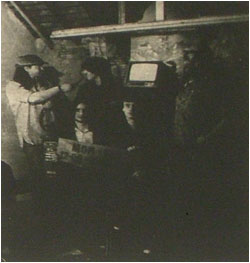 Sunday March 5
WOLFSBANE (contract permitting) will kick off their UK/USA tour by headlining alongside Spiral Eye and Kraze. If the Wolfies can't make it Spiral Eye and Kraze with team up with A.N. Other band.
As you can see from the above, many new bands have already emerged for this year's festival and in addition to those listed look out for several other new groups who have set their sites on the Castle Grounds for July.
In the meantime, pencil the above dates in your diary now. With the first three shows all the money raised will go towards the outdoor festival so they are vital fundraisers as well as tremendous concerts.
All the line-ups will be finalised in the next few days/weeks so keep your eyes peeled on this column. This indoor festival will prove a very exciting sampler for what you can expect this summer so get set for a Fab Feb and hopefully a marvellous start to March.
Tamworth Herald – 03/02/89
Musicbox – Festival set for powerful launch
Tamworth Indoor Rock Festival 1989
THE Tamworth Indoor Rock Festival begins a month long stint at the Arts Centre on Sunday with a tempting looking concert combining the old and the new of the local music scene.
Over the next four Sundays, 15 bands will play under the Indoor Festival banner concluding on Sunday March 5 with the eagerly awaited return of the mighty Wolfsbane.
Before then however there are bags of goodies to look forward to. Scream Dream, DHSS, Bash Out The Odd (ex-Space Seeds) Never Say Die, Spiral Eye, Kraze and several brand new bands will combine their talents for the festival and on Sunday the whole rambling charabang gets off to a powerful start.
The four acts who will hit the Arts Centre stage this week are the award-winning Catch 23, the much-admired Emma Gibbs Loves Badges and two brand new groups – The Big Noise and Shock Culture.
For Catch 23, the show will be a triumphant homecoming. The band have not headlined the Arts Centre for many moons and they are keen to show their natural audience just what has made them one of the most talked about young bands in the country. For the past two years they have been chosen as the best school/college age rock band in the whole of the Midlands and this year they are hoping to extend that to the whole country by winning the final of the TSN Rockschool contest. They have powerful allies to that end – dj Mike Read is an acknowledged example – and if you want to see why, then just stand back and listen on Sunday night. Their all new set will include the three songs that won them the TSB regional heat, including MUSICBOX song of year 'Hangin' On' plus many, many more that may be unfamiliar to those who haven't caught the band in a long time. Expect to be impressed.
The other established band on the line-up are Emma Gibbs Loves Badges, who specifically requested to play alongside Catch 23. Lee Revelle's band have undergone somewhat of a transformation since their early days and the increased profile and popularity of their performance indicates that it is a change that has been welcomed by the masses. I have become an admirer but being as I was slagged of for disliking them in the start and then slagged off for LIKING them in their last gig-fanzine I will offer no opinion at all because it would obviously be invalid. Suffice to say that they are very watchable these days. Try not to miss them.
Teaming up with these two old bands (seems daft calling Catch 23 old doesn't it!) are two brand new acts – The Big Noise and Shock Culture. The latter, Shock Culture are a complete mystery to me unfortunately, and all I can say is that they are ideal festival material. By that I mean something which you can watch without any preconceptions allowing YOU to pigeon-hole them (if you must) before I do (if I must). There, that was a good way of hiding my ignorance wasn't it.
Interesting
Completing the show is The Big Noise. This outfit made up of Ben Machin, Carl Harris and Ana Situnyake say they are influenced by the likes of That Petrol Emotion, Teardrop Explodes and Captain Beefheart.
"The band are crispy in a crunchy sort of way." Insists their manifesto. "You'll have to listen to see what you think."
Actually they sound pretty interesting and they are almost certain to get a good review because Ben Machin's sister Helen is a Herald scribe who will no-doubtedly beat me up if I dare to dislike them."
That's the line-up then, pop kings Catch 23, the unique Emma Gibbs, the mysterious Shock Culture and the alt-popsters The Big Noise. It is a very entertaining looking line-up and at just £1 per person entry it represents the best value of the year.
The proceeds from the show (starts 8pm) will go towards this years Tamworth (outdoor) Rock Festival so that's another good reason not to miss it. We're looking for a capacity crowd on the night, you won't let us down will you?
Tamworth Herald – 10/03/89
Musicbox – The Conquering Heroes
Wolfsbane/Spiral Eye/Kraze – Arts Centre
Tamworth Arts Centre smashed their all-time attendance record on Sunday night when hundreds of people turned up to see the Town's favourite sons Wolfsbane.
The gritty rockers kicked off a massive tour with a hometown show which proved so popular that people were turned away from the doors in their droves. With the usual capacity of 250 passed by 8 o'clock, the doors had to be shut an hour later with 400 people crammed into the Arts Centre and literally dozens refused entry from that point on. And believe you me, all those that missed it are going to regret it because this was a magnificent concert, one which all of us will remember for a very long time.
KRAZE, for I think they are now called that again, kicked the whole thing off with one of their most enjoyable sets. It has been a long time (too long) since I have seen them and they have really tightened up, smartened up and polished up to the extent that they are now a pure and professional rock outfit. Tim Latham was quite amazing but the whole musical base seems to have improved with him and aside from excellent bass and drums, the vocals reached a new peak with Mitch Michaels confirming himself as one of the best frontmen this town has ever produced and the little old ladies in tremendous heart and voice. No less exciting were Spiral Eye whose unique, mystical and magical sound has gained a new edge to make up for the lack of Rem's keyboard dalliances. The sound (which owed a lot to the first class p.a.) was booming and well balanced, and there was a real aura of musical mysticism pervading the set. Individually the whole band are quite magnificent but praise this time to the sizzling drumming of Jim and the brilliant bass work of Pete Wright. The latter has clean-cut, crystal bass sound and he has the most riveting four strings in Tamworth without a shadow of a doubt.
But despite the excellence of both support acts, this was Wolfsbane's night. And oh boy did they take it. Arriving on stage like the conquering heroes they are, Wolfsbane proved they have lost nothing in their long time away from the stage. Their humour was as sharp as ever, their songs relentlessly ear-battering – and the atmosphere they created was quite unbelievable. Even previous Wolfsbane 'fun-riots' fell in comparison to the crazy scenes of wild enthusiasm and dancing produced by the Wolfies energetic and enthusiastic followers on the night. Bodies battered into one another like dodgem cars driven by maniacs and the sound produced by the band had the same vicious attack of musical terrorism. The old tunes – especially the wunderbar 'Paint the Town Red' were given a new and dynamic edge and newies like 'Marlon Brando' proved that the States has not altered the Wolfies main songwriting state. Best track of all was the brilliant 'Shakin' which I hereby nominate as the ideal single for the band to launch their album with. It was a real porking, corking track which made my toes sizzle like sausages on a bar-B-Q. Overall impression? A marvellous show and a marvellous night. Tamworth turned out in huge force to support their heroes and the chemistry produced betwixt band and fan indicated that the Wolfsbane train is rolling very much in the right world beating direction.
They were as good as the best sex you've ever had.
Sam Holliday
Tamworth Herald – 28/04/89
Musicbox – 'I fought the law and the Kraze won!'
Marshall Law/Kraze – Tamworth Arts Centre
A rip-roaring night of quality heavy metals proving that Kraze have exactly what it takes to be stars and that three-chord thrash metal doesn't have to be tuneless rubbish.
Quite simply, Kraze were absolutely wonderful. From the opening strains of "Kraze love to rock" through the tremendous finale of the Tim Latham penned "My Favourite Blonde" this was as good as I've seen them. Watching this I was again convinced that there is nothing wrong with this band that a big recording contract and a lot of high-quality studio time couldn't put right. The raw materials are there in the image, the stage show and crucially the songs. If you don't come out of a Kraze show humming something you've just heard you must either be deaf, dead or both.
Someone, somewhere surely took a risk signing Guns 'n' Roses. Rick Rubin has taken a risk signing Wolfsbane. Won't someone somewhere please take a risk signing Kraze? What they will get is a band with a clutch of great songs, an image that can't miss and a huge amount of self-confidence.
They also did Van Halen's 'Ain't Talkin' 'Bout Love' where young Mr. Latham proved what a loss he is going to be to the local music scene. If you actually bother to listen, this man knows how to construct a guitar solo better than anyone locally with the possible exception of Jase Edwards. He takes the songs to the kind of level where you feel A&R men absolutely have to listen and Kraze are going to miss him. His farewell gig is on May 12 at the Arts Centre. Be there or miss one of the musical events of the year.
Marshall Law didn't let the side down either. They came out sounding like heads-down three chord metal in the Metallica/Slayer style, and personally I was reaching for the earplugs.
But they turned my opinions on their head with a great performance full of wily asides and if this is possible, pop-metal thrash songs with hooks you could actually like. They may not be stars, but they'll never be short of an audience at this kind of level, and a typically cynical Arts Centre audience gave them grudging approval. They were fun. Kraze were much, much more. Kraze should be stars.
Report by Martin 'Krazy' Warrillow
Tamworth Herald – 12/05/89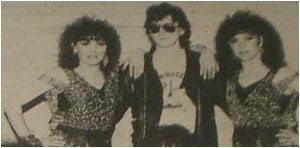 Musicbox – Ta-ta to top Tim

TAMWORTH'S musicians and music fans will shed a collective tear or two tonight (Friday) as an era of the town's rock history comes to an end.
A huge crowd is expected at Tamworth Arts Centre as local rock heroes Kraze play their last ever gig with guitarist Tim Latham before he take ]s his guitar case off into the sunset for a new life in Canada.

Tim once described as the "Glen Hoddle" of Tamworth's guitarists, is emigrating across the pond to try and make his name in the music world as a sound engineer in Toronto and leaves behind him a career that has been indelibly linked with Tamworth's musical history.
Bands such as Omen, Mr. Cyn, Badger and the legendary One On One have benefited from his talents and his seven short months with Kraze have seen them blossom into one of the area's most promising bands.
But now they enter a new era as Tim plays what is sure to be an emotional, party-style last-ever gig at the local scene's spiritual home, Tamworth Arts Centre.
"I'm sure there'll be a tear in my eye, and a lump in my throat as we go on for the final time", he admitted. "But we're trying to make it a fun night, a real celebration of the Tamworth music scene, which has always been tremendous. As far as I'm concerned it's the best in the Midlands and always will be."
Classic
A glance through the pages of Tim's career is like a look through some of the classic chapters of Tamworth music, starting in the early days of Omen with current Scream Dream guitarist Ted Wilson.
"They were a good band, and we stayed together for about three years, then I filled in with a band called Badger before we formed One On One with Dave Ingham and Andy Malkin," recalled Tim.
One On One were personally one of the first and still one of the most impressive bands I ever saw in Tamworth, and Tim admits to being disappointed that they didn't make it to the big time.
"We kept trying for so long, and had such a lot of interest, that in the end we were possibly trying too hard, and just broke up and went our separate ways", he said.
After a short spell with Mr. Cyn, Tim decided to finally make the move to Canada, before Kraze stepped on looking for a replacement for guitarist Carl Anthony.
"They are a really good bunch of people, a tremendous band and I'm feeling a bit apprehensive about going now, even though I knew I was leaving when I first joined the band," added Tim.
"I wish them well and I'm sure they'll go from strength to strength without me," he said.
Judging from Kraze's last tremendous Arts Centre show, tonight's gig should be a real cracker of a party and personally I wouldn't miss this one for the world.
Support are the mysterious but terribly publicity-conscious L.O. Girls and if I was you I'd get there early for what looks like being one of the nights of the year. What with this and Wembley in the same week, can you stand the pace I wonder?
Report by MARTIN WARILLOW
Tamworth Herald – 18/05/89
Musicbox – Tim's Krazy goodbye…
Kraze – L.O. Girls – Tamworth Arts Centre
An emotional, enjoyable alcohol-laden party might of a gig mixed the farewell tears with big smiles as Tamworth said goodbye to Tim Latham.
As the entire Kraze contingent plus splendid support band L.O. Girls and seemingly half the audience piled on to the Arts Centre's tiny stage for a rapid blast through 'Ain't Talkin' 'Bout Love' it was hard to realise that the next time Kraze take to the boards, there'll be someone else wielding the axe and turning out those piledriving catchy riffs that make Kraze tunes what they are.
With no apologies for repeating myself, in the seven months Tim Latham was in Kraze, he turned a set that had the potential to be a winner to one that definitely was. They will miss him, and I sincerely hope the band pick themselves up. Get out there and march on to stardom.
And on the evidence of shows like this, they deserve it. Kraze have that great quality to sound devastatingly commercial without losing the diamond-hard-edge that rock fans want from their music. That is a winning formula that was patently obvious here, particularly in the spirited mid-set trio of "Caught In The Heartbeat", "Play Dirty" and "Sweet 'n' Sassy".
But everywhere else in the set, you can pick out potential greats, from "Dance Till Dawn" to the obligatory rock ballad "Love Me". They even do a drum solo these days, which is usually Yawnsville at the biggest gigs, but here was just the right length to make it worthwhile.
The sweaty hordes at the front loved it, the folks at the back who can never bear to be more than three feet from the bar loved it, and there was that rare thing at a Tamworth gig, THE AUDIENCE WERE ACTUALLY SINGING. Yes, all around me, hips were definitely moving and toes tapped as people joined in with their favourite raze ditty. That's how much Tamworth's rock contingent likes the band.
The ending was inevitably tear-stained and emotional as after a couple of encores and amid a fair sprinkling of dry ice, Kraze left the stage and all of a sudden, that was it. Good luck to Tim Latham in Canada and the very best of luck to Kraze as they try to replace him.
An honourable mention too for L.O. Girls, four well wasted rock 'n' roll veteran Londoners who brought to Tamworth possibly the only out-of-town vocalist I've ever seen who had between-song raps you could listen to. Despite (or maybe because of) the obvious Guns 'n' Roses influences they turned in a fine confident set and I thought deserved a bit more praise from the crowd, if only for bringing half of London up to the Arts Centre with them.
Review – Martin Warrillow
Rumour has it that One On One may be getting together again for a final Tim Latham show this Sunday as originally mooted and you are advised to check with the band on a date.
Tamworth Herald – 25/08/89
Musicbox – SNIPS
CARL Anthony, the former Kraze man who has just released a sparkling and innovative solo demo, is to be featured on a unique hotline-hitline!
For a track from Carl's new demo is to be aired for two long weeks on a special phone-in telephone line which broadcasts new and exciting talent.
The song will be aired from August 28 and should then be heard anytime over the two weeks by ringing the number.
"I hope it will give people a chance to see if they like the sound of the demo and if they do they can contact me for a copy," said Carl.
Copies of the impressive solo work are now available at a cost of £2.00 (plus 50 postage and packing).
Or, if you'd rather wait and taste the pleasures to be found on the tape, don't forget the hotline starts on August 28 and keep a note of that number.
Tamworth Herald – 22/09/89
Musicbox – Kraze are back in business!
LOCAL rock heroes Kraze look set to bounce back into high powered musical action this Autumn after finally succeeding in their long search for a replacement guitarist – and now the band are busily lining up for a string of major gigs.
Nearly three months after strings wizard Tim Latham took his guitar off for a new life in Canada, Kraze have this week confirmed that two new recruits have finally been signed up to fill the huge gap left by his departure.
The new boys are Tamworth's own Daz Trace, who steps into the limelight from little known local band Force, and Andre Tsar, who hails form the musical backwaters of Stratford-on-Avon, and is a totally new face on the Tamworth rock scene.
The news of their arrival heralds the end of an anxious period for the band, who looked set to continue their climb up the Midlands musical ladder before the final news of Tim's departure.
Several weeks of anxious local rehearsals failed to unearth a replacement and led to an appeal from the stage at this year's Tamworth Rock Festival for any interested guitarists to get in touch.
"In the end, it turned out that our engineer knew Andre, invited him to an audition, and it really clicked." Said a delighted band spokesman.
Martin Warrillow
Tamworth Herald – 10/11/89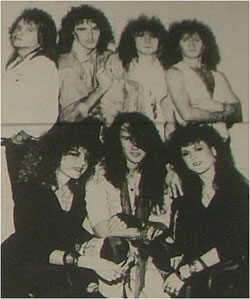 Musicbox – What a weekend!
Tamworth gig-goers are this week faced with one of the most unusual weekends of the year with three very different shows on offer.
Tonight (Friday) two members of former rock legends Sad Café and an ex-Simply Red guitarist will front a special soul/rock band at the Amington Liberal House. Then on Saturday the Castle Grounds Hotel will stage a unique alternative comedy show and finally on Sunday good old fashioned heavy metal returns to the Arts Centre as Kraze make their debut with a brand new line-up.
It adds up to a very varied weekend indeed and it literally should have something for just about anybody who likes to get out and see live action. Here are details of the THREE separate shows you can catch during the course of the next 72 hours…
TONIGHT (Friday) Amington Old Liberal House – Sad Café featuring Cissy Stone.
A very impressive-looking concert this one which brings together some extremely accomplished musicians indeed. Two former members of Sad 'Everybody Hurts' Café link up with an ex-Simply Red guitarist and a host of other top musicians to back a brilliant female singer Cissy Stone who has worked with the likes of Marvin Gaye. The pedigree of the people involved – Cissy Stone, Des Tong, Aziz Ibrahin, Steve James, John Hopcroft, Billy Paul and Chris Taylor – is quite astonishing and the end result is a sound which John describes as original, soul-based rock.
"It is very hard to define but it is mostly original material which has been written for Cissy's voice," said John. "We are due to play a major tour in January and this gig serves as part of a series of warm-up dates where we can see the reaction to our material."
The Old Liberal house has certainly produced a coup in grabbing this band and this is one regarded as a must for the connoisseur. If you like to see well-written material, expertly played and well sung then get along tonight to the splendid Amington venue. Doors open 8pm.
SATURDAY Castle Hotel – Great Stans Cabaret (alternative comedy and music)
Another of the hugely popular Great Stan extravaganza's which brings Saturday Night Love to little old Tamworth. Tomorrow night you will be able to sample the delights of comic types The Mike Spender Sextet (described as 'dangerous humour') Shawn Percival ('looks like a hippy, more perceptive than Bob Dylan and far, far funnier'), Mark Westwood ('a personal friend of Timothy Leary') and of course The Great Stan. Young Stanley will be hosting a 'What's My Question Time Anyway' show described as being a mix between 'Whose Line Is It Anyway', 'Question Time' and 'Animal Magic'. Completing a fun show at the Castle will be r 'n' b boys the Sleeze Brothers and the whole show looks set to keep you smiling. Starts 8pm. Big Fun.
SUNDAY Tamworth Arts Centre – Kraze/L.0 Girls/Libra
Metal returns to the Arts Centre with avengeance on Sunday with a three band show which promises to fill the venue to capacity. Spearheading the whole bash will be the eternally popular Kraze who now boast a brand new line up. New guitarist Daz Tracee and Andre Tzar join forces with new bassman Dave Moore and all your old Kraze favourites for the band's debut with their new line-up.
"It is quite an important show from us because it is the first time Daz. Andre and Dave will be playing with the band," said vocalist Mitch Michaels." As we have had to settle them in we haven't had a chance to write a great deal of new material but there will be a few tracks that will be new to people."
Supporting Kraze will be the much-vaunted LO Girls who have been making an impact throughout the UK and have already established quite a following in and around Tamworth. Completing the show will be Libra, a brand new group to Tamworth ears who hail from Stratford and have a sound which has more progressive rock influences including the likes of Rush. A three band show and lots of smiles are guaranteed.
Tamworth Herald – 17/11/89
Musicbox – Dreamtime!
Kraze/LO Girls/Libra – Tamworth Arts Centre
WELL, on a three-band bill, two out of three ain't bad, as they say.
Libra were enjoyable. Kraze were stunning and L.O. Girls were, let's face it, extremely naff.
First off, Stafford-based Libra, described previously as "Rush-influenced", but sounding to me like Bob Catley had jumped on stage and decided to do a Magnum set.
They started off brightly, with some nice pomp-rock and a fine tune called 'I Can See Africa' but threatened to sink into their own verbosity, before reviving things with a cover of 'Because The Night'. Very much better than the average third on the bill, and perfectly suited for the Tavern MCC's next promotion, if you ask me.
Next up, L.O. Girls, who are unfortunately beginning to believe their own egos. They kicked off with a couple of tunes from their excellent demo, but then the whole thing rather fell apart, thanks to an over-talkative front man and some very ordinary songs.
They may have given up Guns 'n' Roses covers, but they now do Van Halen covers and not particularly good ones at that. Some desperate playing to the audience convinced them that we needed four 'farewell' songs before they finally left, wishing us a 'Happy Christmas' into the bargain. Strange people.
Kraze's catalogue of disaster continued when they hit the boards as Mitch put it 'twinless'. An accident 'in training' had deprived them of one of the delicious duo, but the remaining personnel reminded us, as if we could forget, just how absolutely excellent this band is. The new boys, in particular wizard guitarist Andre Tsar, fitted in perfectly, and with some fine songs like 'Long Hot Summer' to contribute, things look well in hand.
Performance wise, it was as if they had never been away, never mind had three months off, with a fine time being had on stage and among the crowd. A crowd broke out among the Musicbox review crew about which Kraze song is the absolute surefire Top Ten single 'Dance Till Dawn', 'Take the Money and Run' and 'Too Cute To Scream' all got votes, which proves that with a bit of good fortune, which this band desperately deserve, they have the songs, the charisma and the character to be stars. Great to have them back on track.
Martin Warrillow (Who else!)
Tamworth Herald- 19/01/90
Musicbox – Arts Centre stages fundraising gigs – and discusses new hire charges for bands
TAMWORTH Arts Centre will host a trio of fund-raising concerts next weekend – at a time when it is considering new charges for local concerts.
The centre came under fire recently for the state of its stage and it responded by putting a brand new one in with some extra lights. The costs however were quite expensive, so without being asked, metal kings Kraze came forward and offered to set up shows to raise money to pay for the developments. Since then the likes of Catch 23 and Fetch Eddie have also pledged to play and with a Euphoria gig also taking place on Friday it will make for a weekend of fundraising for Tamworth's most famous venue.
Details
We hope to have more details in next week's paper of who will be playing and when, but in the meantime bands may like to know that the Centre sis considering drastic changes to its hire fees. Dave Fortune is toying with the idea of installing an in-house P.A., abolishing the hire fee and then taking a bigger percentage of the door. This would certainly aid new bands who may not be able to guarantee a large crowd and would not have to worry about actually losing money. This is the practise in most venues throughout the country and Dave now wants to know YOUR views on the idea. Contact him directly at the Centre – or via MUSICBOX – to let us know what you think about the possible change.
Tamworth Herald- 19/01/90
Musicbox - Art for Arts sake!
Tamworth- Arts Centre this weekend stages three cracking fund-raising concerts with some of the biggest names on the local scene.

Catch 23, Kraze, Fetch Eddie, Spiral Eye and a 'Euphoria' rave are just a few of the delightful events planned to raise money for the centre this week and it promises to have all the feel and fun of a festival.

All three shows are designated to help finance the various improvements at the Arts Centre in recent months and all the bands have offered their services free of charge.

Six great bands will be playing over Saturday and Sunday- Spiral Eye, The First Conspiracy, Kraze, Fetch Eddie, The Big Noise and Catch 23 - but the whole thing kicks off tonight (Friday) with a Euphoria rave. Here is what is happening when, starting with a preview of the Euphoria gig by Ms. Jo Marsh…

Tonight (Friday) Euphoria Dance Event
'Euphoria' does its humble bit for stage salvation tonight by holding the second of many happenings. The previous December event was considered an astonishing success by the organisers, if only for the realised vision of a strobe flickering Arts Centre jammed solid with sweat-soaked dancers. The very few murmurings of discontent received on the night have been accounted for and thus the musical cross section covered will be broader than before, catering for the more discerning (i.e. whinging) 'Indie Fan', although dance is still the key word of the night. The message is clear: 'do the magic boogie till we all black out.' The rave is on! (7.45-Midnight, cost £1.50)

Saturday Night - Spiral Eye/ Fetch Eddie/ Big Noise
In real 'Festival' style, a very diverse trio indeed. The Spiral Eye boys are currently on a major national tour, picking up friends as they go with their rambling psychedelic rockslog and they will no doubt receive a big welcome from their hometown crowd. Fetch Eddie have also been away from these shores for a some time and will also be welcomed back with open arms by their Tamworth followers while The Big Noise make a bravely early return to the Arts Centre considering recent events! All told however it makes for a cracking three band line up and one which is likely to bring in a big Saturday night crowd.

Sunday Night - Catch 23/ Kraze/The First Conspiracy
Another splendid and highly varied line up comprising everything from pure metal to pure pop. At the metal end of the spectrum we have Kraze who deserve enormous credit for putting this whole Arts Centre fundraising event together. Kraze will continue to pull the crowds in with great regularity as do Catch 23 of course who will be looking for a celebratory concert for winning the MUSICBOX Band Of The Year accolade. Completing another spiffing line up are The First Conspiracy, a group who will use this important show as a major comeback gig after a recent line up change. They have been much missed and their re-appearance is just one more reason why you shouldn't miss Sunday's bash.

So there you have it, three good nights with, I am certain you will agree, something for just about everyone. All the funds raised will go towards the Arts Centre and as all the bands have volunteered to help and shown their concern for the place, surely YOU can do the same by getting along on one, two or three of the nights. It costs £1.50 on each occasion and starts 7.45-8 pm Friday, Saturday and Sunday.

The weekend starts (and ends) at the Tamworth Arts Centre. Are you ready for it?
Tamworth Herald - 26/01/90
Musicbox - Sunday View
The Arts Centre Fundraising Gig - Tamworth Arts Centre

Kraze
Comprising a night of all-round pleasure was a band who like the acts that had preceded them, seem to be improving all the time. It was my first viewing of the group since their change of line up and older fans shouldn't worry, they have lost some of their charisma and style but have probably gained more of an edge. Their sound and their look remains as colourful and as bright as ever but they seemed to be acquiring an improved strength of melodic strengths with one new song, 'One Mile High' an absolute gem. It had a cracking tune and a simple beat effective construction which shows that Kraze know how to make difficult, well-written songs sound delightfully simple. A great show.

Due to circumstances beyond EVERYBODY'S control, Saturday nights Arts Centre bash didn't go ahead. There was an uncertainty about the line-up and the confusion meant that none of the listed bands could make it. Spiral Eye sent out their public apologies to their fans with a firm 'it wasn't our fault' cry while Fetch Eddie certainly have the best excuse as their guitarist Aaron became a Daddy on the previous day and was in some what of a tizzy as a result. Nice one Aaron!
Tamworth Herald – 18/05/90
Musicbox – SNIPS
Kraze bounce back into action tonight (Friday) at Lichfield Arts Centre supporting Manchester-based Dirty Trix.
The new Kraze T-shirts will be on sale, as will the new four-track demo, which hopefully, will be reviewed very shortly.
The fun starts at 7.30pm.
Tamworth Herald – 01/06/90
Musicbox – Krazy squad back in Town
TAMWORTH's best unsigned heavy metal band, Kraze, return to the Arts Centre stage tonight (Friday) after a long break away from the local scene writes Sean Atkins.
The band, which includes a few new members, warmed up for the gig with a support slot alongside Manchester's Dirty Trix at the Lichfield Arts Centre a couple of weeks ago.
Kraze took the opportunity to show off their excellent new material – which features on the demo – and to try out, what appeared to be, a slightly harder sound than the 1989 version of the band.
At Lichfield, they were let down a bit by the sort of poor sound that support bands get. But despite that, it was clear that Kraze are as good as ever and ready to re-establish themselves as one of the town's top bands.
They might also re-establish the Arts Centre as a music venue after an amazing 'dry spell' where – during the last few months – there have been hardly any gigs there.
Kraze are supported by Birmingham heavy metals band 'Daylight Robbery'. T-shirts and tapes will be on sale on the night.
Tamworth Herald – 15/06/90
Musicbox – Metallic Mania
THURSDAY night is metal night at the Rathole. For on Thursday the Rathole opens its doors to three cracking and accomplished metal bands – Wrathchild, Deviance and Kraze.
Wrathchild of course are very big (and very loud) news to metal circles and their last appearance in Tamworth was hugely appreciated by the Town's many metal-heads. If you Like It Hot you'll probably like this lot a great deal. Deviance meanwhile are the hottest metal bunch from the Nuneaton area and come with a big following and an even bigger reputation for hard, fast, metal attacks.
And as for Kraze? Well what can we say other than that they are cooler than ice and harder than granite. Pretty boy (and pretty girl) metal of the highest quality and the sort of sounds that have already been established in Tamworth and beyond as being very powerful.
Wrathchild are the name act but the two high-quality support acts ensure that Thursday night should be a riotous success for the denim, leather and studs brigade.
Tamworth Herald – 03/08/90
Musicbox – SNIPS
One of the saddest things about the Festival was the news that Kraze appear to have split up. As well as virtually destroying our very own Martin Warrillow, the news will also come as a major upset to a Mrs. Gail Neal from Porthcawl., mid Glamorgan who wrote a long letter to Musicbox just before the Festival explaining that having moved to Wales she had encountered a Kraze and Wolfe fanatic down there in the Valleys who wanted Kraze items by the score. Well, sad to report that it looks as though things aren't so Krazy anymore but if one of the band gets in touch with me I will forward the letter and we can find out what made this great local group bite the dust.
Tamworth Herald – 10/08/90
Musicbox - SNIPS
Kraze have written a detailed letter about their recent split. Sadly space is again the problem but we hope to print it next week. Suffice to say, the basis of the old Kraze is staying together under a new name. More info next week.
Tamworth Herald – 17/08/90
Musicbox – Letter
Kraze – what happened?
Dear Sam
I would just like to put the record straight regarding the current position of Kraze.
Two weeks before the Festival we received a phone call from one of the girl vocalists, who informed us that they no longer wanted to continue with the band. They gave no real reason for leaving, other than they couldn't see any progress after the release of the demo.
This came as no blow or terrible shock to us as we were considering a line up change anyway. However, we were upset because this meant we couldn't play the Festival which we had already paid for.
I asked whether they would help us out on the day and call it quits and end on a 'good note'. They replied that they had already something booked on that day and they didn't know what Mike wanted to do. So the rest of us got together and thought about asking Mike if he would help us out. He later declined but gave no reason why.
We felt let down by this as when the two former guitarists with raze, left, they carried on helping the band out with gigs for 12 months after they originally left, so we assumed that it would work both ways – obviously not.
As regarding the future of raze, we are still going strong and will undergo a name change. Currently we are auditioning a replacement frontman, the remaining members will handle backing vocals.
The new material is a lot heavier, but with a bouncier feel. We hope to have a new demo CD out in the near future, and you guys at the Herald will be the first to know of forthcoming gigs and new releases.
We as a band feel that it was probably the best thing that happened to us as we feel we were flogging a dead horse, cow, pig etc.
We hope our fans won't be disappointed with the new sound.
Lots of love and kisses,
Daz, Dave, Andy and Rob.
Tamworth Herald – 17/08/90
Musicbox – Scene Snips
Further to the Kraze letter on the elsewhere. I understand the new Kraze could be called 'X-Offender' and could feature the former singer of Dressed To Kill. Watch this space.
---