Spiral Eye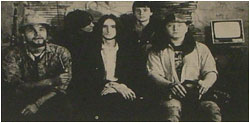 Spiral Eye
Photograph courtesy: Tamworth Herald
The Gallery
Formed: 1988
Musical Type/Genre: Psychedelic
Band Members:
Daz McFarren - Guitar
Baz Fox - Guitar/Vocals
Jim Pighand - Drums
Pete Wright - Bass Guitar
Rem - Keyboards
Gigs:
02/03/88
Kubla Khan
Racer
Fetch Eddie
Spiral Eye
Kraze
Tamworth Arts Centre
11/03/88
Scum Ball
Scream Dream
Spiral Eye
Mr. Cyn
New Age Gypsies
The Detroit Sinners
Assembly Rooms
12/08/08
Scum Ball
Spiral Eye
Scream Dream
The First
The Macoys
Assembly Rooms
02/10/88
David Allen (Gong)
Spiral Eye
Ozric Tentacles
Magic Mushroom Band
Tubilah Dog
Moseley Dance Centre
11/11/88
Spiral Eye
Jagged Heart
Cloven Hoof
Lichfield Arts Centre
20/01/90
Spiral Eye
Fetch Eddie
Big Noise
Tamworth Arts Centre
11/02/90
Spiral Eye
Vindaloo Breakfast
Atom Seed
Tamworth Arts Centre
27/04/90
Spiral Eye
Nutmeg
Sherbert Trees
Tamworth Arts Centre
01/07/90
Banned in Yellow
Spiral Eye
Rhythm Damage
Mean Fiddler
London
16/08/90
Spiral Eye
The Yogots
Bash Out The Odd
Vindaloo Breakfast
Sherbert Trees
Shakespeare Monkeys
The Rathole
06/09/90
Spiral Eye
The Yogots
Moy Club (Hope and Anchor)
Islington
26/09/90
Spiral Eye
Peter Tuesday
Big Trip
The Great Divide
Sherbert Trees
The Poppy Charmers
Crystal Injection
Lichfield Arts Centre
22/12/90
Spiral Eye
Nutmeg
Tamworth Arts Centre
Tamworth Herald - 12/02/88
Musicbox – SNIPS
Plans have been unveiled for a major new-band concert at the Assembly Rooms on Friday, March 11. The show, which should be a perfect finale to the new group 'Battle of the Bands' contest, have been ambitiously put together by members of Scream Dream and Spiral Eye who have taken the brave and highly commendable decision to go for broke at a venue that has seen the likes of The Beatles, The Rolling Stones, Dr. Feelgood and even Dickens! The bands on offer at this the 'Scum Ball' will be Scream Dream, Spiral Eye, Mr. Cyn, Detroit Sinners and The New Age Gypsies. Tickets must be bought in advance and cost a mere £1.50 but we have two to give away in a simple contest. Just tell us the answers to the following and two 'Scum Ball' tickets are yours. (1) What was Spiral Eye drummer Jim's stagename as a member of Attica? 2) What band did Tim Latham and Ted Wilson used to play on?
3) What was Scream Dream drummer Duane, publicly labelled at this time last year? Simple isn't it? Just send your answers to Musicbox.
Tamworth Herald - 28/02/88
Musicbox – Five of the best limber-up
Heat is on for final fling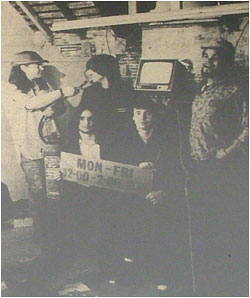 THE final, exciting heat of Tamworth's 1988 Battle of the Bands takes place on Sunday night. Five varying local bands will take to the Arts Centre stage aiming to join The Conspiracy and the New Age Gypsies in the March 4 final to find the most promising new band of 1988.
This week's line-up offers a variety of musical styles and quality and should ensure a bumper crowd and a tremendous evening of entertainment.
Although one of the original 'starters' DHSS have had to pull out due to technical problems, their place has been eagerly snapped up by, Racer, who had to miss last week's show because of their drummer's arm injury.
The five bands on offer on Sunday will be…
Kubla Khan
An Atherstone outfit of definite quality but still something of an unknown quantity. Made an impressive Tamworth debut at the festival and have been backed by one or two people in the (rock and roll) know. Should prove interesting.
Racer
Making their second (and hopefully) successful attempt to join in the contest. Racer are a melodic but still heavy rock band who combine youth experience and add a tuneful touch to an aggressive sound.
Fetch Eddie
Regarded in some quarters as the favourite in the contest, Fetch Eddie are in the midst of a very successful period which has seen them triumph in concerts throughout the Midlands. Pop music so catchy it can leave your dancing feet with a permanent itch.
Spiral Eye
A brand new outfit making their world debut! All I can tell you at this stage is that they feature some always interesting musicians (Daz and Baz from 13th Reunion, Jim and Pete from Attica and Rem from The Calling) and according to Jim they play 'music to flinge to'. Suck it and see.
Kraze
One of the heaviest bands in the whole 'Battle of the Bands' who should bring some welcome, 'glam' to the proceedings. Heavy, steady, go!
That's the line-up to be judged this week by Jase the Ace (Wolfsbane), Graham Harwood (Rape in Yellow), Mark Brindley (WIN) and Steve Hayes (A5).
The winners
What makes Sunday's show even more interesting is that as well as the winners of the night going through to the March 4 final, the highest-scoring second-placed band from the WHOLE contest will also be revealed. They too will then be invite back on March 4 for the final which already features heat one winners Conspiracy and heat two victors The New Age Gypsies. So all the bands who have appeared so far in the contest – and the four that don't win on Sunday are still in with a chance of playing in the final but to find out if that means YOU, you will have to be there!
All the ingredients them of an excellent night. The bands are asked to reach the Arts Centre by 5pm, the judges by 7.45pm and the crowd by 8pm so we can attempt to get off to an early, ear-bashing start. It should be a great night so miss it at your peril!
Tamworth Herald - 28/02/88
Musicbox – SNIPS
There are only two weeks now to the ambitious 'Scum Ball' project at Tamworth Assembly Rooms. As a reminder, various enthusiastic new bands have pooled their resources and finances to book the Assems for the (Friday) night to put on an array of new talent. The five bands to be featured – Mr. Cyn, Spiral Eye, Scream Dream, The New Age Gypsies and The Detroit Sinners – are eagerly awaiting the chance to shine on such a big, impressive stage and they hope the audience will turn out in big, impressive numbers. Tickets are now on sale for the show, from members of all the bands involved or directly from The William Tolputt Press, George Street.
Tamworth Herald - 04/03/88
Musicbox – A hot time with some cool sounds
Battle of the Bands – Final Heat
WELL, what a night this turned out to be. Around 200 sweaty punters, four sweaty bands and a marvellous good-humoured atmosphere that was a pleasure to be part of. And here is how it all went…
Spiral Eye
My favourite band of the night and a group for whom I predict great things in the future. An amazing introduction set the scene for 20 minutes of Velvet-clad Sixties drug-culture pop with Floydisms everywhere and even a touch of mid-Seventies Swell maps. Baz, who I once described as the coolest man in the universe, remains in that exalted position and has more charisma than an American TV evangelist. And no doubt just as many skeletons. Each track was different but all retained that same mesmerising, meandering mood. More of an experience than a show. Absolutely ace.
Kraze
Professional, punchy and laden down with natural style. I always had more than a sneakig admiration for Kara and Powerplay and this new combo have taken the best of both those and added new impressive touches. The girls provided talent as well as the inevitable glamour and the band emerged with a rousing finale which totally won over the audience. And – oh yes – a mention to the remarkable, wonderful and incredible Carl Anthony has had his name left out in the past and I was threatened with a chainsaw if I did not put his name in lights. So there you are Carl, now put away that chainsaw.
Kubla Khan
Compared afterwards by one of the judges as sounding like Bruce Springsteen, which is probably the second greatest compliment you can give to mortals (no prizes for guessing the first). It didn't sound that Brooce-like to me but there were definite classy mid-Seventies, mid-American touches in there with some impressively produced guitar work spotlighting a dreamy feel. A tight, well-rounded commercial set from a band who have a real dollop of class.
Racer
Maybe I had seen 'Bad News' just a little too soon before this but Racer came over as a rather undramatic heavy band whose charisma didn't shine as it did on their impressive demo. To their credit they played a solid, administered set and produced one gem in the slower 'Feelings Never Change'.
SAM HOLLIDAY
Tamworth Herald - 11/03/88
Musicbox – Yes you CAN go the (Scum) ball
A UNIQUE concert takes place tonight (Friday) at the Assembly Rooms. Under the banner of "The Scum Ball", the special concert is designed to be another major display of the area's rising musical talent spotlighting five relatively new acts.
Among these are new Battle of the Bands winners Scream Dream plus three other groups who sparkled in the contest – Spiral Eye, Mr Cyn and New Age Gypsies. And to complete a strong line-up we find a totally new and not entirely serious act who call themselves The Detroit Sinners.
"The Scum Ball" is so unusual in that in the spirit of the Tamworth Rock Festival it has been totally paid for by all the bands on the show. The Assems does not come cheap and with all the attendant PA costs and more, it means all five groups had to put their hands deep into their pockets to ensure that we could all go to the 'Ball'.
The five bands all see the concert as a chance to further discover the talents that were graphically unveiled during the 'Battle of the bands'. One of the bands, Spiral Eye, say that all the groups will be playing longer, stronger sets than in the 'Battle' and will be offering one or two additional extras.
It should be a real party atmosphere and all the Scum Ball organisers hope that a successful turnout at Tamworth's top venue will mean that more concerts of this kind will find their way onto a stage which has welcomed the likes of The Beatles and The Rolling Stones in former glory years.
The bands on offer – with the exception of the Detroit Sinners – should now be known to local audiences thanks to the Battle of the Bands. Scream Dream of course will come fresh from their triumph last Friday and will no doubt still be in celebratory mood at being acclaimed as Tamworth's Most Promising New Band. Their sound has its roots in modern Sisterhood and latter-day punk and involves sterling guitar work and punishing vocals. The New Age Gypsies offers a rock-base dose of hippydom! While the Spiral Eye contingent offer a hippy-based dose of hippydom! Their debut show at the Arts Centre was both amazing and eye-opening and combines Velvet Underground sounds with a later Sixties atmosphere and attitude which was quite intoxicating. It will be very interesting indeed to see how that translates to the wider theatre of the Tamworth Assembly Rooms.
Completing the quartet of bands who you will already know are the 'new' One On One – Mr. Cyn. The band opened their account with a professional, stylish show in the 'Battle' contest which would probably have won them a place in the final had it not been such an amazingly strong heat.
Unlike the more alternative-based bands on the 'Scum Ball' line-up, Mr. Cyn should appeal to people who like to hear rock in all its various shades and anyone who likes to hear first-class arrangements and first-class musicians. As for The Detroit Sinners they are a real 'wait and see' act who feature a host of interesting musicians and cause wide smiles whenever their name is mentioned. Watch that space.
So five different bands and one very different concert. The Assembly Rooms is a lovely, credible setting for rock concerts and if tonight's show is the success everyone is hoping for, it could be opening its doors on many more occasions yet. All the musicians who set up the 'Scum Ball' (which starts at 7pm and goes on until 12.30am) deserve support and credit so if you want to support a worthwhile show and enjoy a fine concert to boot get along to the Assembly Rooms tonight.
It costs a mere £1.50 on the door and there are not many balls you can get into for that meagre amount.
Tamworth Herald - 15/04/88
Musicbox – SNIPS
Scream Dream and Spiral Eye are to join forces for a special show at JBs in Dudley shortly. The dynamic duo are looking for local fans to travel over and support them and for that reason they are running a special coach at the very reasonable price of just £3. If you are interested in securing a seat, tickets and more details are available from band members.
Tamworth Herald - 10/06/88
Musicbox – STOP PRESS
SPIRAL Eye, Dance Stance and The Ravens have all announced concerts for next weekend.
Spiral Eye will be joined by a special guest band at Tamworth Arts Centre a week today (Friday) while Dance Stance will line-up with a very special headline act. More details in next week's MUSICBOX.
And next week a new band based in the Newton Regis area, The Ravens make their town centre debut with an Arts Centre show on Sunday June 17. Once again more details in next week's paper of this triple attack of top local concerts.
Tamworth Herald - 17/06/88
Musicbox – Gigs galore for a weekend of action
FOUR varied local bands in live action this weekend during one of the busiest weeks on the local scene for some time.
Tonight (Friday) Spiral Eye and Scream Dream team up for an exciting-looking Arts Centre double bill which is certain to attract a large local audience.
Also tonight The Conspiracy take their power-rock to the virgin territory of Birmingham University and to complete the picture an all-new group The Ravens, appear at Tamworth Arts Centre on Sunday.
Here is a brief resume of what to see and where…
SPIRAL EYE/SCREAM DREAM – Tamworth Arts Centre, tonight (Friday)
A final double-bill from stablemates Scream Dream and Spiral Eye. Both have slready wormed their way into local affection with their contrasting but over-ridingly memorable sounds. Spiral Eye are determined to bring a brand of space-rock to the Town, music based on (and based from) hallucinations. Barry Fox, Darren McFerran, Pete Wright, Jim Smith and Rem describe their sound as 'lysergically inspired herbal flinge sounds," and I for one am of the firm opine that they are brilliant. Different, but brilliant. Scream Dream meanwhile are a little bit more conventional, a seething mass of powerchord, all-engulfing rhythms and first-class songs. Their impact has been immediate and looks set to be lasting. A very good double indeed which should appeal to all punters who like a walk on the wild side.
THE CONSPIRACY – Birmingham University tonight (Friday)
Lisa, Roger, Paul and Sonny will attempt to teach university students something about real life tonight at this end-of-term ball. The seering sounds of Conspiracy music will combine with that of other outfits in an attempt to entertain the boffins and the BOFs (Do people still say BOFs by the way?) A big night for The Conspiracy, ten out of ten for getting this one.
THE RAVENS – Tamworth Arts Centre (Sunday night)
A new band (relatively) making their Town centre debut. The young outfit – comprising Matt Starr, Daz Meads, Andy Wells and Nigel Pretty – play a hybrid mixture of 50s and 60s classics with a few of their own numbers thrown in for good measure. Rock and roll, Beatles tracks and one or two very well-known classics will be served up to the audience and singer Matt Starr is hopeful it will go down very well indeed.
"We have played one or two local shows and the reactions have been very encouraging." Said Matt. Sunday's show starts at 8pm and costs just £1 at the door…
Tamworth Herald - 24/06/88
Musicbox – SNIPS, SNIPS, MORE SNIPS!
I didn't get to see too much of last Friday's alternative bash at the Arts Centre but what I did witness convinced me that Scream Dream are getting harder. Spiral Eye are getting better (fab light show and amazing versions of 'The Beginning of the End' and the superlative 'Sentinel') and Manns Brown Ale is getting even stronger.
Tamworth Herald - 12/08/88
Musicbox – Party time once again!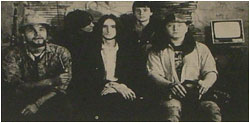 FOUR top local bands line-up at the Assembly Rooms tonight for what is being billed as a major indoor festival.
The concert billed as 'The £1.50 Festival" is seen as being the Scum Ball 2 as it is once again being spearheaded by Hamlets stablemates Spiral Eye and Scream Dream.
Joining this talented duo tonight (Friday) will be two bands much newer to Tamworth eyes. The one, The First, have made major headway into the Midlands rock scene since their last appearance in the Town while for the other, 'The Macoys' this is a debut concert and one which promises a great deal.
Tonight's show, which comes just a few months after the original Scum Ball event is seen as further establishing the Assembly Rooms as a major venue in the Town.. The last time the Scream Dream and Spiral Eye entourage took over the Assembly Rooms the audience clearly appreciated the chance of venue and many people expressed the wish that gigs quickly returned to the centre.
Tonight's four band indoor festival offers the listener a very wide range of sounds. Clearly the double-edged appeal of Spiral Eye and Scream Dream will prove to be the gig's biggest selling point with both bands currently holding a very high prestige in local favours.
Scream Dream, who many people told me played their best ever concert alongside the Wolfies last week, clearly enjoy the expanse and epic nature of the wider stages and bigger concerts and they will keenly await the chance to pass on their 'obsessions' to the Assembly Rooms audience. Even since they won the Battle of the Bands the group have been developing at a pleasing rate and should use tonight's wide arena to prove just how far they have come in their short history.
Another band keen to reinforce their fast growing reputation is Spiral Eye. Thus unique and dramatic band were loved by just about everybody at the Castle Grounds festival and for those who enjoyed that, there are plenty more treats from the group when they take their mysticism indoors. It is a mixture of strange sounds, strange lighting and strange effects and the atmosphere created is chillingly different.
Less well-known to more recent Tamworth followers are The First who also joing tonight's line-up. They made quite a name for themselves around 18 months ago when they were regular visitors to the Rathole and The Arts Centre. Then, their grandiose stadium rock gave them an immediate and committed following and although I cannot vouch for their current status, if the band have developed and improved on that they should be intensely watchable this evening.
Completing a stylish line-up are the newest of the groups – The Macoys. This is a new combination of old talents. Those who remember Love One Board, orange or the Great Express will remember the members of this group although the sound is far removed from all three. It is once again pop music with an edge and it comprises the distinguished talents of the likes of Neil Jones, Dave Burgess and Julian Amos. The group have already recorded one tape (reviewed here shortly) but this will be their first major public performance. It is hardly the smallest show in which to make your debut but between them this band probably has more experience than most of the other musicians on view put together so nerves shouldn't prey too much on their ability. Definitely a band who will command much interest because if the previous ability shown by the people involved is repeated once again we are all in for a treat.
So there are the four bands. Scream Dream, Spiral Eye, The Macoys and The First. It all begins at around 8pm and as I am not sure of the line-up you will have to make sure you get their early enough not to miss your favourites.
As the concert is called the £1.50 Festival it shouldn't take too much thinking to work out how much it costs to get into the Assembly Rooms and as I know for a fact exactly how much overheads at the Assembly Rooms run to it must be stressed that this is tremendous value for money.
Get along tonight and fill the place to capacity and who knows the Assembly Rooms might start to become a major force on the local music scene again for the first time since messrs McCartney and Lennon played there.
Tamworth Herald - 19/08/88
Musicbox – Back with anger
Spiral Eye – Tamworth Assembly Rooms
The word 'frenzy' came to mind almost immediately and stayed their throughout. After on or two neo-commercial shows this was the Eye-merchants at their most outlandish and acidic – a mindboggling mixture of jumbled, mashed and entangled sounds enveloped in thrashing guitars and eye-teasing light. It wasn't a comfortable ride but then again Spiral Eye have never promised anything else. They are definitely a band you either love or hate. I love 'em. But understand them? Never.
SAM HOLLIDAY
Tamworth Herald - 09/09/88
Musicbox – Spreading the Seeds of hope
THE Space Seeds make their eagerly-awaited debut on Sunday night when they spearhead an exciting Arts Centre show.
Space Seeds will team up with fellow new boys The Macoys and the now legendary Spiral Eye for a triple bill which promises to produce a packed Arts Centre.
Spiral Eye and The Macoys are certain to draw a lot of support under their own steam but clearly most of the attention and curiosity will be focused on the Space Seeds.
The group originally formed by former Great Express mastermind Mark Mortimer, has blossomed into a seven-piece combo packed full of musical experience. Mark, who is extremely experienced himself by now, admits it had been a revelation to work with top quality professional or semi-professional musicians.
"I have learned so much it's been like taking an O'level in music," he said, "Its been a real pleasure to work with musicians of this calibre and it has been an exciting period for us all."
The fellow Space Seeds are Matin Kelly, Mark Brindley, Stu Pickett, Alan Hodgetts, mark Allison and Martin Cooper who between them play guitars, keyboards, brass and rhythm. And what sort of sound do they produce? For once Mark is not able to make a direct answer.
"It's just impossible to label it," he said. "It is by a mile the most commercial music I have even been involved in, but it certainly is not throw-away pop music," he said.
"Tamworth bands at the moment seem to fit loosely into either the rock or the alternative camps and we are not either of those," he mused. "There are elements of both in our sound but we have no natural market which is why it will be interesting to see people's reactions."
The band will be parading a set of around 45 minutes including classic songs like 'Autumn Girl' and all apart from former Great Express number 'Black Flower' will be new to local gig-goers.
Whatever happens on the night one thing is certain – Mark Mortimer's previous outfits (including the Dream factory and The Great Express) have had a profound impact on the local scene. I suspect this new connotation could even be his best yet.
Another relatively new outfit who will grace the Arts Centre stage on Sunday are The Macoys. Rather like Mark Mortimer, the Macoy members have a long and proud local tradition in bands and have consistently turned up in strong, powerful pop bands. This new one combines the best of their old influences with a tougher new modern edge that gives a real bite to their pop base. This will be their first Arts Centre showing and once again I suspect it could be a concert of some note. They are keen to make their mark as soon as possible and in front of such a potentially big crowd. Sunday night might be the ideal time to get their success story started.
Finally Sunday night throws the (reaches for the Thesaurus) mesmerising, bewitching, mystic manifestation that is Spiral Eye. The band who are NEVER going to be an easy proposition to discuss or describe have become a legend in their own purple haze and should provide a glittering edge to the whole show.
So, three of 1988's most interesting acts on one unique line-up. It promises a great deal and will almost certainly deliver such.
Can you afford to miss it? Of course not so get yourself down to the Arts Centre on Sunday night and see the Seeds start their exciting growth.
Tamworth Herald - 30/09/88
Musicbox – Acid daze for Spirallers
Tamworth's favourite musical hallucination, Spiral Eye, take part in Birmingham's equivalent of the Acid Daze fest on Sunday.
Barry's beastly boys will join four other bands for an impressive looking line-up of psychedelic meanderings.
The fest will pit the talents of Spiral Eye alongside those of Ozarac Tentacle, The Magic Mushrooms Band, Tubilah Dog and headliner David Allen the former Gong-smith.
The concert is clearly modelled on the Acid Daze events and promises to bring an extremely colourful crowd to it's venue, the Birmingham Moseley Road Dance Centre.
Coach
In an effort to encourage local people to take a ride on the wild side. Spiral Eye have arranged a coach to ferry Tamworth fans to the show. For an all inclusive crisp, blue fiver local – Spiral Eyeists will be picked up from outside Hamlets and ferried to Birmingham and back for the all-day event.
The music is due to run from between 2.30-11pm on Sunday and the whole journey looks like being a very interesting 'trip'.
If you want to know more about the gig or want to get yourself on the coach to the unusual show then either see your friendly neighbourhood Spiral person in the next couple of days.
Tamworth Herald - 21/10/88
Musicbox – SNIPS
Spiral Eye are on the lookout for a new keyboard player following Rem's decision to travel to Wales and discover fungi. Rem and the boys have parted amicably and a new key-tinkler is sought. According to Jim, strangeness and a love of odd sounds is more important than basic experience so if your up to (or down to) the billing…
Tamworth Herald - 11/11/88
Musicbox – Cutie Pie Corner!
Yep, this week's cutie pie award has been handed out to the legendary Barry Fox from Spiral Eye.
Barry is pictured here complete with Steve Austin t-shirt and a lovely smile.
I once publicly described Barry the coolest person in the Universe but I must ad it was BEFORE my eyes copped a load of this!!!
Tamworth Herald - 25/11/88
Musicbox – First Step to glory
ONE of Tamworth's most durable and popular bands return to the Arts Centre on Sunday night boasting a new name, a new set and a new line-up.
The Conspiracy – who now officially trade under the name of The First Conspiracy – will line up alongside fellow Town favourites Spiral Eye and much vaunted Birmingham band The Blue Street Raiders.
Headlining the show will be The First Conspiracy, making their first major Arts Centre appearance for several months. The band regard the show as very important, hoping it will reassert them as a major force in the area. The band have spent a long time getting their new line-up together and they hope to have one or two surprises up their sleeves to impress their large group of supporters.
"WE all feel very excited about the way things are going at the moment, "admitted Lisa Cooke. "We are all very enthusiastic and we have spent a long time planning for this series of shows."
The first thing people will notice about the band that will be different (apart of course for their name) is a new drummer. The excellent former sticksman Sonny had to leave the band due to his imminent departure to live in Canada but his replacement youthful former Great Express man Simon Harvey – has fitted in marvellously.
"We are all obviously disappointed about Sonny, but Simon has come in and done really well. He is a superb drummer and we all get on with him really well so the good atmosphere within the band has continued." Said Lisa.
As sometimes happens, a new member brings new enthusiasm and the band are fired up again to try and make a go of it. There are new songs promised and a possibly more visual show which the First Conspiracy hope will combine to really set them on course for local and national – glory.
"Everyone is really keen too go as far as possible and we are certainly looking forward to Sunday's gig. Said Lisa. The show on Sunday night will be the latest in a short series by the First Conspiracy. We apologise for missing out on the band's other dates which was caused by a certain MUSICBOX Editor being away for the past fortnight.
Joining the First Conspiracy will be Spiral Eye and The Blue Street Raiders. Spiral Eye who I am reliably informed are not now called The First Spiral Eye! Will need very little introduction and their unique (for it is definitely that) sound is certain to warm up the watching ensemble on what should be a very cold night. More about them I shall not say – if you've seen them you will know what to expect. If you haven't then expect the unexpected.
Completing the Sunday night line-up ate The Blue Street Raiders. This Birmingham-based band come with a very warm recommendation from First Conspiracy guitarist roger Moors who reckons they are brilliant. According to the band the group sound like a mixture of Hendrix and the Georgia Satellites and such is their status that they are soon to play some major European shows. They should add a powerful ingredient ti Sunday's show and with that sort of musical pedigree look set to boast an already large crowd.
So, that's the score for this one. Three bands all of known quality and all of considerable power. Spiral Eye will be aiming to submerge you into their tantalising undergrowth, the Blue Street raiders will be out to guitar you to death and The First Conspiracy will be aiming to prove that a new name, a new line-up and a new set can lead to new and exciting things.
Sounds a terrific night. See you there.
Tamworth Herald - 02/12/88
Musicbox – Eye-lashing!


Spiral Eye – Tamworth Arts Centre
Still wondering who to vote for in the poll? Still looking for a gig of the year? Well, howzabout this my chummy-wummys? For this exciting journey into electric avenue rates as one of the very best shows these tired old eyes have witnessed this year. It was Spiral Eye's magnus opus, a trip into sound and vision which ranks leagues ahead of the rest of 'em. It was the show with everything. An intoxicating atmosphere, an amazingly sharp and edgy sound and a power that when unleashed to its full booming brilliances caused the whole audience to suffer from wipeout symptoms. The thing that stood out above all was the sheer quality of the songs. Spiral Eye have become extremely consistent and original songwriters and toons such as 'Uncertainty', 'Sentinel' and 'Flight Double Zero to Obvlivion' are major success stories of their own. 'Uncertainty' particularly stood out as a classic psycho-pop, a song that would make an outstanding single and one that almost ranks in my book alongside the immortal thrash and brash of 'Sentinel'. Only sadness of the night was that this would be Rem's last show, but that apart there was nothing – and I mean NOTHING – I could find to criticise Spiral Eye about. They have perfected the live act superbly now and the early day ramblings have been replaced by a set, a look and a sound which means Spiral Eye should not be supporting anyone at the moment. A Tamworth's Pink Floyd on Fish, Spiral Eye are an ever-improving and never=predictable group who look set to get bigger and bigger in 1989. And if they could just get 'Uncertainty' out on vinyl, I feel that they could trip the light fantastic throughout this blighted nation. In the words of that brat pack movie, this show was some kind of wonderful.
SAM HOLLIDAY
Tamworth Herald – 20/01/89
Musicbox – A Fab Feb ahead!
TAMWORTH's rock fans are in for a real treat throughout February when the Arts Centre hosts a sparkling indoor festival.
Three top quality concerts will be on offer featuring the best of the area's older acts and some brand new local talent.
And to top off the whole indoor extravaganza it is hoped that Wolfsbane will kick off their major UK national tour by concluding the festival on Sunday March 5.
Plans for the indoor festival were sorted out on Sunday night when Tamworth's main outdoor festival for 1989 was launched. Once again a huge crop of bands registered interest in the 89 outdoor festival and at least 14 of these will be involved in the indoor festival in February/March.
At the moment the line-ups are strictly provisional but here they are as they stand at time of going to press. Please note the line-ups could change dramatically and you will have to keep reading this column to find out exactly who is playing and when. Assuming everything does go according to plan here are the line-ups for Tamworth's 1989 Indoor Rock Festival.
Sunday February12
CATCH 23 will headline with the support of one 'oldie' Emma Gibbs Loves Badges and two 'newies' Big Noise and Shock Culture.
Sunday February 19
SCREAM DREAM will headline with Mike Fleming's act Nightshade and two relatively new acts – The New Puritans and Double Vision.
Sunday February 26
DHSS will top-off a line-up featuring The Space Seeds, Never Say Die and King Woderick.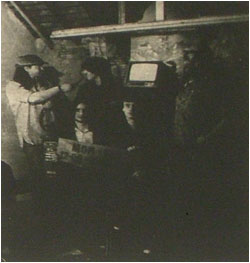 Sunday March 5
WOLFSBANE (contract permitting) will kick off their UK/USA tour by headlining alongside Spiral Eye and Kraze. If the Wolfies can't make it Spiral Eye and Kraze with team up with A.N. Other band.
As you can see from the above, many new bands have already emerged for this year's festival and in addition to those listed look out for several other new groups who have set their sites on the Castle Grounds for July.
In the meantime, pencil the above dates in your diary now. With the first three shows all the money raised will go towards the outdoor festival so they are vital fundraisers as well as tremendous concerts.
All the line-ups will be finalised in the next few days/weeks so keep your eyes peeled on this column. This indoor festival will prove a very exciting sampler for what you can expect this summer so get set for a Fab Feb and hopefully a marvellous start to March.
Tamworth Herald – 03/02/89
Musicbox – Festival set for powerful launch
Tamworth Indoor Rock Festival 1989
THE Tamworth Indoor Rock Festival begins a month long stint at the Arts Centre on Sunday with a tempting looking concert combining the old and the new of the local music scene.
Over the next four Sundays, 15 bands will play under the Indoor Festival banner concluding on Sunday March 5 with the eagerly awaited return of the mighty Wolfsbane.
Before then however there are bags of goodies to look forward to. Scream Dream, DHSS, Bash Out The Odd (ex-Space Seeds) Never Say Die, Spiral Eye, Kraze and several brand new bands will combine their talents for the festival and on Sunday the whole rambling charabang gets off to a powerful start.
The four acts who will hit the Arts Centre stage this week are the award-winning Catch 23, the much-admired Emma Gibbs Loves Badges and two brand new groups – The Big Noise and Shock Culture.
For Catch 23, the show will be a triumphant homecoming. The band have not headlined the Arts Centre for many moons and they are keen to show their natural audience just what has made them one of the most talked about young bands in the country. For the past two years they have been chosen as the best school/college age rock band in the whole of the Midlands and this year they are hoping to extend that to the whole country by winning the final of the TSN Rockschool contest. They have powerful allies to that end – dj Mike Read is an acknowledged example – and if you want to see why, then just stand back and listen on Sunday night. Their all new set will include the three songs that won them the TSB regional heat, including MUSICBOX song of year 'Hangin' On' plus many, many more that may be unfamiliar to those who haven't caught the band in a long time. Expect to be impressed.
The other established band on the line-up are Emma Gibbs Loves Badges, who specifically requested to play alongside Catch 23. Lee Revelle's band have undergone somewhat of a transformation since their early days and the increased profile and popularity of their performance indicates that it is a change that has been welcomed by the masses. I have become an admirer but being as I was slagged of for disliking them in the start and then slagged off for LIKING them in their last gig-fanzine I will offer no opinion at all because it would obviously be invalid. Suffice to say that they are very watchable these days. Try not to miss them.
Teaming up with these two old bands (seems daft calling Catch 23 old doesn't it!) are two brand new acts – The Big Noise and Shock Culture. The latter, Shock Culture are a complete mystery to me unfortunately, and all I can say is that they are ideal festival material. By that I mean something which you can watch without any preconceptions allowing YOU to pigeon-hole them (if you must) before I do (if I must). There, that was a good way of hiding my ignorance wasn't it.
Interesting
Completing the show is The Big Noise. This outfit made up of Ben Machin, Carl Harris and Ana Situnyake say they are influenced by the likes of That Petrol Emotion, Teardrop Explodes and Captain Beefheart.
"The band are crispy in a crunchy sort of way." Insists their manifesto. "You'll have to listen to see what you think."
Actually they sound pretty interesting and they are almost certain to get a good review because Ben Machin's sister Helen is a Herald scribe who will no-doubtedly beat me up if I dare to dislike them."
That's the line-up then, pop kings Catch 23, the unique Emma Gibbs, the mysterious Shock Culture and the alt-popsters The Big Noise. It is a very entertaining looking line-up and at just £1 per person entry it represents the best value of the year.
The proceeds from the show (starts 8pm) will go towards this years Tamworth (outdoor) Rock Festival so that's another good reason not to miss it. We're looking for a capacity crowd on the night, you won't let us down will you?
Tamworth Herald – 24/02/89
Musicbox – SNIPS
Wolfsbane have announced the first dates of their 'rolling' national tour. The band intend to keep adding gigs right up until their debut album is released and the first shows to be officially announced are…
Sunday March 6 – Tamworth Arts Centre (hooray!) with Spiral Eye and Lyve. Friday March 10 – Lichfield Arts Centre with A5, March 13 Riverside, Newcastle, March 21 Locarno, Sheffield, March 24, royal Standard, Wathamstowe, March 27, Goldwyns, Birmingham, March 30, Ritzy, Aberdeen, March 31 Pavilion, Ayr, April 1 Venue, Edinburgh and Sun April 2 Rooftops, Glasgow.
"We will keep adding more as we go along so it will be a virtual non-stop tour," said singer Bayley, "We are playing all our old favourite venues to prove to people that we may have been away but we haven't changed as people."
Bayley admits that he and the band are keenly awaiting the live dates and he is delighted to start off the whole 1989 World Attack at little ol' Tamworth.
"It should be a good night and we are all looking forward to the Arts Centre bash," said Tamworth's most famous stud-warrior.
Tamworth Herald – 03/03/89
Musicbox – Wolfies launch their mega World Party!

TAMWORTH'S biggest and ugliest group, the almighty Wolfsbane launch their World Tour 1989 with an unmissable Tamworth Arts Centre concert on Sunday night.
The band, due to release their eagerly awaited album in two months, will be in action throughout Britain and Europe before heading for a seemingly endless tour across the seemingly endless expanse of America.
The whole never-ending tour will be filled with big gigs and big venues but at none of them will Wolfsbane be so warmly received as at Tamworth on Sunday night.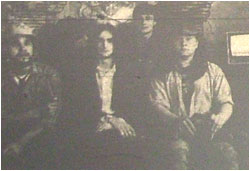 For here, alongside the relative wonders of Spiral Eye and Lyve, Tamworth will welcome Wolfsbane back as the all-conquering heroes. They have put the town on the map already and this will be the chance for you, the punter, to give them the best possible send off for their massive tour.
Sunday's gig, the concluding show of the Tamworth Indoor Rock Festival will be the first of an as yet unknown amount of Wolfsbane shows. British gigs of all shapes and sizes are being added as we speak and there is also talk of Irish, French and German dates in advance of the long haul across the United States.
For it to be starting at Tamworth is wonderful news but according to bassist Jeff Hateley the group wouldn't have it any other way…
"No matter how far we go we will always come back because we love it here," he said. "Everyone we know is already talking about the Tamworth gig and no matter what the music is like it will be a night to remember."
As Jeff points out, Wolfsbane plus support acts Spiral Eye and Lyve are all capable of selling out the Arts Centre on their own, so one of the largest ever Arts Centre shows is assured. Memories of Wolfsbane's 'sweat-pouring-down-the-walls' Battle of Bands victory a couple of years ago are expected to be revived and the atmosphere promises to be red-hot.
Wolfsbane haven't played live for several months and for that reason they are itching to get back into the frame. Their set should be a curious mixture of those their fans will know and love and some that will be totally alien to everyone outside the immediate Wolfsbane camp. Their album is littered with new material and it will be a set full of both old raves and pleasant new shocks. Any Wolfsbane fan worth his or her salt would be a complete and utter luck to miss this one. Anyone that does have better have a good excuse ready.
As if the Wolfies wasn't enough to drag you out of your home son Sunday, both Spiral Eye and Lyve have plenty to make you get your frame moving. Lyve, who look set to lose 'Glen Hoddle' shortly, have adequately filled the Wolfie-gap with their driving metal music and their huge audience alone would make the Arts Centre full without the aid of the other two on the night. And Spiral Eye? Well they are just sooooooooo good that the paltry £1.50 entry fee (the cheapest you will be able to see Wolfsbane ANYWHERE) is warranted by Baz's boys alone and I have a sneak feeling they will go down a wow with the metal-dominated audience.
The conclusion from all this is clear. Along with the Rock Festival this is probably the most eagerly awaited and exciting concert of the year. Coming in the same weekend as Tamworth FC play in one of their most important games of their history this is one hell of a weekend for the Town.
Get along to both if you can and cheer all these genuine local heroes to inevitable success.
Sunday night at Tamworth Arts Centre. Miss it and regret it.
Tamworth Herald – 10/03/89
Musicbox – The Conquering Heroes
Wolfsbane/Spiral Eye/Kraze – Arts Centre
Tamworth Arts Centre smashed their all-time attendance record on Sunday night when hundreds of people turned up to see the Town's favourite sons Wolfsbane.
The gritty rockers kicked off a massive tour with a hometown show which proved so popular that people were turned away from the doors in their droves. With the usual capacity of 250 passed by 8 o'clock, the doors had to be shut an hour later with 400 people crammed into the Arts Centre and literally dozens refused entry from that point on. And believe you me, all those that missed it are going to regret it because this was a magnificent concert, one which all of us will remember for a very long time.
KRAZE, for I think they are now called that again, kicked the whole thing off with one of their most enjoyable sets. It has been a long time (too long) since I have seen them and they have really tightened up, smartened up and polished up to the extent that they are now a pure and professional rock outfit. Tim Latham was quite amazing but the whole musical base seems to have improved with him and aside from excellent bass and drums, the vocals reached a new peak with Mitch Michaels confirming himself as one of the best frontmen this town has ever produced and the little old ladies in tremendous heart and voice. No less exciting were Spiral Eye whose unique, mystical and magical sound has gained a new edge to make up for the lack of Rem's keyboard dalliances. The sound (which owed a lot to the first class p.a.) was booming and well balanced, and there was a real aura of musical mysticism pervading the set. Individually the whole band are quite magnificent but praise this time to the sizzling drumming of Jim and the brilliant bass work of Pete Wright. The latter has clean-cut, crystal bass sound and he has the most riveting four strings in Tamworth without a shadow of a doubt.
But despite the excellence of both support acts, this was Wolfsbane's night. And oh boy did they take it. Arriving on stage like the conquering heroes they are, Wolfsbane proved they have lost nothing in their long time away from the stage. Their humour was as sharp as ever, their songs relentlessly ear-battering – and the atmosphere they created was quite unbelievable. Even previous Wolfsbane 'fun-riots' fell in comparison to the crazy scenes of wild enthusiasm and dancing produced by the Wolfies energetic and enthusiastic followers on the night. Bodies battered into one another like dodgem cars driven by maniacs and the sound produced by the band had the same vicious attack of musical terrorism. The old tunes – especially the wunderbar 'Paint the Town Red' were given a new and dynamic edge and newies like 'Marlon Brando' proved that the States has not altered the Wolfies main songwriting state. Best track of all was the brilliant 'Shakin' which I hereby nominate as the ideal single for the band to launch their album with. It was a real porking, corking track which made my toes sizzle like sausages on a bar-B-Q. Overall impression? A marvellous show and a marvellous night. Tamworth turned out in huge force to support their heroes and the chemistry produced betwixt band and fan indicated that the Wolfsbane train is rolling very much in the right world beating direction.
They were as good as the best sex you've ever had.
Sam Holliday
Tamworth Herald – 04/08/89
Musicbox – Spiralbane
Tamworthians aplenty will be travelling to the Birmingham Irish Centre on Monday night (Aug 7) when Wolfsbane will continue their current tour with a show with special guests Spiral Eye. Wolfsbane's support for local bands remains excellent and this promises to be a major break for Spiral Eye. Still with Wolfsbane, a coach has been arranged for their triumphant return to the Marquee on Friday August 18. This show looks set to be one of the highlights of the current tour so get along and PARTY.
Spiral Eye (Birmingham Irish Centre)
A big night this for the Spiral boys. Here they were face to face with a bunch of Wolfsbane-loving metalmen, wondering if their crazee vision of modern Britain would make any impact on the crowd or whether their faces would be torn apart by flying bottles.
Well, their pretty chops remained intact, and the reaction they received must have delighted them. This isn't really music for the metal masses yet the increasingly enthusiastic response afforded to them by the watching hundreds proved something that I have suspected for a long time – that Spiral Eye have a very, very broad base of potential listeners. This is rock music with it's fingers in many different musical pies, the psychedelic ramblings that made them such an eye opening prospect are still there but nowadays the band have inherited a dramatic sense of power and a pleasing if surprising amount of pop sensibility. What you are left with is quirky but highly hummable rock sounds – tunes to get the toes tapping as well as the brain working. It is a nice combination which works on many different emotions and could give Spiral Eye an almost unlimited listenership. On the night the sound didn't help them too much but their quality still shone through and Baz's warm personality won over many who had probably started watching determined to hate it all.
The Spiralmen have been promised several more Wolfsbane support slots and it is a marriage of extremes that promises to work very well indeed. This is a great band and hopefully these dates will mark the first stage in an ever-more searching spiral of success.
SAM HOLLIDAY
Tamworth Herald – 08/09/89
Musicbox
Don't forget Wolfsbane and Spiral Eye team up at Lichfield Arts Centre on Sunday. The same duo are in Marquee action on Thursday.
Tamworth Herald – 22/09/89
Musicbox – FRIDAY FUNTIME
Local rock fans have a choice of two cracking concerts to attend tonight (Friday).
At one the r 'n' b of Double Vision teams up with the heavy metal of Sweet Revenge, while at the other Spiral Eye play a special rock party at the site of the old Rathole.
Metal
First off, tonight's Arts Centre show which features a top Tamworth r 'n' b group and a well known Birmingham metal crew.
Providing the r 'n' b will be Double Vision, who made a major impression at the Tamworth Rock Festival and have been eagerly awaited to return ever since.
The band, three of whose members are pictured here are keenly looking forward to tonight's show which they feel will please a wide range of music listeners.
Teaming up with the Double Vision outfit will be Sweet Revenge. These are a group from the more metallic end of the rock sphere with a guitarist who has the Van Halen touches.
They are widely regarded as a very strong live act and a spokesman for Double Vision says that the mix of r n b and metal should appeal to a lot of people.
Spectrum
"This promises to be a night music fans will remember for a long time to come," said the Double Vision spokesman. "The combination of music from blues to heavy metal covers a wide spectrum of tastes."
Tonight's show starts between 8-8.30pm and Arts Centre attendance is £1.50
Also in action tonight are everybody's favourite psychedelic rocksmiths Spiral Eye. The band, come back 'home' fresh from a string of impressive shows alongside Wolfsbane. It has been an eye-opening and important series of gigs for Spiral Eye and they will be happy to show how their craft has been improved with tonight's performance.
It is being held at the upstairs of Manhattan in the place most of us remember as The Rathole. The gig has been organised by the Tavern Motorcycle Club and is part of a rock night which also features a dj and lots of metal music. Entrance to the gig is a mere £1.50 and if you can take it, the action goes on until 2.a.m. which means you could go to both gigs couldn't you!
That's the choices then, r 'n' b plus metal at the Arts Centre or Spiral Eye and bags of rock noises at the top of Manhattans. The choice is yours, so get along and have fun.
*The entire MUSICBOX crew – messrs. Holliday, Warrillow and Atkins – are heading for Paris this weekend so we would be very grateful for any freelance reviews of these two shows. Send them in a.s.a.p. to MUSICBOX and providing we haven't lost our heads in Paris we will do the rest.
Tamworth Herald – 17/11/89
Musicbox – Gig Reviews
Another Big weekend
WE have two nifty looking local gigs to tell you about this week.
Tonight (Friday) the legend that is Spiral Eye returns to Tamworth when they play a special show at the Chequers, Hopwas. This, part of a regular series f rock shows at the venue comes complete with a rock disco and admission is £1.50.
Then, but 48 hours later, Sunday night's venue is the Arts Centre for a splendid four band show of raw young talent.
The Big Noise will spearhead proceedings and they will be joined by The New Puritans (hurrah!), King Woderick and The Yogots and the delightfully named Fudge Tunnel.
Such a line-up would be worthy 50,000 pfennigs of anybody's dosh but it costs just £1.50 so anyone not tempted enough to go will be hung, drawn, quartered and forced to watch Beadles About for two hours a night.
That's it in a nutshell – tonight Spiral Eye at the Chequers and Sunday night The Big Noise, King Wodericks, The New Puritans and Fudge Tunnel at the Arts Centre.
Laugh? I almost did.
Tamworth Herald – 22/12/89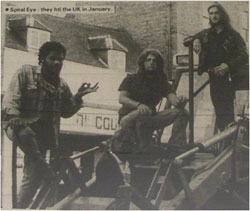 Musicbox – Eye, eye off they go!
SPIRAL Eye are launching a major national tour in the New Year.
The band, fresh from a series of triumphant shows with Wolfsbane, have set up concerts in places as diverse as Huddersfield and Newport.
The Spirallers, who have just released their 'Uncertainty' demo, kick off their tour with a show at the Opera On The Green, London on January 9 and they follow it with
Jan 11…Pisces, Telford
Jan 30…The Plough, London
Feb 1…TBA Newport, Gwent
Feb 11…Tamworth Arts Centre
Feb 12…Barrel Organ, Birmingham
Feb 13…Angel, Bradford
Feb 15…Huddersfield
Feb 17…Railway, Coalville
Feb 19…New Arms, Retford
Feb 21…Wombwell, Main
Feb 22…Newcastle Under Lyme
Feb 23…York Tavern, Bridgend
More dates are expected to be announced and for more details on these, plus news of a coach to the London gig in Jan 30 – watch this space.
Tamworth Herald- 19/01/90
Musicbox - Art for Arts sake!
Tamworth- Arts Centre this weekend stages three cracking fund-raising concerts with some of the biggest names on the local scene.

Catch 23, Kraze, Fetch Eddie, Spiral Eye and a 'Euphoria' rave are just a few of the delightful events planned to raise money for the centre this week and it promises to have all the feel and fun of a festival.

All three shows are designated to help finance the various improvements at the Arts Centre in recent months and all the bands have offered their services free of charge.

Six great bands will be playing over Saturday and Sunday- Spiral Eye, The First Conspiracy, Kraze, Fetch Eddie, The Big Noise and Catch 23 - but the whole thing kicks off tonight (Friday) with a Euphoria rave. Here is what is happening when, starting with a preview of the Euphoria gig by Ms. Jo Marsh…

Tonight (Friday) Euphoria Dance Event
'Euphoria' does its humble bit for stage salvation tonight by holding the second of many happenings. The previous December event was considered an astonishing success by the organisers, if only for the realised vision of a strobe flickering Arts Centre jammed solid with sweat-soaked dancers. The very few murmurings of discontent received on the night have been accounted for and thus the musical cross section covered will be broader than before, catering for the more discerning (i.e. whinging) 'Indie Fan', although dance is still the key word of the night. The message is clear: 'do the magic boogie till we all black out.' The rave is on! (7.45-Midnight, cost £1.50)

Saturday Night - Spiral Eye/ Fetch Eddie/ Big Noise
In real 'Festival' style, a very diverse trio indeed. The Spiral Eye boys are currently on a major national tour, picking up friends as they go with their rambling psychedelic rockslog and they will no doubt receive a big welcome from their hometown crowd. Fetch Eddie have also been away from these shores for a some time and will also be welcomed back with open arms by their Tamworth followers while The Big Noise make a bravely early return to the Arts Centre considering recent events! All told however it makes for a cracking three band line up and one which is likely to bring in a big Saturday night crowd.

Sunday Night - Catch 23/ Kraze/The First Conspiracy
Another splendid and highly varied line up comprising everything from pure metal to pure pop. At the metal end of the spectrum we have Kraze who deserve enormous credit for putting this whole Arts Centre fundraising event together. Kraze will continue to pull the crowds in with great regularity as do Catch 23 of course who will be looking for a celebratory concert for winning the MUSICBOX Band Of The Year accolade. Completing another spiffing line up are The First Conspiracy, a group who will use this important show as a major comeback gig after a recent line up change. They have been much missed and their re-appearance is just one more reason why you shouldn't miss Sunday's bash.

So there you have it, three good nights with, I am certain you will agree, something for just about everyone. All the funds raised will go towards the Arts Centre and as all the bands have volunteered to help and shown their concern for the place, surely YOU can do the same by getting along on one, two or three of the nights. It costs £1.50 on each occasion and starts 7.45-8 pm Friday, Saturday and Sunday.

The weekend starts (and ends) at the Tamworth Arts Centre. Are you ready for it?
Tamworth Herald- 19/01/90
Musicbox – Snips
Spiral Eye have a major London concert on Tuesday – and they are taking a coachload of supporters with them. There is still time (just) to reserve your seat on the bus so if you are interested why not ring Roger.
Spiral Eye/Vindaloo Breakfast/Atom Seed/Banned In Yellow/Motorcycle Boy
Lincolns/Arts Centre

All five bands were brilliant, marvellous, excellent, triumphant and fab. Both venues were superb, packed and full of joy. How do I know? Well, I don't. You see like most of you I was suffering a terrible dilemma about which venue to go to and which gig to see and then something tremendous intervened to make up my mind- ILLNESS! yes, while you were bopping in either aisle I was sitting in bed watching Mike Tyson suffering from something that could have been caused by a 'vindaloo breakfast'. I am now hoping that some kind souls out there will tell me how both gigs went but this is further proof (if it was needed) that having two good gigs on the same night to choose from makes you ILL!!!!!

'Non-review' by Sam Holliday
Tamworth Herald – 27/04/90
Musicbox – It's Eyes Down
Dateline: Friday April 27. Venue: Tamworth Arts Centre. Bands – Spiral Eye/Nutmeg/Sherbert Trees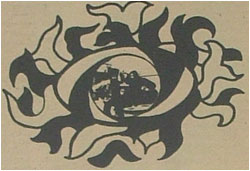 THOSE loveable chappies from Spiral Eye hit home base tonight (Friday) when they spearhead a three band show at Tamworth Arts Centre.
The Spirallers will be enjoying their own version of 'Friday Night Live' alongside the tasteful Sherbert Trees and highly regarded psychedelic crooners Nutmeg.
It is a show which promises a lot and judging by the endearing popularity of Spiral Eye it should break the usual sequence of disappointing Friday night audiences.
Headlining the night will be the Spiral boys who are in Tamworth action for the first time for several months. The band who have been travelling around Britain playing a series of impressive shows are looking forward to coming home and showing loyal local followers some of the tricks they have picked up en route.
"We are trying to cram as many gigs in as possible at the moment but we like to come back to Tamworth every so often and play a show like this," explained singer Baz. "We are particularly pleased this time to have not only the Sherbert Trees with us but also Nutmeg who really are a happening band."
The Spirals have started to attract good attention throughout the UK having earned fanzine interest in the South and also being hyped as a heavy metal sensation in Barnsley! They are now keeping a particular eye on the London scene and they are hoping that their frequent trips to the Capital will result in some much needed national press interest.
"We are looking very hard to contact people in London and it is starting to pay off although we can't say too much at the moment," said Jim.
Teaming up with the MUSICBOX faves will be the Sherbert Trees a band who have the unlikely distinction of being one of Rikk Quay's favourite groups. The Sherbert Trees are one of the few groups in the area that genuinely deserve the term 'unique' and all we can advise is if you want to see what they're like you are going to have to get along on the night. Let's just say they suit the bill perfectly and are always interesting.
Completing tonight's show are Nutmeg who hail from Cambridge. Spiral Eye met them at a concert in London and were absolutely wowed by them. They play classic late Sixties style thrash psychedelia and they have already attracted some of the national attention that Spiral Eye crave.
"They are an excellent band and I am sure they will go down very well," said Baz.
It sounds like a fine night of entertainment and if you can break your normal 'I am not going out on a Friday night' philosophy, methinks you are going to enjoy this one'. Entry fee is a ludicrously cheap £2.
Sherbert Trees/Nutmeg/Spiral Eye – Tamworth Arts
Sadly the BOX never made it to this gig but we received this most curious of reviews which was written on a brown paper bag. It said simply…
'The Sherbert Trees – Where's Christian? Nutmeg – Spiral Eye, Spiral Eye, Spiral Eye, Spiral Eye – WOW!
Harold and Hilda
Tamworth Herald – 11/05/90
Musicbox – More local reviews
Spiral Eye/Nutmeg/Sherbert Trees – Tamworth Arts Centre
Sherbert Trees: They had a good sound and were enjoyed by the large crowd that turned up. Nutmeg: They gave a very good performance with strong exciting songs with good guitar work and powerful vocals. They kept the crowd interested and I think many others in the crowd share my opinion when I say they would be very, very welcome back at the Arts Centre. Spiral Eye: They gave a full performance with a good mixture of old and new songs and I am sure the new tunes will become as popular as the old classics. Overall: One of the better nights at the Arts Centre and well worth the £2 entry fee.
Goldie
Tamworth Herald – 15/06/90
Musicbox – Mean night out in July
THREE of the area's best bands are joining forces for the Second Tamworth London Showcase in July.
The first London Showcase featuring Catch 23, Banned in Yellow and The New Puritans ranks as the best gig of the year to date and this second one on July 1 promises to be equally exciting,
This time Banned in Yellow will be joined by Spiral Eye and Rhythm Damage in a show full of quality and variety. The Spirals already have a base in London but one of the nicest things about this show is that after more than ten years in the local music business, Uncle Rikk Quay will be making his London debut. A very good reason to get along indeed.
It takes place on Sunday July 1 and tickets including coach and admission are a flat £5. The buses will run from the Assembly Rooms and possibly Atherstone and you MUST book in advance by contacting either Rikk at the Tavern, Neil at The Rathole, Lee at Notes or the Spirals probably at Hamlets.
Tamworth Herald – 22/06/90
Musicbox – SNIPS
Don't forget July 1 sees three of the area's best bands – Banned in Yellow, Spiral Eye and Rhythm Damage in action at the Mean Fiddler in London. Special coaches have been booked and to ensure you have a got a place on one of them contact either Neil at Nightmoves, Rikk at the Tavern or any of the Spiral men at Hamlets.

Tamworth Herald – 29/06/90
Musicbox – 'London calling to the faraway Town'
THREE of Tamworth's best bands combine their multi-faceted talents in London on Sunday night for a special Mean Fiddler bonanza.
Banned in Yellow, Rhythm Damage and Spiral Eye are the three bands who will be in live action on another night which is certain to help promote the good name of Tamworth in the capital of British music.
Last time a 'Tamworth Showcase' was staged at the Mean fiddler, Catch 23, Banned in Yellow and The New Puritans brought the house down with a classic combined show and there is every indication that Sunday's Capital-bash will be just as tasty.
This one has been put together by the Banned in Yellow who are confident they have produced a varied and exciting line-up.
Spiral Eye look set to headline the whole spectacular. These electrically-charged modern rocksters have been playing around the country with regularity and gaining good notices wherever they go. The simple reason for this is that quite simply they are brilliant and are almost as good as a Paul Gascoigne cross, a Des Walker tackle or a Stuart Pearce free-kick. (Yes, I've got World Cup fever too…)
Equally tasty are the two bands that will provide the powerful platform for the Eye boys. Rhythm Damage have played but a handful of concerts but have already established a formidable reputation. Their appeal lies in their originality, their brash and uncompromising stance and their love of the peculiar. There is a chance that Sunday's show will enjoy the added appeal of an appearance by rappers Suicide Petch and The Juice MCs in a sparkling combination of rap and rasp.
Competing a strike force almost as lethal as Platt, Lineker and Waddle (sorry, slipped again!!) will be Banned In Yellow. This show will be particularly poignant for the group because it was at the Fiddler last time where they really seemed to have come of age. There had been dark hints for some time that they had made a dramatic bid for world stardom and their Fiddler bash earlier this year proved that all the rumours were true. They were spellbinding that night and with the same wicked sound system and same enthusiastic support on Sunday they should be wicked again.
Quite a collection of talent I am sure you will agree. If you fancy getting along, tickets and coach details should be available from Neil at Lincolns, Rikk at the Tavern or any of the members of any of the bands involved.
It should be a great night out and it's about time that London experiences some REAL culture.
Tamworth Herald – 10/08/90
Musicbox – Gig bonanza!
Tamworth turns into a 'four gig' Town again this week with two contrasting Sunday night shows, a Wednesday night Chequers gig and then a remarkable six band local event on Thursday night.
THURSDAY
The Rathole – Spiral Eye/The Yogots/Bash Out The Odd/ Vindaloo Breakfast/ Sherbert Trees/Shakespeare Monkeys
Not to much needs to be said about the three 'star acts' Spiral Eye and Bash Out The Odd were two of the best four bands at the Festival and they are bands that seem to get better and better all the time. The Yogots missed out on the Fest but made up for it with a killer show with the Senseless Things last week and the noise around them is quite deafening. Of the newer bands, Vindaloo Breakfast are the MUSICBOX hit of the year combining old-time power with new-time realism while the Sherbert Trees (in spite of a rather iffy Festival show) have all the charisma and style to be one of the foremost members of the new wave of Tamworth music. And the Shakespeare Monkeys? Promoter Gibbo takes up their story…'they played at their debut with confidence and self belief which generated great excitement. They are a creative band with lots of 'unusual ideas'. A good combination of qualities that, and one which could help propel the band upwards and onwards. Six bands in all then and each one of them having their own following which should ensure that this is one of the best attended Tamworth gigs of the year. It's a Thursday night, it's a most reasonable £2.00 and it is pretty strictly timed with the first band on at 8 and the final act (Spiral Eye) hitting the stage at 11.30. Enjoy yourself.
Tamworth Herald – 24/08/90
Musicbox – Fine bash from six of the best
Rathole Review
Shakespeare's Monkey/Sherbert Trees/Bash Out The Odd/Vindaloo Breakfast/The Yogots/Spiral Eye – Thursday
Helluva night this. With a mighty six bands on offer it could easily have disintegrated into an over-long and under-satisfying parade of the undistinguishable but remarkably everything went delightfully smoothly. Six bands of kindred spirit (and surprisingly kindred sound) combined to provide a real barnstormer of a gig for a huge audience that was positively-spilling out of the door. The mini-festival nature of the gig was matched by the mini-festival size of the crowd and the major-festival attitude of all competing. It was well arranged, well staged and well pleasing and it's epic finale (Spiral Eye at around 12.15am) there was still a huge amount of people there lapping up every one of Barry Fox's blood-curdling screams. It all began some four hours earlier with Shakespeare's Monkey. This was my first viewing of the Hamleteers and I came out of it feeling they are a very bright prospect indeed. They boast a very strange collection of influences – and a host of contrasting and occasionally conflicting directions – but wrap them all up in a sound that is overtly entertaining and surprisingly professional. A number of songs caught the eye (or should that be the ear?) but one of them stood out like a tank in a greenhouse – a little gem of a tune called (I think!) 'You're So Bizzare'. A fine way to start the night. Second on the bill was the Sherbert Trees who completely blew away their rather disappointing Festival show. They are certainly one of the most creative, unusual and deliberately uncomfortable bands in the area, resembling something like the early days of Spiral Eye/Thirteenth Reunion or a more psychedelic version of the Damage Boys. With keyboards doing their own thing, Ian Curtis vocals haunting every melody and guitars going off at wonderful tandems, it is a sound that isn't to everyone's taste but is not actually designed to so be. It got a little bit self-indulgent towards the end to be honest but such imaginative ideas should be encouraged rather than doubted. Bash Out The Odd bravely took to the stage next. I say bravely because all but two or three of the members of the band were missing through various reasons and it took a lot of guile for those remaining to not let down their many supporters on the night. As it was, the sparse sound actually helped in a way to show the sheer depth and strength of the band's melodies and the sudden and unexpected appearance of the brass crew for the last number made for a rousing end to a generally uplifting 20 minutes or so. Vindaloo Breakfast hit the stage next and immediately – and angrily – stated their claim to be THE band of the night. There is a raw and uncompromising edge to the band's sound these days and I love the way they attack their instruments as if they want blood out of them. The effect of that is to produce a sound packed with spirit and not inconsiderable venom – a sound today's wishy washy pop world needs more than it knows. And so to The Yogots a band who clearly have local audiences eating out of their hands these days. They received their usual adoring reaction but in truth this wasn't the best Yogots show I have seen. The band looked to be a little less buoyant and 'good blokey' than usual and that onstage lack of 'fun' reflected in their sound. In spite of that there were occasional glimpses as to what makes them so precious – a wicked version of 'She's Gone' and an admirable 'Mr. Rainbow' for example – and if a band can be this good on an off-night one can only realise how GREAT they can be at other times. Spiral Eye concluded the night in real style. They play nowadays with the arrogance and commitment of a band who know they have got something special and want all the world to share in it. Musically they are getting more and more difficult to accurately define but I do suspect that they are moving a little more into the mainstream in their old age. Every song has it's own fresh and original direction and best of all was a track which I think goes by the grandiose title of '4 x 12 Groove Machine' which was simply gorgeous. It all climaxed with a quite stunning three-track encore which had people bouncing around with unashamed glee. It was a nice final sight to take back home with me and it is one that has stayed in my rather hung-over mind as I sit and bash this out the morning after. Few gigs get people dancing and fewer still get people dancing to all the groups on offer. This did exactly that and as such was a night to treasure.
Sam Holliday
Tamworth Herald – 31/08/90
Musicbox – Yogs and Eye hit London
THURSDAY night is a big night for both Spiral Eye and The Yogots as the duo hit London for a double-header.
The gig at the Moy Club in Islington is being watched by a couple of very major record companies and it is hoped it will also be watched by a lot of local gig-goers as well. A special coach has been organised to ferry local fans to the gig and for an all-in price of £6 you can watch a very impressive looking concert.
The Moy Club is famous for its 70s connections and the way it proved a central part of the punk scene means it is clearly a respected venue which will do The Yogots and the Eye no harm whatsoever.
Tamworth Herald – 14/09/90
Musicbox – Gig Reviews
The Yogots/Spiral Eye – Hope and Anchor, London
THE last time I saw Tamworth have such a stranglehold on a London venue was when Graham Smith's red and white army took over Wembley Stadium some 16 months ago. Although then it took a replay for Tamworth to win, The Yogots and Spiral Eye scored a resounding victory in just one foul swoop.
First up were The Yogots, who huddled onto a stage so small that the Rathole must have felt like the Hummingbird in comparison. Yet this proved to be both theirs and Spiral Eye's advantage. The 'intimacy' of such a venue gave both bands the opportunity to really play upfront to an audience and those in the room that could be described as impartial locals, were treated to two powerfully sweaty sets, by two bands very much on song.
By the time The Yogots were through, the place was smoking, after Spiral Eye had put their trance on everyone, the Hope and Anchor was in need of a fire brigade. Hit stuff? You better believe it, London was burning.
The scene outside the venue afterwards, was more reminiscent of Church Street, Tamworth on a Thursday night, than a North London high street – everyone standing around, dripping with sweat, enjoying the cosmopolitan mixture of merry banter and wonderful after-gig chips.
Tamworth or London, both acts have proved themselves capable of delivering the goods anywhere. From small seeds etc, etc. Tonight the hope was well and truly anchored. The boys did good!
Mike Turner
Tamworth Herald – 28/09/90
Musicbox – Bash Out star in six-band bash
GIG OF the week in the area is the six-band bash at the Rathole on Thursday highlighting groups featured on the forthcoming Reptile Records LP.
The album, which also features Spiral Eye and The Yogots, was put together by The Rathole and Ian Gibbons's Magic Rear Outfit.
Headlining the special preview night are the ever-improving Vindaloo Breakfast, whose brand of listenable hardcore noise is drawing increasing praise.
Apart from Bash Out The Odd, the rest of the bill is made up of non-Tamworth bands.
Peter Tuesday, Crystal Injection and The Big Trip, all hail from Lichfield, while guests, The Lost Forest are an up and coming Birmingham-based band.
Ian Gibbons, of Magic Ear said: "As the LP includes bands from all over the area, the idea was to play a number of gigs around the place with some of the out-of-town bands, introducing them to other audiences and other audiences to them.
"Vindaloo Breakfast are strong contenders to established bands like Spiral Eye and The Yogots, so they got the headline slot. Bash Out The Odd are better than ever now, and at long last they seem to be delivering what everyone expected of them. It looks like being a really good night, I think people will be pleasantly surprised by what they see."
The show runs from 7.30pm – 1.00am and admission is a mere £2.50.
This Sunday there is a two-band line-up at the Rathole featuring Beef and Born Blind. Times are 7.30pm-10.30pm and admission is £2.
Tamworth Herald – 05/10/90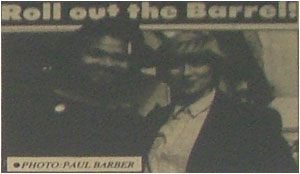 Musicbox – Roll out the Barrel!
SPIRAL EYE and The YOGOTS headline a showcase gig on Thursday, October 25. at The Barrell Organ, Birmingham.
The gig, organised by Reptile Records, whom both bands are signed to, will also feature stable-mates THE MONEYGODS from Lichfield and Birmingham outfit THE GIFT FACTION.
The Moneygods have recently released their 'All Roads Lead To Sedgley' single which apparently sold so well initially that it only just missed out on entering the Indie charts.
Both The Yogots and Spiral Eye have singles scheduled for release by the label early next year. Said a spokesman: "We believe in the old-fashioned way of promoting an act, treading the boards and raising awareness of the bands before the singles are launched. Both The Spirals and The Yogots are due to do a lot of live work out of the area between now and Christmas."
Baz, from Spiral Eye is enjoying the attention Reptile are giving the band. He said "It's really good. There's this little man at Reptile Records whose sole job it to run up a gigantic phone bill for us and The Yogots. Gigs, press, publishers, you name it, and he phones it. That gives us time to just concentrate on being a band."
A 53-seat coach has been hired to transport people to and from the Barrel Organ gig. Cost is £3, which includes admission. Tickets must be bought at least seven days prior to the date and as a packed coach is anticipated it's first come first served. Tickets can be obtained from Spiral Eye or Yogots HQ.
Tamworth Herald – 05/10/90

Musicbox – Spiral Silliness
Spiral Eye/Peter Tuesday/Big Trip/The Great Divide/Sherbert Trees/The Poppy Charmers/Crystal Injection – Lichfield Arts Centre
THE PICTURESQUE and tranquil city of the three sisters tends to bask in its memories of Georgian ways and heroes like Dr. Johnson, Garrick and Huxley, who are not only respectable, but also dead.
Last Wednesday, hard by the Bishop's Pool, Lichfield received its rudest shock since Cromwell's army besieged the city and all but demolished the cathedral in 1645.
Repitle Records took over the Arts Centre to launch its latest compilation of Indie pop groups and seven local bands drew the biggest audience of teenage fashion strutters in living memory.
Local heroes like Peter Tuesday and Big Trip rose to new heights in their quest to conquer the Midlands. The Great Divide played a mysterious and parallel set in the picture gallery while The Poppy Charmers and Crystal Injection did their stuff to a delighted audience in the main auditorium.
Less familiar to the trendy natives were Sherbert Trees on a marauding visit from Tamworth. "Who were they?" the kids scuttled around asking, "They were good!"
Spiral Eye on the other hand were on a marauding visit from another world. The audience had come to see their Lichfield favourites and probably had no idea who these hypnotic monsters were, but they watched with curiosity, then with enthusiasm, then with rapture. They joined the Spirals on another planet.
At the end of their set they played the usual encore but the audience demanded more. They played 'Uncertainty' which is their golden oldie and is usually no longer in their repertoire. But still the audience demanded more.
Rev. Dr. JC Feedback
Tamworth Herald – 12/10/90
Musicbox – See the Spirals squat to stardom!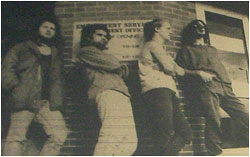 THERE'S still a few seats left on the coach trip to see SPIRAL EYE, THE YOGOTS and THE MONEYGODS at Birmingham Barrel Organ on Thursday, October 25. Tickets, which are £3, include admission and return coach travel, and are available from Spiral Eye or The Yogots.
THE YOGOTS have released details of a few more up and coming dates. As well as the above-mentioned Barrel Organ bash, Yogot-ites can catch them at The Hare & Hounds, Kings Heath on October 15, then at Leicester Poly (supporting The Fireflies) on the 27th and at the Golden Cross, Aston on November 2,
SPIRAL EYE will this weekend play a gig at a London squat allegedly in a police 'no-go' area. One agent who had expressed an interest in seeing the band live was invited to attend but when told of the venue replied 'no way!'.
Tamworth Herald – 19/10/90
Musicbox – Yes! Spirals Sign
DELIGHTED + last week signed a three-album deal with indie label Demi-Monde Records with distribution through Rough Trade.
The label who currently have the likes of GONG and HAWKWIND on their books in managed by former Hawkwind member, Dave Anderson, who the Spirals met last week to finalise details of the deal.
Spiral Eye's vocalist Baz Fox, said:
"It was a wicked buzz. Spiral Eye have been greatly influenced by Hawkwind which was probably why we felt so at ease with him. We've slept in ditches to watch Hawkwind live so it means a lot to us."
The Spirals first album is scheduled for release in March 1991, and recording will commence in November for six weeks at a studio in the Welsh hillside. Apparently the studio is so remote that the nearest human life is in a village six miles away.
Baz said: "We'll be living in two stone cottages next to the studio so if we want to record at three in the morning we can wake up the producer and do it. It's brilliant! One minute we're having to scrounge the petrol money to get to a gig and the next we're being put up in penthouse accommodation."
Recently the band's management Magic Ear, negotiated a one-ff single deal with Lichfield-based Reptile Records for Spiral Eye and The Yogots in an effort to get both bands up the next step of the ladder.
"Many people scoffed when Magic Ear did the deal with Reptile," said Baz. "They said it was a backward move for us because Reptile had no credibility. But it proved to be just the opposite for us. The whole idea of Reptile is to act as a stepping stone and we started to get a reaction from record companies and promoters almost straight away. People who hadn't wanted to know became more interested overnight simply because we had a single deal with another company. You wouldn't believe the difference that makes.
"Things have just moved so fast since we signed with Magic Ear. We were doing quite well under our own steam but they brought in that extra expertise and guidance that we'd been lacking. They did all the groundwork with Demi-Monde and I understand they were most impressed. Bayley from Wolfsbane spoke to them too on our behalf, which again helped, but a lot of really hard work has gone into all this and its paid off. They and Reptile certainly helped to start our ball rolling and hopefully the same will occur now for The Yogots."
Ian Gibbons of Magic Ear said "We believe it's a really good deal. Demi Monde are completely into what the Spirals are doing and I think they see them as being the band to take the label forward. They've got old-age hippy bands and new-age hippy bands and I think Spiral Eye will be the bridge between the two. The market for them is fantastic."
Baz agrees. He said; "Already there's talk of promotional dates in Italy and Germany. Apparently the label does really big business over there. Gong are absolutely huge across Europe and there's a big revival of their stuff here now. The only sad thing is that because of the recording we'll not be playing live much in the near future, so The Barrel Organ gig next week with The Yogots is probably the last thing we'll do for ages."
Mike Turner
Sam Holliday Footnote: Returning from my hols to discover this news brought a smile to my face as wide as Buttercup's girth. Spiral Eye have been one of the best reasons to breathe in Tamworth for eons and I for one can hardly wait to hear them hit vinyl. Wonderful news! Wonderful band!
Gig footnote: A 53-seat coach has been booked to take Spiral Eye and Yogots fans to the gig at The Barrel Organ, Birmingham on Thursday, October 25. Tickets are £3 which includes coach fee and admission to the gig. As a packed coach is anticipated anyone wishing to travel should book now.
Tamworth Herald – 09/11/90
Musicbox – Dance to the Tamworth Sound!
Tamworth's inevitable conquest of the musical world has taken another major step forward.
In recent weeks we have seen Wolfsbane play 20 sell-out concerts with Iron Maiden, Emma Gibbs earn national praise for their debut single, Spiral Eye grab a three-album deal and Atherstone's Catch 23 take an almighty step towards Gazza-size fame.
And now comes another boost. Last week's influential rock paper Sounds sent along respected hack Adrian Goldberg to watch Spiral Eye and The Yogots in action and returned with a report warning the world of the imminent Tamworth invasion. Mr. Goldberg said…
"Roll over Manchester, tell Seattle the news…Tamworth is back and tilting at pretenders to it's rock and roll crown. Already home of Wolfsbane, Saint Julian and Warlord Edwinn Starr, the Staffordshire groove garden has sprouted another healthy crop ripe for label plucking.'
Mr. Goldberg then went on to describe the Spiral Eye/Yogots and Moneygods show at the Barrel Organ last week and we are going to print some of his comment on these alongside other reviews of the same gig we have received from Lisa Roberts of the Lichfield Mercury and MUSICBOX correspondent 'J.C.F'. Here are a selection of their views on the three bands in question…
THE YOGOTS
Adrian Goldberg's View "A well-fried quintet of student dropout types. Dance-able and fanciable. These synth-swamped New Romantics have that rare enough combination of lovelorn innocence and instinctive pop nous to have the A&R men reaching for their cheque books".
Lisa Roberts' View "This band will be bigger than Cyril Smith's underpants. No, they weren't thick and creamy, they were nice 'n' natural and had the added tang to succeed in the wacky world of music. These guys proved they can hold their own."
J.C.F's View – "The Yogots are always good these days and the Birmingham audience is becoming used to their quality. One new fan compared them with early Duran Duran which may be good, may be bad."
THE MONEYGODS
Adrian Goldberg's View – "The Moneygods only play at coming from Tamworth but no matter they capture that crucial 'Tamworth Sound'. Hardcore lunacy renovating effortlessly the gone but not forgotten punk pathetique genre."
Lisa Roberts' View – "Definitely a live band these, they have to be seen to be believed'"
J.C.F.'s View – "They have their roots in '76 new wave explosion but unfortunately for them nobody has told them you don't have to be obnoxious anymore."
SPIRAL EYE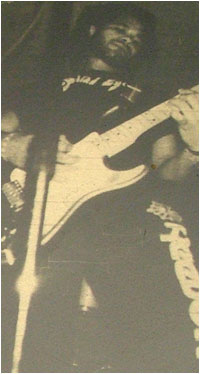 Adrian Goldberg's View – "Rampant funkaholics, schooled in the subtler arts of wah wah and mainlining on Led Zep, they hit the perfect 90s note of retro/revisionism."
Lisa Roberts' View – "I wasn't quite old enough to be caught up in the 70s music scene but the Spirals gave me a taste of what it might have been like – mellowing out round a candle with a group of scantily-clad psychedelics."
J.C.F.'s View – "Although the Spirals have their roots in the hippy drugs era of the Early 70s, they have a dance element that makes them as up to date as tomorrow."
Great praise I am sure you will agree and further proof that Tamworth is now in serious danger of having more credibility than it has had before. Wonderful.
Tamworth Herald – 21/12/90
Musicbox – Christmas Joy
WOLFSBANE and Spiral Eye, two of the most important bands in the proud history of the Tamworth music scene, play their special parties this week writes Sam Holliday.
Spiral fans can catch their heroes at the Arts Centre tonight while Wolfsbane fans have only until Thursday night to wait before their favourite Metalmen play their Christmas Chaos gig at the Rathole.
Both nights promise to be mouth-watering celebrations of the Christmas spirit and with Wolfsbane already looking like being a sell-out this looks set to be a major Yuletide highlight for the majority of those who regard leather and studs as more important than tinsel and trees.
Here is info on both shows starting with the Wolfsbane event – which has been the talk of the town for some time.
FRIDAY DEC 21 – The Arts Centre
Spiral Eye/Nutmeg
Deviant dance trippers Spiral Eye round off the year with a show on hole ground before heading off in 1991 to begin recording their debut album.
The Spirals will be showcasing new material to supplement their timeless classics and a lengthy set is assured as it will be the band's final hometown show for many moons.
Joining the Spirals are another bunch of new age hippies – Colchester's Nutmeg. The band who are generally regarded as being excellent – will be on tour in the States in January so this is a fine coupling. With the possible added attraction of other special guests this £2.50 gig is a snip and should set you up for Christmas perfectly.
Tamworth Herald – 04/01/91
Musicbox – Review in a nutshell
Spiral Eye – Arts Centre
Support act Nutmeg were so good, and so well received, that I thought there might be a danger of them upstaging headliners Spiral Eye. It didn't take long for the Spirals however to prove that they're only getting better and that the outcome of their forthcoming visit to the recording studio should really be something to look forward to in 1991. The set was a timely reminder of the brilliant collection of songs that Spiral Eye have produced and they didn't leave out any of their classic tracks. The night was a great way to kick off the seasonal celebrations and it meant a Merry Christmas and a Hippy New year for everyone.
Sean Atkins
---