The Macoys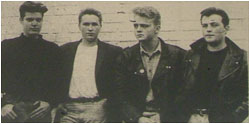 The Macoys
Photograph courtesy: Tamworth Herald
The Gallery
Formed: 1988
Musical Genre/Type: Pop
Band Members:
Neil Jones
Dave Burgess
Julian Amos
Additional Members:
Samantha Law
Gigs:
12/08/08
Scum Ball
Spiral Eye
Scream Dream
The First
The Macoys
Assembly Rooms
11/09/88
Space Seeds
Scream Dream
The Macoys
Tamworth Arts Centre
Tamworth Herald - 12/08/88
Musicbox – Party time once again!
FOUR top local bands line-up at the Assembly Rooms tonight for what is being billed as a major indoor festival.
The concert billed as 'The £1.50 Festival" is seen as being the Scum Ball 2 as it is once again being spearheaded by Hamlets stablemates Spiral Eye and Scream Dream.
Joining this talented duo tonight (Friday) will be two bands much newer to Tamworth eyes. The one, The First, have made major headway into the Midlands rock scene since their last appearance in the Town while for the other, 'The Macoys' this is a debut concert and one which promises a great deal.
Tonight's show, which comes just a few months after the original Scum Ball event is seen as further establishing the Assembly Rooms as a major venue in the Town.. The last time the Scream Dream and Spiral Eye entourage took over the Assembly Rooms the audience clearly appreciated the chance of venue and many people expressed the wish that gigs quickly returned to the centre.
Tonight's four band indoor festival offers the listener a very wide range of sounds. Clearly the double-edged appeal of Spiral Eye and Scream Dream will prove to be the gig's biggest selling point with both bands currently holding a very high prestige in local favours.
Scream Dream, who many people told me played their best ever concert alongside the Wolfies last week, clearly enjoy the expanse and epic nature of the wider stages and bigger concerts and they will keenly await the chance to pass on their 'obsessions' to the Assembly Rooms audience. Even since they won the Battle of the Bands the group have been developing at a pleasing rate and should use tonight's wide arena to prove just how far they have come in their short history.
Another band keen to reinforce their fast growing reputation is Spiral Eye. Thus unique and dramatic band were loved by just about everybody at the Castle Grounds festival and for those who enjoyed that, there are plenty more treats from the group when they take their mysticism indoors. It is a mixture of strange sounds, strange lighting and strange effects and the atmosphere created is chillingly different.
Less well-known to more recent Tamworth followers are The First who also joing tonight's line-up. They made quite a name for themselves around 18 months ago when they were regular visitors to the Rathole and The Arts Centre. Then, their grandiose stadium rock gave them an immediate and committed following and although I cannot vouch for their current status, if the band have developed and improved on that they should be intensely watchable this evening.
Completing a stylish line-up are the newest of the groups – The Macoys. This is a new combination of old talents. Those who remember Love One Board, orange or the Great Express will remember the members of this group although the sound is far removed from all three. It is once again pop music with an edge and it comprises the distinguished talents of the likes of Neil Jones, Dave Burgess and Julian Amos. The group have already recorded one tape (reviewed here shortly) but this will be their first major public performance. It is hardly the smallest show in which to make your debut but between them this band probably has more experience than most of the other musicians on view put together so nerves shouldn't prey too much on their ability. Definitely a band who will command much interest because if the previous ability shown by the people involved is repeated once again we are all in for a treat.
So there are the four bands. Scream Dream, Spiral Eye, The Macoys and The First. It all begins at around 8pm and as I am not sure of the line-up you will have to make sure you get their early enough not to miss your favourites.
As the concert is called the £1.50 Festival it shouldn't take too much thinking to work out how much it costs to get into the Assembly Rooms and as I know for a fact exactly how much overheads at the Assembly Rooms run to it must be stressed that this is tremendous value for money.
Get along tonight and fill the place to capacity and who knows the Assembly Rooms might start to become a major force on the local music scene again for the first time since messrs McCartney and Lennon played there.
Tamworth Herald - 19/08/88
Musicbox – Back with anger
The Macoys – Tamworth Assembly Rooms
The strongest Orange Juice I've ever tasted. I seriously expected Orange Mark 2 and I was seriously right – although there was a significant shock. What we have here is a far more aggressive version of the former pips, a band with a growl behind the melody and a surprising line in power. Much of this was provided by the obscured drummer Dave Burgess who gave some serious stick to his drums and held the sound together with considerable talent. Elsewhere there were some neat touches in the songwriting department, some reassuring onstage confidence and a marvellous final track the title of which I did not catch. Certainly a band who need to be seen again (possibly in a smaller, more intimate venue) and a most encouraging debut.
Tamworth Herald - 09/09/88
Musicbox – Spreading the Seeds of hope
THE Space Seeds make their eagerly-awaited debut on Sunday night when they spearhead an exciting Arts Centre show.
Space Seeds will team up with fellow new boys The Macoys and the now legendary Spiral Eye for a triple bill which promises to produce a packed Arts Centre.
Spiral Eye and The Macoys are certain to draw a lot of support under their own steam but clearly most of the attention and curiosity will be focused on the Space Seeds.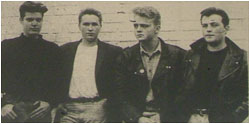 The group originally formed by former Great Express mastermind Mark Mortimer, has blossomed into a seven-piece combo packed full of musical experience. Mark, who is extremely experienced himself by now, admits it had been a revelation to work with top quality professional or semi-professional musicians.
"I have learned so much it's been like taking an O'level in music," he said, "Its been a real pleasure to work with musicians of this calibre and it has been an exciting period for us all."
The fellow Space Seeds are Matin Kelly, Mark Brindley, Stu Pickett, Alan Hodgetts, mark Allison and Martin Cooper who between them play guitars, keyboards, brass and rhythm. And what sort of sound do they produce? For once Mark is not able to make a direct answer.
"It's just impossible to label it," he said. "It is by a mile the most commercial music I have even been involved in, but it certainly is not throw-away pop music," he said.
"Tamworth bands at the moment seem to fit loosely into either the rock or the alternative camps and we are not either of those," he mused. "There are elements of both in our sound but we have no natural market which is why it will be interesting to see people's reactions."
The band will be parading a set of around 45 minutes including classic songs like 'Autumn Girl' and all apart from former Great Express number 'Black Flower' will be new to local gig-goers.
Whatever happens on the night one thing is certain – Mark Mortimer's previous outfits (including the Dream factory and The Great Express) have had a profound impact on the local scene. I suspect this new connotation could even be his best yet.
Another relatively new outfit who will grace the Arts Centre stage on Sunday are The Macoys. Rather like Mark Mortimer, the Macoy members have a long and proud local tradition in bands and have consistently turned up in strong, powerful pop bands. This new one combines the best of their old influences with a tougher new modern edge that gives a real bite to their pop base. This will be their first Arts Centre showing and once again I suspect it could be a concert of some note. They are keen to make their mark as soon as possible and in front of such a potentially big crowd. Sunday night might be the ideal time to get their success story started.
Finally Sunday night throws the (reaches for the Thesaurus) mesmerising, bewitching, mystic manifestation that is Spiral Eye. The band who are NEVER going to be an easy proposition to discuss or describe have become a legend in their own purple haze and should provide a glittering edge to the whole show.
So, three of 1988's most interesting acts on one unique line-up. It promises a great deal and will almost certainly deliver such.
Can you afford to miss it? Of course not so get yourself down to the Arts Centre on Sunday night and see the Seeds start their exciting growth.
The Macoys – Tamworth Arts Centre
No complaints about these whatsoever. This impressive show far outranked their already useful Assembly Rooms debut and shows that we have here a punchy, relevant and dramatically effective new band. The Macoys are an attractively arrogant pop band whose music (uncharacteristically in a lot of modern pop) seems to revolve around driving guitars rather than gentle ones. There is a real twist in the pop-tale, a bittersweet, repressed anger just bursting to spill out of a collection of very thoughtful and cleverly constructed songs. Mid-song meanderings are kept to an absolute minimum so I don't have and titles to recommend but it struck me that there was a remarkable consistency to the quality of the material. The opening song was corker and the pressure never let up until the equally impressive final track. I am glad that the talents of people like Neil Jones have at last been harnassed and glad also that some of the more lighter touches have been replaced by a refreshingly powerful outlook to the sound. As I say, I have no grumbles whatsoever about this band, they are clearly a group of some ability who need nothing more than self-belief and absolute determination to carry their sound to a much wider audience. Good name too I think.
SAM HOLLIDAY
Tamworth Herald - 14/10/88
Musicbox – Demo Selection
The might of The Macoys
The Macoys – Sugar Tears
Some kind of fun this. A tremendous three-tracker which has been lying in my bedroom for so long the band have probably released sixteen albums, split up and had their lead singer assassinated since they recorded it. BIT! However late I am I still must go on the record and say that this is quite one of the fabbest tapes in my local demo collection which now runs into hundreds. It is a real punch0driven piece of power which quite belies the past of those involved and offers very encouraging signs for the future. Best of the bunch is the corking 'Thunder Town' a clear, concise strong pop song which like the other two tracks contained herewith owes more to late Seventies new wave than early eighties post Industrial-modernist pop. Elsewhere the tape includes some marvellous rhythm playing (Dave Burgess is a hell of a drummer) and some sizzling guitar work, Great band, great tape.
Tamworth Herald - 02/12/88
Musicbox – SNIPS
The very, very very famous Samantha Law has at last found a band to join. The world's most persistent singer has teamed up with the rejuvenated Macoys.
---