The First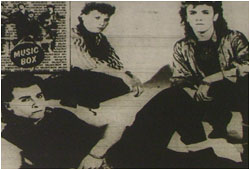 Caption: The First…not just a trio of pretty faces
Musical Genre/Type: Pop
Formed: 1986
Band Members:
Mark Betts - Bass Guitar
Mark Gemini - Guitar
Richard Deane - Drums
Paul Edwards - Vocals
Gigs:
09/02/86
One On One
The Australians
Catch 22
The First
Battle of the Bands
Tamworth Arts Centre
11/04/86
Depth Charge
The First
Tamworth Arts Centre
19/10/86
Catch 23
Attica
The First
The Rathole
30/11/86
The Weeping Mescherschmitts
The First
The Rathole
08/05/87
The First
World Intelligence Network
Tamworth Arts Centre
12/08/08
Scum Ball
Spiral Eye
Scream Dream
The First
The Macoys
Assembly Rooms
Tamworth Herald – 07/02/86
Musicbox – New faces set to turn on the heat…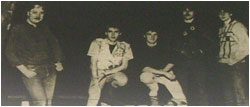 THREE groups new to the Tamworth scene burst into action this weekend in the second exciting heat of the 'Battle of the Bands' contest.
Two alternative-influenced acts, The Australians and Catch 22, open the show and they are also joined on this virtual 'New Faces' bill, by a relatively unheard outfit, The First.
Sandwiched between these three newcomers is a band who are a little more familiar – the popular One On One, who are making their first Tamworth Arts Centre appearance for some time.
Put it all together, and you have a fascinating four-band heat, which should prove to be an excellent concert in its own right, and one that will probably bring a lot of pop-punters out on Sunday night.
First up will be The Australians, a band who unfortunately are as new to me as they are to you, making them something of an unknown quantity. I understand they hail from the Atherstone area (which is becoming increasingly productive I am pleased to say) and it seems they play a cocktail of Everything But The Girl and The Cocteau Twins.
They should set the concert off to an intriguing start and the interest will be maintained by another new band, Catch 22 who will play second.
Catch 22 are a very young band who make up for their lack of experience with a refreshing burst of enthusiasm and ambition. They play music which seems to have its heart in that wonderful Jam/SLF time of life and member Ray Clenshaw describes the whole sound as 'aggressive but with a lot of melody'.
The band, who recently played a successful gig at Atherstone School, are very keen to take part in the contest and to introduce themselves to the local scene, and they will come under close scrutiny on the night.
By virtue of their experience and proven track record, the third band up, One On One, start as hot favourites to win the heat and break through to the February 28 final.
The five-piece band have grown steadily more mature and confident over the years and their intelligent songs and exemplary musicianship has won them admirers across the whole spectrum of the local music scene.
When I spoke to bassist Andrew Malkin he told me the band were moving into a new phase with their songwriting and performance so it is possible we may see a new look One On One on the night.
Candy Floss
Also with a new look will be the band who will close the show, The First. They have emerged out of the Tribal Sweatshirts, Richard Deane's band, and if they are anything like The Sweatshirts they should sound just as professional as the group that precedes them.
The sound the Sweatshirts produced was commercial pop - without the candy floss – and if The First maintain that tradition, they could prove a difficult outfit to beat.
So once again it looks like being a good night at the Arts Centre on Sunday. Four potentially very interesting bands all chasing the same prize – a place in the February 28 Battle of the Bands final which hopefully will be judged by soul singer Edwin Starr.
The gig starts at 7.45 – and is free – so support the Young People's Arts Festival, support the four bands involved and have a great night out. It is even worth missing 'Spitting Image' for!
*Catch 22 have come in as late replacements for Dance Stance who are sadly unable to play as two members will be missing on the night. For those who are confused, The First were originally called The Drowning Pool. Judges on Sunday will be Paul Speare, Phil Smith and local music buff, Martin Webster.
Tamworth Herald – 14/02/86
Musicbox – A dazzling night of variety
Review
ONE ON ONE became the second band to book their place in the Battle of the Bands final on Sunday night, in a triumphant and very varied night of music.
All four of the bands turned in tremendous shows to leave a big headache for judges Paul Speare, Phil Smith and Martin Webster who could only choose one group to go forward. In the end, the sheer professionalism of One On One won them the concert.
First to take to the stage were The Australians who I discovered to my amazement had only been together a matter of weeks. Well it certainly didn't show. Their original material (which had shades of everything from The Who to Echo and the Bunnymen) had a deceptively light feel with occasionally arresting melodies. Guitarist and singer Chris Thomas was particularly impressive and when his voice combined with the harmonies of Toby Stafford the sound was quite intriguing. It was overall a fine mature set which showed a great deal of promise for the future.
Promise is also a word that cannot be understated…Catch 22
They did a spirited 'Alternative Ulster' but even that classic was outweighed by their own inventive and thoughtful originals which far belied their teenage years. Full marks to drummer Jason Notman who was simply magnificent and also a big pat on the back for the lead guitarist Dave Stevenson.
And so to One On One. Or not as the case may be. For when they hit the stage it was as if a new band had appeared. OK, so they still had that distinct One On One feel but they have added far more meat and commerciality to their sound which I found very exciting. The songs had greater strength and power – a touch of the old One On One in fact – and it was as if that change was certainly appreciated by a lot of people I spoke to afterwards. To say that musically they were outstanding is almost unnecessary these days, but just a word for bassist Andy Malkin and drummer Stuart Blaine who worked together brilliantly.
The First…between bass and guitar having a distinct U2 feel. In fact if I had to put The First into any camp it is possibly the U2 one as they play music which combines the rawness of rock with the more subtle edges of the post-punk sound. A neat, mature and potentially I think, a winning one.
So overall that word potential is the one that rings loud and clear from this eventful – and very well attended – concert. One On One proved that they are getting better and better and The Australians, Catch 22 and The First all won over a lot of new admirers. In terms of judges score every one rated very highly and as an indication of the strength of the line-up, each band had a score big enough to beat any of the equally impressive outfits from the first heat.
Tamworth Herald – 28/03/86
Musicbox – Talented, Commercial and it's The First…
The First – Demo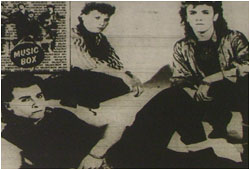 Caption: The First…not just a trio of pretty faces
FOR A BAND of such (relatively) young me, The First have a daunting and impressive pedigree. Vocalist Paul Edwards has appeared at the Reading Festival, guitarist Mark Gemini has been recording in Canada and drummer Richard Deane has appeared live on Radio One with our very own Freight Train.
They are all clearly individuals with talent and commitment – and when welded together into a group, that sense of professionalism and purpose is all too apparent.
Live, they only hint at their true potential – this tape goes much further revealing just what The First are really about.
The thing that strikes me most about the tape is its startling innovation and overriding sense of maturity and clearness of vision. The influences are all too obvious (U", INXS, Simple Minds) but as this is very much the style of the Eighties, it can only help rather than hinder The Firsts concerted aim to breakthrough.
Sweeping
The opening track is probably the most memorable initially. 'Shine' has Aussie-favourite INXS written all over it, was a sweeping dominant vocal and a chorus that just keeps growing.
It varies from post-Punk atmosphere to powerful rock than their live show suggests.
"Bittersweet" has a Mark Betts bassline that reminds me of The Cure "A Forest" and once again has the sort of Paul Edwards vocal that cannot fail to impress.
He is clearly a singer of exceptional talent and his breathy Bono-esque performance on "Walk The Line" is riveting.
"Walk The Line" is very much a dance number with a searing chorus line and some tremendous guitar playing from Mark Gemini whose sparse impressionism is quite dynamic.
Finishing the tape is the long, mesmerising "This Time Forever" a song that is haunting, undisciplined and very atmospheric. This is still U2 land to my ears, but it is the land occupied by the uncommercial "Unforgettable Fire" songs, rather than the more basic pop of "Boy".
In fact the whole thing about this tape is that it remains commercial and innovative without being self-indulgent. It is a very good tape indeed and the type record company losses are likely to lap. Remember where you read it First…
Tamworth Herald – 11/04/86
Musicbox – A buzz of gigs takes off and the choice is yours
THE LOCAL rock scene is set for its busiest weekend of the year so far with a whole host of bands playing impressive shows over the next three days.
The buzz of local activity is proof that after a slow start to the year, local bands have at last found their feet and are breathing fresh, optimistic air once again.
It means rock punters in the region have the chance to see bands as varied as the Dance Stance, Burnin' Sky and Depth Charge in a variety of gigs across the region.
Depth Charge and The First open the proceedings with an Arts Centre show tonight (Friday) and then on Saturday you can catch The Dance Stance at Polesworth Memorial Hall.
And to round off the weekend on Sunday night 'The Rathole' stages its second major show with Depth Charge, Spirit Lake and Burnin' Sky.
The healthy amount of concerts shows that the highly-successful 'Battle of the bands' event has put musicians back in the 'mood' for action as they begin the long build-up to the August Bank Holiday Festival.
One band who should figure prominently in the festival, Depth Charge, set the rocking weekend off to a powerful start when they team up with The First tonight. Depth Charge who have just released their first demo (To be reviewed shortly) play progressive, melodic rock that has won them many admirers at recent shows.
Unlucky
They were desperately unlucky not to win their 'Battle of the bands' heat and if they are half as good tonight as they were then, it should be a fine show.
Headlining the gig are The First – as you must have gathered by the billboard-size posters around the town – they are a perfect foil for Depth Charge, playing music that owes as much to modern 'epic' rock as the traditional rock base which is their roots. U2 and INXS comparisons abound, but don't go along expecting to hear 'I Will Follow'. The First are very definitely their own band.
Saturday night sees one of the most eagerly-awaited shows of the year so far when the legion of Dance Stance members bring a fresh, new set to their legion of fans at Polesworth Memorial Hall.
The band printed 150 tickets in advance and were pleasantly surprised to see them all snapped up, so with people playing on the door as well, there should be a packed audience to watch an intriguing show.
And so to Sunday, The Rathole opens its doors for the second week running hoping for another night to match last week's dazzling opening. Depth Charge will make their second appearance of the weekend alongside Burnin' Sky and progressive outfit Spirit Lake.
Sleaze
Burnin's Sky will bring a mixture of sleaze and blues rock to Tamworth's favourite 'hole' and for people who like an almost literal trip down memory lane, there should be much to appreciate in Spirit Lake's sound.
We must hope that they forget their lethal smoke bombs this time, otherwise people will swarm for the exits like rats leaving a smoking hole.
So a great weekend all round. Ticket prices obviously vary but if you take along about £1 for admission and arrive at about 8pm you should be safe at all the events.
Tamworth Herald – 17/10/86
Musicbox – Best of local bands
THE RATHOLE is set to stage another top local bands night on Sunday, with three of the area's most exciting young groups.
Although nothing was confirmed at the time of going to press, it was hoped to field Attica, Catch 23 and The First in what would be a powerful and very exciting night of entertainment.
Catch 23 are anxious to hit Tamworth again after their undoubted triumph at this year's Festival. They impressed virtually everyone with their dynamic, punchy set full of healthy, punk-ridden power.
First Class
Despite their relatively tender age, Catch 23 are often mentioned as rhe next big thing and they are certain to brighten up the evenings entertainment.
Hopefully also joining Catch 23 will be Attica and The First. Attica also have the luxury of a first class festival performance behind them and people of all musical persuasions have been converted by their stylish and stirring music.
They are three strong individuals who have com together to make one strong sound. It will make you tingle.
Favourite Act
Finally the Rathole will also welcome (for the first time) Richard Dean's outfit The First. They are a band who have received near adulation in Birmingham and have become 'Brum Beat's' favourite act. To those new to the band they play very commercial rock that veers in the U2 direction but stops short enough to be original. They also have the glamour and clout and should bring a touch of refined professionalism to the occasion.
So an exciting night is in prospect. It is impossible at this stage to confirm that this will be the final line-up, but whatever happens the Rathole – will be open and any combination of the three above bands will make it well worth the visit.
Tamworth Herald – 28/11/86
Musicbox - SNIPS
THE Rathole stages another fine double-header on Saturday night with hot-shots The First playing in support of top Birmingham indie band, The Weeping Mescherschmitts. The Weeping Ms are considered to be very hot property indeed and have recently created storms supporting the Mighty Lemon Drops around the Birmingham area. They are said to be the sort of band Smiths fans will love and have a general appeal which should ensure another good Saturday night turn-out at Tamworth's top venue. The First need little introduction other than to say they are four highly professional, highly talented individuals who look almost as stylish as they sound. Women will love them, and men will want to steal their lovely guitars. Enough said, just be there.
Tamworth Herald – 08/05/87
Musicbox – What a week!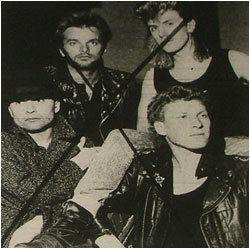 Caption: The First – stylish rock
IT PROMISES to be an amazing week on the local gig scene with Wolfsbane, The Surf Drums, The First and Ruffian on the Stairs all in action.
Tonight (Friday) The First make their 'first' Arts Centre appearance for some time when they will be joined by another band, who have not yet been confirmed.
Then on Sunday night, the Surf Drums come to the Rathole (Arts Centre) where they will team up with Lichfield popsters Ruffian on the Stairs. And finally, if you're feeling really adventurous don't forget that Wolfsbane are at the Marquee on Sunday night taking their mellow country and western sound to meet some appalling heavy metal twaddle known as Tiger Tiger. Whichever way you look at it, this is some week…
Kicking it all off tonight will be The First, a group whose spacy, well-crafted 'big' sound has already tickled the interest of several record companies. Their new demo perfectly illustrates their ability to write strong U2-style material with enough bite and class to leave many of their contemporaries flailing behind. The interest shown by record companies is no fluke, so if you want to see what all the fuss is about make your way to the Arts Centre tonight. They will be joined by a support band making it a double dose of decibel fun.
The, on Sunday night The Rathole takes over the Arts Centre again to welcome The Surf Drums and Ruffian on the Stairs. The Surfers have already played at Tamworth before but since then their punchy pop sound has increased its national profile by enormous strides.
They have been labelled 'the Psychy Psound of Psyxty Psyx' (NME), 'pure potency' (Melody Maker) and 'raw charm' (Sounds). Recent singles have also had amazing reviews: 'one of the best Indie records for years' (Melody Maker) 'excellent' (Music Week) and 'neat' (Sounds). I know 'neat' is hardly OTT but the general impression is that the music press big boys like this band a lot and you should too.
Ruffian who join The Surfers, play punchy soul music and also made a great impression on their last Tamworth show. A good night indeed.
Finally, MUSICBOX sends the best wishes to Wolfsbane as they hit they world-famous Marquee on Sunday night. This most famous of venues, which is as important to us punkologist historians as spitting, will welcome Wolfsbane (latin name Loudos Nastius) alongside Tiger Tiger (latin name Crassus Appallingus). It should be some night and in fact some weekend, so get set to party!)
STOP PRESS: The First will be joined by World Intelligence Network.
Tamworth Herald - 12/08/88
Musicbox – Party time once again!
FOUR top local bands line-up at the Assembly Rooms tonight for what is being billed as a major indoor festival.
The concert billed as 'The £1.50 Festival" is seen as being the Scum Ball 2 as it is once again being spearheaded by Hamlets stablemates Spiral Eye and Scream Dream.
Joining this talented duo tonight (Friday) will be two bands much newer to Tamworth eyes. The one, The First, have made major headway into the Midlands rock scene since their last appearance in the Town while for the other, 'The Macoys' this is a debut concert and one which promises a great deal.
Tonight's show, which comes just a few months after the original Scum Ball event is seen as further establishing the Assembly Rooms as a major venue in the Town.. The last time the Scream Dream and Spiral Eye entourage took over the Assembly Rooms the audience clearly appreciated the chance of venue and many people expressed the wish that gigs quickly returned to the centre.
Tonight's four band indoor festival offers the listener a very wide range of sounds. Clearly the double-edged appeal of Spiral Eye and Scream Dream will prove to be the gig's biggest selling point with both bands currently holding a very high prestige in local favours.
Scream Dream, who many people told me played their best ever concert alongside the Wolfies last week, clearly enjoy the expanse and epic nature of the wider stages and bigger concerts and they will keenly await the chance to pass on their 'obsessions' to the Assembly Rooms audience. Even since they won the Battle of the Bands the group have been developing at a pleasing rate and should use tonight's wide arena to prove just how far they have come in their short history.
Another band keen to reinforce their fast growing reputation is Spiral Eye. Thus unique and dramatic band were loved by just about everybody at the Castle Grounds festival and for those who enjoyed that, there are plenty more treats from the group when they take their mysticism indoors. It is a mixture of strange sounds, strange lighting and strange effects and the atmosphere created is chillingly different.
Less well-known to more recent Tamworth followers are The First who also joing tonight's line-up. They made quite a name for themselves around 18 months ago when they were regular visitors to the Rathole and The Arts Centre. Then, their grandiose stadium rock gave them an immediate and committed following and although I cannot vouch for their current status, if the band have developed and improved on that they should be intensely watchable this evening.
Completing a stylish line-up are the newest of the groups – The Macoys. This is a new combination of old talents. Those who remember Love One Board, orange or the Great Express will remember the members of this group although the sound is far removed from all three. It is once again pop music with an edge and it comprises the distinguished talents of the likes of Neil Jones, Dave Burgess and Julian Amos. The group have already recorded one tape (reviewed here shortly) but this will be their first major public performance. It is hardly the smallest show in which to make your debut but between them this band probably has more experience than most of the other musicians on view put together so nerves shouldn't prey too much on their ability. Definitely a band who will command much interest because if the previous ability shown by the people involved is repeated once again we are all in for a treat.
So there are the four bands. Scream Dream, Spiral Eye, The Macoys and The First. It all begins at around 8pm and as I am not sure of the line-up you will have to make sure you get their early enough not to miss your favourites.
As the concert is called the £1.50 Festival it shouldn't take too much thinking to work out how much it costs to get into the Assembly Rooms and as I know for a fact exactly how much overheads at the Assembly Rooms run to it must be stressed that this is tremendous value for money.
Get along tonight and fill the place to capacity and who knows the Assembly Rooms might start to become a major force on the local music scene again for the first time since messrs McCartney and Lennon played there.
Tamworth Herald - 19/08/88
Musicbox – Back with anger
The First – Tamworth Assembly Rooms
The biggest surprise of the evening. Last time my eyes feasted on The First they were a commercial pop-orientated rock band with a Simple Minds stamp firmly on each of their heads. Not any more. The band have added a wicked rocking streak to their sound and after initial uncertainty I rather appreciated the change. It all reminded me of a harder version of INXS, a sound with one foot in the pop-metal arena and the other in the pop-metal one. The sound was solid and punchy with the most dazzling onstage sight being the lead singer who had amazing presence and personality and clearly has a big future in the sex symbol stakes. An interesting change and as it is so different from the original First, I think the band should now, be called The Second.
SAM HOLLIDAY
---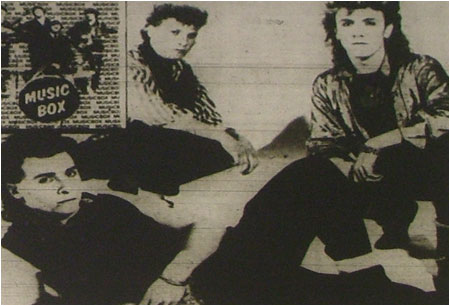 Caption: The First…not just a trio of pretty faces