Attica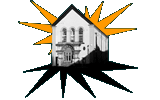 Musical Genre/Type: Goth
Formed: 1986
Band Members:
Pete Wright - Bass Guitar
Eddie Madden - Vocals
Jim Pighand - Drums
Gigs:
08/06/86
The Psycho Surgeons
Attica
The Rathole
17/08/86
Attica
Blood Relatives
The Rathole
24/08/86
Tamworth Rock Festival
Castle Grounds
Freefall
Attica
Shellshock
Soil Brothers
One On One
Kara
XPD
Catch 22
The Magnets
11/10/86
The Calling
Attica
Nuneaton
19/10/86
Catch 23
Attica
The First
The Rathole
26/10/86
Mutant Zombies
Attica
The Rathole
05/12/86
Breaking Point
Attica
The Rathole
03/01/87
Attica
The Psycho Surgeons
The Rathole
Tamworth Herald – 23/05/86
Musicbox – GOSSIPBOX
All tripped up with the new bands galore
CERTAIN countries, it seems are in the grips of 'baby booms' at the moment – Tamworth meanwhile is suffering from 'musicians boom'. You can't go to the toilet in the town now without tripping over a brand new band, all beginning their first tentative steps to world megastardom.
In the last few weeks alone we have heard of The Green Swings, Shellshock, Attica, XPD, Duel, Gargoyle Brothers, Break The Daisy Chain, Magic Carrots and so on and so on.
There are musicians everywhere all talking guitars and concerts and all displaying the sort of genuine enthusiasm…Long may it continue. But let's not forget the oldies but goldies.
Wolfsbane have been in touch to say that contrary to certain malicious gossip, they are still very much with us and as loud, glammy and determined as ever. They also point out that for their dress-rehearsal for 'The Dome' concert, they are expected to dress according to normal nightclub standards.
The problem is, they haven't got anything that could possibly be called 'nightclubby'.
Another oldies getting even older is Breaking Point whose excellent show at the Tavern last week showed that Kevin Briggs has been listening to rather a lot of Jimi Hendrix of later. Our Kevin went on his own magical mystery tour with his guitar, turning out some incredibly tense moments of neo-psychedelia that had many Tavernites in suspense. All very jolly.
Still on the Tavern, their legendary DJ Buttercup is playing a special charity soccer match on Sunday morning as goalkeeper.
Another exciting episode in the Rikk Quay story, is also underway. I am delighted to hear that his work with John Reeman is going very well indeed and their creation, XPD is on course to be an English cross between the B-52s and The Ramones. However, good they are though, I think we can do without that silly hat Mr. Quay.
Still on XPD, did you know that John Reeman once supported both Tears for Fears and The Thompson Twins when he was just a shallow youth?
Did you also know that the Classified Ads will be playing a special concert . There is just so much going on at the moment it is hard to catch your breath. I haven't been able to play my Marillion albums for AGES!
Tamworth Herald – 13/06/86
Musicbox – Big sounds and fine romantics
The Psycho-Surgeons/Attica – The Rathole
OK, the Surgeons were very good, very jolly and all that, but I would rather talk about Attica. For in just their first concert Pete, Eddie and Jim showed that they are going to be very good indeed. I didn't really know what to expect when they came on but what I certainly didn't anticipate was that the band would be as exciting and compelling as they turned out to be.
Despite being a trio they have one of the 'biggest' sounds around and their musical power frighteningly strong. Lyrically they are aiming very much to be 'heroic' with their themes, and ideals showing a larger than life romanticism that is quite inspiring.
A few people did say afterwards that they were very much New Model Armyish (the brilliant 'Martyrdom' reminded me of the little heard Army classic 'Betcha') but there is no denying they have a spirit, resilience and inner-strength all of their own. This is a band I must see again.
Tamworth Herald – 01/08/86
Musicbox – Gossipbox
Things certainly seem to have been happening in my absence with both XPD and One On One recording new demos. The XPD one really is something special and sounds to me like Sigue Mary Chain – in a disgustingly tuneful barrage of Noise. Great stuff.
Also planning to hit the studio soon are new Rock Festival recruits Attica who have lined up a pre-festival Rathole date and have also recently had a strange photo session on an unopened part of the M42. According to singer Eddie Madden, the whole thing was very eerie but if you are planning something similar, Musicbox has just one piece of advice – make sure the road you're being photographed on IS unopened!
Talking of photographs and things, someone told me recently that King recorded their video for 'Love and Pride' somewhere around the Kingsbury/Alvecote area. Anyone shed any light on that? It wouldn't be the first time we have been on video.
Anyone who has seen the Geno video (that's by Dexy's for the under 12's) will see that there is a split second shot of a bus going to Tamworth on it. Now that's real fame!
Still on fame, it seems That Drayton Bassett's premier citizen Julian Cope is lining up a short tour in the near future. If he's looking for any good low-key warm up dates, can I tactfully suggest The Rathole?
That really would be a justifiable reward for your passionate fans around here Mr. Cope.
Tamworth Herald – 01/08/86
Musicbox – SNIPS
Following the loss of Candle Dance and The Green Swings from the festival, Attica and The Pink Tomatoes have stepped in to take their place.
Tamworth Herald – 15/08/86
Musicbox – Countdown to a wild weekend
EXCITEMENT for this year's Tamworth Rock Festival is now reaching fever pitch.
With just one week and all the pre-festival problems cleared up, more than twenty bands are now putting the finishing touches to the sets they will be delivering over the four days of the festival fun.
Once again the festival has been divided into tow distinct halves – inside and outside. The inside will see two nights at the Arts Centre next Friday and Saturday, and then an alternative disco party at the Rathole on Bank Holiday Monday night. And once again the outside section will bring together 18 bands over Sunday and Monday all playing in the Tamworth Castle Grounds for free.
This is basically how the festival will look:
FRIDAY, AUGUST 22
Tamworth Arts Centre will play host to a triple bill of music headlined by metal favourites Wolfsbane. Joining them will be Shellshock and possibly Lichfield group Ivory. The final line-up should be announced next week.
SATURDAY, AUGUST 23
Breaking Point will headline the second festival party night at the Arts Centre with new alternative band Thirteenth Reunion in support. Another group will be added to the line-up this week.
SUNDAY, AUGUST 24
All attention switches to the Castle Grounds where once again the bands will play on front of the main tennis courts area. The festival starts at about 11.445 with a disco and the first band The Pink Tomatoes follow at 12.30. The rest of the line-up (who should follow at 35 minute intervals) is Attica, Shellshock, Soil Brothers, One On One, Kara, XPD, Catch 22 and finally The Magnets. It should all finish between 6.25 and 7pm.
MONDAY, AUGUST 25
Once again the disco starts the day off and leads into the first band Burnin' Sky who will be on stage at 12.30. They will then be followed by Beyond Elysium, Cuddly Spiders, Breaking Point, Dance Stance, Wolfsbane, Depth Charge, Orange and finally The Royal Family.
Then at about 8.30pm on Monday all attention switched to the Rathole for s special alternative disco party night with Paul Clements. The disco is designed as a post festival party for all the musicians to enjoy, but will be open to everyone to make for a late-night treat.
All in all it makes for the best festival line-up yet – and certainly the most varied. Metal, alternative, skiffle, pop, r 'n' b and many more styles are covered, so there really is something fro everyone. So forget what you may have heard elsewhere the festival is on and the spirit among the town's musicians is as good as ever. Cancel all your plans and get ready for four days of fun!
PS if anyone knows a cure for rain please give me a ring!
SAM HOLLIDAY
Tamworth Herald – 15/08/86
Musicbox – Rats Return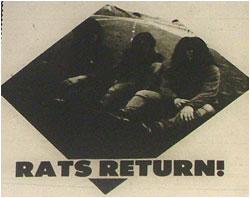 ATTICA make their eagerly-awaited 'Rathole' return on Sunday night – determined to prove that they are here to stay.
The trio are bursting with confidence for the future, and admit to being excited at the amount of interest people have shown in the band.
"We only played one short set at the 'Rathole' before but the reaction was so good that we are looking forward to doing even better this time," said lead singer Eddie Madden.
Attica came together after the well-publicised split of local favourites Terroa. With Batman becoming a valued member of The Dream Factory and guitarist John Reeman now having the time of his life in XPD, Eddie is convinced the split has turned out to be a blessing in disguise.
"…people liked Terroa and were sad when we split. But now we are all playing music we prefer to play and we are also better friends, so it was the best thing that could have happened," he said.
Bassist Peter Wright and Eddie both realised after the Terroa split that they wanted the same sort of things from music, and when they then found Jim Pighand as a drummer the jigsaw was complete.
"When we heard Jim had left The Cradle, Pete and I just looked at each other and thought the same thing. Jim fits in perfectly and as we get on so well we are staying as a three piece whatever happens," said Eddie.
The group are very please with the 'big' alternative sound they now produce – but they still have one albatross round their necks..
"We want to say that we are not like New Model Army and we do not try to sound like them. If people stopped and listened they would realise we are different from new Model," said Eddie.
"Supporting Attica on Sunday night (starts at around8.30pm) will be Nottingham-based alternative group Blood Relatives, who will be new to most people in the area.
Tamworth Herald – 22/08/86
Musicbox – Here's the fabulous festival line-up
TAMWORTH'S fourth annual Bank holiday rock festival blazes into action this weekend and promises to be the biggest and best the Town has ever seen.
Eighteen bands will take to the Castle Grounds stage on Sunday and Monday offering a varied and exciting package of local talent.
And, to give the festival the best possible start, Tamworth Arts Centre will tonight (Friday) and tomorrow stage two festival party nights featuring among others Wolfsbane, Breaking Point and a one-off show from Love On Board.
All in all it looks like being a festival to remember and here in full details is what is happening where and when.
Tonight
The festival starts with an Arts Centre triple bill featuring three bands from the heavier side of life. New boys Shellshock will join up with not-so-new boys Kara and positively-old boys Wolfsbane for a sparkling three band show. As with last years, the Arts Centre pre-festival nights are designed to be party-style events and everyone petting into the spirit (and spirits) of the weekend. It starts at 8pm costs 50p and should be excellent.
Saturday
ANOTHER enticing triple bill will especially interest people of an alternative (sic) persuasion. Breaking Point, who hope to have their debut single out this week, will headline the show and in support will be two unusual acts. First is 13th Reunion featuring the immortal Gerald on bass and second is Love On Board making a special one-off comeback gig to join in the party atmosphere. It adds up to a superb bill which marks the debut show for 13th Reunion, and once again is a meagre – nay, measly! – 50p
Sunday
AND SO to the main event. Two days of exciting, varied rock music in the Castle Grounds. Once again the stage will be set up in front of the tennis courts at the far end of the Castle Grounds, and as with the past couple of years, it will cost you nothing to watch. Here is a quick one-line description of all the bands on show and their (approximate) appearance times…
Heavy
Freefall (12.20) A Coventry heavy band (that's all I know!)
Attica (1.05) Powerful bass-driven combo who crimp their hair and slice their guitars.
Shellshock (1.40) Young lusty metal sound, who smile a lot.
Soil Brothers (2.15) Skiffle-style pop played with coconuts, cardboard and oodles of enthusiasm.
One On One (2.50) Nose-perfect rock music played by soon-to-be superstars.
Noise
Kara (3.25) loud Americanised noises played by local Anglicised noise-makers.
XPD (4.00) Stylish alternative pop music, which cab be summed up as 'ego-shock' rock.
Catch 23 (4.35) Pure-punk-period pop music with panache, power and passion.
The Magnets (5.10) Modern synthesised pop music played by modern synthesised pop people.
Monday
ONCE MORE the Castle Grounds plays host to nine more varied outfits who line up like this.
Burnin' Sky (12.30) Coleshill-based r 'n' b band who revel in the smoky, sleazy way of life.
Beyond Elysium (1.05) Dark sombre sounds with a modern appeal and feel.
Funky
Cuddly Spiders (1.40) Laid-back harmless flares rock.
Breaking Point (2.15) Passion-packed soaring, roaring rock music.
Dance Stance (2.50) Tight, funky nouveau-pop with a burning soul.
Wolfsbane (3.25) Gentle, middle of the road folk band made up of four charmingly polite young boys. A mud afternoon break from all this rock nonsense.
Depth Charge (4.00) Cuddly rock and roll pirates bursting with good times.
Orange (4.35) Deceptively light pop music with a telling edge. Bright, breezy, orangey.
The Royal Family (5.10) regal r 'n' b with guaranteed dance-ability and toe-tapping tendencies.
Tamworth Herald – 10/10/86
Musicbox – THE CALLING and ATTICA
The Town's two alternative outfits make the short journey up the A5 on Saturday for a double-header at Nuneaton. A coach is planned for followers of both bands, and more details can be obtained from group members or by contacting Rem at Drivers in Hospital Street.
Tamworth Herald – 17/10/86
Musicbox – Best of local bands
THE RATHOLE is set to stage another top local bands night on Sunday, with three of the area's most exciting young groups.
Although nothing was confirmed at the time of going to press, it was hoped to field Attica, Catch 23 and The First in what would be a powerful and very exciting night of entertainment.
Catch 23 are anxious to hit Tamworth again after their undoubted triumph at this year's Festival. They impressed virtually everyone with their dynamic, punchy set full of healthy, punk-ridden power.
First Class
Despite their relatively tender age, Catch 23 are often mentioned as rhe next big thing and they are certain to brighten up the evenings entertainment.
Hopefully also joining Catch 23 will be Attica and The First. Attica also have the luxury of a first class festival performance behind them and people of all musical persuasions have been converted by their stylish and stirring music.
They are three strong individuals who have com together to make one strong sound. It will make you tingle.
Favourite Act
Finally the Rathole will also welcome (for the first time) Richard Dean's outfit The First. They are a band who have received near adulation in Birmingham and have become 'Brum Beat's' favourite act. To those new to the band they play very commercial rock that veers in the U2 direction but stops short enough to be original. They also have the glamour and clout and should bring a touch of refined professionalism to the occasion.
So an exciting night is in prospect. It is impossible at this stage to confirm that this will be the final line-up, but whatever happens the Rathole – will be open and any combination of the three above bands will make it well worth the visit.
Tamworth Herald – 24/10/86
Musicbox
The Mutant Zombies – Sick Nick the Psycho et al – top the bill this Sunday at The Rathole. The band who list everything from Eddie Cochran to the Cramps as their main influence, will be playing their own self-styled 'anarchybilly' in their debut gig.
Attica are certain to join them on the bill and the Rathole has stressed that any young local bands who would like to play there in the next few weeks will be made more than welcome.
The venue is keeping to local bands until the Dr. Feelgood Assembly Rooms show on November 23. That will be the biggest gig in Tamworth for many years and advance tickets are now on sale. They cost £3.50 and are available from either Manhattan Winebar or Tamworth Arts Centre.
Tamworth Herald – 24/10/86
Musicbox – Gossipbox
Howling cats star in Orton classic
ATTICA MAY be a very good band but believe me their wine stinks. Last week I was unfortunate enough to be given a bottle of Greek wine called 'Attica'. Thinking it would be a refreshing, tasty change (just like the band of the same name) I took a nip and nearly decorated the carpet, it was horrific. Stick to treading stages instead of treading grapes boys.
Also pretty annoying last week were One On One. I went to see the Joe Orton play 'Loot' at the Arts Centre on Thursday night and the moment the action got under way so did One On One who were practicing next door at the Old Stone Cross.
All you could hear all night were Stu's jungle rhythms and some cats howls that resembled Dave Ingham in a drunken state.
Certainly not receding is Ian Gibbons ambition and enthusiasm. Tamworth's worthiest citizen told me he was hoping to expand next year to opening tow more Ratholes in Northampton and London as well as setting up a 'Rathole' record label. As someone who (I admit shamefaced) doubted that the Tamworth Rathole would ever get off the ground. I now firmly believe in Ian's vision and wish him the very best of luck.
He is the best thing to have happened to Tamworth's music scene for as long as I have been involved in it.
Tamworth Herald – 05/12/86
Musicbox – Nicholas will star in a big-hearted bonanza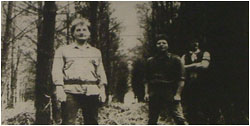 BREAKING POINT are back! The exciting trio play their first gig in several months tonight (Friday) when they team up with kindred spirits Attica to play a special charity show at The Rathole.
The double-header is the official launch of Breaking Point's first single 'Ode To Nicholas Romanovc" which will be on sale tonight. And to make the night even mores special all profits go to the Tavern in the Town appeal for the blind.
"The Tavern were very supportive by helping us to raise money for the single," said Breaking Point singer Kevin Briggs. "In return for their help we said we would play a gig for their appeal and we hope a lot of people will turn up to boost the campaign."
Breaking Point have spent the last three or four months preparing for the launch of their single. It was recorded earlier this year at Paul Speare's Expresso Bongo Studio and the band have spent the interim period working with Edward ian Armchair on a special concept sleeve.
The song will be easily recognised by all the band's followers – and many who aren't – as it boasts an amazing hook and a tremendous atmosphere that catapults the listener back to the era of revolutionary Russia.
It was my Song of the Year two years ago and remains one of the finest songs ever written by a Tamworth band. You will be able to find out for yourself just how that epic style has translated to vinyl by buying the single tonight.
"We have been looking forward to this concert for a while and we hope it will be a good party atmosphere with a good crowd," said Kevin Briggs.
Joining Breaking Point tonight are Attica, a trio who share the headliners' enthusiasm for fast, loud and tingling music.. Eddie, Jim and Pete have also not played too many Tamworth concerts of late, but as usual their enthusiasm is infectious.
"We are really looking forward to it and hopefully we will be able to make a big impact," said lead singer Eddie Madden.
Dancing
What should also be interesting is an unofficial 'bass wars' battle. Breaking Point's Daydo and Attica's Pete Wright are my two favourites bass players around, and I for one will be keen to see who produces the meatier bass-grind tonight.
So, a whole host of reasons for you to dust off your dancing shoes and head for the Rathole tonight. Two great bands, one great charity cause and a first chance to but Breaking point's debut single. I have a strong feeling it is going to be one of the gigs of the year and anyone who does not turn up will have to send a note from their mother the following day or answer to Eddie Madden.
Tamworth Herald – 12/12/86
Musicbox – Two Big Shows – One Big Smile
IT WAS some weekend wasn't it? Two great "Rathole" gigs, two large, lusty audiences and four exceptional performers. I would settle for the following every week…
ATTICA
NOT quite as powerful and ear-blistering as usual (p.a. problems I'm told) but still a very enjoyable set full of purpose and restrained anger. Pete did unspeakably wonderful things on his bass. Eddie seemed his normal calm, inhibited self and the only disappointment was that Tamworth's favourite skin-breaker, the traditionally violent Jim Pighand was rather too quiet. Still, any band that can write songs as food as "View" have nothing to worry about.
BREAKING POINT
A VERY passionate night and a very passionate set. Breaking Point received the belated adulation they truly deserve and at times reached the sort of peaks that I don't think any Tamworth band has ever surpassed. The single was of course the highlight (pure, beautiful emotion) but for sheer impact and audience participation it was impossible to beat the sizzling 'Guns of Ambergold'. Watch out for 'Hitlist' and 'Stars' as well, two new songs that Breaking Point are still as dazzling a prospect as ever. Great fun.
Tamworth Herald – 02/01/87
Musicbox – SNIPS
The New Year starts with a great concert at the Rathole on Saturday. Attica will line up with top Northern new-punk outfit The Psycho Surgeons for a night destined to be the first of many great concerts throughout the year. The Rathole may have to shut down soon for repairs, so don't miss this last great blast on Saturday night. Get along and enjoy yourselves. Or else!
Tamworth Herald – 27/03/87
Musicbox – Of wolfs and other animals
IT WAS NICE to see Wolfsbane get their ugly mugs into the best selling HM magazine Kerrang! Last week. The only problem was that the photo didn't exactly mix with the information beneath it, and Wolfsbane were completely confused with another set of HM hopefuls! Still the band have already been on the phone and yet more coverage is promised in the future…
Also pleasing to see was that Polesworth's biggest star (!) Edwin Starr has contributed his powerful voice to the special Ferry Aid single "Let It Be". Edwin joined the likes of Paul McCartney, Boy George and Tony Hadley on the record which is due for release this week. Buy the record because it is for a very good cause, but as a piece of advice I wouldn't recommend playing it because it is HORRIBLE.
One of Tamworth's oldest and best known bands A5 have reformed. The group have just released another demo containing four songs (one entitled 'Sex baby') which the group feel very happy about indeed. They have got rid of what they saw as their over-produced sound, and refound their basics and their enthusiasm as the same time. The band are in action at the Crown in Nuneaton on Saturday night.
The Alley Cats who were delighted with their debut show at Kettlebrook recently, are on the lookout for a vocalist to complete their rockabilly outfit. The band who play music influenced by Fifties rock and roll and the stray Cats want good, strong singers to contact them.
Attica return to live action at Knights in Lichfield on April 15.
Tamworth Herald – 12/06/87
Musicbox – SNIPS
Attica lead singer Eddie Madden, has been in touch to say that his band are very much alive – and are now sounding better than ever. The group are currently rehearsing hard in preparation for a new demo and their appearance in Tetley's Most Promising Band competition currently underway in Lichfield. Attica will be in competition action on Saturday, July 13, at Enots. Other Tamworth bands involved are Wolfsbane, Shellshock and we wish all three the best of luck.
Tamworth Herald – 26/06/87
Musicbox – SNIPS
Attica have just completed a new demo – one which they are absolutely delighted with. Eddie, Pete and Batman believe the new sound…extremely pleased with the quality and diversity of their new tracks. The group will be in action at the Lichfield 'Battle of the Bands' contest at Enots, Lichfield, on July 11. They have also promised it won't be too long before they make another show in their native Tamworth.
Tamworth Herald – 03/07/87
Musicbox – New treasure in the Attica
ATTICA make their long-awaited Tamworth return on Sunday night when they team up with Dawn After Dark and our very own Kevin McGough, for a superb Rathole triple-header.
Most eyes will obviously be trained on Attica, a band who have carved a permanent niche in the Tamworth music scene. Their new sound is said to be original and distinctive and they are keenly awaiting the chance to try out their new material on their 'home' audience.
As well as the not inconsiderable pleasure of seeing Attica, local fans will also be keen to see the splendid 'Dawn After Dark' again.
Completing the line-up is the most brash of poets – Kevin McGough. Kevin, who believes that compromise is not merely a dirty but an OBSCENE word – is certain to stir up a hornets' nest and he should add a certain something to a spicy night indeed.