Green Swings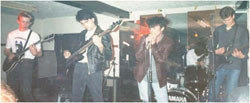 The Green Swings
Live at Tamworth Rock Festival 1988
The Gallery
Musical Type/Genre: Indie
Formed: 1985
Band Members:
Robert Kinson : Guitar
Lee Partlow : Bass Guitar
25/05/86
The Bomb Party
The Green Swings
The Rathole
30/05/86
Rock Against The Dole
The Green Swings
Depth Charge
Tamworth Arts Centre
03/07/88
Rape in Yellow
The Searching
Green Swings
Stench
Tamworth Arts Centre
Tamworth Herald – 20/09/85
Musicbox – Bands call up the new talent
Also looking for a sticksman are a current two piece, 'The Green Swings'. Made up of Lee Partlow (bass) and Robert Kinson (guitar). The band are inexperienced but ambitious and they say would-be drummers should have their own kit.
Moving
A new heavy metal band who are desperate to get things moving as soon as possible have sent out an appeal for a strong singer/frontman to complete their line-up. Talent and enthusiasm are essential – as is ambition – and so the likely candidate – aged 17 or over – can expect to be doing gigs very soon.
And finally another act looking for a drummer are the band 'Jinx' who include former A5 man Tim Burgess. The band who play music which has blues influences want a replacement for their current drummer who has turned out to be an ideal singer! So if you fancy getting involved here, give Tim a ring.
Tamworth Herald – 23/05/86
Musicbox – Black looks from the bleak Bomb squad…
ONE OF THE biggest alternative bands in the Midlands descend on The Rathole on Sunday night for another exciting show. They have already be heavily featured in Sounds and other rock papers and fanzines and they have drawn praise wherever they've been.
Joining The Bomb Party will be local outfit The Green Swings who will be making their Tamworth debut. The band who don't like to be pinned down to any particular label, all have good clothes sense and musical taste, so that alone should indicate that they will be well worth seeing.
It will be nervous night for the Swings but it is a night when they will be keen to go down a 'bomb' just like their headliners.
So a double-header that everyone in Tamworth should enjoy enormously, The Rathole promises to be bleak, black and sweaty again so get your £1.50s out and make your way on Sunday. You will not be disappointed.
Tamworth Herald – 30/05/86
Musicbox - JUST TAKE YOUR PICK!
IT'S GOING to be a crazy night for Tamworth's rock scene tonight (Friday) with no less than three excellent concerts on offer.
At the Sacred Heart Centre, the increasingly popular Dance Stance will hit the boards, at Tamworth Arts Centre there is another Rock Against The Dole show featuring The Green Swings and Depth Charge and finally at Polesworth Top Club there is the eagerly-awaited return of The Dream Factory.
Most local rock fans are going to be spoilt for choice so here is a description of what exactly is going on so you can make your decision on where to head for.
Probably the most talked about concert of the three is The Dream Factory's return with their new line-up. The band haven't played Tamworth since Lloyd Barnett and Steve Quilton quit and it will be the first time local punters will be able to assess the talent of new guitarist Dave Stevenson and drummer Batman. The success of a few warm up gigs for The Factory have left them in no doubt that tonight will be the triumph we are all hoping for.
"The gigs at Salisbury and Cannock were great and we are all feeling very confident indeed now," said bassist Mark Mortimer.
A relatively new set is also anticipated at the Top Club so the band say that the new sound they are producing is better than ever, and no one should leave disappointed.
There is a chance a support band may join the bill, but regardless of this the band will be joined by a full supporting disco. It costs just £1.50.
Meanwhile up the road at Glascote. The Factory's keenest rivals The Dance Stance will bring the legion of members (an increasing the legion of supporters) to the Sacred Heart Centre. A great deal of glowing praise has been uttered about the new look.
Dance Stance, lately their sound is now a tight, funky one – drawing on influences from the 60s, 70s and 80s. At everyone of their concerts recently they have won over new converts and their confidence is almost at fever pitch. They are due to hit the stage at around 9.30 but if attendance at recent concerts are anything to go by the message is get there early!
Finally, tonight, completing a quite incredible night of top quality concerts, is the Tamworth Labour Party sponsored 'Rock Against The Dole' gig. The concert is a good humoured evening of entertainment to focus young people's minds on the most serious problems affecting the town at the moment. Spearheading the gig are powerful rock outfit Depth Charge – (whose excellent demo I still haven't had time to review as they keep on telling me!) and the Green Swings; probably one of Tamworth's newest bands. The two bands will be supporting tonight's 75p Arts Centre show, and will probably also be in the running for a much larger Assembly Rooms concert to be organised by the labour party which may see Billy Bragg in town.
So a trio of concerts that offer a simply excellent choice for local rock fans. I can understand the dilemma facing people over 'choice' as I would personally like to go to all three gigs. But the simple message is make sure you go to at least one!
Tamworth Herald – 13/06/86
Musicbox – SNIPS
The Green Swings need a new drummer and vocalist.
Tamworth Herald - 01/07/88
Musicbox – Showcase of sheer variety
FOUR Tamworth bands – two of whom will be relatively new to local audiences – line-up for an Arts Centre special on Sunday night.
Established favourites Rape in Yellow and The Searching are joined by an all-new version of The Green Swings and a rare Town centre show by rockabilly outfit Stench.
Opening the night's proceedings will be The Green Swings, a mystery band to most people who will be doing a 'short, but crucial' 15 minutes set to get the night off to an unusual start.
Following them will be Stench, a band who despite their name should appeal to a very wide audience indeed. They play pacy, racy rockabilly complete with a double-bass and short, snappy haircuts. When last seen Town centre-wise some of the members of Stench were in the neo-legendary Mutant Zombies, one of the oddest bands ever to come out of this rather odd Town. Stench will certainly be different and promise to be extremely watchable.
Following hot on the heels of this event is another curious occasion – the Big Butty and Bob Beer Battle. This is a challenge between Green Swings member Ron and Tavern DJ Buttercup to see who can finish a pint of beer in the quickest time. Both have so far managed three seconds in training and this will be the final test. Strange thing to put in the midst of a gig really, but it looks like being that sort of night.
Following this alcoholic extravaganza comes Rape in Yellow. The Harwood/Harwood and Partlow combo have been busy livewise of late in preparation for the festival and are looking forward to testing out their new set on their home audience.
Completing the show are highly-rated popsters The Searching, a group whose singer sounds like Bryan Ferry and Ian Curtis all wrapped up in one. Their success in the Midlands had been based on their original, stylish songs and they are due for a Tamworth triumph to match those of their 'foreign' achievements. Sunday night may well be their night.
So drinking bouts, Roxy Music, double-basses and more all for just £1 on the door. Get along on Sunday night and enjoy what should be a very unusual Arts Centre showcase of local talent. It starts a bit earlier than normal at around 8.15 so don't be late.
---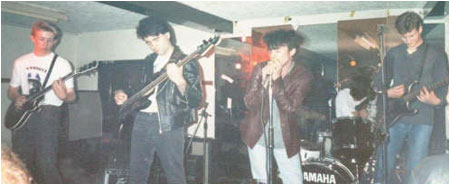 Tamworth Rock Festival 1988