The Searching
Musical Genre/Type: Indie
Formed: 1985 Split:1990
Band Members
Pete Williams - Lead Vocals (Tamworth)
Steve Scott - Lead Guitar (Tamworth )
Mark Chapman - Bass Guitar (Walsall)
Ade Soden – Drums (Tamworth)
Paul Williams – Keyboards (Coventry)
Gigs
First Gig: Tamworth Arts Centre - 24/04/1987
Last Gig: Lichfield - 01/06/1990
12/02/88
Comic Relief Night
The Searching
Jed Moore
Torn in Two
George the Roadie
The Verdicts
Tamworth Arts Centre
04/05/88
Rape in Yellow
The Searching
Sinatra's, Snow Hill Queensway
07/05/88
Rape in Yellow
The Searching
Mega's Wine Bar, Corporation Street
08/06/88
Rape in Yellow
The Searching
Piranhas
03/07/88
Rape in Yellow
The Searching
Green Swings
Stench
Tamworth Arts Centre
16/07/88
Tamworth Rock Festival
Torn in Two
Shellshock
The Searching
DHSS
Wolfsbane
The Conspiracy
Never Say Die
Kubla Khan
Castle Grounds
Admission free 11am-7pm
16/04/90
The Searching
Hare and Hounds
Birmingham
Songs
Funky Chicken (Steve Scott)
Tower of London (Steve Scott)
It's up to you (Steve Scott)
This n' that (Steve Scott)
Nothing matters (Steve Scott)
Picture (Steve Scott)
Lifeline (Steve Scott)
End of a day (Steve Scott)
Cross that bridge (Steve Scott)
Wheels of time (Steve Scott)
Other Songs: Something's wrong; Midnight train; This is what I say; Cut it clean; Leaving home.
Memories
Runners up in the 'Pernod hottest band in town 1988'.
Tamworth Herald – 24/04/87
Musicbox – Searching for a new sound? Then come and listen
A BRAND NEW Tamworth alternative band make their town debut tonight (Friday). The four-piece outfit, The Searching, will team up with Dosthill superstars Rape In Yellow for an interesting-looking Arts Centre special.
The Searching play music which is described as being like a cross between 'Late Damned and Early Cure' and is bound to find a natural home among Tamworth music fans.
They have been in their present format for a few months and play original music written by Steve Scott, a Two Gates-based songwriter who attends the Birmingham Polytechnic School of music.
A spokesman for this intriguing-looking outfit says:
"The band have their own sound and style helped by strong percussion and bass lines."
Joining The Searching tonight will be Rape in Yellow making their second visit to the Arts Centre in a week. Rape have a fair few Cure touches but also bring a lot of psychedelic and Sixties overtones.
Tamworth Herald - 27/05/88
Musicbox – SNIPS
Yellow boys hit the road
RAPE IN YELLOW have announced a couple of dates in advance of their appearance at the Rock festival on Sunday July 17. On Friday, May 27, they will be in action along with eight other groups in a special show at The Hummingbird. Then on Wednesday, June 8, they team up with Best Band in Brum finalists The Searching at Piranhas and follow it on June 21 with a slot at The Barrel Organ. There are also plans for a Tamworth Arts Centre show shortly, more details later.
Tamworth Herald – 31/07/87
Musicbox – Sharp looks and some jolly noise
THE RATHOLE re-opens on Sunday night with a tasty trio of 'Unknown pleasures'.
Two relatively new Tamworth acts – The Searching and the Ferocious Apaches – will team up with enterprising Birmingham crew The Fillipinos for a happy hat-trick of modern sounds.
Topping the bill will be the latter who, if photographs and publicity material are anything to go by, ooze style. Their music is said to be hard-edged funk-tinged pop, the look is very definitely sharp and purposeful and the group themselves are happy to hang under the banner of motor-sonic dance floor music. Methinks they will be somewhat different from the average Ratholians.
Teaming up with these aspiring superstars are The Ferocious Apaches making their Tamworth, England and World debut all in one. The group packed full of humour, jollity and harbouring no chips-on-shoulders whatsoever, ply white noise pop and are made up of Mark, Rob, John and Bob. Whatever these guys tend to do does have a horribly fascinating appeal.
Completing the show are The Searching who still seem like a new band although they have actually been around for some 12 months or so. The outfit – made up of Steve Scott, Pete Williams, Mike Reid and Mark Chapman – describe their sound as original rock which has been linked with the likes of The Damned in the past and is said to be 'very good to bop to'. The band have lined themselves up a very nice place in this year's Tamworth Rock Festival so if you want a sneak preview of what you can expect, then get along on Sunday night.
The whole show should start at around 8pm on Sunday night, and a diverse night of pop 'n' roll is definitely in store.
Tamworth Herald – 04/12/87
Musicbox – Gems among a week of gigs
MUSICBOX reviewers have been out and about in the last week or so catching up on a host of bands at various venues. Here is a selection of their comments with the code to the reviewers being SH – Sam Holliday; DC – Dan Collins; HM – Helen Machin and DR – David Reeves.
The Searching – Aston University
The Searching played a frenzied set, producing a spectacular combination of songs. As they raced through a triumphant set, they received a first-rate response – especially from the Searching faithful. Their show earned them victory in this, the heat of the Birmingham 'Hottest Band in Town' contest and who knows we could see The Searching become the eventual winner, so stay tuned.
Tamworth Herald - 12/02/88
Musicbox – Weekend Power Battle
OUR TEAM of reviewers have been out and about again this weekend concentrating on two gigs in particular – the special Comic Relief show on Friday night and the highly successful 'Battle of the Bands' show on Sunday which brought over 200 people to the Arts Centre – the biggest attendance at the venue since last year's battle.
The Searching – Comic Relief Show
THEY made a concerted effort to look totally stupid with boxer shorts, red noses and silly hats. Very song was musically tight, technically competent and quite powerful. The vocalist, however was totally inaudible, although when George The Roadie sang 'Stand by Me' he shouted much better!
Edward ian Armchair
Tamworth Herald - 28/02/88
Musicbox – 'Searching' lose Battle of Brum
TAMWORTH'S Original outfit The Searching came desperately close on Friday night to winning the prestigious Best Band in Brum contest run at The Portland Club.
The band were in my opinion – and that of one of the judges Paul Cole from the Birmingham Mail – leaps and bounds ahead of their three fellow competitors, but in the end the decision just went to a third-rate version of Strap On Jack called Split Beaver.
The shock result wasn't the only surprise of the night. Considering this was the final of a contest in the second city in England, the general standard was hardly as mind-numbing as I expected. The Searching played a fine set and deserved their slot, as did opening act The Cybernauts, but the other two bands – Split Beaver and cover-version-ridden Tempting Fate were less than impressive.
Groups like Catch 23, Wolfsbane, Dance Stance, Fetch Eddie and more would have murdered them and the whole thing left me realising just how special our own local talent really is.
That was reflected perfectly in the show by The Searching. Three of the members hail from Tamworth, they are hardly known to local crowds and yet they are in this glamorous final. Their set was bursting with originality and style and was dominated by the excellent songwriting and guitar work of Steve Scott who is clearly a musician worth keeping a close eye on.
Also shining was Feargal Sharkey-lookalike singer Pete Williams whose onstage confidence seems to have increased enormously since I first saw the band and who now adds a jocular mid-song touch to some stirring vocal work.
Throw in excellent rhythm work by bassist Mark Chapman and drummer Mike Reid some impressive keyboard tinkling by Paul Williamson and some dynamic sax work by Sid The Musical Genius (!) and you have a sound which grabs you right where it counts and keeps you riveted to the dance floor.
Best tracks? Well, the annoying catchy 'Funky Chicken' was the noteable dance-favourite but my personal number one was a mesmerising love song called 'Towers of Love'.
Inspired
All told, it was a fine set by The Searching and one which a lot of seemingly unbiased people thought deserved them the winners' position. The final decision said more about the judges than it did about the bands. The Searching deserve a lot of credit and will no doubt now be inspired to press on.
One of the other reasons I went along on Friday was to see what we in Tamworth could learn about organising these 'battles'. Well the whole thing was very badly put together and I would urge the Birmingham organisers to take a trip to the Arts Centre to see how WE do it. And I would urge loads of local bands to enter next year because this year's winners wouldn't even have made our final.
SAM HOLLIDAY
Tamworth Herald - 29/04/88
Musicbox – Bands in two Brum dates
STOP PRESS : Rape in Yellow and The Searching will be playing two Birmingham gigs next week and are trying to get a coach organised for fans to accompany them.
The first will be at Sinatra's in Snow Hill Queensway on Wednesday May 4 and the second will be at Mega's wine bar in Corporation Street, Birmingham on May 7.
Anyone interested in going on a coach can contact Ian or Graham.
SAM HOLLIDAY WILL RETURN NEXT WEEK
Tamworth Herald - 01/07/88
Musicbox – Showcase of sheer variety
FOUR Tamworth bands – two of whom will be relatively new to local audiences – line-up for an Arts Centre special on Sunday night.
Established favourites Rape in Yellow and The Searching are joined by an all-new version of The Green Swings and a rare Town centre show by rockabilly outfit Stench.
Opening the night's proceedings will be The Green Swings, a mystery band to most people who will be doing a 'short, but crucial' 15 minutes set to get the night off to an unusual start.
Following them will be Stench, a band who despite their name should appeal to a very wide audience indeed. They play pacy, racy rockabilly complete with a double-bass and short, snappy haircuts. When last seen Town centre-wise some of the members of Stench were in the neo-legendary Mutant Zombies, one of the oddest bands ever to come out of this rather odd Town. Stench will certainly be different and promise to be extremely watchable.
Following hot on the heels of this event is another curious occasion – the Big Butty and Bob Beer Battle. This is a challenge between Green Swings member Ron and Tavern DJ Buttercup to see who can finish a pint of beer in the quickest time. Both have so far managed three seconds in training and this will be the final test. Strange thing to put in the midst of a gig really, but it looks like being that sort of night.
Following this alcoholic extravaganza comes Rape in Yellow. The Harwood/Harwood and Partlow combo have been busy livewise of late in preparation for the festival and are looking forward to testing out their new set on their home audience.
Completing the show are highly-rated popsters The Searching, a group whose singer sounds like Bryan Ferry and Ian Curtis all wrapped up in one. Their success in the Midlands had been based on their original, stylish songs and they are due for a Tamworth triumph to match those of their 'foreign' achievements. Sunday night may well be their night.
So drinking bouts, Roxy Music, double-basses and more all for just £1 on the door. Get along on Sunday night and enjoy what should be a very unusual Arts Centre showcase of local talent. It starts a bit earlier than normal at around 8.15 so don't be late.
Tamworth Herald – 20/01/89
Musicbox – Snips
Among demos which have just been recorded or are in the process of recording are The First Conspiracy, The Searching, Big Noise and King Woderick. Reviews and more details as and when we get them.
Tamworth Herald – 03/03/89
Musicbox – SNIPS
A couple of gigs on the horizon see the Comic Relief show on March 10 at the Arts Centre, a possible Searching/Rape in Yellow gig on March 12 and a Big Noise show on April 2. The Big Noise are looking for support acts for that one.
Tamworth Herald – 10/03/89
Musicbox – Comic Winner
Tamworth Arts Centre opens its doors this weekend to two top quality concerts – including one for the special Comic Relief campaign.
Tonight (Friday) red noses will be in abundance as World Intelligence Network make a one-off return to live action alongside Rape in Yellow and a Coventry-based alternative act called 'The Fat Controller'.
And then on Sunday night, former Best Band in Brum finalists The Searching will take to the Arts Centre stage with the support act of a top out of town new wave act – Limited Edition from Nuneaton.
First we look at tonight's three band Comic Relief show.
The Searching plus Limited Edition – Tamworth Arts Centre (Sunday)
The Searching spearhead a special show whose final composition was not known at time of going to press. The Searching will definitely be there, bringing with them their unashamedly unique sound which according to spokesman Mark Chapman has moved on somewhat in previous months.
"We have changed a bit and looked again at our sound," said Mark "We all think it is change for the best and people who have heard the new sound have been very impressed."
Joining The Searching will be Stranglers/SLF group from Nuneaton who trade under the banner of Limited Edition. I don't know a great deal about them apart from that they are an enthusiastic young group with some very good musical tastes! You will have to turn up to see exactly what's on offer. Both gigs are set for 8pm 'kick-offs'.
Tamworth Herald – 07/04/89
Musicbox – SNIPS
The recent success of Catch 23 and our recent (belated) demo blitz has meant that one or two local gig reviews have been held up a little. In order to not ignore them completely, here we summarise two reviews from recent Sunday night Arts Centre partys.
The Searching – Arts Centre
The band's sound has progressed and so has their musicianship in particular Pete Williams. The set featured many new tracks plus one or two well known numbers ending on the frenzied rock and roll of 'Nothing Matters'. Excellent.
Tamworth Herald – 30/06/89
Musicbox – SNIPS and NEWS and SNIPS and…
The Searching will unveil their new drummer – former Sacred Oath stickswoman Vicky Gwinnutt – at the Festival. More things are on the horizon from the band so watch this space.
Tamworth Herald – 15/09/89
Musicbox – Snips
The Searching have been signed for a special deal – all thanks to the Godfather of punk Joe Strummer.
The local boys contacted Strummer to try and get a slot on the Rock Against The Rich tour and although he couldn't help he was so impressed with their tape that he passed it on to the WWV label who have signed them for a short deal. It will mean they are featured on a special compilation out now called 'Yup In Flames' and it also means that the band will be releasing a special four-track single early next year. The band are delighted with the news and are now looking forward to promoting their part in the new collection at The Rock Garden and Dingwalls and at their home base of Tamworth Arts Centre later this year.
Tamworth Herald – 06/10/89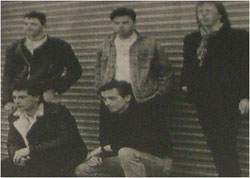 Musicbox – Burnin' Bright
The Searching – fresh from their successful appearance on the compilation album 'Yup in Flames' – kick off a series of dates with a major Tamworth Arts Centre show on Sunday night.
The impressive Indie popsters will join forces with the dank and mysterious Curious Oyster and new Indie guitar-act The Sherbert Trees.
The night mainly belongs to The Searching who will be making their first Tamworth appearance since a highly successful and well received Festival show. The group who number Joe Strummer among their fans, have since recorded a track for a top class compilation album 'Yup In Flames' and they see Sunday's gig as the first of many.
"We want to play everywhere and anywhere in the next few months and this is the ideal place to start," explained bassist Mark Chapman.
The Searching who are pictured here with their old line-up now feature popular local drummer Vicky Gwinnett and boast a strong set full of new material. They are keenly looking forward to the show on Sunday and will be selling copies of their album at a heavily discounted £3 apiece.
Joining The Searching will be the unique coupling of The Sherbert Trees and Curious Oyster. The Oyster belong somewhere in Bansheeville and command a lot of interest from alternative gig-goers while as The Sherbert Trees are a new Tamworth phenomena altogether. They made their debut a few weeks ago alongside the New Puritans and created a strange but lasting impression.
This entertaining looking three band show kicks off at about 8pm and a good and original night out seems assured. The Searching for something to do on Sunday night stops here.
Tamworth Herald – 13/10/89
Musicbox – SNIPS
A nasty illness sadly ruled me out of catching the Searching's gig at the Arts Centre on Sunday. I was indeed miffed about this (it almost literally made me sick) so if anyone could send in a freelance review I would be grateful.
Tamworth Herald – 20/10/89
Musicbox – Local Reviews
The Searching – Tamworth Arts Centre
Groovy purple lights do not a good band make and they certainly failed to conceal that the Searching have the stage presence of ten and a half dead fish. The only 'proper' band on the night. They write 'proper' songs and play their instruments 'properly'. They succeeded in numbing the audience good and 'proper' to the point of either sleep or death (depending upon individual endurance). It was rumoured that they were known as they hottest band in Town. 'Yes' was the collective opinion – 'burn them!'
Jo Marsh
(Does this mean you didn't like them? Sam)
Tamworth Herald – 27/10/89
Musicbox – The Searching are OK!
Last week's less-than complimentary review of the Searching by our freelance hatchet-wielder JO MARSH somewhat shocked at least one of our readers SARAH LETTS from Lichfield.
The Searching – Tamworth Arts Centre
Sorry to hear you were sick on this night Sam because you missed a GREAT gig. The new-look Searching line-up produced a thrilling cascade of first class tracks. Their performance has a kind of magic, rarely seen in the up and coming bands of today. 'Midnight Train', 'Funky Chicken' and 'Cut It Clean' were the tracks that really stood out among a set full of memorable moments. The singer went crazy with his enthusiastic leaps and the girl drummer is amazingly fast. This band let it shine through and proved they were having a great time. I know I did!
Sarah Letts
Sam Holliday
Dear Mr Holliday
Concerning the review of the Searching gig (10 Oct) by Jo Marsh.
Mark of the Searching got the Sherbert Trees a good sized gig, and the Searching are rewarded by a real slagging off by a Sherbert fan.
I travelled down to Tamworth from Liverpool to see the Searching, not a load of Sherbert dips, with their following of little herberts.
The Searching should cross that bridge – support like that is a waste of bass.
R. Mitchell,
Wavertree,
Liverpool
Sam Holliday replies – I am not sure if Jo Marsh would call him/herself a Sherbert fan and I for one don't agree with the Searching slagging that I printed. However, I don't think it was the Sherberts fault that Jo Marsh didn't like the Searching so knocking them doesn't help. But as regards the general review Jo Marsh responds by saying…"reviews are always from personal opinion. They have to be or they are totally worthless. It was only an opinion and not quite the end of the world." The problem is I think that people have been so used to seeing my slightly more positive reviews of local bands that when someone stands up and shouts 'that's rubbish' it takes everyone by surprise. Makes life interesting though don't you think?
Tamworth Herald – 05/01/90
Musicbox – The search is on
ONE of the more surprising bits of news over the Yuletide period was that The Searching have split forces with singer Pete Williams.
The band, who are currently earning serious record company interest say the split has been entirely amicable and has been tinged with sadness.
The band are now looking to re-complete their line-up and an announcement is expected soon on who will replace the impressive Pete…
Watch this space for more info.
Tamworth Herald - 02/02/90
Musicbox – SNIPS
The excellent Searching are on the lookout for a new singer. The band did have a replacement line-up following Pete Williams's departure but it hasn't worked out so they need a new singer to front their highly-respected outfit.
Tamworth Herald – 13/04/90
Musicbox – A big Easter bonanza!
It's another CRAZY week for local music fans who have so much entertainment to choose from it's mindboggling.
Monday Night
The Searching (Hare and Hounds, Birmingham)
The first re-appearance for many months of one of Tamworth's most original bands. After teaming up again with singer Pete Williams, the group will descend on Brum for a set brimming with newies and oldies alike. A Tamworth gig is assured shortly.
Thursday Night
Borghesia/Flowers of Evil (The Rathole, Lincolns)
The first Yugoslavian band to hit Tamworth! Yes, The Rathole opens its Thursday night doors to welcome Borghesia, a respected Yugo outfit who are doing just a handful of British gigs. The band, who have earned a lot of press interest, will be teaming up with Flowers of Evil, a four piece all-female band who already have an album out on Sonic Death Records entitled 'Curse of the Power'. Two bands, one very interesting night.
Right that's your lot. If THAT isn't enough to give you a busy Easter I don't know what is, but all I can say is how thankful we are that the Arts Centre is shut on Sunday.
Tamworth Herald – 08/06/90
Musicbox – An Action-Packed Week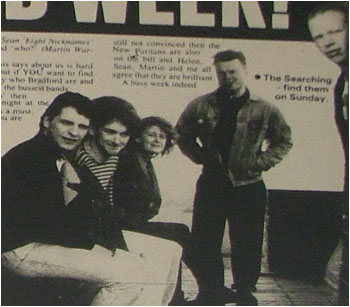 TAMWORTH boasts three top shows this week – and thankfully none of them clash with one another.
Top out of Towners like Bradford and the Trashcan Sinatras will be on show as will local favourites like The Searching and Scream in a week of smiles for local gig-goers.
Friday night, Sunday night and Thursday night will all offer music for the discerning ear and serious gig-hoppers can expect an expensive week.
In brief the line-ups read…
Friday (Tonight) – Tamworth Arts Centre: Scream, Chemikill and Litany of Fear.
Sunday – The Rathole, Lincolns: Trashcan Sinatras, The Laurels and The Searching.
Thursday – The Rathole, Lincolns: Bradford; The New Puritans.
A brief resume on who is doing what based on the limited info we have…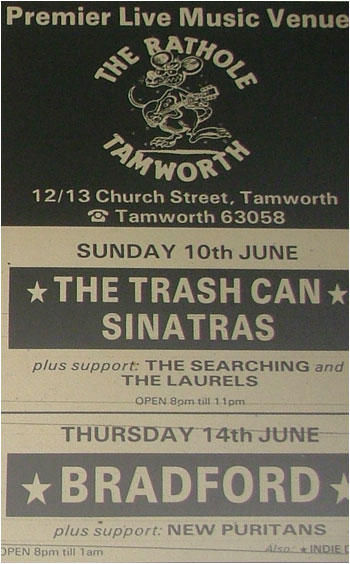 Trashcan Sinatras/The Laurels/The Searching – The Rathole, Sunday.
The Searching return to Tamworth for the first time in eons as part of a three band package on Sunday night. The Searching, a former Best band in Brum finalist are renowned for their accomplished and stylish pop and they are very welcome back in Tamworth. Spearheading the whole chitty-chitty-bang-bang will be the Trashcan Sinatras who I am reliably informed are big in Birmingham and 'pretty damn hot' with it. As I have received no information from the band I can tell you no more than that. As for The Laurels, well I know nothing about them and I refuse to make any jokes about them being a Hardy bunch. I hope I'm above that. It's at the Rathole anyway so make your own mind up on Sunday.
Tamworth Herald – 03/08/90
Musicbox – SNIPS
The Searching are re-forming with a new name and a new identity. The original trio are now seeking a drummer to complete their line-up and interested people can contact them.
Tamworth Herald – 17/08/90
Musicbox – Scene Snips
The Searching are recruiting again. This time the band, with renewed confidence and a bagful of new songs, looking for a drummer and a bassist for their combo.
---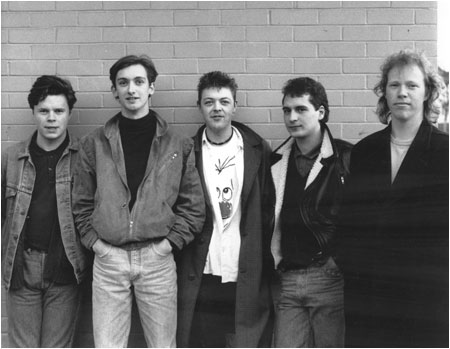 The Searching
(L-R: Mark, Paul, Mick, Steve, Paul)
Thanks to: Mark Chapman
The full profile and history of The Searching has yet to be added to TamworthBands.com Call back soon to read the full band details.
If you have any further information about this band please email: info@tamworthbands.com