Rape in Yellow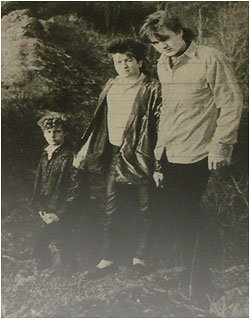 Rape In Yellow
Photograph courtesy: Tamworth Herald

Gallery
Musical Genre/Type: Pop
Former: 1987 Split: 1990
Band Members:
Ian Harwood - Keyboards
Graham Harwood - Vocals
Lee Partlow - Guitar
Gigs:
07/02/87
Battle of the Bands
Rape In Yellow
Kara
Breaking Point
Tamworth Arts Centre
11/04/87
Rape In Yellow
The Calling
Tamworth Arts Centre
18/04/87
Rape In Yellow
The Calling
Tamworth Arts Centre
18/04/87
Rape In Yellow
The Calling
Edward ian Armchair
Tamworth Arts Centre
04/05/88
Rape in Yellow
The Searching
Sinatra's, Snow Hill Queensway
07/05/88
Rape in Yellow
The Searching
Mega's Wine Bar, Corporation Street
27/05/88
Rape in Yellow
The Hummingbird
08/06/88
Rape in Yellow
The Searching
Piranhas
21/06/88
Rape in Yellow
The Barrel Organ
03/07/88
Rape in Yellow
The Searching
Green Swings
Stench
Tamworth Arts Centre
17/07/88
Tamworth Rock Festival
Cuddly Spiders
Rape in Yellow
Future Field
Fetch Eddie
Catch 23
Kraze
Scream Dream
Breaking Point
A5
Castle Grounds
Admission fee 11am-7pm
06/11/88
Rape in Yellow
King Woderick and the Yogots
Psychedelicatessen
The Cuckoo Spits
Tamworth Arts Centre
05/02/89
Rape in Yellow
King Woderick ad the Yogots
Psychedelicatessen
New Puritans
Tamworth Arts Centre
14/01/90
Rape in Yellow
Big Noise
Lincolns
27/01/90
Rape in Yellow
Black Horse
Birmingham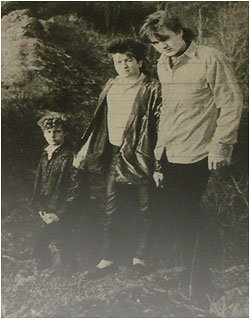 RAPE IN YELLOW – Demo*****
Rape in Yellow. The ace of this week's pack. This superb debut demo by a brand new Tamworth band is full of style, promise and atmosphere and shows an amazing maturity considering the collective ages of those involved. It has a modern psychedelic feel with Julian Cope's imprint clear from start to finish. The tape is magnificently packaged and presented and the sound quality and production is second to none. Musically it has a dream-like quality and enough unpredictable edges to convince me that here is one very exciting find.
"Green is Gone" is the highlight of the three songs and Graham Harwood's distinctive and original vocal is the musical stand out. A tremendous and original demo and one that sets this Dosthill-based band off to a good start indeed. This band deserves further investigation.
Tamworth Herald – 06/02/87
Musicbox - New boys take on the old masters
Caption: Rising hopes…Rape In Yellow set to do battle with metal men and the uptempo guys.
TAMWORTH'S 'Battle of the Bands' competition starts in style tomorrow night (Saturday) when Kara and Breaking Point take in the debut-making new boys, Rape in Yellow.
The trio will battle it our for a place in the grand final on Friday, February 27 where they stand to win a special trophy, a special title and a very special £50!
Obviously most eyes tomorrow night will be on new Dosthill-based band Rape in Yellow. They have been quietly rehearsing for some time and have just burst onto the local scene with a superb three-track demo which was reviewed in MUSICBOX last week.
The band's music is modern psychedelia with influences including The Cure and The Doors and it has an original and distinctive feel.
It is produced by two brothers Ian and Graham Harwood and guitarist Lee Partlow. In the studio the rhythm section was made up of Batman and Peter Wright but tomorrow night Graham, Lee and Ian will be joined by former Love On Board and Orange bassist Glen Lewis and ex-Femme Fatale and Orange member Nigel Horton on drums.
The band are keenly looking forward to this, their first ever concert and the sound they produce looks like being welcomed with open arms by the Tamworth public keen to see something new.
Powerful
Battling it out against Rape in Yellow will be two more experienced bands both of whom have considerable presence and following. Kara will open proceedings at 8.30, have already played several prestigious gigs and have made many friends with recent shows alongside The Dream Factory and Strap On Jack.
Their music is commercially orientated metal with a powerful feel. As well as being cohesive and strong, it also has a general appeal which means that more than just metal-men have sung Kara's praises in recent weeks. They will clearly be formidable opponents.
Completing tonight's line-up are Breaking Point who will be second in the three-band billing. They have slowed down the gig-rate of late while they promote their excellent single which ensures a good-sized crowd whenever they take to the stage.
Their music for those who may have forgotten(!) is 'uptempo' modern alternative rock owing much to the feel of bands such as The Alarm and U2. They sing about passion and play passionate sounds, and as previous winners of the battle of the Bands crown, they are certain to start the heat as favourites to go through.
Putting all the elements together, the gig offers the widest possible range of music which should hopefully attract the widest possible audience. Entry is just £1 at Tamworth Arts Centre and the whole show starts at around 8.30 finishing about 11 o'clock.

With the recent gig glut that has infected the area tomorrow night offers a fine chance to enjoy a great night out and three great bands to boot. Be there or forever be a lemon.
All the bands will be given 30 minutes each to impress a three-man judging panel. It will be chaired throughout by Herald staff-man Martin Warrilow and tomorrow's guest judges are Dance Stance member Nick Reed and local poet Kevin McGeough.
Tamworth Herald – 13/02/87
Musicbox – Points ahead for fire-cracking set
FIRST NIGHT of the 'Battle of the Bands' turned into an entertaining, controversial and thoroughly enjoyable night. All three bands played well enough to leave large sectors of the audience thinking their favourite had won, and the scores couldn't have been tighter.
In the end the three judges – Edward ian Armchair, Kevin McGough and chairman Martin Warrilow – were split somewhat, and the difference between the first and third bands was a mere five points. And this is how it all went…
KARA
A lively, well-structured enthusiastic set from a band who certainly had the backing of the majority of the large, noisy crowd. The band three out the cover versions and replaced them with their own much stronger material which fully displayed their inherent knack for writing commercial, powerful and anthemic metal pop. A strong, intelligent set.
BREAKING POINT
Making their first appearance for some time, Breaking Point were loud, brash and exciting. Their material combined the dazzling old ('Nicholas Romanov' and 'Ambergold') with the dazzling new ('Britannia and 'Israel') to produce a fiery, well-balanced set. All three members sounded musically better than I can remember, but a special word for bassist Daydo who was simply magnificent. A fire-cracking 30 minutes.
RAPE IN YELLOW
A confident and extremely promising debut which led one judge to say 'they're going to be the best band in Tamworth'. Rape In Yellow's sound mixes the Sixties feel of The Kinks and The Beatles, with the Eighties feel of the Cure and Julian Cope and is played with inventiveness and considerable musical prowess. Graham Harwood has a superb voice, the band have a strong, marketable image and when they get through the inevitable early teething problems they have literally masses of potential to be very big indeed. A band with a big future and very nice haircuts.
THE JUDGES' VERDICT
Breaking Point sneaked into the February 27 final by the smallest of margins. They won it through their choice or material and general impact although all three judges scored very highly for both Rape In Yellow and Kara.
MY VERDICT
Although my love for Breaking Point is well-known and unabashed I think on the night Kara just about deserved to win. They played with spirit and enthusiasm and looked hungry for success. In a sense it was perhaps unfair to judge Rape In Yellow as they were making their debut but I am sure if they had sneaked in there would have been few complaints from anyone. Three good bands and a hard decision for three good judges. The debate will go on about the final result but one thing is certain – Tamworth definitely won!
Tamworth Herald – 13/02/87
Musicbox – SNIPS
Rape In Yellow, fresh from the triumph of their first demo and their first gig, are now on the lookout for a permanent bassist. If you can play bass and want to join an ambitious and original outfit, the person to ring is Graham.
Tamworth Herald – 03/04/87
Musicbox – SNIPS
Rape in Yellow and The Calling will team up with an interesting-looking double-header at the Arts Centre on Saturday April 11. It will be both band's first show since successfully won over the people in the 1987 'Battle of the Bands' contest.
Tamworth Herald – 10/04/87
Musicbox
The Calling and Rape in Yellow will be in Arts Centre action next Saturday (April 18). More details next Friday.
Tamworth Herald – 17/04/87
Musicbox – A fine trio is fired up for a free-for-all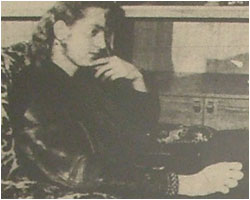 Caption: Edward ian Armchair…welcome back
TAMWORTH ARTS CENTRE plays host to a unique free concert on Saturday night – which brings together three exciting and varied acts.
Spearheading the show will be the ambitious Rape in Yellow, who will be joined by The Calling and Tamworth's first ever alternative poet Edward ian Armchair, making a surprise and very welcome return to the stage.
The show has been put together by Rape in Yellow, a band who are determined to build on the success of their debut at Tamworth Battle of the Bands.Armed with an all-new 45 minute set, a strong committed line-up and bucketloads of confidence the band are eager to show the town's music fans just what they can do.
"We want to be up there with Wolfsbane and Dance Stance as soon as possible," said singer Graham Harwood. "We think we have got some interesting songs and we hope people will see we have improved a lot since the Battle of the Bands."
At their debut show, many people were very impressed with the band's modern, intelligent outlook and they very varied sound, which encompassed everything from the Kinks to The Cure.
Among those bowled over by Rape in Yellow was T-shirt supreme Edward ian Armchair. He was so impressed with the group that as well as helping them out with merchandise he has agreed to come out of semi-retirement to join Saturday night's freebie concert.
Edward, who hasn't performed live in eons, will no doubt be watched with extreme interest by the new-wave of wordsmiths, such as Jed Moore and Kevin McGough. Edward always produced a quite superb, entertaining set and I for one am keen to see him back in that famous old armchair…
Completing tonight's show (and going on last of all) will be The Calling who have not split up contrary to wild press claims (!). The group have hinted that they will play a very long set indeed and there is no doubt it will be lapped up hungrily by the town's alternative fans.
Three very different acts, all capable of stealing the show and best of all it's free, free absolutely free. If you miss Saturday's show, I hope you choke on your Easter eggs.
Tamworth Herald – 28/08/87
Musicbox – BIGGEST FESTIVAL YET OFFERS 27 GREAT BANDS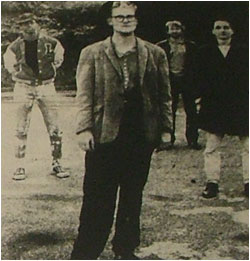 A rip-roaring weekend of rock
YES, IT'S HERE AT LAST! After all the months of planning and preparation, Tamworth will this weekend unveil it's biggest and best rock festival ever.
Over the next four days no less than 27 bands – not to say alternative poets, disc jockeys and general eccentrics – will combine their talents to give the town's pop pickers a week to remember.
Tonight (Friday) the whole event kicks off with an action-packed Arts Centre show to be followed on Saturday night with another night of new bands at the same venue. And then on Sunday and Monday, Tamworth Castle Grounds will be taken over for 16 hours for a massive live extravaganza of music covering 18 varied and exciting groups from all over the Tamworth and Atherstone area.
It all adds up to four hectic, juicy days so here is a blow-by-blow account of what to expect, where to expect it and where not to go if you want to avoid it!!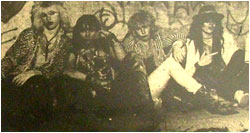 FRIDAY
Tamworth Arts Centre
WELL WHAT A START. For just 50p you can get to see five totally different bands who represent just about every form of musical extreme in this little old scene of ours. Heading the lot our The Wilsons who have been added as late festival funmakers and should provide many moments of bopping delight. Joining the Wilsons are the brash barmy boys known as The Pakistani Brothers, the all-new all-electric Stranger Than Life, the arrogant and animated Oliver Reed Combo and another late addition The Parade. That is five potentially explosive acts for less than the price of a Curly Wurly each. Be there early (8pm) 'cos it is going to be full.
SATURDAY
Tamworth Arts Centre
ANOTHER case of sheer daylight robbery when just 50p once again gets you masses of good original music. The Conspiracy, Tamworth's new alternative hopefuls make their eagerly awaited Arts Centre debut and are joined by the rocking, rollicking blues of Jim Crows, the powerful mid-Seventies attack of New Age Gypsies, and the passionate and highly-tipped indierockers Ferocious Apaches. The fifth band on the line-up is still to be confirmed as there is a possibility that The Final line may have split up. If that is so, new Burton FM soundalikes Vienna will be slotted in as special guests so whichever way you look at it your ears cannot fail! Remember it starts at 8pm and get there early.
SUNDAY
Tamworth Castle Grounds (11.30am-7pm)
AND SO, to the main course. Once again the festival will be sited at the top of the Castle Grounds, just in front of the tennis courts and once again it will all be totally FREE.
You will see no less than nine bands on Sunday and a further nine on Monday with the only sort of rock uncatered for being that horrible stuff that breaks your teeth at Blackpool. It all begins at 11am when the Reverb/Buttercup disco blares into action and then 90 minutes later the first band – Kubla Khan – hit the stage. This oh reader, is what happens next…
KUBLA KHAN (12.30) – A new and enthusiastic rock band with a slant to the mid-Seventies and wicked sense of humour. Should be very good scene setters.
THE SEARCHING (1.05) Another relatively new act whose own brand of rock searches across a broad spectrum enveloping influences that include The Damned and the Cure.
The A5 (1.40) – A tremendous unit who are improving all the time and have now acquired a harder more distinctive sound. Aggressive, tuneful and toe-tappable.
WORLD INTELLIGENCE NETWORK (2.15) – Totally fab, leather-jacketed bunch who manage to Cope with being compared to Cope all the time. WINners.
CATCH 23 (2.50) – Youthful, fanciful popsters with hope in their hearts and electricity in their blood. They make great pop music. It's as simple as that.
RAPE IN YELLOW (3.25) – Like Moses, this band have spent a long time in the wilderness and now return with a commanding set. They play original, whimsical Sixties based pop music.
ZEALOUT (4.00) – Another new band who walk on the Atherstone side of life. Zealout play broadly based rock music and regard this show as their first major introduction to the world.
PLATINUM HI (4.35) – Zooming all the way up from London this combo (who feature former Tamworth fave Rob Rea) play colourful metal music with brash style.
THE GREAT EXPRESS (5.10) – Concluding Sunday night's revels are one of Tamworth's hottest properties. The Express have already raced to the top of the league with their power charged, energetic and unusual creation. A great end to a great day.
MONDAY
Tamworth Castle Grounds (11.30am-7pm)
MRE MIRTH, music, magic and majesty on offer today with some of the best sounds outside of my record collection. As with Sunday, the bands will appear at roughly 40 minute intervals so you should never be very far away from something you are REALLY going to like. Here is the day's itinerary so get your Filofax out.
FUTURE FIELD (1.05) – A new intelligent AOR based rock band with a host of ideas and several accomplished local musicians. Soothing music for the fun.
SHELLSHOCK (1.40) – Pure, unashamed heavy metal from a band whose enthusiasm is a refreshing as Brew X1 in the Sahara. Loud, proud and metallic.
JABBERWOCKIE (2.15) – Original unit who play music like of which Tamworth has never seen before, multi-instrumentalists overflowing with notes and notions.
WOLFSBANE (2.50) – The kings, the bosses, the boys. Wolfsbane's dictionary definition is 'everything that is good about heavy metal music'. They've got the LOT.
FETCH EDDIE (3.25) – Clean, loveable pop music which is as pure as the average Vestal Virgin. Ace tunesmiths who could set the afternoon alight.
DEPTH CHARGE (4.00) – One of Tamworth's old favourites with new life and a new line-up. Look out for guitarist 'Tanya' (See rock festival t-shirts for more info on that!)
RUFFIAN ON THE STAIRS (4.35) – Commercial pleasing soul sounds from a band who combine the best of Tamworth and Lichfield. Promise to be quite special.
BREAKING POINT (5.10) – Longstanding heroes, who combine the powerful with the passionate and have been sorely missed from our stages of late. But absence makes the heart grow fonder they say, so get set for some nostalgic cheer.
So that's the whole line-up. In betweens each band you will see and hear djs, comperes and poets like Buttercup, Edward ian Armchair, Dave Hewitt, Kevin McGough, Bue, Rikk Quay et al and there may also be some surprise guest celebrities popping up as well. In the event of rain over Sunday and Monday there may be alternative arrangements but you must be at the Castle Grounds to find out what they are.
Whatever happens this is Tamworth's biggest musical event of the year and one which every music-loving person from 6-66 should enjoy immensely. So clear your weekends, clear your heads and get set to be bombarded from every possible angle by every possible sound.
*Festival t-shirts will be available tonight Friday (£3.50) and programmes at a mere 25p).
Tamworth Herald – 04/09/87
Smiles galore greet four days of rockin' revels
Rock feast is a real sunshine tonic

MUSICBOX Special by Sam Holliday
TAMWORTH 'S massive army of music-lovers mobilised in great force at the weekend to enjoy the finest August Bank Holiday Rock Festival yet.
The four-day rock and roll bonanza was, in every sense, a sunshine success. There were large crowds at both the Arts Centre and Castle Grounds shows, with good feeling among all the bands and organisers, and even a rare and shocking outbreak of warm weather!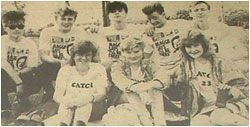 The whole event was voted a big hit by both the crowds and the crowd pleasers and by the time everyone gathered together on Monday night in the Tavern in the Town for a post-festival party, most of the talk was about what would happen NEXT year.
The four days of rock revelry began on Friday night at the Arts Centre with the first of the two new band showcases.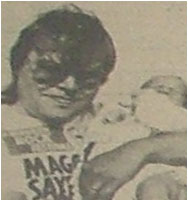 As with the whole weekend all the bands on view stemmed from the Tamworth and Atherstone areas showing the amazing wealth of youthful musical talent that has been banked in this area.
The four bands that kicked off the first night set the pattern for the rest of the weekend – they were all totally different and yet they all won over large sections of a lusty audience which had packed the Arts Centre to capacity.
On the night returning heroes The Parade stole the show to my ears with a powerful burst of new wave energy although the people's choice was certainly the demonic Pakistani Brothers who took every known musical artform and perverted them beyond belief. They went down like beer at a wedding and deservedly so.
Also on the night The Magnets made their stage return complete with that age-old Magnets problem – the keyboards packing in – and some of those old excellent numbers like 'Breath on Breath' which had a dreamy, pleasant effect on a hot, sweaty audience.
Completing the line-up were The Oliver Reed Combo, a band who are undeniably brave and committed and certainly misunderstood.
Their staunchly honest set met with a mixed response but if there was any other reaction The Oliver Reed Combo would probably have felt people had missed the point.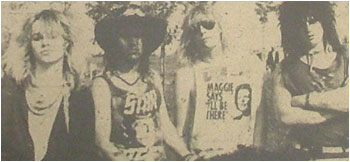 Saturday night continued the lively atmosphere with five more Arts Centre bands getting into that festival spirit. The venue was even sweatier than the night before and by the end of the night most people were forced to prize their t-shirts off with paint-strippers.
My favourites on the night were the fresh and distinctive Conspiracy who have a winning formula of a good guitarist, good songs, pretty, punchy female singer and an ability to make you want to hear more.
The Ferocious Apaches also turned in a surprising, powerful set which I enjoyed tremendously and despite their audience-baiting, it was also pretty hard to dislike the sleazy sounds of New Swan inn kings, Jim Crows.
Party
Also on the night we were treated to a hard-as-nails and just as dangerous show from the New Age gypsies, and a rebel-rousing slice of unashamedly pure plagiarising pleasure from The Wilsons. Put those five varied ingredients together and you had cooked one hell of a party cake, and a perfect appetiser for the two days that followed in the Castle Grounds.
Tamworth Herald - 29/01/88
Musicbox – SNIPS
The talented Rape in Yellow – who recently played a show to 300 bemused skinheads – are on the lookout for a non-skinhead drummer. The band whose music covers everything from The Cure to The Beatles are due to go into the studio shortly and want a drummer for both live and studio work.
Tamworth Herald - 29/04/88
Musicbox – Bands in two Brum dates
STOP PRESS : Rape in Yellow and The Searching will be playing two Birmingham gigs next week and are trying to get a coach organised for fans to accompany them.
The first will be at Sinatra's in Snow Hill Queensway on Wednesday May 4 and the second will be at Mega's wine bar in Corporation Street, Birmingham on May 7.
Anyone interested in going on a coach can contact Ian or Graham.
SAM HOLLIDAY WILL RETURN NEXT WEEK
Tamworth Herald - 27/05/88
Musicbox – SNIPS
Yellow boys hit the road
RAPE IN YELLOW have announced a couple of dates in advance of their appearance at the Rock festival on Sunday July 17. On Friday, May 27, they will be in action along with eight other groups in a special show at The Hummingbird. Then on Wednesday, June 8, they team up with Best Band in Brum finalists The Searching at Piranhas and follow it on June 21 with a slot at The Barrel Organ. There are also plans for a Tamworth Arts Centre show shortly, more details later.
Tamworth Herald - 01/07/88
Musicbox – Showcase of sheer variety


FOUR Tamworth bands – two of whom will be relatively new to local audiences – line-up for an Arts Centre special on Sunday night.
Established favourites Rape in Yellow and The Searching are joined by an all-new version of The Green Swings and a rare Town centre show by rockabilly outfit Stench.
Opening the night's proceedings will be The Green Swings, a mystery band to most people who will be doing a 'short, but crucial' 15 minutes set to get the night off to an unusual start.
Following them will be Stench, a band who despite their name should appeal to a very wide audience indeed. They play pacy, racy rockabilly complete with a double-bass and short, snappy haircuts. When last seen Town centre-wise some of the members of Stench were in the neo-legendary Mutant Zombies, one of the oddest bands ever to come out of this rather odd Town. Stench will certainly be different and promise to be extremely watchable.
Following hot on the heels of this event is another curious occasion – the Big Butty and Bob Beer Battle. This is a challenge between Green Swings member Ron and Tavern DJ Buttercup to see who can finish a pint of beer in the quickest time. Both have so far managed three seconds in training and this will be the final test. Strange thing to put in the midst of a gig really, but it looks like being that sort of night.
Following this alcoholic extravaganza comes Rape in Yellow. The Harwood/Harwood and Partlow combo have been busy livewise of late in preparation for the festival and are looking forward to testing out their new set on their home audience.
Completing the show are highly-rated popsters The Searching, a group whose singer sounds like Bryan Ferry and Ian Curtis all wrapped up in one. Their success in the Midlands had been based on their original, stylish songs and they are due for a Tamworth triumph to match those of their 'foreign' achievements. Sunday night may well be their night.
So drinking bouts, Roxy Music, double-basses and more all for just £1 on the door. Get along on Sunday night and enjoy what should be a very unusual Arts Centre showcase of local talent. It starts a bit earlier than normal at around 8.15 so don't be late.
Tamworth Herald - 04/11/88
Musicbox – Hail the Kings
TAMWORTH Arts Centre opens its doors on Sunday night to be a very unusual looking quartet of bands.
Local favourites Rape in Yellow will team up with local bands comprising King Woderick and the Yogots, Psychedelicatessen and The Cuckoo Spits.
These three new acts represent a refreshing outbreak of new talent during a generally quiet time on the local scene.
The one band you probably will know are Rape in Yellow who are positive OAP veterans alongside the other three. Heir appearances this year have been few and far between and they will be looking to re-establish themselves in a major way at Sunday's special party.
Best known of the new trio are King Woderick and The Yogots. This combo of extremely nice people (i.e. Dan Lee, Jon Lanz, Simon Byford and Tim Byford) emerged earlier this year with a cracking demo and followed it with a much admired Arts Centre show. This is their biggest date yet and the band are clearly looking forward to the challenge and proving once again that in their words they are 'unpigeonholeable'.
Teaming up with the Kings boys (dinky little thing they sent in above) are two bands this column knows admirably nothing. Psychedelicatessen who boat a truly marvellous name have played before at the Arts Centre under another equally strange name and they are a complete mystery while the Cuckoo Spits are described affectionately by King Woderick as being a 'total Smiths rip-off'. Whether they would agree with this billing is uncertain but it makes them sound intriguing does it not?
A four band tally then for just one pound. With the scene enjoying its customary pre-Christmas snooze an exhibition of three new bands and one good old one must surely tickle your fancy so make your way to the Arts Centre on Sunday and indulge in a spot of BOPPING!
Apolgies to king Woderick for the lack of the umlout on the second 'o' of Yogots, The band told me it was absolutely essential to the history of mankind that it wasn't missed out. Hence I missed it out.
Tamworth Herald - 11/11/88
Musicbox – No pigeons please we're British!
Good night this. Here we had four original and enterprising bands none of whom could be conveniently slotted into those clichéd old MUSICBOX pigeonholes we all love so much. It made a nice refreshing change indeed and the size of the spikey leather-clad poseur crowd indicated that there are a lot of punters out there looking for a breath of air that doesn't feature a solitary pigeon.
First up were the Kuku Spits who lasted about as long as your average Milky Way. Their three song set was enough to indicate that when they start churning out one or two more ditties they may well be worth another much extended look. As it was they featured just about the sexiest drummer I have ever seen.
Next up were Psychedelicatessen who probably edged the whole evening as far as most people were concerned. They were a real triumph to these ears, all loud guitars, powerful screams and well-layered melodies. The influences were so numerate I won't waste time or space listing them but I was inextricably struck by the feeling that the lead guitarist and impressive motormouth played his axe very much like latter day Joy Division. Am I totally wrong? Maybe but I think I am right in saying that this is a very strong and exciting band indeed one who I feel will benefit enormously from repeated trips to the Arts Centre and one who should get better and better.
Third course on this elaborate menu was Rape in Yellow. And what a shock that turned out to be. Gone is the Bros look and the happy smiles and in has come an altogether more aggressive, powerful and modern sound. At times it was surprisingly punkish (far cry from 'Jivin' Jane' chaps!) and at others the bleak boldness of their sound was alarmingly strong. It wasn't a flawless show but it was a very brave one and if the band carry along this road with renewed enthusiasm I see a brighter future from their broader appeal. And who yes it was very pleasing to see the booming Batman behind the skins again. This man remains one of the best drummers ever to come out of Tamworth and his recent stick silence has been sadly deadening.
Completing the night was those nice men, very, very nice men from King Woderick. As predicted in this very column not seven days ago they were about as easy to define as the appeal of Marillion.
SAM HOLLIDAY
Tamworth Herald – 27/01/89
Musicbox – The Action Men Are Back!
RAPE IN YELLOW return to live action again next Sunday (Feb 5) when they team up with three other acts at a special Arts Centre show.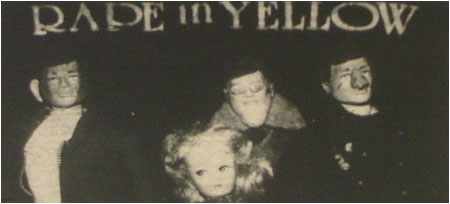 With Indoor Festival gigs dominating the rest of the Sunday's in February it means that no-one can complain about the lack of good music on the near horizon.
Next week's line-up (which should be confirmed in the Herald of Feb 3) should feature Rape in Yellow, King Woderick ad the Yogots, Psychedelicatessen and The New Puritans.
For Psychedelicatessen it will be a real relief because they were due to be at the Arts Centre this Sunday under their own steam but that gig has now been cancelled.
Rape in Yellow meanwhile will see the gig as a launch pad for a busier next few months which includes the recording of a brand new demo with the assistance of former Terroah men Pete Wright and Batman.
Rape in Yellow's action men and Cindy squad are pictured above.
Tamworth Herald – 03/02/89
Musicbox – Newsbeat
Four Play on Sunday
King Woderick and The Yogots return to the Arts Centre stage again on Sunday night when they spearhead a four-band show.
The Yogots will be joined by Rape in Yellow, Psychedelicatessen and The New Puritans in a repeat for the show which attracted a lively audience pre-Christmas.
The Wods, who have just produced a demo described by Catch 23 bassist Neil Gordon as 'brilliant' are looking forward to the gig which will spearhead a wave of exciting concerts at the Arts Centre. You should by now know something about all the bands involved and in case you're confused, The New Puritans are the old KuKu Spitz who brought a touch of la Morrissey to the stage when they last played the Arts Centre.
All four bands can loosely be plopped into the alternative/indie basket and an audience made up of a similar ilk can be expected on the night in question. Don't forget it's at the Arts Centre on Sunday night starting at 7.30pm.
Tamworth Herald – 17/02/89
Musicbox – Snips, News
Rape in Yellow have just emerged from the studios proudly clutching a six track demo which they are very happy with indeed. We hope to look at it shortly but in the meantime copies are available at just £1.50 from 'Notes' (ex-Organ Centre) in Church Street, Tamworth.
Tamworth Herald – 24/02/89
Musicbox – Get set for a good bash!
Tamworth's Indoor Rock Festival reaches its third exciting night on Sunday when four very different bands tread the boards.
Sadly, as you will see in our story below, the original headliners DHSS have had to pull out. They will clearly be missed a great deal but fear not – we still have a very nice package indeed for your palates to taste.
The new headliners will be the band formerly known as The Space Seeds – Bash out The Odd. They will join up with Tamworth's most popular new group of recent months, King Woderick, old favourites Never Say Die and the newly revamped Rape In Yellow.
Together it represents a very strong line-up and one which should appeal to music listeners covering a very wide spectrum.
Bash out The Odd will certainly bring with them a large, curiosity-filled audience. The band have been away from our sights for some time and have undergone both personnel and sound alterations. The personnel has had many changes most noticeably in that Mark Brindley has now taken the complete frontsman role while former Orange, Sitting Pretty and Great Express guitarist Julian Amos is now back with avengeance. In addition the brass crew has been revamped to include some very major talents and the whole sound has moved a little bit closer to the musical ideals of band instigator Mark Mortimer.
"It's retained its commercial feel but is a lot harder now. We are all very happy about the sound."
It's hard to know what to expect with Bash Out The Odd, but look for a more powerful version of the oldpop-sounds of The Space Seeds.
Teeming up with the Bash Street Kids will be three equally unpredictable acts. Never Say Die are undeniably the most traditional rock outfit on the line-up, boasting a guitar-based sound which combines the best of the mid-Seventies and mid-Eighties and personnel who are literally weighed down with bags of experience. They don't play too many shows and for that reason those that do are always worth watching. See what you think.
The Wodericks on the other hand seem to be the Arts Centre's most regular visitors these days. They have launched themselves on the scene in a very big way a fact illustrated by a sell out Arts Centre show a few weeks back, a top 20 placing in the MUSICBOX poll and a highly-praised demo. Their sound? Don't ask me, I've tried (and failed) to describe them several times now, all I can say is that they are fun, fun and more fun.
And so to Sunday's fourth outfit – Rape in Yellow. They have nicked DHSS's Sunday slot by virtue of being the festival's 'first reserve' and they are delighted to have done so. The band are now full of renewed confidence and enthusiasm a fact highlighted by the faith they feel in their new demo. If you want to see if their faith is justified then trot along on Sunday.
As usual the proceedings start at 8pm, entry fee is an embarrassingly cheap £1 and all the profits will go towards making YOUR Tamworth outdoor rock festival the best yet. Get a Grip on Yourselves and Get it On.
Tamworth Herald – 03/03/89
Musicbox – SNIPS
A couple of gigs on the horizon see the Comic Relief show on March 10 at the Arts Centre, a possible Searching/Rape in Yellow gig on March 12 and a Big Noise show on April 2. The Big Noise are looking for support acts for that one.
Tamworth Herald – 03/03/89
Musicbox – Gig Review
Rape in Yellow
A group who have discovered the power of power. The old Yellow bellies were a rather whimsical, keyboard orientated outfit but now they have re=charged their batteries to produce a sound which is big on boldness and occasionally very gritty. A couple of newies 'Honey' and 'Big Tall Man' positively storm along with a thrash, brash sound and its clear the best days work the happy Harwoods ever did was to drag messrs. Batman and Wright into their organisation. They are still finding their feet with their new direction but they have already reached their ankles and with time they will soon include the toes as well.
Tamworth Herald – 10/03/89
Musicbox – Comic Winner
Tamworth Arts Centre opens its doors this weekend to two top quality concerts – including one for the special Comic Relief campaign.
Tonight (Friday) red noses will be in abundance as World Intelligence Network make a one-off return to live action alongside Rape in Yellow and a Coventry-based alternative act called 'The Fat Controller'.
And then on Sunday night, former Best Band in Brum finalists The Searching will take to the Arts Centre stage with the support act of a top out of town new wave act – Limited Edition from Nuneaton.
First we look at tonight's three band Comic Relief show.
WIN/Rape in Yellow/Fat Controller – Tamworth Arts Centre, tonight (Friday)
This second successive Comic Relief concert aims to bring a smile on your face as well as put some money in the coffers. It has been arranged by Richard Cuttler from WIN who has got his old band together including former singer and new Bash Out the Odd frontsman, Mark Brindley. The band who will be keenly welcomed by their old followers (me, very much included!) will be playing a set of classics including former MUSICBOX song of the year 'Disguises'. Those that remember WIN will remember they play superb modern guitar music with an alternative feel and a Chameleons base. I loved em and I suspect many of the more recent alternative converts in the town will enjoy them equally tonight. Joining them are the harder and hardened Rape in Yellow who have a new found love of live action and potentially are going to create an entirely new audience. Completing the comic line-up is The Fat Controller, an experienced Coventry outfit featuring a Tamworth-based chappie named Steven who has very much wanted to play at the Arts Centre for some time. As the band are already at Poly and University gigging standards, this could turn out to be a very interesting night indeed and although I wouldn't like to put too strict a label on them, the Fats do have very much an alternative look and feel and should appeal to spikey tops and Indie listeners alike.
Tamworth Herald – 17/03/89
Musicbox – A comic review…
The legendary George The Roadie was the MUSICBOX spy on Friday night at Tamworth's Comic Relief show. As his review was a little 'unusual' I have had to summarise it thus. I hope you understand what is left, but I sometimes wonder if our lovely George is really on our lovely planet…
Fat Controllers
This was a journey to nowhere without Thomas, Terence and Bertie. The Fat Controllers, that was their name – hence Thomas. (What the hell does THAT mean! Ed)
Rape in Yellow
Fresh from their appearance at the Indoor Festival, RIY played a good set. You've got to give 'em credit they were absolute nutters on the night 'Nellie The Elephant', 'Micky Mouse' and all that.
The Cheesy Helmets (WIN)
Long haired yobboes in suspenders no less. All credit to Richard's pinky toilet, hoping to fill it we made a little donation. We should have filled it, know what I mean?
George went on to talk about a 'scrap', praise last week's letter writer 'Goose' and describe the gig as 'a hell of a night'.
Thanks George. Don't give up your day job.
Tamworth Herald – 24/03/89
MUSICBOX – IT'S A DEMO BLITZ
Yes at last! After months of hording two million local demo tapes in my bedroom, I have finally allowed ten or so to escape to be reviewed. With the help of fellow MUSICBOX scribes Martin Warrilow and Helen Machin we have sifted our way through all the demos listed below and given your our individual guide to each.
The star rating for each is given out of five and is personal to the individual reviewer but as a guide it is…
*****…Mega, Mega
****…Mega
***…Quite Mega
**…Not Mega
*…Mega Crud
Rape in Yellow – People and Places (****)
Surprisingly good. Do they really sound so different live? I've only seen them once (ages ago) and groaned when asked to listen to this demo, but I was wrong. This was brilliant. The strong vocals and that haunting music on tracks such as 'Come Kiss Me Now' and 'All stood in Yellow' reminded me very much of the Cure in their 'Faith' days and that's got to be a good sign. Can I keep the tape?
Helen Machin
Tamworth Herald – 07/07/89
Musicbox - VITAL snip
Rape in Yellow are desperate to find a new bassist in time for the Rock Festival. They are looking for a quick learner, who is experienced and who will play for them at the Fest, and then look to joining in the future. If you just want to help for the festival but not commit yourselves afterwards they are still keen to hear from you.
Tamworth Herald – 27/10/89
Musicbox – Big night at Corvettes
CORVETTES Winebar will host a positive feast on Tuesday night when Bash Out The Odd, Rape in Yellow and the King Woderick crew pack 'em in.
With a fourth band also expected to be involved a decent sized crowd is expected so quite how we are all supposed to squeeze in this fine drinking establishment remains a mystery. But, squeeze in people undoubtedly will do to watch a show full of strong, modern pop. The Yogots currently enjoying airplay in France would you believe, will be back with their barmy sounds. Rape in Yellow will be out to blast 'em while Bash Out The Odd will make their first Tamworth appearance for quite some time to offer the cleanest pop of the evening.
Tamworth Herald – 27/10/89
Musicbox – SNIPS
Rape in Yellow are looking to support a band towards the end of November. If you have an Arts Centre vacancy why not give Graham a ring.
Tamworth Herald – 15/12/89
Musicbox – Manhattans Marvels!
MANHATTANS – New Puritans/Big Noise/Rape in Yellow/Roma
New Puritans: A great performance which sadly didn't attract the audience it deserved, but those who had made the effort were not disappointed. A superb set which included the brilliantly catchy 'Laugh At Your Face', 'No Such Chance' and a Polish (?) version of Green Door. Pure enjoyment.
Big Noise: A volatile set from Ben, Carl and Ana who seem to have reached new heights of confidence, giving a powerful stage performance where even Ana was seen to move…Highlights of this one were the excellent 'Can't Help Myself' and a brilliant cover of the Buzzcocks 'What Do I Get?'. With the help of their new drummer (at last) the Noise can only get bigger.
Rape in Yellow: Generally a much tighter, slicker performance from these and they got a great sing-along reception from the few people who turned up. Much improved classics and some great new stuff. A very enjoyable set with old favourites "Reggie Receipted" and "Hippy Dog Inn" topping the lot.
Roma: Very Kraze-like, very loud, very good. A group of excellent musicians and a powerful vocalist – Roma are sure to go down well on any heavy metal night. Not my sort of music really, but nonetheless, this group undeniably have great talent as both musicians and performers. And I have a sneaking suspicion that they've got a 'Feeling For Love'.
Review by Half An Eric
Tamworth Herald – 12/01/90


Musicbox - Hello Yellow
Rape in Yellow return to the live scene this weekend with a special concert at the home of the old Rathole. The venue, the upper room of Lincolns in Church Street, is increasing its musical profile and is looking to put bands on regularly. In addition they are now holding an Indie night every Thursday and frequently hold rock discos with popular DJ Colin Wall.

Sunday's show at Lincolns will feature Rape in Yellow, The Big Noise and a full disco. It costs just £1 for admission and lasts between 7.30pm and 10.30.

The Big Noise will be aiming to start 1990 as they ended 1989 - in full flowing live action - and spearheading the gig will be Rape In Yellow who have spent the last six months since the festival reconstructing the band and writing a lot of new material.
They have been featured on radio stations in London and Birmingham lately and will have been encouraged by a useful result in the 1989 MUSICBOX poll.

Don't forget then, the venue is Lincolns and the time is between 7.30-10.30.
Tamworth Herald - 26/01/90
Musicbox – SNIPS
Rape in Yellow are in action this weekend at the Black Horse pub in Birmingham and are looking to do as many concerts as possible in the next few weeks.
---
Rape in Yellow